Best Banjo VST Instruments
Introduction
Getting a banjo VST nowadays is really easy, but finding a good one is pretty hard. Even though we are living in a modern era, some of these instruments are more old-school and the developers are simply not attracted to making them. Being that they are not that profitable or simply there is no request for them, such libraries are truly hard to find.
But in this article, we are going to try and compile all the best banjo VST instruments and provide you with all the download and purchase links. So without any further ado, let's dive into them more deeply, where we are going to share some brief details about them and let you decide which one will suit you best.
1. Misfit Banjo by 8Dio
It sounds unique, and it's a great VST for banjo players. Our fondness for 8Dio's work is growing after using several of their VSTs. Plugins created by 8Dio focus on the realistic side of human error. They use samples that don't sound perfect, which makes them more accurate to the organic sound.
Misfit Banjo does not have many trinkets and effects, but we consider it to be one of the best-sounding banjo VSTs on the market. There is a good balance between dynamics and realism.
As a whole, the Misfit Banjo is a great plugin that you can use for a variety of different applications. There is only one drawback, however, and that is the cost of a single virtual instrument. In order to use this VST, you will need a Kontakt 5.5 player, which could be a deal-breaker for those who do not have this software.
---
2. Ethno Banjo by Ample Sound
In today's digital music production industry, Ample Sound is one of the most well-known VST manufacturers. They have established a standard in the industry with their products, and their products have always met or exceeded expectations.
Considering the 5th string logic, this banjo is a difficult instrument to reproduce in a virtual environment. There are 9 different articulations, FX, and microphone modes available to give you complete control over your instrument and to enhance your sound. This plugin was created based on samples and a 5-string Deering Sierra banjo that Ample Sound purchased at the 2019 NAMM convention.
There is never a disappointment with Ample Sound. It is one of the best banjo plugins we have seen so far, and their plugins are always well thought out. All aspects of the performance are executed to perfection, including articulation, modes, vibrato, and everything else. Banjo players will find this plugin to be extremely useful.
---
3. Banjo V2 by Auditory Lab
In addition to providing you with an authenticly resonant twang, Auditory Lab Banjo V2 is a five-string banjo emulator plugin that uses down- and up-picked samples. With Banjo V2, you have access to high-quality samples which were recorded from a real five-string banjo, with three dynamic levels and two round robins giving it a realistic sound, which will bring your tracks to life with the quality of a real banjo.
Among all the plugins on our list, this one offers a highly user-friendly interface and is probably the easiest to use. In addition to being easy to download and install, this application can also be used with older versions of your digital audio workstation. Despite taking up only 400MB of storage and consuming very little CPU power, this VST is perfect for people with low-spec computers.
There are many types of music that can be played on this instrument, including country, folk, bluegrass, blues, jazz, and pop. There are versions of Banjo V2 available for PC & MAC, as well as Mac and Windows VST plug-ins, as well as Audio Units.
---
4. Jazz & Big Band 3 by Garritan
The Jazz & Big Band 3 VST is a great VST developed by the Garritan company. It is important to note that this plugin contains much more than just a banjo. This is a comprehensive library that offers a lot of value for the price.
However, we are very impressed with the sounds contained in this library, in particular the banjo. You do not need to purchase an additional player like Kontakt in order to use this VST. It will be powered by the Aria player.
It is also compatible with all major DAWS, so you do not need to worry about compatibility issues. There are also some free DAWS that can be used with this VST. With Jazz & Big Band 3, the sound department is excellent. As you experiment with the other virtual instruments included, you will discover that the banjo sounds pretty awesome.
As a whole, you get a lot of value for your money here. If you plan to purchase only the banjo VST, this is still a good choice since you will have access to a large library of instruments. There are a number of other options that are about half the price, but they only include a banjo.

---
Despite being a massive repository of Acoustic Guitar samples, Acoustic Legends also contains some excellent banjo samples.
Featuring 24-bit, 96 kHz stereo audio, Acoustic Legends includes a variety of banjo sounds, including picked notes, finger-picked notes, chords, harmony chords, and natural and artificial harmonics. It is possible to adjust all the parameters in order to achieve a realistic sound from the banjo, including release, size, level, and stereo width.
A number of controls are located in the upper part of the interface, including audio outputs, MIDI channel inputs, polyphony, solo, mutes, tunes, pans, and volume controls. There is an interface below that was designed specifically for and tailored to the Acoustic Legends HD library.
Depending on the instrument, these knobs are configured differently. In the top row, you will find an optimized EQ module with a low shelf and/or a high shelf, as well as a mid-control. Besides a standard reverb module, there is also a stereo width knob, as well as level and size controls for customizing the sound.
Check Acoustic Legends HD Here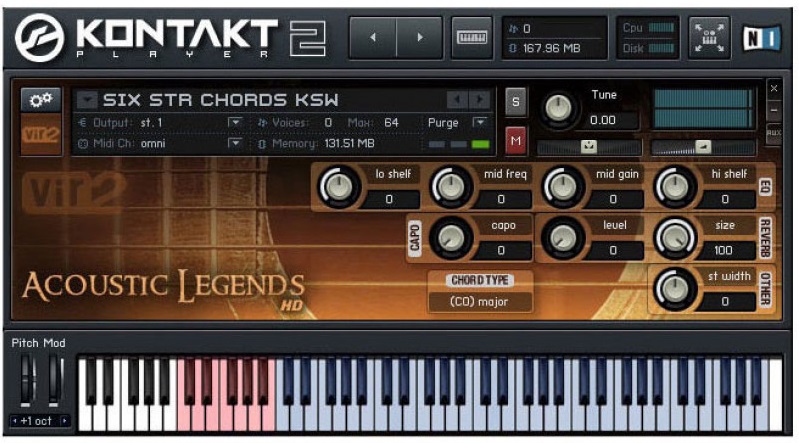 ---
6. RealiBanjo by RealiTone
With RealiBanjo, you will have access to an intuitive Pattern Player and an animated GUI (the graphics will dance as the patterns are played).
As with any Kontakt sample instrument, notes can be played normally. However, with RealiBanjo's Pattern Player, chords can be played as well (major, minor, dominant 7th, minor 7th, or sus4), which will trigger RealiBanjo to play authentic banjo patterns ("rolls") for each chord.
In addition to legato note transitions (slides up and down), RealiBanjo includes an Auto-Legato function that handles typical banjo slides automatically.
It is possible to disable the Auto-Legato feature if desired, at which point legato transitions can still be triggered manually via a key switch. In addition to the fret position selector, an articulation selector is provided to allow you to choose between normal notes and muted notes.
---
7. YoJo by Reflekt Audio (Free Download)
With the help of Reflekt Audio and Eumonik, a 100% free VST plugin known as the YoJo has been made available to music makers worldwide. This is a free virtual banjo instrument composed of four layers that can be blended together to create an awesome and full banjo sound. According to Eumonik, banjo instruments should be used for a broader range of purposes outside of their respected classes, so here it is.
Features include:
Virtual Banjo Instrument for free.
Compatible with both Windows and Mac operating systems.
Compatible with all DAWs (excluding Pro Tools).
The unzipped file size is 1.24 GB.
The compressed file size is 634 MB.
Four blendable layers.
Envelopes A, D, S, R.
Filter W/Filter Type.
Reverb.
Pitch.
---
8. Banjodoline by Syntheway (Free Download)
In addition to Virtual Banjo and Mandolin VST, VST3 and Audio Unit plugin software, Banjodoline emulates fretted stringed instruments such as Mandocello, Mandola, Octave Mandolin, Banjolin and Electric Mandolin. It is available as a VST 32-bit and 64-bit instrument plugin and as a VST3 64-bit instrument plugin for Windows, as well as Audio Unit, VST, and VST3 for Mac OS X.
As far as sound quality is concerned, we do not expect this to blow you away. This being said, it isn't bad for a free option in any case. It is a free download that you can begin using immediately. The fact that something is free makes it difficult to complain.
Our overall opinion is that this is an excellent choice for those who wish to test the waters. It is very user-friendly and it downloads fairly quickly as well. You may wish to consider one of the paid options above if you are not satisfied with this.
---
Conclusion
Well, here we provided some premium paid versions and also couple of free libraries if you are tight on budget and you want to try them out. Since banjo is not that common, there are few of those that you can pick from – but no doubt there are some good ones in the list above.
If you are having any questions in terms of these libraries, or you have some that you want to suggest, feel free to do it in the comment section below and we will be more than happy to update our list!