Best Ukulele VST Instruments
Introduction
In recent years, ukuleles have become increasingly popular in pop music. A somewhat experienced guitarist or someone with some music theory knowledge might be able to play and even master these string instruments.
The ukulele, after all, is a guitar family member and has four strings, so it is much easier to press and hold down. Although their popularity has increased, it remains difficult to find a decent Ukulele VST or Virtual Ukulele. In this article we will try to narrow down some of the best ukulele VST instruments that you can go for, so let's dive in.
1. Ukulele Bundle by 8Dio
This Kontakt player library includes plenty of studio samples from 8DIO's Instant Ukulele Guitar Bundle. There are two versions included – a Ukulele Solo version and a Ukulele Guitar Strummer version.
It is noteworthy that all sounds were recorded using the same instrument and amplifier. The Solo and Strummer are therefore fully compatible with one another. A total of almost 7,000 samples are included in both the Ukulele Solo and Ukulele Strummer versions. In addition to hundreds of natural sounds of harmonies and releases, they were recorded at a high level of detail. You will also be able to hear samples of natural strings, providing you with an authentic sound.
There are a number of controls available through the library interface. Fingering noise can be controlled, volume can be adjusted, and strings can be added to chords in real time. In terms of flexibility and ease of use, the Ukulele Solo and Ukulele Strummer are both excellent choices.
This library contains a large collection of ukulele samples recorded on a single instrument and with one amplifier, which allows them to be mixed easily. Additionally, this collection provides a wide variety of effects through which you can create a variety of sounds. Additionally, it is easy to use due to its simple interface.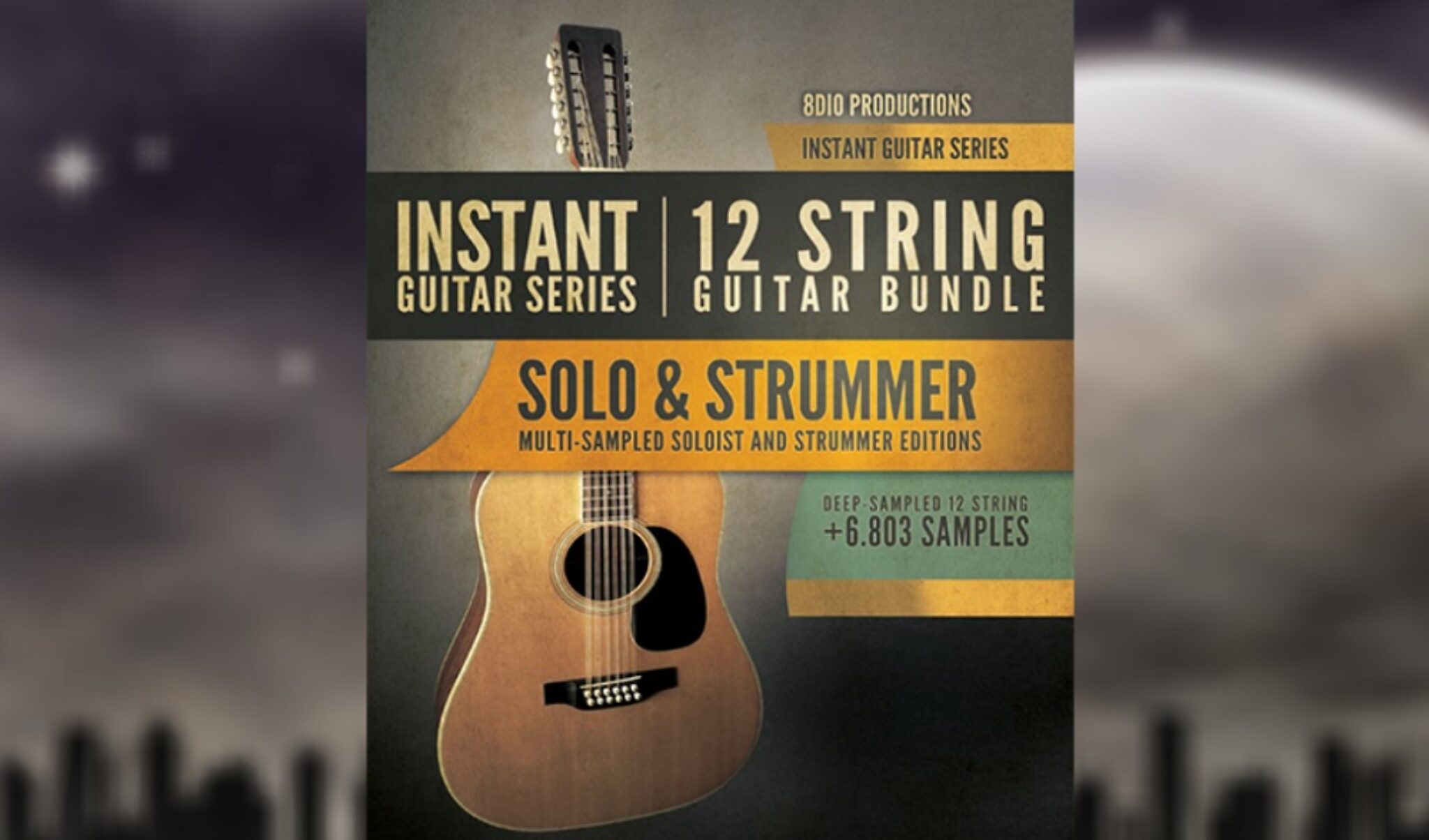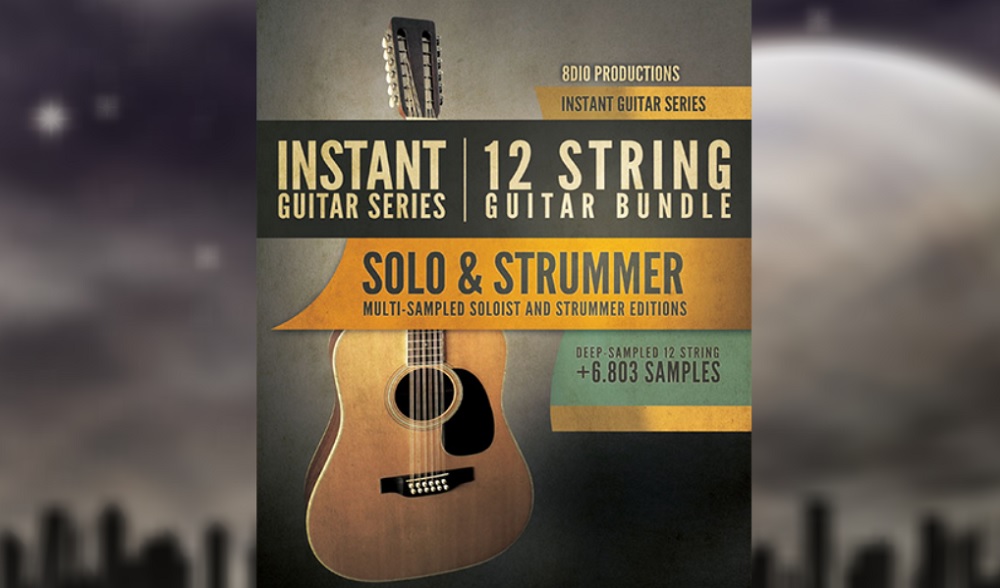 Check More Details About This Library Here!
---
2. Ukulele Collection by Wavesfactory
With Ukulele Collection you can easily create realistic ukulele tracks in a fun and easy manner. This version is also available in the fingered form. It consists of major and minor strums, upstrokes and downstrokes, as well as noises. Additionally, it recognizes other chord types, including add9, major and minor 7s, as well as others. Recorded in stereo using five velocity layers and three round-robins in a dry studio environment.
You may insert any effect you desire using Wavesfactory's advanced effect script, which includes:
EQ of high quality.
A variety of compressors
Modulations include chorus, flanger, and phaser.
There are distortions, saturations, and tapes
Reverb with 40 custom impulse responses.
Simulators for amps.
By using this script, the sonic capabilities of the library are exponentially improved, and it is easy to use in an elegant and simple manner.
It is possible to control virtually any parameter on the settings page. You will find the following information divided into four sections:
The instrument was sampled with three true round-robin repetitions, you may select the number that you wish to make use of and the remainder will be purged from memory in order to conserve memory.
You can adjust the amount of volume variation between the loudest and softest notes by using the dynamic range feature.
A velocity curve is available to control how the library responds to incoming midi notes.
In doubler mode, two round robins are played in each channel to create a wide effect that can be used in your tracks.
In order to utilize the full capabilities of this bank, you must own a full version of Kontakt by Native Instruments.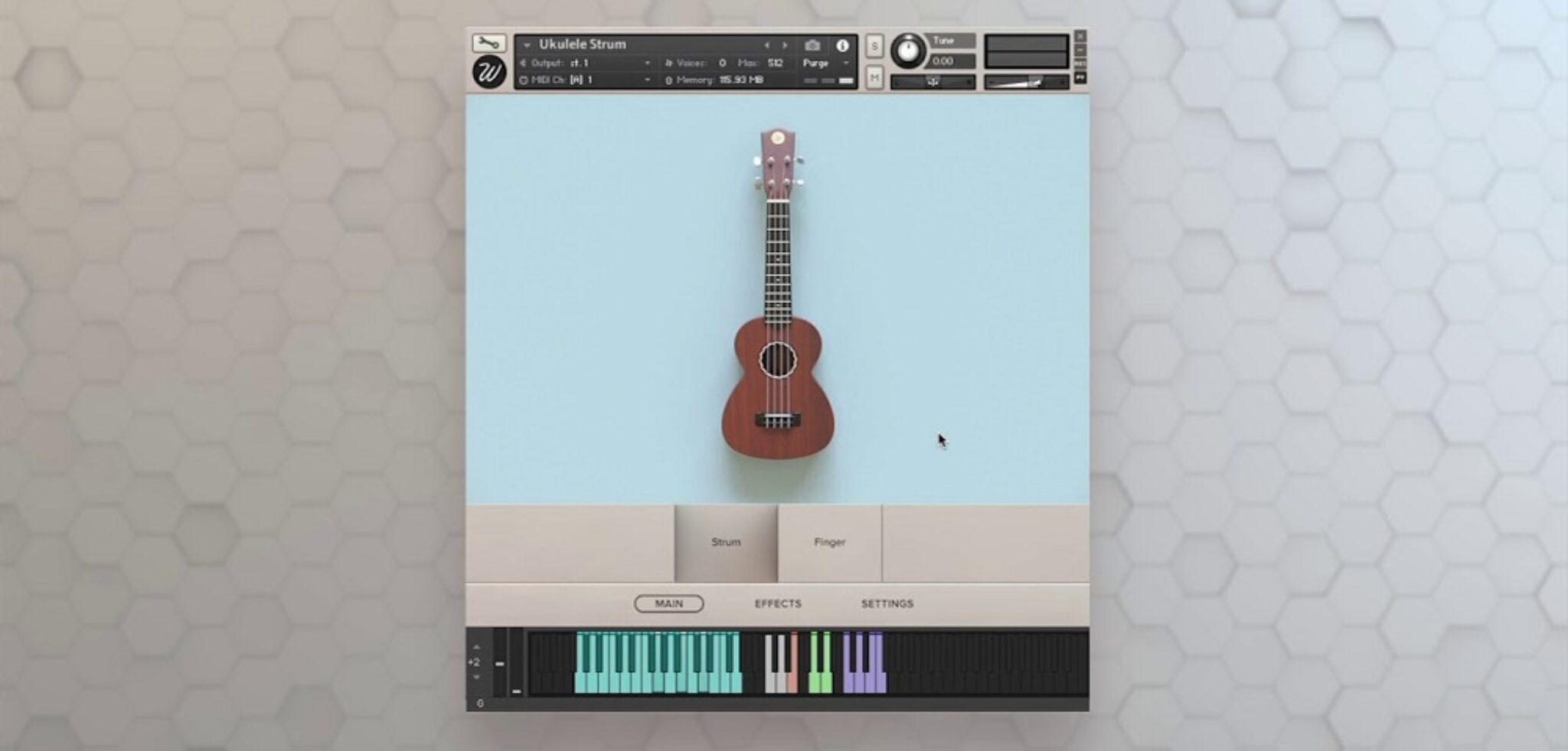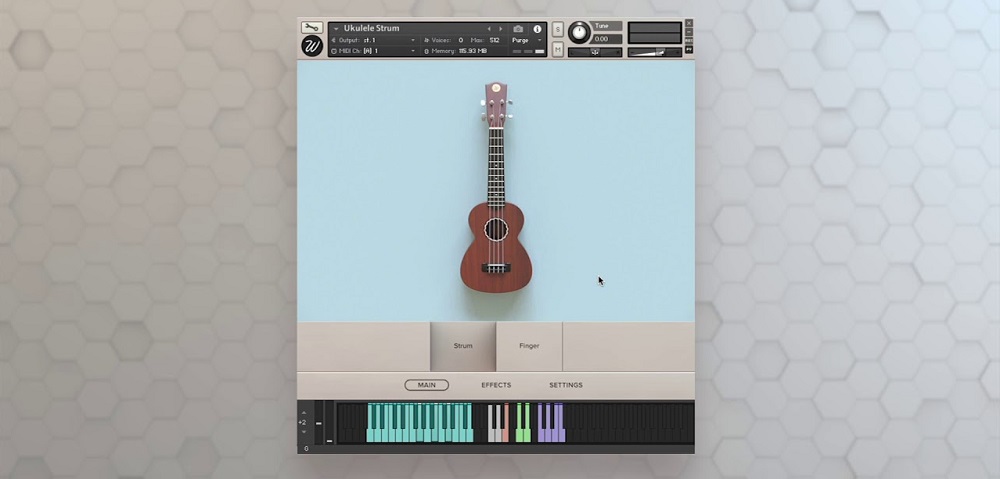 Check More About Ukulele Collection Here!
---
3. Ample Ethno Ukulele 3 by Ample Sound
The Chinese company Ample Sound is well known for its wide selection of high-quality sounding plug-ins. There is a wide range of instruments available, from virtual folk instruments to metal guitars and basses. No instrument is exempt from this rule, including the ukulele.
This sample-based VST plugin adds an authentic ukulele sound to your music by using strumming, plucking, and any combination of these methods. The plugin includes samples taken from the Kamaka HF-3 model, a tenor four-string instrument. The good tonal qualities of this instrument have earned it its popularity. Professional performers are also in demand for this product.
There are quite a few variations in the sound here. In addition to the high G tuning, low G tuning is also available. It is a good combination of tone and performance options, as well as playing styles. Ample Ethno Ukulele 3 includes a Tab Player as an additional feature. You can download and play tabs using this application. You can easily export the audio files if you use the plugin in a digital audio workstation (DAW).
Ample Sound's Ample Ethno Ukulele is yet another excellent plugin. In addition to being convenient and customizable, it is also enjoyable to play. The plugin also provides you with the option of choosing the way you wish to use it and getting the sound you require through the available mods. Also, there is a simple user interface.
Furthermore, it is an excellent option for those who wish to emulate the famous Kamaka HF-3 ukulele in a virtual environment. Several sound advantages have been incorporated into the plugin by its developers, which are enhanced by technology. With the help of the EQ, compressor, and effects, you will also be able to shape the sound to your preference.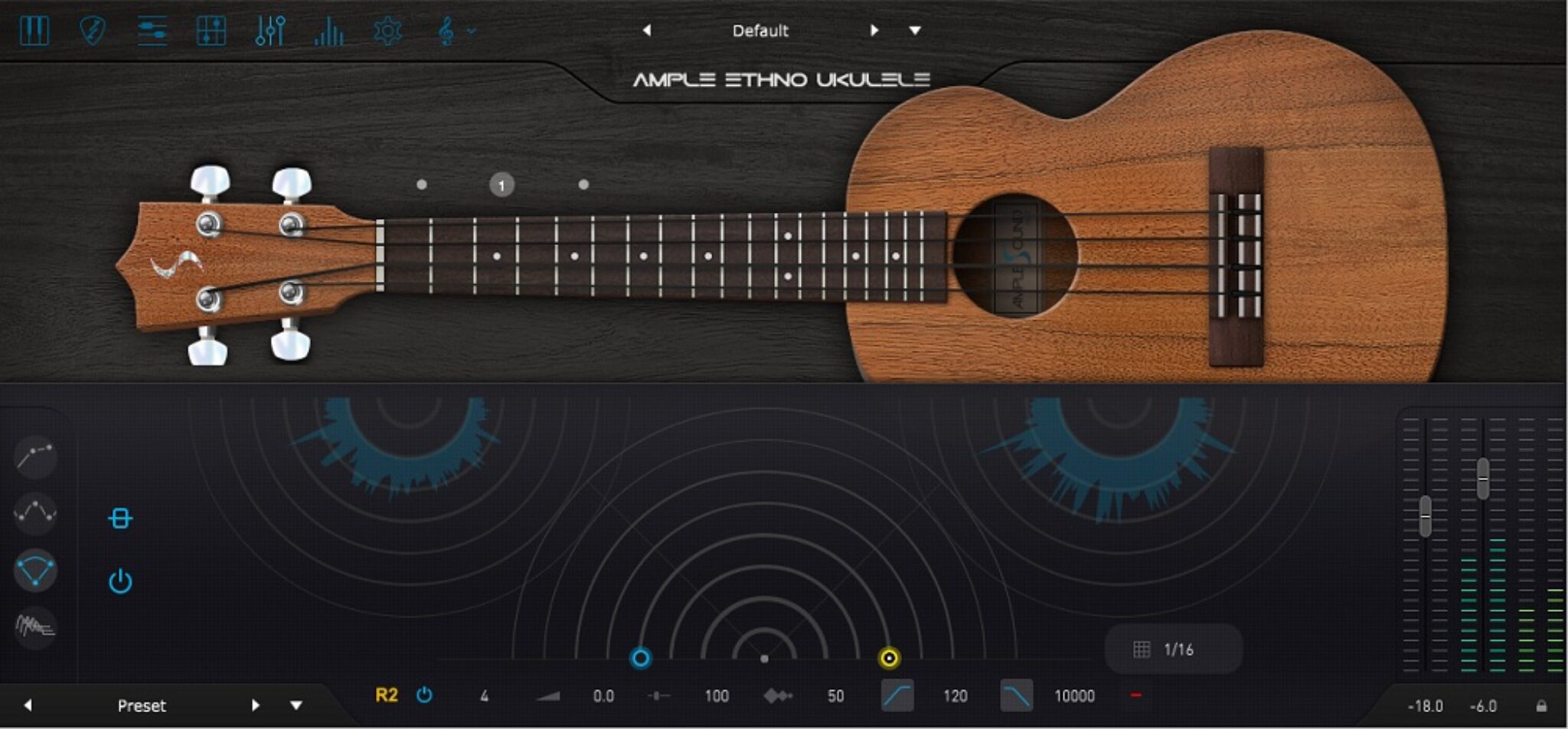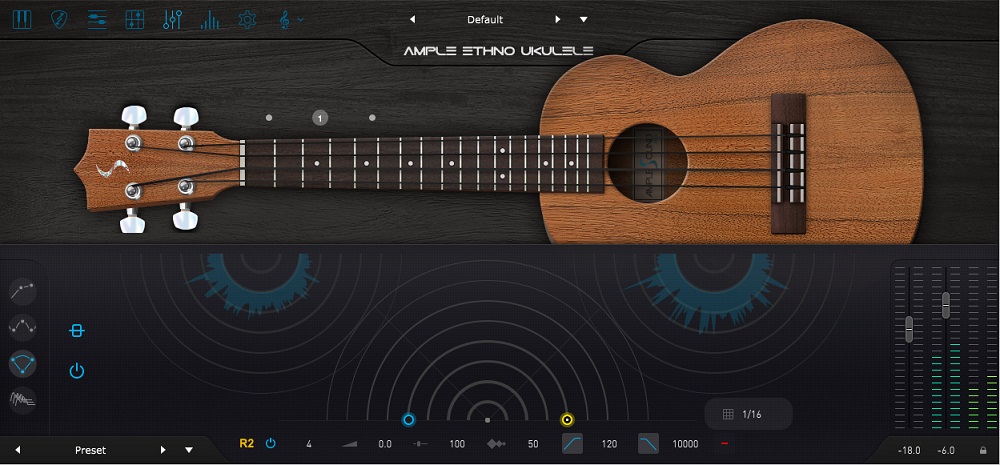 Check The Pricing of Ample Ukulele 3 Here!
---
4. Ukulele by Splash Sound
If you want bright, light, and positive music, then ukulele is the instrument of choice.
The instrument is not simply a library; it is a complete tool that can be used to create an entire track from beginning to end.
Do you need any inspiration? You can find your own way by using built-in rhythmic patterns.
It is up to you to decide which stereo pair of the condenser and dynamic microphones to use when you pick the sound inside the library. It is possible that you will use them simultaneously as double tracks – according to your preference.
This library offers 5 RR layers with perfect dynamics, built-in effects and presets, maximum natural sound, strum, solo, mute, and percussion patches. It is made for KONTAKT 5.6.8 or higher (it is incompatible with the free KONTAKT PLAYER).
There are four instrument patches
Strumming
Sustain
Mute
Percussion
In terms of functions, you have:
A total of 24 strum patterns are included with auto-time stretching
In Strum mode, a single chord can be selected
Control of the volume and pan of two stereo pairs of condenser microphones and dynamic microphones
A number of built-in effects are available, including reverb, delay, and compression
Amazing Kontakt library that you can use for your songs and even to train and be better with your physical ukulele.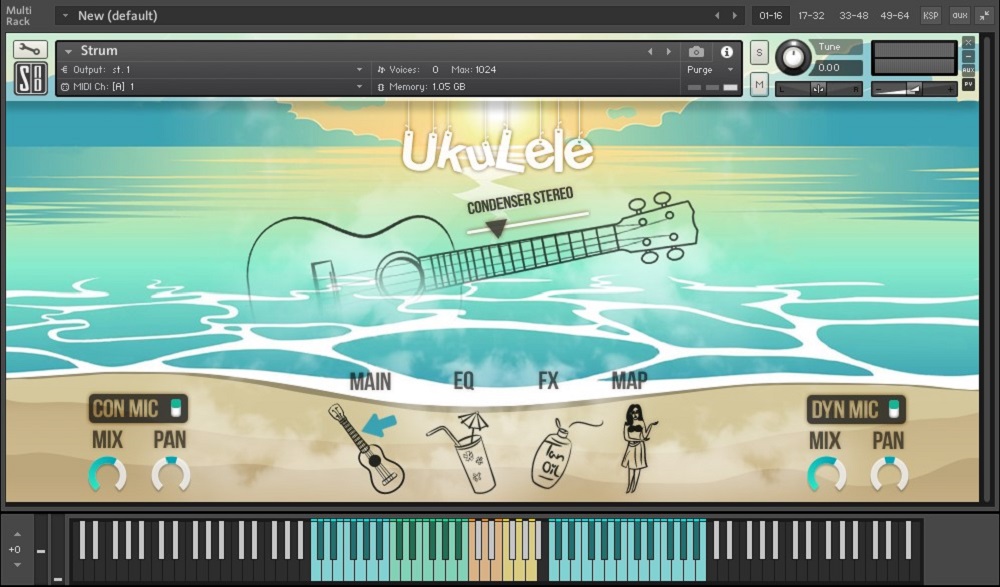 Check More About it On This Link Here!
---
5. Uku by Acousticsamples
In addition to sampling the very common Kala Mahogany 4-string concert ukulele (GCEA tuning), Acousticsamples also recorded the frets of all strings. A full range of articulations, including upstrokes, downstrokes, round robins, releases, staccatos, mutes, palm mutes, hand blocks, slides, hammer-ons, pulloffs, retriggers, fret noises, percussion, and other articulations, is included here.
We were able to reproduce the real sound of a ukulele by utilizing all of these details. Acousticsamples' guitar libraries provide four basic modes, a solo mode for playing melodies, a chord mode for playing strums or picking very easily, a pattern mode that will perform all strumming and picking for you, and a MIDI mode that will allow you to use your preferred midi guitar controller.
Approximately 3058 samples, 1 GB uncompressed, 260 MB compressed in lossless FLAC format.
Featuring a strumming engine (which recognizes chords and uses a smart strumming technique to produce chords similar to those found on a ukulele) as well as complete control over all parameters.
67 realistic strumming patterns for beginners and advanced players.
You can easily and quickly create songs using the integrated song builder.
Strum chords automatically with the integrated pattern builder.
Natural hammer-ons, pull-offs, and slides can be played with this Legato script.
Simulation of natural hand placement.
For each string, 53 different samples were taken from all 18 frets.
Hammer on, pull off, slide up, slide down, mutes, ghost notes, and prenotes with multi-velocity.
A sophisticated control system for bends.
With advanced UVI scripting, you are able to access a simple yet powerful user interface as well as advanced features.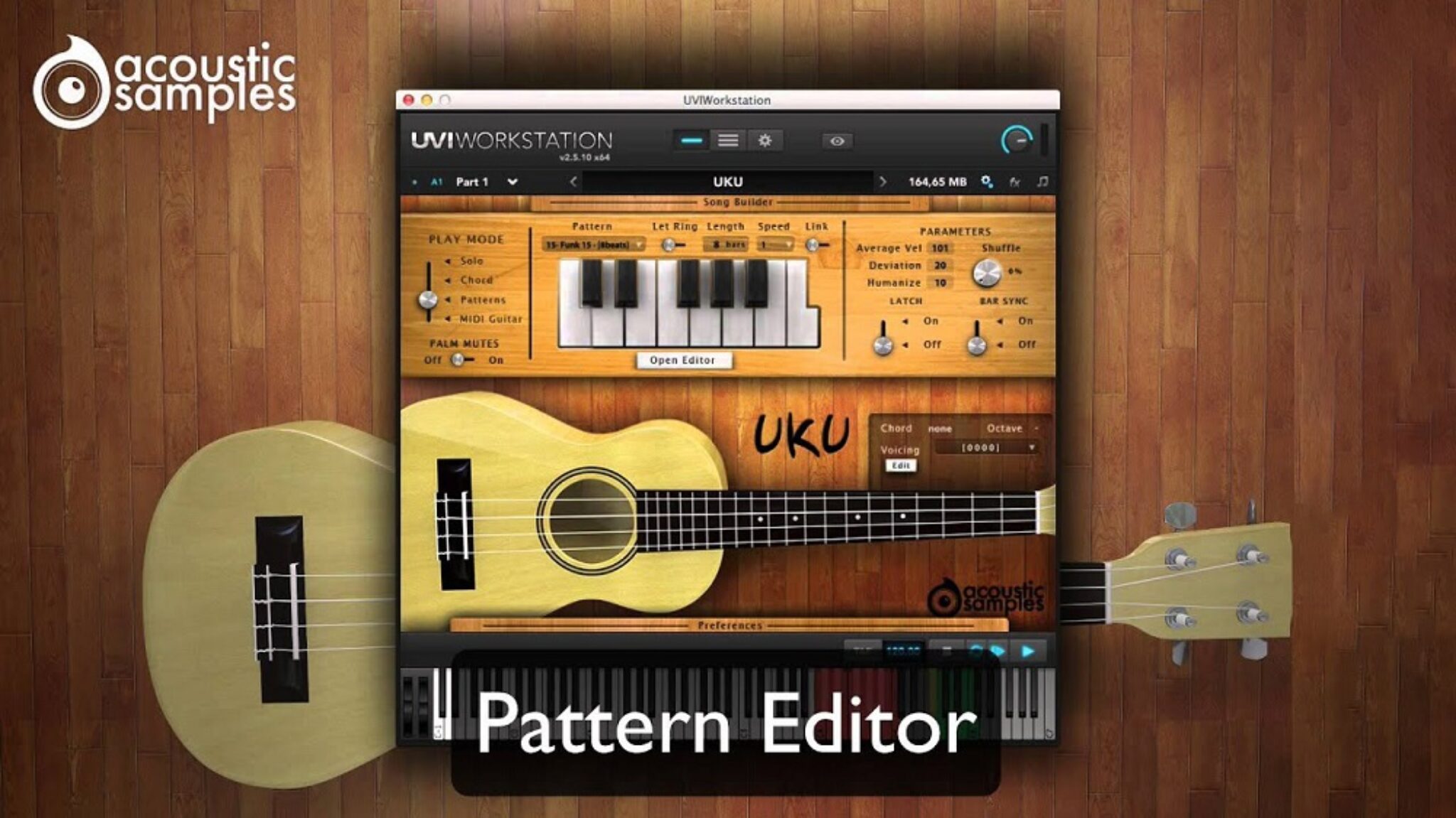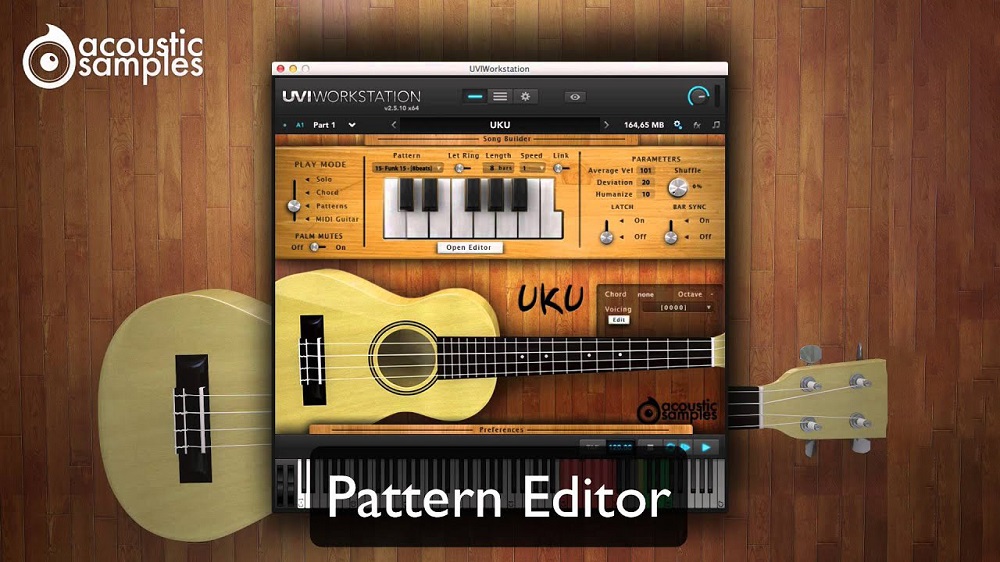 Check More On This Library On The Link Here!
---
6. Ukulele by Samsara Cycle Audio (Free VST)
Samsara is a free Ukulele VST that does not disappoint in terms of sound and intonation. When it comes to your Ukulele sound test, Samsara does not disappoint as a free VST. Throw this VST into your DAW and run it through your Mix to determine whether it really does a decent job.
The VST is a free program that sounds quite good, and as a freeware, it is pretty good. Some people may be unhappy with the sound, but it gives you an idea of how a better product will sound.
Suitable for those seeking free plugins, Samsara Ukulele VST is an average free VST. It isn't our favorite sound, but it may be just what you are looking for.
Get This Free Library On This Link Here!
---
Conclusion
We compiled the best that there is out there and put them in a single article to ease up your search for the perfect ukulele VST bank. Although there are not many free libraries out there, we managed to find one that we shared above.
If you are having any questions about these banks or the topic in whole, please let us know in the comment section below and we will be more than happy to elaborate.