Vangoa VA400 Violin – Solid Wood Violin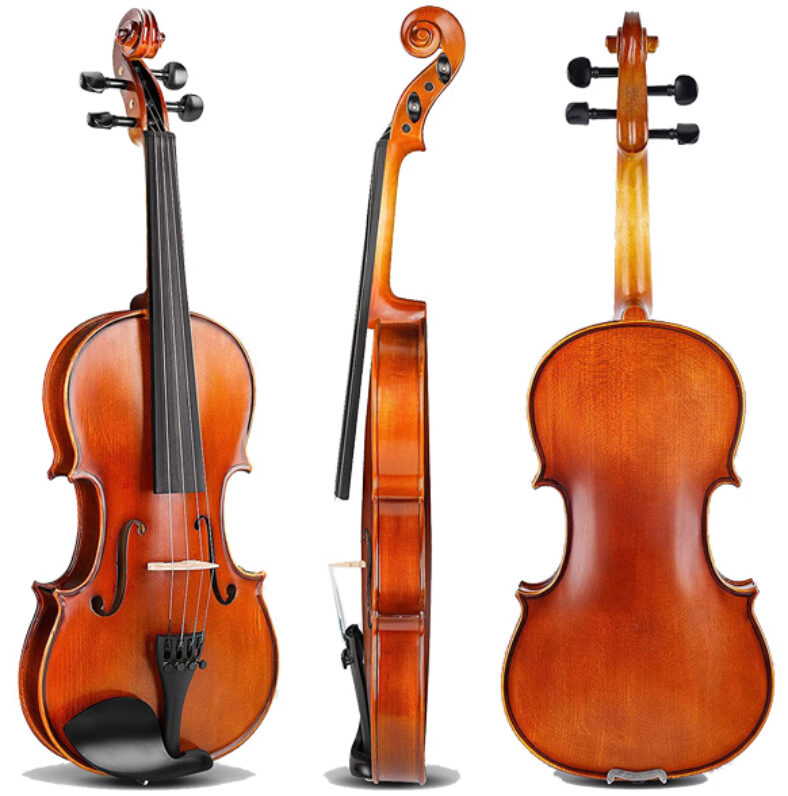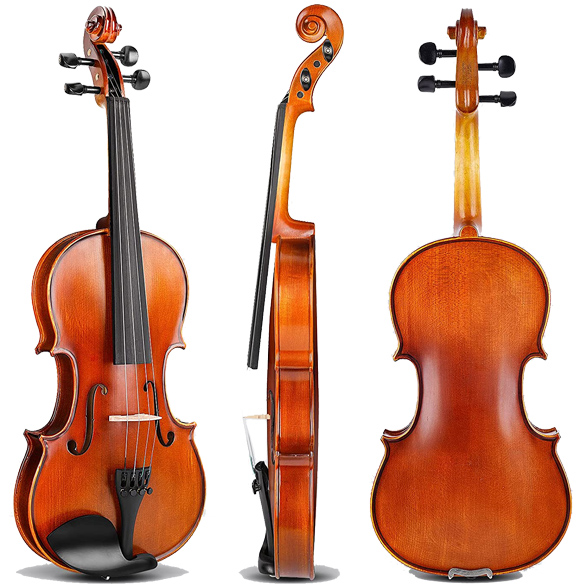 Great Playability.
Beautiful antique look.
Great value for the price.
---
Vangoa VA400 Violin Review – Great Violin Outfit
The Vangoa VA400 is a solid wood violin designed for intermediate and professional musicians. A spruce top, maple back and sides, and an ebony fingerboard and pegs, make this violin a standout.
The outfit includes a case, bow, rosin, and shoulder rest. Students and performers appreciate the instrument's warm, rich tone and high-quality craftsmanship.
Vangoa VA400
Violin Features:
Brand: Vangoa.
Size: 4/4.
Color: Natural.
Top: Spruce.
Back: Maple.
String material: Alloy Steel.
Finish type: Varnish.
Instrument: Violin 4/4 full size.
Operation mode: Acoustic.
Number of strings: 4.
Build Up
Vangoa VA400 Solid Wood Violin has a traditional appearance and build. Its top is made of spruce, which provides resonance and projection, and its back, sides, and neck are made of maple, which gives it a warm tone.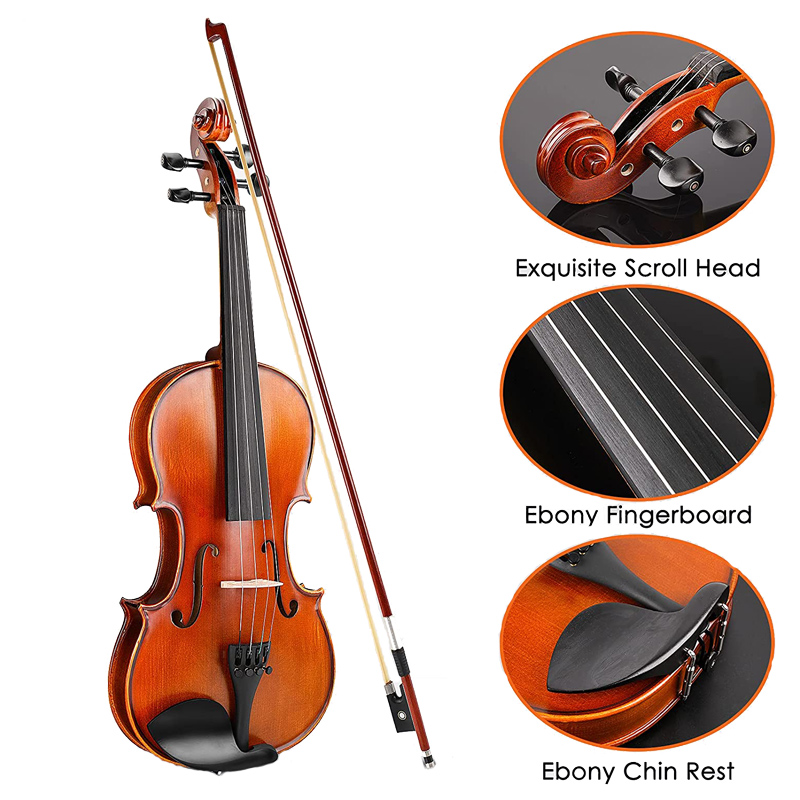 There is an ebony fingerboard and chinrest on this violin, which is a durable, high-quality wood commonly used in instruments of high quality. A hard-shell case, a brazilwood bow, rosin, and shoulder rest are included in the outfit.
An attractive and protective reddish-brown varnish covers the violin itself. Visually appealing and classically designed, the Vangoa VA400 would be suitable for both solo and orchestral performances.
Vangoa VA400 Antique Appearance
An antique varnish finish gives the Vangoa VA400 Solid Wood Violin a classic and elegant appearance. In order to achieve a smooth and fine finish, the varnish is carefully applied to the body of the instrument. Violins with antique varnish finishes have bright and uniform tones that contribute to their tonal qualities.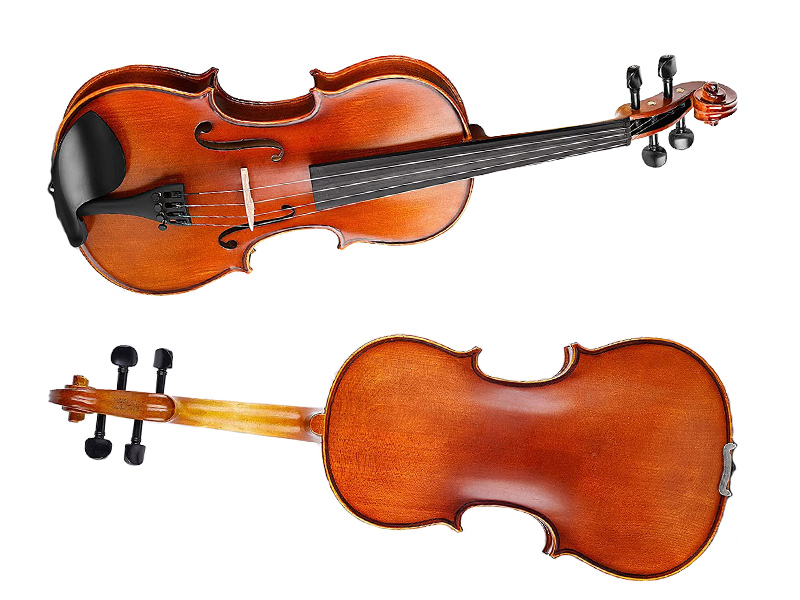 Aside from its beautiful appearance, the Vangoa VA400 is well-made and has good playability, making it an appropriate instrument for intermediate and advanced players.
The violin is made of high-quality materials, such as a spruce top and maple back and sides, with an ebony fingerboard and pegs. Due to these materials and skillful craftsmanship, this instrument has excellent acoustic properties.
As a result, the Vangoa VA400 is an exquisite acoustic violin that can be used both for performance and display. It is an excellent gift for friends, family members, and loved ones who appreciate fine musical instruments because of their antique appearance and excellent sound quality.
Violin Construction and Parts
Fingerboard
An ebony fingerboard is featured on the Vangoa VA400 Solid Wood Violin, which is a common choice for high-quality string instruments. Due to its density and durability, ebony is the ideal wood for violin fingerboards because of its ability to withstand constant friction and pressure.
Also, ebony has a smooth and consistent texture, allowing for accurate intonation and comfort during play. In order to produce the best sound, the fingerboard is carefully fitted to the instrument's neck. Vangoa VA400's ebony fingerboard is a high-quality feature that increases the instrument's lifespan and performance.
Tuners and Tuning
Four standard tuners made of ebony wood are located on the tailpiece of the Vangoa VA400 Solid Wood Violin.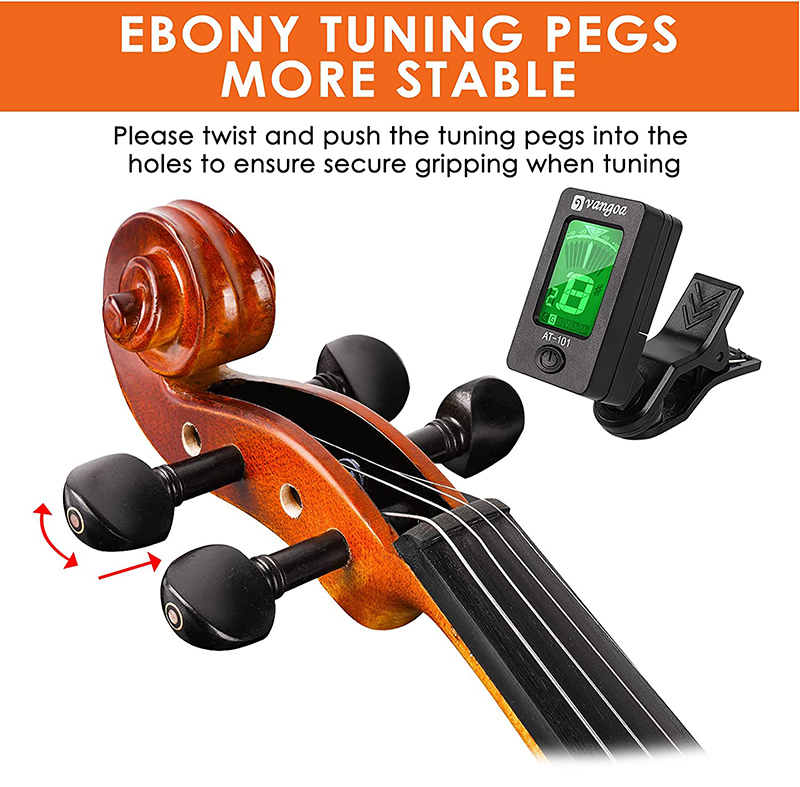 Tuning the Vangoa VA400 is similar to tuning any other violin using these standard ebony tuning pegs. The four ebony tuners on the tailpiece are used to fine-tune the strings after they have been brought to approximate pitch using the pegs located at the top of the scroll.
A violin is tuned G-D-A-E with the G string being the lowest and the E string being the highest. With its digital tuner, you can tune your violin anywhere, anytime. (When tuning, make sure the tuning pegs are wedged in by pushing them in as you turn.)
Woods such as ebony are commonly used for violin parts, including tuning pegs. As a result, ebony tuners can withstand the constant tension and friction of the strings. They are therefore less likely to slip or wear out over time than cheaper materials. Using ebony tuners on the Vangoa VA400 highlights the quality and craftsmanship of the instrument.
Tips for tuning!
Install the tuner on the headstock, turn on the tuner, and select V (VIOLIN) mode.
Turn the tuning peg and push it inwards to tune the strings. The strings are in tune when the tuner pointer reaches the center and the screen turns green.
The order of tuning is from string 2 (A string)-3 string (D string)-4 string (G string) to 1 string (E string).
You can use the fine tuner to tune to the target note more precisely. Turning the fine tuner clockwise increases the pitch, counterclockwise decreases it.
After tuning is complete, make sure that the tailpiece side of the bridge is still properly aligned.
If the bridge is leaning in either direction, slightly loosen the strings and carefully re-align the bridge using both hands.
The Sound of Vangoa VA 400 Violin
Solid wood violins like the Vangoa VA400 produce a warm, rich tone. Together with the ebony fingerboard and pegs, the spruce top and maple back and sides produce a balanced and full-bodied tone. A good amount of projection and clarity is found in the sound, which is generally described as sweet and expressive.
Players from intermediate to advanced levels will enjoy the Vangoa VA400's dynamic range and subtle nuances. With its responsive and dynamic sound, the instrument is well-suited to playing styles and genres such as classical, folk, and jazz.
---
---
The Vangoa VA400's sound will also be influenced by the player's technique, bowing, and other factors, as with any violin. Many users praise the instrument for its tonal qualities, which are attributed to the instrument's design and construction.
Violin Outfit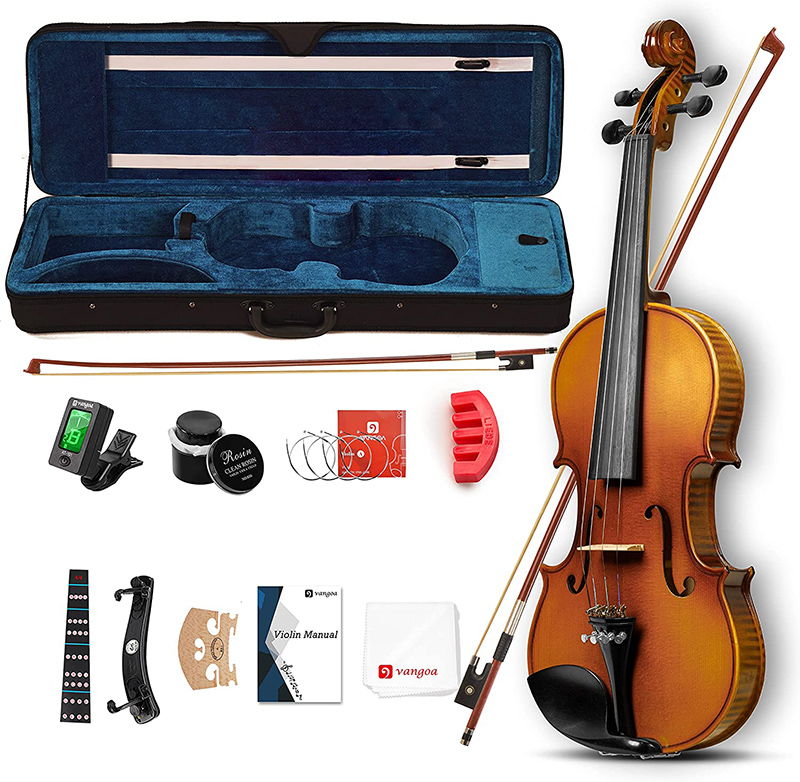 The 4/4 violin set comes with a Vangoa VA400 violin and a range of accessories, including rosin, violin bridge, shoulder rest, mute, tuner, replacement strings, fretboard stickers, cleaning cloth, instructions, and 2 ebony bows. Playing the violin is a complete and high-quality experience with this outfit, which contains all the essential accessories.
Vangoa VA400 Violin
Extraordinary Violin outfit made for intermediate to professional players.
Pros
The price-to-value ratio is great.
Beautiful antique look.
Great for intermediate to professional players.
Last Words
We hope that you will find all the information you need about this great Violin instrument. With its antique appearance, excellent sound quality, and good playability, the Vangoa VA400 is a top choice for those looking for a quality violin at an affordable price.
Whether you're a beginner or a seasoned player, the Vangoa VA400 is a reliable and high-performing instrument that will enhance your playing experience.