Check out The Best Kentucky Mandolins Available On The Market!
Kentucky is one of the most famous companies in the US. They are a well-known and respected company that produces its own instruments with great quality materials and an all-American feel and sound. In order to bring you closer to this brand we made this Kentucky Mandolins review!
Their Artist mandolins are produced in the same workshop which guarantees that you are getting high-quality instruments.
In this Kentucky mandolins review, we are going to present to you the best Kentucky mandolins on the market that you can find available in 2023!
---
1. Kentucky KM-140 Mandolin
The Kentucky KM-140 is a standard A-model mandolin that has been a staple within the industry for many years. This mandolin model has been one of many dominant entry-level mandolins and still stays a top pick when we talk about acoustic instruments. The Specs alone do not tell the entire story.
Actually, the specifications are nothing special at first look. What makes the Kentucky KM-140 stand out are the details of that model. And this is something that's obvious when you have the mandolin in your arms, or more specifically when playing the instrument.
When we talk about specifications The KM-140 is a partially laminated instrument. In fact, everyone wants all solid woods, and it doesn't help that you can purchase all solid mandolins at the same price as the KM-140.
Nearly without exception, mandolins have been steadily enhancing throughout the years. Nowhere is this more apparent, than the Kentucky KM-140. The most recent versions are by far the best. Saga (the owner of the Kentucky mandolin company), set up a brand new store in 2012 and slowly started transferring production of the models over, one after the other. It was 2015 before the majority of A-styles had been produced at this new manufacturing facility.
The mandolins have been fully redesigned, with one MAJOR change. The carving of the woods. Although the KM-140 has a laminated back and sides, the top is carved from strong spruce, similar to the KM-150 mandolin.
KM-140/150 models from the past had strong tops, however, they have been pressed. Which means a solid piece of wood was steam-pressed into form. Many lower-priced mandolins are made like this and it has been a normal production method for a good deal of factories.
These new versions stepped away from that and moved to carve the tops. This is one of the main differences and a reason for the vastly improved tone on the new versions of the KM-140.
New versions additionally have slightly bigger necks. The nut is wider as is the neck itself. These use bigger fret wires. Combined with the neck, this provides a nice feel to the playability.
The KM-140 has a flat fingerboard and the nut width is 1-1/8″. The new necks have a "V" profile to them. KM-140 mandolins from the past had a "C" neck and a 1-1/16″ nut. The frets had been also significantly smaller. In addition to sounding better, the new KM-140 mandolin performs better as well.
Features
Solid spruce top, Maple back and sides.
Multi-ply top binding, Adjustable compensated rosewood bridge.
Bound rosewood fingerboard with M. O. P. dot inlays, One piece maple neck with dovetail neck/body joint at 12th fret.
Adjustable truss rod, Classic M. O. P. Kentucky script inlay and dot markers.
Deluxe tuning machines, Nickel-plated hardware, Traditional high-gloss Nitrocellulose lacquer finish, Sunburst finish.
Solid carved Sitka spruce top gives you clean articulation and a crisp, bright tone.
Maple back and sides for a vintage look and warm resonance.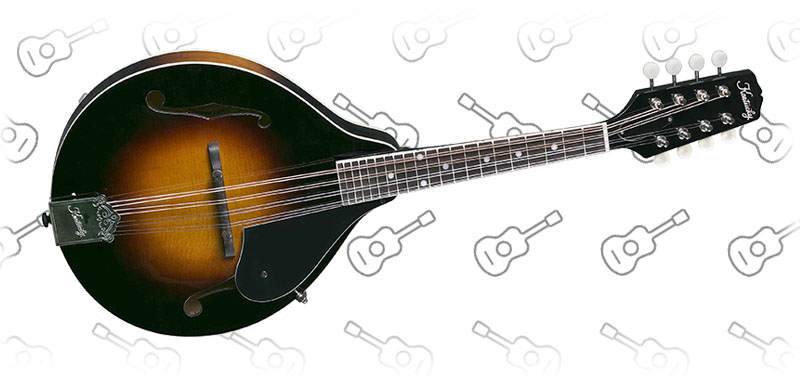 ---
2. Kentucky KM-156 Mandolin
Let's have a look at the Kentucky KM-156 Mandolin. This mandolin is considered a non-identical twin brother of the KM-150 mandolin and one of the finest instruments. The KM-156 is an all-solid mandolin. It is made from Alpine Maple and German Spruce. The instrument is not pressed but carved instead and the tone displays this. The neck is also made from solid Alpine Maple.
The frets are bigger than normal mandolin wire and the nut is 1-1/8 inch wide and made from bone continuing with the Kentucky tradition. The end is a thin transparent brown lacquer.
This means there is a detachable cover plate that slides off to enter the hooks where the strings are connected. There is a wooden endpin. The endpin is tapered and friction fits into a matching gap on the bottom of the mandolin. That is the place where you'd connect your strap. The top end of the strap would usually be tied onto the headstock.
Talking of the headstock, there is an access plate to get to the adjustable truss rod. This makes use of a 4mm Allen wrench to regulate the bow (or relief) in the neck. The headstock has a quite simple Kentucky script inlay.
The angle of the headstock permits ample clearance for a strap between the strings and headstock. The truss rod cover is a classic type with two screws.
The mandolin comes strung with D'Addario strings which are Medium Phosphor Bronze. These work nicely with the mandolin and supply a good tone without being too hard on the fingers.
In contrast to the sunburst finish on the KM-150, the KM-156 finish permits a full view of the wood grain. These mandolins are usually not recognized for heavy flaming, so it actually comes down to personal choice when selecting between them.
The size length is 13-7/8″ and makes a great compromise between string tension and playability. The KM-156 doesn't have a fingerboard extension. The neck is connected via a dovetail neck joint at the 15th fret. There is a multi-ply pickguard and the body is totally bound as is the fingerboard.
With the wider nut and the bigger fretwire, the playability of the Kentucky KM-156 Mandolin is superb. There are additional position markers for those of us that like a visible reference to the frets. The KM-156 is surprisingly light in the arms. A testimony to the construction and carving. This model has been carved well and thin for excellent tone!
The tone that this model is producing is ideal for a bluegrass mandolin. Bright and punchy, however still good lows and sustain. The F-holes give good projection and assist cut through the other instruments so you aren't drowned out by the guitar and banjo.
In case you are searching for a great mandolin without spending upwards of $1000, you sure wouldn't go wrong with the KM-156. Feel free to check it on Amazon and you can be playing in a couple of days!
Features
Solid carved Alpine spruce top gives you clean articulation and a crisp, bright tone.
Solid carved maple back and sides for extra punch.
Slim maple neck for comfortable, easy action.
Choice East Indian rosewood fingerboard offers beauty as well as durability.
High-gloss, transparent brown nitrocellulose lacquer finish ensures optimum tone as well as physical beauty.
Recommended cases: C-1521, C-3720.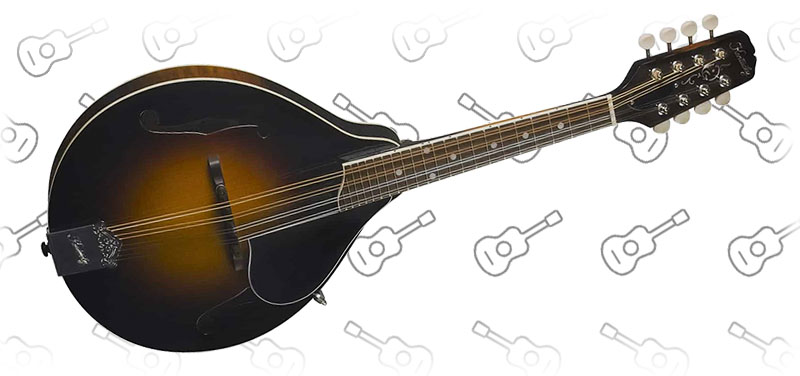 ---
3. Kentucky KM-250 Mandolin
The KM-250 is one of Kentucky's longest-running mandolin instruments and one of the best Kentucky models. There have been a couple of variations of this mandolin through the years.
In the past, these instruments had flat fingerboards with lengthy extensions. The frets had been tiny, and the tone, while excellent for the time, couldn't touch the present versions.
The Kentucky magic has touched the brand new KM-250 and moved manufacturing to the new hand-carved manufacturing facility. This saw a really small amount of KM-250 mandolins begin trickling out in 2015.
There have been a couple of small adjustments early on and the better instruments are from 2017 and later. In fact, this isn't a problem in case you are buying new. If you're searching for a used model, remember that KM-250 mandolins from the past had been completely different from models from 2015 on.
So what makes the KM-250 mandolin the best choice? It all begins with the woods. Particularly, solid German Spruce and Alpine Maple. These woods are correctly dried and the top and back are carved thin and graduated. This is all completed in a nice, thin sunburst lacquer finish that is going great with the finest german spruce.
As everyone knows, a mandolin can meet all the best specs and still not be an amazing mandolin. On the opposite side of the coin, there are some nice mandolins that don't conform to the perfect specs.
In the case of the KM-250, we do have the scenario where the mandolin does meet the specs and does it accurately. The KM-250 is a great instrument that takes from the traditional Pre-war designed mandolins.
In case you put this side by side with a classic mandolin, you will notice the similarities. Take the exceptional tone and playability and in many ways, you will have a vintage instrument that exceeds the classic models.
Woods could be sourced from a number of countries, however, there is a reason that German Spruce (solid German spruce top) was chosen. The local weather is ideal for the growth of tonewoods and that is clearly the primary building block for an acoustic instrument. The same goes for Alpine Maple. High-altitude, slow-growth maple has a density that's excellent for archtop instruments.
The Kentucky KM-250 mandolin featured Gotoh Tuners, which are the usual 4-per-plate mandolin style. These provide good, stable tuning. The headstock on the KM-250 is tilted back at an angle to provide the strings a great break angle which allows the correct string tension at the nut. The nut is made from bone and measures 1-1/8″ wide.
Features
Solid carved Sitka spruce top gives you clean articulation and a crisp, bright tone.
Solid carved maple back and sides for extra punch.
Slim maple neck for comfortable, easy action.
Choice East Indian rosewood fingerboard ensures silky smooth playability.
High-gloss sunburst lacquer finish imparts traditional beauty and luster.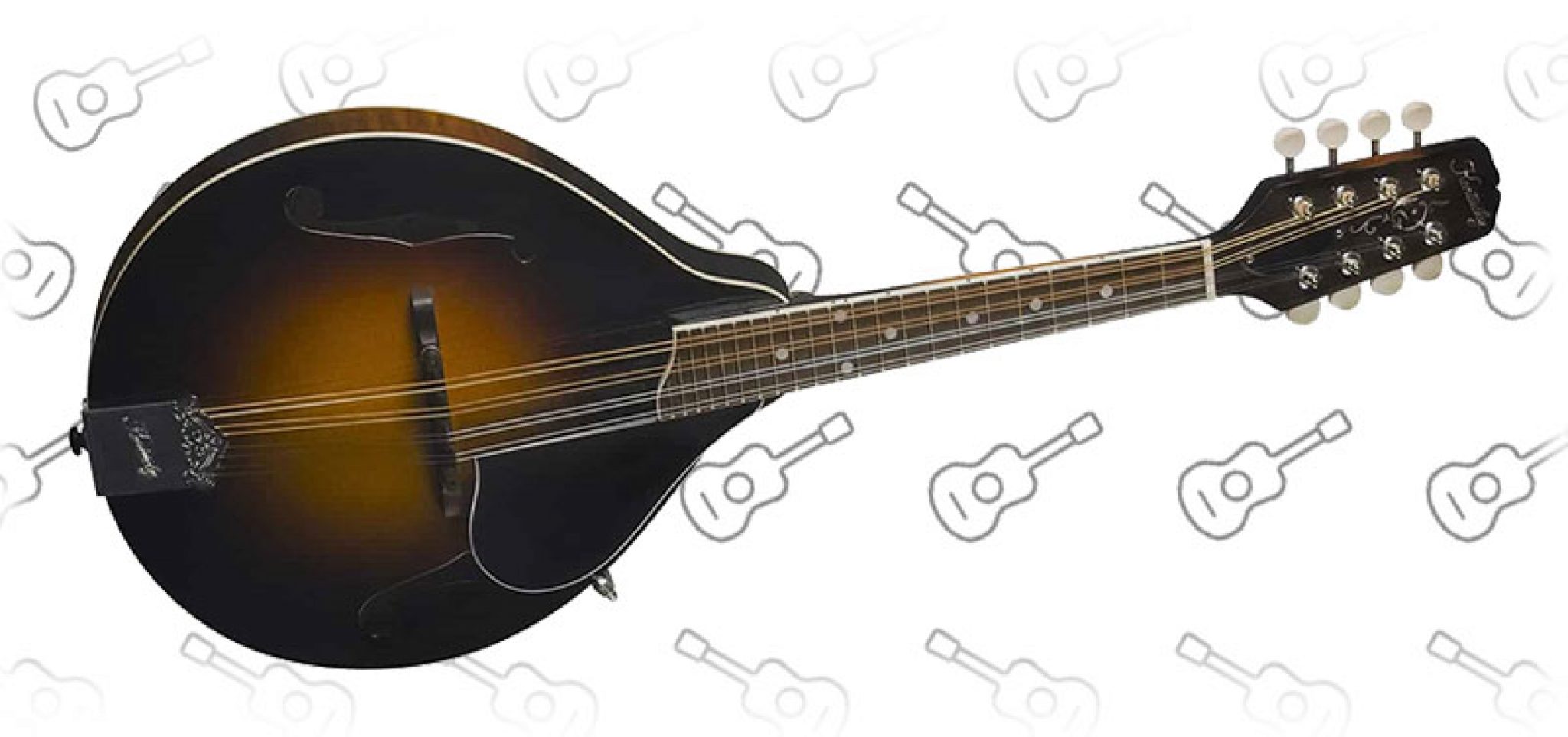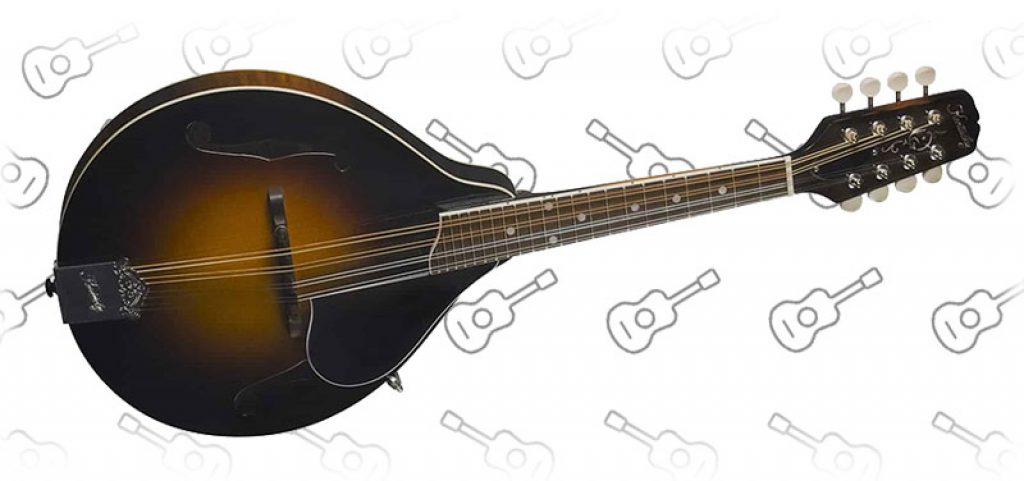 ---
4. Kentucky KM-272 Mandolin
The Kentucky KM-272 mandolin is a great oval-hole top-notch mandolin at an excellent price! While the KM-272 is a stand-out mandolin, part of the reason it is probably your best option for an oval hole mandolin is the fact that there's nearly no completion until you really jump up in price.
The other high-quality brands that usually compete with Kentucky, do not make oval holes. Those who have, simply don't stack up. So we might normally compare some of the competition and weigh the pros and cons, however again, there isn't any completion
The KM-272 Mandolin does the job of pulling off the classic oval-hole mandolin thing. It is a hand-carved instrument with a dovetail neck body joint that is not far off from an early 1900s mandolin. Kentucky Sourced Alpine Spruce and German maple for this model.
The wood quality is really great, despite the fact that there are not a lot of flames on the maple. The finish is a really thin lacquer, with a touch of amber stain. In contrast to the sunburst KM-270, on the KM-272 you'll be able to see the wood grain throughout the entire mandolin.
Another trendy feature is the Adjustable truss rod. That is something that the classic models did not have. With modern string tensions, the adjustable truss rod is a welcome improvement.
In a way, the KM-272 is kind of a hybrid (as most modern Oval hole mandolins are). Where the classic teens and 20's period instruments had the top rise up and glue to the fingerboard, the KM-272 has used an F-style construction method that has the fingerboard lengthened out over the top. This enables the top to resonate more freely and on something as small as a mandolin it makes a difference in tone and volume.
The tuners are a mid-grade Gotoh model. The physique is totally bound as is the fingerboard. The headstock braves its birthday suit and proudly flaunts nothing but a tonewood overlay with a tasteful pearl wreath inlay.
The Kentucky KM-272 Mandolin has a "V" formed neck and 1-1/8′ nut width. The frets are another area that received some modernization and most players are going to be pleased to hear that they're much bigger than the tiny frets used on the classic oval-hole mandolins.
Neck, frets, and feel are personal things, however, it looks like the vast majority of owners are pleased with the playability of this mandolin.
These cheap mandolins usually are not far off from the classic models which are based on. Actually, they are right there with a lot of them! The KM-272 has that classic sweet oval hole tone, but with the modifications to the top, there is an additional extra volume that you would expect. No, it isn't as loud as an F-hole mandolin, but it sure is loud for an oval-hole.
Features
Solid carved Sitka spruce top gives you clean articulation and a crisp, bright tone.
Solid carved maple back and sides for extra punch.
Slim maple neck for comfortable, easy action.
Choice East Indian rosewood fingerboard ensures silky smooth playability.
High-gloss sunburst lacquer finish imparts traditional beauty and luster.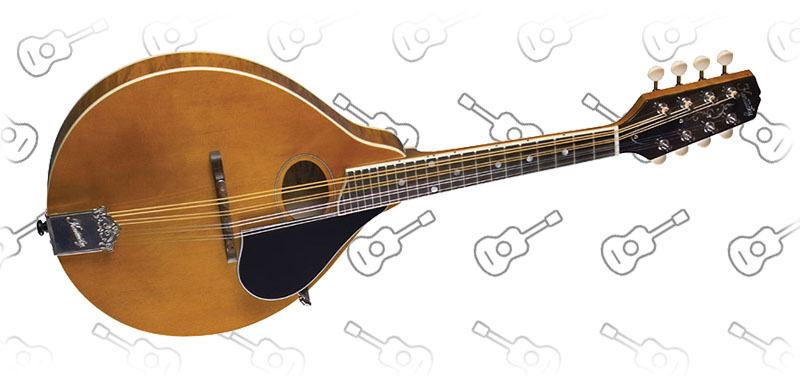 ---
5. Kentucky KM-300E – Electric Mandolin
The KM-300e is the only electric mandolin model that is made in Kentucky. This mandolin has been on the market for over a decade now and is one of only a handful of 4-string electric mandolins out there.
The KM-300E is a strong body mandolin very similar to an electric guitar, actually, it makes use of the same tuning machines, has a lipstick mandolin pickup, and actually does look like it could have stepped out of the 1950s.
The Kentucky KM-300e has a basswood physique with a set neck. The fingerboard is radiused and the metal tailpiece accepts loop or ball-end mandolin strings. You'll be able to even make up a customized electric mandolin string set from guitar strings.
The neck on the KM-300e is a one-piece maple and has good width, especially being a four-string mandolin. In case you are playing in a live country or rock band, the Kentucky electric mandolin is a good addition to your collection.
Whether or not used for Blues, Country, Jazz, Rock, or Swing, the KM-300E electric mandolin has a style and sound that is certain to be successful with any guitar or mandolin player trying to add a new dimension to their playing style.
From the very first note, you are going to experience the infinite amount of tonal options at your fingertips and also you'll know why this is the best value in an expert-level electric mandolin available on the market right now.
Features
Solid basswood body in a high-gloss traditional sunburst finish with arched back and deep cutaway allowing upper fret access.
Set-in, solid maple neck with bound and radiused, rosewood fingerboard with M.O.P. position markers and inlaid Kentucky logo cut from genuine M.O.P..
Modern style nickel-plated brass tailpiece that accepts loop or ball and strings.
Unique, adjustable compensated ebony bridge with bone cap.
A single chrome-plated lipstick-style pickup with chrome-plated volume and tone controls.
Solid basswood body with arched back for playing comfort.
One-piece maple set neck for tone and sustain.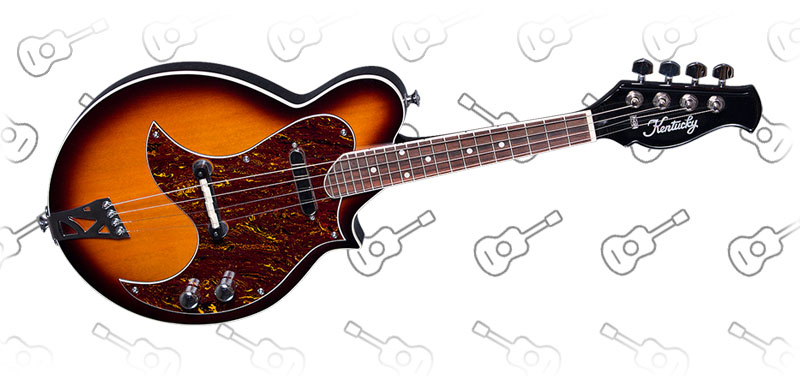 ---
6. Kentucky KM-1000 Master F-Model
The KM-1000 Kentucky Master Model Mandolin was launched in the late 1970s in response to players' and collectors' requests for a mandolin that harkened back to the very best classic instruments on every level of tone, look, and finish.
The Kentucky KM-1000 Master F-Model Mandolin is considered one of the champions of the Kentucky brand. This model is highly inspired by the traditional F-5 Gibson, and it takes this classic design and upgrades it to modern requirements.
Kentucky Master Models are once more being constructed to the same standard of high quality. Only the best American spruce and maple are hand-carved and graduated for the tops and backs. Deluxe 14:1 reverse tuners, prewar type ebony bridge, and side-striped w/b/w ivoroid body binding are all reek classics. Take a journey back to the early 20s on the Kentucky time machine – it is surprisingly inexpensive.
The Kentucky KM-1000 is a high-tier instrument that's really praised by all mandolin players. In case you're searching for something really professional, this mandolin is an ideal choice for you.
Features
Solid handcarved Adirondack spruce top provides you with superior note clarity and volume to spare.
Solid carved flamed Michigan maple back and sides ensure extra punch.
Slim flamed maple neck for comfortable, easy action.
Premium ebony fingerboard gives extra durability and striking good looks.
High-gloss lacquer finish in vintage sunburst imparts authentic beauty and luster.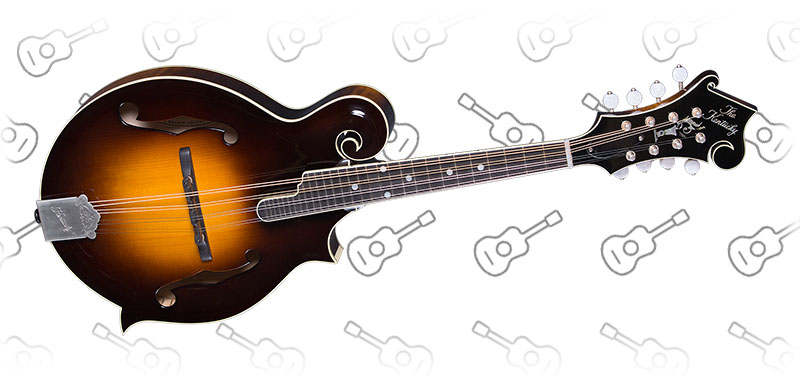 ---
Kentucky Mandolins – Buyers Guide!
What to look for when buying Kentucky Mandolins
Most of the Kentucky mandolins a really standard when it comes to the type of wood they are made of and their overall quality. Master luthiers follow traditional methods to achieve a level of workmanship to unlock the hidden potential of the tonewoods we use.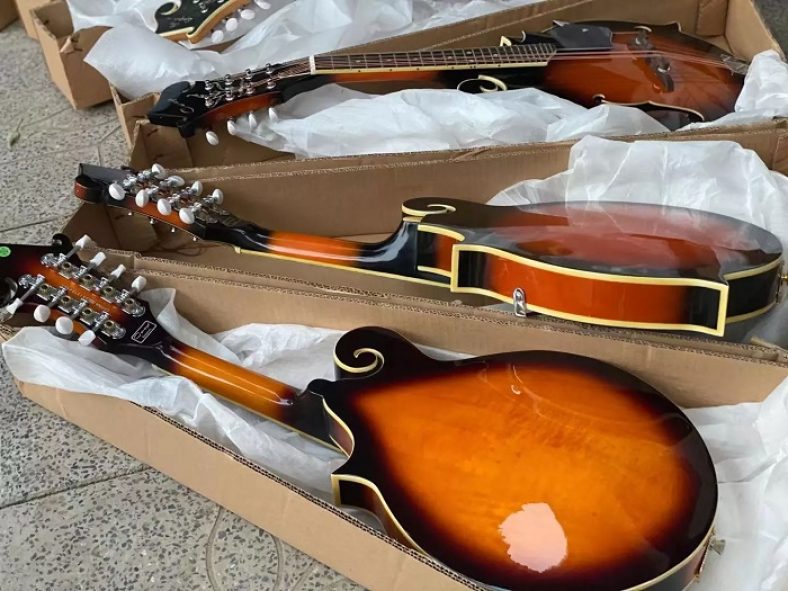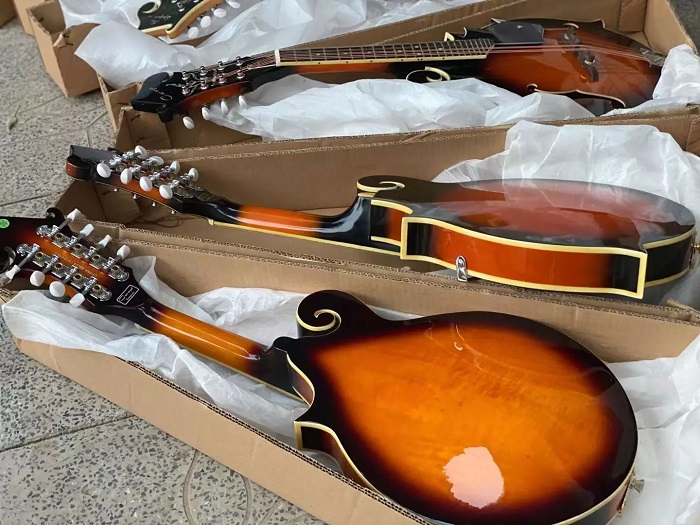 Keep in mind that their models can differ in tonal qualities, shape, and size.
Tone and Sound
Most of the Kentucky mandolin models are a perfect match if you are playing bluegrass music with their folky and woody sounds. When compared to other mandolins brands we can notice that Kentucky mandolins have a pleasant warm brightness and low tones.
Type and Shape
When we talk about shapes you need to know that most of the Kentucky models have an A-style or F-style shape, and there are few exceptions with oval hole A-style mandolins like KM-120, and KM-270 that are smaller instruments inspired by the models of the 1920s.
Price range
In case you are looking for a Kentucky mandolin you need to know that they have models for those who want to pay less but also some expensive models that can produce great sound quality.
One of those more accessible mid-range models is KM-150 and if you are looking for a more expensive model you can take a look at Kentucky KM-1500 and Kentucky KM-1050 models.
Keep in mind that Kentucky is offering mandolin models for every level and because of that reason they are one of the most popular selections in recent times with their traditional construction methods.
Kentucky mandolin types
As you probably already noticed most Kentucky mandolins have a classic design and shape. When searching for Kentucky mandolins you will notice that they can be found in A-styles, F-styles, and sometimes a mix of those two.
A-Style Mandolins
This type of mandolin is usually with a round-shaped body and they are able to produce a mellow sound that is going to be a perfect fit if you are a folk music player.
In most cases, Kentucky A-style mandolins are less expensive when compared with F-style mandolins.
Oval hole A-style mandolins have big oval holes in the middle as the name suggests and are able to provide great projection and sustain. This type of mandolin is mostly used by folk music players.
The F-style mandolins in most cases can be more costly because of their unique design with decorative scrolls that are near the neck and the head of the mandolin.
Most F-style mandolins are able to produce brighter sounds than A-style mandolins.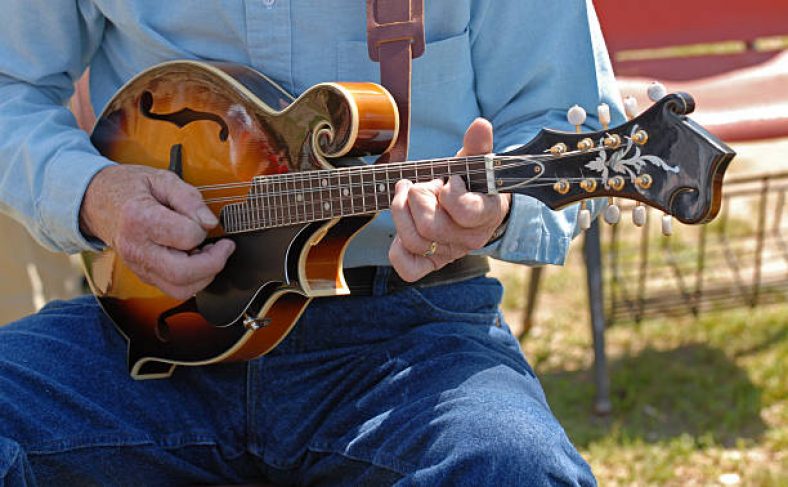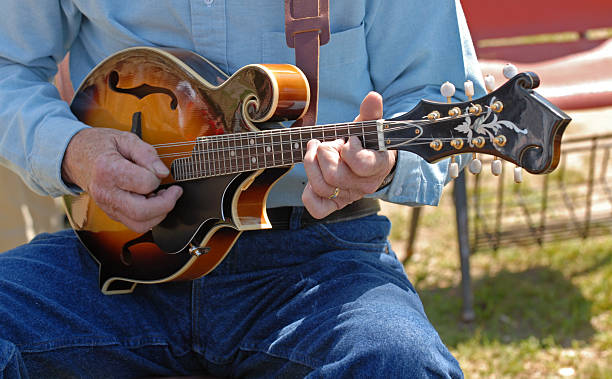 The price of Kentucky mandolins
When we talk about price you need to know that you are not going to find any Kentucky mandolin for a really cheap price. The Kentucky brand always tries to keep a high level of quality when producing its models and that's why you are not going to find any of its instruments below the $400 mark.
The cheapest model by Kentucky is their KM-150 which is around $400 and their high-end models can cost thousands of dollars.
Where Are Kentucky Mandolins Made?
Most of the Kentucky mandolins are originally made in the United States, however, because of the big demand for their models, some of their production was transferred overseas.
Models that are produced overseas are usually inexpensive and mid-tier models, and they are getting manufactured in China or Japan.
Conclusion
If you are looking for a Kentucky mandolin we hope that our guide will help you make the right decision.
Related Articles
Happy Strumming!