Recording King RK-75 Elite Banjo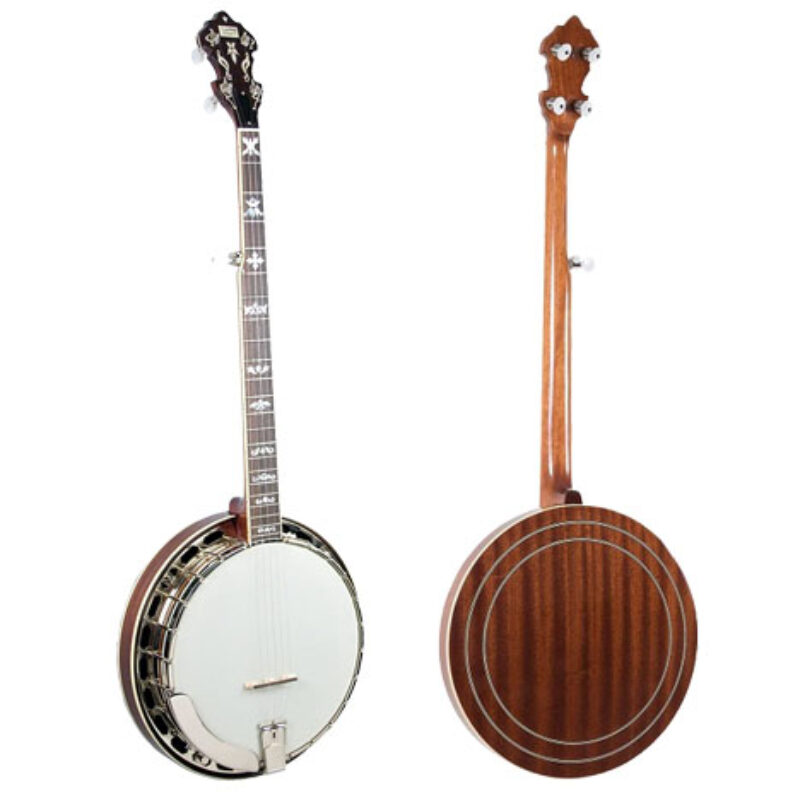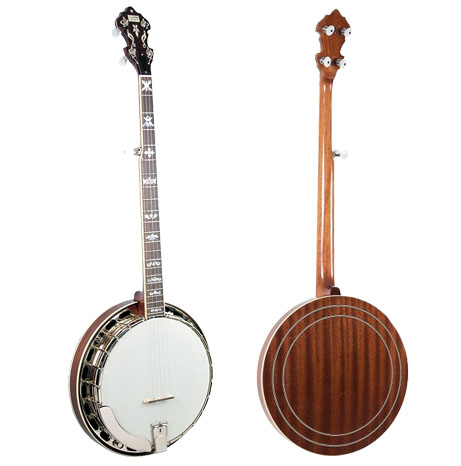 Great Quality Instrument.
Bright and loud sound!
Affordable price level.
Gig bag included.
---
Recording King RK-75 Elite Banjo – Review!
The RK-75 can't be beaten in this price range as it has everything a banjo player needs. The fact that you can purchase a banjo with this type of quality, look and TONE for this price is simply unfair to the more expensive banjos. In this Recording King RK-75 Elite Banjo Review, we will give more information on why we think this instrument is well worth its price.


A banjo such as the RK 75 is one we would be willing to take on the road, play professionally, and do it all with. Your spouse may be happy to hear that you won't need to buy another one if you get one of these.
There is a one-piece neck flange, flathead tone ring, presto tailpiece, and an inlaid Flying Eagle fingerboard. Moreover, the neck is comfortable and produces a rich tone.
There is a cool mastertone-style Flying Eagle peghead design and inlay featured in the RK 75, which was popularized by Don Reno, Bill Emerson, and JD Crowe.
---
Recording King
RK-75 Elite Banjo
Resonator: One-Piece Mahogany.
Rim: 3-Ply Maple.
Flange: Mastertone-Style One-Piece.
Head: Remo Frosted Head, 11″ High Crown.
Tone Ring: Mastertone-Style.
Coordinator Rod(s): Dual 1930's Style.
Neck: One-Piece Slim Profile Mahogany.
Fretboard: Bound Ebony.
Hardware: Nickel-Plated.
Tailpiece: Presto-Style.
Bridge: Maple / Ebony; 5/8″.
Tech Specs
Nut: Bone.
Custom Flying Eagle-Style M.O.P. Inlay.
Peghead: Double-Cut Recording King.
Ebony Peghead Overlay-Mother of Pearl Inlay.
Gotoh Planetary Tuners With Geared 5th Peg.
Binding: Ivoroid.
Scale Length: 27-3/8″.
Armrest: Included.
Finish: Gloss.
Case: Included Vintage Hardshell Case.
---
The Sound
If you have a Scruggs picking style, the RK-75 Elite is designed to suit you perfectly. You will be blown away by the rich and full sound that this instrument produces once you unpack it. Near the bridge, it has a bright and clean tone, while near the neck, it has a rich, full tone.
There is a wide range of tones that can be achieved with the RK-75 Elite Banjo and it tones out perfectly. The 75 has really been pushed to its limits and it only wants more. There is no denying that the 75 is loud. It seems like even when I play lightly, it's still loud.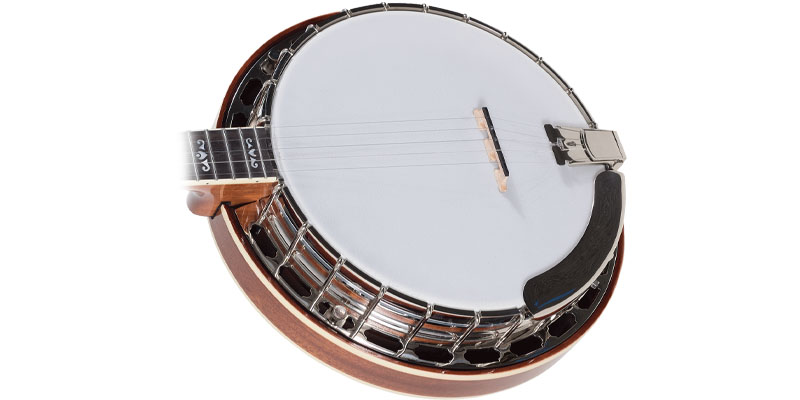 The 75 comes through like a champ. I'm one of those who think a banjo can't be too loud. However, this model proves us wrong because even when you play light, it is still loud. We wanted a deep growl on the low end, and that's exactly what we got.
The Recording King RK-75 – Setup
The Banjo setup can be different depending on where are you getting your instrument from, however, in most cases this instrument comes ready for playing (you might only need to do small corrections). Once you get your instrument you should play it for a while just to let "him" settle and check if it needs to be tweaked.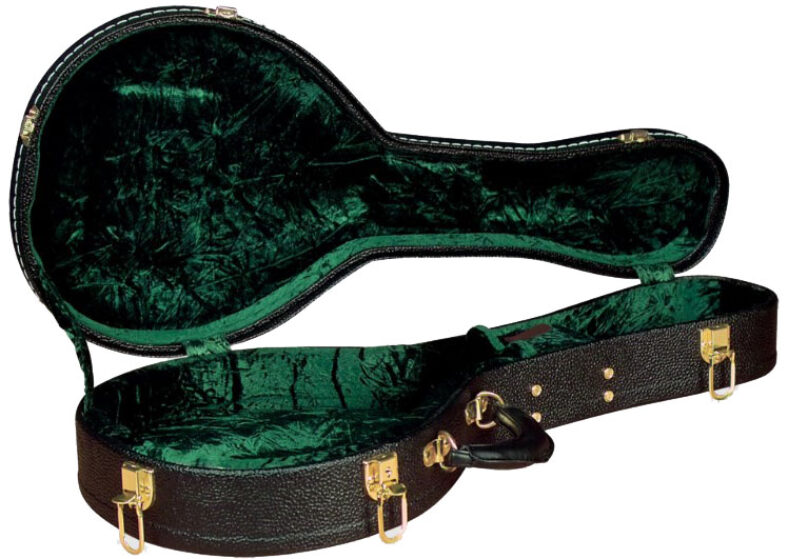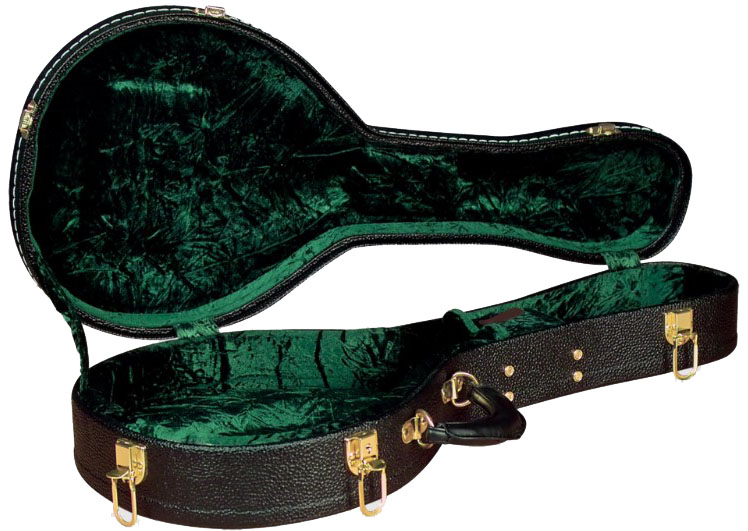 In most situations, the instrument sounded really good out of the case, and the intonation was on the spot. Another great thing about this instrument is that it comes together with a gig bag!
Appearance
There is nothing to complain about in terms of appearance, finish, inlay, or plating, it is flawless. The instrument just looks really nice, and we have no complaints about it. Despite our attempts to find inlay or finish errors, we haven't been able to find any. It's a beautiful banjo, with no mistakes at all.

Our favorite part of the 75 Elite is the flying eagle inlay pattern. We thought I would be bothered by the Recording King block on the peg head. Instead of a sticker appearance, it's an inlay that looks great. We thought it would look like a sticker.
The instrument Reliability
The hardware on the banjo is solid, just like the rest of the instrument. It is evident throughout the product that the plating is excellent, with no signs of bubbles.
It doesn't seem like there is a reason why the finish won't last for a long time. This banjo is a banjo that I would be comfortable playing in any situation and position. The banjo is very reliable and can be relied on for a long time.
The RK-75 Banjo Components
In our opinion, there are a lot of things we like about the 75 Elite, and it is a beautiful instrument to look at.
It was recommended to have spikes placed at the 7th and 9th frets. The 5th fret glides in smoothly, with no snags at all, and no problems. We've encountered banjos where the 5th string would catch or didn't slide under the spikes easily.
---
Recording King RK-75 Elite Banjo
One of the most traditional Pre-war Banjos!
Pros
Classic Mastertone sounds
Bright and loud sound
Vintage style
Affordable price level
Cons
Similar to the RK-35 and 36
---
Feel free to check the sound of this beautiful The RK Elite 75 Flying Eagle by #RecordingKingOfficial
---
Last Words
We are extremely pleased with this great banjo, as is already evident from our comments. we believe that this is one of those instruments that can be handed down from generation to generation.
As for the material, it is really sturdy and we are sure that if you take proper care of it, it will last you for many, many years.
It's highly unlikely that you'll get a new banjo anytime soon once you buy this instrument. An instrument of this quality is beautiful, will last for a very long time, and will provide you with everything you need from a banjo instrument.
Happy Strumming!