What Is A Professional Banjo?
The banjo is a plucked string instrument made from a frame covered in a taut skin or plastic head. It has a long neck and strings stretched across it. It has a unique, twangy sound and is made from many small interchangeable components, which makes it totally different from most other string instruments.
To learn about that banjo, you should also find out about its historical past. The instrument has roots in Africa and was brought to America by the slave trade. Over years of improvement in slave communities, it grew to become intertwined with American folk music.
The best professional banjo is painstakingly constructed from the best materials out there to provide loud, clear tones. Along with this, they're often handmade by master craftsmen out of solid heavy materials, which is why they're often a lot heavier than other banjos.
What's The Difference Between Beginner, Intermediate & Professional Banjos?
The main difference between beginner, intermediate, and the best professional banjo is about who builds them and the materials used, in addition to the amount of time and effort spent on the look of the instrument.
Beginner Banjos: If you're first learning an instrument, usually the most important barrier to start playing is price. Starter banjos are generally made cheaply to be accessible. They use lighter, lower-quality materials assembled in large factories.
Intermediate Banjos: Instruments for intermediate players incorporate higher varieties of wood and metal. They carefully resemble professional banjos in sound, however, are often not quite as painstakingly assembled.
Professional Banjos: Professional players select their banjos mainly based on sound and playability, however, their banjos look nice, too. High-quality banjos are usually built by hand using hand-picked woods and hand-machined metal components. They're put together to very precise standards.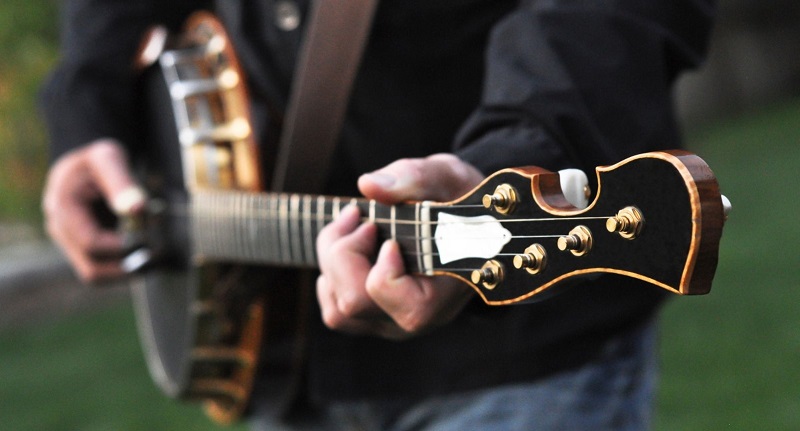 Types Of Professional Banjos
There's lots of variety in the world of banjos. There is a 5-string resonator or open-back banjos, there are lots of other kinds like 6-string banjos, electric banjos, gourd banjos, ukulele banjos, mandolin banjos, and more.
Resonator (Bluegrass) Banjos
When you picture what the best banjo looks and sounds like, there's a great chance that you're thinking of a resonator banjo used in bluegrass music. These are 5-string banjos performed with fingerpicks that have a closed-back (resonator) and a punchier, twangier sound.
Open Back (Clawhammer) Banjos
The other most popular type of banjo is the open-back banjo. These are also 5-string banjos but do not use a resonator. They're used for old-time clawhammer playing and have a plucky, less bright sound than what's usually heard from a resonator.
Tenor/Plectrum Banjos
These can both be opened or closed back, and only have 4 strings instead of 5. Tenor and plectrum banjos are different sizes and are both used primarily in Irish music and jazz with a pick or plectrum.
6 String Banjos
Tuned and constructed much like guitars, 6-string banjos are constructed with the body of a banjo and the neck of a guitar. This way, a guitar player can get an identical tone to a banjo without having to learn new tunings.
Ukulele Banjos
Ukulele banjos have been created within the early twentieth century to be tuned and played like a ukulele, however with the unique sound you can only get from construction that includes a taut banjo head.
Electric Banjos
There are lots of ways you can make a banjo electric. You'll be able to simply insert pickups or microphones inside a regular banjo, or there are completely new constructions tuned like a banjo, but with a body more like an electrical guitar.
Other Banjos
Together with these types, there are several different banjos, from mandolin and bass banjos to gourd banjos and harp banjos. Most of those are relatively uncommon and some should be custom-made.
10 Best Professional Banjos
Listed here are just a few of our favorite widely available professional banjos. We focus mostly on 5-string resonator and open-back models as they're preferred, however, there are great banjos on the market in any style.
1. Deering Sierra Banjo
The Deering Sierra Banjo is among the 5-string resonator models that may be played by adults and younger children. The banjo weighs 12.25 pounds, and it may fit into a regular banjo hard case, which provides additional safety for the musical instrument.
The classic traditional design of this banjo makes it appropriate for professionals who want a banjo that has similar features to the one they've used before.
The Sierra banjo is made in the US, it features 3-ply maple rims and planetary tuners. The characteristic '06-bell bronze tone ring improves the sound quality of the banjo, and it has a one-piece resonator flange.


This is among the best professional banjos with an adjustable Deering tailpiece. The neck of this banjo features a satin-mahogany finish that offers it an impressive look, while the fingerboard is produced from ebony.
PROS:
Incredible sound
Solid setup and build
Good price for what you get
Top-notch components and materials
CONS:
A bit more expensive than others
2. Gold Tone Orange Blossom Banjo
Among similar models, the Gold Tone Orange Blossom banjo stands out, as a result, it is produced from ebony wood, and features a slender neck made from curly maple wood. This Gold Tone banjo weighs only 12 lbs. so it's easy to carry around in a hard case.
The replacement accessories for this Gold Tone banjo are available out there. Its physical features include a 22 fretboard, classic brown wood finishing, a tension hoop made from brass, and a bronze sand-cast tone ring that enhances the sound output from this musical instrument. The rim on this banjo is made from 3-ply Canadian maple, which is durable.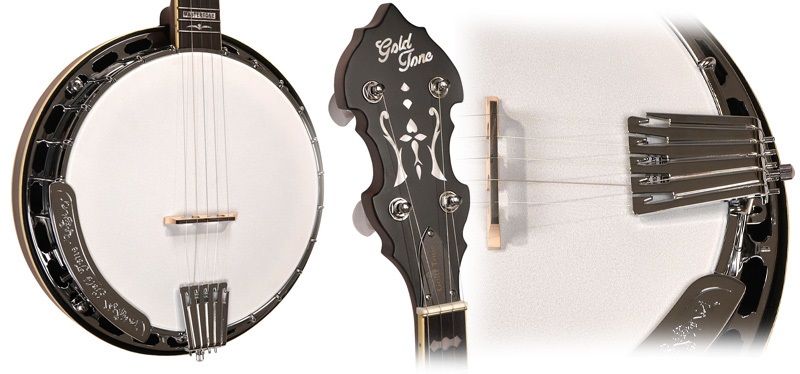 The 5/8'' bridge is made from ebony/maple, and it features a straight-line tailpiece. The aesthetic design of this Gold Tone banjo is enhanced with the triple gold plated features. The size of the crown on this banjo model is 11'' and it's a Remo high frosted crown.
PROS:
Sweet and clear sound
Very solid feel
Good setup
Great worth
You Can Buy Gold Tone Orange Blossom at the Links Below!
3. Recording King RK-75 Elite
Many modern bluegrass banjos are attempting to replicate the prewar Mastertone banjos, and the RK-75 Elite is among the best you will discover on the market. At a really reasonably priced value for its features, this banjo offers you an incredible cutting sound and lives up to many of those sought-after vintage instruments.
In case you're trying to emulate the look and sound of the great prewar instruments on the market, the RK-75 is your go-to for a reasonably priced vintage sound.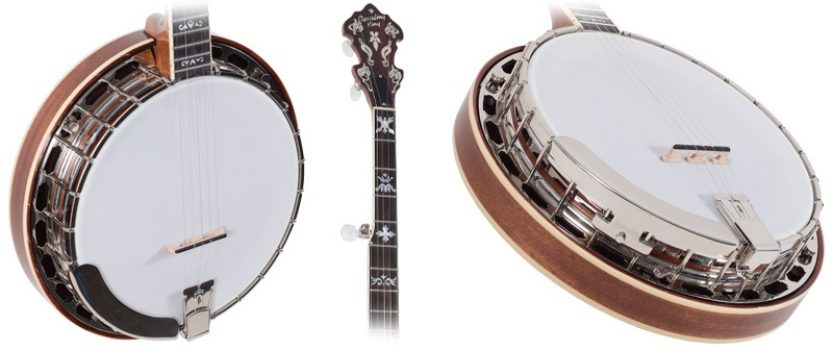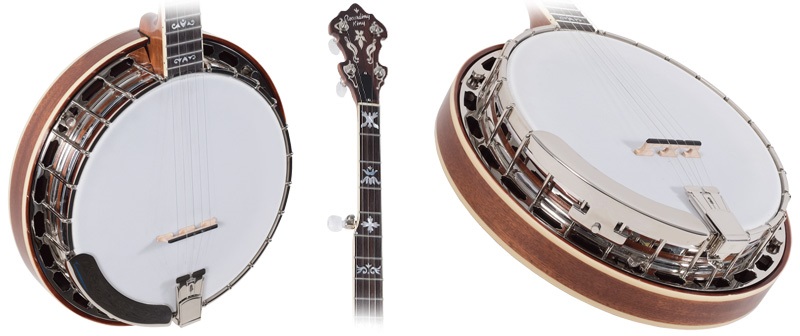 PROS:
Classic Mastertone sounds
Vintage style
Affordable price level
Good setup
CONS:
Similar to the RK-35 and 36
Doesn't bring much new to the table
4. Pyle PBJ60 Tuneable Banjo
Regarding banjo models which have been designed with lightweight features, the Pyle PBJ60 Tuneable banjo is a good fit. The banjo weighs only 7.21 pounds.
The design of this banjo could be labeled as one of the classic models which are most suitable for playing traditional songs and tunes. It's a tuneable five-string banjo that has adjustable features that make it simple for professionals to provide the proper sounds while paying for a gig.
A fifth-gear tuning peg has been added to improve the sound output. The tuner key pegs are produced from white jade, and the truss rods are adjustable to satisfy common standards.
The hardware and accents on this banjo are chrome plated, and the wood finishing has been coated and polished to meet the expected aesthetics.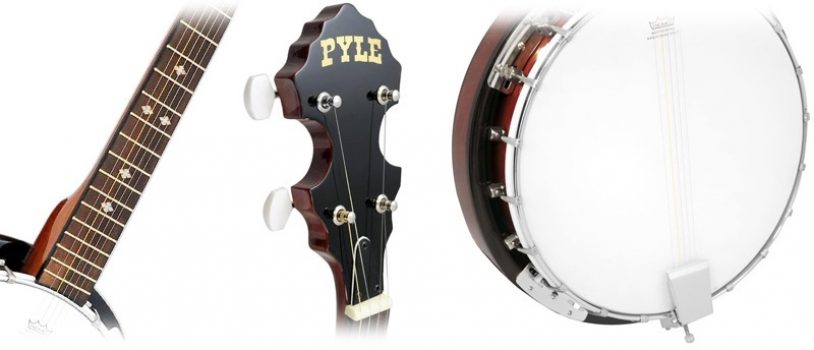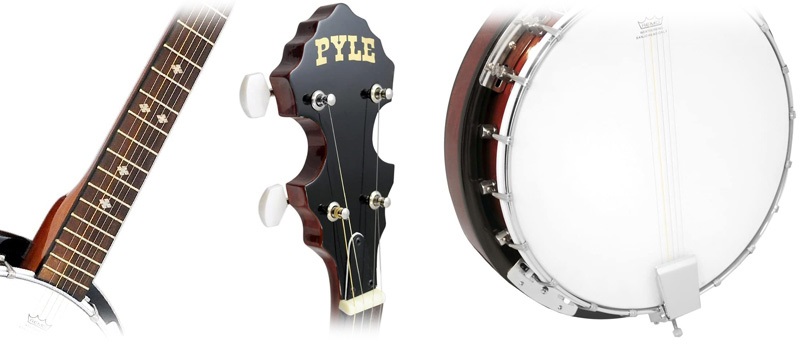 There are 22 frets on this traditional-style bound banjo. The length of the musical instrument is 37.9'' while the length of the fretboard is 19.4''. The diameter of the banjo drum is 11.4'' with a height of 2.75''. Additionally, the fretboard is made from rosewood, and the bridge is manufactured from maple wood.
PROS:
Classic Traditional Style Binding Design
Coated and Polished Rich Wooden Finish
Chrome-Plated Hardware & Accents
CONS:
More expensive than others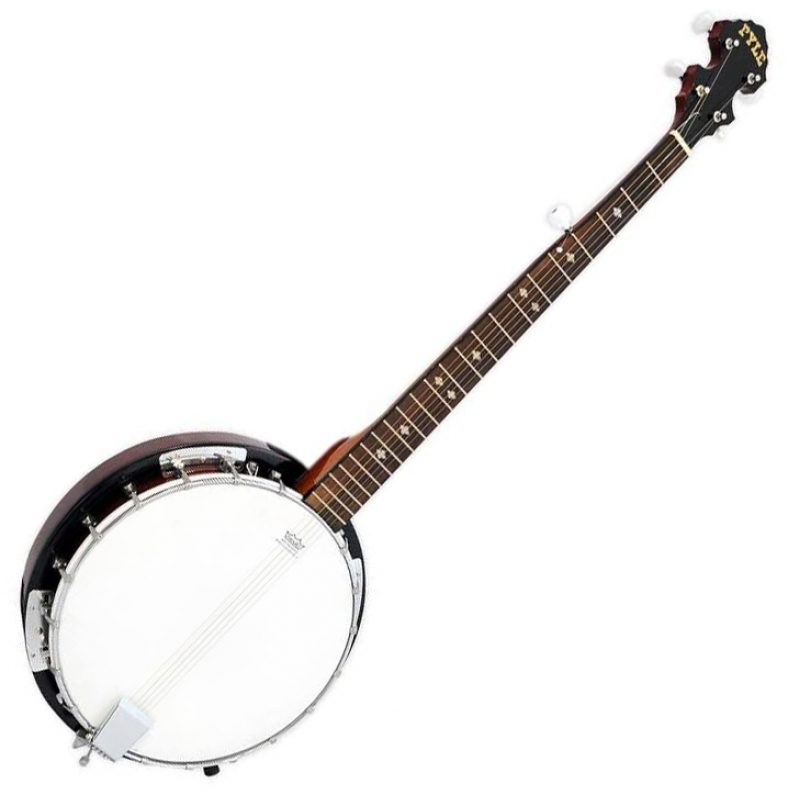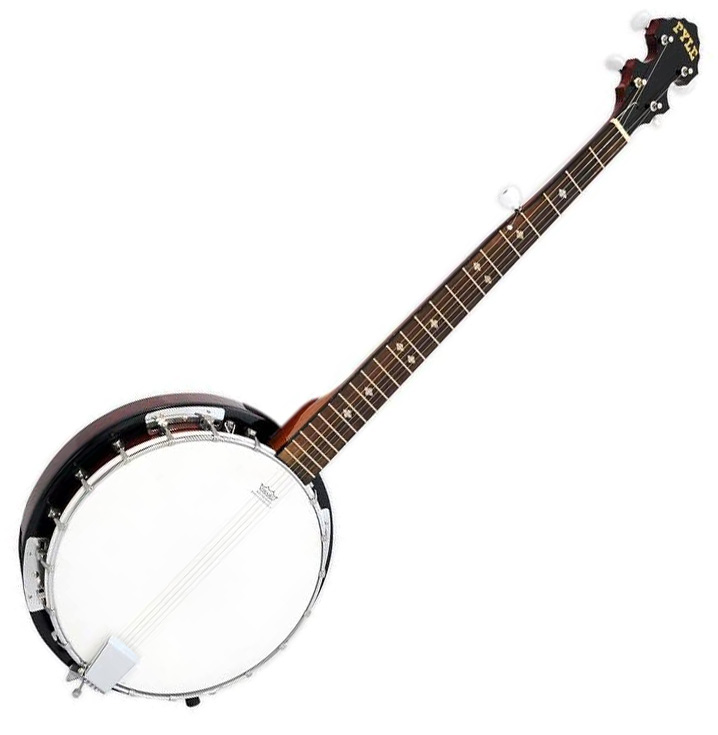 Brings you all the classic tones of a traditional 5 string banjo. Perfect for country, folk, bluegrass, and even some modern rock. It's designed to sound as good as it looks.
5. Deering Goodtime Resonator Two
The hard case that comes with the Deering Goodtime Resonator banjo is nice for protection against damage while in transit. The Deering Goodtime banjo model has a beautiful design with an 11'' frosted top high crown head.
It weighs only 13.4 pounds, so this banjo could be simply carried around from one gig to another. The hard case features different storage compartments that can be used to keep accessories and replacement components for the banjo.
There are 22 frets on this banjo, the frets are produced from a combination of Nickel and Silver, which is durable and also provides the musical instrument an interesting look. The frets on this banjo have been pressed in, which makes it easy to play the musical instrument.

The neck of this banjo is long and slender. It has a rock maple neck that additionally adds to the aesthetic appeal of the musical instrument. Additionally, the maple rim is produced from 3-ply which makes it durable and proof against extreme temperatures.
When needed, it's simple to clean this banjo model, and the gig bag keeps it free from dust. This banjo can be used to play different music genres.
PROS:
Blonde Slender Rock Maple Neck
3-ply Violin Grade Goodtime Maple Rim
22 Pressed In Nickel Silver Frets
CONS:
More expensive than others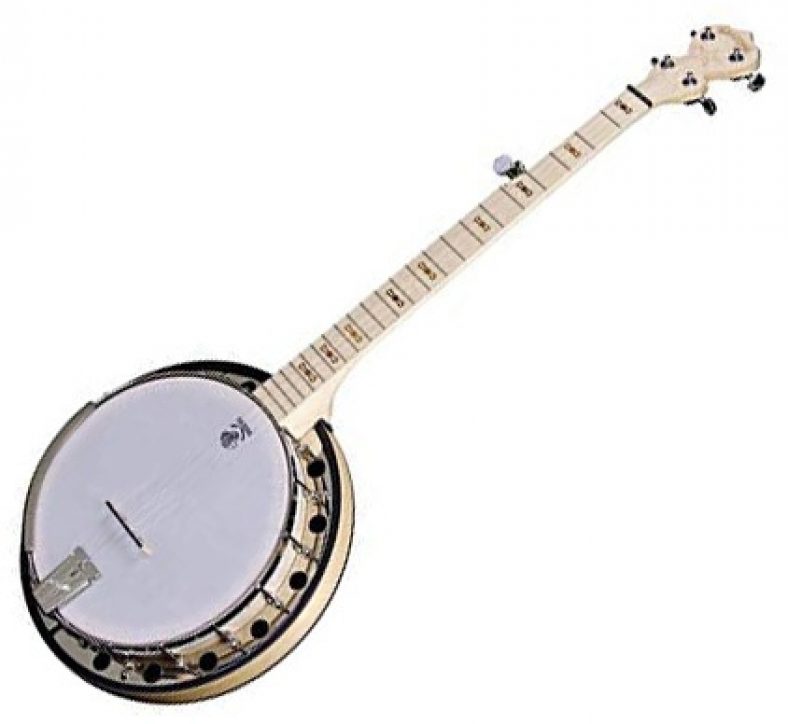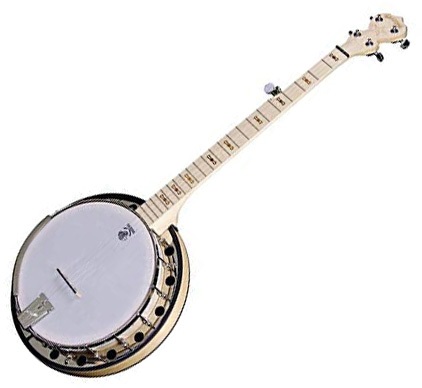 Blonde Slender Rock Maple Neck. 3-ply Violin Grade Goodtime. Maple Rim. 22 Pressed In Nickel Silver Frets. Includes a Gig bag.
6. Ibanez B200 Banjo
The Ibanez B200 is a five-string banjo it features a natural color that blends with the environment. The patterns and designs on this banjo give the musical instrument a unique look that can be attractive.
The features of this banjo are easy and simple to use, which makes it a good selection for beginners who wish to learn to play the banjo, like professionals. The rim of this banjo is produced from basswood, which is durable and has a presentable look.
The binding design for this resonator features an acrylic pearl block inlay, and the tuners are well-designed to stop friction. This banjo additionally features 22 frets on the bridge and a comfortable armrest. The rim, neck, and back of the banjo have an appealing gloss finish.

Other features of this banjo include a closed-back, 24-lug configuration, a rolled brass tone ring, and a mahogany rim. The gig bag for this banjo has enough space to carry the strap, pick-up, strings, and other accessories.
PROS:
It features a short neck
Durable construction
The resonator is loud.
Produces powerful & solid sound
Excellent aesthetics
CONS:
It is heavier than many banjos with resonators
Friction tuner
You Can Buy Ibanez B200 Banjo at the Links Below!
7. Deering Goodtime Midnight Special
Instead of the common colors, the Deering Goodtime has created a 5-string banjo model that comes with a midnight shade that gives it a special look. This model was released to the public in 2016 it's only 8 lbs. and can easily fit right into a gig bag, which makes the banjo portable.
Playing tunes with this banjo is simpler because the midnight fingerboard is produced from maple; it features a well-formed carving on the finger inlays and peghead.
This is among the banjos that produce clear sounds with note separation because it has a 3-ply violin-grade rim made from maple wood and a Goodtime tailpiece that features an adjustable patented design. The banjo has a durable satin finish and stained black designs on the neck and rim.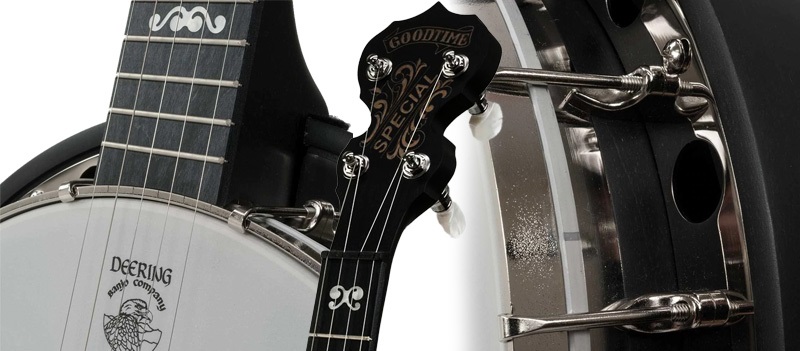 The sound production features on this banjo include the addition of spikes on the 7, 9, and 10 frets, a slender rock maple neck, durable tuning pegs to get the best sound output, and high-quality strings. The entire length of the banjo is 38'' while the resonator has a diameter of about 13''.
PROS:
Durable construction
The resonator is loud.
Excellent aesthetics
CONS:
More expensive than others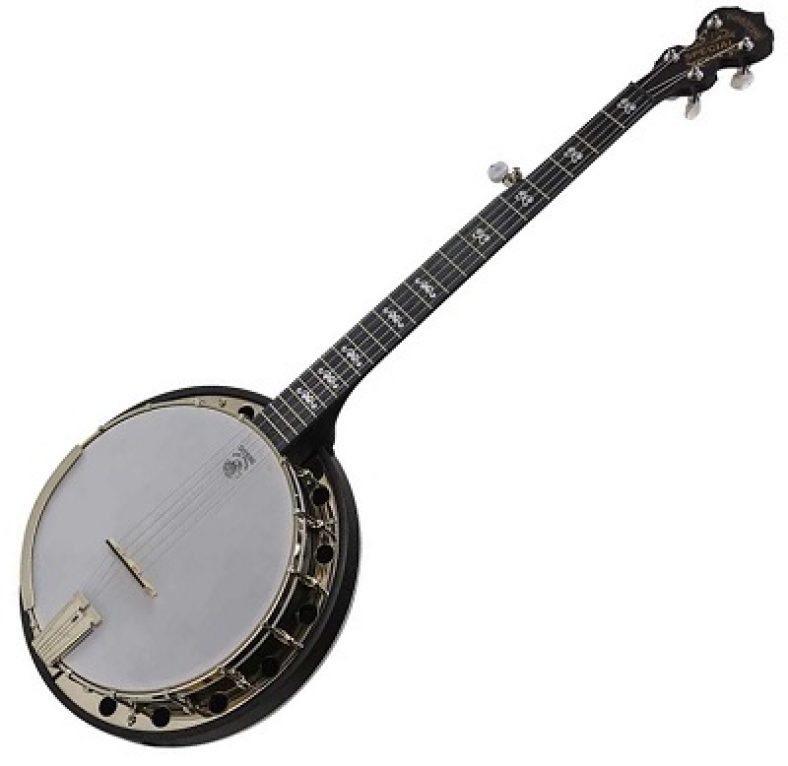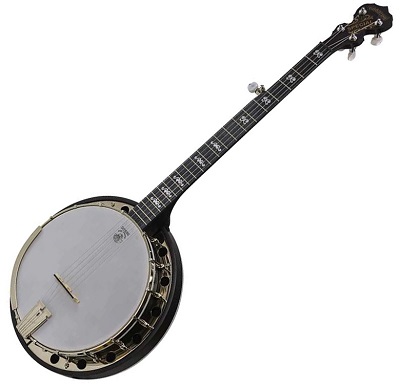 New Features: Separate "midnight Maple" fingerboard, New improved and elaborate carving on the peg head and fingerboard inlays.
8. Gold Star Model GF 300FE
Having a Gold Star GF 300FE banjo model is a good idea because it is among the exquisite maple resonators that feature a cast pre-war style 20-hole flathead tone ring.
It's a 5-string banjo designed for professional players and beginners who want a professionally styled banjo to improve their skills. The banjo is portable, and it weighs only 11.7 pounds.
The inlay flying eagle pattern is visible in the fingerboard that has been made from Brazilian rosewood with a 3-ply binding. The performance of this banjo has been enhanced by using a brass flange and tension hoop. The rock rim is made from 3-ply maple wood, which is extremely durable.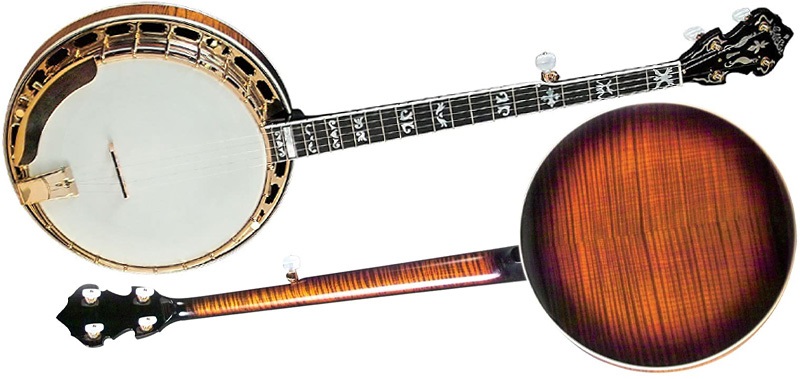 Features a special cast bronze tone ring that's rare, and it has an excellent aesthetic appeal. This is among the remodeled classical banjos which have overcome the structural weaknesses of the previous models.
Other features of this banjo include a gold-plated ebony polished truss rod cover, an ebony fingerboard, a peghead overlay, and a flat head tone ring.
PROS:
Cast PreWar Bell ally Tone Ring
Deluxe 3-ply rock maple rim
Double coordinator rods
Single piece die-cast flange
CONS:
A bit more expensive than others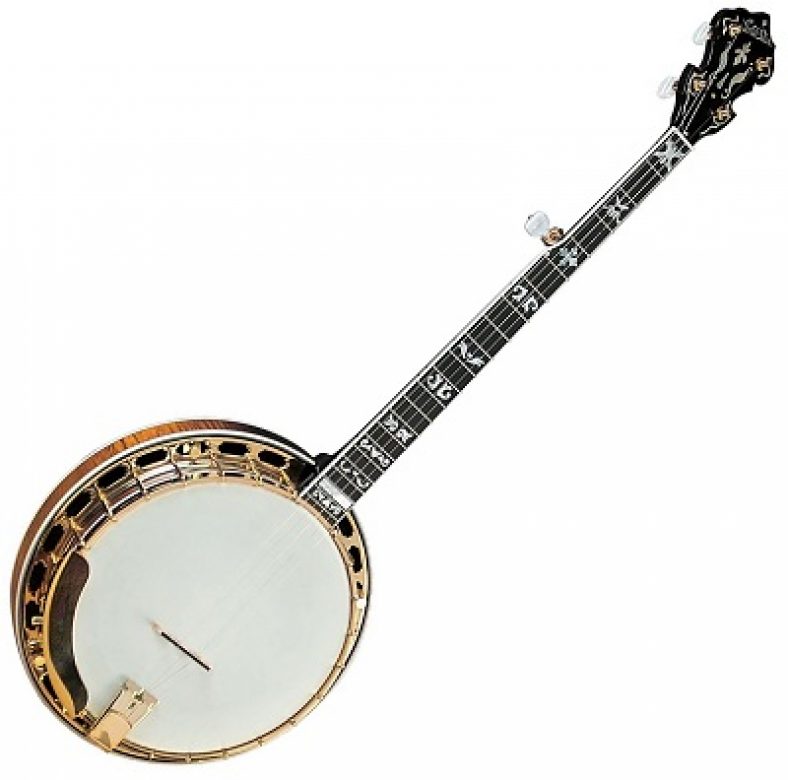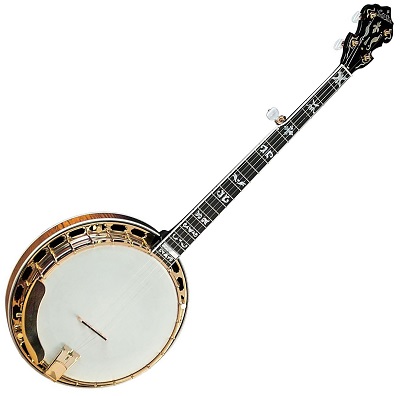 Ebony peghead overlay with flamed maple neck with ebony fingerboard gold plated hardware polished ebony truss rod cover.
9. Gold Star GF-200
Another nice example of vintage-style bluegrass banjos, the Gold Star GF-200 is one from a line of well-built foreign-made bluegrass banjos from Gold Star. This solidly constructed banjo combines many vintage elements into a real firecracker of a banjo for a classic bluegrass sound.
If you're searching for the articulate snap and prewar tone of an all-maple 5-string resonator banjo from the 1930s, the GF-200 is the right choice! This instrument represents the culmination of years of development involving the re-issue of the legendary Gold Star® banjos of the late 1970s and 1980s that set the standard for how modern banjos similar to those of the prewar period are made.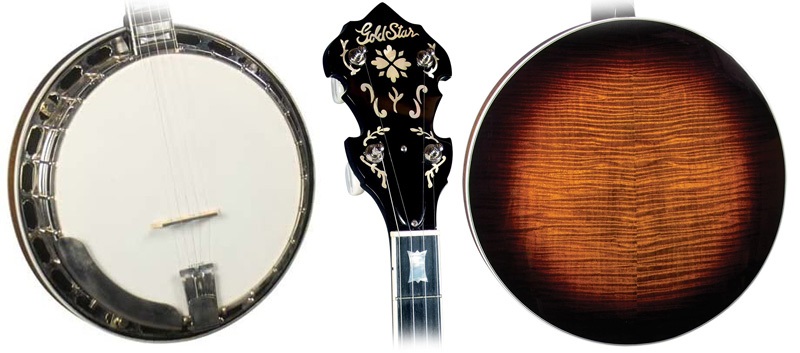 The Gold Star GF-200 Flamed Maple Sunburst 5-String Banjo has a basic bluegrass tone. It is an incredible sound that comes from its deeply arched resonator with the tapered wall. Flamed maple construction and hand-cut hearts and flowers inlay give the GF-200 eye appeal, and its smooth Brazilian rosewood fretboard lends it a finger-friendly feel.
It's another nice choice if you're searching for that classic banjo look and sound with many professional touches.
PROS:
Solid vintage sound
Excellent look
Good, reliable setup
Superior case included
CONS:
Expensive for a Chinese made instrument
One of many vintage banjos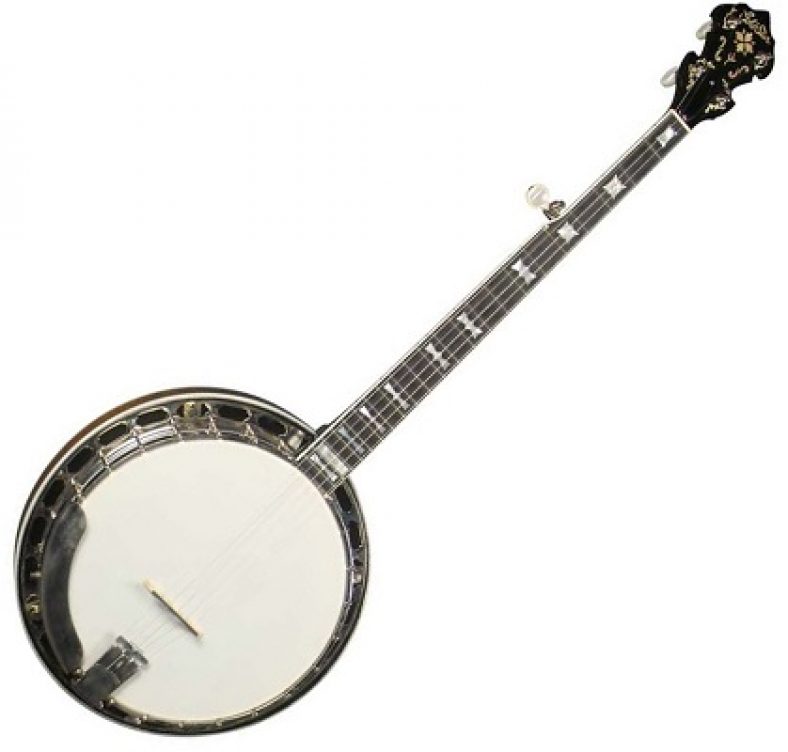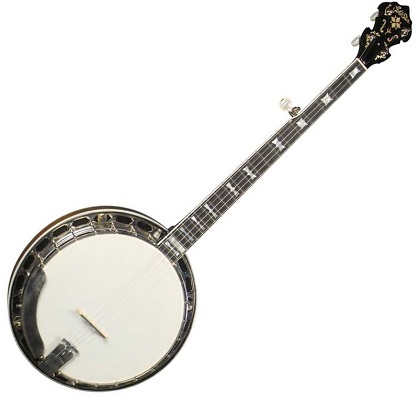 Sand-cast, PreWar style, 20-hole flathead tone ring, Ebony peghead overlay, Peghead inlays: handcut M.O.P. in traditional Hearts and Flowers pattern.
10. Deering Calico
The Deering Calico is an upgrade in some ways from their Sierra model, with many aesthetic upgrades like an intricate purling and binding and excellent-looking curly maple. A bit brighter tone and a sweeter sound come from the all-maple build, and greater projection comes from the tapered resonator.
A premium quality world-class 5-string banjo that's appreciated for its crisp tone with great highs and distinctive bass response. The Calico is not only stunning, but it's also exceptionally dynamic with both powerful sound and response providing a wonderful tool for all styles of music.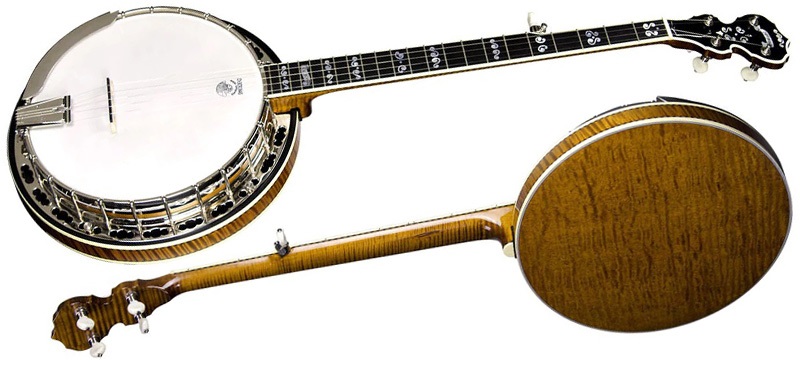 In case you've got the cash and need a bright, classic bluegrass sound, the Calico is an incredible banjo from the consistently great Deering.
PROS:
Sweet and clear sound all over the neck
Great set up and finishing touches
Beautiful looks
Solidly built
CONS:
Expensive
Too bright for some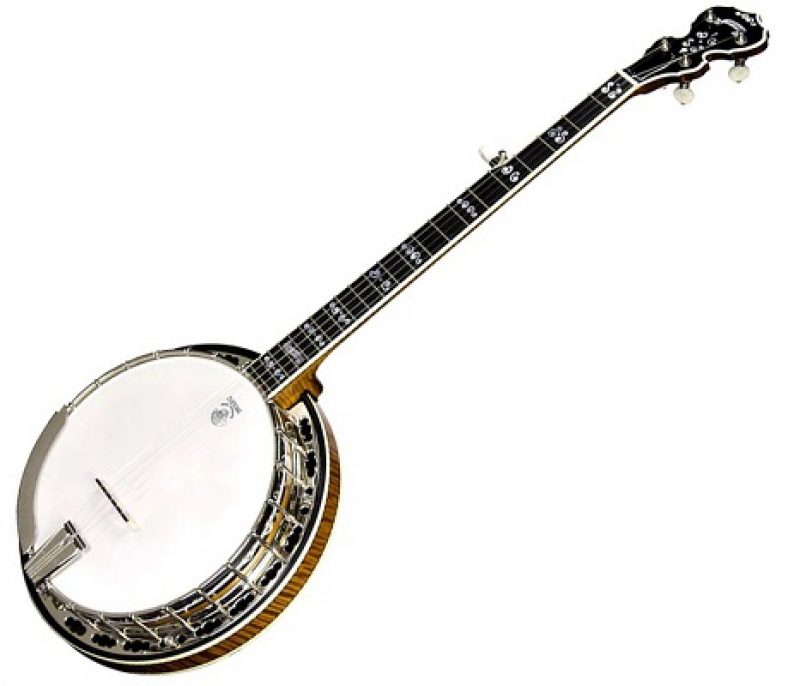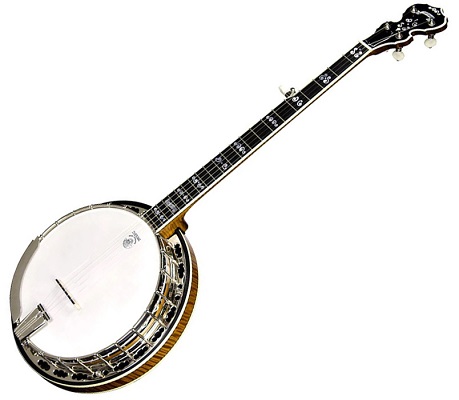 Maple Neck and resonator with honey-amber stained, high gloss finish. Ebony Fingerboard with fancy, curly-que mother of pearl inlays. Three-ply rim with one piece flange.
Things To Consider When Choosing A Professional Banjo
If you're purchasing a professional banjo, you're making a significant investment. It's important to carefully think about your options.
Pay attention to the materials, parts included, size, tone, builder, and of course price.
Materials
The best professional banjo is produced from solid hardwoods like maple or mahogany, which may vastly change the tone, and solid cast brass tone rings. Together with that, the hardware is usually brass or steel, they usually feature a mother of pearl or similarly attractive inlays within the neck and headstock.
Parts
While almost any banjo may have the essential banjo parts (rim, neck, head, bridge, tailpiece), the best professional banjo may also feature a tone ring, railroad spikes (to tune up the 5th string), and higher-quality tailpieces, bridges, and flanges.
Size/Weight
Because of the solid materials used and the sturdier building, high-quality banjos are quite heavy, normally between 10-15 lbs. But, depending on the type of banjo, the size and weight might vary. For example, a ukulele banjo is far smaller than a bass banjo.
Overall Tone & Sound
Banjos generally have some element of twang to them, and any professional banjo must also have clear direct tones. But, many types of banjos have different sounds. For example, a bluegrass banjo needs to be punchy and powerful, whereas an old-time banjo could be clunky and natural sounding.
Build
The company or particular person who builds your banjo normally indicates more about its reliability, playability, and tone than almost anything else. A reliable builder with a solid track record will put out great-sounding banjos every time.
Price
The best professional banjos aren't cheap, and on the low end usually cost upwards of $1000 and sometimes up to $5000 or more. In case you're willing to look locally and be patient, it's possible to search out used budget options if you know what you're searching for.
Shopping for New Vs Used Banjo
When shopping for big-ticket banjos, it's very desirable to buy new musical instruments straight from the manufacturer, as you'll get a warrantee and guarantees on the quality of the build and quality delivery.
Used professional banjos could be a nice deal if you already know what you're searching for, but you have to really ensure that the seller is reliable, and you must ensure the delivery if it's being shipped.
Professional Banjo Aesthetics And Material
Best Professional Banjo has diverse looks and feels to them, especially if you get to the professional level. There's lots of variety in what might go into the instrument, too, but there are additionally some things that you always want to look for.
Wood
When searching for your banjo, you need to all the time look for thick, solid woods like maple or mahogany. Sometimes you might see walnut, cherry, or ebony, however maple and mahogany are the commonest.
Finish
Banjo's finishes range from natural matte to glossy, and neither is particularly better than the other. What can usually make a bigger difference in price are the high-end inlays, figuring, and lettering, which really make a banjo pop visually.
Color
The wood on most banjos is stained to a natural brown or tan finish, typically with shades of yellow or red. The metal on banjos is similar almost all the time either coated in a chrome or a gold finish.
Frequently Asked Questions:
Listed below are some answers to commonly asked questions.
How Much Do Professional Banjos Cost?
Professional banjos have a really wide range in price. Look to spend anywhere from around $1000 to $1500 on the low end to well over $5000 and upon the high end best professional banjo. Some classic Gibsons cost $100,000.
Where Is The Best Professional Banjo Made?
Many of the best banjos are made in the continental US, however, some are made in Canada, Japan, and even in the Czech Republic.
What Is The Best Sounding Professional Banjo?
The most effective sounding professional banjo is the Deering Sierra. It has all the pop, growl, and volume you're searching for in a high-quality instrument.
Conclusion
We hope you found this article useful in your quest to search for the best professional banjo. There's a banjo on the market for everybody. Keep on looking around and follow the tips in this guide and you're certain to search out your next instrument.
Thanks again for joining me and reading this article. Remember to check out all the other great string instrument content on the site, especially more about the banjo!
If in case you have any questions, comments, or your own banjo opinions, feel free to leave comments and share the article with a banjo-curious friend.