Check Out The Best Yamaha Violins + Great Buyers' Guide!
Introduction
Yamaha brand is a widely known manufacturer of great and high-quality musical instruments. Since its humble beginnings in the late 1800s, Yamaha has grown to be one of the largest manufacturers of violins worldwide.
Since then, the company has been producing great and reliable violins which meet the needs of all musicians no matter their skill level. That is one of many things that motivated us to make this Yamaha Violins Review, in order to help players that are considering Yamaha violins.
Nonetheless, in case you are thinking about some models out of the Yamaha violin choices available at the moment, you also need to perform a careful analysis before making your final choice. Compare the options, benefits, and downsides of the violins and decide which one is a winner for you.
In order to help you decide like in the other Yamaha violin reviews, we made a list of the high-quality violin options available at the moment and also a great Buyers' Guide.
---
1. Yamaha Violins Silent Series SV-255 Electric Violin
Violin newcomers can benefit more from a silent Yamaha model violin because they will learn faster, how to play this instrument correctly and use it for practicing modern sounds. Furthermore, they are usually a bit more reasonably priced than acoustic violins.
This Yamaha violins model might be the best match for your needs because it comes with an oval-shaped neck and a thin layer of finish that ensures a similar feeling just like playing the acoustic violin.
The tone delivered by this violin instrument is pure and natural which makes it a superb instrument for playing in the studio or performing at a music concert. Additionally, the dual piezo pickups enable an amazing dynamic range.
Because of the repositioned output jack, you won't need to encounter cables when trying to feel comfortable throughout music practice. Additionally, the lower bout can accommodate any normal size of shoulder rest.
Boasting a classy body, this silent violin is dedicated to helping learners advance their skills and discover the sonic properties of violins with greater ease. Some users have found the unit to fall a bit on the expensive side yet they have appreciated the performance delivered.
Features
5-string.
The traditional oval-shaped neck gives a natural feel.
Weight similar to an acoustic violin (approx. 500g).
Spruce top.
Ebony fingerboard and pegs.
Dual pickup bridge.
Pickup blend control for mixing of two pickups.
Control box with a preamplifier, headphone amplifier, volume-, treble- and bass controls.
6.3 mm line out and XLR balanced out.
-26 dB reduction for devices with sensitive input impedance.
Ground lift switch to avoid ground loops.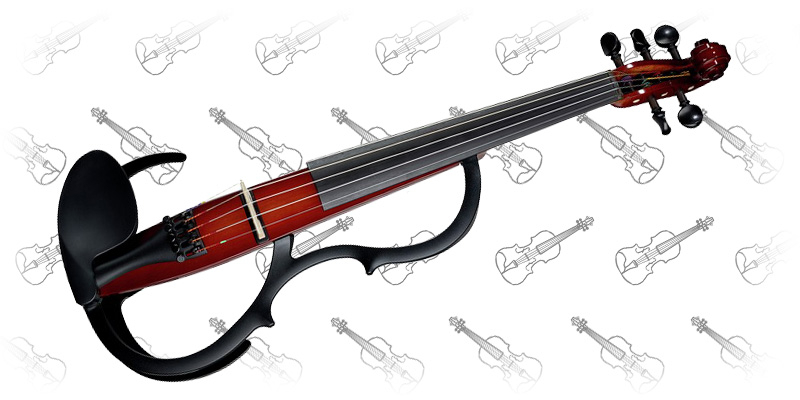 You Can Buy Yamaha SV-255 Electric Violin at the Links Below!
---
2. Yamaha Violins Electric Violin-YEV105 – 5 String
The Yamaha Model YEV105NT Electric Violin is one reliable instrument. It is a stunning and lightweight electric violin that is easy and enjoyable to play with. At an affordable price level, violinists might enjoy this all-access instrument.
This electric instrument is equipped with a visually very interesting design that produces a simple and very clean sound, making it a superb selection for violin players.
It's created from six different types of wood that add to the general pure, natural, and resonant sound of the amplified instrument. Since batteries aren't required, you only need to plug this into an amplifier and play.
Features
5-String.
Body made of spruce, mahogany, and maple.
Maple neck.
Walnut frame.
Synthetic tailpiece with fine tuners.
Maple bridge with a built-in piezo pickup.
Selector switch for direct-passive output or volume control.
Ebony pegs and chinrest.
Stringing: Daddario Helicore.
Weight: Approx. 580g.
You Can Buy Yamaha Electric Violin YEV105 – 5 String on the Links Below!
---
3. Yamaha V3-SKA 1/2 Acoustic Violin Set
The Yamaha Standard Model V3 Series Violin is famous for its reliable construction and playability. Whenever you play, this instrument will produce a wonderful sound. This violin is also well known for its sturdiness.
Its woods are completely dried under environmentally-controlled conditions to extend durability and to create a superb instrument that even children can use. Its pegs, fingerboard, and chin rest are made up of ebony.
This violin is available in a complete package including a violin case, a bow, and rosin. It's obtainable in three sizes: 1/2, 3/4, and 4/4.
Features
Size: 1/2.
Made according to Guarneri del Gesu.
Top: Spruce.
Back and sides: Maple.
Neck: Maple.
Fingerboard and pegs: Ebony.
Tailpiece with 4 fine tuners.
Ebony chinrest.
Daddario Prelude strings.
Includes hardshell case with backpack straps, bow, and rosin.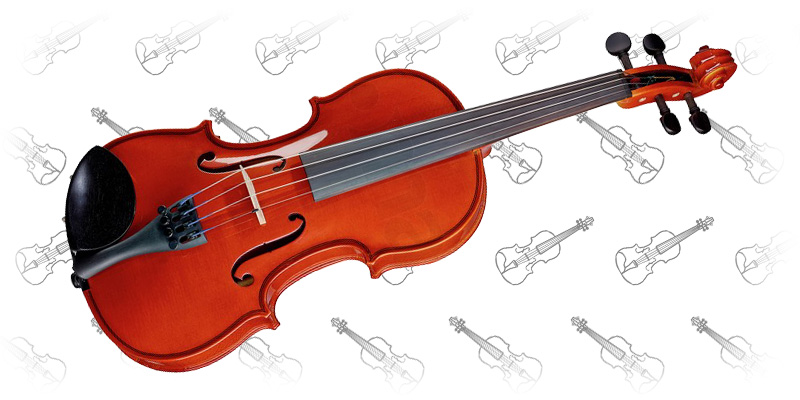 You Can Buy Yamaha V3-SKA Acoustic Violin at the Links Below!
---
4. Yamaha Violins V7 SG44 – 4/4
You may like this acoustic violin because it comes with a top made out of aged spruce for more than 5 years while the bottom consists of a 2-piece back constructed from sturdy maple wood. Plus, the fittings of the violin are created from strong and good-looking ebony.
The violin is completely hand-carved and includes a Wittner tailpiece and hand-applied oil varnish. We would like to mention the fact that the instrument comes with a brazilwood bow and an oblong cloth-covered case to protect the violin from scratches and different kinds of damage.
After some time you will get better at playing your instrument and you will want to move to a more quality violin. Because of that reason getting a low-quality violin instrument might not be your best option. Instead of doing two purchases, you can get a top-notch violin from the very beginning.
Features
Built completely out of solid wood.
Hand-carved spruce top.
Maple back.
With brush applied oil paint.
Fretboard: Ebony.
Wittner fine tuning tailpiece.
Aubert bridge.
Peg and chinrest made of ebony.
Includes case, bow, and rosin.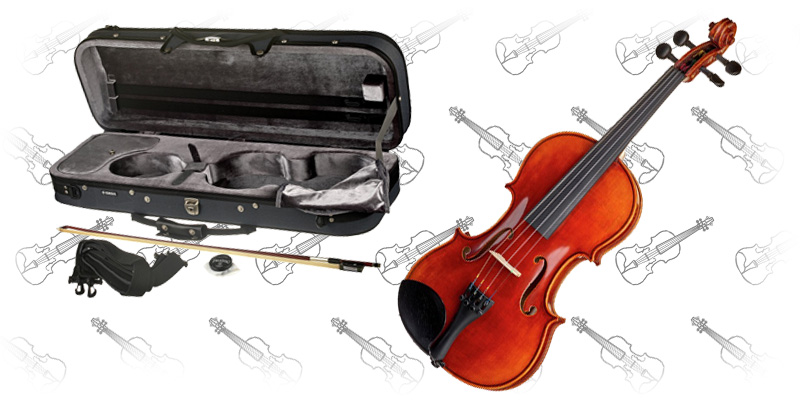 You Can Buy Yamaha Violins V7 SG44 on the Link Below!
---
5. Yamaha Violin V3 Series Student Outfit
Even in case, you're a beginner, you need to get a violin that appears nice and has a good sound quality. It's very important that you have the chance to develop your skills and work on your musical talent with a reliable instrument.
This is one of the reasons why you'll be impressed with this complete bundle that boasts sturdy construction and great support.
This Yamaha violin is made by hand using traditional methods which are applied to costly musical instruments. Along with this, the unit comes with almost everything that you need to play the violin without any restrictions. In case you go for this model, you'll get a lightweight carrying case together with a bow and rosin.
The Yamaha violins are usually manufactured from great and high-quality wood dried under environmentally managed conditions which makes them safer even for children's use. You can be sure that you'll feel snug while playing this violin because of the chin rest, pegs, and fingerboard, made out of ebony.
If quality and reliable instruments are what you have in mind, this instrument is well worth considering as it's going to help you engage in countless practice sessions and discover your sonic path.
As we already mentioned the package contains almost everything to start playing immediately; therefore, you will get a sturdy violin, a bow, and rosin. Additionally, the lightweight but very durable case and straps included will make it simple for you to store the instrument or carry it from one place to another.
Features
Complete kit.
Reliable construction.
Great sound and playability.
Solid reputation and support.
Superior durability Woods are thoroughly dried under environmentally controlled conditions.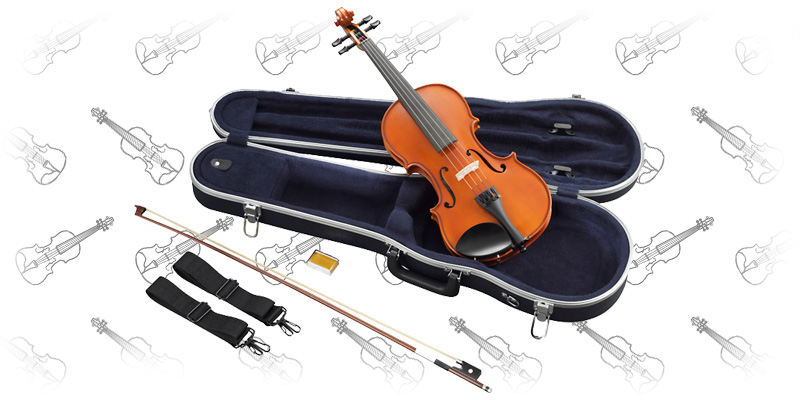 You Can Buy Yamaha Violin V3 Series Student on the Links Below!
---
6. Yamaha Standard Model AV5
When searching for a very good violin, you have to pay attention to the fine details because these are those that make the most important difference. Things such as the type of wood and finish should be top-notch in case you don't wish to spend money on a violin that needs a substitute afterward.
This instrument is a superb selection for a violin because the top is made from spruce aged for more than 5 years. The bottom of the violin boasts a 2-piece back made from 5 years of aged maple wood.
The violin is hand-carved, oil-finished, and carefully applied to appear like a costly musical instrument. Another interesting thing is that the violin is outfitted with rosewood fittings that you cannot find at violins in this price range.
This violin instrument comes with a Glasser bow and stackable case made from plastic that is useful for concert performances or practice. It's the same as trumpets that include the mouthpiece or transport box, you don't need to pay extra money to be able to get more and that is always a bonus.
The instrument together with the accessories is backed by a 5-year warranty that covers any craft problems.
Features
Solid wood.
Hand-carved spruce top.
Maple back.
The oil-based finish applied with a brush.
Ebony fingerboard.
Ebony pegs.
Wittner tailpiece with fine tuners.
Daddario Prelude strings.
Includes Case and bow.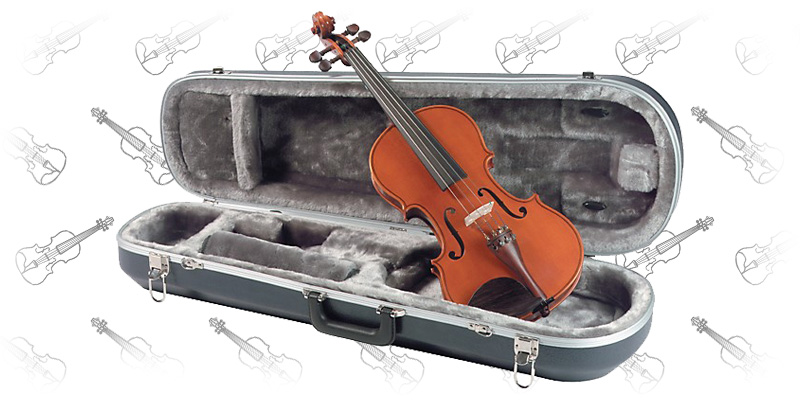 You Can Buy Yamaha Standard Model AV5 on the Links Below!
---
Yamaha Violins Review – Buyers' Guide!
Many people and mostly those who are just starting, have difficulties in selecting a violin, especially for the first time.
In case you're a beginner and you want to get a good Yamaha violin, you have to concentrate on certain features and aspects. It's not a simple process when you are looking for a violin that sounds excellent, fits your playing style, and feels comfy during long hours of playing.
In the beginning, you need to learn the basics of a violin and what quality you should get to perform at the level you want.
Depending on your skill level, you need to go for something that doesn't require a complicated setup. However, with so many Yamaha violins on the market, you will have a great chance of finding something that does a superb job for you and is in your price range.
Type Of Wood And Material Used
Pretty much every violin is made the same. They have 4 strings that are stretched over the body of the violin, a tailpiece and a cushy chin rest at one end, and a pegbox and neck on the other end.
While the construction of the violins doesn't differ a lot, not all violins are manufactured equal, and it all comes down to the type of tone and playability offered by a musical instrument of this type.
As far as tonewood goes, most violins are outfitted with very similar spruce tops, necks, and maple backs. The reason is quite obvious; everyone seems to be looking for items that are inexpensive but still borrow some options and features from high-end violins.
What sets an ideal violin other from a cheap price is the quality of the materials and spruce because they are crucial when it comes to choosing a violin and they are able to produce a beautiful sound.
Soundboard is placed on the top of the instrument and because of that, you need to pay more attention to that part of the instrument. This small piece is the one that amplifies the sounds made by the violin strings.
The Violin manufacturers and carvers have opted for spruce over the past centuries because it comes with a pure natural density and stiffness that can't be ignored.
It's an excellent material that can improve the resonance of the violin. Compared to porous woods, spruce can keep the same form through the carving stage.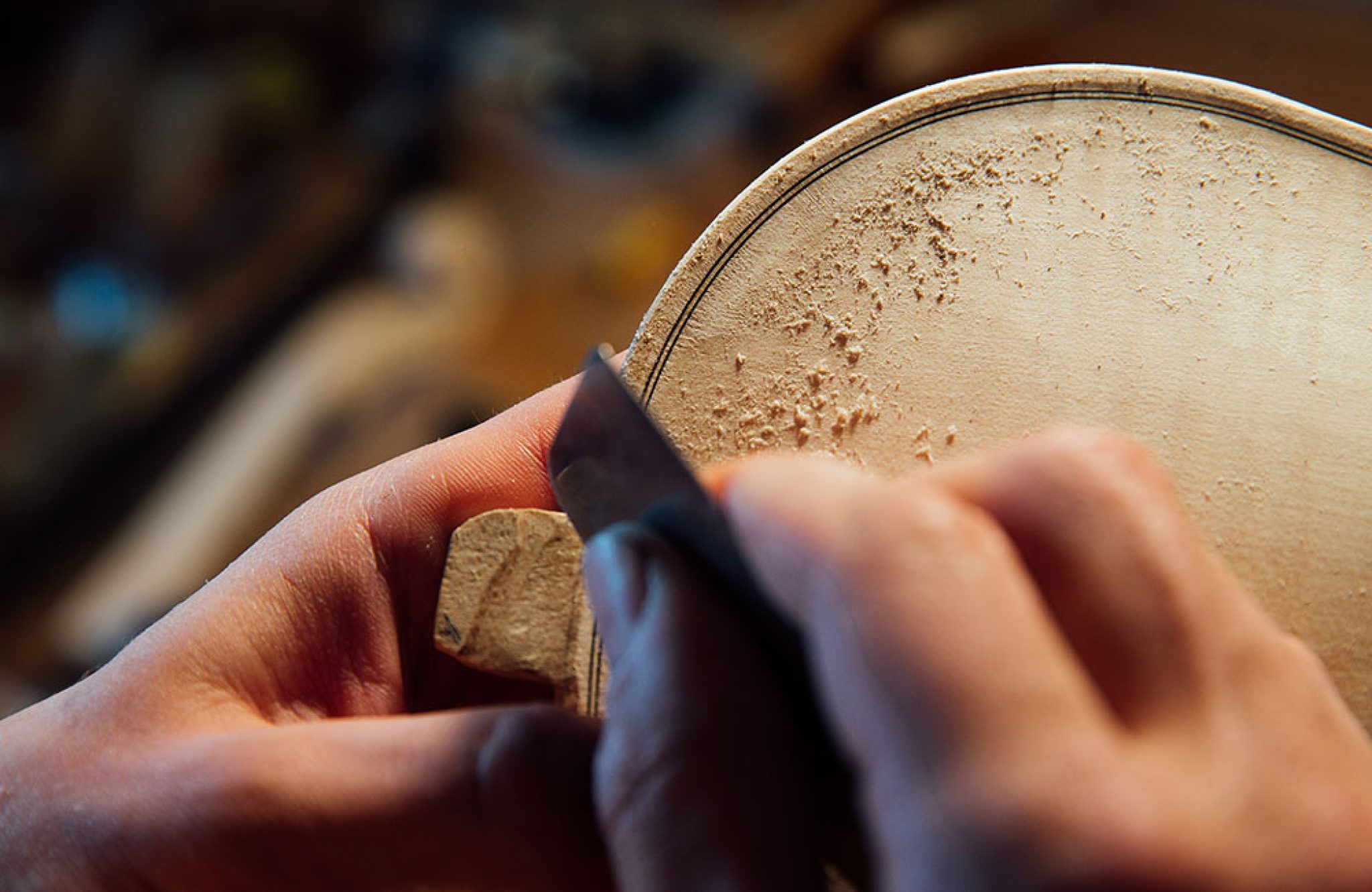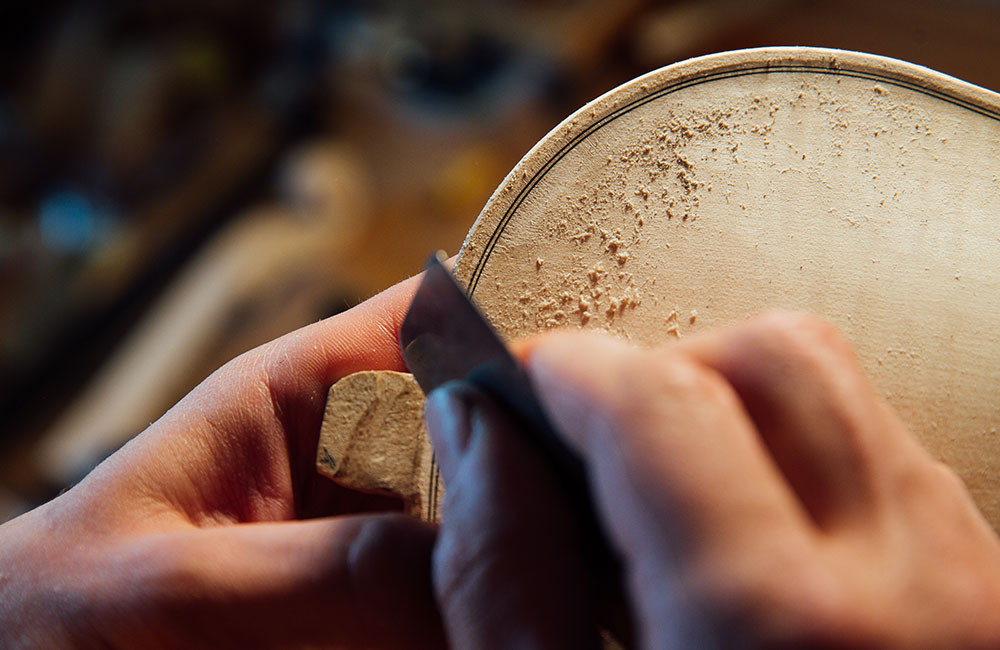 However, not all species of spruce make it to the process of constructing a violin. There's one essential part that must be taken into consideration. Because it's well known that trees growing in colder areas give denser and extra resonant pieces of wood, they are perfect for excellent spruce.
If a spruce ages for a prolonged period, it's going to get stronger and drier. Due to this fact, the construction of the violin is sturdier and more durable. Additionally, a block of spruce that grows at a high altitude is a superb candidate for the material needed for the carving of the violin.
Apart from the spruce, another key factor for a great piece of a violin is the grain. Usually, violins that feature a smooth finish have small parts of spruce positioned on the top that create a unique and interesting pattern.
The sturdiness and the clear sound are ensured by different kinds of wood that are most popular for the remaining body of the violin. For example, the fingerboard is made from ebony because it provides a shiny and classy look.
You will notice a number of models available on the market that aren't so expensive and have the tailpiece as well as the chin rest manufactured from plastic while the fingerboard boasts an inferior quality of wood.
Although high-end violins are quite costly, they don't have a flaw. In case you want something that will last for many years to come, it's a great investment to get a violin that benefits from thin coats of oil varnish. These give the instrument a stunning patina.
Size Of The Violin
Once you settle on some level and figure out how much knowledge and experience you have when it comes to playing the violin, you'll be able to go for an instrument that will allow you to develop your skills and even learn new techniques.
One important thing you need to decide is what violin you like because that will probably be the type you'll use for the years to come.
In case you're an entry-level violin student, you can ask for a recommendation from your music teacher or you can check our reviews where you can find different types of information about many brands and models.
Advanced players already have more experience and playing time, so they don't have that much trouble finding the right musical instruments.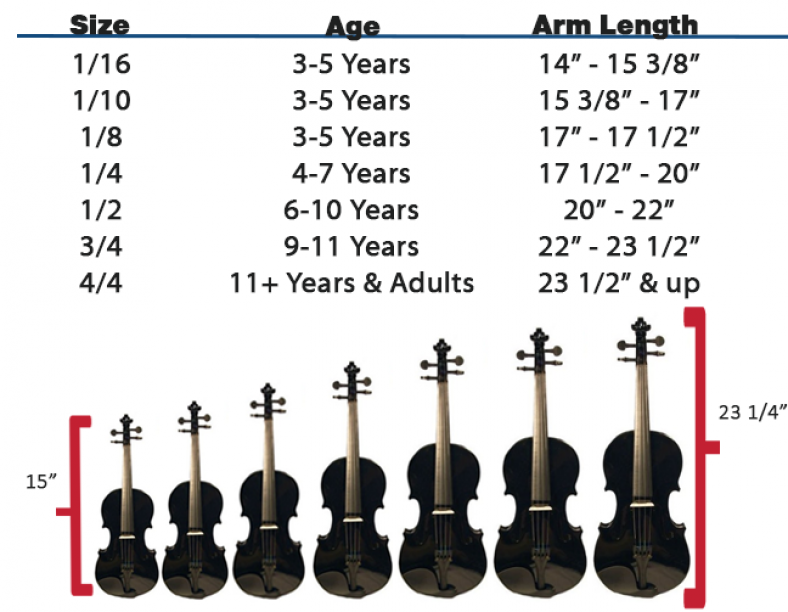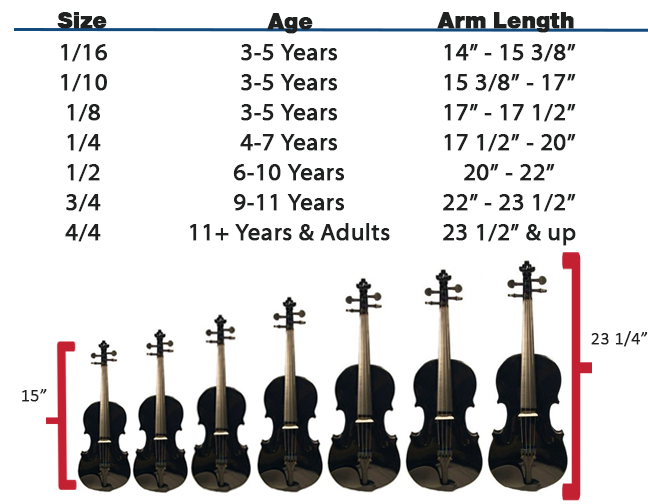 Regardless of the violin, you like best, it's advisable that you check the size of the violin because it should fit your body type and size. Furthermore, other things that influence the size of the violin are players' age, hand shape, and strength.
Violins are available in nine sizes. Children aged 11 or older require normal or full-sized violins. You'll find numerous number sizes like 3/4, 1/2, and so on. In case you really feel clueless about what violin size fits your body, all you need to do is to measure starting from your neck base until your wrist or palm.
When you get an accurate number, check out the dimensions chart provided by the violin manufacturer or check the Internet for online information (just like those we have in our reviews).
If you are looking to get a more comfortable playing experience you should search for Yamaha violin bows, because they match your instrument.
Electric Violins Vs Acoustic Violins
When speaking in regards to the differences between an acoustic violin and an electric violin, it's hard to decide your favorite. They both provide nearly identical features, they usually work flawlessly, depending on the musician's needs.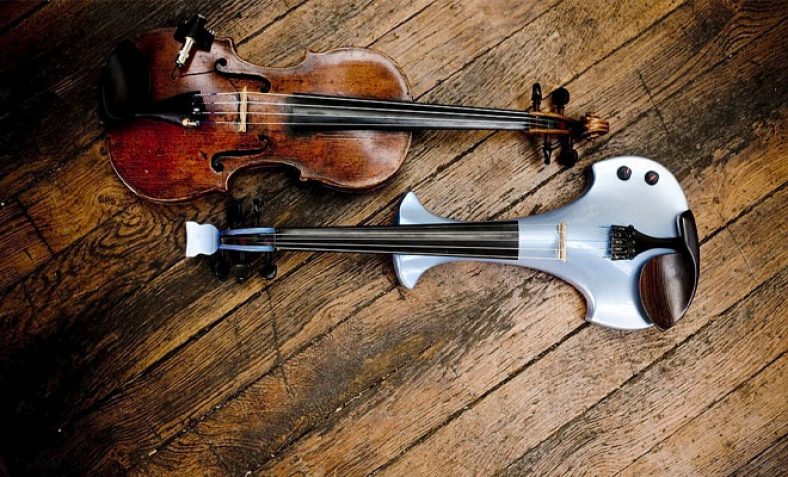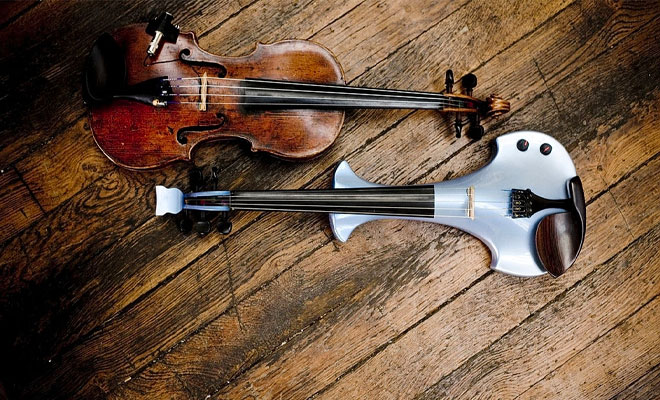 Although you can fit Yamaha violin pickups to an acoustic instrument, the very best Yamaha electric violin comes with built-up pickups that manage to amplify the sound up until the specified level.
Because they need to avoid the feedback given by the resonance within the hollow body, electric or silent violins are equipped with strong bodies and have simple designs that are supposed to cut back their weight.
In case you didn't know, acoustic devices give that warm and round tone because of the natural resonance offered by the tonewoods. However, the electric violin generates an electronic signal that is tweaked and extra enhanced. It sounds brighter and rawer than the tone you hear when using an acoustic violin.
In case you're more into classical or folk music, you need to go with acoustic instruments because they're more suitable for this kind of musical genre. Additionally, in case you prefer to play some rock or jazz sometimes, electric violins are a must just like reed instruments.
Since electric violin allows the user simply to plug in and then play their favorite jams, it's logical that they are most useful for band musicians who want amplified sounds.
When looking for a new violin, you need to think carefully about what style of music suits you best. Kids and teenagers are more prone to selecting an electric violin because they permit them to practice without disturbing the others.
Acoustic and electric violins keep an identical level of playing dynamics, so it's not a tough choice to make if you wish to make a transition.
More Information About Yamaha Silent Violin
In case you thought that a Yamaha electric violin has identical options such as a Yamaha silent violin, you have been mistaken. The fact is that they could be a bit confusing because they are both electric instruments that plug into an amplifier.
The important difference is that a silent violin comes with a headphone jack which means that you can connect it to an amp. In this way, you'll be able to practice the violin without disturbing your whole neighborhood.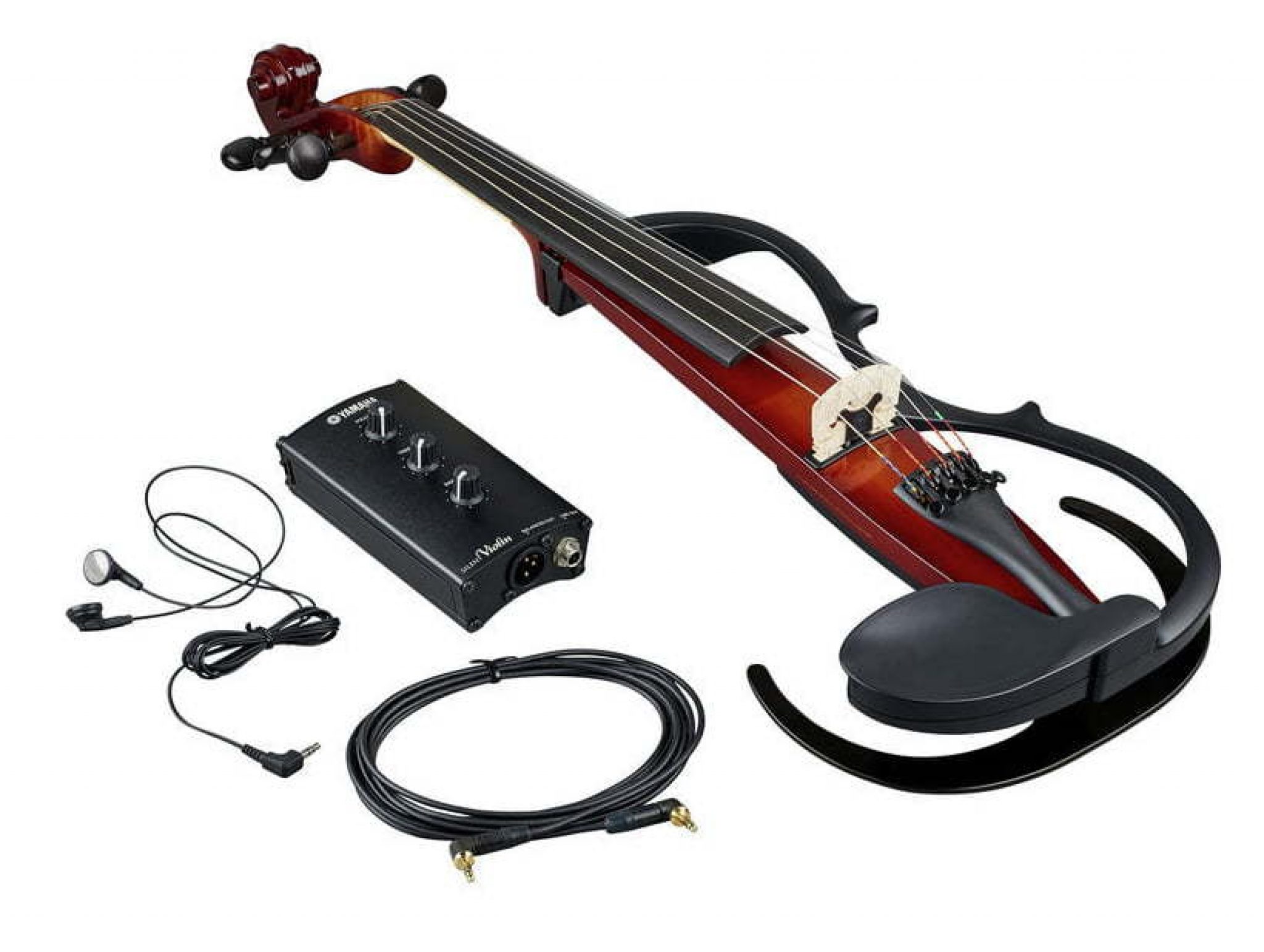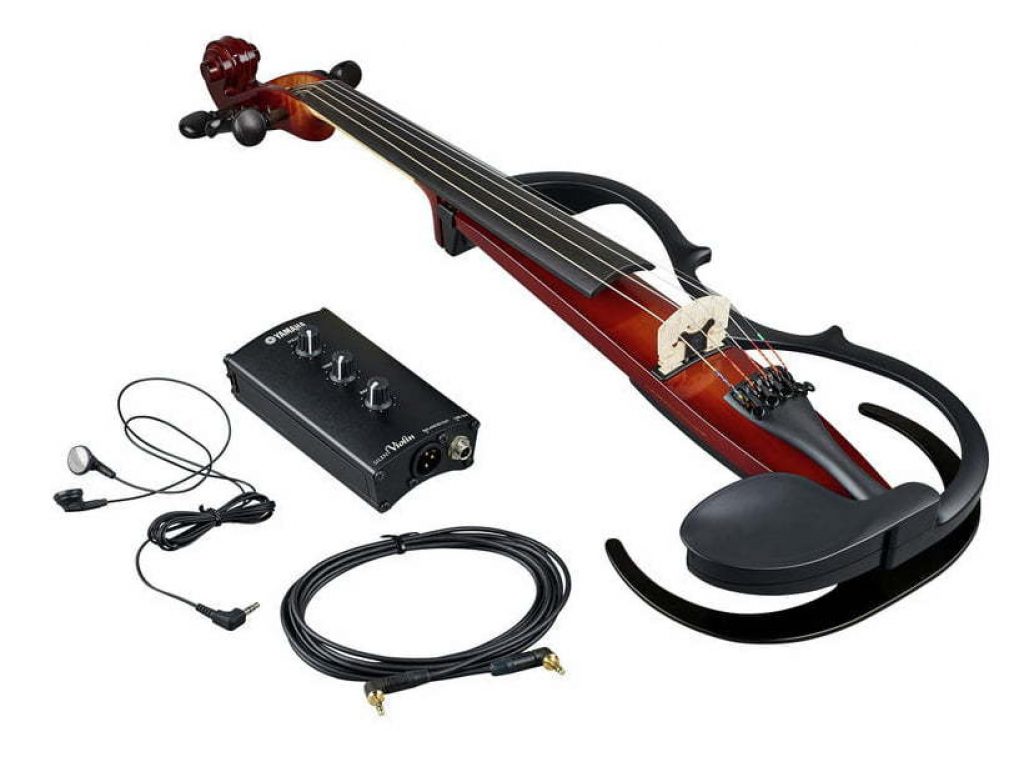 About 20 years ago, Yamaha had a terrific concept idea that was working excellently in Japan. Silent violins have been an immediate hit there because in this country the places are closely populated which makes it almost impossible to play the violin without being heard by everyone around you.
Because Americans don't mind the noise, when Yamaha entered the U.S.A. market, it needed some rebranding. Even so, Yamaha introduced something new and revolutionary that opened the way for numerous different brands to follow.
Conclusion
If you are looking for the best Yamaha violin for professional musicians or maybe a student model (student instrument) you will definitely like some of the Yamaha models.
We hope that we brought you helpful information about Yamaha as a brand and the models that are available at the moment. There are many options at different price ranges in order to make your search easier.