Violin Strings For Beginners + Buyers Guide!
Before you decide to select the new best violin strings for you, it's necessary to consider your level of skills in playing the instrument. There are violin strings for beginners, but there are also strings that are made for intermediate or professional players. So how do you find the proper strings for your violin instrument?
In case you are a beginner you should know that selecting the strings for your new instrument will make a huge impact in creating the sound later. For example, the type, tension, and gauge of the strings have an effect on dramatic and delicate changes made. So you actually need to look for the proper strings that match the quality of sound you wish to create.
In order to help you with the decision about getting new strings we made a list of the best 7-string sets you can get for beginners.
---
1. Vizcaya 2 Full Sets Strings
The Vizcaya Strings are a great and low-cost choice for individuals who don't want or need to spend so much on alternative strings. They work for both 3/4 scale and full-size violins. Like many different brands, they are made with a strong metal core in order to add durability and a pleasant, warm sound.
These strings are simple to be used by players of any experience because they are flexible and soft to the touch.
Each strings package comes with four E strings, four A strings, two D strings, and two G strings. With that many additional strings, probably you won't have to worry about buying new strings again for quite some time. They are available for under $10.00, making them a great budget choice.
Notice: These strings are not recommended for intermediate and professional players.
Features
Vizcaya deluxe Violin Strings are suitable to use on 4/4 and 3/4 Violin sizes.
High-quality solid steel core for nice warm tone and longevity.
Steel core composite aluminum-magnesium alloy wound with ball end.
Flexible and soft to the touch make playability easy for all player levels.
Each string is individually packed and sealed to protect it from corrosion.
The package included 2 Packs of a Full set of YMC violin strings – 12 strings.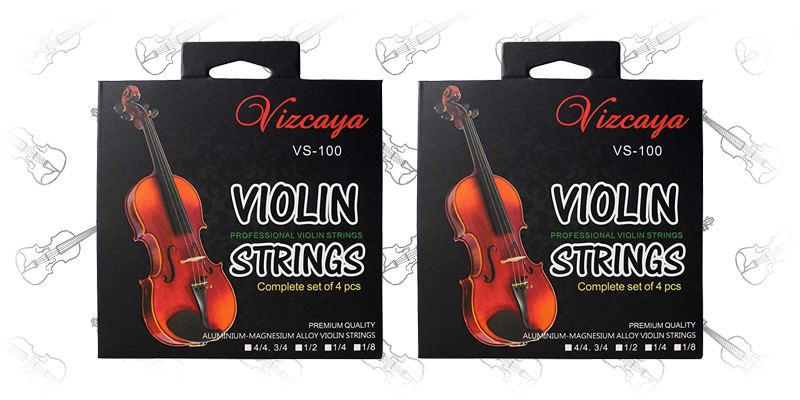 You Can Buy Vizcaya Violin Strings on the Link Below!
---
2. D'Addario Prelude J810 Violin String Set
D'Addario Prelude Violin string set is a widely known and respected budget range string. It's typically recommended by teachers to their students.
It is because, apart from not being costly, they produce nice warm tones. And not being affected much by heat and humidity, they provide a constant level of performance. These are full-size 4/4 scale strings with medium tension and are really durable.
The Prelude violin strings are what you might call a great all-rounder. An excellent string for newcomers and improvers alike where the precision of specialized strings isn't a priority.
They are designed with a strong steel core, which makes them long-lasting but additionally offers a pleasant tone. The steel core is the reason they aren't affected by weather conditions and are not affected by corrosion. This offers them durability, and they can stand extensive use by a beginner player.
It isn't hard to see why these are teachers' favorites. They are cost-effective, produce great sound, and are hard-wearing. For a budget string, there isn't much more you can ask for.
Features
4/4 scale violin with a playing length of 13 inches (328mm).
Medium tension.
Solid steel core optimized to create the warmest-sounding student strings available.
Educators' preferred choice for student strings is due to their unique blend of warm tone, economy, and durability.
All D'Addario strings are designed, engineered, and manufactured in the USA to the most stringent quality controls in the industry.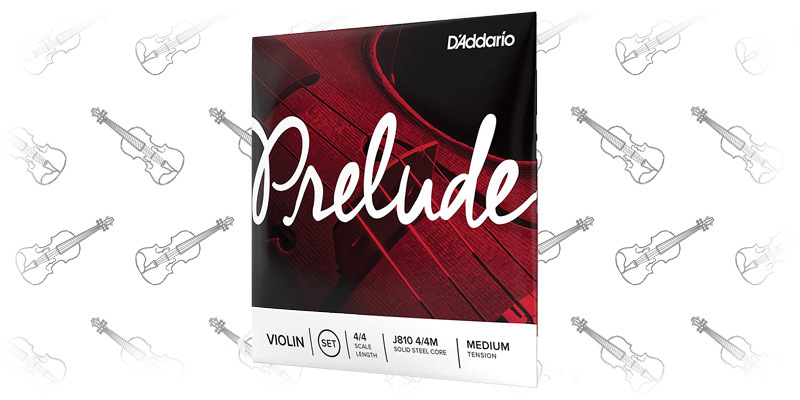 You Can Buy D'Addario Prelude Violin String Set on the Links Below!
---
3. Fiddlerman Violin Strings Set
What makes Fiddlerman Violin Strings stand apart from other violin string brands is their synthetic core. These are some of the best violin strings for a low price and are well-known to have a consistent tone, which makes it easier to know what you should expect when you need to replace your strings.
They settle quickly, which means it can save you plenty of time re-tuning them until they hold the right notes and they have a smooth sound that will please all who listen to you play.
The Fiddlerman violin strings are made to fit 3/4 scale and full-size violins. The complete set is available at just under $30.00 on Amazon, making them slightly costlier than other string sets, however, these high-quality strings are sure to add great value for the price you are going to pay.
Features
Full String Set Includes G, D, A, E.
Synthetic Core (Perlon Core) String Set.
Professionals couldn't tell this set apart from Dominant Strings in a blind test!
German-made Quality Violin String Set for Full Sized Violins (4/4 and 3/4).
Medium Gauge – Ball-end E (can be removed).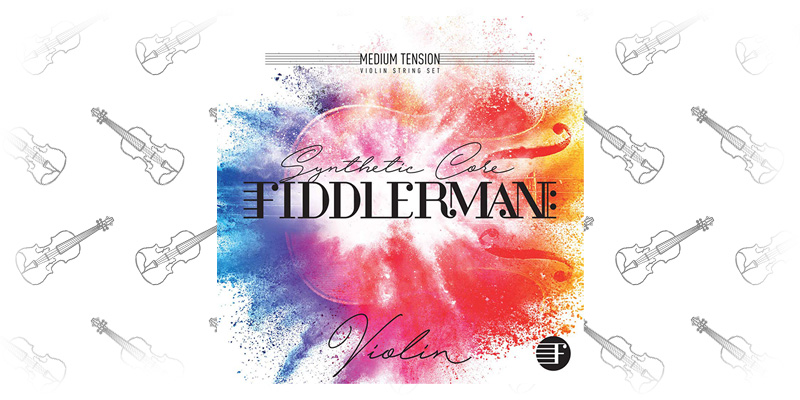 You Can Buy the Fiddlerman Violin String Set on the Link Below!
---
4. Stravilio Full Set High-Quality Violin Strings
Stravilio is a set of four top-quality violin strings, including one of every different note. They work on both 3/4 scale violins and full-sized ones. These Stravilio Strings are available at just slightly more than the Vizcaya ones, which still makes them very budget-friendly strings.
Because them being budget-friendly strings, the Stravilio strings have been noted by clients to have a high level of quality for the price.
They have a metal core, much like other brands. While these are not available in a big pack, every string is likely to have a bit higher quality which in the end makes it less likely to break. They produce a great sound which makes them really convenient for violinists of all ages and experiences.
Features
The best replacement Violin strings are 4/4 and 3/4 around, made from solid steel with a Silver wound for nice a warm tone and longevity.
Bright tone and incredibly warm sound that projects beautifully will give sweet a timbre.
Fantastic balance of complexity and stability to the touch makes playability easy for all player levels
From beginner and intermediate players to advanced students and experienced band or orchestra players intermediate affordable choice for all levels.
Pitches of one set strings: G D A & E – Steel Core Round Nickel Wound with ball end. Set includes 4 Strings + 1 extra E string Total of 5 Strings.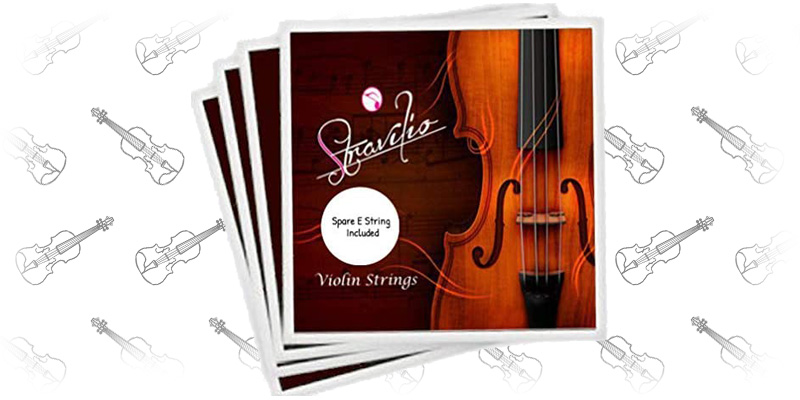 You Can Buy Stravilio High-Quality Violin Strings on the Link Below!
---
5. Super Sensitive Steel core 4/4 Violin Strings: Set
Super Sensitive violin strings are a good choice for beginners who would like to get their violin journey on the way. They are a very low-cost option (at the moment they are under 20$), and pretty sturdy when you compare them with the price that you are going to pay.
These strings will do the job as they are made with a steel core and wrapped with nickel. We would like to mention that these strings are not recommended for intermediate-level players!
Features
Tunes up quickly and stays in tune.
Package Dimensions: 0.762 H x 11.43 L x 10.414 W (centimeters).
Package Weight: 0.15 pounds.
Country of Origin : United States.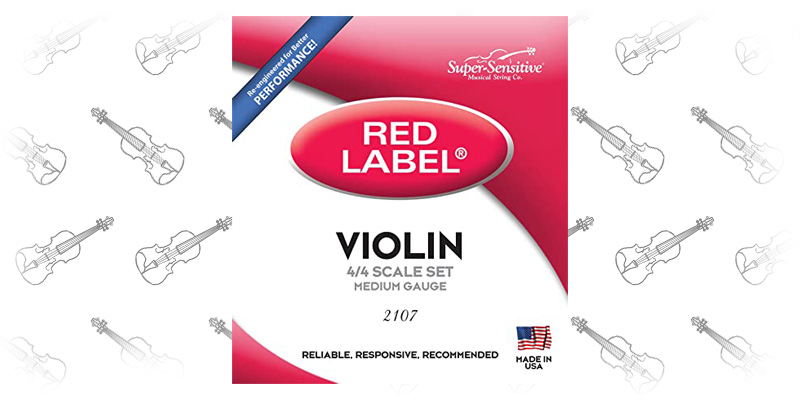 You Can Buy Super Sensitive Steel Violin Strings on the Links Below!
---
6. D'Addario Helicore 4/4 Size Violin Strings Set
D'Addario Helicore violin strings are a really great option for newcomers and students. But also these strings are good for intermediate players because they have a clear tone and fast response and will boost the sound quality.
Because of their great quality, D'Addario Helicore Set in our opinion is on the top of the other strings in this price range featured in our list.
Over recent years, they have been gaining popularity in pop music. Although the tone and quality are not great as with other more expensive violin string sets, Helicore strings will provide an ideal basis for learners and perform much better than Preludes.
Features
Designed for optimum playability, D'Addario's Helicore violin strings are one of the most versatile stranded-steel core strings available.
Helicore strings suit many playing styles, levels, and instruments.
Helicore violin strings are crafted with a multi-stranded steel core, giving them great playability and a clear, warm tone.
Smaller string diameter provides quick bow response while quality materials and workmanship create pitch stability and longevity.
Scaled to fit a 4/4 size violin with a playing length of 13 inches (328mm), these medium tension strings are optimized to the needs of a majority of players.
Packaged in uniquely-designed sealed pouches, Helicore strings have unparalleled protection from the elements that cause corrosion.
D'Addario leverages centuries of string-making experience and advanced computer-controlled winding technology to bring you the most durable, consistent, and long-lasting strings (Made in the USA).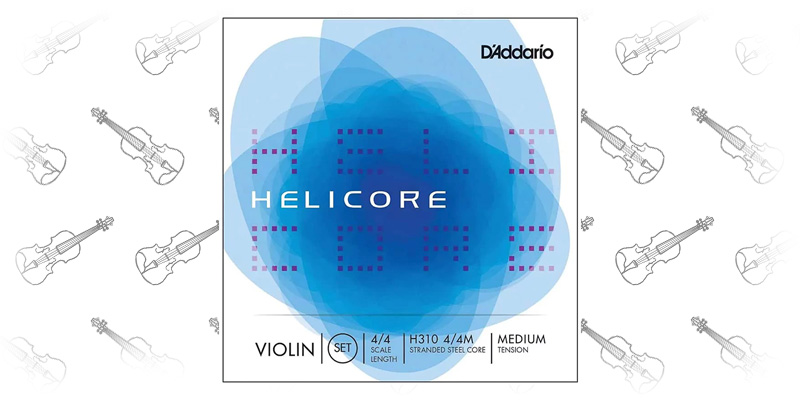 You Can Buy D'Addario Helicore Violin Strings Set on the Links Below!
---
7. Jargar Violin Strings
Jargar strings are actually the most interchangeable strings. These strings sound perfectly clear, however, most violin players often combine the Jargar strings with different string sets. A typical combination used with Jargar violin strings is a Jargar E mixed with Dominant A, D, and G.
Jargar Violin strings can be found in a wide range of gauges. We would like to mention that these strings are a really good option for beginner violin players but also for intermediate-level players because of their good quality.
Features
Full Set.
4/4 Violin.
Medium Gauge.
Set Includes All Ball End Chrome steel E, Chrome steel/Steel A, Chrome steel/Steel D, and Chrome steel/Steel G Strings.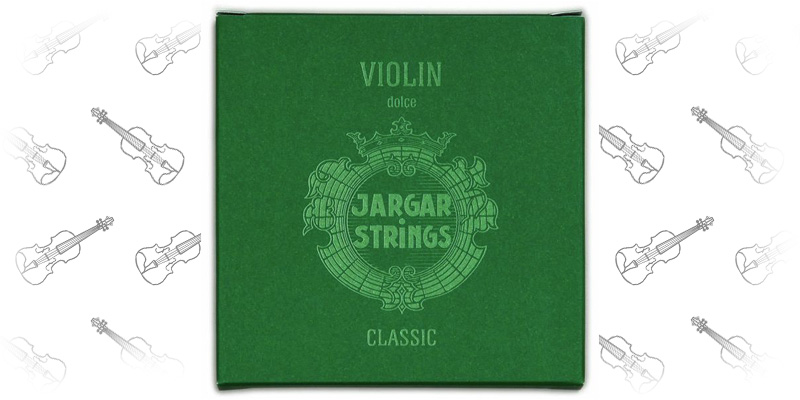 You Can Buy Jargar Violin Strings on the Links Below!
---
Violin Strings For Beginners – Buyer's Guide!
1. Things that you should consider before buying strings
The same model or brand of violin strings can sound totally different on different violins. The inherent uniqueness of every violin makes even the relatively steady sound of Dominants sound different.
Due to this fact, you will probably need to try many different violin strings before you choose those that make your violin sound the best.
2. Learn more about different types of strings
There are three primary types of strings: steel strings, synthetic strings, and gut strings. All of these types differ from one another in terms of their tonal quality and maintenance necessities.
For example, strings with a steel core provide better stability. And the gut strings, on the other hand, are made from sheep's intestines. They come sometimes with some metal addition like copper.
The strings with a synthetic core (perlon/nylon string), however, are very popular among violinists. They are made from nylon or Perlon.
3. Define your playing style
What is important when determining factors in the type of new violin strings that you are going to use (the right violin strings for you) is your style of music and your musical preference. It's very important that you know how every type of string would sound.
The steel strings can actually produce really great tones. However, in case you want to play classical music, you would definitely need synthetic strings.
4. Acknowledge the right Tension and Gauge
The string tension refers to the response time and quality of the string and its projection, while the string gauge is the width of the string.
A wider gauge, for instance, creates a louder sound. While thin gauge strings produce much less projection and tension. So, these two factors are crucial to the sound that you would like to create with your violin.
Which Strings To Use As A Beginner?
The very best violin strings, in fact, are expensive violin strings. You'll be able to get the best strings in case you can shell out extra money.
It's an undeniable fact that quality actually matters when it comes to violin strings. Thus, if money is not a problem for you, you should probably go for costly and quality strings at the onset.
Conclusion
It really takes time to learn how to properly play the violin. You will need time to study and develop the best techniques to play the violin properly. A beginner must spend effort and time to achieve a great way of playing the violin.
A beginner additionally should spend a couple of years mastering the art of playing the violin and gaining great control of the instrument. With rigorous and constant practice, a beginner can grow to be a professional, and his playing tone can begin to settle down.
Therefore, as a beginner, it's advisable that you just go for the costly and quality ones to get a hold of the superb string tone. However, if money is a problem for you, just choose the right violin strings for you and settle for the cheaper strings.