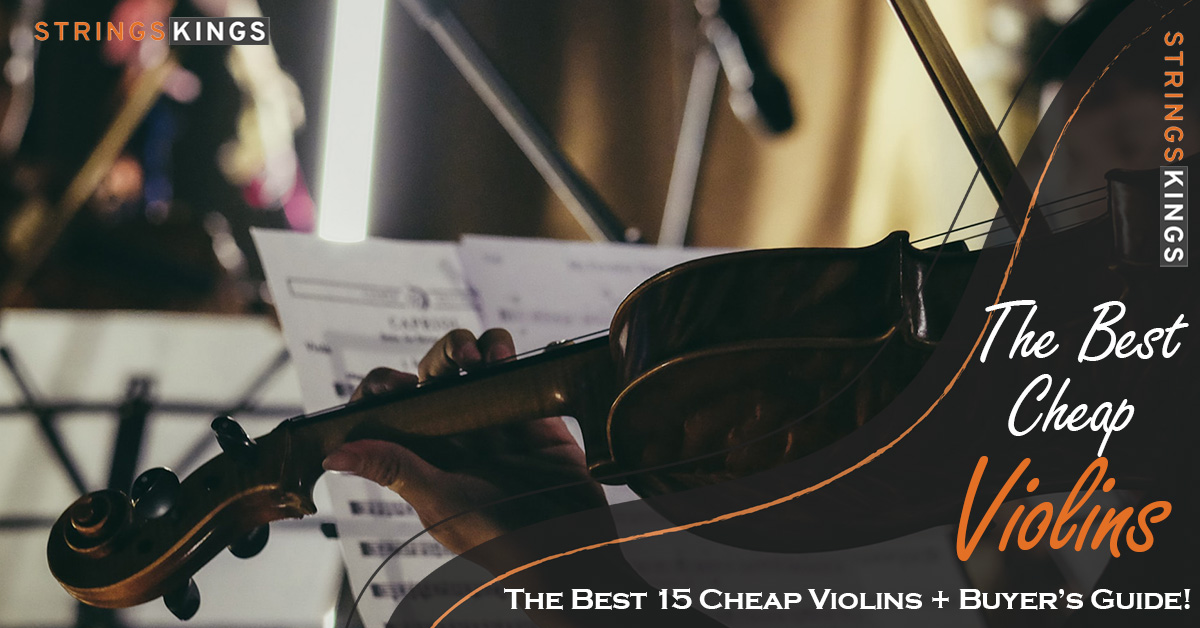 Check Out The Best 15 Budget Violins Available Now!
Introduction
Are you looking to purchase a violin but you are frightened about how much it cost? Are you questioning yourself which budget brands are any good and which of them will break after a month?
Violins are usually categorized based on your skill level – professional, intermediate, or student level. All of that can be put on the side if going for cheap violins is all you are able to do at the moment. Our review of low-cost violins will guide you in making a great selection.
Not often will you see a professional violin that is low cost so we can safely say that low-cost violins are normally for students and intermediate skilled players. Since we have established that you don't intend to break the bank to get yourself a violin, how about we make a list of some inexpensive violins?
In this article, we will highlight different violins that need to be on your shortlist when searching for the perfect affordable violin. These cheap violins are suitable for different skill levels, and even though they may not deliver what a professional-level violin would, they nonetheless will suit your needs as we have carefully selected the best on the market.
Check our full list of the best budget violins that you can find available in 2022:
1. Bunnel G1 Violin Outfit 4/4 Full Size
The Bunnel Premier Violin is a superb choice for new violinists. It uses maple and spruce for the physique, while there are additional ebony and carbon fiber fittings. Bunnel finishes the instrument setup process in the US to ensure you get an excellent violin.
A satin oil finish makes this cheap violin look good, so you'll be able to fit in with any violin section. Additionally, with this bundle, you will get accessories, such as a bow, rosin, a chin rest, and a backup set of strings. With all of that included you will be able to play the violin right out of the case.
With the bundle, you also get a fun and easy introductory guide to the violin to help you start learning to play. This model comes with a 45-day money-back guarantee and a lifetime warranty. This model is available in a number of sizes, including 1/16, 1/10, 1/8, 1/4, 3/4, and 4/4. That makes it an excellent selection for players of all ages.
Features
2. Mendini 4/4 MV300 Wooden Antique Violin
As a new player, the Mendini 4/4 MV300 full-solid Wood Antique Violin is a perfect high-quality violin to make use of for learning and practice. It's fabricated from solid spruce and is completed with its side wood created from maple. It's fully hand-made so you can be sure that full attention is paid to details when it comes to design.
In order to play the violin, you need a bow, and the bow that features the Mendini 4/4 MV300 bundle is created from Brazilwood and quality Mongolian horsehair. Mendini 4/4 MV300 Antique is entitled to a one-year warranty from the manufacturer.
This instrument will be a perfect addition for those who are just beginning out on their violin journey and for an inexpensive violin, it produces a crisp and warm sound. In order to improve the quality of the violin, you have fine tuners and you possibly can change the shoulder rest and the rosin so it can be extra comfy to use.
It's possible you'll not have any use for the additional bridges that come with the violin since it is well-made.
Features
3. Stentor, 4-String Violin (1500 4/4)
The Stentor Student II features a strong spruce top and a maple back. Both kinds of wood offer a warm tone, which will help you sound good from the beginning. This model additionally has a maple neck and ebony fittings, which look good and make the instrument simple to play.
The tailpiece has fine tuners that make tuning the violin a very fast process. Meanwhile, the brown lacquer finish makes the violin look way more expensive than it actually is. You'll also get a very good quality bow, a protective case, and a cool violin case.
Sadly, it doesn't include rosin, so you'll need to purchase that separately. Apart from that, this model comes ready to play once you get it. As long as you're big enough to play a 4/4 violin, you could find the Stentor Student II meets your needs. It might not work for younger kids, however, it will be an ideal model for adult beginners or as a backup for more advanced violinists.
Features
4. Mendini 4/4 MV500+92D Flamed
Crafted from maple, the Mendini 4/4 MV500 + 92D Flamed 1-Piece Violin produces deep wealthy tones which rank it greater than all different student or learning cheap violins made by Mendini. It's appropriate for players in both the beginner and intermediate levels. This violin is completed with lovely wood varnish.
It contains four removable tuners which allow you to fine-tune the violin to your desired sound. Two bows made out of Brazilwood come with the violin, and it is placed in a strong portable violin case that has an adjustable shoulder strap. There are additional strings in the violin bundle to replace the pre-strung ones in case they break.
The preset tuning of the violin is great, sufficient that you may not have to do any fine-tuning, however, it doesn't hurt to add an expert touch if you can. The only problem you could have with this violin is that the chinrest doesn't fit perfectly so you might have to buy an alternative but this doesn't change the fact that this violin offers you real worth for the money.
Mendini particularly is a brand that takes its clients seriously. So, in case you run into issues with any of their products, be assured that it is going to be settled amicably.
Features
5. Cecilio Silent Electric Solid Wood Violin
Cecilio's Silent Electric Solid Wood Violin is one more inexpensive violin to try. It's an electric violin, which is really great for practicing without disturbing others. This silent violin is a great option if you want to learn and play your instrument in an apartment.
But you can also hook the violin into an amp to help project your sound. Then, you can ensure that people can hear you if you play with a loud band. And if you want to use an amp to play at your home, you'll be able to connect the headphones that are included in the bundle.
This beginner violin is available in 3/4 and 4/4 sizes, so it's also great for adults and youngsters. It additionally comes with a bow, rosin, violin strings, and other equipment. And you may choose between different colors, so you can stand out on stage. Plus, you don't have to worry in regards to the weight of an acoustic violin, so it can be a superb selection for anyone with joint problems.
Features
6. Mendini 4/4 MV-White Solid Wood Violin
Mendini is a widely known violin brand for its wide range of colorful violins and the 4/4 MV White Solid Wood Violin; it is colored white. With a size of 4/4, this violin is made of a strong spruce top and the back is built from maple as well as the sides. The chin rest, pegs, and fingerboard are made from maple as well.
The complete package in which this beginner violin comes also contains a lightweight case, a bow made out of Brazilwood, and real Mongolian horsehair that hasn't been bleached. It additionally features a shoulder rest that can be adjusted, additional pair of strings, and a pair of bridges.
If you are a beginner who is starting to learn how to play the violin, you will find this violin model really suitable for you. It's full size and can be a bit large for your youngster to deal with. The all-white color makes it much more attractive and an excellent choice for a young violinist.
It can save you from unnecessary expenses by selecting this simple and inexpensive violin. The sound produced is warm and of good quality, satisfactory enough for its purpose which is to learn.
Features
7. Mendini – MV400 Size 4/4 Acoustic Violin
The Mendini MV400 is, without a doubt, one of the most affordable violins available on the market. Maple and spruce make up the body available to offer a great tone, even for beginners. Ebony fittings look good and assist you to play the instrument and maintain it in tune. A light varnish makes the violin look very unique as well.
Together with the violin, you get loads of accessories that will help you start playing. The outfit features a shoulder rest, strings, rosin, two bows, and a tuner and metronome. You additionally get a book, CD, and DVD with the first violin lesson. All the things come in a protective case that will make you sure about violin protection during storage or transportation.
Like most of the greatest cheap violins, this one is available in different sizes, including 1/4, 1/2, 3/4, and 4/4. That makes it a superb selection for beginners of all ages. You shouldn't have to be uncomfortable to learn how to play the violin.
Features
8. YMC Full Size 4/4 Violin – Full Accessories
This model from the YMC violin brand is another that is specially designed for beginners. Its back and sides are created from maple wood while the top is made from spruce. Violins made from maple wood have been known to come out sturdy and give an awesome performance, so the YMC VL-NR 4/4 Violin is no exception when it comes to sturdy and durable violins.
The sturdiness makes it a suitable violin for beginners to learn, and the nice part is that it is a low-cost violin. In the bundle, you have everything you need to get started. The bundle includes a bow made out of Brazilwood, polishing linen that makes the violin shine, and a carrying violin case in order to help you carry the violin around.
It is a musical instrument in the range of beginner violins, but it provides an excellent tone. It additionally includes an electronic tuner with which you'll be able to tune the violin. It feels comfy to play this violin as a result of the included adjustable shoulder rest. With a full set of steel strings, you'll be able to play any type of music with this violin.
The money you will spend on this violin will be worth it as this is one of the few violins that provide nice sounds alongside a great appearance and is available in several colors.
Features
9. Bunnel Pupil Violin Outfit 4/4 Full Size By Kennedy Violins
The Bunnel Pupil is a violin that's excellent for the players that mainly want to learn the instrument (great violin for beginners). It comes with a carbon fiber shoulder rest, a Brazilwood bow, and rosin. You additionally get an extra set of strings together with the set that comes on the violin.
To maintain the violin looking good, you get a polishing cloth and a violin case that is good and will protect your instrument nicely. That way, you'll be able to take the violin to lessons or rehearsals safely. A maple and spruce top and back provide a fantastic sound, while the ebony fittings are simple to adjust.
The satin oil finish makes the violin look costlier. And you may even select from the most popular violin sizes, ranging from 1/16 to 4/4. You'll additionally get a 45-day money-back guarantee and a lifetime warranty on your violin purchase.
Features
10. Eastar 4/4 Full Size Violin Set Matte Fiddle
It will be a hard job to find good violin for beginners for a cheaper price than the Eastar EVA-3. This model has an identical design as more expensive ones, with maple and spruce making up the body. Eastar makes their violins by hand, which will help improve the quality of the end result.
The violin features dots on the strings that will help you learn the first position. That way, you don't have to worry about sounding out of tune as you study. Tuning the violin is simple and easy, so you can start practicing within a couple of minutes.
Along with the violin, you'll get a bow, rosin, and an extra set of strings. It additionally comes with a shoulder rest and an extra bridge in case the primary one breaks. The tuner helps you get the violin in tune, and you will be able to choose from sizes ranging between 1/4 and 4/4.
Features
11. SKY Brand New Children's Violin 1/16 Size Blue Color
The look of the violin is sufficient to appeal to anyone but as they say, "all that glitters is not gold." It has a beautiful appearance, however, when shopping for a violin, you need to look beyond the looks and concentrate on performance.
The SKYVN202 violin for beginners is eight inches in length and is totally hand-carved. Designed with a high gloss finish, the bundle contains one Brazil-wood bow that you will play the violin with. It is highly recommended for learners and much more suited for kids between ages 1 and 3.
When you unbox the product, you would not have to do a lot; simply set it up and begin playing. The SKYVN202 contains two pearl eyes, features real, pure Mongolian horsehair, rosin, and is housed in a lightweight violin case that appears nice. The bridge is completely new, and the strings are of the highest quality.
The sound produced by the Sky Brand New Children's Violin SKYVN202 is unbelievably good and quite unexpected of an inexpensive violin such as this. This is a kind of violin that returns good value for money spent, albeit not a lot of money in the case of this specific product.
Features
12. SKY 4/4 Full Size SKYVN201 Black Violin
The SKY VN201 is really great beginner violins model choice for anyone on a budget. It features a maple top and back, so you will get a pleasant tone from the instrument. You'll be able to choose between black, pink, bronze, and natural wood, so you can both fit in with an orchestra or stand out as a soloist.
Regardless of which color you select, you'll additionally get a bow, rosin, and strings. The violin even comes with a mute to help decrease your volume while you practice. But the mute is simple to remove if you wish to project your sound more.
Practically whole bundle comes in a protective violin case, and you additionally get a shoulder rest to make playing the violin comfy. The model is available in different sizes, from 1/16 to 4/4, so it's a nice option for players of all ages. It's a superb choice for new players or musicians who are coming back to playing violin after a long pause.
Features
13. SKY 1/10 Size SKYVN201 Violin
Beginner violins, nowadays, look and feel like professional-level ones. Manufacturers have discovered a way to include quality craftsmanship when making these low-cost violins, and that is another proof of how you can spend little money to get a violin that can actually help you on the course for greatness as a violinist.
The attractive Sky Violin is ideal for beginner violin players. It has a professional setup which means that you can play it right away. It has a solid top made out of spruce, and the neck, sides, scroll, and back are all made from solid maple that has been well-flamed.
In the bundle, there is one violin, one sturdy shoulder rest, and one bow made out of Brazilwood all placed in a lightweight triangular violin case that has a shoulder strap with a pocket that can carry a music sheet and your violin accessories.
This bundle comes with a one-year warranty for any manufacturer defects. The violin strings are of the very best quality available, it has fine tuners and it features a lightweight rubber mute and a brand new bridge fitted to the violin. The case is rainproof because of the rainproof canvas on it and can safely keep your violin and accessories.
Features
14. D Z Strad Model 101
The D Z Strad Violin 101 is an ideal and good quality violin for complete beginners. It is available in a number of different sizes to be able to accommodate beginners of all ages and really has a stunning sound quality considering the price. It's astonishingly well built mostly because it is a model that is handmade.
The Model 101 is handmade and crafted from aged tonewoods and a nice varnish finish. It's going to feel extremely comfortable in your hands even though it is a cheap version that is made for beginners and intermediate players mostly. The tone it produces can be quite pleasant. It's a warm and resonating sound that can keep you, or your kid motivated to continue playing.
Considering the construct, feel, and tone of this violin, it definitely is among the best selections for beginners, but also for intermediate students. It undoubtedly delivers more than the price tag would lead you to imagine and due to this fact it's additionally one among our top recommendations.
Features
15. Cecilio CVN-500 Solidwood Ebony Fitted Violin
The CVN-500 is among the most popular Cecilio violins available on the market. It may not be as inexpensive in comparison with other cheap violins, however, for sound quality, it is actually worth it. It's considered a premium quality violin and a step up from the CVN 300. Crafted from strong spruce on the top, and maple on the sides and back, it produces a warm and full sound and will last for years.
It comes with a high-quality bow created from Brazilian wood and horsehair., and a hardshell violin case that makes transporting your instrument both safer and easier. It's obtainable in three different sizes, so fewer than other models, however, most beginners will probably be fine with one of those three.
This violin is definitely considered to be a good selection for intermediate level musicians, but because of the relatively low price, it's also an amazing choice for beginners, especially considering that you won't have to be thinking about an upgrade for quite a while in case you decide to go with this violin.
Of course, it is not as great as some top student violins, however, it is a reasonably priced chance to get your hands on a serious bit of kit. Considering the quality of the violin itself and the accessories it comes with, the price is really good and fair.
Features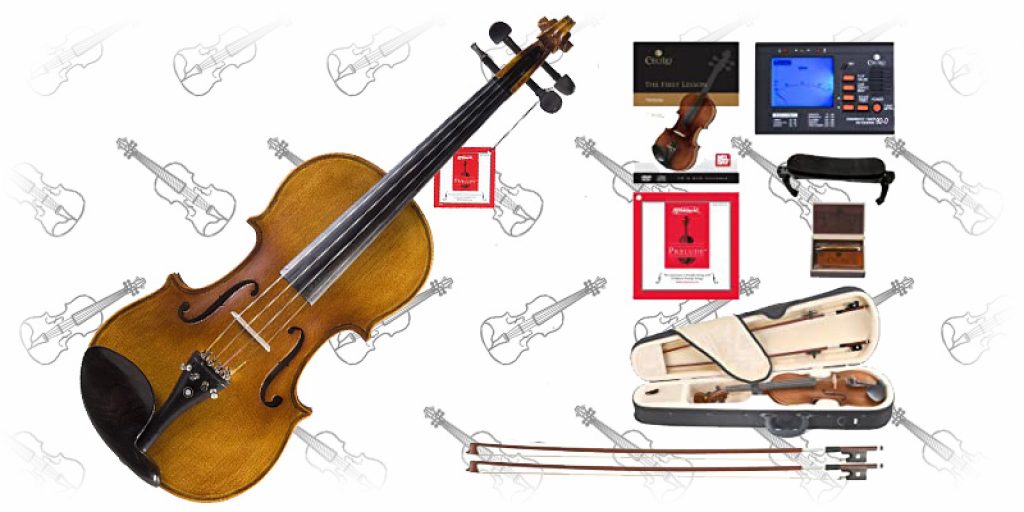 Cheap Violins Buyer's Guide – How to choose a cheap violin
Purchasing a brand new violin is an exciting experience that can lead you down a rabbit hole of seemingly infinite violin choices.
There are violins that are on the market at a variety of prices and some of them can be scarily high with the costliest violins on the planet selling for millions!
However, you don't need to spend a lot of money to buy a great violin and there are many great budget brands serving people on a budget.
So, in case you are looking for a new violin but don't need to spend too much, don't worry, we'll highlight to you a number of options and what you should consider before hitting the buy button.
Size Of The Instrument
The size of a violin is an important factor that will have an effect on its price because of the amount of material that's used to make the violin and the complexity that is involved with making a larger-sized violin.
A 1/4-sized violin, for instance, will cost less than a comparable full-size violin.
No matter if you are looking for a cheap violin, you still need to shop for violins that are the correct size for you.
The proportions of your body will affect your playing technique as a violinist, and choosing a violin that is the wrong size for you may potentially worsen your technique or force you to develop improper habits that you'll then have to correct later.
It will be important for you to develop correct playing habits early as a violinist so don't sacrifice selecting a violin of the incorrect size to meet the demands of your budget.
Always Check The Materials Used
1. Plastic Material
You can find plastic getting used to making violins and most of them cater to lower budgets. Plastic, in contrast to wood, isn't very vulnerable to the harmful effects of humidity and temperature changes so plastic violins can last for much longer than wood violins.
However, a plastic violin is not going to produce the same deep and rich tones that a wooden violin can produce as plastic doesn't resonate and vibrate in the way wood does.
Wood, while still rigid, additionally has an absorption factor to it that works to its favor when sound is involved. Plastic, however, is rigid but is unable to soak up and reflect sound as elegantly as wood.
2. Wood Material
When you are looking for a cheap violin, search for violins that are constructed with solid wood, such as spruce and maple.
Strong and solid wood resonates better than lower-quality wood, ultimately permitting the violin to provide a better sound and tone.
It could be expected that solid wood additionally has extra rigidity than most other materials, offering violinists the confidence that their violins will last for a long time if you take proper care of your instrument.
Handmade Violins Vs Mass Produced Violins
To satisfy increasingly rising demands for violins and other different musical instruments, many manufacturers have been mass-producing their devices.
Mass production allows manufacturers to fulfill the massive demands of customers while maintaining manufacturing costs low and producing an extra number of products.
There are a couple of differences between violins that have been mass-produced and violins that are handmade from beginning to finish.
1. Handmade Violins
These violins are usually crafted over many weeks and months, permitting the materials of the violins to correctly age and set.
If an issue is detected or an adjustment must be made to a violin, a luthier can skillfully make the adjustment to the violin.
There are lots of quality checks which are involved when hand-making a violin and manufacturing it in this way allows a luthier to additionally personalize the sound of the violin and make specific changes to the violin based mostly on the desired end result. If it's necessary, luthiers can also build custom violins.
If you buy a handmade violin, you are additionally paying for the time and expert craftsmanship that has gone into the violin during its creation, along with the quality materials that the violin is crafted with.
The differences and gaps that exist between mass-produced violins and handmade violins have been getting smaller through the years with advancements in technology.
You'll be able to find good violins that are mass-produced and low cost, however, there are lots of qualities that handmade violins have to offer that can't be replicated by mass-produced violins.
When you are shopping, be aware of the quality of the violins that you are getting and the sound that they produce.
2. Mass Produced Violins
Mass-produced, often known as factory-made, violins are violins that are constructed in a manufacturing facility using a wide range of machines and staff to assemble the violins.
Most mass-produced violins are created using pre-developed molds, where the shapes and constructions of the violins all follow identical patterns.
The use of these machines, employees, and molds permits mass-produced violins to be developed much cheaper and faster than most handmade violins.
How Much You Should Spend For Beginner Violin?
When you are buying a cheap violin, there isn't a set price point that can decide the quality that your violin will have.
And how much does a violin cost is a question that has tons and tons of answers.
Depending on the place you shop, who you talk to, and any sales that you could be encountering, you could find decent violins for as low as $25.
However, you will certainly need to be diligent in your testing and analysis of violins that cost under $50.
When you are looking for cheap violins which are below $50, listen to how the violin sounds and look at the build quality of the violin.
As you examine a less expensive violin, test to see if its components are solidly attached to the body of the violin and that the violin won't fall apart unexpectedly because of poor construction.
Conclusion
All the violin choices that we listed above are added to help you get started in your search so you'll be able to understand the necessary things to look out for in every violin even for those who would eventually purchase a violin that isn't listed above.
You may as well ask an expert, violin trainer or player for what brands to avoid and where you can get a dependable violin for newcomers.
The objective here is to purchase a reasonably priced violin that you or your kid can learn with. We have made really great suggestions from the top and lesser-known brands above. Use your ears and eyes, and pay attention to the most important things only.
If you are looking for some additional guides, feel free to check our guides for "How To Clean Your Violin" and "The 20 Best Intermediate Violins".