Yamaha FG800 Acoustic Guitar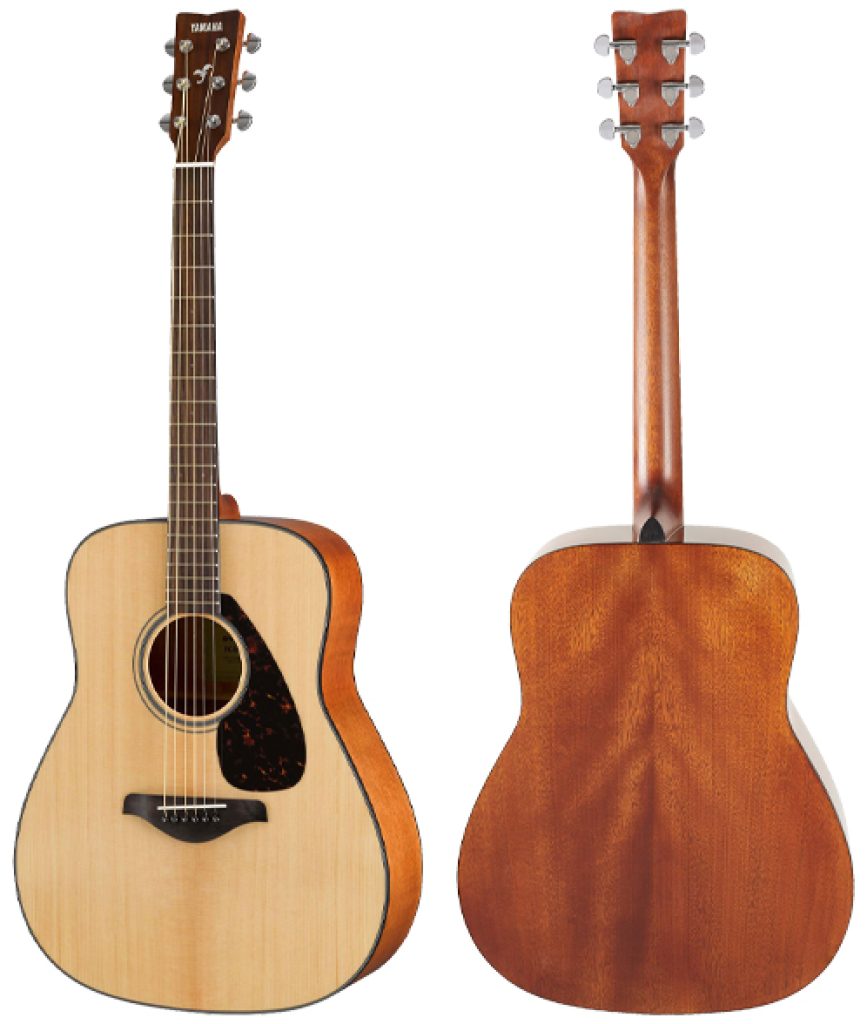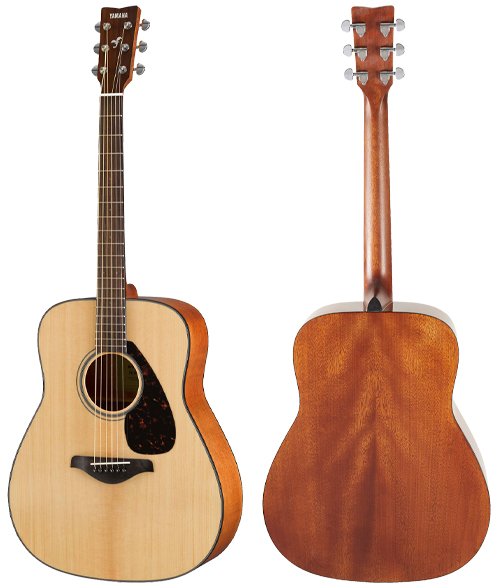 It has a good, strong sound across the board, especially in the mid-range.
Strong, stable, and durable.
Fret inlays make it a good option for beginners.
---
Yamaha FG800 Acoustic Guitar – Review!
The Yamaha FG800 is among the few acoustic guitars in the $200 price range that have a solid top. If you want solid wood, you'll usually have to spend more than $500.


Additionally, solid wood comes in various grades – and we'd assume the grade here is lower – but solid tops always outperform laminate.
The top piece is solid spruce, the same wood used on the Taylor 114ce acoustic (a much more expensive instrument). Despite its beginner status, the FG800 is in the upper tier of beginner acoustics and certainly doesn't feel cheap. Solid tops make a guitar feel more sturdy when held in your hands.
Yamaha FG800 Acoustic Guitar
Tech Specs:
Top: Solid spruce.
Back and sides: Nato.
Neck: Nato.
Fretboard: Walnut.
20 Frets.
Nut width: 43 mm (1.69 inches).
Scale: 650 mm (25.59 inches).
Bridge: Walnut.
Chrome hardware.
Colour: Natural matte.
Build Quality
For the 700-level models in the Yamaha FG series (prior to the 800s), Mahogany is used on the back and sides, while for the 800 series, Nato and Okume laminate is used. Pure Mahogany is more familiar to us than Nato and Okume blended wood, which is more of a gamble.
There is still a subtle difference between the FG700 and 800 series, and it is hard to pinpoint it to the tonewood alone.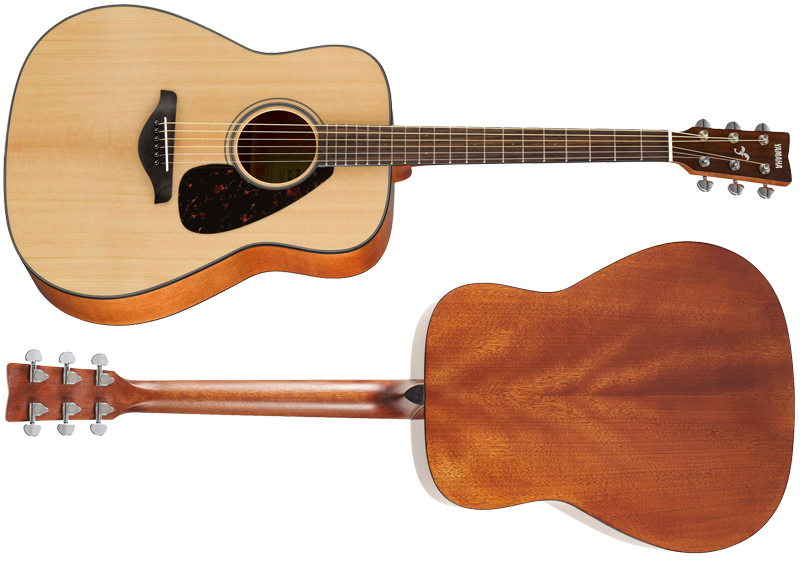 A Nato, in particular, amplifies brighter resonance, which can sometimes make the guitar sound a little biting. The Nato seems to amplify some of the brightness from the Spruce top, whereas we'd prefer to see it balance things out in the other direction.
Nonetheless, the most important tonewood is solid Spruce, which has already been discussed.
As far as we can tell, this guitar doesn't use a comparable grade of Sitka Spruce as other solid Spruce top guitars. Despite that, it kept up with economy Taylors and low-grade Martin acoustics in terms of tone quality. Certainly, our ratings are subjective, but they are based on our experience testing acoustic guitars over the years.
Construction of Yamaha FG800 Acoustic Guitar
Like the Taylor 114ce, Yamaha's 800 series uses scalloped bracing.
If you're recording with a microphone, this improves the sustain of the FG800 and gives you a wider broadcast range and resonance. With a thinner, more tapered neck that's easier to play, it's heavier and thicker than the 700 series acoustics.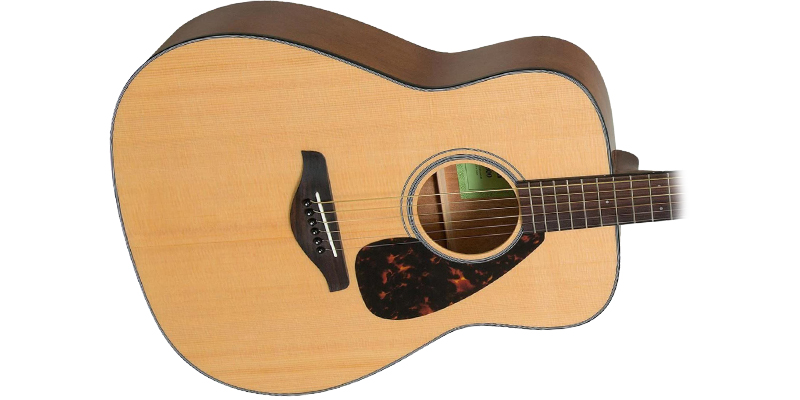 The back panel is made of layered Nato, while the fingerboard and bridge are made of Walnut.
Although Yamaha took some understandable shortcuts here, the FG800 is built much like the 114ce while still costing around $200.
Sound Quality – Yamaha FG800 Acoustic
Even with the solid wood top, the FG800 projects brighter than a typical dreadnought body shape. There will be a lot of scraping, both from your pick and your fingers, and it will emphasize the dynamics of your picking hand. In this way, it makes it more suitable for fingerpicking and melody-driven acoustic styles.
In terms of rhythm, strumming and chord progressions sound decently full, although thicker strumming patterns will reveal the guitar's weaker resonance when compared to acoustics of higher price points.
In general, open chords have a pleasing response, with a good balance of lows and highs.
You wouldn't expect this to have the full, heavy sound of a Martin dreadnought for the price. Although we prefer it more on the high end of the tone spectrum, similar to a Taylor acoustic, its tone is remarkably good overall, especially when you consider the price.
---
In this video made by "Kraft Music" you can hear the demo sound of the Yamaha FG800 Acoustic Guitar!
---
Electronics ($300 Version)
The FG800 also comes in acoustic-only and acoustic-electric body types along with concert and dreadnought bodies. There are four variations of the guitar to choose from:
Dreadnought Acoustic-only
Dreadnought Electronics
Concert Acoustic-Only
Concert Electronics
Yamaha's System 66 preamp and pickup system are included in the $300 version of the FG800. The $200 version has no electronics. The pickup is a piezo under-saddle setup with a three-band EQ, tuner, and midrange control.
System 66 is not included in the default version of the FG800, so we didn't rate this category.
If you're interested in the acoustic-electric version, it does have a better control scheme than the Taylor ES-2, but it didn't sound quite as "natural" as what you might expect from an acoustic preamp. In comparison to an electric guitar, it is very difficult for cheaper electronics to reproduce a natural acoustic tone.
That's all this preamp/pickup combo does. In any case, it's not the main attraction.
Yamaha FG800 Acoustic Guitar
Great quality made for beginners and more advanced players!
Pros
It has a good, strong sound across the board, especially in the mid-range.
Strong, stable, and durable.
Fret inlays make it a good option for beginners.
Cons
It won't blow you away with its design.
Last Words
Easy playing and with a decent tone profile, the FG800 delivers a great acoustic guitar experience.
This means you get a guitar that feels and sounds good to play for a budget-friendly price. In most acoustic beginner situations, we can recommend it comfortably.