Best Pink Ukuleles On The Market in 2023!
After we made a little bit of research we figured out a lot of players are looking for pink ukes recently or better said they need pink ukuleles like hot morning coffee. Maybe the pink color is new black who will know, however, we have for you a list of the best pink ukuleles that you can find available on the market in 2023!
Many people are writing and advertising cheap ukuleles that you can buy from different places, but you should keep in mind that those ukuleles may be cheap but you cannot expect good build and sound quality from them.
We made a list that includes a lot of choices, good beginner ukes, cheaper versions of pink ukulele, and for advanced players, there are also some great and quality options.
---
1. LAVA MUSIC U 23 C Freeboost PK
Using revolutionary one-piece injection-molded technology, LAVA MUSIC U 23 C uke offers an impressive level of natural performance.
This uke is made by combining the strongest and most effective mechanical structure utilizing the extensive acoustic simulation-based design.
Every honeycomb part has a different height and thickness based on its mechanical function, generating extraordinary and beautiful sounds with every pick stroke. The curved honeycomb construction of the Breathenet Sound Board offers a consistent and clear sound that resonates through the carbon fiber body of the LAVA U.
The all-new technology on the L2 Pickup allows the back of the instrument to be utilized as a speaker. Activate the pickup anywhere, anytime, and play freely with built-in reverb, delay, and chorus, all without the necessity for any cables or an amp.
Lava Music U 23 C Freeboost PK tolerates temperatures from -20 up to 90 degrees Celsius and humidity from 10% to 90%. It comes in Pink sparkle color and it comes with a carry bag!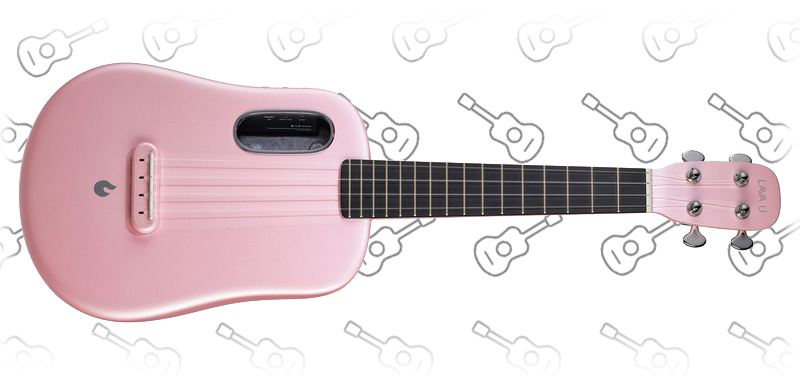 Features
One-piece, injection-moulded AirSonic carbon fiber design for improved physical conductivity, with a fuller tone and longer sustain.
Tolerates temperatures from -20 up to 90 degrees celsius and humidity from 10% to 90%.
FreeBoost technology: the back of the LAVA ME guitar doubles as a loudspeaker via which reverb-, delay- and chorus effects can be played without the use of an amplifier.
Back and sides: AirSonic carbon fiber composite.
Nut: TUSQ.
16 Frets.
Pickup system: L2 with Freeboost Technology.
Machine heads: LAVA designed, screwless.
LAVA designed crystal strings.
Color: Pink Sparkle.
Includes a case.
You Can Buy LAVA MUSIC U 23 C on the Links Below!
---
2. Cascha Carbon Concert Ukulele Set PK
The black Cascha Carbon Uke convinces by its uniqueness and outstanding sound. It's made of carbon fiber from the headstock to the body. Due to this fact, the ukulele is easy to clean and is generally more resistant to external influences.
In comparison with ordinary other ukes, the Cascha Carbon Ukulele has a more differentiated and bright sound and can also impress with its sturdy and high-quality construction and great body shape.
Because of its lightweight and thin body, the ukulele is easy and nice to play without having to accept any loss of sound. The precise tuning mechanics and durable, tuning-resistant fluorocarbon strings (similar to sturdy nylon strings) make this ukulele a very tuning-stable instrument with a bright and clear timbre.
The fashionable "cut-away" design not only appears cool but additionally makes it easy to reach the notes in higher registers. With the extra soundhole on the side, you get a brand new sound experience, because you'll be able to hear yourself better while playing. This bundle features a 5 mm padded soft case, a ukulele strap & three picks.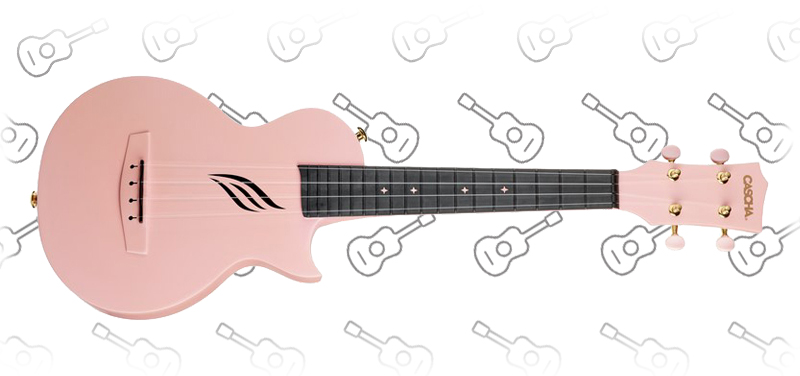 Features
With cutaway.
Body and neck are made of carbon fiber and polycarbonate.
Body thickness: 25 mm.
Weight: 1.16 kg.
Resistant to external conditions.
Single machine heads.
Additional soundhole on the side.
Colour: Pink.
Includes soft bag with 5 mm padding, strap, and 3 picks.
You Can Buy Cascha Carbon Concert Ukulele Set at the Link Below!
---
3. Kala Makala Dolphin Soprano PB
The Makala Dolphin has a traditional look and really good full-bodied sound – it comes in a Pink burst high gloss color. A distinctive value to get anyone taking part in.
It is an excellent choice for newcomers or players on a budget. The Makala Dolphin Soprano Ukulele is made of a kauri top, composite backsides, a mahogany neck, a rosewood fingerboard, a super-cool Dolphin-shaped bridge, and a plastic nut saddle.
These Soprano-size ukuleles are extensively widespread everywhere in the world. They arrive in a lot of vibrant colors and have a unique Dolphin bridge with a Mahogany neck, Rosewood fingerboard, Aquila Nylgut ukulele strings (Super Nylgut), and high-quality, geared tuners.
The Aquila strings sound superb on this uke! It's an enjoyable and thrilling ukulele for all ages. This Makala Dolphin uke is a great choice and it comes with a 3-year Thomann warranty and carrying bag.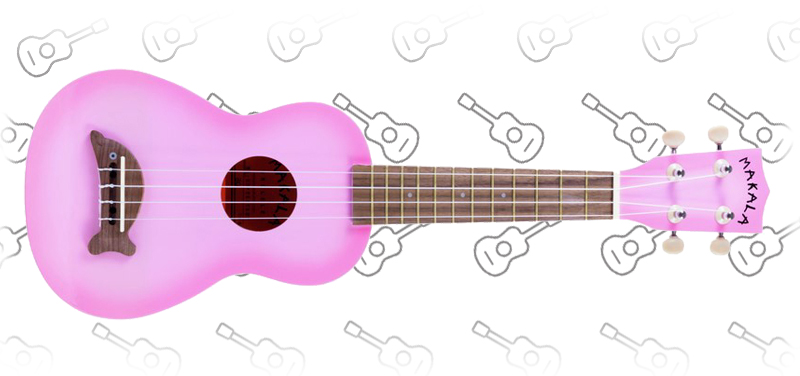 Features
Top: Philippine mahogany.
Back and sides: Composite plastic.
Neck: Mahogany.
Fretboard: Rosewood.
Total length: 530 mm.
12 Frets.
Plastic nut and bridge.
Strings: Aquila Super Nylgut.
Colour: Pink burst high gloss.
Includes bag.
You Can Buy Kala Makala Dolphin Soprano PB on the Links Below!
---
4. Mahalo Smiley Ukulele Pink
With its distinctive smiley face design and 10 vibrant colors, the Mahalo U-Smile collection is everyone's favorite.
The ukes are eye-catching and make for fun dialog starters. The smiley face can have your friends laughing and playing alongside you, and this great soprano ukulele.
The Mahalo U Smile Soprano frets are manufactured from brass whereas the strings are made out of Aquila. Its machine heads are geared dolphins which may be gold-plated, and the bridge saddle is NuBone.
Mahalo Smiley Pink soprano ukulele additionally comes with a gig bag so you can properly take care of your instrument.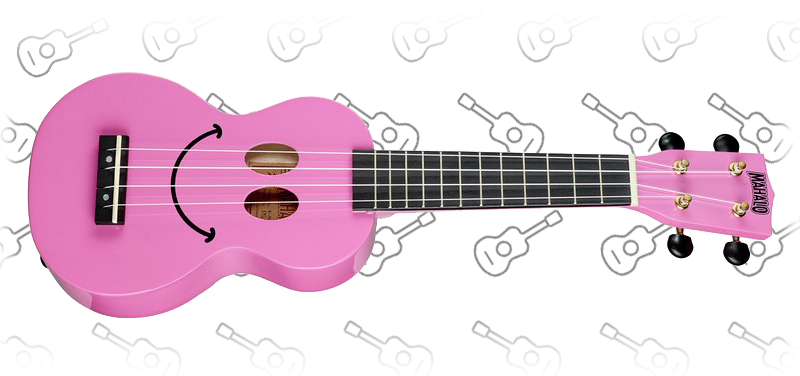 Features
12 Frets.
Scale: 346 mm.
Smiley looks with two sound holes as eyes.
Color: Pink.
Includes gig bag.
You Can Buy Mahalo Smiley Ukulele Pink on the Link Below!
---
5. Harley Benton UK-12 Magenta Pink
No instrument says "summertime" quite like a ukulele. The Harley Benton UK12 Magenta soprano ukulele is a bestseller and a perfect selection for beginners and holidaymakers.
With a strong, laminated basswood body in funky magenta and a 13.7-inch scale length, this soprano ukulele produces the standard soprano sound: soft yet bright. The neck is made of maple, while the fretboard is constructed using non-tropical Roseacer wood.
Harley Benton UK-12 Magenta Pink ukulele additionally features 12 Nickel silver frets, and individual Retro-style machine heads, it comes in Magenta Pink Color and there is a gig-bag included as well. You can try and play some traditional Hawaiian ukulele songs to get it started, Aloha – bring on the summer, please!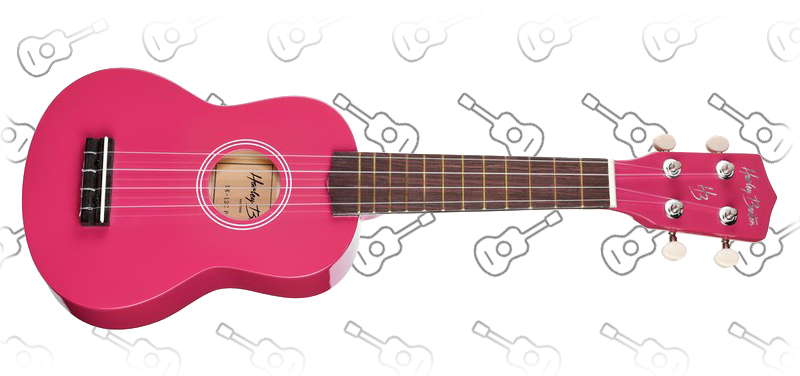 Features
Body: Basswood.
Neck: Basswood.
Fretboard: Roseacer.
12 Nickel silver frets.
Individual machine heads.
Retro-style machine heads.
Color: Magenta Pink.
Gig bag included.
You Can Buy Harley Benton UK-12 Magenta Pink on the Link Below!
---
Conclusion
We made this list because there are plenty of people looking for this kind of ukulele and we wanted to put everything that is "worth" in one place so you can find all you need here at StringsKings.
We hope that we helped you get more information about these ukuleles on our list, or even better we hope we helped you choose your new ukulele.
Price and Quality
The quality you are getting depends on the price that you would like to pay for this kind of instrument. However, all of the listed instruments are good choices and they are made of quality materials, even the cheaper versions.
Related Articles
Happy Strumming!