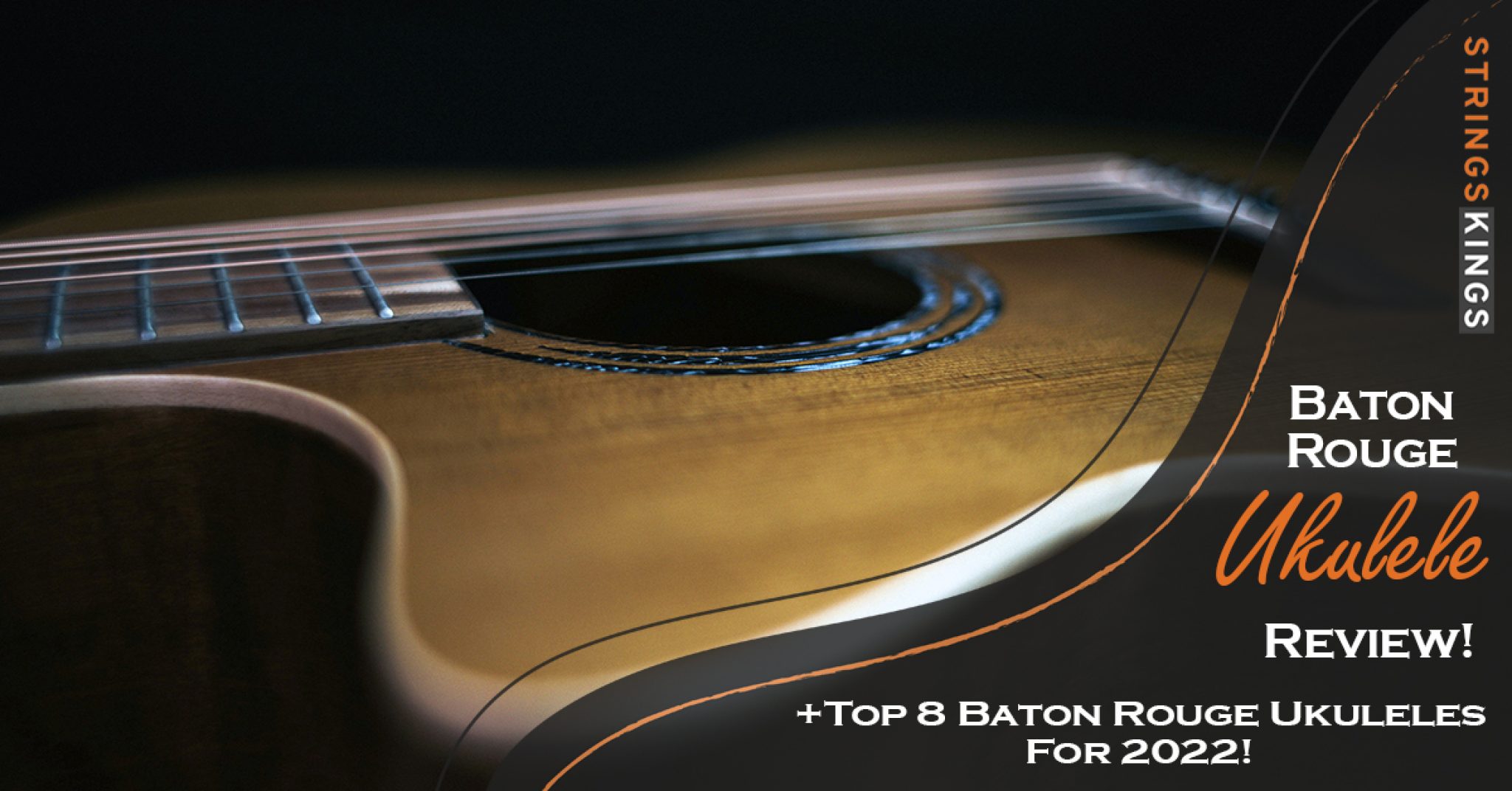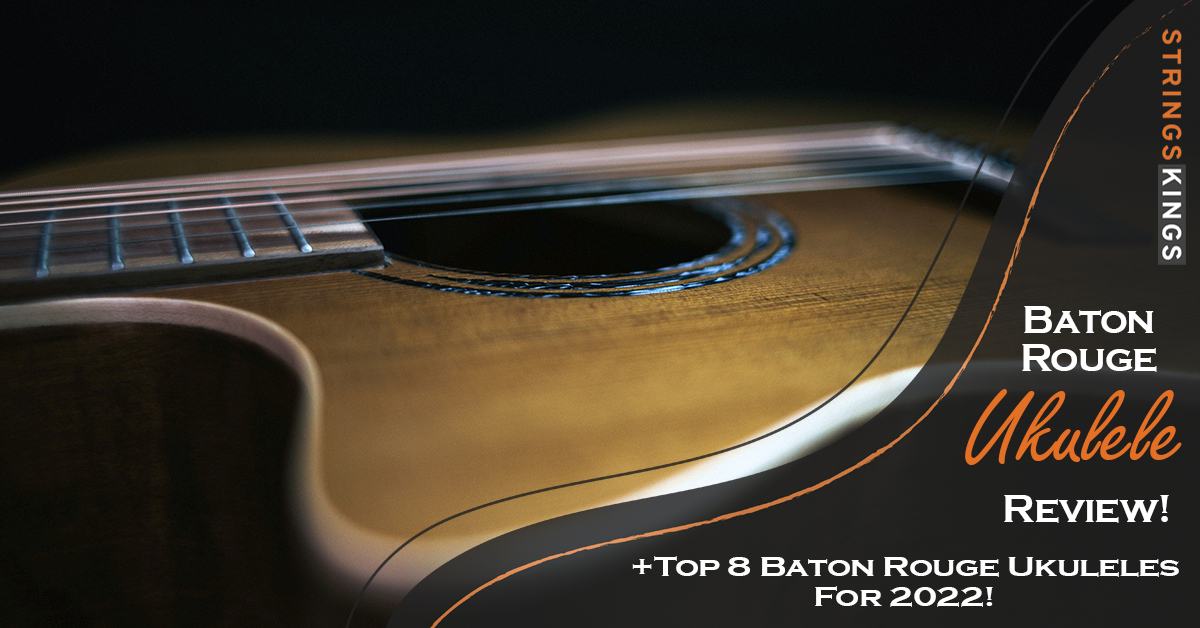 Check Out The Best Baton Rouge Ukuleles That You Can Buy In 2022!
Introduction
Baton Rouge brand history and range of production
Baton Rouge is founded in 1999 when its founder and CEO Gunther took on his journey of hard work and determination to build a brand founded on the belief that quality and affordable guitars should be available to anyone.
Baton Rouge is making really good guitars, ukuleles and offers good value for an affordable price.
This brand developed a great reputation for good value and is concentrated on making serious instruments for beginner and intermediate level players.
Founded on the principles of innovation, quality and affordability their products offer an accessible and extraordinary playing experience for any style of acoustic guitar or uke player.
This brand has a great range of products and they have many choices from soprano, concert, tenor, baritone as well as multi-stringed ukuleles.
We made a list of the best Baton Rouge ukuleles that you can buy at a good price.
If you are looking for ukuleles and you want to get a new one for yourself, this is the place to be!
Baton Rouge V2-S sun
Baton Rouge V2-Soprano sun is the bestseller and one great instrument especially for beginners in terms of set-up, sound, and playability.
There are a lot of ukuleles in this range, some of them are cheaper some are looking fancier, but if you are looking for a quality and something to rely on, this model is a great choice.
This V2-Soprano sun model has a laminate mahogany body with a pleasing pattern in the grain and a great laser-etched sun motif around the soundhole which is engraved with a laser and elevates this instrument a bit in a visual way.
There are some very durable geared tuners, fingerboard, and bridge made of walnut and Aquila strings on the uke contributing to the sound.
Because this instrument has a slightly arched back it takes away any harshness in the tone and additionally colors the tone with some warmth. The slightly arched back is the key advantage this V2-S Sun Soprano uke has.
Features
Baton Rouge V1-S dawn
A lot of artists, attempt to get that great feel, tone, and aesthetics. Baton Rouge listened and came up with different models for artists to select from.
The type of wood, shapes, sizes, and tone to dial in a precise sound that can make an artist very unique, made Baton Rouge the primary choice for Fingerstyle players.
A wide variety for any musician to choose from.
Made for musicians with specific needs and distinct tones. German innovation paired with twenty years of experience and innovation and they are still at it just to give us what musicians and songwriters need.
V1-Soprano dawn ukulele model is made of a solid mahogany body and Nato wood neck. It has a fretboard and bridge made of Walnut and NuBone nut and saddle.
It has open chrome-plated guitar machine heads with black buttons and it is factory equipped with Aquila Nylgut strings, made with dawn blue matte, open-pore color.
We highly recommend this cheap soprano uke to anyone, especially for beginners.
Features
Baton Rouge UR1-S smile-bws
UR1-S smile-bws is one well-built and sturdy ukulele when you consider its affordable price. It is a great ukulele, especially for beginners.
Many of the customer reviews say they bought this uke as a gift for the younger players in their family and no matter how many times they bump the instrument, it is still perfect.
With the cheap price this ukulele has, you cannot expect a professional and high-quality instrument but this ukulele definitely brings great value for the money.
It has a solid body made of Basswood, Okoume neck, and a Walnut fretboard.
Additionally, it has open guitar machine heads with black buttons, it comes with Aquila strings in Boomwhackers colors (G = green, C = red, E = yellow, A = blue), and it has a shiny yellow color with a smiley motive.
Features
Baton Rouge UV41-C-NMH Concert Ukulele
Baton Rouge UV41 is one good Concert Ukulele that is really looking solid with a top, back, and sides that are made of Mahogany. Its bridge and fretboard are made of Walnut and NuBone nut and saddle.
UV41-C-NMH has open guitar machine heads in black / chrome with black buttons and it comes together with Aquila Nylgut strings.
It has an open-pored finish thin layer of lacquer that leaves the deep natural pores of exotic tonewoods exposed.
The finish preserves the natural acoustic properties of tonewoods in a way similar to oil conditioners but provides significantly better protection.
Baton Rouge UV41 with its natural matt color and the unique head is looking really great. It brings great value for the money and we highly recommend this uke, especially for intermediate players.
Features
Baton Rouge UV11-P-AB Soprano Ukulele
UV11-P-AB is a ukulele with great characteristics and a retro Hawaiian style "Pineapple" body made in the range of Baton Rouge soprano ukuleles.
Not only it will take your attention with his cool appearance but this uke also provides some great sound.
As we already said it has a Pineapple body with a body and neck made of mahogany, a Walnut fretboard, and a Walnut bridge with a NuBone bridge insert.
UV11-P-AB has open black/chrome guitar machine heads with black pegs and it comes with Aquila strings.
This ukulele also has an open-pored finish and Antique brown matte color.
Baton Rouge UV11-P-AB has really affordable price and in that range, you will have a hard time finding any other ukulele that will stand out from the crowd like this model.
Features
Baton Rouge VX1/CXE-CB E-Concert Ukulele
Baton Rouge is one nicely made and nicely put-together 8 string electric ukulele made out of exotic mahogany.
This instrument was sold out a couple of months ago, but here on Thomann, you will be able to get it and of course, at the best price.
As we already said the Baton Rouge VX1/CXE-CB body is made of mahogany, arched back, neck made of Nato wood, and a Walnut fretboard and bridge.
This uke has a NuBone nut and saddle, black open guitar machine heads with black buttons, and it comes with factory-equipped Aquila strings.
As with other models, this one also has an open-pored matte finish with Charcoal Burst color.
We will highly recommend Baton Rouge VX1/CXE-CB if you are looking for uke in this range, and for the price, it adds great value just like other Baton Rouge models.
Features
Baton Rouge VX1/BB-CB Baritone 8 string
This uke is from Baton Rouge's VX1 series (well-made mahogany ukuleles), and it's a baritone 8-string uke. The CB part in the product name stands for charcoal burst, which describes the grey/brown fine sunburst stain on the body.
As you would expect from baritone ukuleles, there's a lot of depth and volume, however, the 8-string configuration offers some nice jangle to the tone too.
It has a high D and low D pair, then a high G and low G pair, followed by pairs of B's and E's. The predominant sound is certainly rich warmth, but those higher notes in the pairs give a little bit of sparkle on top.
For all that the Baton Rouge VX1/B8-CB is slightly unusual with its 8 strings, it is truly comfortable to play.
With lower tension with baritone strings, it's a lot easier to strum than a tenor 8-string. The 38mm nut width seems good for the 8-strings and the neck profile is very familiar-feeling. It is really, a real pleasure to play.
The price is impressive too, for something that is relatively specialist, Baton Rouge has kept the price good and competitive.
If it had been significantly more, we think it would still have sold as there are so few 8 string baritones available. A bit of a steal, all in all.
Features
Baton Rouge UV11-BS-SCC Bass Ukulele
Baton Rouge is again to their old methods of finding gaps in your Ukulele collection you actually didn't know existed and then tempting you in with something just that little bit different.
The UV11-BS-SCC has a bit of a complicated name however it can be summarised easily.
This Baritone scale Ukulele bass (Like Kala U-Basses), has a nice charcoal-stained laminate mahogany body and a unique 1920's inspired art-deco head plate, together with NuBone nut and Walnut fretboard.
Baton Rouge UV11-BS-SCC Bass Ukulele has a Walnut bridge with Nubone bridge inlay with open black bass machine heads and it comes with Aquila Nylgut strings.
This uke works really nice and goes well against his competition in this price range, which are available on the market for under 250$ with a BR-1 pickup system that has a tuner, volume, and tone functions.
If you want a good Ukulele bass that is still reasonably priced enough that you won't lose sleep if it gets a couple of dings and scrapes through the years then the Baton Rouge UV11-BS-SCC is a superb choice!
Features
Conclusion
The Baton Rouge range always delivers good value.
For those who have a budget of up to 250$, this company has a lot of ukuleles that sit very well against the equal competitors and needs to be a real consideration if you need great quality at competitive prices.
Something additional that we offer is the deal you will get on Thomann with the best prices for this brand, it's like they outclass their competition.
If you are looking for some additional options we would like to suggest you look at our Harley Benton ukuleles review.
Happy Strumming!