Vangoa VU406 Tenor Ukulele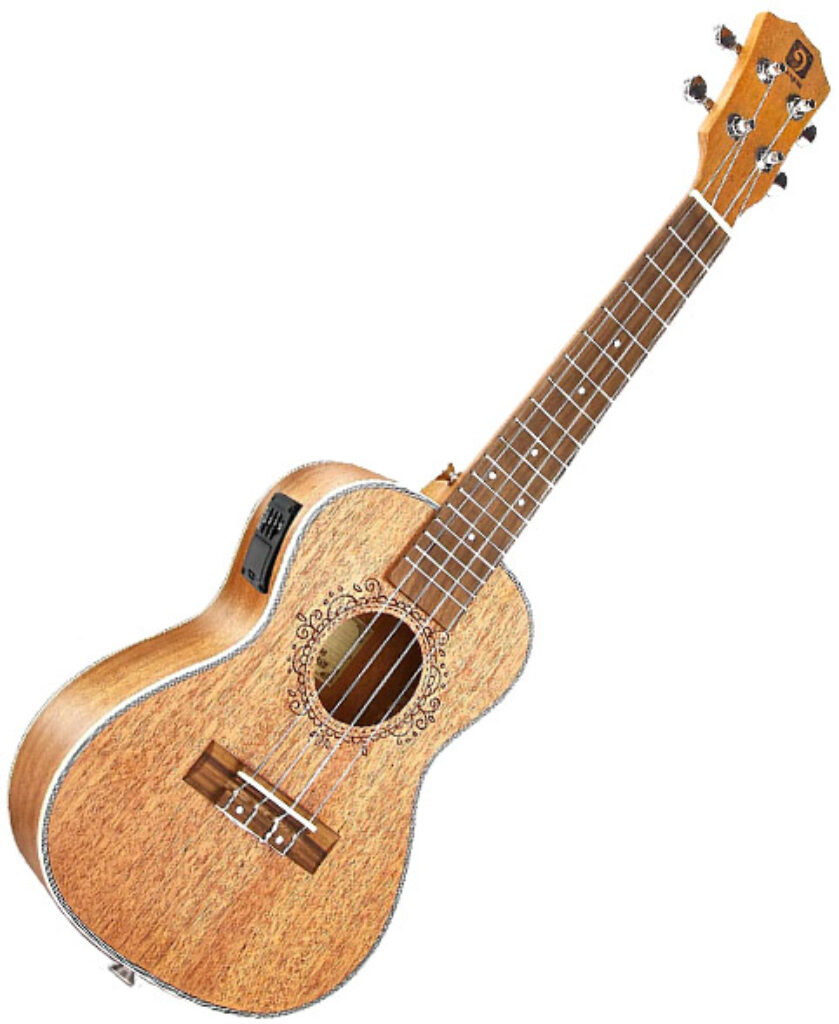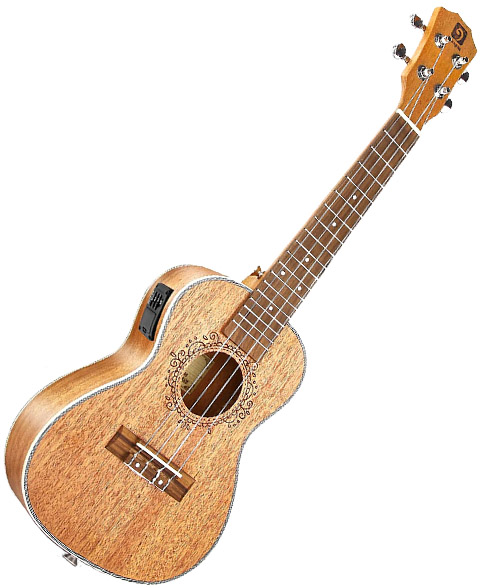 Super affordable.
Great Quality Build
For Beginners and Intermediate players!
---
Vangoa VU406 Ukulele Review – Awesome Tenor Ukulele!
Vangoa is an e-commerce platform for musical instruments. Vangoa was founded in 2017. The company has a young, energetic team that can search for various unique, useful musical instruments. Vangoa has grown far beyond the store and will introduce more products in the future, so stay tuned.

---
Vangoa VU406 Ukulele – Body
The Vangoa Tenor Ukulele is a true work of art, and I can hardly believe how beautiful this instrument is! Incredibly beautiful, this instrument has classic white binding, an arched back, and even strap pegs. We are so excited that we can hardly contain our excitement!
This ukulele is exceptionally well-crafted at an affordable price, making it difficult to find a ukulele like it. Designed with an arched back, the arched back directs all of your beautiful sounds toward the soundhole, resulting in a louder and more sustained sound.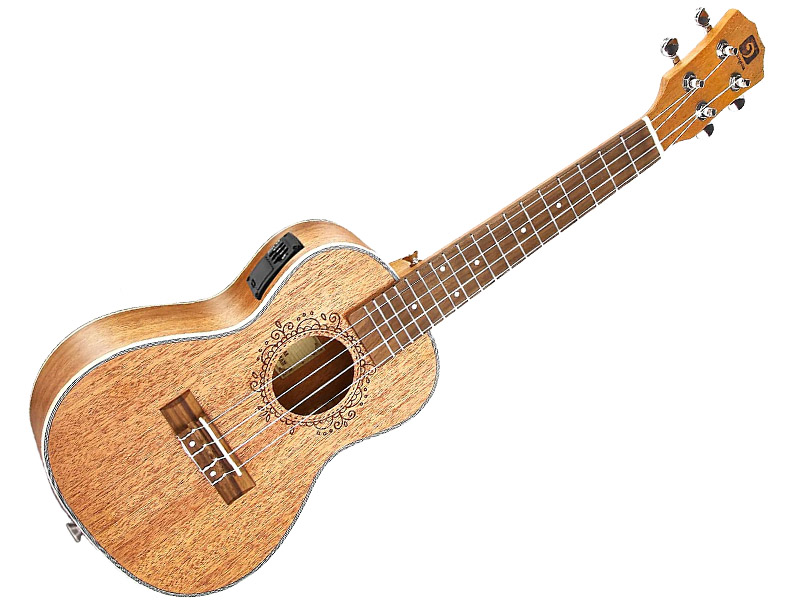 Additionally, the body is elegantly bound with rounded edges for a comfortable playing experience, as well as a classic white binding that adds a touch of elegance. The ukulele is a suitable choice for both beginners and experienced players.
---
Neck and Hardware
It is a joy to play this Vangoa ukulele! This C-shaped neck is so comfortable to hold and play with, it feels as though it was made just for you!
Whether you are a string instrument novice or a seasoned veteran, the ergonomic design of the neck makes playing effortless and enjoyable. Additionally, you won't have to worry about those painful finger cramps that come with hours of practice.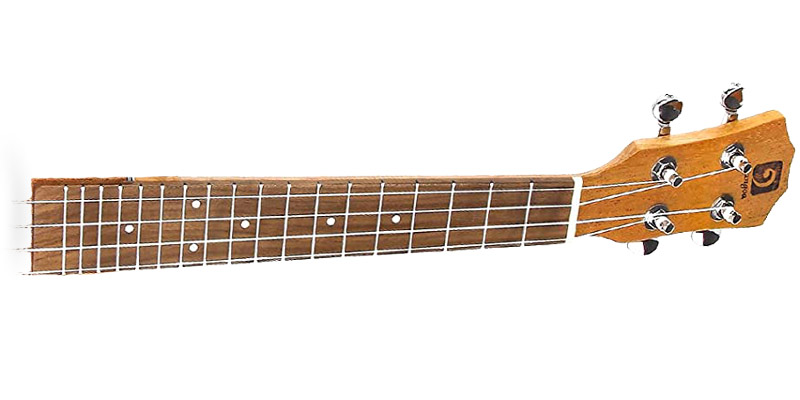 Low action makes this ukulele easy to play, especially during the learning process of bar chords. Your fingers will glide effortlessly over the strings and you'll easily create beautiful music. Choosing this ukulele will prove to be one of the most rewarding decisions you've ever made!
---
The Sound Of Vangoa VU406 Uke
In terms of a tenor ukulele's enchanting and soothing sound, this one truly makes its mark on what makes it so beloved and cherished. With its mellow and rich tone, the instrument truly sounds like a symphony, with an unsurpassed level of sustain.
This tenor ukulele isn't just special because of its sound, but because of its technical features as well. A strum of the ukulele evokes a sense of warmth and tropical paradise, capturing the essence of the classic Hawaiian ukulele.
The tenor ukulele is big enough to fit large hands, but you can still experience the traditional Hawaiian ukulele sound that is so loved by ukulele enthusiasts around the world even if it's large.
In this video by "Vangoa," you can hear the sound of this great ukulele:
---
Tuners and Tuning
This mahogany tenor ukulele's anti-dust chrome-plated fully closed tuning pegs are a testament to its quality.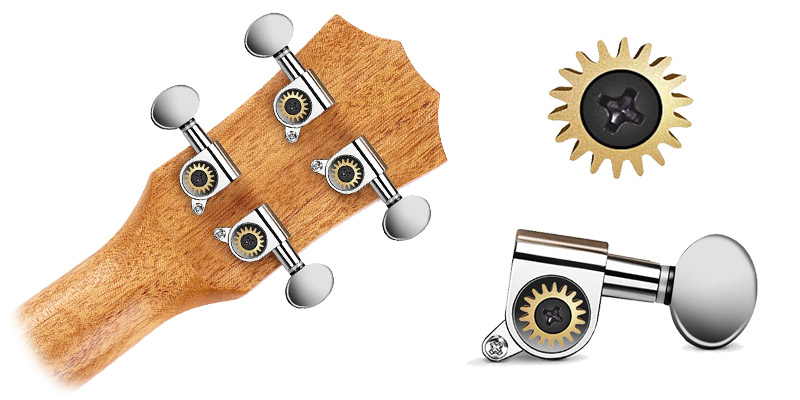 Your ukulele will remain in perfect pitch at all times thanks to these pegs, which not only guarantee precise tuning but also ensure accurate tuning. Easy installation and enhanced tuning stability are provided by the ukulele's smooth, high-quality nylon strings.
The clip-on digital tuner included in the package is a lifesaver when you need to tune while on the go. No matter where life takes you, you'll be able to tune your ukulele effortlessly with this handy tool.
---
Vangoa VU406 Ukulele
A perfect budget ukulele package for beginners and intermediate players!
Pros
Super affordable.
Great lasting build.
Great for beginners and intermediate players.
---
Last Words
When it comes to discovering the enchanting world of the ukulele, this instrument truly is the pinnacle of perfection. This product stands out from the crowd of average and affordable options due to its meticulous craftsmanship and attention to detail.
With its larger size, it is ideal for adult players with larger hands who may have previously felt limited by traditional ukuleles' smaller sizes.
This ukulele, however, is truly exceptional in its ability to produce an incredibly melodious sound. It has all the classic Hawaiian ukulele sound with a mellower, softer tone that is sure to please any listener. It is sure to be a cherished addition to your collection regardless of whether you are a beginner or a seasoned player.
Happy Strumming!