Best Ukulele Tuners – Reviews and Top Picks!
Introduction – Best ukulele tuners
Every string instrumentalist, together with buying his instrument knows that he must tune his instrument.
Developing the ability to tune a string instrument by ear might be an important advantage and may result in the most economical solution. However, having the skill of tuning by ear at that level requires time and constant practice.
If you are in the process of learning and adapting there's a more practical option to tune your instrument and that means buying a tuner.
Using a ukulele tuner, it's the easiest way to get a more accurate tuning at the moment to study, practice, or for any kind of gig.
Here is our selection of the 10 best ukulele tuners on the market.
---
1. D'addario PW-CT-21 Micro Clip Free Tuner
With a simple-to-read, multi-colored display, this gadget turns out to be useful, allowing an easy and accurate tuning process. The capabilities are provided by an extremely sensitive piezo transducer integrated into it.
In comparison with earlier models, this gadget provides a quicker response, improved accuracy, a larger tuning range, and an improved design and it includes a metronome, as well.
The backlit display and the precise transducer allow you to tune your instrument in noisy environments, and in lit or dim conditions.
The screen has a function that allows it to reverse the writing on it, in case you need to use it upside-down and the flexible neck offers the possibility to adjust the tuner. You'll be able to leave it clamped on your instrument when stored, that's how small it is.
Because the clip is adjustable and the tuner is so flexible, you can use it for almost all instruments of all sizes, regardless of whether they're for right or left-handed players.
PROS:
Coming with a multi-colored display, this device offers you a quality tuning process that is also very easy to handle.
For improved visibility, the display can be adjusted due to the flexible neck.
This tuner comes with a metronome and it has a large tuning range, offering a fast response.
Its backlit display offers you great visibility in dim or lit conditions for better comfort.
The accurate tuning process is given by the incorporated piezo transducer that is highly sensitive.
The tuner comes with a precision transducer which makes the tuning process easier in noisy circumstances.
The structure of the tuner is very small and compact so you don't have to take it off the ukulele when transporting it.
CONS:
The tuner doesn't come with any instructions about changing the battery.
When hitting certain notes, the tuner buzzes in an annoying way.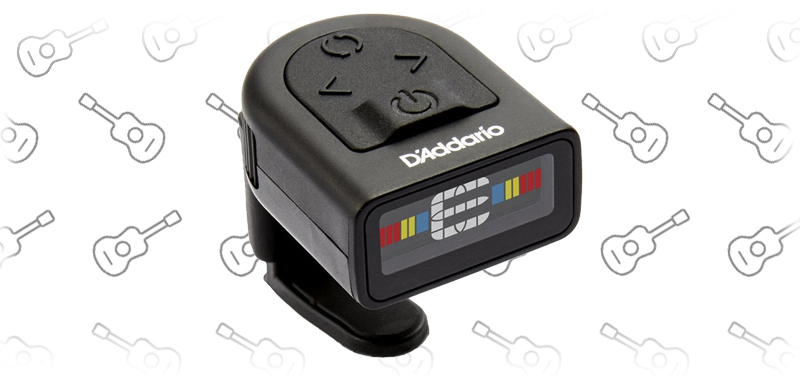 You Can Buy D'addario PW-CT-21 Micro Clip Free Tuner on the Links Below!
---
2. Korg CA-50 Chromatic Tuner
The Korg CA-50 Chromatic tuner, it's apparently the one that has a better calibration range from 410 Hz to 480 Hz.
Korg CA-50 Chromatic Tuner additionally has a wide range of octaves for various tuning types, with chromatic tuning (chromatic tuners) in a full-color display, and has two connectors one input and another one for output.
You can use the built-in high-sensitivity vibration sensor and microphone to detect the pitch of an acoustic instrument without requiring any other equipment.
Alternatively, you can use the separately sold CM-200 contact microphone to send the vibration of the instrument directly to the tuners. In that way, you can tune accurately without worrying about other sounds in the environment.
An output jack (bypass) has been added, making it easy to check the tuning even while you perform.
PROS:
A wide range that can cover a lot of different instruments.
Built-in high-sensitivity microphone.
Pocket-sized.
Larger display.
Auto Power Off function.
CONS:
Vibrato in the voice may interrupt the needle.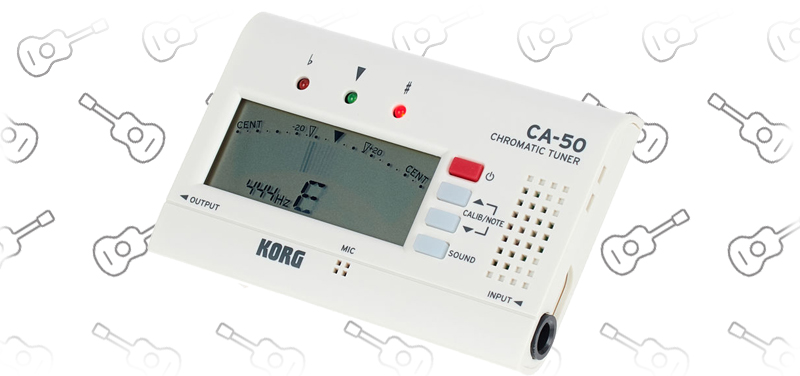 You Can Buy Korg CA-50 Chromatic Tuner at the Links Below!
---
3. Donner Rechargeable Clip-On Tuner
The Clip-On Ukulele Tuner works for a number of strings instruments, it has a full-color display screen with chromatic tuning additionally.
The most interesting thing about this particular tuner is that the gadget is rechargeable by USB. You don't need to spend a lot of money on batteries or worry about your tuner dying at crucial moments.
It has a very small size which makes it easier to hold and store. Metronome, Digital Tuner, and Tone Generator, 3 functions in 1 device for acoustic and electric guitars, bass, ukulele, banjo, violin, mandolin, and wind instrument.
Geared up with a 120mAH rechargeable lithium battery. Ultra-low-power and auto power-off function saves energy for these tuners.
Designed precisely for great performance, high precise detection, and sensitive vibration clip, tuning with ±1 cent accuracy.
PROS:
USB Rechargeable Tuner.
3 Functions that cover a lot of instruments.
High and precise detection.
Strong and clicky buttons.
Strong quality hardware.
CONS:
The plastic clip can be a weak spot.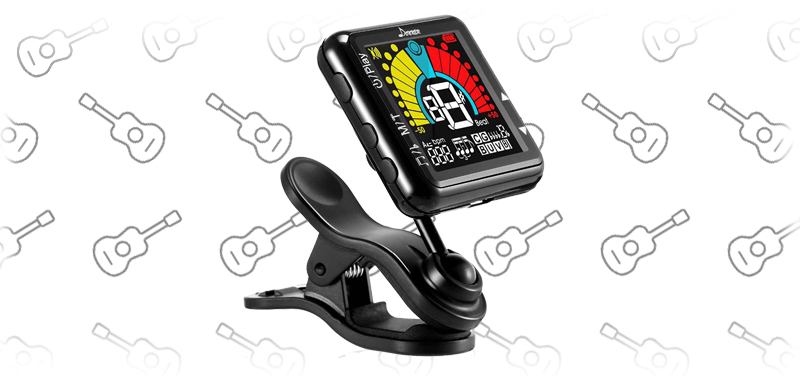 You Can Buy Donner Rechargeable Clip-On Tuner on the Links Below!
---
4. Mugig Tuner
The 'Mugig Tuner' works equally for guitar, ukulele, bass, and violin. It has chromatic tuning, and calibration between 430 Hz – 450 Hz, a quick response to vibratory frequencies that suppress background noise.
This tuner is best for noisy environments and has a hook with a rotary axis to have the ability to use it from any angle. Supports a number of tunings: Chromatic, Guitar, Bass, Ukulele, and Violin.
It is a highly sensitive vibration tuner that responds quickly and ignores the background noise, it is specifically good for a loud, chaotic environment.
It has a great and really clear LCD display (38% higher view), barely shade incurred, and rotates 360 degrees for simple viewing from any angle.
Scientific design with strong construction ensures no break in use. Environment-friendly ABS plastic was applied, and no inferior materials were used.
PROS:
Quick response to vibratory frequencies.
Suppress background noise.
Clear LCD display.
CONS:
Some players report it as inaccurate after some time.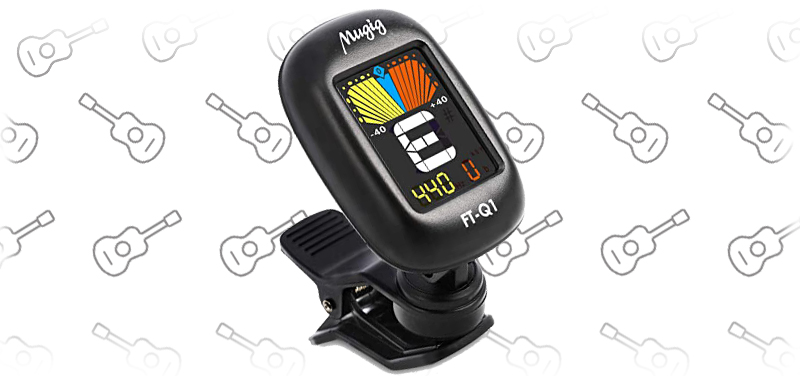 You Can Buy Mugig Clip-On Tuner on the Links Below!
---
5. D'Addario NS Micro Clip-On Tuner
D'Addario is a very prominent string manufacturer and their strings are used by many well-known musicians, however, they managed to make an excellent tuner too.
It's one of the most accurate clip-on tuners and it covers an enormous number of stringed instruments including guitar, ukulele, bass, violin, mandolin, and so on. In one word those are tuners for all instruments (almost all stringed instruments).
This nifty little ukulele tuner is very small and compact, but very durable and simple to make use of. It's additionally very discrete and you can have it on your instrument always and nobody will notice because the display goes on the backside of the headstock.
You'll be able to put it anywhere on your headstock because of the adjustable ratchet mechanism and a reversible screen. This tuner additionally includes a visual metronome which is a very helpful function for both beginners and professionals.
Controls are conveniently positioned on the top of the ukulele tuner and are quite simple to use.
PROS:
Very durable.
Highly accurate.
Extremely easy to use.
Light and small.
Discrete.
Visual metronome.
Very affordable.
CONS:
Easy to lose because it's so small.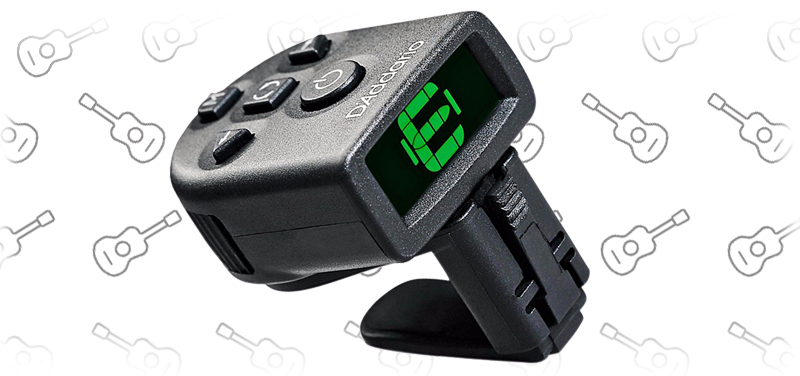 You Can Buy D'Addario NS Micro Clip-On Tuner on the Links Below!
---
6. KLIQ MetroPitch – Metronome Tuner
The KLIQ MetroPitch – Metronome Tuner provides a large number of nice and interesting features. The tuner doesn't utilize vibration to detect a note. Instead, it contains both an input jack and a built-in microphone. The mic is used for acoustic and the jack for electric ukulele.
You will be able to use this A0-C8 chromatic tune for all kinds of instruments. It features preset tuning for most things, including strings, In addition, it has transposition settings for brass or woodwind. You can use it even as one of the best tuners for a trombone!
It is something that other ukulele tuners cannot do. It's suitable to tune rapidly in loud surroundings using a tuner with a clip-on. Some might not like making to the chaos around plugging it in.
With a vibration-based tuner, it lets you sit on the edge of the ukulele while playing full-time without interference.
This metronome will improve your time with 30-250 beats per minute in enriched totally different music styles, tap tempo, and a wide range of different Beats and rhythm types. It's a useful featured instrument and also it is really easy to use.
Additionally, it gives the tone generator, which helps in making the fast-pitch selection, amongst many other features.
PROS:
Combination of tuner, metronome, tone generator.
Different tuning methods.
Accurate and clear display.
3-Year Manufacturer Guarantee.
CONS:
No vibration-based option.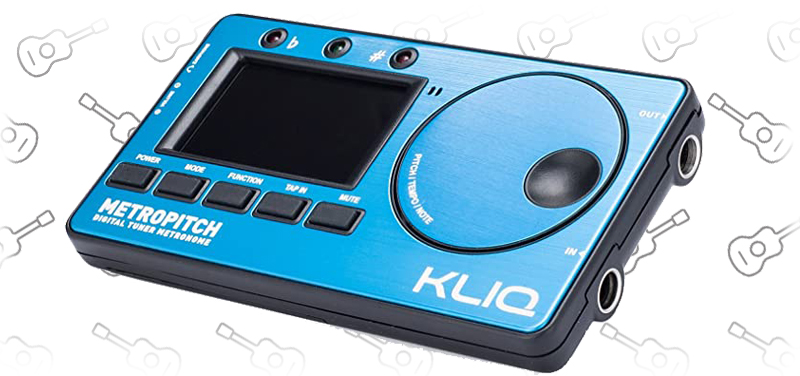 You Can Buy KLIQ MetroPitch – Metronome Tuner on the Link Below!
---
7. Snark SN-5X Tuner
The next on our list is the Snark SN-5X Tuner for Ukulele. It's another ukulele clip-on tuner, which attaches resolutely to the end of your instrument. The Snark SN-5X Tuner is user-friendly with a simple design, and simply put, there isn't any need to look any further.
The display is great, in a word. Its large, clear, and colorful display screen makes it much more engaging than other ukulele tuners. Regardless of the surrounding environment, you can be positive about its perfect readability.
The extra bonus is that it rotates 360 degrees, which acts for right or left-handed ukulele players. Additionally, a fast turn allows you to view the display from any angle.
This reliable ukulele tuner contains one large switch instead of a number of small buttons. Consequently, you'll get simple and easy accessibility, even when you're busy or on stage.
The good news is that it has a built-in metronome. It not only provides your ukulele melody but in addition ensures that your rhythm is kept up-to-date with the right feeling.
This Snark Ukulele Tuner contains a number of options, however, its battery isn't that great. Even then, it could be a great choice for beginners. Moreover, its metronome can be a good help for beginners or new musicians.
PROS:
New high definition display.
A built-in metronome is included.
Enhanced accuracy.
360 degrees rotated display.
CONS:
The battery does not last long.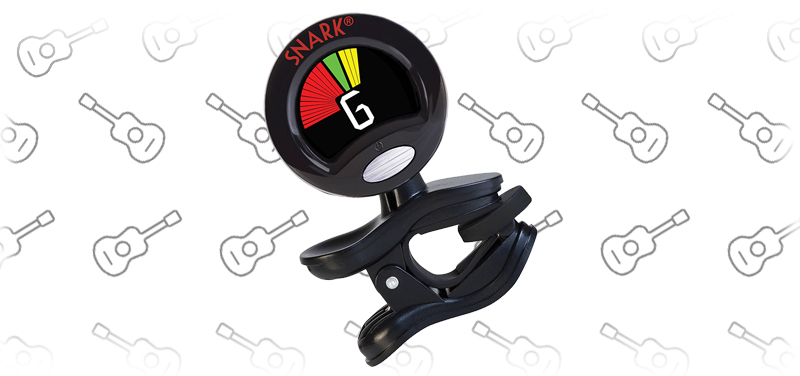 You Can Buy Snark SN-5X Tuner on the Links Below!
---
8. Fender Clip-On Tuner FT-004
The quality arises to mind first when we talk about the Fender Brand, and we do not find any exception to the Fender Clip-On Tuner FT-004 too. It's a bit basic and flexible but unbelievably simple, user-friendly, and also accurate.
This chromatic tuner provides basic chromatic settings, in addition, has modes for ukulele, guitar, and violin.
The FT-004 is a basic, monochromatic, and smallest display. You'll view it in mini tuners, but you'll be able to easily read them too.
The minimalist design tuner contains just one control button, but it's more than enough to continue your activities.
The screen displays a needle-like graph that indicates how far you're from the right pitch, and it appears bright enough, even though you stay in the darkest conditions.
This tuner comes with a 3V battery, which is long-lasting. It includes a small, compact size one-handed swivel clamp that grips very nicely.
This small tuner needs much less space, so it becomes easy to place it in a small box. Because of this, touring musicians choose it as one of the best ukulele tuners.
Additionally, it's sturdy and comes at a reasonable price.
PROS:
Extremely small and compact.
Very accurate.
The battery lasts for a long time.
More than affordable.
Very bright display.
Quite easy to use.
CONS:
It's a bit difficult to change the battery.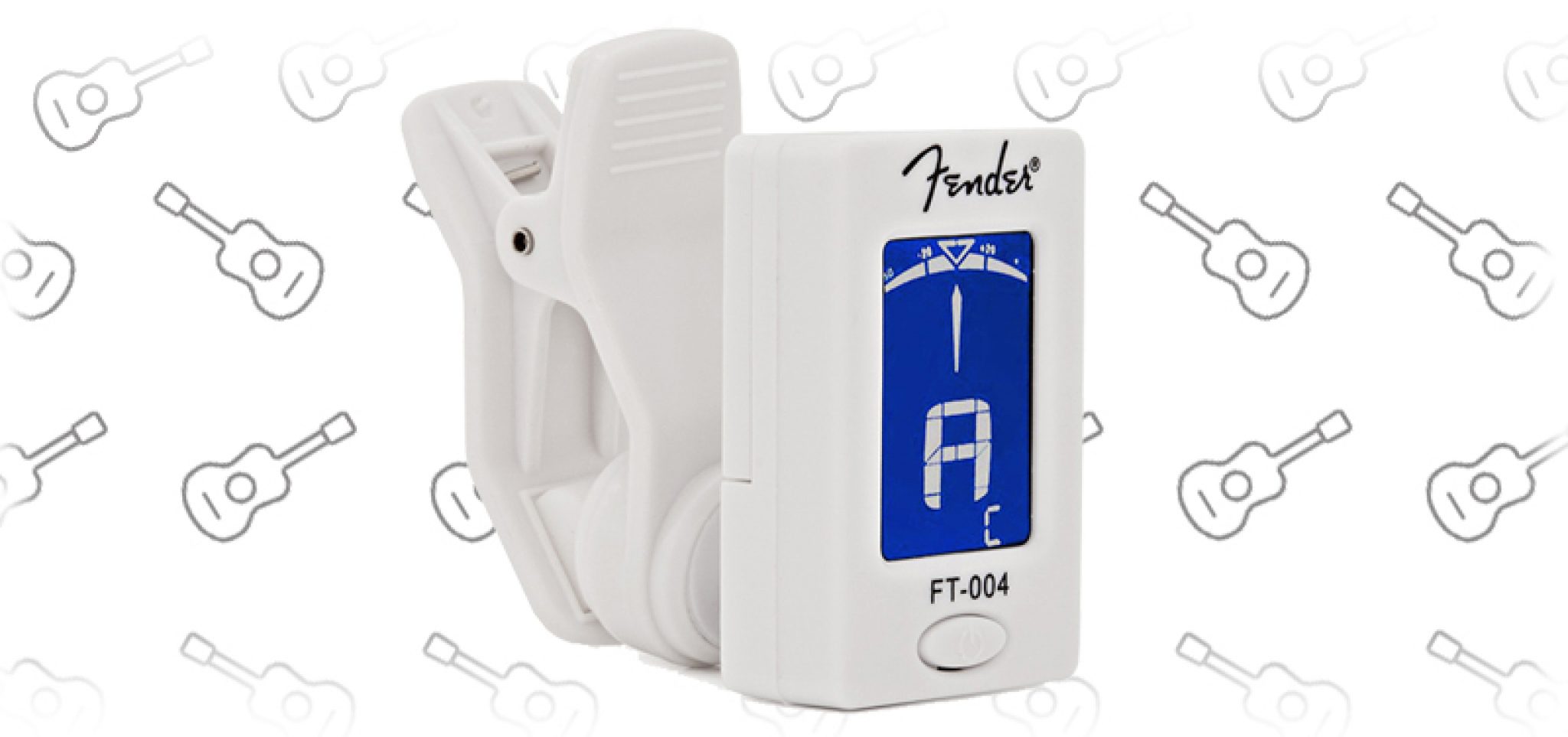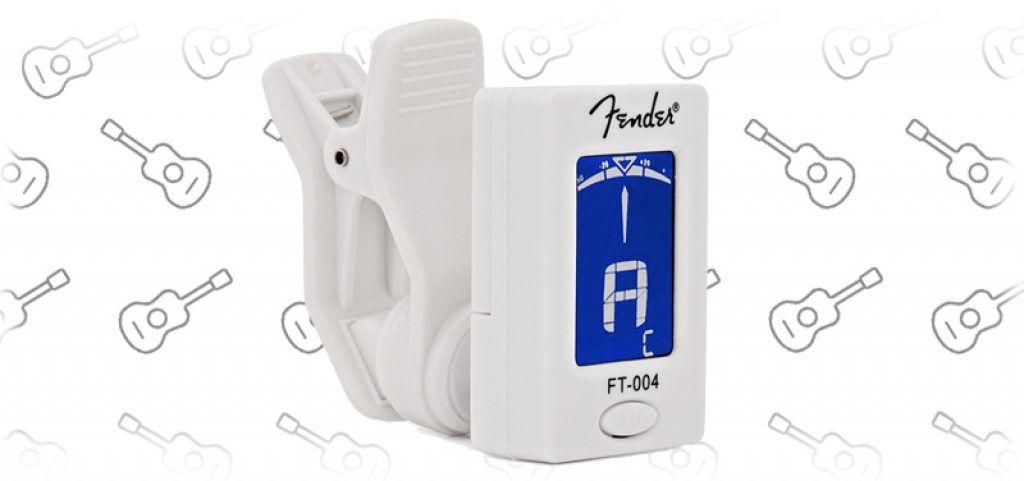 ---
9. Snark SN6 Clip-On Ukulele Tuner
The Snark SN6 clip-on ukulele tuner is among the most popular clip-on tuners of this type and it's a bit more versatile than most similar tuners.
The tuner includes a full-color bright display and it's extremely simple to make use of. Snark SN6 clip-on tuner can be totally rotated (360 degrees) which means that you can clip it on however you need on your uke's headstock. You will be able to see the display regardless if you are left-handed or right-handed.
Snark has a wide range of tuners with totally different features and some of the costliest ones feature a built-in mic and metronome. This specific model isn't actually the most beautiful tuner on the earth however it's extremely simple to use and the display is really easy to read.
Because the tuner uses the wood vibration to detect the note you're playing, it's accurate even in noisy surroundings.
It's very small and compact and it takes up nearly no space in your gig bag. No surprise Snark is so widespread.
Moreover, this is among the cheapest tuners you can find, but it's very accurate and nicely made.
PROS:
Very cheap.
Accurate.
Easy to use.
Very reliable.
Full 360-degree rotation.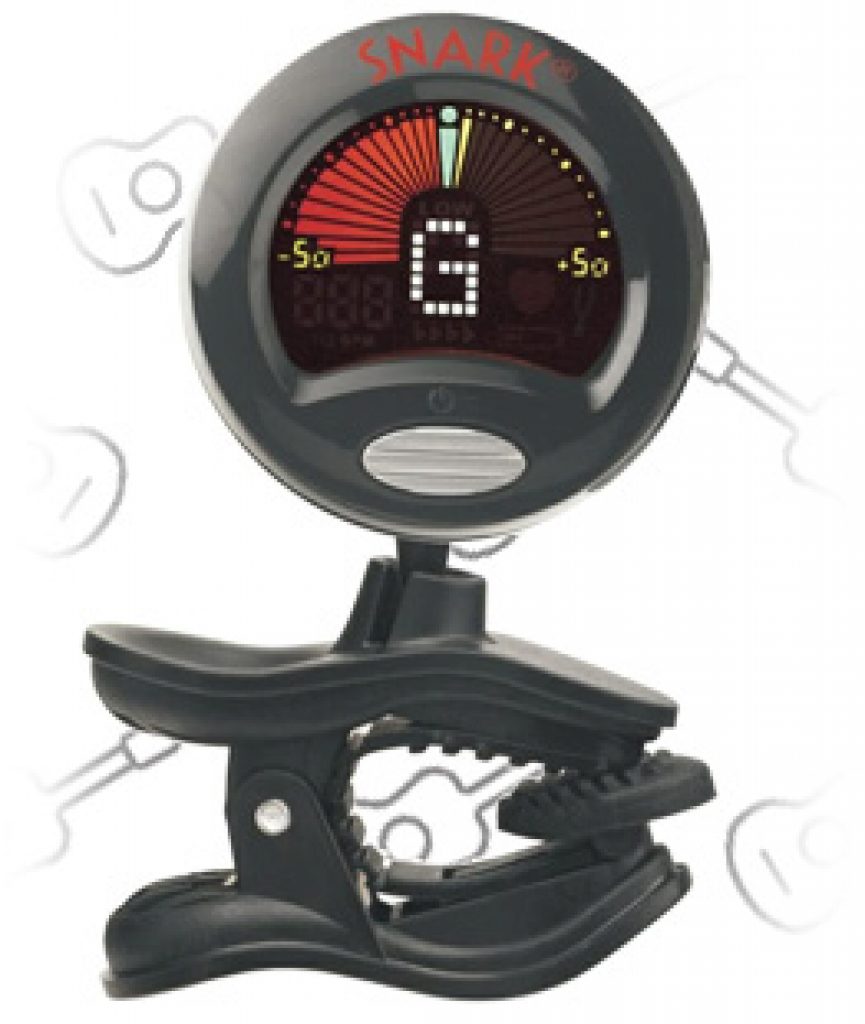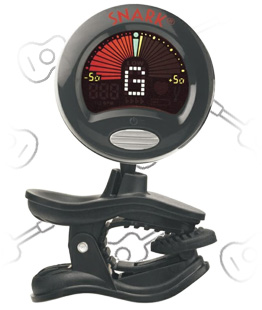 You Can Buy Snark SN6 Clip-On Ukulele Tuner at the Links Below!
---
10. KLIQ UberTuner
This one is a bit pricier than the Snark but it additionally has an excellent bright and quite large display.
That is its most outstanding feature. At first look, it appears identical to every other clip-on tuner, however, once you turn it on, you'll see the difference.
It's very bright and it also detects the played notes a lot faster than most tuners. This tuner is most definitely made for quick on-stage tuning.
The note and flat/sharp indicators are, super easy to read and the tuner could be easily used in loud environments because it's a clip-on tuner.
The "head" of the tuner could be adjusted and set into three different positions which means you'll be able to position the display to be suitable for any stringed instrument, not just the ukulele.
The Kliq UberTuner is +/-1 cent accurate and that can be confirmed when you cross-check it with some high-end rack tuner if you want.
It features 5 different modes: chromatic, bass, guitar, violin, and ukulele, and it has an adjustable pitch calibration from 430 to 450 Hz.
The design is very elegant and the plastic appears to be quite sturdy and durable. The tuner is also very small and it can fit in any gig bag or even pocket, which is very handy.
This little clip-on tuner ranks very high when it comes to accuracy, speed, and convenience. It's a bit pricier tuner but it surely's still reasonably priced.
The only downside we have discovered is the tiny control buttons.
PROS:
Super bright and large display.
Excellent adjustability of a display.
Very easy to read and use.
Super accurate.
Very fast note detecting.
CONS:
Very tiny control buttons.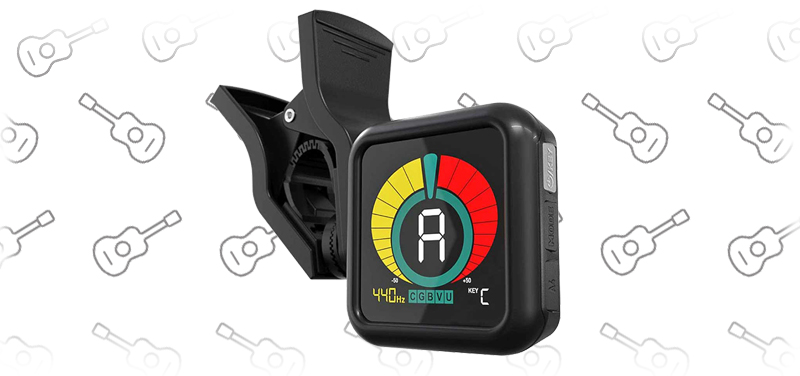 You Can Buy KLIQ UberTuner on the Links Below!
---
Conclusion
There are a lot of options for you as a player to tune your ukulele but a physical tuner is the best and most accurate.
The best physical tuners are:
A Clip-on tuner – they attach to the head of your instrument like a clothes peg and detect the vibrations of your instrument.
Chromatic tuner – they recognize every possible tone.
It is possible to tune your ukulele with a keyboard if you are able to orient around the keys using middle C. Which is also known as C4 in SPN.
You can feel free to check our review for the best ukulele tuners and different ways to tune your ukulele here!
And of course, online applications, you can easily use those apps if you have access to a device and if you can rely on your microphone and your own hearing.