Luna Vineyard Koa Bevel Acoustic-electric Concert Ukulele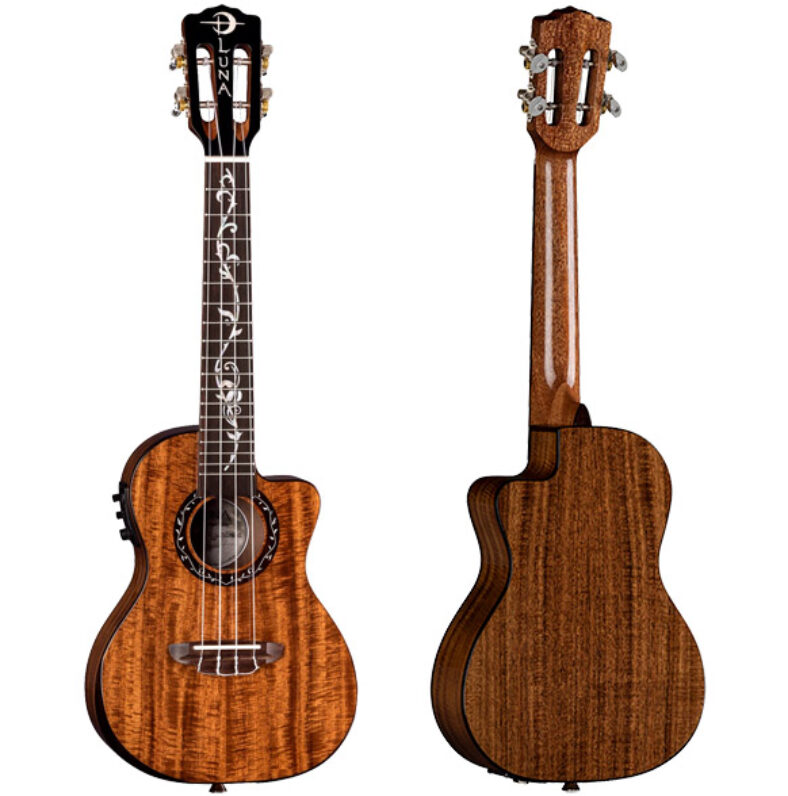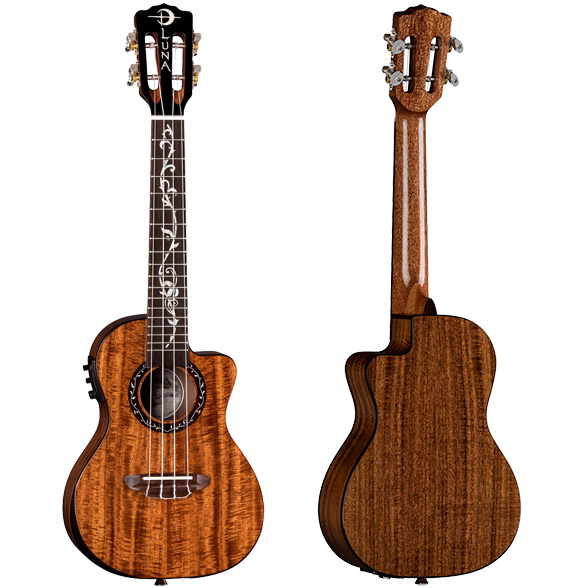 Great Playability.
Beautiful Wood.
Great value for the price.
Comes with a gig bag!
---
Luna Vineyard Concert Ukulele Review
Luna Guitars
Founded in 2005, Luna Guitars is a brand of musical instruments. It is known for creating unique and visually appealing instruments, including the Tattoo and Moon series, both featuring intricate designs influenced by nature, art, and spirituality. Along with ukuleles, Luna also offers guitars, including acoustic, electric, and travel models.


Beginners and intermediate players love Luna's instruments because they offer high quality and affordability. The company uses environmentally friendly materials in some of its instruments, including bamboo and reclaimed wood. Various music education programs and charities are also supported by Luna Guitars.
Luna Vineyard Concert Ukulele
Luna Vineyard Koa Bevel is a concert-size ukulele with a body made of Koa wood, which is a premium tonewood commonly used in Hawaiian ukuleles. The "bevel" in the name refers to the beveled armrest, which provides added comfort for players.
This ukulele is really awesome and it was the reason we decided to make this Luna Vineyard Concert Ukulele Review so we can bring you closer to this instrument.
The acoustic-electric feature of the instrument means it has built-in electronics that allow it to be plugged into an amplifier or PA system, making it easier to play in larger venues or with other instruments.
What is best, this great ukulele piece comes together with a gig bag! In case you are interested, here are some other interesting Concert bags for your ukulele.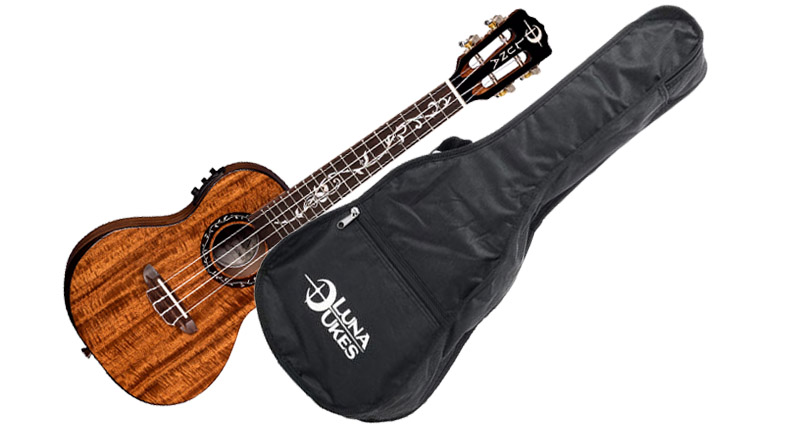 Build-Up and Appearance
Quality materials and attention to detail go into the construction of the Luna Acoustic-Electric Ukulele. Solid Koa wood provides a rich and warm tone on the instrument, as well as an attractive grain pattern. To enhance the natural beauty of the wood and provide a smooth playing surface, the wood is carefully selected and finished.
This ukulele's neck is made from sturdy mahogany and features a comfortable profile, which makes it easy to play chords as well as single notes. Designed for optimal playability, the fretboard is made from durable rosewood. Continuing the pearl theme on the fingerboard, the rosette is adorned with a delicate vine that encircles the rosewood band on the soundhole.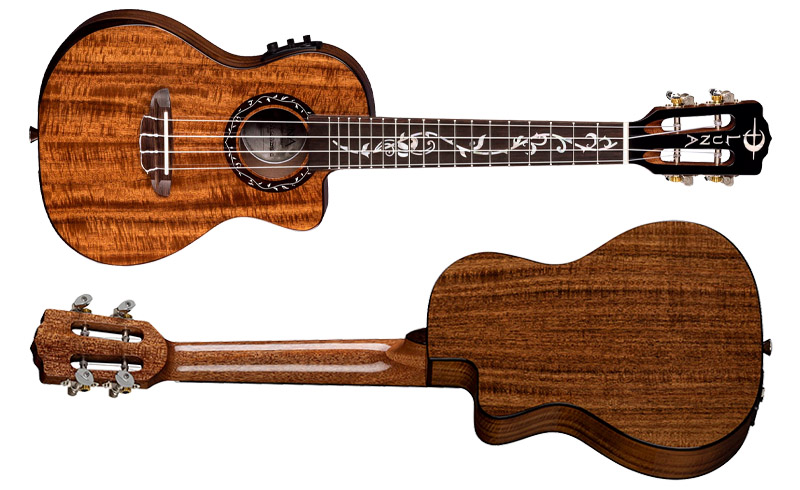 With its acoustic-electric feature, the Luna Vineyard Koa Bevel Acoustic-Electric Concert Ukulele amplifies its natural sound without adding any unwanted noise or coloration.
This instrument offers a clear and natural sound when amplified due to the built-in preamp and pickup system. Because of its onboard electronics, laminated back and sides, and large open headstock, the Vineyard is heavier than usual for a concert uke.
Ultimately, Luna Vineyard Koa Bevel Acoustic-Electric Concert Ukuleles are well-built, making them easy to play and enjoyable to listen to.
---
Luna Vineyard Concert
Ukulele Features:
With cutaway.
Top: Solid A-Grade Koa.
Back and sides: Koa.
Neck: Mahogany.
Fretboard: Rosewood.
Pearl Vine fretboard inlays.
Scale: 432 mm.
Nut width: 35.1 mm.
Bone nut.
18 Frets.
Pickup: Fishman Kula.
Open chrome button machine heads.
Strings: Aquila Super Nylgut.
Includes gig bag.
---
Tuners and Tuning
The Luna Vineyard Ukulele features high-quality tuning pegs that ensure stable tuning. Tuning pegs provide smooth and precise tuning, making it easy to tune the instrument quickly before playing.
GCEA is the standard tuning for a concert ukulele. The G string is the highest in pitch and the A string is the lowest. During practice or performance, these ukulele tuning pegs hold their position well, even after repeated playing, so the instrument is less likely to go out of tune.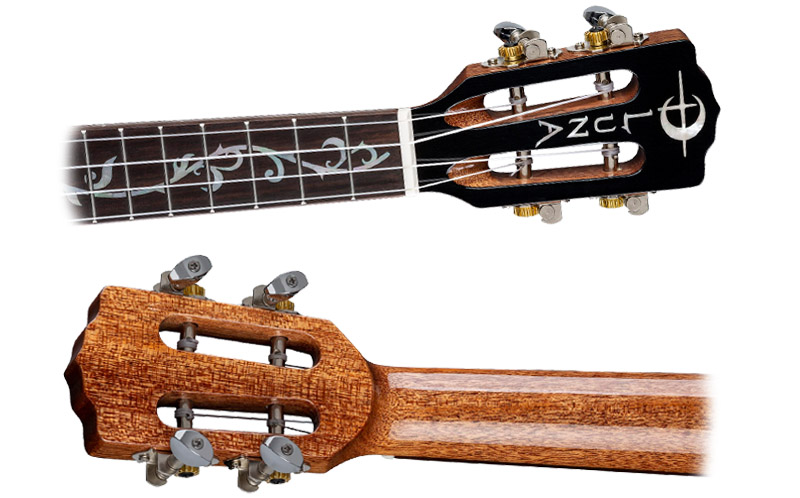 A Fishman Kula preamp system with a built-in tuner is also included on the Luna Vineyard Koa Bevel Acoustic-Electric Concert Ukulele. As a result, players can easily tune their instruments even during low-light situations or in noisy environments.
Overall, the Luna Vineyard Koa Bevel Acoustic-Electric Concert Ukulele's tuners and tuning are reliable and well-designed, ensuring stable, accurate tuning for a positive playing experience.
Luna Vineyard Onboard Fishman Kula Preamp System
Luna Acoustic Ukuleles feature an onboard Fishman Kula preamp system, which is one of Fishman's most versatile and high-quality electronics systems. This integrated preamp system provides amplification and tone control, allowing the instrument to be played through an amplifier or public address system.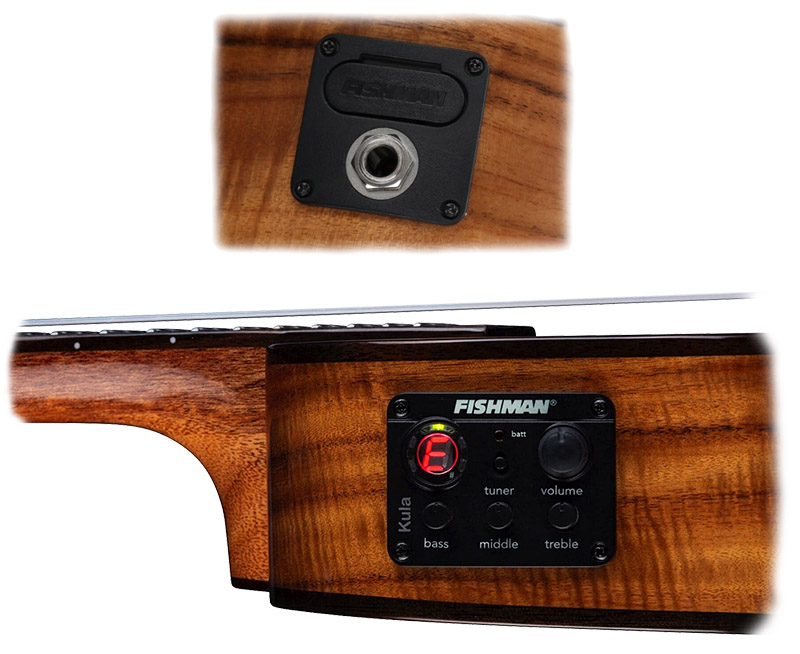 Fishman's Kula preamp onboard the Vineyard is powered by two standard CR2032 coin-sized batteries. These batteries will last the player for approximately 240 hours. Combining the battery box and output jack results in a compact footprint and convenient battery replacement.
It features a three-band EQ and an onboard chromatic tuner. The onboard tuner mutes the uke's output when in use, so your audience will not hear you tuning the instrument. Onboard controls were useful for blending sounds with a band or making a solo performance stand out.
This preamp system has been designed to accurately and transparently amplify the natural sound of the ukulele, making it ideal for live performances as well as recording. With its compact design and lightweight, the preamp system does not compromise the playing experience or the natural sound of the ukulele.
The Sound
In addition to its rich and warm tone, the Luna Vineyard Concert Ukulele has a clear and balanced tonality. As a result of the solid Koa wood body of the instrument, the sound is rich and full-bodied, with strong projection and clarity. With its good blend of treble, midrange, and bass frequencies, the sound is well-balanced.
When played through amplification or a PA system, the Luna Vineyard Koa Bevel Acoustic-Electric Concert Ukulele provides a clear and natural amplified sound. The Fishman Kula preamp system accurately and transparently amplifies the natural sound of the ukulele, providing a clear and natural amplified sound.
Having a lively and responsive character, the ukulele is fun to play and easy to produce a range of dynamics and tones. Musicians can use the ukulele's sound to play in a variety of styles and genres, such as folk, jazz, pop, and Hawaiian music.
---
In this official video by "Luna", you can hear the sound of the Luna Vineyard Concert ukulele!
---
Luna Vineyard Acoustic-electric Ukulele
It's a beautiful signature guitar that is made to last!
Pros
Great Build Quality.
Beautiful Wood.
Awesome Sound.
Great value for the price.
---
Last Words
To conclude, the Luna Vineyard Concert Ukulele is a well-made and high-quality instrument that offers players a warm and rich sound, accurate tuning, and a clear and natural amplified sound.
Using the Fishman Kula preamp system, musicians can easily tune their instruments and adjust the tone to suit their playing style and musical preferences. For players looking for a versatile, high-quality ukulele to play live or in the studio, this ukulele is a great choice.
Happy Strumming!