A Must-Have for Guitar Collectors: Epiphone Les Paul Custom Koa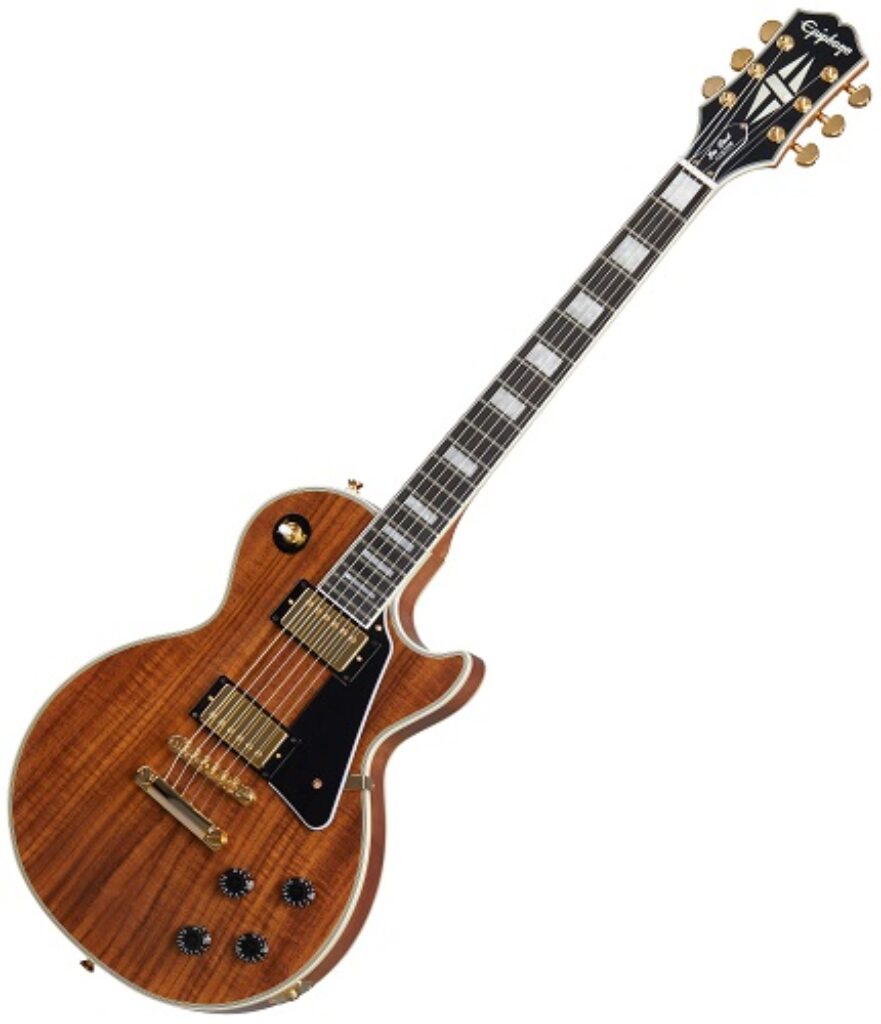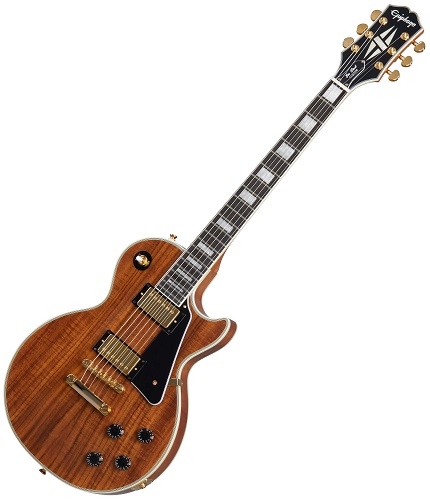 Shiny gold hardware for a flashy look.
Multilayered binding for a beautiful appearance.
Gold hardware for high-end attitude.
The Epiphone Les Paul Custom Koa is a guitar that has a distinct modern classic sound all of its own. There is no doubt that Les Paul is a cornerstone of the electric guitar world. In addition to the lauded, evening-wear adorned cousin we all know and love, there is also the Les Paul Custom Koa from Epiphone, which is just as good and just as popular as the Les Paul Custom.
It is one fantastic single-cut guitar that boasts all of the usual Les Paul Custom appointments, making it a must-have. Natural finished Koa top ensures it will stand out among any crowd and will make a great addition to any stage. This instrument is stunningly resonant and rigged with a pair of superb ProBucker humbucking pickups for a big Les Paul tone.
THESE ARE
The Key Features:
The perfect combination of classic style and great tone at an affordable price.
Warm and rich tone with a koa-topped mahogany body.
You'll get hand-wound PAF tones with ProBucker pickups.
You can shape your sound with dual volume and tone controls.
You'll love the playability of the mahogany SlimTaper neck with an ebony fingerboard and Graph Tech nut.
Playability and tuning are improved with upgraded hardware.
Looks great on stage with multi-ply binding.

What Makes Epiphone Les Paul Custom Koa so Special?
As a result of the success of the Les Paul Goldtop, the Les Paul Custom guitar was introduced in 1954. According to Mr. Les Paul himself, he wanted to convey to audiences that the electric guitar was not a fad, it was a superb and challenging instrument – the king of all electric solid-body guitars in terms of sound and quality.
In order to achieve this, Les requested a Les Paul with a custom finish and gold hardware that would look sophisticated on any stage of any size. With the Les Paul Custom being one of the most recognizable guitars ever, Les used his guitar in concerts, on his weekly television show with Mary Ford, and on his album covers, including his famous duet with Chet Atkins.
Upgraded Gold Hardware and Gorgeous Koa Top
Featuring a koa-topped mahogany body, the Epiphone Les Paul Custom Koa sounds warm and rich. With its ProBucker humbucking pickups, the Koa shares some DNA with Seth Lover's humbucking pickups from the golden age of rock 'n' roll, and these pickups are a perennial favorite among six-string slingers and have defined the sound of the Golden Age of Rock 'n' Roll.
This guitar features an ebony fingerboard and a Graph Tech nut for ease of playability, as well as a mahogany SlimTaper neck with an ebony fingerboard. In addition, the Les Paul Custom Koa exudes a high-end attitude thanks to its gold hardware, Grover tuners, and LockTone Tune-o-matic/Stop bar system that enable it to play with the highest of expectations.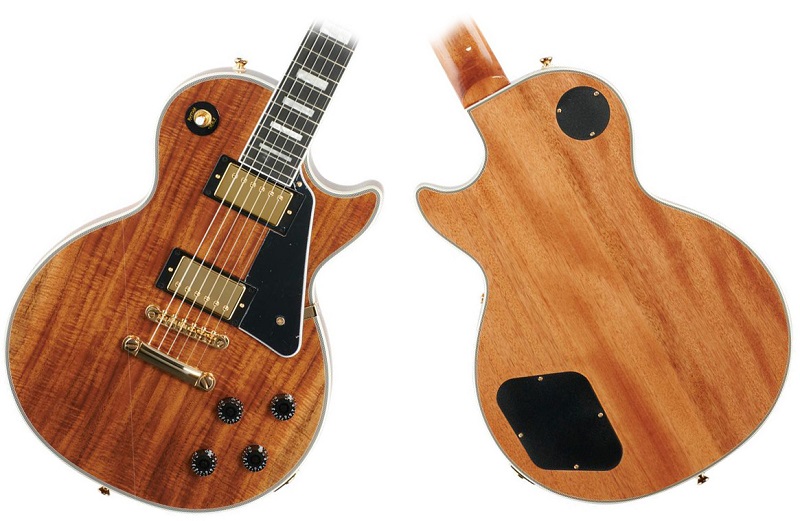 Beautiful Warmth and Resonance From This Tonewood Combination
As with any Epiphone, the Epiphone Les Paul Custom Koa gives you the tried-and-true tone you have come to expect from a Les Paul, but with a huge increase in resonance. The mahogany body of this guitar produces a warm, full-bodied sound that is further enhanced by the koa top, which also adds a touch of brightness to the overall sonic signature and enhances the warmth of the instrument.
If you are looking for a Les Paul Custom Koa that will deliver an immensely rich tone of high-end bite, then you can surely rely on the Epiphone Les Paul Custom Koa to deliver it.
ProBucker Pickups by Epiphone
The PAF humbucking pickup was key to Les Paul's early success. With their fat sound and clear response, Patent Applied For humbuckers were the first of their kind to reach mainstream use, defining the sound of a generation with their fat tone and clear response. Since the price of vintage PAFs has skyrocketed, Epiphone set out to create their own pickup in the style of a vintage PAF.
It was at this point that the ProBucker humbucking pickup was born. These pickups are designed in the same way as the original PAF pickups in order to deliver rich, overwound tones with incredible clarity. There is no doubt that you will be instantly able to recognize Les Paul's signature punch as soon as you plug it in.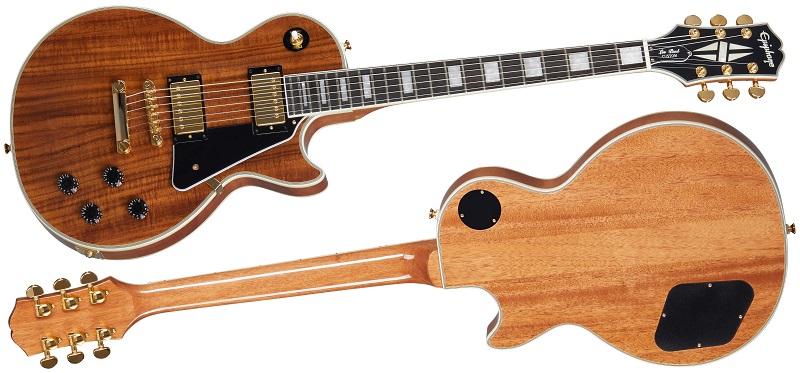 Classy Looks That Get People's Attention
If you are looking for a guitar that will have everyone staring at you, then you've come to the right place. At least, the guitarists seem to think so. There is plenty of shiny gold hardware on this Les Paul guitar to make it look as if it is ready for the swankiest of gigs. With its gorgeous, figured koa top, this guitar possesses an incredibly distinctive appearance that makes it impossible to ignore. Each inch of the body, neck, and headstock features multilayered binding.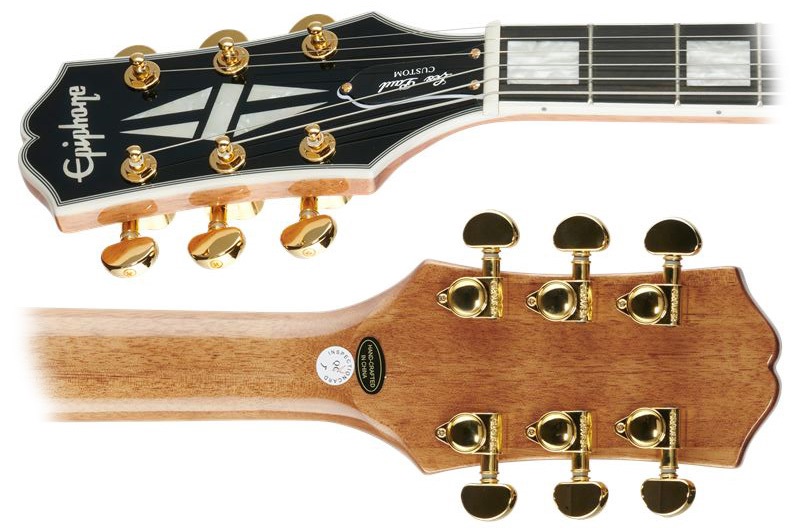 Discovering the Unique Tone of the Koa Wood Les Paul Custom
Ebony fingerboard, mahogany SlimTaper neck, and Graph Tech nut for ease of playability.
Final Thoughts
There is no doubt that the Epiphone Les Paul Custom Koa is a beautiful guitar that has a mahogany body with a koa top, an ebony fingerboard, and gold hardware to make the guitar stand out. ProBucker humbucking pickups, Graph Tech nut, and LockTone Tune-o-matic/Stop bar system are all excellent features that provide excellent playability, tone, and resonance from this guitar. The distinctive appearance of this guitar, as well as its shiny gold hardware, will be sure to turn heads when it is played.
Here is a list of more articles about guitars that you might be interested in: