Best Ukulele Neck Straps in 2022 – Our Top 8 Picks!
Introduction
For those who play while standing, straps give support and make playing the ukulele a lot more comfortable.
Additionally, it helps showcase the beauty of your instrument and provides a little of an artistic touch to it.
Also, there are a lot of players who perform on stage with their ukulele.
By holding it firmly to your body with your elbow it is totally possible to play the ukulele on your feet. However, it is a lot easier to fit a strap and add something new to your ukulele accessories.
Most are familiar with the way to use straps, you connect one end to the headstock of the uke and the other to the body, while the part in the middle stays on the player's neck.
You will need to drill a hole in your ukulele to fit a strap button, and that will allow you to use guitar-style straps.
Unfortunately, that action will create a permanent hole in your ukulele.
There are people who certainly don't want to do that, but fortunately, there are a lot of options when it comes to picking straps.
For people who perform for hours while standing ukulele straps are a must, but which one you should purchase!?
We will try to help you choose your new strap, and because of that, we made a list of the best ukulele straps for 2021.
1. Perris Leathers NWS15-1973 Ukulele Strap
You probably know that the best ukulele straps provide you with additional stability for your instrument. However, you might have been hesitant to buy one because you think they are uncomfortable.
Luckily, you can be sure that this will not be the case with the Perris Leathers NWS15-1973 Ukulele Straps.
The strap is especially wide in order to make it extra comfortable. The design might be adjusted so that you'll have the support that you want.
It is possible to make these straps short enough for kids, while adults should also be able to use them.
The ends of the strap are set with leather pieces to help make it more secure. This means there is no chance of the attached parts slipping off the buttons.
These straps will be capable of taking plenty of wear and tear and will be a great addition to your accessories list.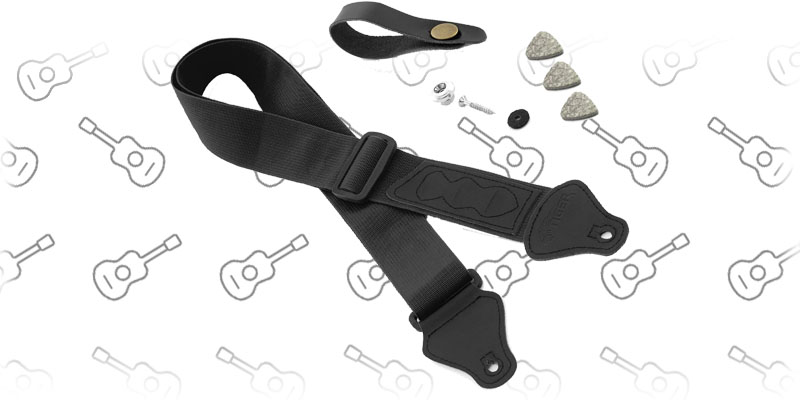 PROS:
Very easy to use.
Boasts a fully adjustable length.
Affordable.
Designed with quality to be especially comfortable.
Available in four cool colors.
CONS:
Requires drilling hole for strap button to attach these straps.
May be too short for some people.
2. CLOUDMUSIC Ukulele Strap Hawaiian Hibiscus Roses
Even if you are just starting out, you might be sure to really feel like a professional once you choose this strap.
It will take your ukulele playing to the next level. The CloudMusic Hawaii Ethnic Ukulele Neck Straps boasts a bright and bold sample that will make you stand out from the crowd.
It is available in different colors such as Hawaii yellow, Hawaii blue, floral, and multicolored.
They are related to any design, suitable for different styles, you can be sure that you will find a model suitable for you.
The strap is wide for additional comfort and is made of soft cotton with leather tabs on the ends.
This strap is fully adjustable in order that it matches all heights and types of ukuleles. This helps to make this strap especially versatile.
Regardless of how tall you might be and what kind of ukulele you are playing with, you can be sure that this strap will fit you.
It needs to be mentioned that you will need to drill a small hole in your ukulele to be able to attach the strap.
However, that is very easy to do, and you're provided with a set of clear instructions. You are also provided with a pair of free strap buttons in addition to laces for optimum convenience and stability.
The cotton base of the ukulele strap helps to make it so comfortable.
Even in case you are playing your ukulele for several hours, you're unlikely to really feel the strain.
This helps to make these straps perfect for professional musicians who use the ukulele frequently.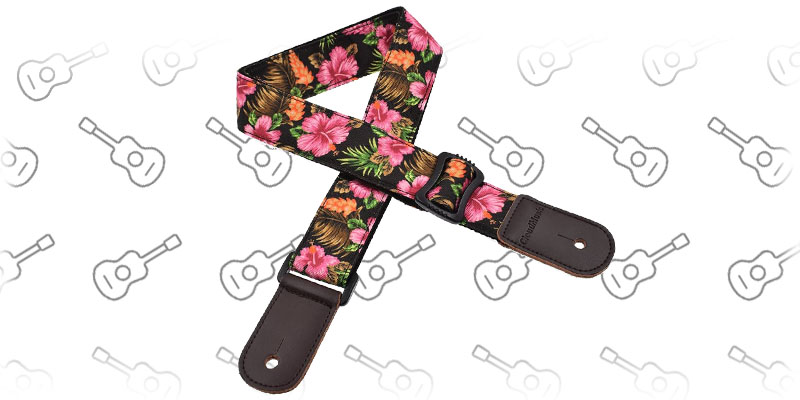 PROS:
Made of high-quality cotton and leather.
Compatible with all ukulele sizes.
Includes free ukulele strap buttons.
The wide strap is especially comfortable.
Easy to adjust the length.
Boasts a fully adjustable length.
CONS:
Drilling for the strap button is needed to attach the strap.


Comes with a free strap button with easy drilling, it is Adjustable, Stylish, and functionally comfortable.
3. Neotech Mandolin/Ukulele Strap
The Neotech Mandolin/Ukulele Neck Strap model includes a special weight reduction system that's designed to lighten the load.
Additionally, it is set with soft nylon webbing and it is fully padded, which helps to make it one of the comfiest straps.
There are a number of special features that help to make this model especially comfy and versatile.
Although the strap is quite narrow, this helps it to sit down firmly on your shoulder while you play.
The central part of the strap is manufactured from wide and spongy neoprene to deliver uncompromising comfort.
Thin nylon webbing is set on both sides of the neoprene padding to make the strap simple to adjust.
You will be provided with 5 extension pieces in total to effortlessly obtain the right length.
With its single-color design and various pieces, this isn't probably the most stylish ukulele strap. Nevertheless, the Neotech Mandolin/Ukulele Straps are tough to beat when it comes to pure comfort and flexibility.
PROS:
Utilizes a weight reduction system.
Set with soft nylon webbing.
Padded for enhanced comfort.
Compatible with all types of ukuleles.
Neoprene strap with weight reduction system, Easy to attach due to quick release buckle, Adjustable length.
4. Lohanu Clip-On Ukulele Strap
You may find it difficult to get your groove at first if you are just starting to play the ukulele.
Trying to maintain a tight grip on your ukulele while you are learning how to play could be a little of a challenge.
Luckily, the Lohanu Clip-On Ukulele Straps are designed to keep your ukulele in one place so you'll be able to concentrate on playing.
This special strap has been designed to fit all kinds of ukuleles so you can be sure it will be compatible.
In case you are searching for classy and comfortable concert ukulele straps, those are a superb choice.
This model is designed to fit a soprano ukulele, baritone, pineapple, and even a specifically shaped UBass.
This model has a full lifetime warranty. There are absolutely no limits or exceptions to the warranty.
This means that you can be certain this top-grade ukulele strap will likely be with you for a lifetime.
The package additionally contains a wide range of extras that will make you happy.
There are two special ukulele picks included so that you could start playing right away. There are also some links to video tutorials that you could follow in order to improve your skills.
In case you are in search of ukulele straps, this model is a great option. The only downside is that this strap isn't quite as stable as you might wish.
Sadly, it is a common problem with clip-on ukulele straps generally, rather than simply this particular model.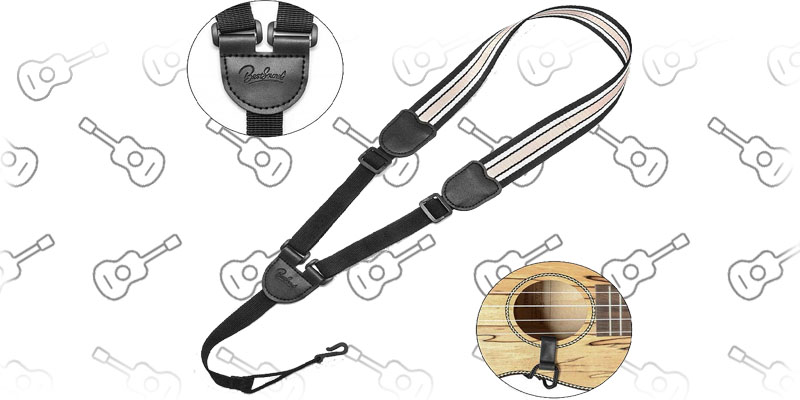 PROS:
Supplied with a full lifetime warranty.
Includes two ukulele picks.
Designed to fit any ukulele size.
Features free video lessons for beginners.
No strap buttons needed.
Boasts a fully adjustable length.
CONS:
Clip-on straps are not so stable.


Top Quality Polyester strap And Firm Reliable J hook, Elegant fashion style & Color Non-Fading, Easy to clip on and remove, no drilling!
5. Music First Country Style Ukulele Strap
The material is one of the most important concerns when selecting a ukulele strap.
While cotton straps look cool, they can sometimes be a bit on the weak side. Although designed to be especially sturdy, leather-based straps can look slightly dull and boring.
Music First ukulele strap combines the sturdiness of leather ukulele straps with the cool style and flexibility of material straps.
The main part of the strap is made from cotton and includes a bright and bold pattern. Nevertheless, the ends are made from leather to help provide the overall design of the strap with great durability.
The MUSIC FIRST Country Style Ukulele Strap is set with a beautiful woven pattern. It has been designed to be worn over the shoulder in the same way as a guitar strap.
Not only is this strap thick and wide for enhanced comfort, but additionally it is possible to adjust the length.
This can be performed in just a few seconds based on your particular needs. This will mean that each member of your family can comfortably play the ukulele while carrying this strap.
However, it needs to be noted that you have to drill a hole in your ukulele to be able to connect this strap. That is pretty easy to do, although it is very important to proceed with caution.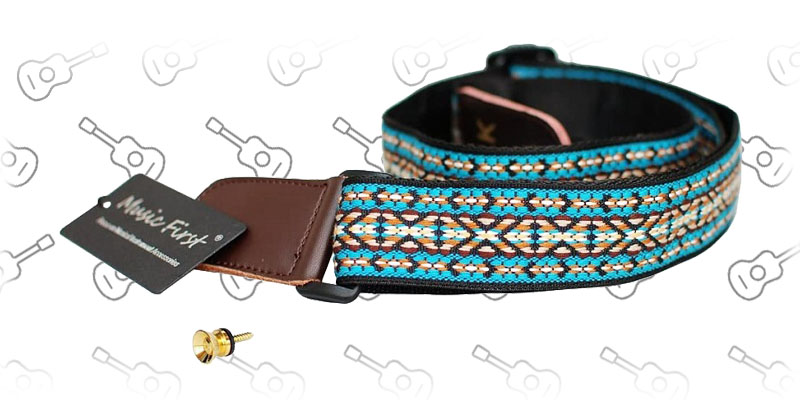 PROS:
Designed for enhanced durability.
Comes complete with a strap nail.
Set with leather tips.
Boasts a fully adjustable design.
Ideal for both children and adults.
CONS:
Need to drill to install a strap button on your uke.


Material: Cotton (outside), Genuine leather+ Cotton (inner side), Very good quality ukulele strap, Golden color strap nail as free gift.
6. Makanu Ukulele Strap
The Makanu Ukulele Strap is obtainable in a selection of 5 different geometric patterns and colors. This helps to make it simple to find a model that will make you happy.
The overall design of this strap is top quality, which means that you can be sure it will go long way. It has been designed to be suitable for all sizes and shapes of ukuleles.
Whether you're playing a pineapple model or a concert uke, you can be positive it is going to be the right fit.
In case you are concerned about ruining your ukulele, you will be appreciating the design of this strap.
The Makanu Ukulele Strap can be attached without the necessity for drilling. This means the overall design of your ukulele/guitar will be able to stay intact.
Wearing this strap is designed to be simple and comfy. The design includes a head loop that you just slip over your head before clipping the opposite end to your instrument.
Nevertheless, you might find that the head loop that's set into the design of this model is a bit small.
Luckily, the rest of the strap is designed to be totally adjustable. Actually, it can be adjusted from 22 inches ( 56 cm ) all the way to 29.1 inches ( 74 cm ).
This means you can easily regulate this strap so that it's the perfect length for you.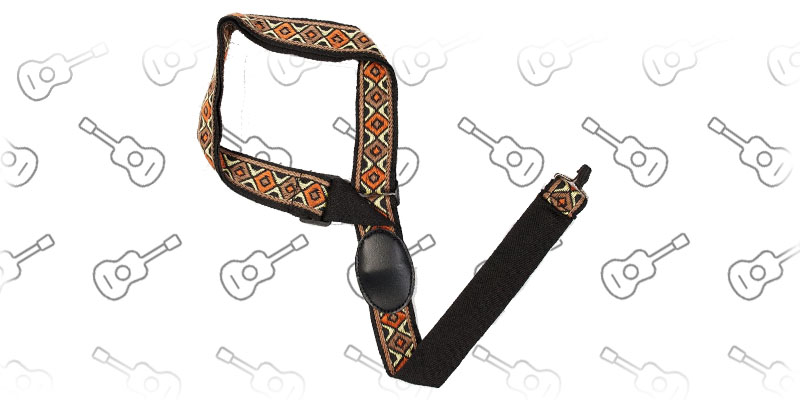 PROS:
Designed to be especially durable.
Compatible with all ukulele sizes.
Features a fully adjustable length.
Available in several different patterns.
Does not require drilling for a strap button to be attached.


Polyester Cotton Strap, Beautiful Hawaiian style, Soft black cotton webbing at the back, Easy to adjust and carry.
7. Rinastore Ukulele Strap Country Style
In case you have a tenor ukulele, and you are trying to find a strap that's suitable it can be a little bit of a problem.
While most straps are perfect for standard ukuleles, they may not be suitable for different models. You may find that they're a bit too short in order to be completely comfortable.
Luckily, the Rinastore Ukulele Strap is suitable for a wide range of different types of ukuleles. This makes it best to be used as a tenor ukulele strap.
This strap is made from 100% cotton, linen blend, and leather ends to make it very durable.
The strap measures 1.5 inches wide and is set with leather-based tabs at the end. Although the leather isn't of the very best grade, it's sturdy enough for this purpose.
The overall design of the strap seems smart and classy and will satisfy you for sure.
You may also adjust the strap from 29.5 inches ( 74.9cm )all the way to 51 inches ( 129.5cm ). This makes the strap appropriate for both adults and children.
Adjusting the strap takes only a few seconds, so a number of totally different players will be able to use it.
You should be prepared to drill a hole in your ukulele to be able to set up the strap button. Luckily, that is very easy to do, and you're provided with the button in addition to a soft washer and screw.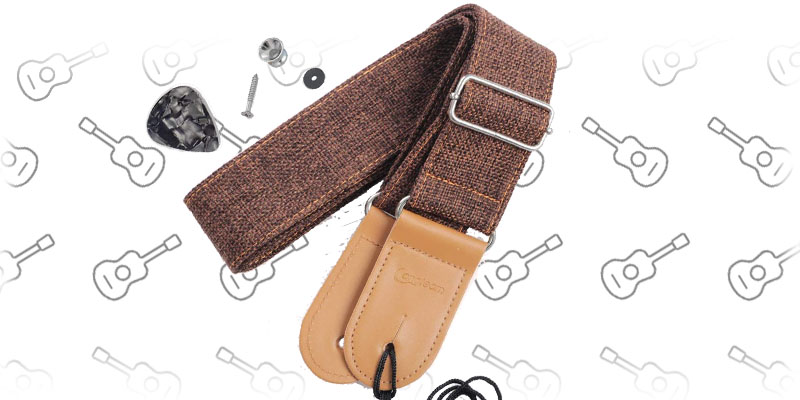 PROS:
Designed to be especially durable.
Compatible with all types of ukuleles.
Set with leather ends.
Includes a free ukulele pick.
Available in four cool colors.
CONS:
Need to drill your uke to install the strap button.


The comfortable Strap, Real Leather Ends, and Adjustable Length Go well with many models.
8. UkeLoop Strap System
UkeLoop Neck Strap System makes an ideal selection for many who have non-traditional body-type ukuleles. It can be used in multiple positions, which makes it flexible and versatile for use.
The strap is made from durable webbing with leather ends which are both reliable and classy.
It's a no-drill strap, no strap buttons, and there are some ways, like attaching to the sound-hole or traditional body/headstock so that you can attach it to your instrument.
There's a durable disc with a double-stick padded square you can attach to the back of the uke and wear like a clip-on strap that's out of sight.
The other way to wear the strap is to release one end and attach the matching leather tie to the headstock just like a traditional ukulele strap.
Also, you may attach it to the sound-hole. Additionally, you'll be able to adjust the size of the strap to be comfier for you to wear.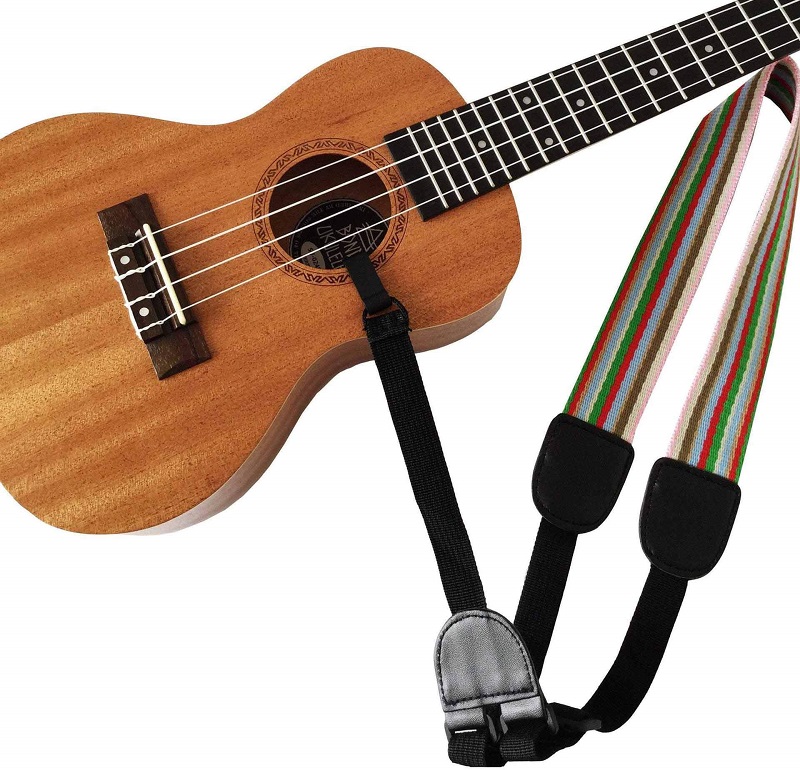 PROS:
Durable.
No strap buttons needed.
Versatile.
Affordable.
No need to drill a hole for a button into your instrument.
CONS:
Only comes in one color.
Hard to remove the adhesive.
Ukulele Neck Strap FAQ (Frequently Asked Questions)
Can I Use a Guitar Strap for a Ukulele?
Yes, you will be able to use a guitar strap on your ukulele. Once you set everything and you do some adjustments most of the time it should be working fine, especially if you play baritone or tenor ukulele.
Do You Need a Strap for Your Ukulele?
So, it doesn't mean that you absolutely need a strap for your uke, and of course that you will be able to play without it.
For beginners, until you are familiar with the basics put your search on hold for a month or two.
However, you will need a strap in case you want your uke to sound better. The most important reason is that you will be holding your ukulele easier and you will feel more comfortable while playing.
Another important reason is when you are playing without a strap, you will need to press your instrument against your body to have good control.
Your uke will sound a bit suffocated and like you are playing under the blanket. To avoid this you should be using a strap, that will also make your ukulele sound brighter and louder.
Here are additional 3 great ukulele straps for you if you would like to get one right away: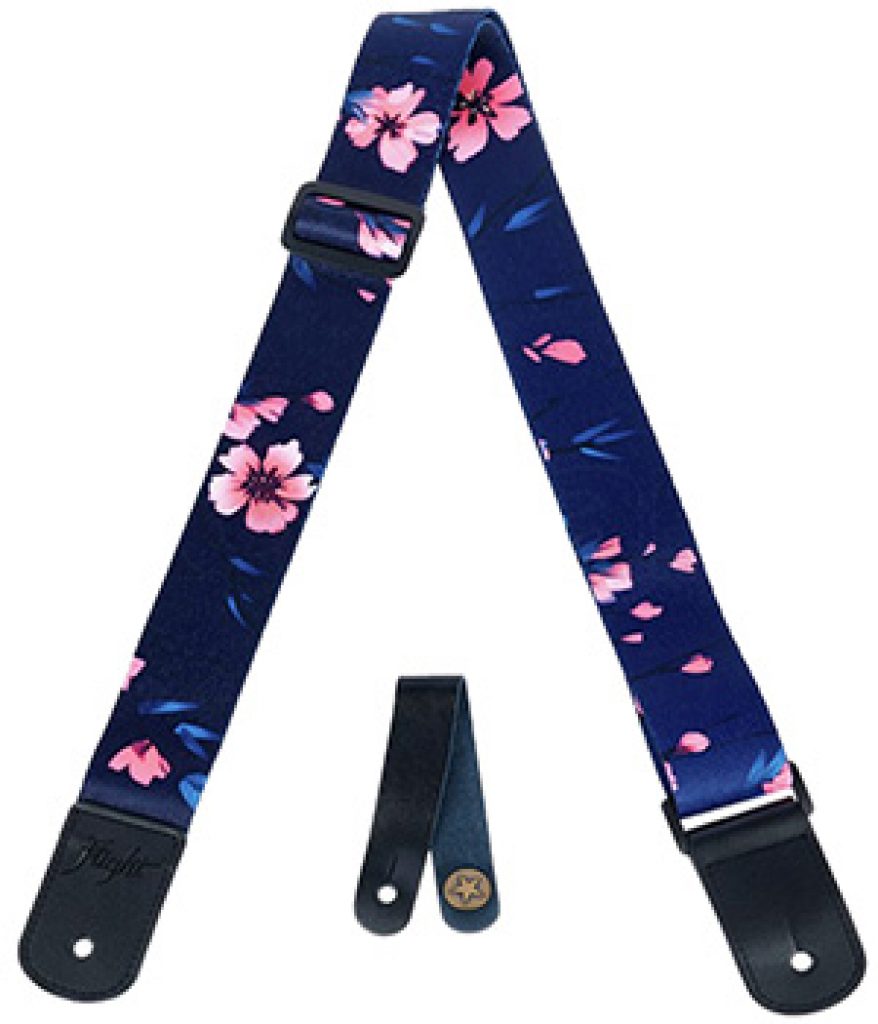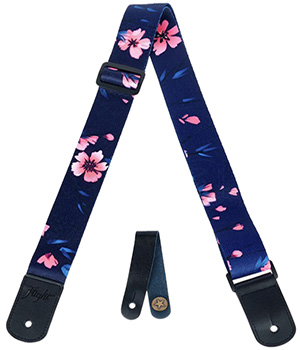 Adjustable length, Plastic buckle – Does not damage or scratch the instrument, Strap ends are made from high-quality leather.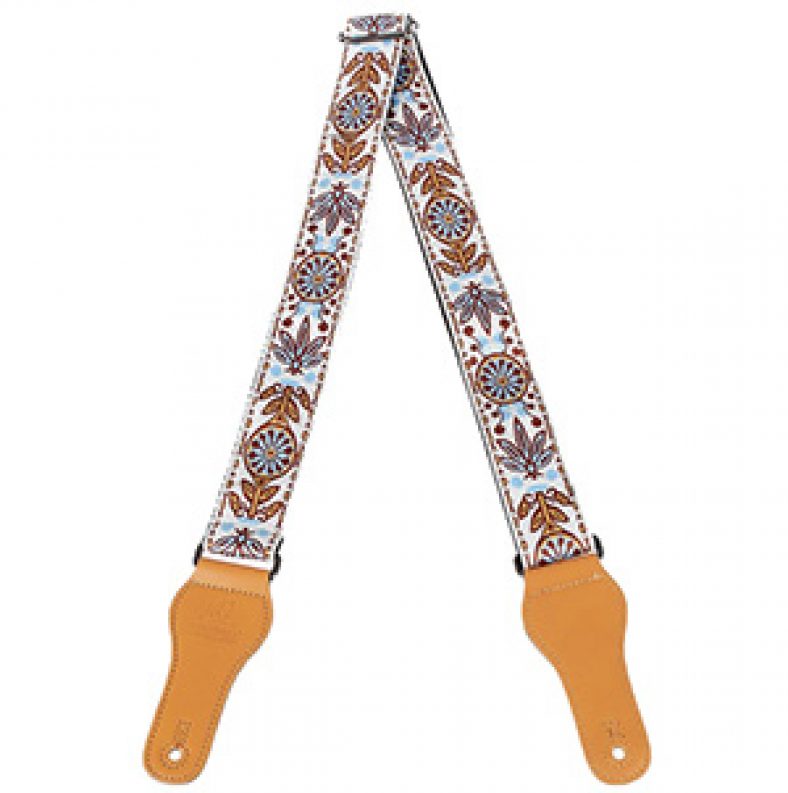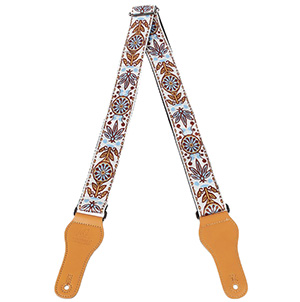 100% Cotton, Faux leather ends, Length adjustable up to 139cm, Colour: Classic white.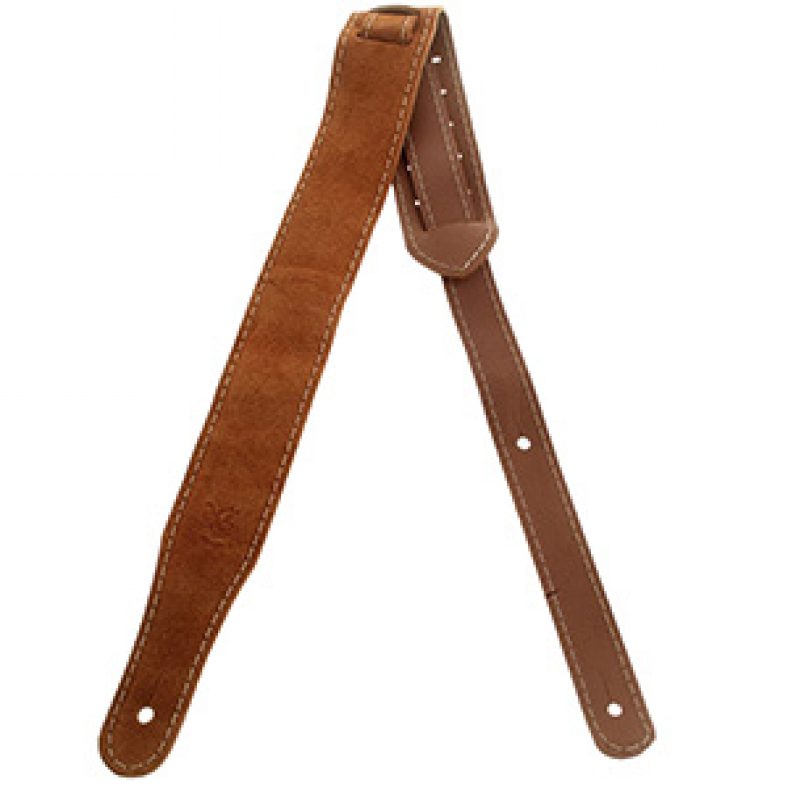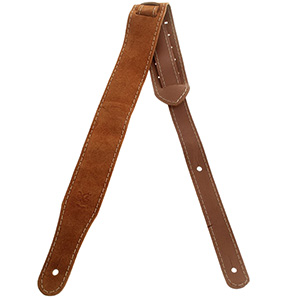 Material: Suede, Adjustable length: Approximately 90cm – 106cm, Colour: Camel (brown), Handmade in Europe.
Last Words
We hope that our review of the best Ukulele neck straps will help you when choosing your new neck strap. In case you are looking for additional reviews feel free to check our articles for "Best Mandolin Straps", "Best Banjo Straps", or "Best Concert Ukulele Case".