Check Out The Best Concert Ukulele Cases!
Introduction
As a Ukulele player, you should always give top protection to your instrument, at home, or when you hit the road. This instrument from the Guitar family is one of the "easiest to take" when it comes to traveling and it makes your life easier.
With this new wave of ukulele mania, there are lots of options where you can choose the right ukulele cases for your instrument, for every budget in many different colors and patterns and also different materials.
As we already mentioned these ukulele cases will save your Uke when you are going on the road but also while it stays at home.
Weather conditions especially dry conditions can wreck solid wood instruments and that usually happens in winter times when humidity is drastically lowered by home heaters that we are using.
Ukulele cases can come in different styles but are divided into two main groups, hard-shell and soft-shell. Hard-shell ukulele cases are rigid and will make great protection for your instrument, while on the other hand, soft-shell ukulele cases are somewhere between hard-shell cases and gig bags.
Today we will put our focus on Concert Ukulele Cases and their features, and we will also mention some very good but affordable cases for players on a tight budget.
1. MUSIC FIRST 26″ Tenor Country Style Ukulele Bag
This is one cheap case you can find in the store for your Ukulele as a musicians's gear. It is also one of the best gig bags, made of cotton and it will cost you no more than 20$, and this price will be with calculated shipping.
Many customer reviews say that these ukulele cases are really fun to use and are available for Baritone, Soprano ukulele, and, Tenor ukuleles in different dimensions.
This case has features like an accessory pocket, a carrying handle, and a shoulder strap. It has a 0.6-inch thickness with cushioning material inside that will protect your instrument and gear well, additionally above the headstock, there is a reinforced pad to prevent damage.
If you have a child who is playing or learning the ukulele this case would be a perfect fit for him because it has two well-constructed tiny shoulder straps and they are adequately joined to the bag for the weight of a uke. The carrying handle is really comfortable and the zippers are self-repairing which is also great.
All in all this bag will make an adequate and hard job in protecting your uke and gear from gentle bumps and will bring even more color to the already colored life of the ukulele player.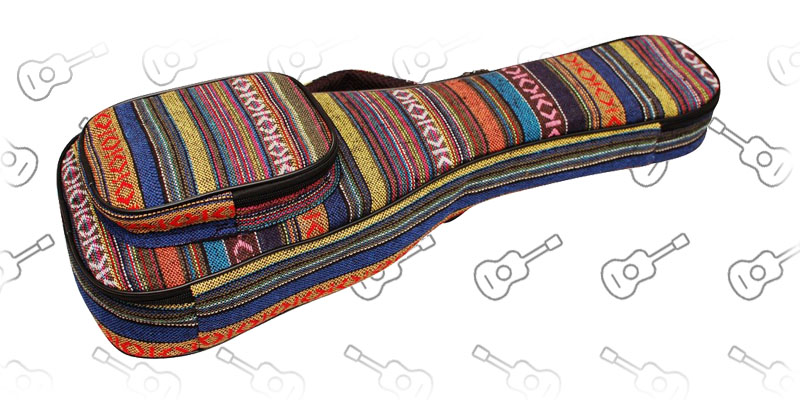 PROS:
Reinforced pad for the headstock with a plush padding
Lovely appearance
CONS:
When the instrument is inside pocket gets a little tight.
You Can Buy the MUSIC FIRST Tenor Ukulele Bag at the Links Below!
---
2. MUSIC FIRST Original Design Hawaii Style
MUSIC FIRST featured Original Design 0.5″ Thick Padded Hawaii Style is one of the best cotton canvas exterior ukulele bags. Music first series original design cases cover fit for 23″/24″ ukuleles and are available in different sizes for Tenor, and Soprano ukuleles.
A 3D sewing high-capacity front pocket in the case is able to keep your pack of strings, tuner, cell phone, etc. With 0.5″ (13mm) thick cushioning material inside, shows a great sign that will be able to keep your instrument nice and shiny. It has pure cotton durable and size adjustable double shoulder straps with metal accessories.
You will be able to get this case for 25$ and with many opinions, reviews, and personal experience is worth every penny. Some of the comments are that this case can also fit 5 string tenor in it, as well. But to be on the safe side, you should always measure your ukulele before you encourage yourself to go shopping.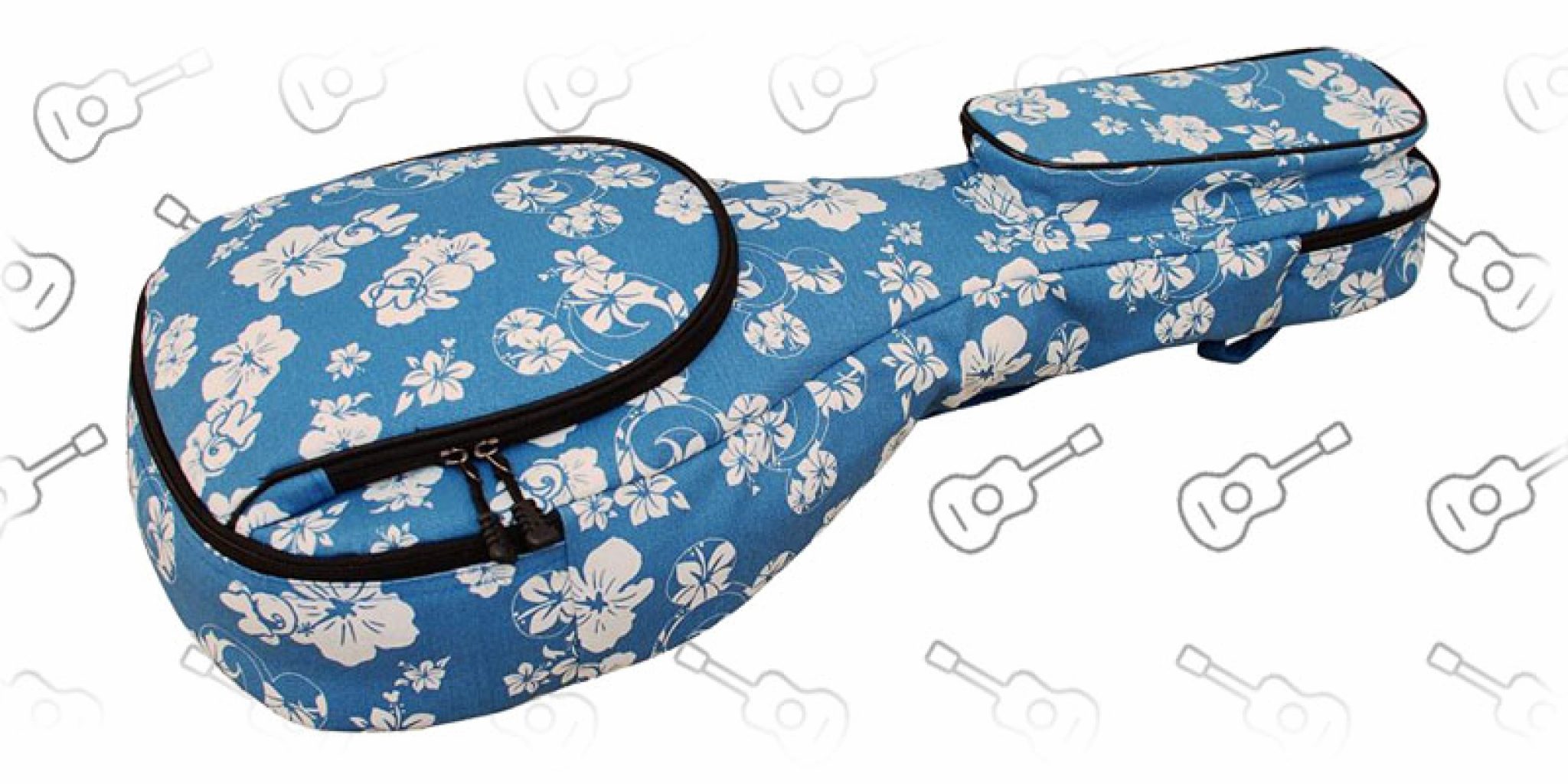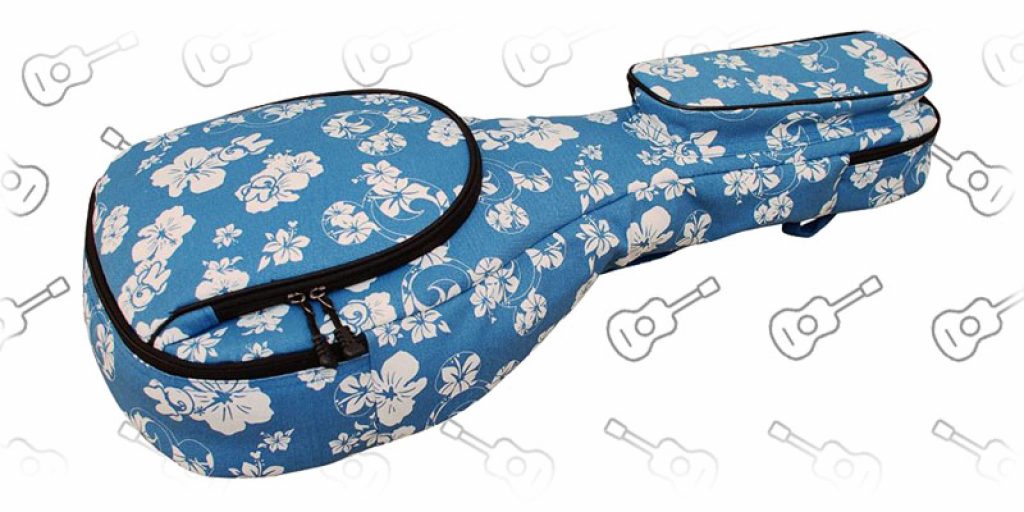 PROS:
High capacity pockets
Solid protection
Low price
You Can Buy MUSIC FIRST Original Design Hawaii Style on the Links Below!
---
3. Hola! Music Heavy Duty Ukulele Gig Bag
Hola! Music brands Heavy Duty Ukulele Cases are soft cases constructed with a layer of hard-wearing, padded 600D Oxford black nylon fabric on the outside. The Interior in the case made on the previous case now with reinforced cushion specifically engineered to offer perfect protection to your ukulele and make you go shopping.
It has a hard reinforced pad above the headstock in order to offer full service and to prevent damage, it will cover fit 24″/24.2″ concert and you can find it another size for tenor, soprano ukulele, and in various colors.
It includes a carry handle, an accessory pocket so you can store your gear, and a shoulder strap together with top-quality construction with dual-opening heavy-duty metal zippers in this nylon case.
In this price range, this is one of the top gig bags and musician's gear that you can buy in 2023 for your ukulele and many reviews over the internet say that is worth your money and will do the service.
The accessory pocket is big enough to store musician's gear inside a chord chart, tuner, and set of strings. The black case is strong enough and will protect your ukulele well and the black color case makes it look professional.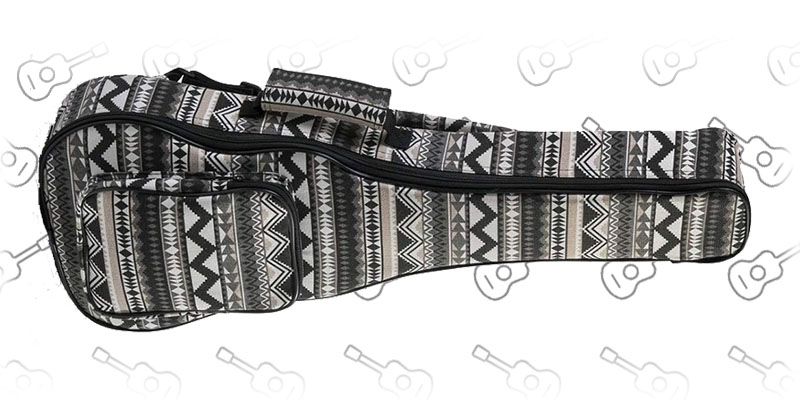 PROS:
Generously padded
Very lightweight
Protective faux leather panel for the headstock
CONS:
The front pocket cannot be overloaded
You Can Buy Hola! Music Heavy Duty Ukulele Gig Bag on the Links Below!
---
4. Gator Hardshell Case Dreadnought
The Gator Deluxe wood case top series provides a durable, hard-shell, lightweight solution strong enough to withstand daily use for your concert-style ukulele. The Gator is one of the popular brands and this model is one of the best buying choices in 2023.
The gator cases are built from hard-duty plywood wrapped in rugged Tolex PVC plastic providing a safe, hard, and moisture-resistant home for your ukulele. The shape-fitting interior of gator cases cradles your instrument whereas the plush lining keeps it protected from dust and debris.
A built-in storage compartment offers ample storage for picks, tuners, and accessories and doubles as additional support for the delicate neck and headstock.
Traveling with gator cases and your ukulele is easy with the ergonomic handle and chrome-plated, lockable latches keeping all the things protected and safe.
PROS:
Good neck support
There is a small pick/tuner compartment in the space below the suspended neck
CONS:
There isn't anything to attach a strap on this case
This case is designed for flat back Uke's only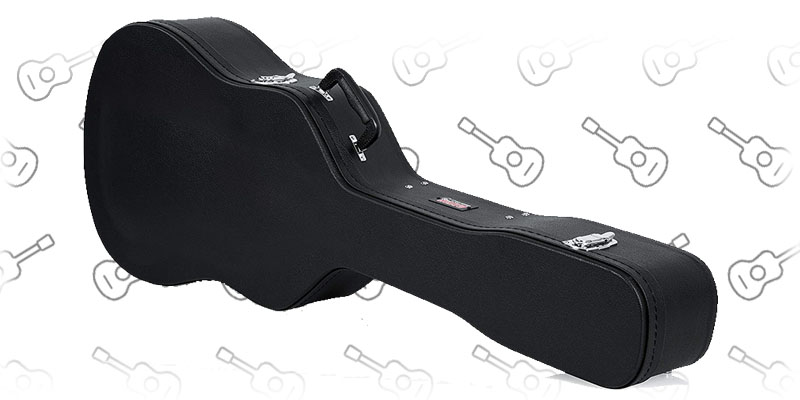 You Can Buy Gator Hardshell Case Dreadnought on the Links Below!
---
5. Ukulele velvet Interior Padded Protective Hardshell Gig Bag
The velvet inside the padded protective hardshell case has four layers of protecting pads from the inside to the surface which offers the best services in protecting your instrument when you travel. This is one of the best ukulele cases and you can find it in different sizes for soprano, tenor, and concert ukuleles.
The high-quality leather-based, strong wooden frame and inner velvet have a thickness of 23mm to prevent crushing, and damage, and are waterproof, providing the ukulele's most complete protection.
The handle features high-quality leather-based, strong enough to carry up the entire ukulele case. Additionally, come with two detachable straps to hold on your back, so comfortable when you need to take other gadgets or to have your hands free.
This ukulele case includes a safe slot for holding your ukulele's neck, keeping it protected. In addition, the case interior compartment will safely hold your equipment, like a tuner, picks, capo, and so on.
High-quality chrome-plated brass lockable latches include keys and provide additional security for your instrument. The protective buttons on the bottom and side of the case can protect the ukulele case from being worn and avoid the bag from falling over.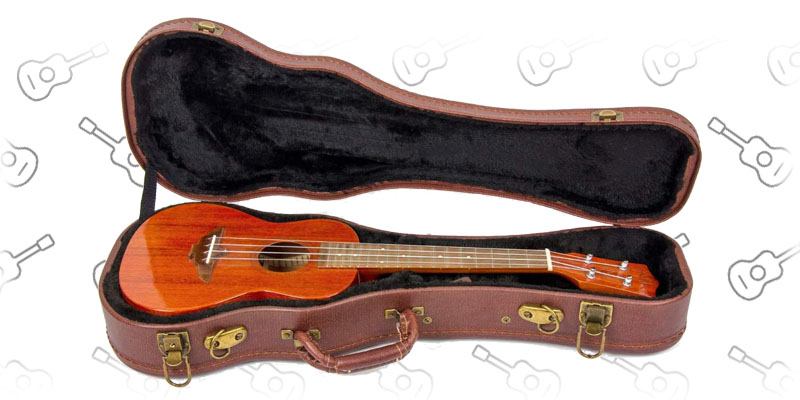 PROS:
The backpack straps work great
There is a hidden small space under the neck
CONS:
The metal attachments that hold the handle have sharp edges
You Can Buy Ukulele Velvet Interior Padded Hardshell on the Links Below!
---
6. Ukulele Hard Case Crocodile Pattern
The concert hard case crocodile pattern is made from high-quality wood, leather-based, foam, soft plush, and hardware accessories. Very sturdy and durable case, to protect your loved one Ukulele especially when you travel.
Durable leather-based and a sturdy shell provide the Ukulele with a sturdy, waterproof, dust-proof storage and carrying solution.
Retro fashion hard handle and the firm lock on the case can prevent your ukulele from being accidentally damaged.
Not unlike the hard exterior, the ukulele case is made of soft plush and foam, which successfully protects fragile components such as strings and knobs. There is an ingenious internal space for storing under the neck, which may store strings, straps, picks, and tuners. It prevents you from losing them.
PROS:
Storage compartment for tuner, pitch pipe, strings, capo, etc
Sturdy and attractive latches
Affordable price
CONS:
Cross brace supporting the instrument's neck can be high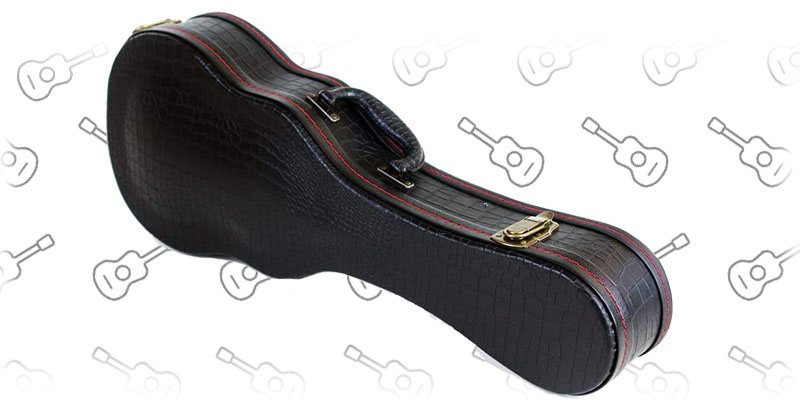 You Can Buy Ukulele Hard Case Crocodile Pattern on the Links Below!
---
7. HOT SEAL Durable Ukulele Case Bag
Hot Seal is one of the popular brands when it comes to gig bags and this case bag covers fit for 23″/24″ concert ukulele, there are sizes for baritone, tenor, and soprano ukulele.
This case has water repellent exquisite fabric thickness of 10MM cotton added to protect hard your instrument together with a leather handle and double metal zipper.
High-density woven material is used for the backpack shoulder design which seems really comfortable in this case.
A separate big pocket on this case is able to take a lot of small accessories (picks, tuners, capo, strings) but also some of your personal belongings like a cell phone or wallet.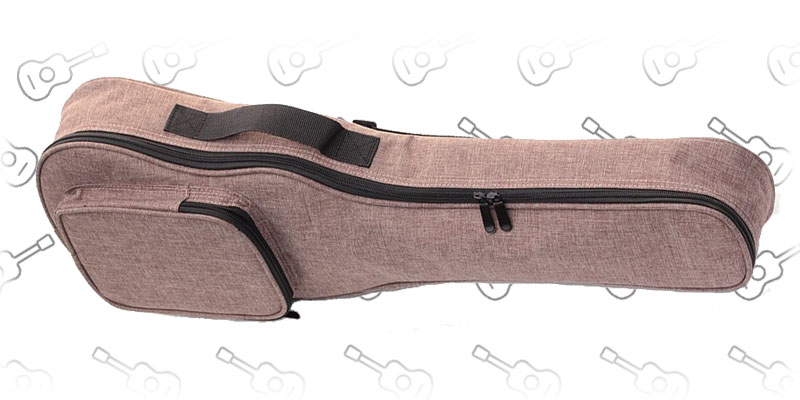 PROS:
Waterproof
Appealing Hawaiian design
Backpack style of carrying
Affordable price
CONS:
The padding is a little thin
You Can Buy a HOT SEAL Durable Ukulele Case Bag on the Links Below!
---
8. Ibanez Powerpad Ukulele Case
Safe, sound, and stylish case. There's no reason that a sleek, smartly designed case can't keep your precious instrument secure as well.
With its padded bottom and sidewall, the Ibanez brand POWER PAD gig bag safely protects your gear from bumps or scratches that can happen while you're hustling to your next show or session.
With its handsome design, and matched color heavyweight zippers, the POWER PAD 541 ukulele case will never get lost in a sea of plain black canvas gig bags.
Additionally, it has three exterior pockets that are able to carry a lot of accessories.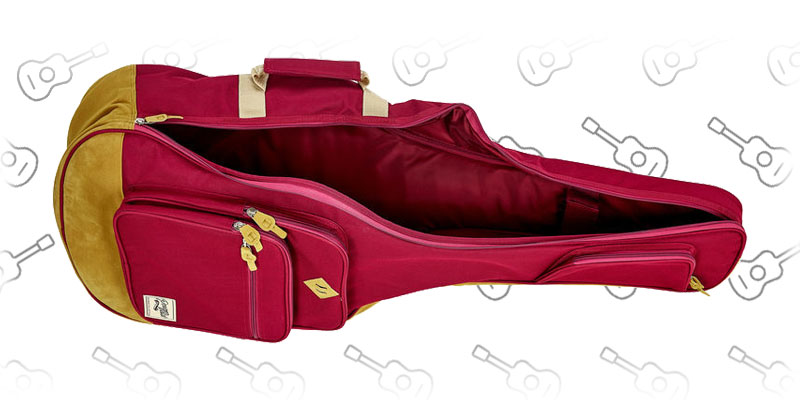 PROS:
The four pockets are great
Great interior strap that secures the neck of your guitar
The zippers are a sturdy metal
CONS:
Lack of padding on the long zippered edge
You Can Buy Ibanez Powerpad Ukulele Case on the Links Below!
---
9. Ukulele Case Oxford Cloth
Lotmusic's ukulele case has four layers of protective mats, from the inside to the outside are oxford cloth, wood, sponge, velvet, and solid wood frame plus an internal sponge thickness of 23mm, to prevent crushing, damage, and other issues on your instrument and keep it in condition.
This concert ukulele case has not only two detachable and adjustable length straps to release your hands, but also the soft rubber shoulder pads relieve the pressure on one shoulder, making the case to be carried safely and easily.
It is available in different sizes for soprano, and tenor ukuleles. Smooth Zipper makes it possible anytime you want to pack your ukulele up in the case quickly in order to save time and good quality screws keep it from rusting.
In the front big pocket, you can put a lot of ukulele items, such as a ukulele capo, picks, strap, and tuner.
Oxford cloth material makes this ukulele case not as heavy to take as the leather ukulele case, but its hard body is able to prevent your instrument from an external force and provides enough protection in daily usage.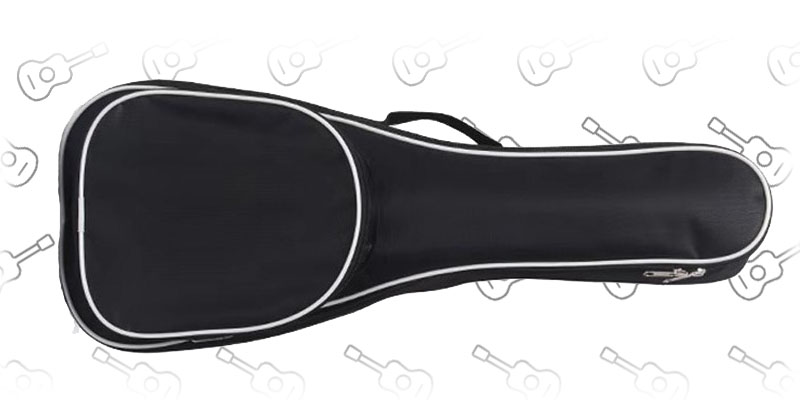 PROS:
Interior plus exterior storage
Durable
Low weight
Affordable price
CONS:
Tight fit (but it doesn't put pressure on any vital part)
The humidifier is suitable for guitar
You Can Buy Ukulele Case – Oxford Cloth on the Links Below!
---
10. Glenmi Ukulele Case Bag
This ukulele case bag is a new product with an attractive look and stylish design from Glenmi brands. The case is made from multi-colored striped bohemian fabric, giving a lovely feel, and is available in different sizes for soprano and tenor ukuleles.
A more unique feature of this case is the outer pocket design. The outside is equipped with a big 3d three-dimensional pocket and on the surface of this pocket is another pocket which means a lot of space to store at your service. It is closed with a vertical zipper.
The case is thickened with a 0.5inch(12mm) sponge pad, which completely protects the ukulele from harm, it is equipped with a thick and extended strap, which is gorgeous and comfy. The top of the strap is also geared up with a wall hanging, which could be hung on the wall of your house.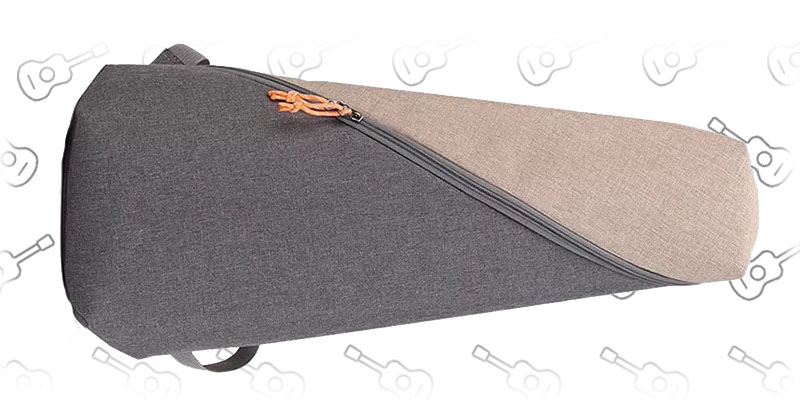 PROS:
Well padded
Velcro strap inside that fits perfectly around the barrel
Strong and quality zipper
CONS:
The slim internal pouch cannot hold much
You Can Buy Glenmi Ukulele Two-tone Case Bag on the Links Below!
---
Conclusion
Choosing the proper case for your instrument to shop for is not that hard if you already know precisely what to search for. You only need to figure out the hazards you subject your instrument to so that you can determine what you need to protect it from them.
Additionally, if you play live on the beach or on a yacht, you will find that a water-resistant case would be a perfect selection for you. We hope we managed to help you figure out the best case that fits your instrument. We hope you will enjoy playing and carrying your ukulele.
In case you are looking for additional reviews feel free to check our articles for "Ukulele Accessories – Best 14 Units", "Top 5 Best Ukulele Books for Beginners", and "Complete Guide to Ukulele Strings Notes, Names, and Numbers".
Happy Strumming!