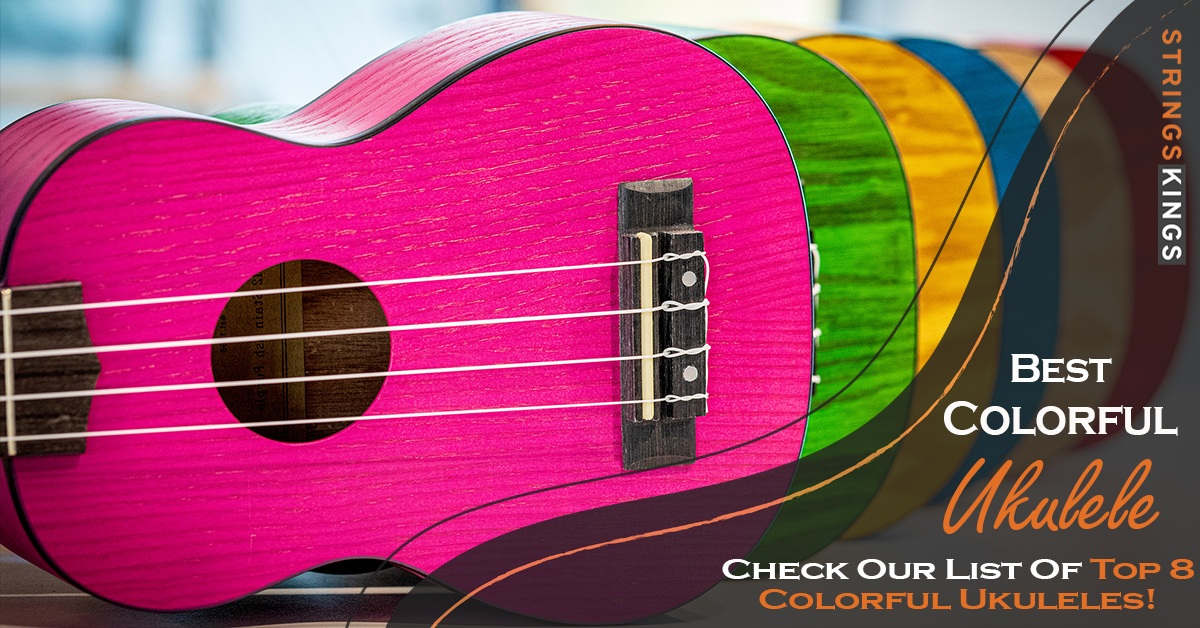 Colorful Ukuleles: Check Out These 8 Models – Best for 2022!
Introduction
Are you searching for some great ukuleles that will make you stand out from the crowd?
We made a collection of 8 really interesting, painted, and colorful ukuleles that you may definitely find suitable for you and your needs.
Harley Benton DOTU UKE-S Sugar Skull
DOTU Sugar Skull has spectacular graphics for a lot of fun on this easy playable ukulele by Harley Benton.
DOTU ukes are inspired by the annual Day Of The Dead festival and this is one of the six editions, this ukulele specifically is with a really interesting skull motif – featuring a graphic printed onto a spruce top.
The look can guarantee that you will be in the center of attention whether you're on stage, playing for friends at home, or around the campfire!
Underneath the eye-catching graphics, this ukulele is built using quality components; the spruce top is paired with an Okoume neck and an 18-fret purpleheart fingerboard.
Features
Luna Guitars Uke Owl Concert PU
Luna Guitars Uke Owl ukulele is built on a concert body with a 15 scale length and with one great bright Pearloid moon phase which is laying on the black walnut fretboard.
This owl amplifies your sound with the Luna UK-T2 preamp and onboard tuner.
On this ukulele, Uke Owl made one majestic Owl who is sitting comfortably on a branch while absorbing strength from a glowing moon.
The Trans Blue finish off the quilt maple top, maple back and sides, illustrates the time of day where the owl feels most free; nighttime.
To bring all things together there is branded gigbag included.
Features
Harley Benton DOTU UKE-S Ghost Skull
Another ukulele with spectacular graphics that come from the DOTU uke series, and as we already said inspired by the annual Day Of The Dead festival.
It is another one of six editions with one really nice made ghost motif featuring a printed graphic on a laminated spruce top.
What sets this ukulele apart from the crowd is the reversed figure which is turned around and reversing the usual orientation of neck and frame.
Behind the eye-catching appearance, you will be playing one really cheap but great instrument which is made from quality material.
A spruce top is paired with an 18-fret purpleheart fingerboard, an Okoume neck, and strings by renowned manufacturer Aquila.
Features
Luna Guitars Uke Vista Deer Concert PU
Luna brand Vista series blends the advanced instrument building together with the world of fine art.
Each one of these Vista ukuleles features an aesthetically pleasing portrait of wildlife, illustrated by using a variety of tropical woods.
The Luna Ukulele Vista Deer Concert is handmade from a combination that includes Blackwood, Spalted Maple, Teal Abalone, Padauk, Mother of Pearl, Koa, and Quilted Mahogany and is a unique piece of art.
Made with quality, precision, and with a hand-shaped 15 scale mahogany neck and Pearloid moon phase lying on the black walnut fretboard.
Luna Guitars Uke Vista Deer Concert PU also features a gloss finished, maple binding, and concert body with Koa back and sides which give enhanced tone and projection.
Additionally you can enjoy the premium amplification from the Fishman Kula preamp with onboard tuner.
On top of everything padded gigbag is included in this set!
Features
Flight Tuc-Kitty Concert Ukulele
Are you wondering what the cat's favorite movie is? It is probably the sound of Mewsic!
Just let the hills come alive with the sound of Mewsic and this Flight Tuc-Kitty Concert Ukulele.
This ukulele instrument is great for everyone but especially for cat lovers!
The TUC-KITTY is like all other Flight Travel Ukuleles and it is offering value, quality, durability, playability, and most importantly a great sound!
Flight Concert Travel Ukuleles (TUC) have a larger body and a slightly longer fretboard in comparison with the Soprano travel ukulele resulting in a larger sound and all the great qualities but bigger!
Players with larger hands will enjoy the extra room they will have on the fretboard.
This Flight Tuc-Kitty Concert Ukulele includes a linden wood top with an ABS body, neck, fretboard and bridge.
The result of this is a ukulele with low action that is really easy to clean and maintain.
If you want a ukulele that shows that you are a cat lover and also sounds good and plays well, then you should definitely check this Tuc-Kitty Concert Ukulele.
Features
Mahalo Heart Soprano Ukulele
Mahalo Heart Soprano Ukulele is one interesting instrument with a fun design and also a great way to begin playing the ukulele.
Distinctive ukulele incorporating art, humor, and culture together with the unique shape of the soundhole, packed in a great sounding instrument that is going to impress for sure.
These Mahalo Art Series features a lot of fun and original designs such as this Heart and Flowers design.
This ukulele has a Jabon neck, Sengon body, mahogany fingerboard, and bridge that produce a bright tone that is ideal for a soprano.
It has geared machine heads and a GraphTech Nubone XB saddle that offers smooth and accurate tuning and playability.
The Aquila strings are almost always fitted to Mahalo ukuleles in order to produce a louder, fuller, and more balanced sound.
This set also includes a carry bag and full colour display box.
Features
Ortega RUPA5MM Concert Pineapple
Ortega RUPA5MM Concert Pineapple looks unique but it's been a classic shape since 1927 and of course, it's been named after pineapple.
It is cute and really fun, this Ortega Pineapple is an instrument everyone can enjoy.
It doesn't matter if you are a new player, you are shopping for your kids or you just want to bring that joyous tone of Ukulele into your everyday life, this Ortega RUPA5MM is a great option for a wide range of scenarios.
Ortega RUPA5MM Concert Pineapple has a traditional tone and fantastic value for the money (within easy reach).
Ortega RUPA5MM features a distinctive Sapele build. Bringing you all the warmth and punch of mahogany with a sweet, lively sonic impact.
You should definitely explore a naturally resonant tone with plenty of classic ukulele charm, and be sure, you won't be disappointed!
Features
Mahalo Skull Ukulele
This awesome Mahalo Skull Day Of The Dead Ukulele is a bestseller and has great value for your money.
When we compared the prices on different selling websites it come out (as for many others) that the best price you can get for this ukulele is on Thomann.
Mahalo Skull Ukulele boasts more speed and playability it is almost impossible to be more ergonomic.
This ukulele has a laminated body (Sengon), Janbon neck, and mahogany fretboard. This Mahalo package includes a carry bag.
Mahalo's craftsmanship combines advantageous features and modern materials with all the experience of the Mahalo company in order to bring you this good and very affordable ukulele.
Features
Conclusion
In this short review of our top 8 colorful ukuleles, we wanted to show you and also help you find the ukuleles that stand out in terms of built quality, body finish, sound quality, and all that at affordable price.
We hope that our review will help you choose your new uke, which will bring joy and more color to your life.
If you are looking for other more specific ukuleles, feel free to check our Hawaiian Ukuleles review and offer.
Happy Strumming!