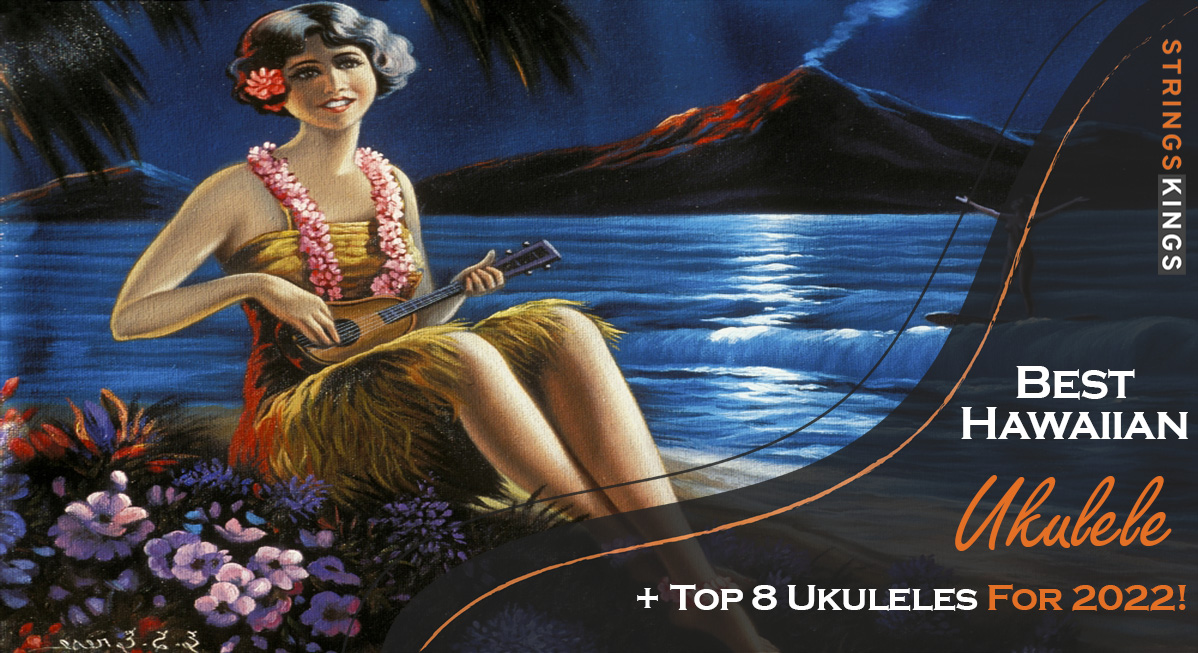 The 8 Best Ukuleles Made By Hawaiian Brands + Hawaiian Ukulele Origins!
Introduction
Origins of Hawaiian Ukulele
The Hawaiian ukuleles are the most familiar Hawaiian instruments which look like a small type of guitar.
Probably, this instrument was introduced to Hawaii in 1879. It was done by settlers from the Portuguese town of Madeira, who brought with them a small guitar called "Braguinha".
Three-man settled in Hawaii coming from Portugal and those were Jose Do Espirito Santo (who knew how to make the braguinha), Augusto Dias, and Manuel Nunes.
In 1988 Dias, Nunes, and Espirito Santo started producing examples for the local store. The Hawaiian ukulele was born because the instrument was modified in order to suit the local musical tastes.
Hawaiian king Kalākaua favored the ukulele as an instrument since he implemented and adapted the ukulele into the traditional hula dance performances.
There are several stories on how the 'ukulele got its name, which means "jumping flea".
A small, lively musician named Edward Purvis which was popular in Kalākaua court was actually named "uku lele" and there are stories that say the instrument is named after him.
Also, the rapid musician actions when playing may possibly remind Hawaiians of jumping fleas.
Additionally, the name may represent a modified version of 'ukeke a term for the mouth bow which was previously the only string instrument in Hawaii.
Ukuleles Made In Hawaii
Some of the best ukuleles that you may buy are made in Hawaii. However, those ukuleles go out of stock very quickly and they are pretty much expensive.
Some of the best brands that made ukuleles and are from Hawaii are the popular 4 K's (Ko'olau, Kamaka, Kanile'a, and KoAloha).
Kanile'a Ukulele is the sister company of Islander Ukulele and specializes in standard to professional grade musical instruments.
Besides them, there is the brand Lanikai that is probably most popular among all Hawaiian brands.
They are preferred because of their availability and affordable price. Today we are going to put a spotlight on the best Lanikai and Islander by Kanile'a ukuleles that you may find on the market from these brands in 2022.
Lanikai Mahogany Soprano Ukulele MAHS
This awesome Lanikai Mahogany Soprano Ukulele MAHS is a bestseller, with some great features and really unbeatable value for the money.
When we compared its price on different instruments sale sites it came out that Thomann has the best price for this uke and for all Lanikai ukuleles overall.
In this ukulele, you can see all the experience that Lanikai got over all these years.
The Lanikai MAHS model offers more playability and speed when playing. Additionally, there is a high focus on details and the neck of this ukulele allows you easy playability.
Lanikai MAHS combines great features and premium materials in order to bring you a full Lanikai brand experience and sound.
Features
Lanikai Mahogany Concert Ukulele MASC
The ukulele enthusiasts really love the Lanikai Mahogany Concert Ukulele MASC because of its tone and playability.
This Lanikai Mahogany Concert Ukulele MASC is a beautifully crafted concert ukulele that is made from mahogany that is able to deliver classic concert ukulele tone.
This model right now features a wider nut for a slightly wider neck that makes playing the MASC a lot more comfortable.
Additionally, a beautiful walnut fingerboard that offers great response, whether you're chording or playing the lead. A NuBone nut and saddle also provide tonal support to the already tone-reach mahogany body.
Features
Islander by Kanile'a MC-4 Concert
The Islander by Kanile'a MC-4 Concert ukulele is part of the intermediate level Kanile'a ukulele range.
They are made to the same exacting standards as the expensive Hawaiian koa models, but these Islanders have a unique charm on their own.
Made out of durable mahogany laminate they really produce a sweet and strong sound.
There are also some features that this ukulele is sharing with some great Kanile'a models such as the bridge pins that give a real touch of class.
Features
Islander by Kanile'a MAT-4 Tenor Maple
This Islander MAT-4 Tenor ukulele fulfills that perfect gap where buyers don't necessarily would like to spend a lot in order to get something with solid wood (MAT-4 is made of laminate), but they want something that plays and looks beautiful.
Made by one of our most favorite and trusted uke builders you will be able to get this ukulele for around 280$.
The built quality on these ukes is superb with a neat finish, smooth edges, pin bridges, quality geared tuners, and very nice attention to details like quality binding and rosettes.
Islanders feature a 1.5-inch nut like almost all Kanile'as which gives the player a feeling of comfort on the fretboard.
Islander MAT-4 Tenor has a laminate spalted maple top, and sides and back from a beautiful abalone rosette.
The tone is very clear and bright and really sounds like a more expensive instrument.
Features
Lanikai Julia Michaels White Pearl
The Julia Michaels signature ukulele "White Pearl" is made with Lanikai quality and features.
This ukulele is beautifully built with a Glossy White Pearl finish that coats the top, sides, and back of the instrument.
It appears with a black body and fingerboard binding, together with an abalone rosette and purfling making this Lanikai ukulele stunning and unique.
This tenor ukulele delivers a great sound to match its eye-catching appearance.
White Pearl has a wide and comfortable neck profile, open back Grover tuners with black buttons, NuBone XB saddle, and nut.
As with almost all Lanikai ukuleles, this model comes with a 10mm gigbag together with 3 years warranty by Thomann.
Features
Lanikai Mahogany Tenor Ukulele Solid
Lanikai as a brand is always trying to keep their customers happy and satisfied with the models they are making.
They are closing the gap between Hawaiian ukulele tradition and the needs of modern ukulele players.
They are seriously dedicated to the hobbyist, professional performers, and ukulele players that demand more from their instruments.
They craft ukuleles that perform, play, and sound like no other ukuleles which allow players to uniquely express themself throughout their ukes.
A Lanikai ALL SOLID Mahogany Tenor Ukulele has a wider nut in order to bring more comfort for the players.
They are equipped with Grover open-back tuners, NuBone XB nut and saddle, D'Addario strings, glossy finish, a foam case, and a 3 year Thomann warranty.
The ALL Solid Mahogany ukuleles resonate with a rich and musically genuine tone of a Lanikai.
Features
Islander by Kanile'a MST-4 Tenor
These Solid Mahogany series are taking inspiration from Kanile'as finest Hawaiian-built instruments.
They are brought exclusively for the Islander range for players that are looking for super resonant, all solid instruments with character and warmth.
Kanile'a Islander MST-4 Solid Mahogany Tenor Ukulele is a perfect all solid wood option in gorgeously honey-toned mahogany wood, together with traditional mainland sound full of character.
The Islander MST-4 Ukulele design is attractively complemented with stylish traditional oval-shaped tuning buttons, faux tortoiseshell binding with an abalone rosette, and Kanile'a's signature contoured walnut bridge with robust ABS black bridge pins.
Presented in a super sleek satin finish, the Islander MST-4 Ukulele design is attractively complemented with stylish traditional oval-shaped tuning buttons, faux tortoiseshell binding with an abalone rosette, and Kanile'a's signature contoured walnut bridge with robust ABS black bridge pins.
As with many other models, this one also has a wider fretboard for additional comfort while playing.
Also, wider string spacing at the bridge seems ideal for developing good fingerstyle playing.
For next-level players looking for an all-solid wood stunner with a hint of Hawaii, the Kanile'a Islander MST-4 Solid Mahogany Tenor Ukulele comes highly recommended!
Features
Islander by Kanile'a SAC-4 Concert Acacia
This Islander SAC-4 Concert Acacia model is made from solid Asian Acacia on top, back and sides. Just like Koa, Acacia has really great and balanced tonal response that is going towards the brighter side.
Whenever you start playing this ukulele it will be sounding fuller and lusher every new day. Because it is slightly wider than normal, its fretboard is probably the most attractive thing on this concert ukulele.
With 1.5 inches or 38mm at the nut, it is an absolute doddle to put your fingers into the right shapes. When you combine all that width with its very slinky neck profile you get very easy to play instrument.
Features
Conclusion
There are many reasons for people to learn how to play and also buy one decent ukulele for themselves.
But there is one thing that people don't really consider before buying a ukulele and that is the joy they will bring to your life.
The reality is that life can be really tough sometimes and you really need stress relief in those times.
Ukulele is a great stress reliever and it helps people relax and have fun at the same time.
If you are thinking of beginning your journey or you are an experienced player looking for some quality ukes, you should stick to the best ukulele models from above!
If you are looking to add more color to your life, feel free to check our choice for the Best Colorful Ukuleles!
Happy Strumming!