Luna Moonbird A-Style Acoustic/Electric Mandolin, Satin Black!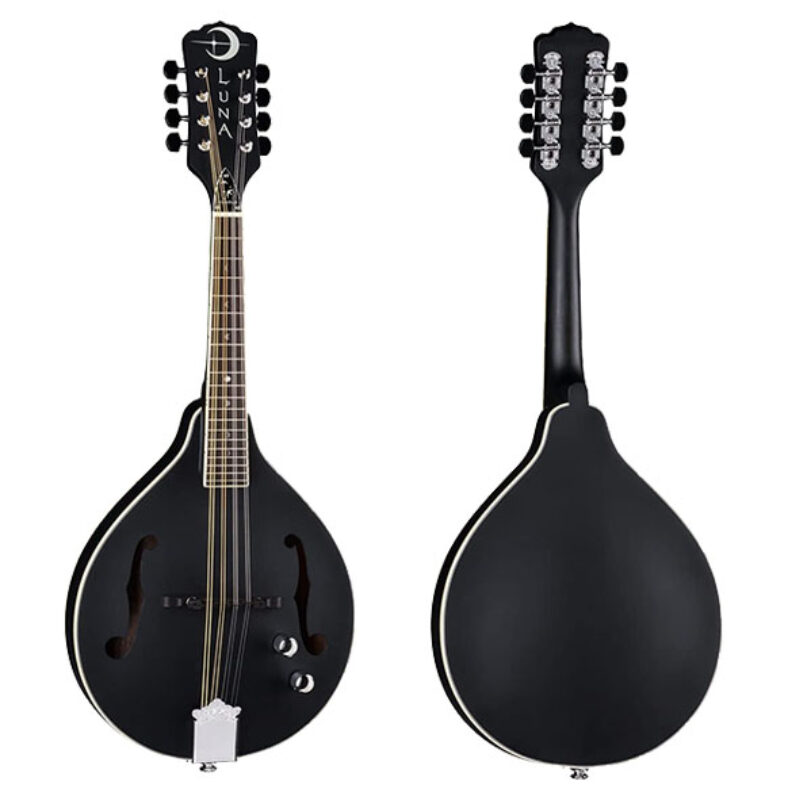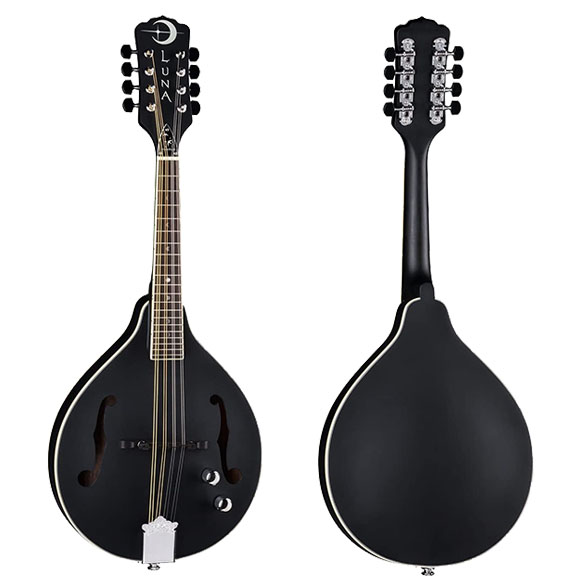 Great Quality Instrument.
Beautifully designed A-style mandolin delivers excellent tone!
---
Luna Moonbird Mandolin Review!
With this gorgeous Moonbird A-Style mandolin, you can strum to your heart's content. From the moment you tune it up, you will hear the sweet sound of its select spruce top, but as time passes, it will grow in quality and depth.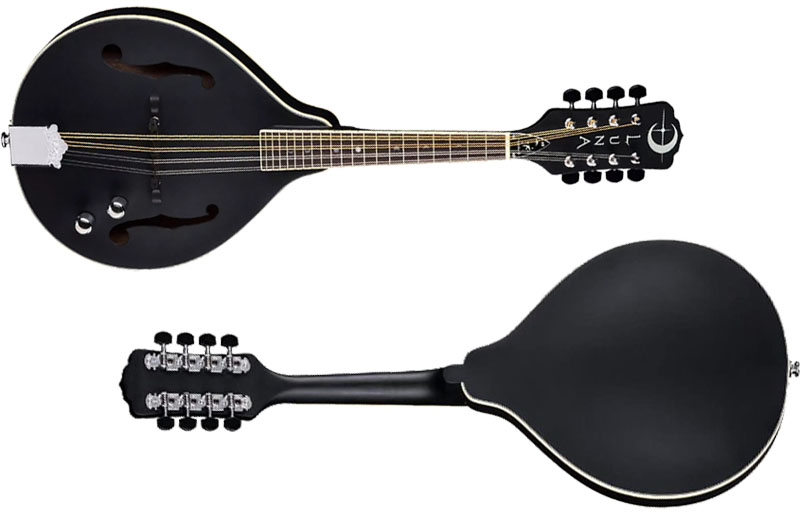 This piece features a punchy mahogany body finished in black with a matte finish, which contrasts wonderfully with the chrome hardware.
There are mother-of-pearl moon phase markers on the black walnut fingerboard of this instrument. There are volume and tone controls on the piezo pickup, and the headstock has Luna's Moonbird Truss cover.

Cases are sold separately. Carpe Noctem – Inspired by the harmony between the moon and stars, these instruments have a bluegrass style. Capturing the beauty of the Moonbird flying in the night sky.
---
Tech Specs
Type: Acoustic-Electric.
Body Shape: A Style.
Color: Black.
Finish: Satin.
Top Material: Spruce.
Body Material: Mahogany.
Neck Material: Mahogany.
Neck Shape: C.
Fingerboard Material: Black Walnut.
Fingerboard Inlay: Pearloid Moon Phases.
Tech Specs
Number of Frets: 20.
Scale Length: 14″.
Nut Material: Plastic.
Nut Width: 1.141″.
Bridge Material: Black Walnut.
Tuners: Black Open Gear.
Hardware: Chrome.
Electronics: Piezo, volume/tone controls.
Strings: Olympia, .011-.040.
Manufacturer Part Number: BGM MOON A.
---
About the model (Luna Moonbird A-Style Acoustic/Electric Mandolin, Satin Black)
The Luna Moonbird mandolin was designed for recording purposes and is very universal. The mandolin is manufactured by Luna Guitars, which also makes electric and acoustic mandolins. The instruments are made by an American manufacturer, and they will bring you great value for your money.

Moonbird mandolins and Luna Guitars mandolins are very well suited to beginners. Artist Yvonne de Villiers started the brand because she believes every musician's instrument should be unique. Her mother, Hilda Villers, who was a bassist for up to 40 years, was Yvonne's inspiration.
Regardless of the ever-changing and diverse world of music, Luna Guitars strives to create instruments that work well for each type of player. With this instrument, beginners will have the opportunity to buy a high-quality model with excellent sound and an attractive design.
In addition to spruce, the instrument comes in a luxurious ornate version made from ebony. The Moonbird is a really cheap A-style mandolin that comes with a piezo.
Sound and Build Quality
The instrument produces rich and dynamic sounds. This instrument has a body made of spruce and mahogany for a balanced, versatile sound.
It has an F-shaped neck along with a very smooth fingerboard and together they provide wonderful playing comfort. Black walnut is used for the bridge and it has an arched top contour. Black satin finish and set neck construction distinguish this instrument.


The fingerboard is made of black walnut, while the neck is made of mahogany. It has a flat radius of 20 frets. Polymer plastic is used to make the nut, which measures 29 mm in width.
The Hardware
There are volume and tone controls on the Luna Moonbird Mandolin and a piezo bridge pickup. The hardware is chromed with black open-gear tuners.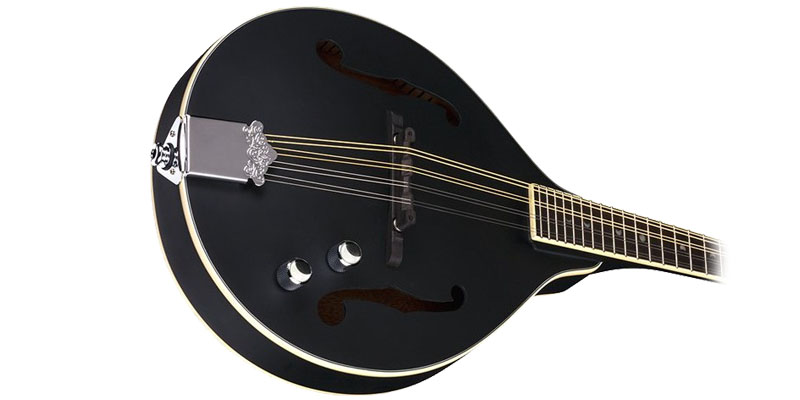 Whether you're performing on stage or in the studio, the piezo pickup captures natural tones. Designed in a dark finish and aesthetic, its sparkling tones and chrome hardware speak of the night and capture the mood of the night.
---
Luna Moonbird A-Style Mandolin
Features:
Beautifully designed A-style mandolin delivers great tone.
Lightweight, resonant mahogany body with a spruce top for rich high-end and midrange tone with subtle hints of lower tone.
Gorgeous black walnut fingerboard provides incredible playability and response.
Piezo pickup with individual volume and tone control delivers stellar amplified mando tone.
Mother-of-pearl moon phase markers on the fingerboard add wonderful visual.
Black walnut bridge provides great tone support.
---
Appearance
There are two materials that make up the mandolin's body. It is made of mahogany wood and finished with the finest spruce wood. It is designed to blend with any type of musical style or playing method with a dynamic and superbly balanced sound.
There are nice electronic options on the Moonbird that will allow you to perform both in the studio and on stage.
---
Luna Moonbird A-Style Acoustic/Electric Mandolin
Beautifully designed A-style mandolin delivers excellent tone.
Pros
Beautiful Design
Great playability and response
Produces excellent sound
Cons
It is an inch longer than other Mandolins (will need a specific gig bag)
---
Here is a video from Luna Guitars showing this beautiful Luna Moonbird Mandolin!
---
Last Words
Luna Moonbird Mandolin is high-quality and very affordable mandolin. With this price, the mandolin can be picked by everyone, from beginners to more experienced players.
There are a lot of satisfied customers and positive reviews about this instrument. If you need a beautiful and nicely crafted A-Style mandolin, Luna Moonbird is the right option for you.