Check Out The Best 7 Mandolin Strings Available In 2023!
With a history that is stretching back a couple of centuries, the Mandolin is a string instrument in the lute family. It's widespread nowadays in various kinds of folk music but also in bluegrass and country. It's an instrument that's normally plucked with a plectrum in order to produce its sound.
Like with many strings instruments, the sound tone and feel of the mandolin are very dependable on the tonewoods that are used in the construction of the instrument. However, that being said, a string instrument is also very dependable on its strings.
There are a lot of different types of strings on the market for you to choose from. All can have an effect on the type of sound you wish to achieve and the way in which they respond to your touch. Different types of strings can be used for different playing situations. It's not easy to recommend the best mandolin strings. This can differ from instrument to instrument, as well as between musicians and playing styles.
In this article, we are going to highlight the best Mandolin strings that are available on the market in 2023.
---
1. D'Addario EJ74 Mandolin Strings
D'Addario EJ74 Phosphor Bronze Mandolin Strings, are one of those that are ranked among the highly competitive strings in the marketplace, within their range. EJ74 by D'Addario is a real definition of a superb balance between high quality and price.
So, if this seems like the right combination you are searching for, place that order. The best part is that these strings can withstand heavy use. So, in case you plan on training every day and for long hours, you now have a choice.
And that's not all. These mandolin accessories are usually every player's dream. They arrive with a sturdy construction from Phosphor Bronze and plain steel and provide a universal fit.
Moreover, the strings are made in the US, which suggests the quality is guaranteed. Value for your money is what you're going to get. Be ready to benefit from the well-articulated warm tones as you discover your way around your instrument and outline your musical future.
Features
D'Addario's best selling mandolin set.
Loop end construction for universal fit.
Phosphor Bronze for long lasting, warm and bright tone.
Made in the U.S.A. for the highest quality and performance.
String Gauges: Plain Steel .011/.011, 015/.015, Phosphor Bronze Wound .026/.026, .040/.040.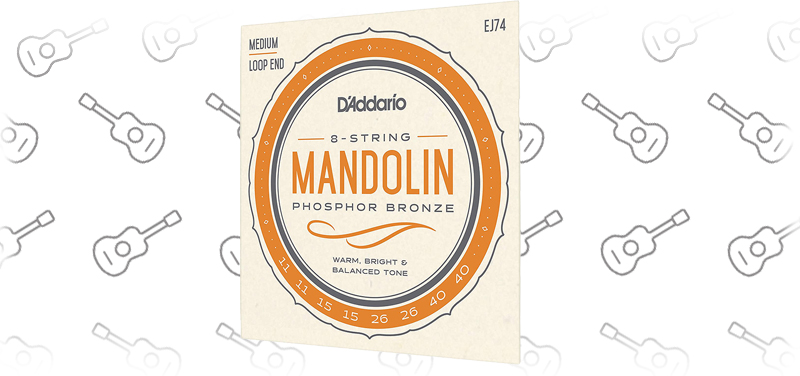 You Can Buy D'Addario EJ74 Mandolin Strings on the Links Below!
---
2. GHS A240 Ultra LT Strings
The GHS A240 model is another budget-friendly phosphor bronze string for mandolin. These strings can be found in several ultra-light gauge lengths like .009, .013, .020, and .032.
This set of well-made strings is available in a beautiful package deal with more than eight strings. So you don't need to buy the strings for your mandolin again and again.
This comes with a NitroPack singles feature, which means old traditional strings under a brand new overlaying that is easy on fingers and produces sweet and warm tones with great tone quality.
It is a great option for modern-day mandolin players. However, that doesn't have an effect on the quality of sound. It is mellower than any heavy gauge strings.
In case you're a beginner mandolinist searching for a reasonably priced set of strings, then these strings will be a great option for you.
Features
GHS A240 – Mandolin Strings, Phosphor Bronze, Loop End, Ultra Light.
Light-medium gauge.
Featuring the air-tight Fresh Pack & Nitro-Pack singles.
Phosphor Bronze Wraps, Loop Ends and Lock-End Twists for Extra Strength.
Increased Brightness & Tone Life.
Ultra Light Gauge: L09 (2) -L13 (2) -LB20 (2) -LB32 (2).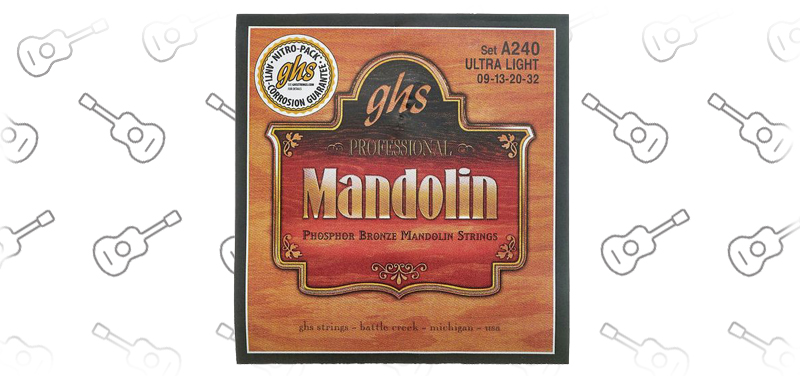 You Can Buy GHS A240 Ultra LT Strings on the Links Below!
---
3. D'Addario EJ70 Phosphor Bronze Mandolin Strings
The first thing that runs into everyone's mind when they hear the brand D'Addario is probably the guaranteed high quality made by one of the best mandolin string manufacturers. We believe that the strong nature of the D'Addario EJ70 Mandolin Strings makes them one of those high-quality products offered by this brand.
If you wonder how it is because they come expertly made from phosphor bronze which is a clear indicator of durability.
Additionally, the presence of phosphor bronze means that you would be able to play your instrument with confidence, realizing that you will achieve correct notes, with no deformation.
The D'Addario EJ70 are quality mandolin strings that have a universal fit, and this means that you can comfortably add these strings to any type of mandolin that requires ball-end strings (Ernie Ball). These strings are very light and you should not be worried about damaging your fingers whenever you decide to play even for a longer time.
The strings are professionally packaged and the high quality is guaranteed knowing they are made in the US. Additionally, these 1.06-ounce strings produce a crisp clear, rich tone.
Features
For use on all mandolins requiring ball end, rather than loop end strings.
Light-medium gauge.
Phosphor Bronze for long lasting, warm and bright tone.
Environmentally friendly, corrosion resistant packaging for strings that are always fresh.
Made in the U.S.A. for the highest quality and performance.
String gauges: Plain Steel .011/.011, .015,.015, Phosphor Bronze Wound .024/.024, .038/.038.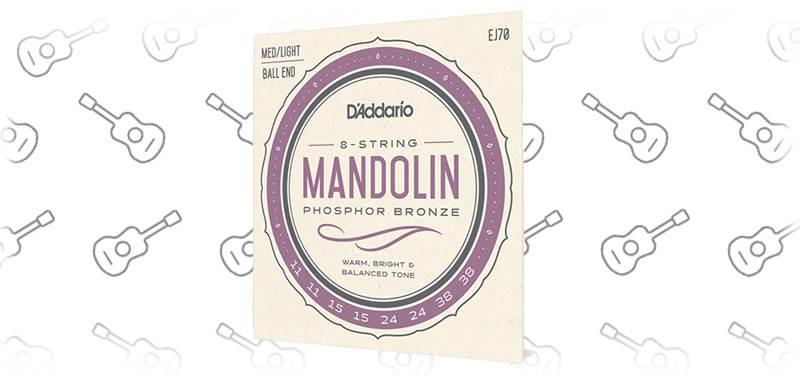 You Can Buy D'Addario EJ70 Phosphor Bronze Mandolin Strings on the Links Below!
---
4. Martin Mandolin Strings 80/20 – Bronze Wound
In case you're searching for light mandolin strings made by one of the best mandolin string brands, you must consider getting the Martin M400 Bronze.
The strings are made out of a bronze wound, and because of that, they guarantee players durability and reliability over time. Additionally, expect to achieve a clear and bright tone when playing, because of the bronze winding, which gives these strings depth, especially as you hit the bass notes.
They are easy to play, even for new players. You will only have to give them a light touch to achieve stunning music. And because of this, these strings are best suitable for Celtic/ customary Irish music performers.
With all these features, you probably expect these accessories to be costly, right? Well, that's not the case. Actually, they're probably the most reasonably priced strings you can get on the market.
Features
Bronze 80/20.
Round wound.
With loop.
String thicknesses: 010/010 – 014/014 – 024/024w – 034w/034w.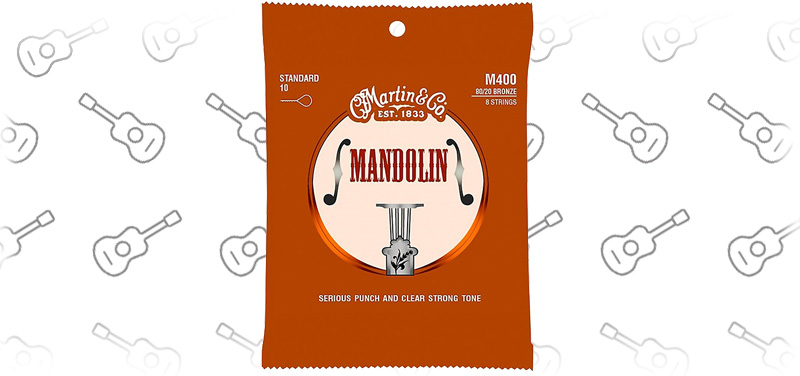 You Can Buy Martin Mandolin Strings – Bronze Wound on the Links Below!
---
5. Elixir Mandolin Strings with NANOWEB Coating
These Elixir Nanoweb-coated mandolin strings are one of the most searched mandolin strings on the market. They're extremely thin and responsive, because of their nanoweb coating. Many performers admire their traditional feel.
The texture of the strings lets you get a real feel from your instrument, producing that all-important tangible feedback. The price of these strings is really affordable when you compare them with other strings.

These strings have a really sturdy nature in their construction and their feel-on touch is making them a great investment you will be able to enjoy playing them for a long time. There are made from zinc and copper and because of that reason they are able to produce a bright-bell-like tone.
Features
Mandolin strings constructed with 80/20 (80% copper, 20% zinc) bronze wrap wire.
Played for a bright, bell-like tone.
Ultra-thin NANOWEB Coating provides a traditionally textured, "uncoated" feel.
Coating technology protects against common corrosion, extending tone life longer than any other brand's coated or uncoated strings (Elixir Strings player survey).
Light gauge: .010 .014 .024 .034.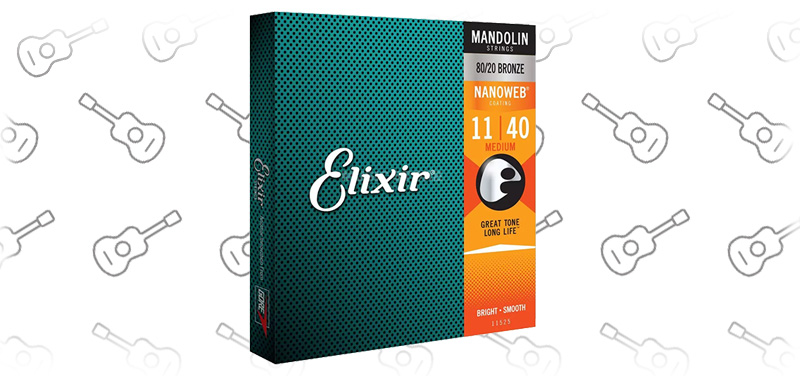 You Can Buy Elixir Mandolin Strings with NANOWEB Coating on the Links Below!
---
6. Thomastik-Infeld 154 Mandolin Strings
The Thomastik Inefeld 154 are solid steel core strings, tin-plated flat wound variety of string. They are used by professionals and students that are playing low gauge strings.
This set of strings is a bit costly, but once you check their quality you will know that you are paying for high-quality strings. The materials used are all of high quality.
The intonation is stable, reliable, and crisp. Both the lows and the highs are responsive at both ends, providing you unparalleled expressive capacity. The flatwound mandolin strings are simple to play with, which means your fingers won't beg you to stop in a hurry.
Features
Used by Students and Professionals around the world.
Diapason: 34 cm (double strings, each catalogue number containing one pair).
Genuine Thomastik-Infeld Product.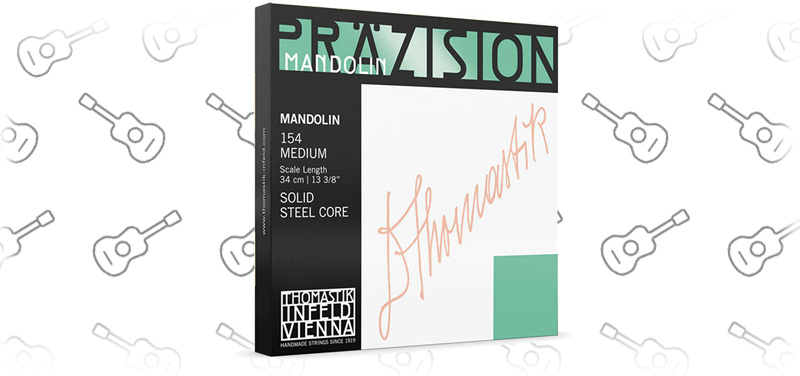 You Can Buy Thomastik-Infeld 154 Mandolin Strings on the Links Below!
---
7. DR Strings Mandolin 10-36
The next great pick on the list is the DR mandolin strings. These are corrosion-proof heavy handmade strings suitable for everyday use.
Made up of phosphor bronze, the strings are sturdy in nature and are designed to last longer than other traditional mandolin strings.
It produces a warm and crisp tone with a lot of clarity without any extra tension. It is very flexible and easy to play creating high stability.
The DR mandolin strings are excellent for beginners in case they intend to use them every day for training purposes.
Features
RARE Mandolin Strings are designed to last longer than typical mandolin strings.
Tone that will surprise and please the experienced player.
Crisp and warm, DR Rare phosphor mandolin strings stand out.
Phosphor Bronze Mandolin Strings: Light 10-36.
10/10, 14/14, 23/23, 36/36.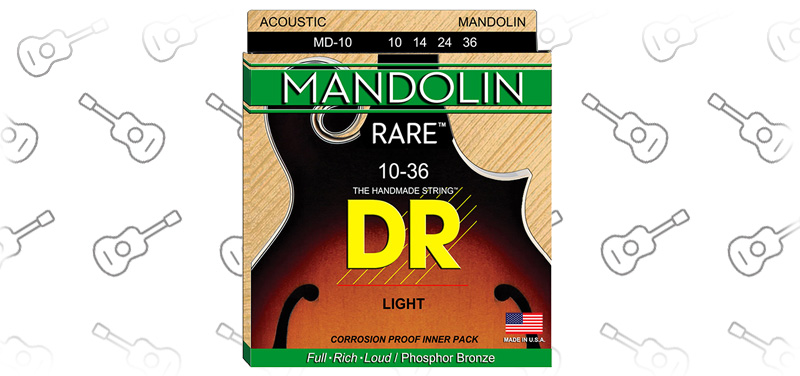 You Can Buy DR Strings Mandolin on the Links Below!
---
Mandolin Strings – Buyers Guide
The advantage of the mandolin, (and other similar string instruments for that matter) is the ability to change your instrument's sound profile. You'll be able to change its dynamic and expressive range, simply by changing the strings.
The fact that strings are cheap means that you would be able to try different types out until you find your preferences. In case you're feeling uninspired or like you're losing the will to carry on playing, changing the strings will usually give you that little boost you need.
In case you're undecided about what strings fit your needs and playing style, you can always order a number of different strings to try out until you discover what works best for you.
String Gauge and what they mean for the mandolin
String gauge refers to the thickness of a string's diameter as measured in thousandths of an inch. There are usually three standard mandolin string gauges: light gauge mandolin strings, medium gauge mandolin strings, and heavy gauge mandolin strings. Medium gauge (.011, .015, .026, .040) is by far the most well-liked selection in general.
There can be slight variations between manufacturers, however below are the average gauge, based on their weight designation.
Light Gauge (.010, .014, .024, .038)
Light gauge strings are a lot easier to fret than heavier ones. Due to this fact, many beginner mandolins will come with lighter strings on them. Light strings produce a bright sound, however, the trade-off is much less sound, resonance, and sustain. Because of this, making use of lighter gauge strings could mean you're not getting probably the most out of your mandolin when it comes to tone and sonic fullness.
With older instruments or those who don't have a truss rod, using light gauge strings is really useful. Using heavier gauge strings may result in warping of the neck over time and render your instrument unplayable. This is especially possible on older bowl-back mandolins.
Medium Gauge (.011, .015, .026, .040)
Medium gauge strings (as the name suggests) are holding the middle ground between heavy and light gauges. They continue to be popular for the stability they provide between ease of playability, tonal depth, and sound projection. They are by far the most preferred gauge of string.
Heavy Gauge (.0115, .016, .026, .041)
Heavier gauge strings are somewhat tougher to play because of the increased tension. They produce extra volume and sustain, together with a more full, rich, and deeper general tone. They are typically hard on the fingers though, so this is worth taking into consideration in case you're not used to them.
String Gauge and the effect on the Mandolin tone
The light gauge will provide a brighter tone that's simple for beginners to fret. Heavy gauge strings are resonant on the lower pitches however they are considered hard to fret. They're most suited for the more advanced players or players with stronger, and more aggressive playing styles. Medium gauge strings are the happy medium between the two.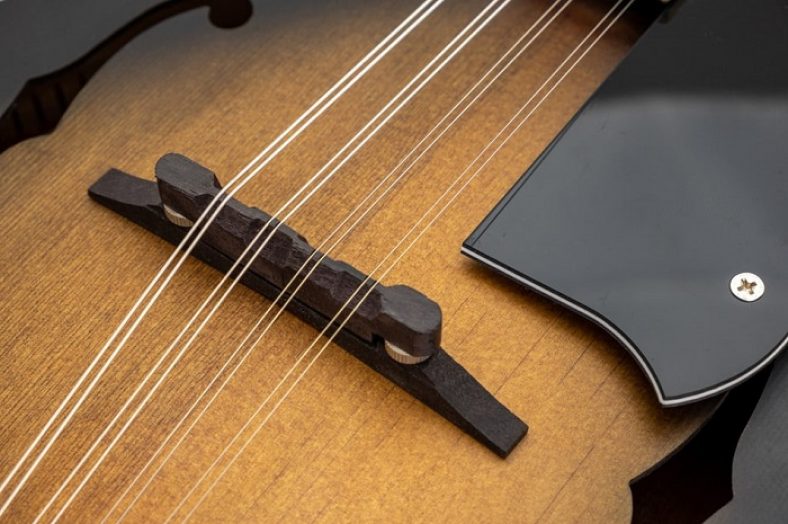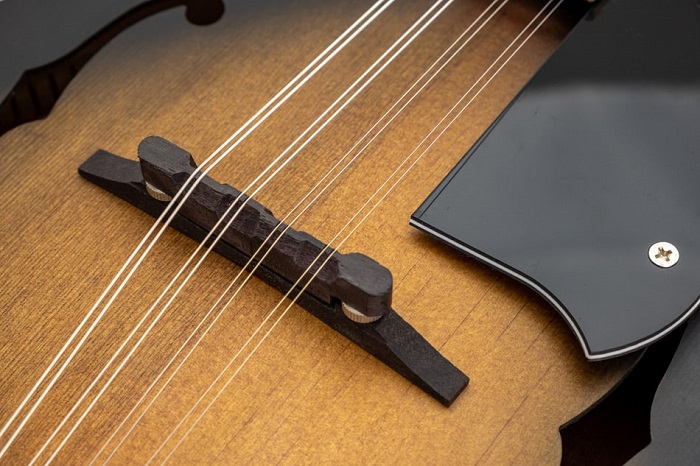 The downside of the heavy gauge is the lowered resonance and sustain in the bass. Light gauge lacks sound projection and the complete tonal richness of medium/heavier strings.
The tone of the Mandolin and how does the string construction affect it
Round wound strings are the most typical and what most people expect. Flat wound strings provide a smooth feel and allow much less dirt and grime on the strings, but permit marginally much less vibrato and bend, which could be essential for some players.
The string material may also have an immense impact on the tone, with different balances between brightness, volume and response. Different materials will also perform in different ways on different mandolins.
What is the best string material for you?
The material used to wrap the strings has an immense effect on the tonal quality produced; from brightness to loudness/projection. The type of metal used will have a different effect on different mandolins, so as always it's best to try for yourself and see what suits you.
Phosphor Bronze
Phosphor bronze is the most sought-after string alloy and was pioneered by D'Addario in 1974. Phosphor bronze offers a great balance between the fullness of sound and tonal brilliance. The most popular phosphor bronze strings are 80/20 as they're long-lasting and hold their brilliance.
Bronze
Bronze has a brighter timbre than phosphor bronze does, but the trade-off is the life span. Bronze strings have a shorter lifespan than some other composites.
Nickel-Plated Steel
Nickel-plated steel strings have a bright tone, much more so than bronze. They're a good selection for players that prefer to play electrical mandolins.
Chrome-Steel
Chrome-steel usually has a tin-plated silver steel core with a chrome steel wire wrap. They produce a transparent tone without the metal twang that's unappealing to some players.
Stainless Steel
As stainless steel is immune to oxidation, they're a good selection in case you live in a very humid surroundings or you're someone who sweats a lot. Stainless steel strings are likely to last more and have a bright timbre. Stainless steel-string users report good brightness, sound, and clarity on the trebles, with a fullness in the bass.
Alongside nickel-plated steel, stainless steel is amongst the best selection of string materials for electric mandolins. Brass or bronze don't have sufficient magnetism to provide enough sound for electrification.
Coated Mandolin strings
Coated strings are resistant to oxidation because they have an outer polymer coating that renders them. Coated strings are almost always wound strings as these are the type that is most prone to corrosion.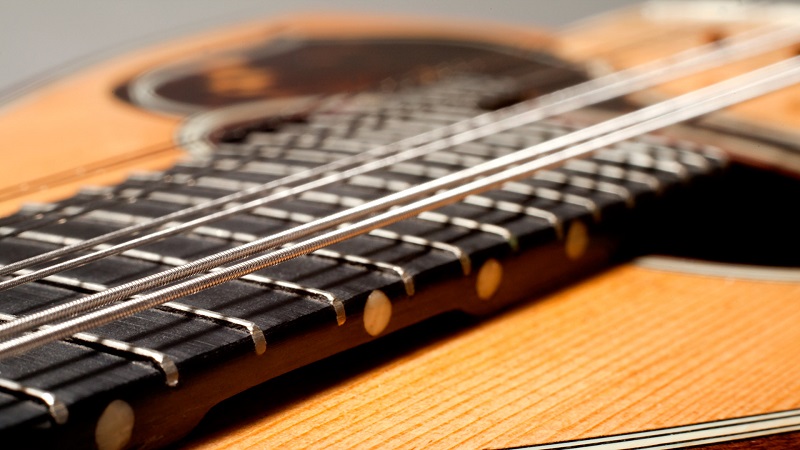 Coated strings defend the strings from dirt and grime and as such, they prolong the lifetime of the strings. Additionally, they protect the initial tonal character of the string. It's hard to generalize about coated strings because producers use all different types of polymers over totally different string cores. Coated strings are still very much an experimental technology.
They can sometimes tend to dampen the higher registers. But again, this varies between producers and even the instruments themselves.
String construction of the Mandolin strings
All mandolin strings are having a core that is either hexagonal or round. Spherical wound strings are the most typical kind of string.
Roundwound
The roundwound strings have a wound outer wire wrap. The texture and feel of the string on your finger are what most individuals are comfy with and expect. They come as the opposite of flatwound strings.
Flat Top
These sorts of strings are wrapped after which flattened to make a flat smooth surface. Whereas on a round wound string, it's easier to feel the grooves of the wrap, on a flat wound string it's much more difficult to feel.
Silk & Steel
Silk and steel strings are strings with a silver-plated copper wrap wire interwoven with silk-like fibers. They create easy and smooth fingering and a mellow tone.
How often you should change your Mandolin strings?
Many factors are dictating how often you should change the strings on your mandolin. The more you play your mandolin, the faster the strings will wear out. Different factors include the humidity of the area you live in, the type of strings that you are using, the way you store your instrument, and even the composition of your skin.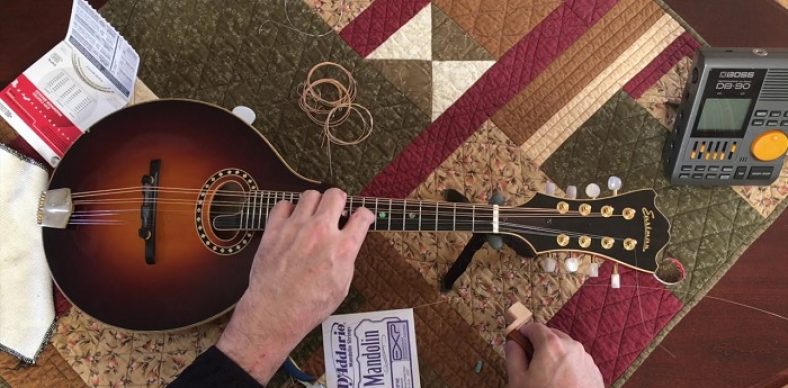 In case your instrument is sounding somewhat boring and lifeless, a change of strings could possibly be a great solution. You'll see how this will revive a lifeless and uninspiring sounding mandolin back into the joyful instrument that it can be.
Can you use guitar strings on Mandolin?
It is possible to use guitar strings on your mandolin. You'll have to be sure the tension level (i.e the gauge) is appropriate for your instrument. Many strings for guitar-like instruments are actually very similar however are merely packaged in a different way for convenience's sake.
The primary thing you'll need to take care of when using guitar strings on your mandolin is the tailpiece of your instrument. Most acoustic guitars use a ball-end on the string which is held together in the bridge with a bridge pin. Most mandolin strings are looped to allow them to be connected to the end piece.
To make use of guitar strings on a mandolin, you'll need to remove the ball so you're left with a loop on the end of the string. When you've done this you'll be able to set up the string as you normally would.
Last words
In case you are looking to get new strings for your mandolin you are not going to be wrong if you pick any of our recommended strings in this article. You need to know that strings are the heart of every mandolin instrument and because of that reason, you need to pay close attention before you decide which strings set you are going to buy.
As you can already see in our article there are plenty of different strings to choose from. There are cheap and expensive strings and none of them will last forever and because of that, it is advisable to get only a few packs at a time. Always test them and their tonal quality so you can see which strings are best for you and your instrument.
It doesn't really matter which brand you are going to choose as long as you choose strings that offer a great balance between intonation, affordability, and durability.
Related Articles
Happy strumming!