Recording King RAM-3-TS Mandolin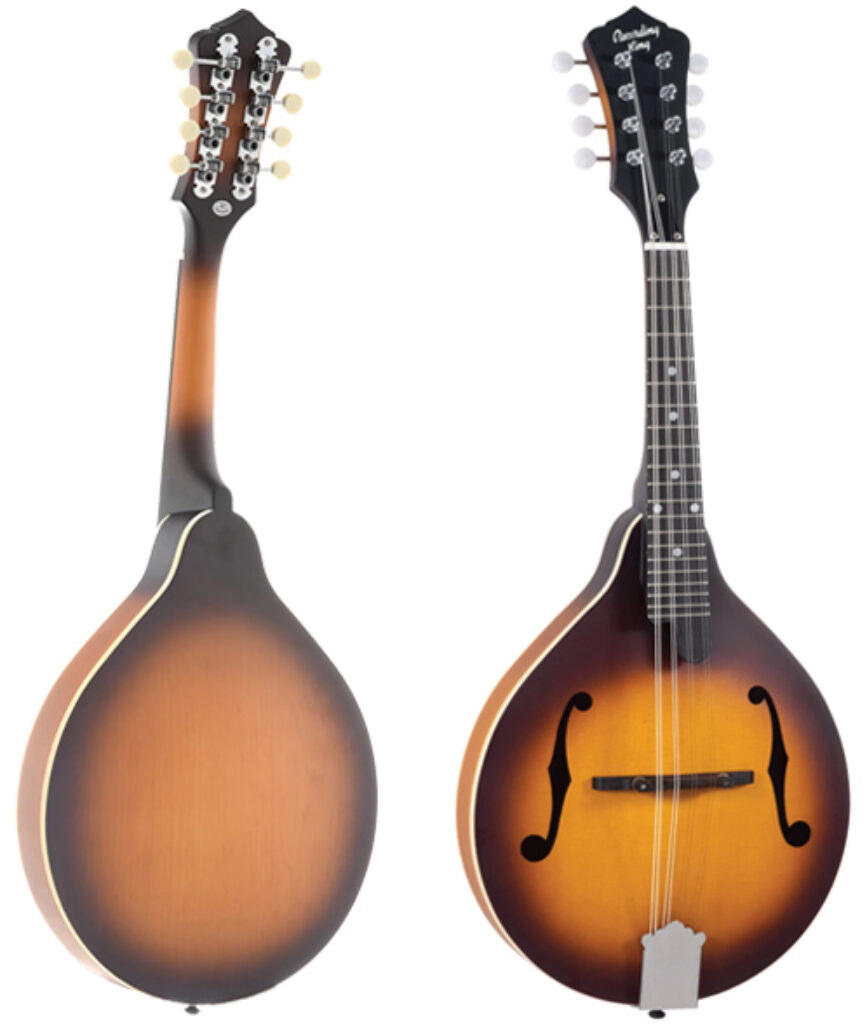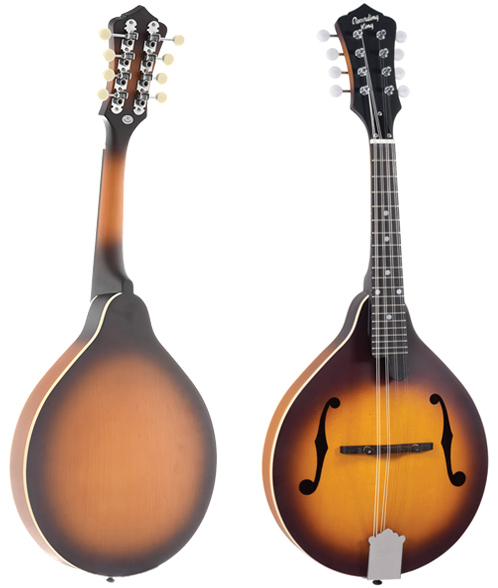 Great Playability.
For beginners and experienced players.
Great value for the price.
---
Recording King Dirty 30s A-Style Mandolin Review
The Dirty 30s Mandolin features vintage appointments in a traditional A-style. This is a high-quality instrument despite its low price. Unlike other builders in this price range, Recording King has paid attention to details: the F-holes are specifically shaped to ensure sound aperture and the body depth is 1-¾" to enhance the instrument's tonality.


For a traditional old-time sound, the Dirty Thirties mandolin features a solid spruce top and maple back and sides. An old-fashioned mojo has a sunburst tobacco finish covered in a thin satin finish.
It has a classic A-style body and a comfortable C-shaped neck with a mini-Recording King Jubilee headstock. A rustic yet refined look is achieved with ivory tuners and MOP fretboard dots. Let's look more closely at this beautiful A-style mandolin and learn about its parts, sound, and features.
RAM-3-TS Mandolin Features:
Dirty 30's Series.
Construction: A-Style.
Top: Solid spruce.
Back and sides: Maple.
Tone Bar Bracing.
Neck: Maple.
Fretboard: Revebond.
Neck profile: Small C.
Scale length: 348 mm.
Nut width: 28,60 mm.
20 Frets.
Bridge: Ebony.
Colour: Satin Tobacco Burst.
---
Build and Appearance
Recording King's RAM3TS mandolin features a classic A-style body with a solid spruce top and maple sides and back. With its solid spruce top and maple back and sides, this instrument serves up classic chop and projection with warmth and brightness.
The mandolin is stained tobacco sunburst and covered with a thin satin finish to give it a vintage look. An authentic mini-Recording King Jubilee headstock and ivory tuners complement the classic A-style body design for a rustic and refined look.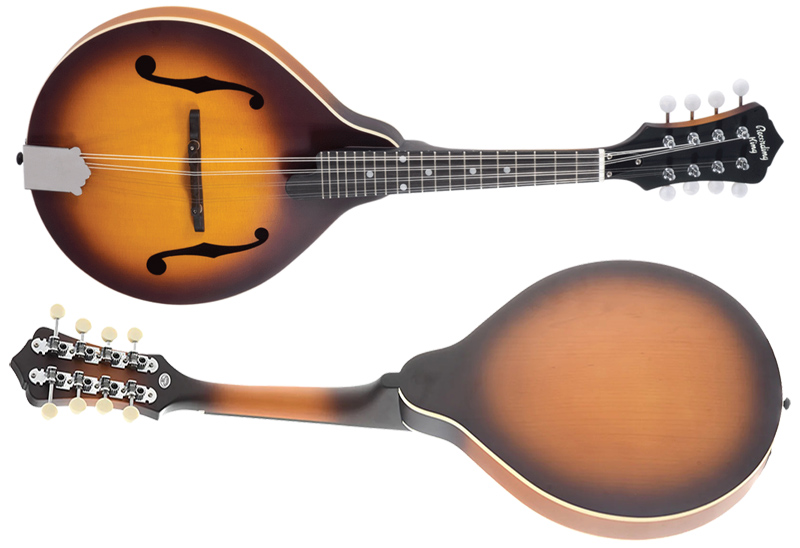 There are 29 frets on the flamed maple neck, and classy MOP fretboard dots decorate the ebony fretboard. Fine-tuning intonation is easier with the compensated adjustable ebony bridge, ensuring optimal tone and accuracy.
In general, the Recording King RAM-3-TS Mandolin delivers a balanced and articulate tone with its vintage-inspired design and high-quality components. A troubadour, songwriter, or multi-instrumentalist seeking an affordable mandolin that delivers a classic old-time sound will find this a great choice.
Comfortable design
Featuring several upscale features at an affordable price, this mandolin is built for comfort. Featuring an A-style body, this guitar gives you the kind of vintage articulation and playability you want for traveling, gigging, or simply displaying in your living room.
With a comfortable maple neck and a Revebond fingerboard, you can play intricate mountain melodies or accompaniment chords with ease. With a "Small C" neck carve, fretting feels natural and easy.
Tuners and Tuning
Recording King RAM-3-TS mandolins come with stylish ivory buttons and smooth nickel tuners. Players can easily adjust the pitch of each string using these tuners, which provide smooth and accurate tuning.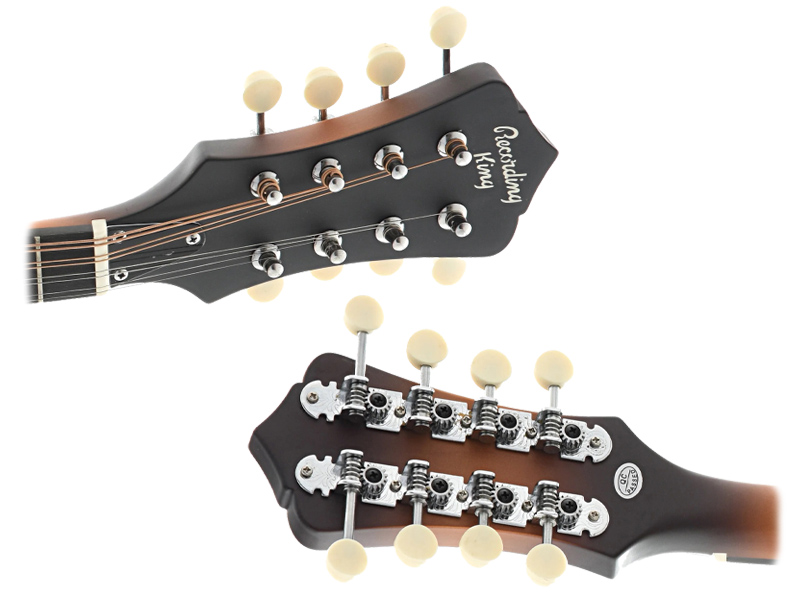 Typically, the mandolin's strings are tuned to G, D, A, and E, with the G string being at the highest pitch and the E string at the lowest. It is crucial to tune the mandolin accurately in order to ensure optimal tone and playability.
On the Recording King RAM-3-TS Mandolin, nickel tuners with ivory buttons make tuning effortless and precise, allowing players to concentrate on their performance without worrying about tuning issues.
The Sound of RAM-3-TS Mandolin
A volume boost from maple and spruce
What is it about this mandolin that makes it sound so good? The secret lies in trees, as in real tonewood. As crisp as mountain air, the Dirty 30s Mandolin's back and sides give it a bright, shimmering tone.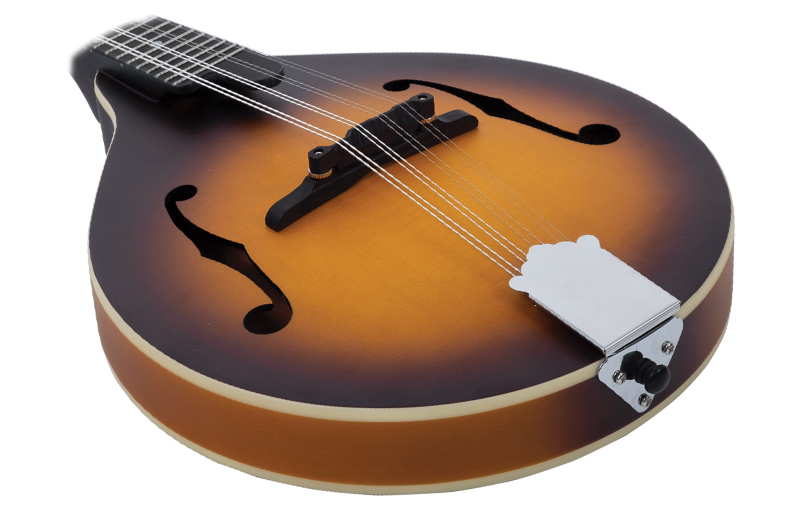 Featuring a maple top and internal spruce X-bracing, this mandolin projects notes far and wide with plenty of volumes, sustain, and dynamic response.
There are also subtle appearances of these premium tonewoods elsewhere on the instrument, such as a maple overlay that graces the iconic Recording King Jubilee headstock, and an ebony bridge that improves intonation and sustain.
---
In this video made by "Recording King" you can hear the sound of Ram-3-TS Mandolin!
---
Recording King RAM-3-TS Mandolin
An awesome mandolin instrument made to last!
Pros
Great Build Quality.
A good option for beginners and experienced players.
Great value for the price.
Cons
Some shops can have bad packaging.
Last Words
Quality, playability, and tone are all top-notch features of the Recording King RAM-3-TS mandolin.
This mandolin offers a great combination of traditional design and modern construction, making it an excellent choice for musicians looking to add a high-quality mandolin to their collection. The RAM-3-TS offers exceptional value for its price and will provide years of enjoyment.
Happy Strumming!