Best Ukulele Capos + Top 3 Guitar Capos!
There are not many musicians that can do without a capo, especially if they are not professional, so we can freely say that tool is the essential thing to have with you like a ukulele/guitar player.
You might miss getting a uke strap or even a uke carry bag, but you should definitely need to get one of the best ukulele capos somewhere down the road.
If you use a capo, you need a capo and you are searching for a different type of capo and also want to learn how the capo is made then you came to the right place.
Capo is used in order to change the chord structure and to raise the overall pitch of your string instrument. You don't have to tune your ukulele to a higher key if you are using a capo.
It is especially useful when you are trying to match your uke tone with the singer's vocal range.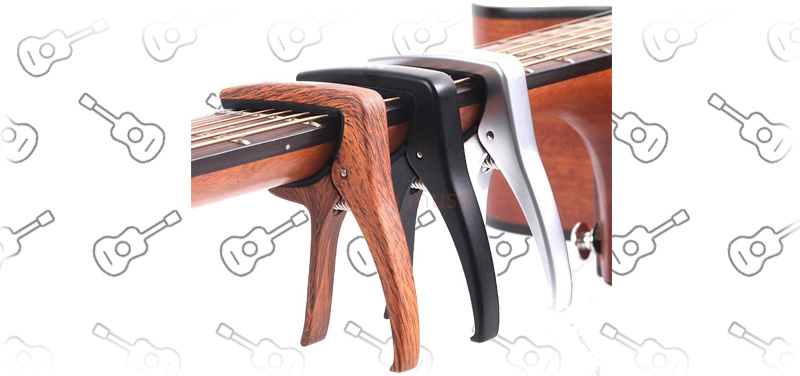 This tool is really great for beginners because it allows them to play a wide range of songs.
The word Capo comes and it is a short version of the word Capotasto which means "Head of fret-board" in the Italian language.
Capos aren't that terribly expensive and if your budget isn't a big deal you may try various options and see what is best for you.
Here is our list of the best ukulele capos that you can find and buy in 2023!
---
1. Creative Tunings Spider Mini Capo
Creative Tunings Spider Mini capo is made for instruments with a narrow neck. This list includes, but they are not limited to Ukulele, Bouzouki, Banjo, and Mandolin instruments.
Because the SpiderCapo clamps over the fingerboard and is not behind, users' report says that it can be also used on Mountain Dulcimer.
The Mini Spider makes hundreds of tunings possible without de-tuning your instrument because its purpose is to cap each string individually!
This is great news for Banjo players especially, because they want to tune their instrument in different ways and this mini capo will make hundreds and hundreds of tunings available to them.
Features
New special capo, like a third hand.
Any tuning possible.
Capos each string individually.
Instrument can be played above and below the capo.
Suitable for e.g. banjo, ukulele, mandolin and bouzouki.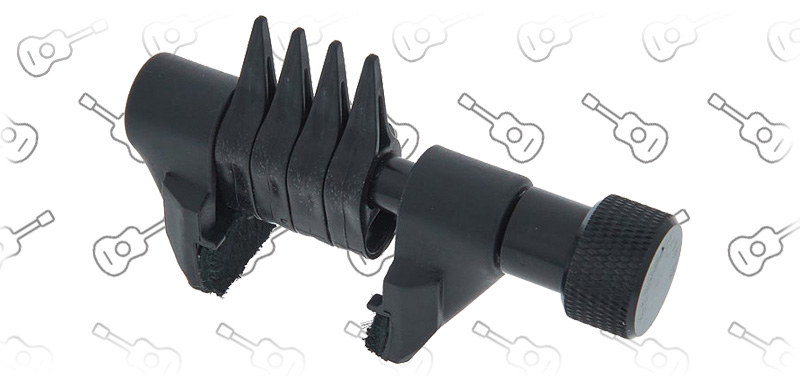 You Can Buy Spider Mini Capo on the Links Below!
---
2. Kyser KURH Ukulele Capodaster
The Uke is popular more than ever before, whether we talk about Rock, Country, Pop, Folk, or Americana.
In order to make things easier while playing, we have Kyser KURH Ukulele Capodaster c clamp capo that's specifically made for the necks of smaller instruments just like the uke.
This tool is expertly engineered and is made to last, it is very reliable and does what is designed to do on musicians' instruments.
The Kyser KURH raises the pitch of the ukulele clearly and you can play in a different key without changing fingering or re-tuning.
Beginners and seasoned professionals really appreciate how this capo helps them transpose their ukulele in a matter of seconds, with only one hand.
Our opinion is that Kyser KURH Ukulele Capodaster's beauty lies in its simplicity and its affordable and cheap price.
Features
Easy to use with one hand.
Colour: Red Hibiscus.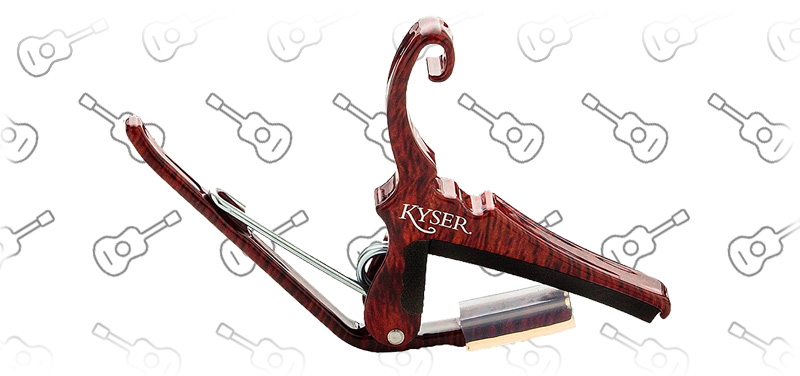 You Can Buy Kyser KURH Ukulele Capodaster on the Links Below!
---
3. Thalia Capo Pau Ferro Black Chrome
Many user reports say that this is the best or one of the best capos they have used. With many different capos especially in the cheaper versions, players can hear or feel some kind of buzz or intonation issue with the sound.
There are many players who are using capos on the stage and they need quick and accurate capos because they do not have much time to lose.
With Thalia Pau Ferro Ukulele Capo interchangeable fret pads and c clamp capo design, you will be able to match this capo to your instrument perfectly.
The design will make you love this capo and especially because it is super easy to use and move and allows you one-handed operations which is a key feature for most players.
The only critics about Thalia capo will be because they recommend storing the capo above the nut, but it can put some pressure on the strings and pull them out of tune. So, we would recommend keeping your capo with you.
In our opinion, this capo is a great piece of work and we highly recommend this item to everyone because it is one of the best ukulele capos you can find.
Features
High quality capo with Pau Ferro inlay.
One-handed operation.
Interchangeable fretpads allow you to match the fretboard radius of your instrument.
Including Standard Tension and High Tension Tuning Kits.
Each tuning kit contains 0″ for classical, 7.25″, 9.5″, 10″, 12″, 15″ & 16″ (14 total).
High Tension Pads (2 mm longer) are suitable for 12-string guitars, ukuleles, banjos and flat fretboard radius.
Surface: Black Chrome.
Includes microfibre pouch.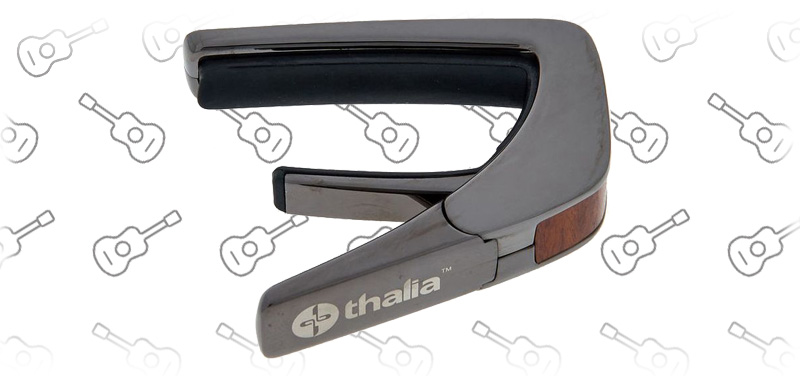 You Can Buy Thalia Capo Pau Ferro on the Link Below!
---
4. D'Addario NS Ukulele Capo Pro
Addario's NS Ukulele Capo Pro and almost all of Planet Waves products are one of the most innovative professional tools for musicians available. Their diverse capo line is no exception.
Many of their innovative models are the result of a productive effort between designers Ned Steinberger and Jim D'Addario.
It doesn't matter what kind of ukulele capos you prefer, D'Addario Planet Waves will always have a capo that will fit your needs.
D'Addario NS Ukulele Capo c clamp with aircraft-grade aluminum is designed for ukuleles and assures no fret buzz and in-tune performance at any fret.
The mechanism with micrometer adjustment on this NS Planet Waves capo allows you to dial in the exact tension needed for clear ringing notes without excessive force, no matter the neck position.
All of this reduces the need to re-tune your ukulele during and after you use the capo. The aircraft-grade aluminum is going to withstand the hardest playing schedule while adding minor additional weight to your instrument.
NS Uke Capo Pro is one of the best ukulele capos on the market and we highly recommend it.
Features
Suitable for all ukuleles.
Finest settings, therefore reduces the need to retune.
Lightweight construction.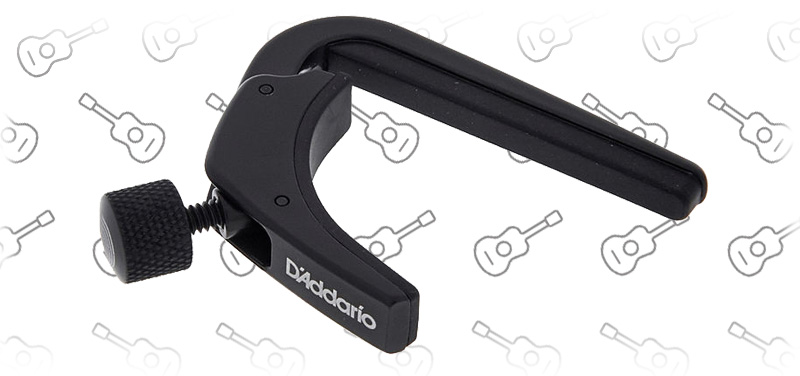 You Can Buy D'Addario NS Ukulele Capo Pro on the Links Below!
---
5. Shubb C9B Ukulele Capo
Since 1980 Shubb set some standards when it comes to ukulele capos, and many players are taking them as a starting point when they look for the best ukulele capo on the market.
C9B Ukulele Capo is the first choice for more than a million musicians worldwide, good and serious ukulele players won't settle for anything less.
You may be wondering what makes this ukulele capo so special. Many user guides say they love him mostly because of his clever and original design. A patented locking action that provides a combination of accuracy, power, speed, and ease of using this capo.
C9B Ukulele Capo is not going to interfere with your tuning because his soft resilient rubber is specially designed to work just like a fingertip, so it doesn't bend the strings over the frets and keeps the strings.
This capo closing action is just like your hand, so it won't pull the string off-center and as a result, no re-tuning will be necessary.
Precisely machined and carefully hand-assembled, Shubbs ukulele capos are manufactured without compromise. You can sense its quality just by holding it in your hand.
Testing this capo on many models and brands confirms that this capo is a perfect fit on all tenors, sopranos, concerts, and baritones except the baritones with very large necks. In that case, Shubb's banjo capo is a perfect fit.
Features
Fits tenor, concert and soprano ukulele models.
Width: 4.20 cm.
Material: Brass.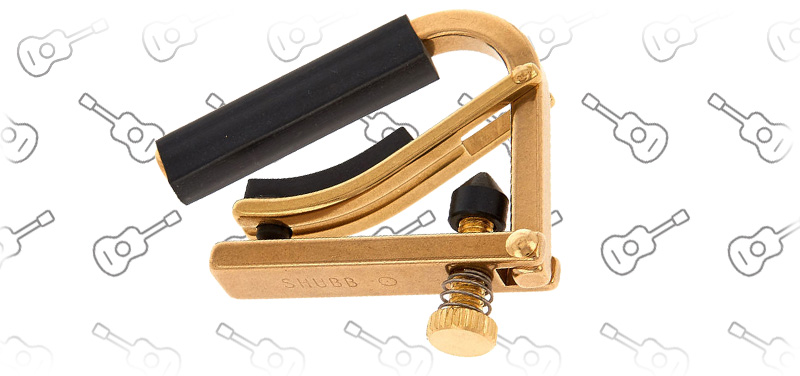 You Can Buy Shubb C9B Ukulele Capo on the Links Below!
---
6. Ortega OCAPOUKE-WND Capo Ukulele
Ortega guitars are established in 1994 when they introduced German design to authentic and traditional methods of guitar, ukulele, and accessories making.
They are committed to innovation and quality and strive to improve what is expected at every level of all our acoustic instruments.
In 2020 they brought some news for all their users when they updated the accessories line & string series with some new straps for guitars and ukuleles made from vegan materials.
The Ortega OCAPOUKE-WND Ukulele capo is more than just a simple ukulele capo, by many opinions is a world-class and best ukulele capo.
Made of sturdy aluminum, this ukulele capo is lightweight and is really easy to carry around with you and it won't damage easily.
Around the neck and fingerboard, the strong rubber cushion will fit nicely and will allow you to move your tuning up on the neck as many semitones as you like.
It really goes well with nylon uke strings and features an ergonomic clip-on handle that is really easy to use. With its decent/cheap price, this ukulele capo is highly recommended!
Features
Padding: Silicone.
Material: Aluminium Alloy.
Design: Walnut.
Includes Bag.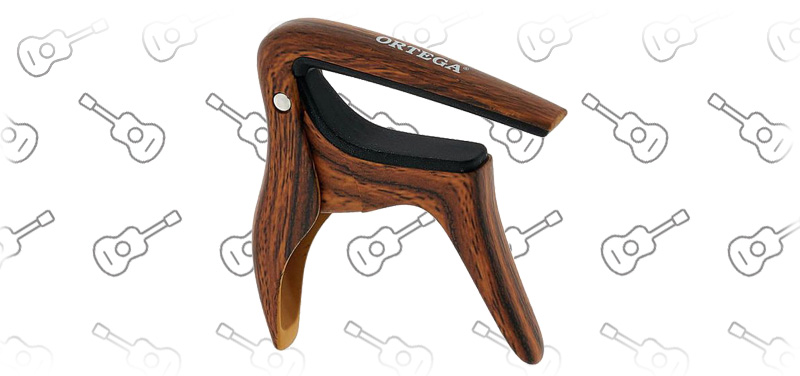 You Can Buy Ortega WND Capo Ukulele at the Link Below!
---
7. Shubb Capo L9 Ukulele
Shubb Capo L9 Ukulele weight is less the one ounce which is half of the weight of the original Shubb Capo.
The quality aluminum-framed Shubb L9 Lite promises rock-solid intonation anywhere on the fingerboard, all at a reduced carry weight.
If you like the precision tuning and hand-like grip of Shubb's best ukulele capos like many other players, but you are looking to minimize the weight on your instrument, then L9 is a great choice as a capo for your ukulele.
Shubb Capo L9 soft rubber pad works like a fingertip while its closing action is engineered more like the human hand no wonder they mention him as the best ukulele capo for many people.
As we already mentioned with the previous Shubb capo model, this capo won't pull your ukulele's strings off-center and there will be no need for re-tuning.
Shubb capos have enjoyed a 40-year legacy within the stringed instrument industry, and with the Lite Series, Shubb has proven that innovation does not have to compromise on tradition.
Features
For Ukulele straight fretboard.
Material: Aluminum.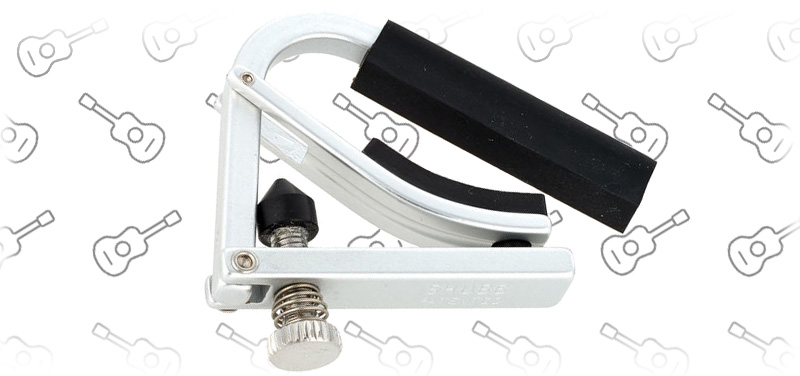 You Can Buy Shubb Capo L9 Ukulele at the Links Below!
---
8. Flight FC-EE Elise Ecklund Capo
Flight Elise Ecklund Signature Capo is made for ukuleles. This capo is an especially good fit for Flight ukuleles and comes at a very affordable/cheap price.
With this quality capo, you shouldn't be worried that you will feel a buzz or you will get any damage to your instrument.
The trigger design of the capo allows you to place and move the capo very easily, and quickly with just one hand. Flight FC-EE is made of an aluminum frame and with a stunning purple matte finish (one of Elise's favorite colors).
It is sure that Flight continues its partnership with YouTuber Elise Ecklund. It should be mentioned that this capo goes with Elise Ecklund's signature Flight ukulele and its' purple sunset and mountains.
Features
Elise Ecklund Signature Model.
The trigger design of the capo makes it possible to place and move the capo quickly with one hand.
Aluminium frame.
Purple lacquer finish.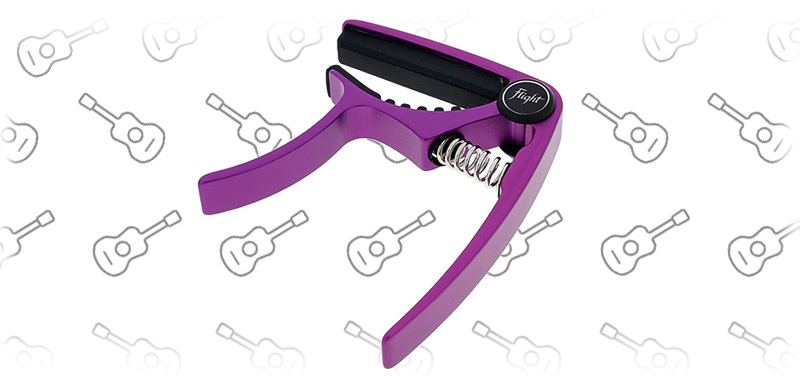 You Can Buy Flight Ecklund Capo on the Links Below!
---
9. K&M 30920 Kapodaster
K&M 30920 Kapodaster is a great little capo specifically made for ukuleles. The clamping mechanism on this capo can be operated quickly and very easily with just one hand.
The mechanism locks securely around your ukulele's neck and prevents any unwanted string buzz. The rubber padding secures the capo to the fretboard, prevents slipping, and scratches, and protects your uke finish.
The aluminum frame will protect your capo and can guarantee long-lasting durability. The slim design and subtle application don't interfere with your playing. This model is also suitable for musicians who want to expand the song possibilities of their uke.
Features
Especially for ukulele with straight fretboard.
One-hand operation.
Material: Aluminium.
Colour: Matte, chrome-plated.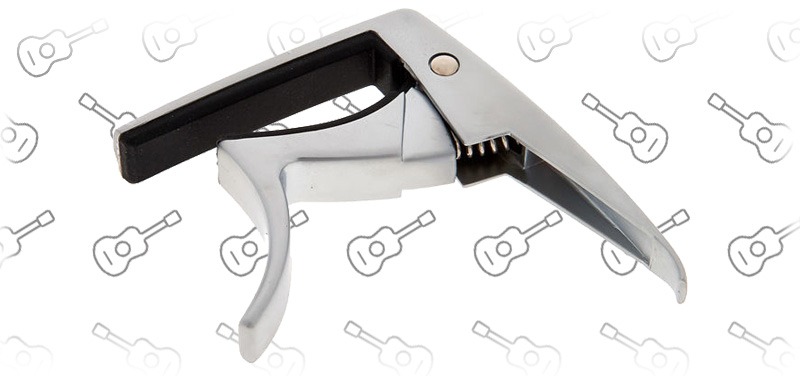 You Can Buy K&M 30920 Kapodaster on the Link Below!
---
10. Dunlop Bill Russel Capo Banjo/Ukulele
Dunlop Bill Russel Capo is convenient, light, and very simple to use. This capo allows easy repositioning without unfastening the capo but just moving it in the desired direction.
This capo is designed to fit Ukulele and Banjo fingerboards and Dunlop Bill Russel capo does his job pretty easily.
This capo is easy to put on and easy to pull off. A nice feature is that, if not in use, the capo can be hung just above the nut.
It works well, feels good, and looks good, for the cheap price this is one of the best ukulele capos and is definitely worth it.
Features
Elastic capo.
Banjo or ukulele.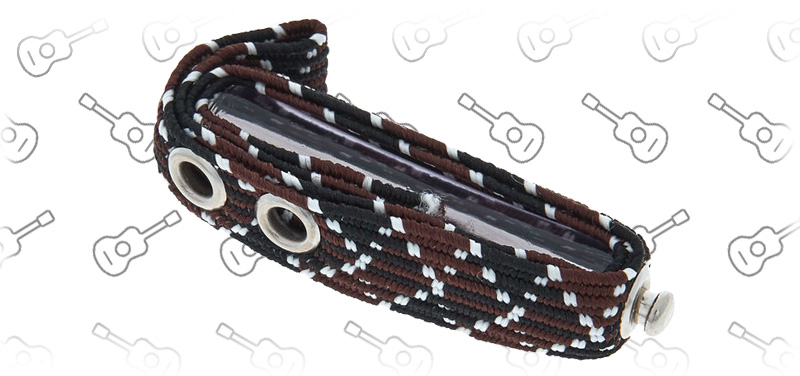 You Can Buy Dunlop Bill Russel Capo on the Links Below!
---
Bonus: Top 3 Guitar capos that you can buy in 2022!
1. D'Addario PW-CP-18 Cradle Capo
PW-CP-18 Cradle is one great guitar capo made of stainless steel with a self-centering design, which is able to even the tension across the fretboard.
This quality guitar capo has an adjustable micrometer that will allow you to put the perfect amount of pressure while allowing you the freedom for a quick transition.
PW-CP-18 has the ability to stay on the back of the neck of your instrument even when you are not using it and it is designed in collaboration with Ned Steinberger.
D'Addario is targeting to be very innovative when they are making professional musician's tools and surely they did a great job with this guitar capo.
Features
Developed in collaboration with Ned Steinberger.
Self-centering design ensures even tension across the fingerboard.
Fast installation with an adjustable micrometer for perfect pressure.
Can be "parked" behind the saddle when not in use.
Material: Stainless steel.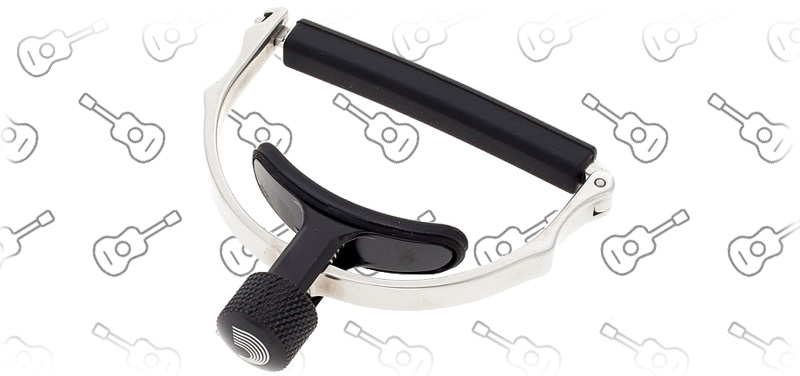 You Can Buy D'Addario Cradle Capo on the Links Below!
---
2. G7th Performance III Acoustic GD
G7th Performance III Acoustic GD Guitar Capo is a culmination of years spent working, designing, and improving.
But most importantly, being open to suggestions from experienced guitarists helped design this capo, to be one of the best on the market.
The ART system on the top bar of this capo mechanically adapts to the curves over your strings and fretboard. Being able to adapt so easily to the curves, this capo is making the pressure evenly across the fretboard and allows you buzz-free playing.
The non-reactive and protective silicone pads at every touchpoint will make sure that the finish of your instrument will remain safe while using this capo.
With little practice, you will be able to move Performance 3 very easily between frets and nearly as quickly as spring capo.
Features
For 6-string steel string guitars and electric guitars.
Adaptive Radius technology – silicone-padded string pad that automatically adapts to the fretboard radius.
Material: Die-cast zinc.
Colour: Gold.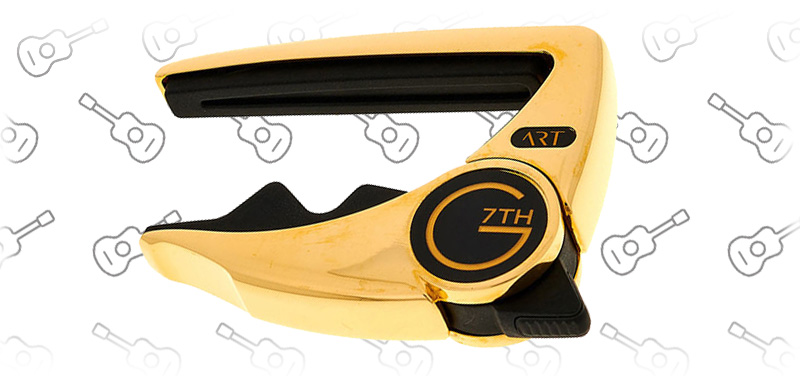 You Can Buy G7th Performance III Acoustic GD on the Links Below!
---
3. Dunlop Victor DCV-50F Flat Capo
Dunlop Victor DCV-50F Flat Capo is one awesome capo with a "vintage look" that looks very elegant while it stays on the guitar.
It has really nice appearance and the mechanics are very reliable because the strings are pressed evenly. That means the pressure made by strings over the fretboard is even.
It is designed with precision and you can be sure that your precious instrument will remain safe while you use the capo. It is not very fast to attach but the thumb wheel makes it easy to tighten/loosen.
This is a very good product made by Dunlop and to many users' reviews is well worth trying and will be at your service for a very long time.
Features
Adjustable string tension.
For straight fretboards.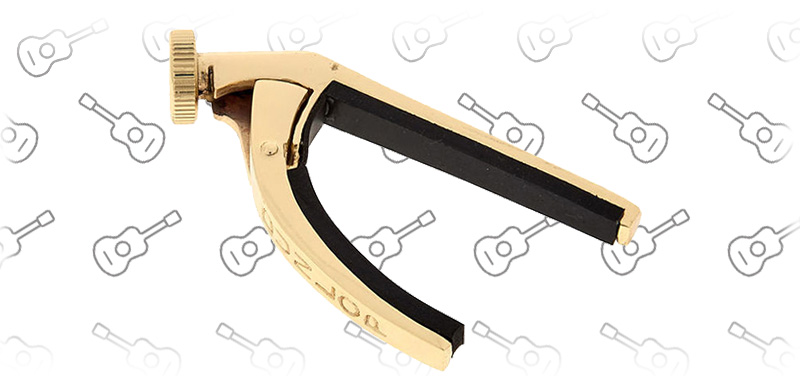 You Can Buy Dunlop Flat Capo on the Links Below!
---
Wrapping Up
Getting right capo
By user reviews, one of the most annoying things that may happen to you while playing is fret or string buzz, and that happens because your capo isn't tight enough and the strings are kinda loose.
You should be looking for one good tight clamp that will avoid the previously mentioned problems and make a perfect balance without making the strings too loose or tight.
Capo Flexibility
One more necessity for players is allowing them to use the capo with one hand, that is one great advantage that more sophisticated capos offer.
Choosing the right material
For this kind of accessory, aluminum seems to be the perfect material from which capos are made because it is very strong but light.
Padding is another factor that should be considered when buying a new capo. None wants to damage his fret or instrument, and using capos with rubber or silicone will be a great option.
We hope that our review will help you choose your new capo. Spread the word!
Happy Strumming!