Two Notes ReVolt Guitar Amp Simulator Pedal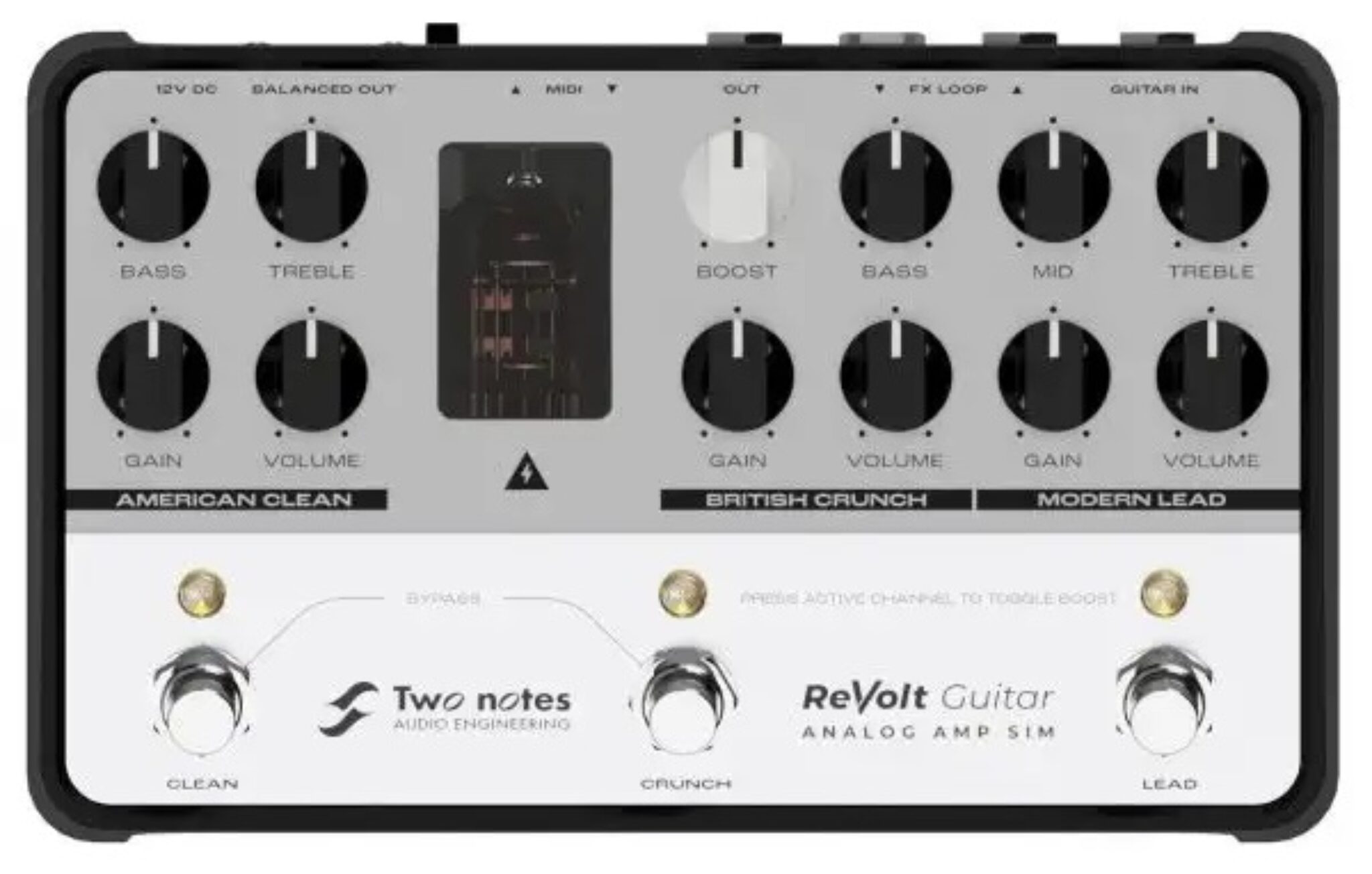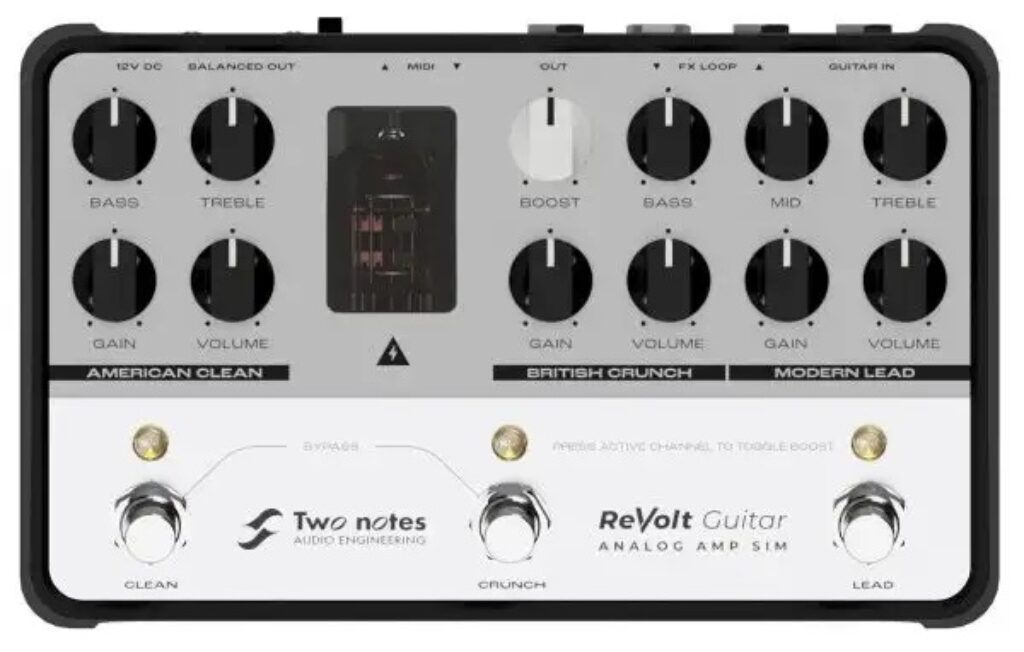 Guitar Pedal Preamp
Dimensions (W x D x H): 192 x 117 x 72 mm
Weight: 0.75 kg
---
Two Notes ReVolt Guitar Preamp Review
The experts in emulating electric guitar amps and cabinets have introduced its all-new ReVolt family of tube-loaded electric guitar amp simulators.
The ReVolt Guitar offers three channels, each of which offers distinct sonic variations modeled after popular guitar and bass amplifiers. The ReVolt Guitar aims to offer players "the ultimate in pure, unadulterated foundation tone".
All signals are routed through an analog circuit, and a 12AX7 preamp tube operates at a high voltage of 200 volts to inject warmth and bite into your tone.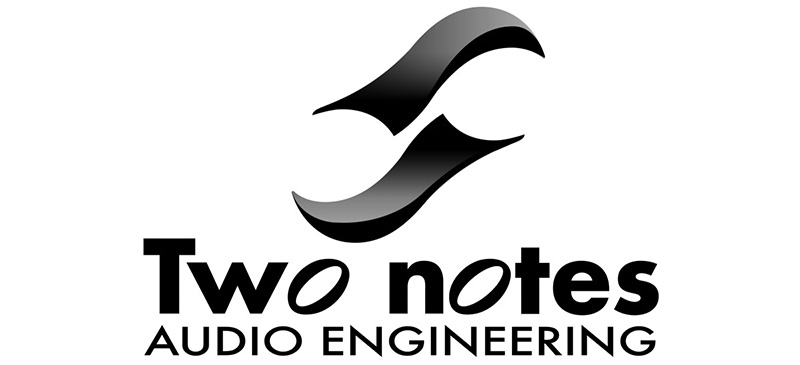 ReVolt Guitar Preamp Features
Three channel types inspired by Fender Bassman 100, Marshall JMP Superlead, and Soldano SLO 100 take center stage on ReVolt Guitar.
A classic foundation tone such as Channel 1/American Clean captures the essence of a lush, saturated warmth when pushed to the maximum. It is every thing you would expect from a Californian vintage tube amplifier from the early 1970s, engineered to take pedals like a dream and to deliver warmth, definition and headroom in spades.
The sound of Channel 2/British Crunch is not only legendary, it is the sound of legends. In order to fully comprehend Hendrix, Van Halen, Clapton, and Young, you must first understand Plexi. It has a punchy sound. The midrange is characterized by an unmistakable bite. You will be able to select from a wide range of tones, from fat muted cleans to guttural roars, with this instrument. To put it simply, nothing is beyond the capabilities of this channel.
'Channel 3/Modern Lead' pays homage to a preamp that redefined what a high gain amplifier could be. Harmonics are rich and the response is tight. Is there anything better than searing, perfectly balanced gain coupled with ample sustain? Guitarists who venture into hard-rock and metal territory should consider this as a "triple threat."
---
We find the DI to be convenient. There is no doubt that it is reliable. Surgically controlled to the smallest iota, it is a pure, unadulterated tone. One drawback, however, is that it lacks the warm sound that is synonymous with tube amplifiers.
The 12AX7 preamp tube from ReVolt operates at a voltage of 200 volts and has been specifically tuned to enhance the tone of your amplifier with undeniable tube mojo. In the end, the result is amazing. The convenience of a DI signal is retained, but now there is also the warmth and bite of tubes as well as the all-important response only tubes can provide.
Performing well requires the use of the appropriate tools. If you are interested in cutting above the mix, or simply driving ReVolt Guitar's all-analog signal path, the integrated OD-Boost circuit is the answer.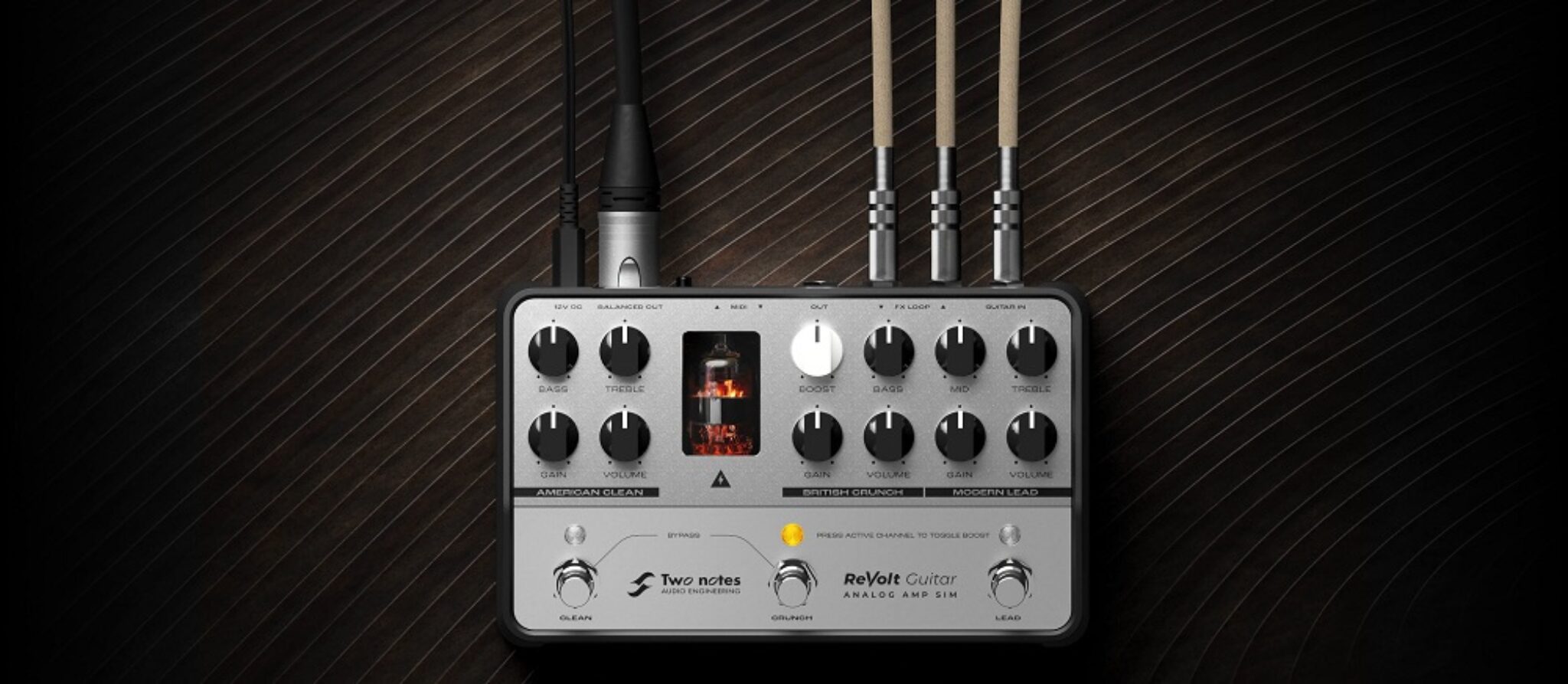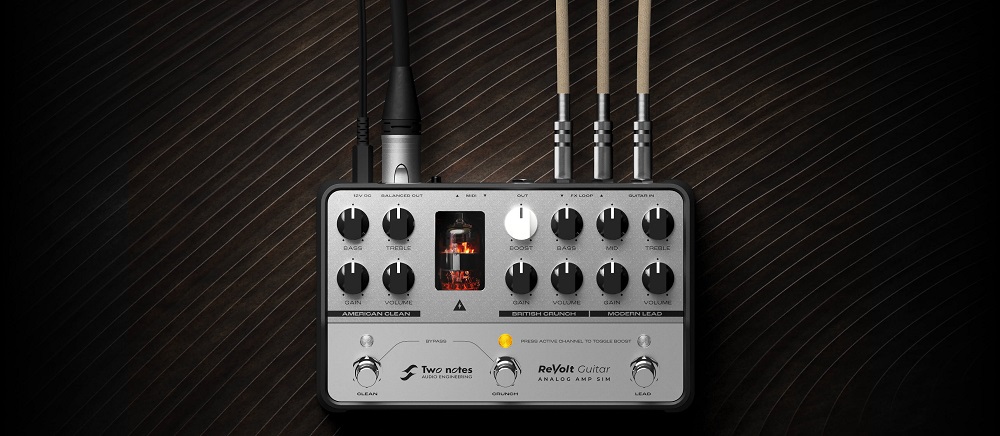 By setting up your boost level and tapping the footswitch for the active channel, you will be able to experience boosted clarity and lush harmonic overtones. The three channels on the ReVolt, each guarantee a unique response to the OD-Boost, so you are able to craft the tone of your choice.
Creating pristine guitar tones requires the use of the appropriate EQ. On channel 1, ReVolt Guitar offers a two-band EQ, while channels 2 and 3 feature a shared three-band EQ. The EQ has everything you would expect from an EQ: musically harmonic in all the right places and precisely tuned. With everything from sultry muted jazz chords to an ominous mid-range scoop, creating your own signature sound has never been easier.
For standout tone, it is imperative to have a great recording space, high-quality microphones, and an expansive collection of recording equipment. Where does the problem lie? There is no such thing as a sure-fire guarantee when it comes to them.
The ReVolt Guitar analog cabinet simulation is based on a Marshall Slash Signature 4×12, making it a perfect choice for musicians seeking reliable sonics. Plug in the cab sim, hook up to a mixer, PA or FRFR cabinet, and you are ready to record or perform practically anywhere.

ReVolt Guitar Preamp Connectivity and Design
It is understandable that you would expect the highest level of flexibility when it comes to connectivity. No matter what the setup scenario may be, ReVolt Guitar delivers. As a first step, we recommend going direct – it is simple and sounds incredible.
When you operate your amp head in 4-Cable mode, you will be able to add three pristine channels. To make the most of your hybrid setup, hook up ReVolt to the FX return of your amplifier; you will be able to take advantage of its power amp stage while maintaining the natural color of your cabinet.
When it comes to getting the best out of your pedal collection, ReVolt Guitar offers a variety of options, including a FX return and a font-loading option that is unparalleled in the pedal market.

The all-metal ReVolt Guitar is compact enough to fit center stage on your pedalboard, and is built to withstand the rigors of live performance.
With the purchase of ReVolt Guitar, you will receive an exclusive 10-cab pack worth $100, allowing you to explore the unrestricted world of DynIR virtual cabinets. Each Two notes DynIR contains the power equivalent to 160,000 studio-grade IR files, allowing even the most discerning tone chaser to customize the sounds to their requirements.
Eight microphones per cabinet, dual micing, and 10K mic positions (front and back) make it easy to find your signature sound and unleash your tone.
ReVolt Brief Features
Fully analogue preamp & guitar amp simulator
Inspired by the sound of three legendary UK and US amps
12AX7 preamp tube
Integrated OD boost
Analogue cab sim for live DI & recording
FX Loop and MIDI In/Out
Includes 10 Series-G DynIR cabinet
Effect loop-in: Serial
Input: 6.3 mm jack
Output: 6.3 mm jack
FX Send & Return: 2x 6.3 mm jack
DI Out: XLR
Aux In: 3.5 mm stereo jack
---
Why To Go For the ReVolt Preamp
If you are after a very versatile preamp and tone shaper, all neatly placed into a guitar pedal, then this is the right choice for you. The ReVolt completely changes the game and many fanatics in guitar playing will benefit from this amazing unit.
With a really good price that will not break your pocket and leave you with no additional budget, this is a really friendly unit that will take you to another stage in terms of sound coloring and quality. Our suggestion is to go ahead and try it out because that will hook you to it!
Two Notes ReVolt Guitar Preamp Review
The ReVolt Guitar offers three channels, each of which offers distinct sonic variations modeled after popular guitar and bass amplifiers. The ReVolt Guitar aims to offer players "the ultimate in pure, unadulterated foundation tone".
Pros
Great Many Features
Amazing Tube Sound
Great Fit On Pedalboard
Cons
Front inputs might create cable mess
Small letters on the knobs (hardly readable from above)
Conclusion
To conclude the review what are going to is is this: great unit for a great price. We werent hesitant about suggesting this unit since it is a great-sounding one and will improve your guitar sound for a significant amount.
If you are having any additional questions about this device, please let us know in the comment section below, or reach out to the respected developer for more in-depth answers!