Empress ParaEq MKII Deluxe Equalizer and Boost Pedal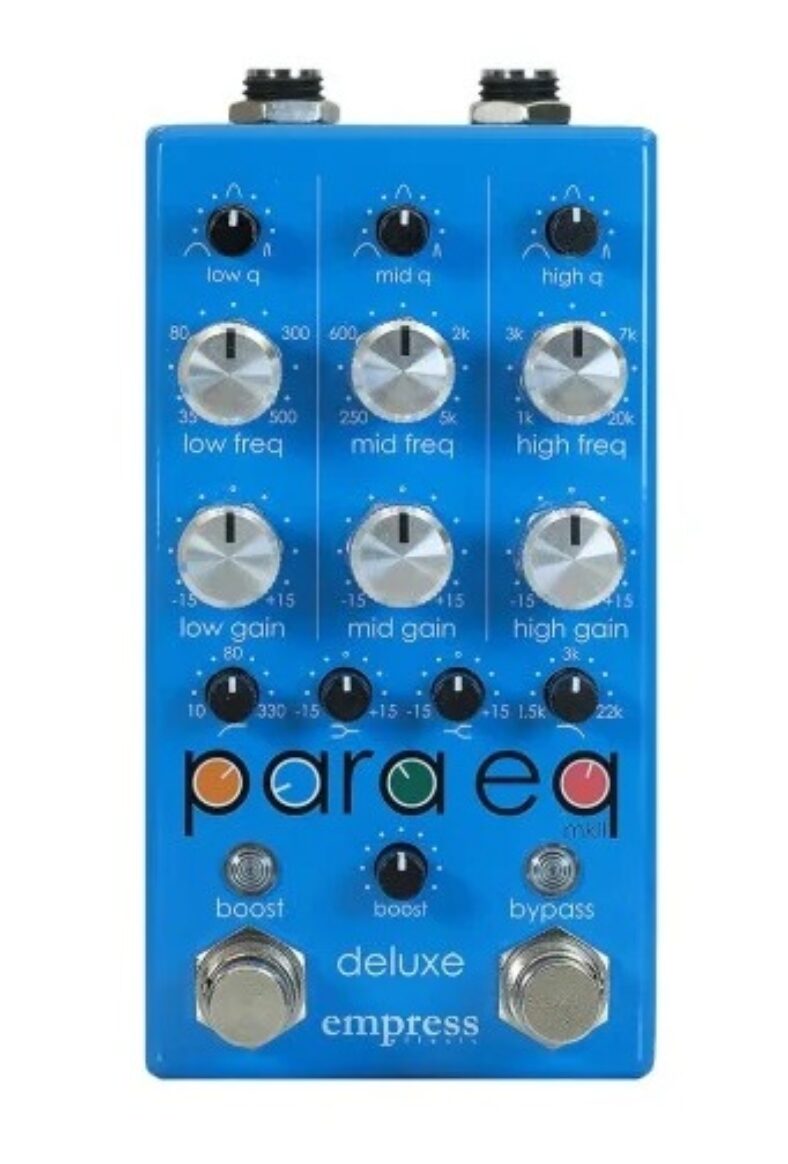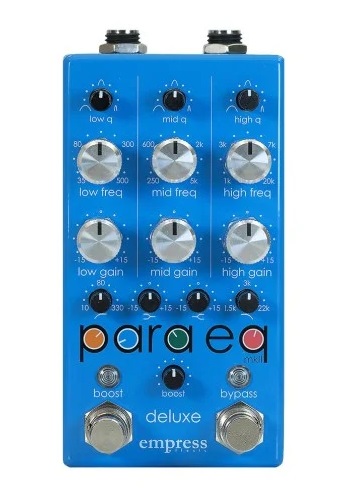 Equalizer and Boost Pedal
Power supply via 9 – 18 V DC mains adapter (not included in delivery – suitable mains adapter
Made in Canada
---
Empress Effects ParaEQ MKII Deluxe Review
We are pleased to announce the return of the #1 EQ pedal – now better than ever! Here it is – the most sought-after Parametric EQ pedal has been upgraded with groundbreaking features. There has been no change to what people liked about the original ParaEq, but more fidelity and control have been added.
Over the last decade, ParaEQ has been trusted and loved by musicians on a wide variety of instruments. With a low-noise, transparent signal path, the ParaEQ MKII Deluxe offers extremely versatile capabilities. By combining three fully parametric bands, you can achieve broad tonal shaping while fine-tuning your sound to perfection.

ParaEQ MKII Deluxe Features
Empress has retained everything people enjoyed about the original, but made it even more powerful with the reintroduction of the ParaEq. A lower noise circuitry and a large 27V of headroom have enhanced the already outstanding purity of the audio path. For maximum convenience, they have also managed to pack it all into a pedalboard-friendly footprint.
With three bands of parametric EQ, each with fully adjustable Q width knobs to ensure perfect EQ curves, this is an extremely flexible EQ. In general, it is best to set the Q wide so that you can shape the tone generally and be as transparent as possible. With a medium Q setting, you can eliminate boxiness from the low mids to reduce harshness, and add a bit of warmth to the upper mids.
Setting the Q to narrow is an effective way to eliminate feedback when playing acoustic guitar. As well as amazing sounding Baxandall high and low shelving filters, the ParaEq Deluxe also features 12/dB/Oct high and low pass filters for maximum signal cleanup, making it one of the most feature-rich guitar pedal EQs available today.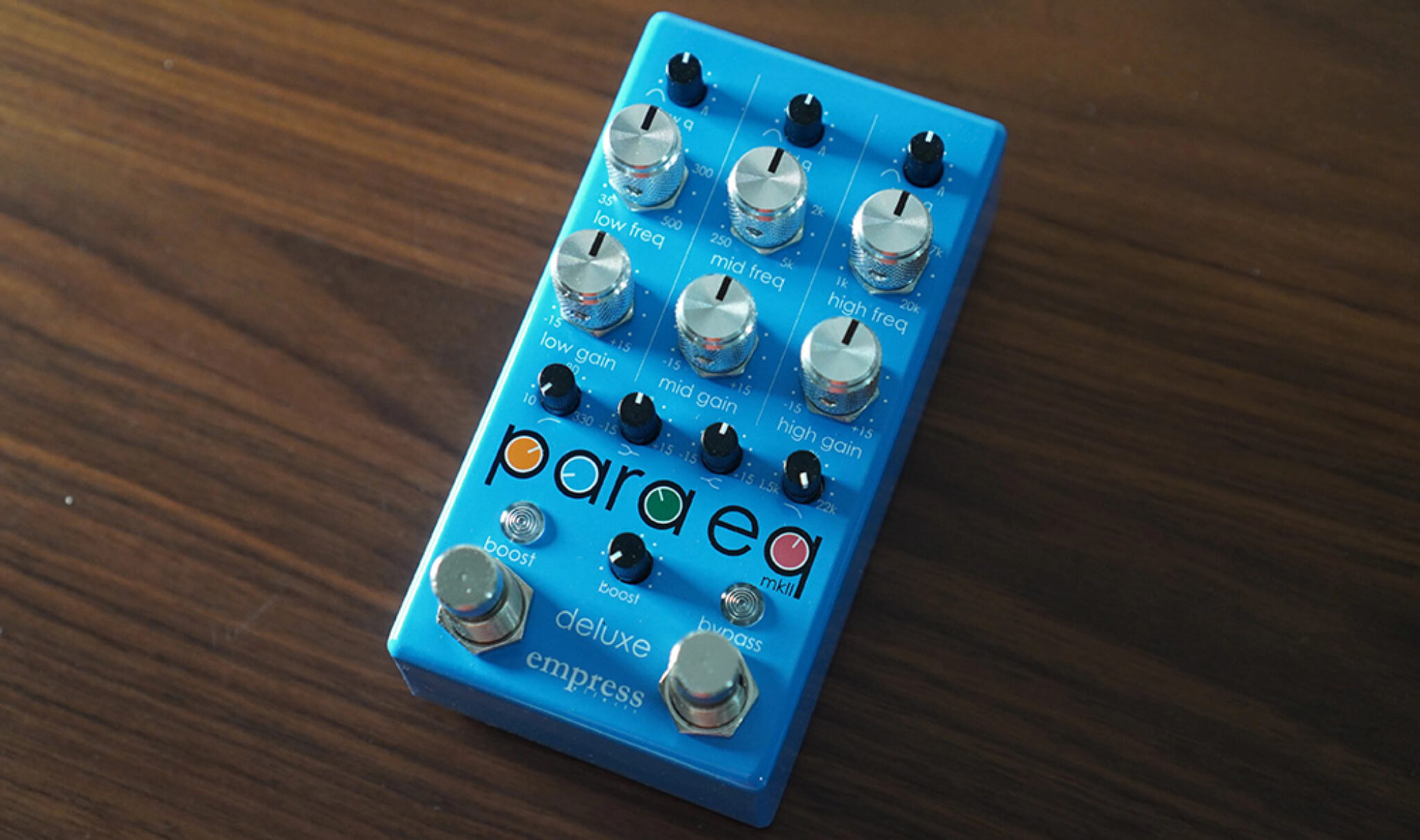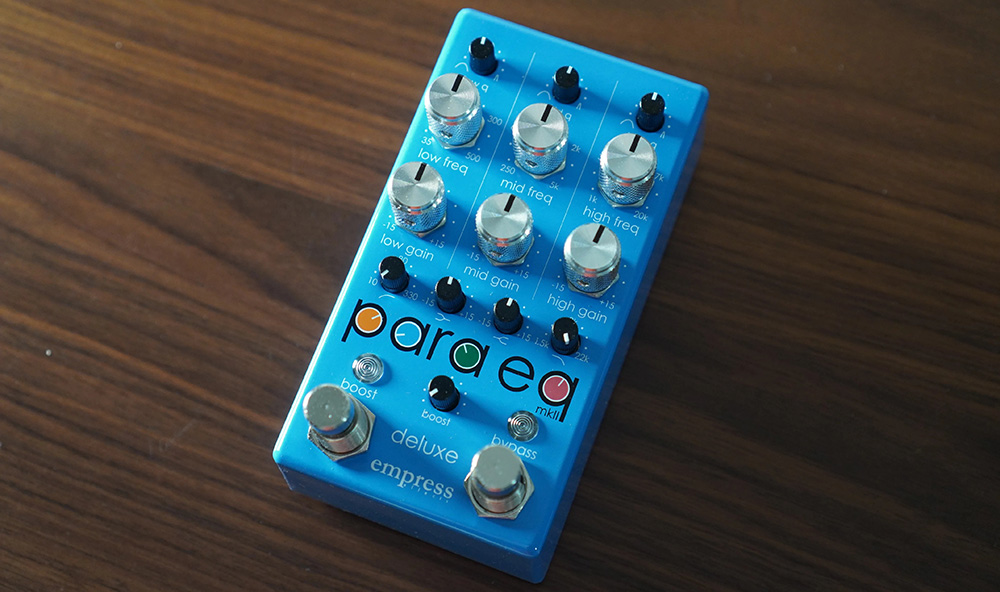 A clean boost of +30 dB is offered by the Boost section, which may be set to work together with the EQ section as a make-up gain when performing subtractive EQ, or it may be used separately as a pure clean boost. It is ideal for boosting the volume of your solos or hitting the front end of a tube amplifier for a bit more break-up.
ParaEq MKII's signal path consists of components of the highest quality, selected to create an organic sound. This transparent and sweet-sounding EQ enhances the tone of your musical instrument without masking the true essence of its sound, whether it is the guitar, bass, synthesizer, or human voice. It will be a real challenge to make this thing clip, as Empress has increased the internal headroom to 27V.
There was less than 0.05% distortion measured by Empress, resulting in a pristine sound. Having a true bypass means you will never have to worry about your tone being sucked dry.
A number of advanced configuration options are available, including buffered bypass, independence between the EQ and boost controls, and configuration of the startup state. Having top-mounted jacks allows the pedal to be patched up into your pedalboard as cleanly as possible while occupying a fraction of the space as Empress's former enclosures.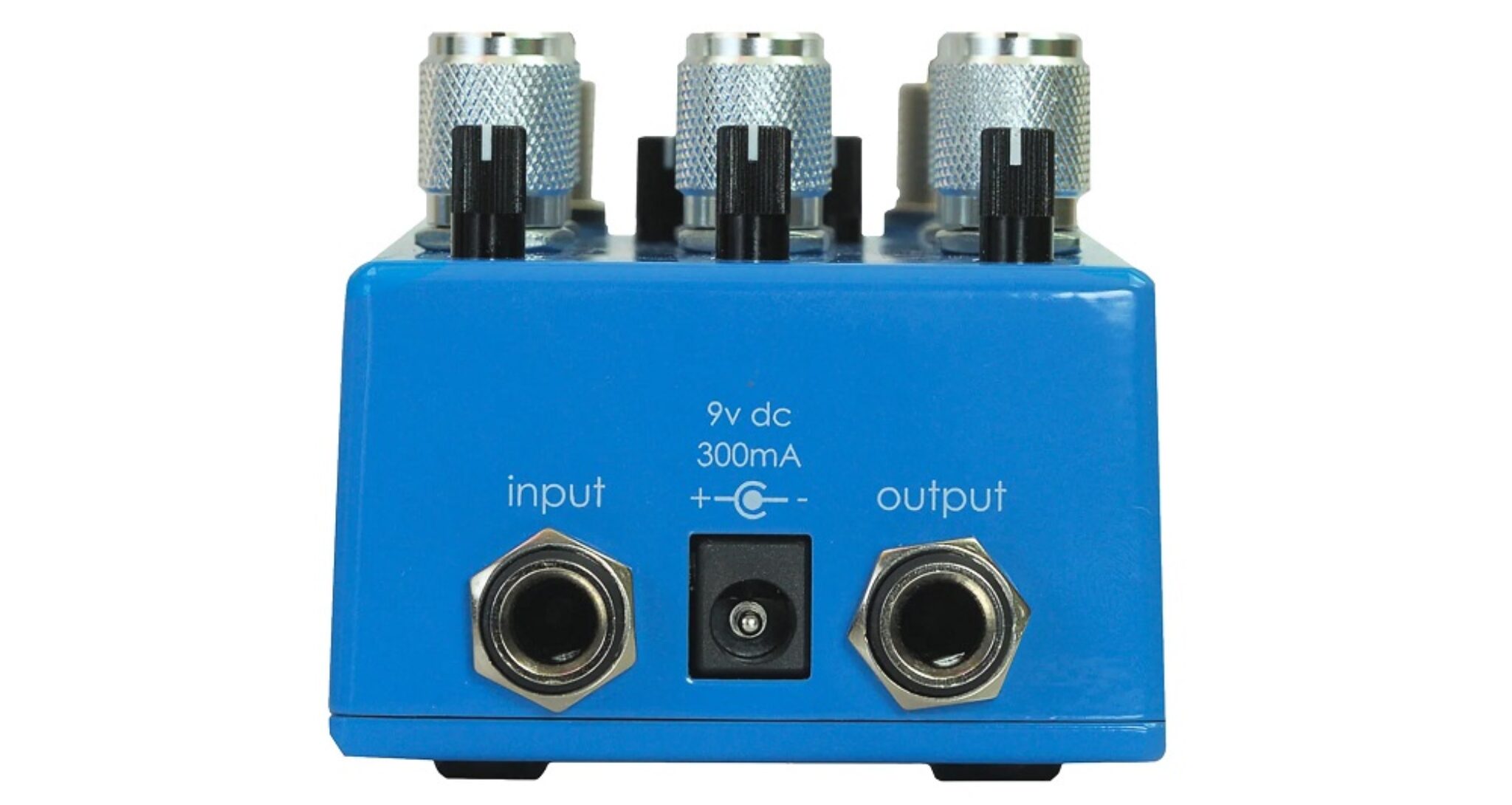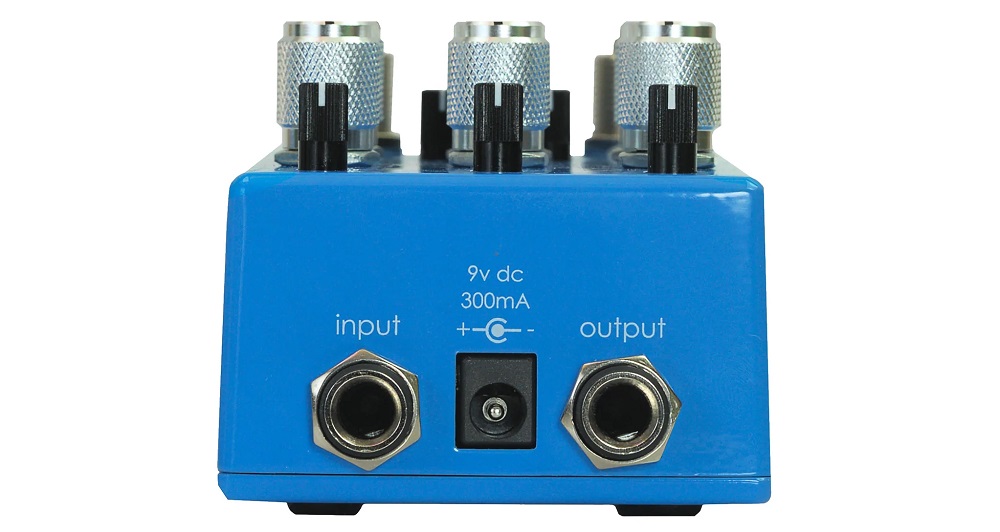 As you can boost the signal level multiple times in parametric EQ circuits, you can run into trouble with headroom. It was extremely important to increase the headroom in order to avoid harmonic distortion and clipping. ParaEq MKII pedals have been completely redesigned in order to improve the original design. In terms of performance, they are comparable to rackmount equipment.
In spite of the fact that these pedals are powered by standard 9-volt DC connections, they have a headroom of 27 volts, which is three times that of a regular guitar pedal. In order to ensure very low noise and keep your sound as clean as possible, they are using a switching regulator in conjunction with a filtering system.
ParaEQ MKII Deluxe Brief Features
Input Impedance: 1MΩ
Output Impedance: 100Ω
Frequency Response (-3dB): 22Hz – 25kHz
Total Harmonic Distortion: < 0.05%
Noise: > 107dB
Input Voltage: 9VDC Centre-Negative
Required Current: 300mA
True Bypass: Yes
Stereo/Mono: Mono
---
Why To Go For the ParaEQ MK2 Deluxe
Being one of the most versatile EQ pedals, the ParaEQ MK2 deluxe is a perfect choice for guitarists and all instrumentalists that use pedal effects and are in need for precise EQing in a small box fitted in a pedalboard.
What really stands out from this pedal is the high headroom, clean sound and original built kept from the developers. Maybe it is a little bit more priced than a regular guitar EQ pedal, but you are getting what you are paying for. Truly amazing EQ pedal that can be used for many purposes, from studio recordings to live acts!
Empress Effects ParaEQ MKII Deluxe Review
With a low-noise, transparent signal path, the ParaEQ MKII Deluxe offers extremely versatile capabilities.
Pros
Great Versatility and Sound
Compact and Sturdy
Great For Many Instruments – Not Only Guitars!
Cons
Might be over the budget for some users
We prefer side-mounted inputs and outputs
Conclusion
This can be a great addition to any player. If you are prepared to spend a little bit more than usual when it comes to getting a new pedal, then you are in for a treat. The ParaEQ MKII Deluxe is a sweet sweet unit that we personally like to use in the studio for treating signals with some hands-on EQ power!
In case you are having any questions about this beautiful EQ pedal, please let us know in the comment section below or reach out to the developer for more in-depth answers.