Mad Professor Sweet Honey Overdrive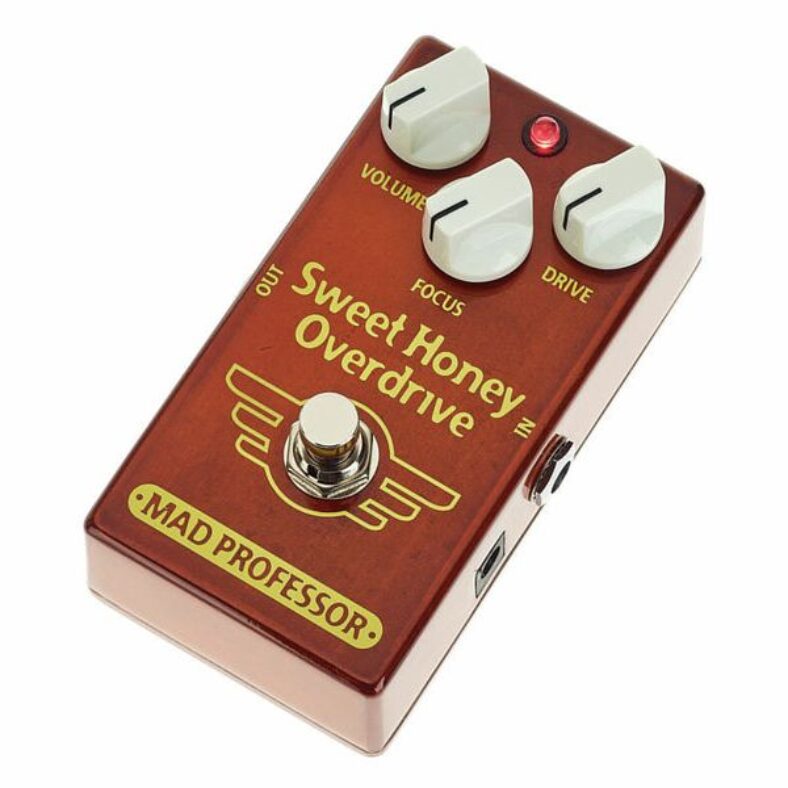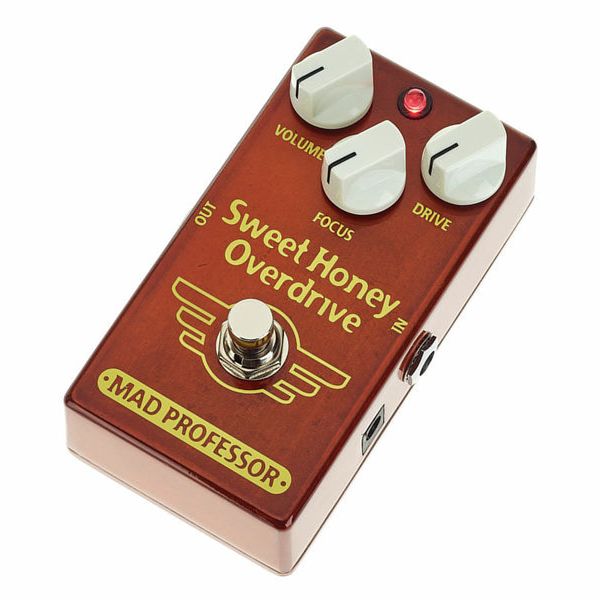 Overdrive Pedal
Item Dimensions LxWxH: 5.1 x 3.1 x 2.4 inches
Item Weight: 0.75 Pounds
---
Mad Professor Sweet Honey Overdrive Review
There is a pedal manufacturer called Mad Professor in the north of Finland that makes the Sweet Honey, a low gain OD that has an extremely touch-sensitive design that let us pick attack and pickup strength come through during play.
Throughout its history, there has been much buzz surrounding Sweet Honey Overdrive. With the recent release of Mad Professor's PCB versions of their Hand-Wired pedals, these boutique beauties have become even more widely available.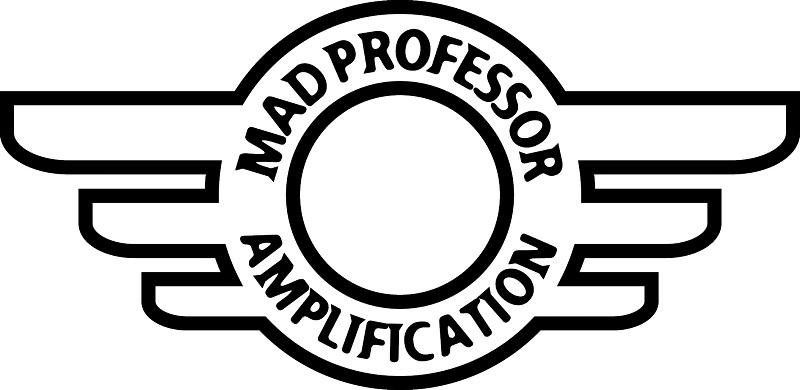 Interested in more overdrive pedals? Head Over Here!
Sweet Honey Overdrive Features and Design
The Sweet Honey Overdrive PCB is housed in a metal enclosure which makes it as rugged as you would expect. Located on the right-hand side is a compartment for a 9V battery that can only be accessed by removing the four screws from the base plate.
In addition to its tough aluminum chassis, the build itself is very strong and tight. There is no doubt that this pedal has the feel of a professional grade pedal, but it is also characterized by a very alluring paint job that makes it stand out from the rest, consisting of an amber translucent finish that resembles the varnish on a violin.
As a matter of fact, it appears as if it had been painted by hand, with some lumps and inconsistencies. Even though it does not diminish its charm, you can argue that it enhances its reputation as a hand-crafted pedal.
This dynamically controlled, pick-sensitive overdrive is designed to push a distorted amp into full-on mayhem and push a clean amp into a dynamically controlled, full on distortion. There is a Focus knob, as well as Volume and Drive controls, so the Focus knob can be used to adjust how easily the circuit distorts as well as the overall EQ setting.
The effect is mellower when you turn the knob counterclockwise, while the effect is slightly boosted and more pronounced when you turn the knob clockwise. The Mad Professor recommends starting at 11 o'clock. It is possible to describe the tones created as modern and nothing short of outstanding.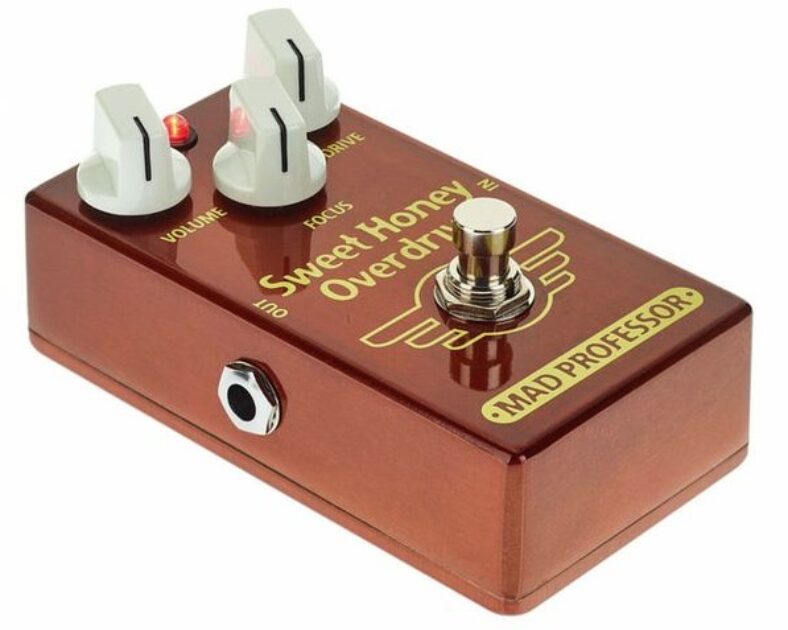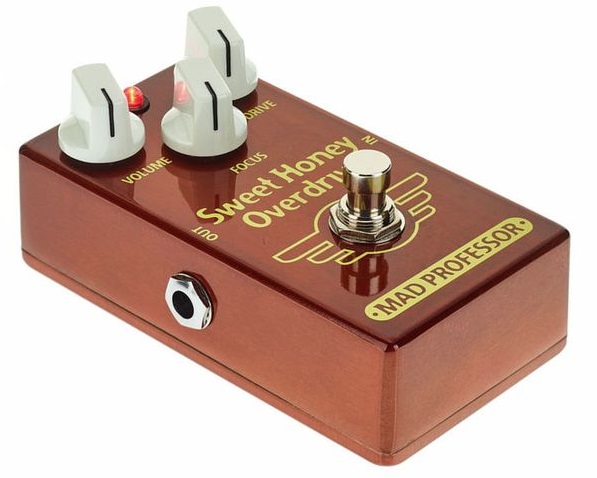 Mad Professor SHOD Sound
The focus control must be pressed down hard at low settings to achieve a distortion effect. It is also ideal for blues and jazz as it produces a gentle tone. You will notice a slight treble spike and early distortion when you adjust the focus clockwise.
Previously, this form of overdrive could only be found in the Honey Bee pedal. Nevertheless, it is now also available in the Mad Professor version. Because it can be used with a variety of guitars and amplifiers, the SHOD provides a smoother and more adaptable experience.
This pedal behaves similarly to a great tube amplifier in that it settles down when you ease off your attack upon the guitar's strings, yet it can also produce harmonically rich overdrive when you request it. No discernible background noise can be heard in almost any setting of the pedal, and the overall sound quality is excellent.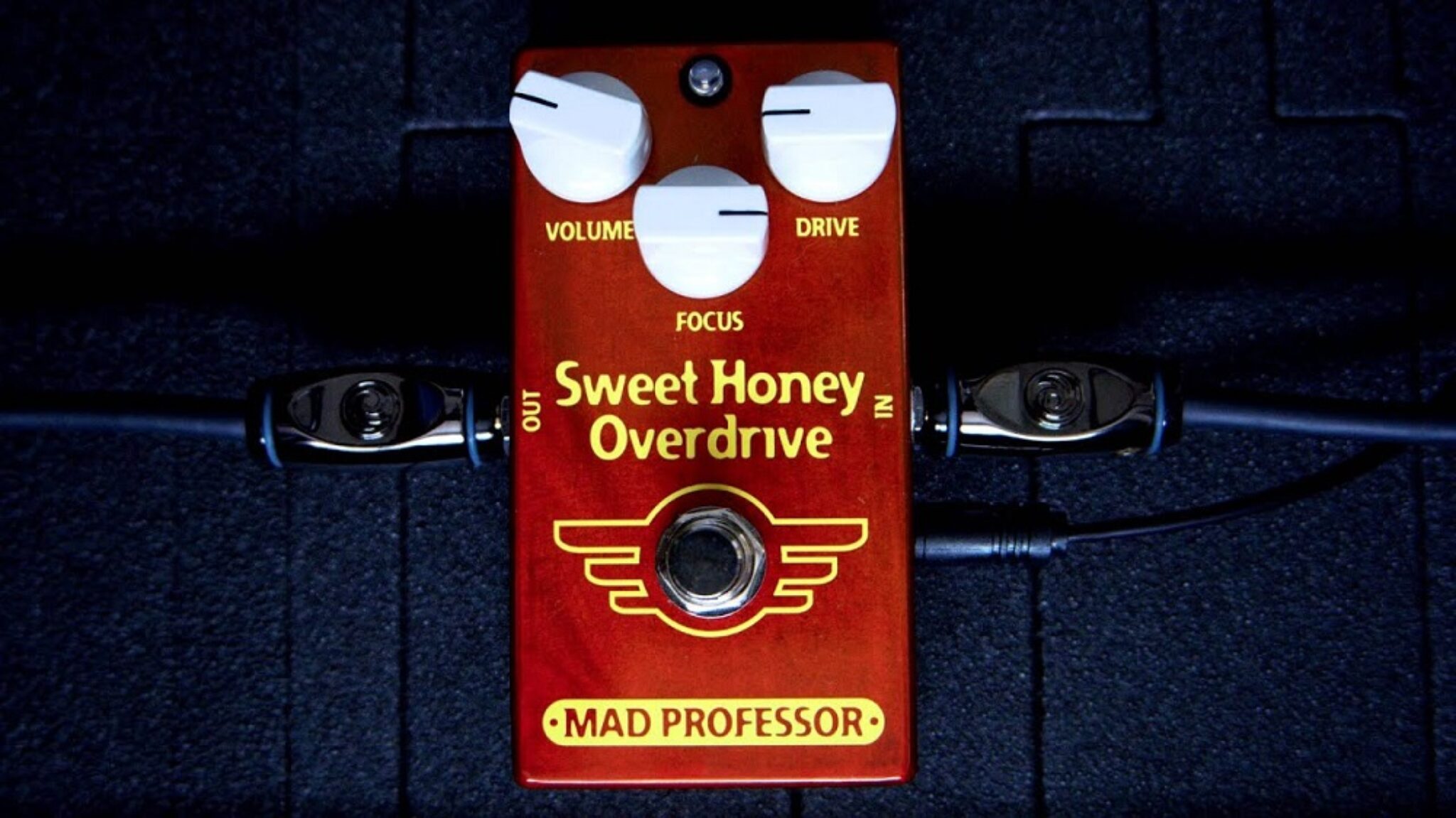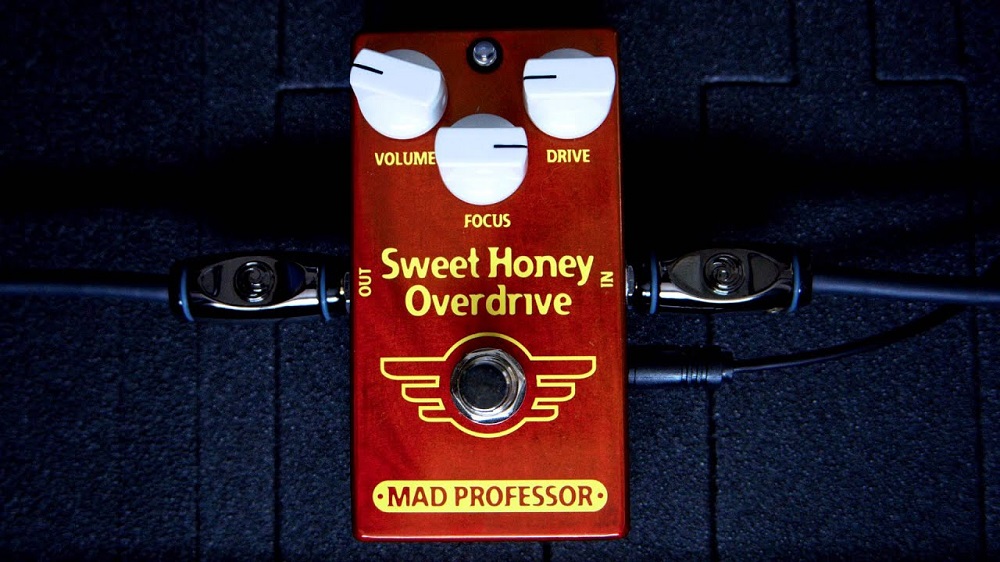 In addition, as is the case with most top overdrives today, it does not mask the original sound of your guitar, which means that your signature tone is never compromised, but rather refined.
Despite the fact that it can be used in a wide range of modern rock situations, the Sweet Honey sounds as if it were designed with blues and classic rock in mind. Additionally, it can be made a bit heavier by combining it with an overdriven amplifier channel. You will also be pleased to know that it works equally well with both humbuckers and single coils.
A manual recommends placing the Sweet Honey Overdrive the beginning of your signal chain. It is best to run the pedal straight up front in order to achieve the best interaction between the guitar's volume control and the pedal's gain.
With a little bit of experimentation, you should be able to find some good options with some good effects before it such as a wah wah, compressor, clean boost, equalizer, etc. Sweet Honey Overdrives are handcrafted in Finland using high-quality parts. As a result, excellent musical quality will be maintained for decades to come.
SHOD Brief Features
Overdrive
Jacks mounted on Sides
True Bypass
Battery Feature
Polarity Center Negative
Analog
---
Why To Go For The Sweet Honey Overdrive
Despite the fact that many guitarists will use either a pedal or an amp to achieve overdriven guitar tones, the SHOD offers a wider range of tones due to the finer control you have over the Bass, Treble, and Clipping characteristics.
Stacking it with another pedal or dirty amplifier sounds very good, so we would anticipate that people who play rock, pop, alternative, country, praise & worship, funk, and blues would be very pleased with it.
All in all, if you are after something that will boost and add harmonics to your guitar sound, this is an amazing option to go for, ensuring you that will produce a high quality sound that will blast your listeners!
Mad Professor Sweet Honey Overdrive Review
The Sweet Honey Overdrive PCB is housed in a metal enclosure which makes it as rugged as you would expect.
Pros
Simple and Effective
Amazing Sound Quality
Great Harmonics Added
Cons
Might be pricey for some
May be too simple for advanced players
Interested in the Deluxe version? You can check it here!
Conclusion
Mad Professor decided to offer these PCB based overdrives in light of the increasing number of outstanding less-priced overdrives available today. Although players who prefer the quality of hand-wired pedals can still purchase them, those on a budget will find that the Sweet Honey Overdrive PCB pedal is a great pedal despite its different construction.
It is unlikely that you will notice any difference between the original and this less expensive variant once you add pickups, amp settings, and other effects to the equation. If you are having any questions about this pedal, please let us know in the comment section below and we will be more than happy to answer to you!