Boss SL-2 Slicer Audio Pattern Processor Pedal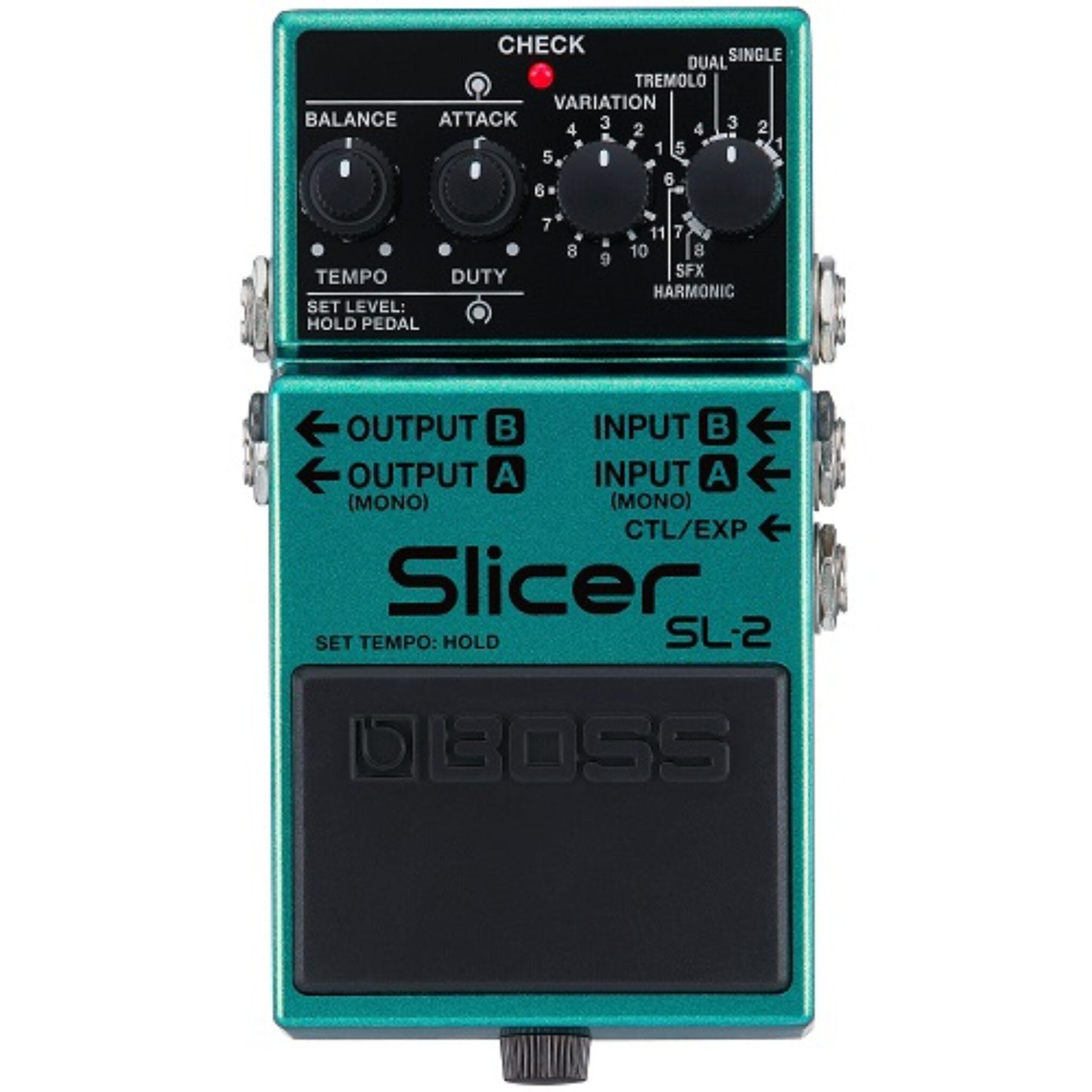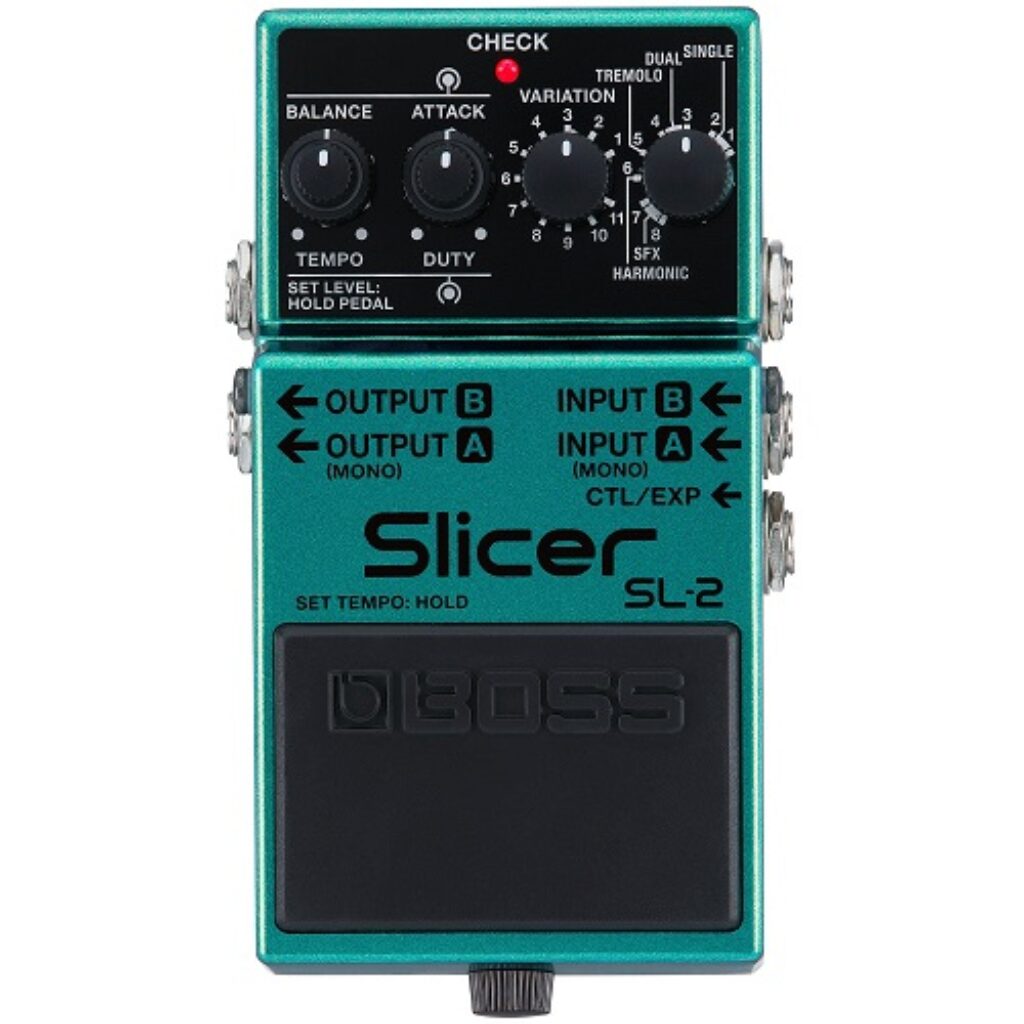 MIDI In (1/8″ TRS-Jack)
Barrel Connector 5.5 x 2.1 mm
Weight: 490 g (1,08 lbs)
Dimensions (W x D x H): 73 x 129 x 59 mm (2,87″ x 5,08″ x 2,32″)
---
Boss SL-2 Slicer Review
An exciting new creative tool from Boss, the SL-2 Slicer is jam packed with colorful sonic grooves and rhythmic energy. This device enables you to slice up your sound into unique percussive patterns, many of which have internal filters and effects, adding a new dimension to your setup. Adapting the Boss compact format you know and love, the SL-2 offers expanded features in the same compact format as the legendary SL-20 Slicer.
Often used by musicians with an experimental bent, the Slicer effect chops up incoming signals into small particles and imparts a fleshy attack to create percussive, musical effects. In this case, there are 88 onboard memories available, divided into eight types of patterns.
As a multi-effects processor, the Slicer has always been a niche effect. For guitarists who enjoy tremolo – particularly those with a strong desire for the staccato chop – it has always offered the tantalizing prospect of a more aggressive staccato chop, an effect that is sure to give your sound a sense of drama. All of those functions are provided by this product.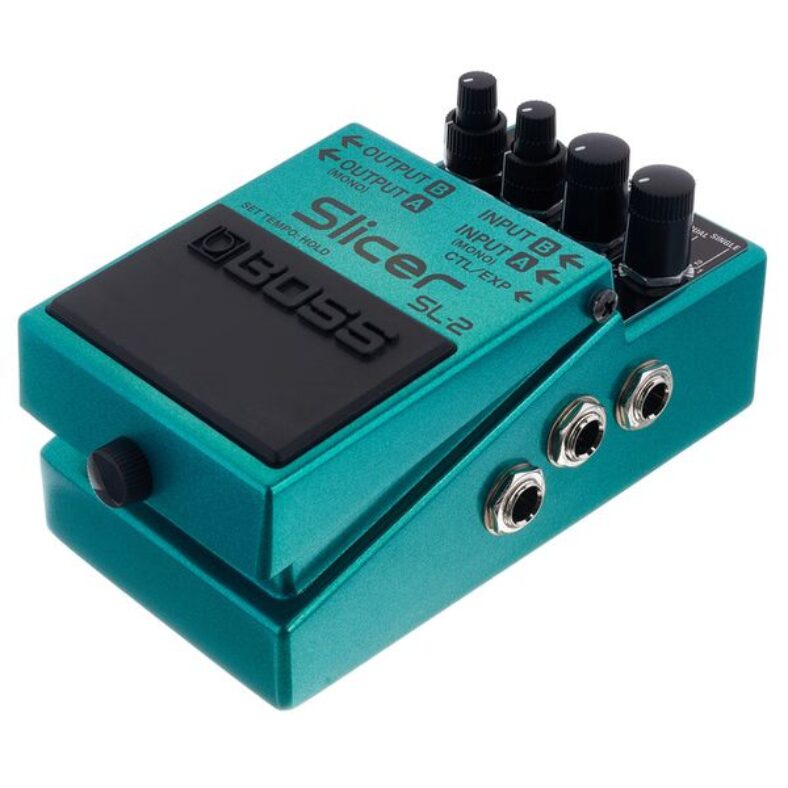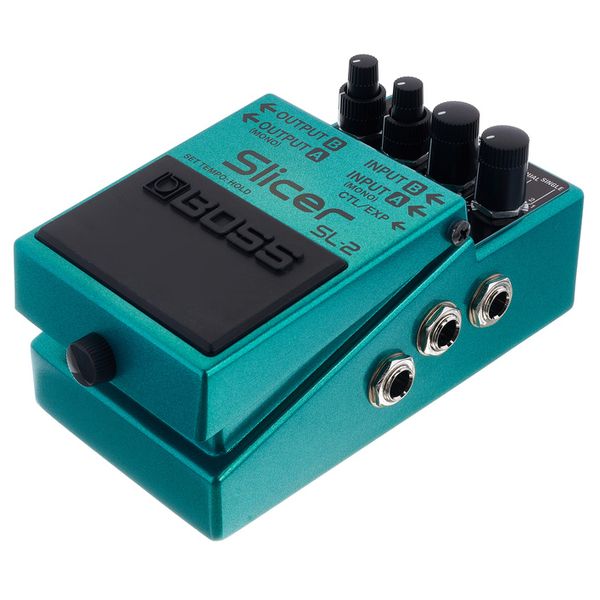 SL-2 Slicer Features and Design
By utilizing the SL-2's efficient interface, users are able to create sophisticated textures in a matter of seconds. There are two knobs that control waveforms for a wide range of audio effects, from hard, percussive chops to soft, fluttering tones.
By holding the pedal switch, tap tempo mode can be enabled hands-free, or the tempo can be adjusted with a dedicated knob. You can control the direct/effect mix with a Balance knob and +/-12 dB of output level adjustment.
With its mono setup, the SL-2 delivers a wide range of impressive sounds. However, things become even more efficient when two outputs and seven output modes are used. Various stereo and 3D processing options enable players to surround their listeners in animated movement, and direct and effect sounds can be sent to different locations.
SL-2 can be combined with other stereo pedals to add even more magic to grooves thanks to its stereo input.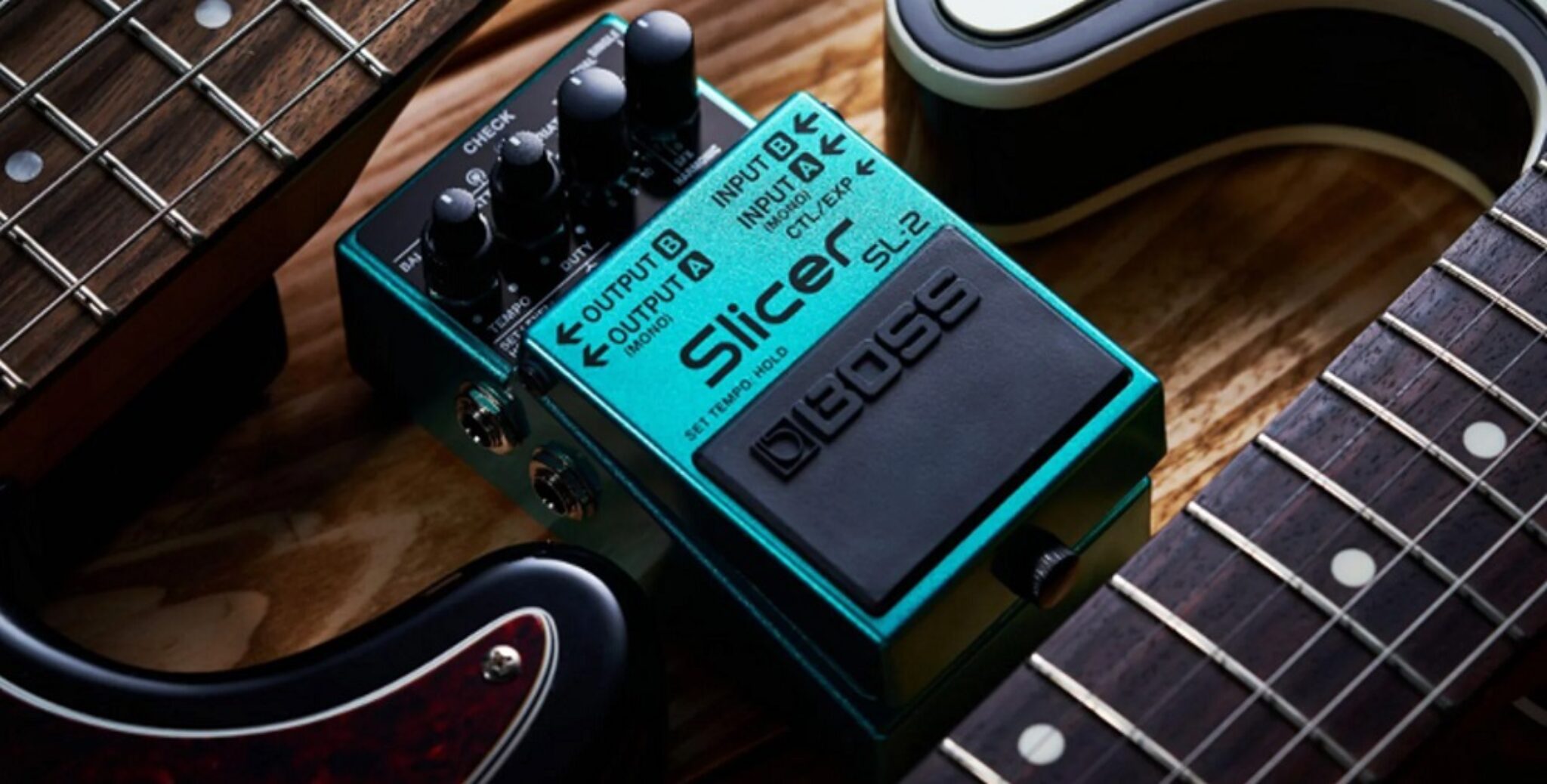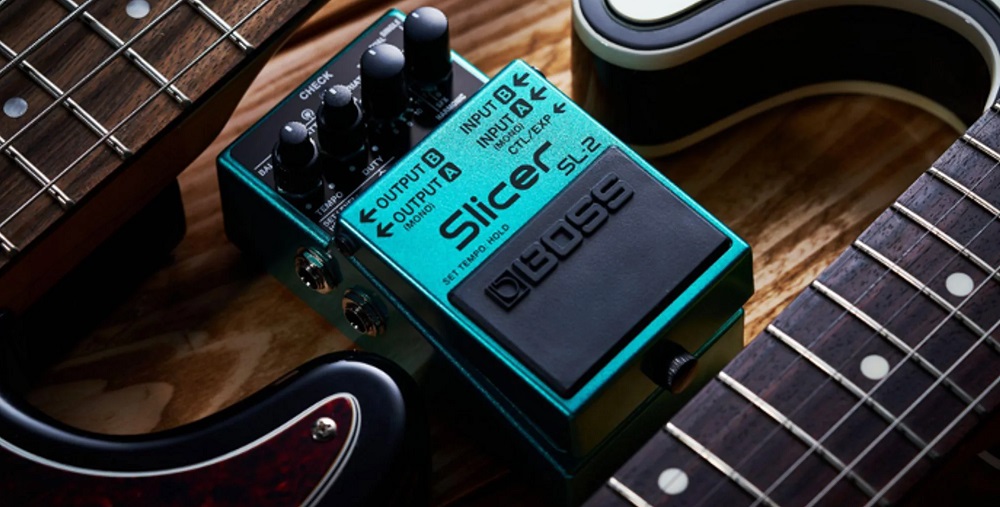 Due to its extensive external control options, the SL-2 can be configured to suit any creative setup. When a footswitch is attached to the machine, instant access to the tap tempo can be provided as well as the ability to activate the effect with a momentary press.
The knob parameters or the overall level can also be controlled by an expression pedal. SL-2 grooves can be synced to a drum machine, DAW, or any other device that sends MIDI clocks through the TRS MIDI input. Additionally, MIDI CC messages can be used to control expression, tempo, and bypass functions.
You can create staccato effects by shortening the duty or length of the sliced audio. This results in the signal being sampled and chopped into percussive transients. By setting it long, you will be able to produce what Boss describes as "longer, fuller audio blocks".
In addition to the ability to produce hard and aggressive sounds, this effect can also produce soft and textured sounds, with a range of +/-12dB for the output level. You can alter the tempo of the sliced effects either by changing the dial or by using the tap-tempo function, which is accessed by holding the pedal footswitch or by using the CTL/EXP connection to connect an external tap switch or expression pedal.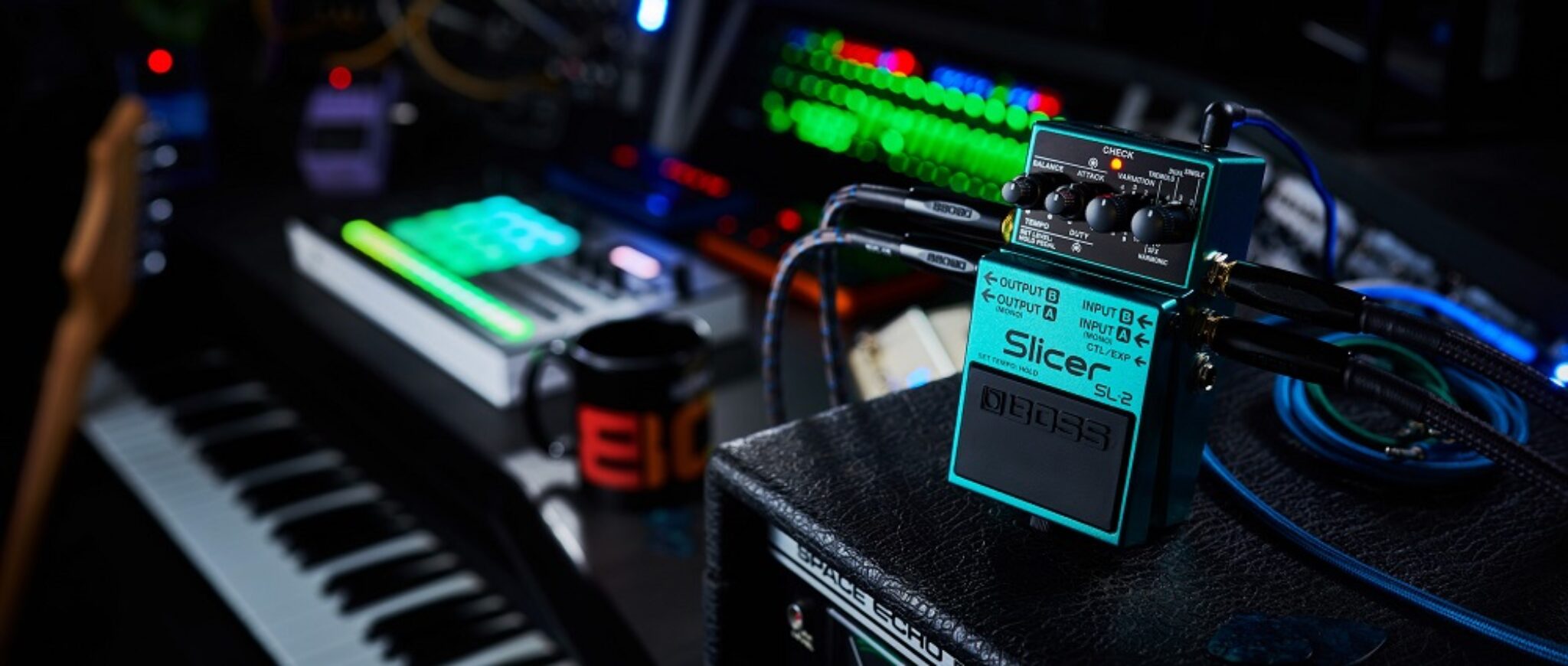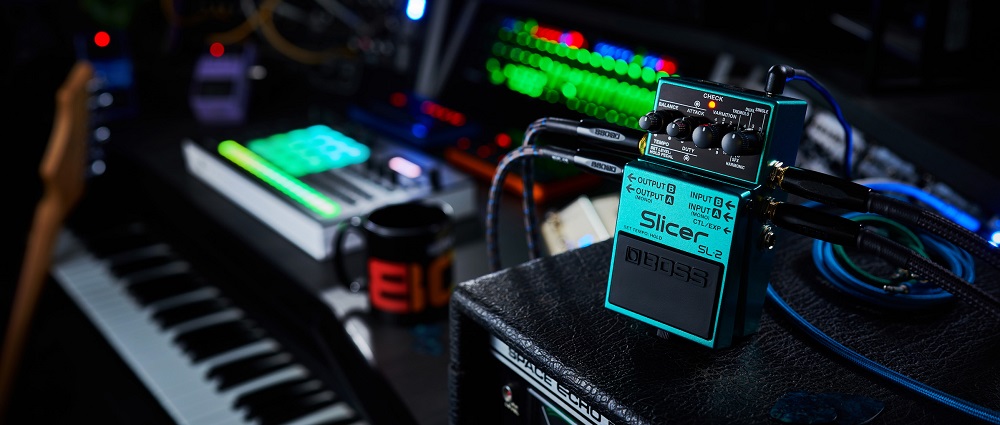 Boss SL-2 Slicer Connectivity and Effect Modes
In terms of connectivity, the SL-2 promises to fit into any setup thanks to its TRS MIDI input, allowing it to operate alongside drum machines or digital audio workstations, as well as its mono and stereo output modes. Boss provides users with an abundance of output options in the latter mode, with seven stereo modes in total: Fixed, EFX/Direct, Random, Ping-Pong, Auto, 3D Cross, and 3D Rotation.
The effect modes are as follows:
There are two modes of operation: single and dual. These modes are relatively self-explanatory. In a single slicer, there is one slicer, whereas in a dual slicer, there are two slicers operating simultaneously.
Tremolo: In this mode, the SL-2 is as close as it can possibly get to a classic tremolo sound.
Harmonic: With this mode, you are able to experiment with wild modulation, which further complicates your rhythmic experimentation.
SFX: The most unusual mode, SFX introduces additional effects based on the submode selected.
SL-2 Slicer Brief Features:
Slices and chops up your signal into 11 percussive grooves
The balance and attack controls allow you to adjust the mix level and sharpness of the effect
Controls the length of the sound produced by the slice pattern
Either the knob or the tap tempo function can be used to adjust the tempo
SFX slicer types include single, dual, tremolo, harmonic, and SFX slicers
The MIDI input provides greatly enhanced control capabilities
BOSS Tone Studio for the SL-2 app allows even more slice patterns via the USB port
For wild ping-pong slicer sounds, stereo I/O is available
---
Why To Go For the SL-2 Slicer by Boss
As stated by Boss, it can be used by guitarists, bassists, keyboardists, loop performers, and DJs. It appears to add a gate-style slicing effect similar to the original SL-20. That can be synchronized to a beat. The effect can be used to replicate a really hard tremolo. In case you are interested in percussion effects that can add a great deal of interest to your music, then the Boss SL-2 may be of interest to you.
With the ability to sync to a drum machine, digital audio workstation or MIDI clock input, the slicing effect becomes even more interesting. The new updates and the smaller form factor could make this product a winner among musicians. And with the price that it comes with, this item is a total steal if you need to spice up your guitar sound a little bit.
Boss SL-2 Slicer Review
An exciting new creative tool from Boss, the SL-2 Slicer is jam packed with colorful sonic grooves and rhythmic energy.
Pros
Very Unique Sound
Compact and Creative
Affordable
Cons
There is a learning curve
Conclusion
With newcoming effects, the range of creativity increases and we are able to come with something new in terms of musicality – and this pedal is such unit. With the slick design and colors from Boss, you will be able to fit it on your pedalboard and start making some new and ethereal sounds.
If you are having any questions in regards to this unit, please let us know in the comment section or for more in-depth details, try to reach out to the Boss support center!
If you want to check more reviews and buyers guides on pedals, you can do that on the links below: