Walrus Audio Eons Fuzz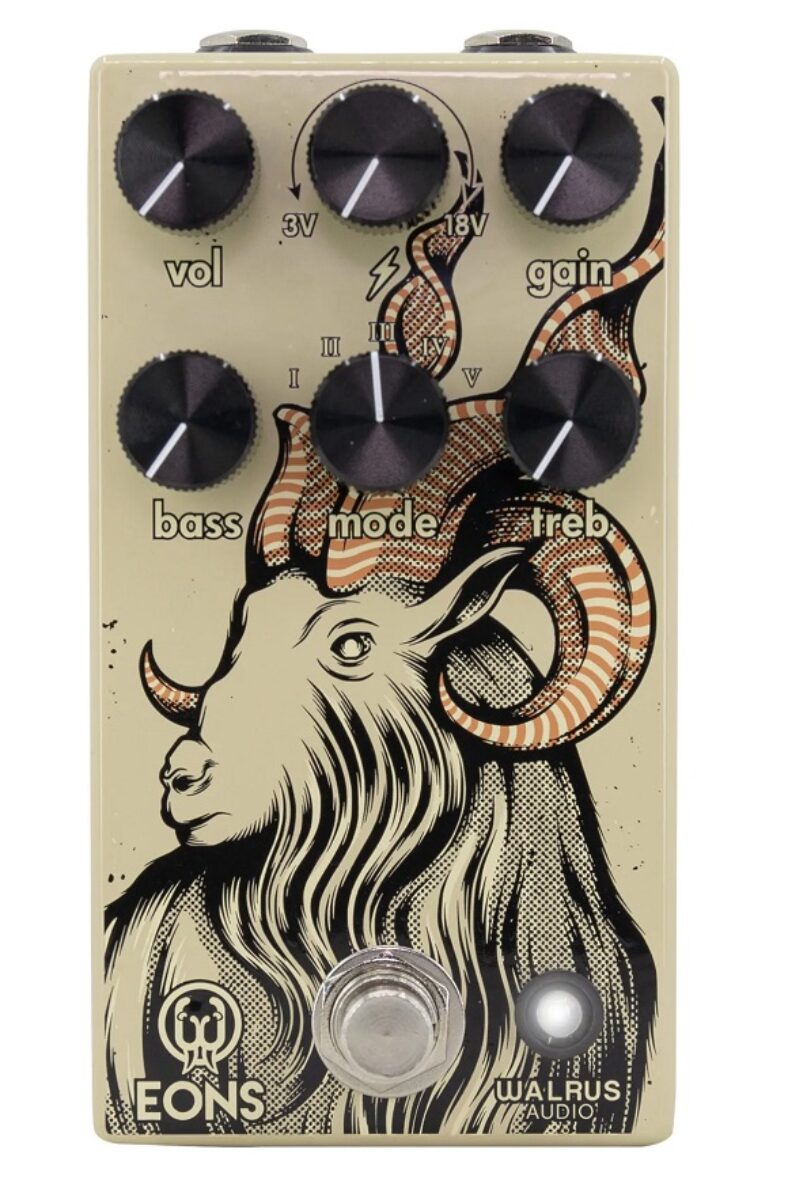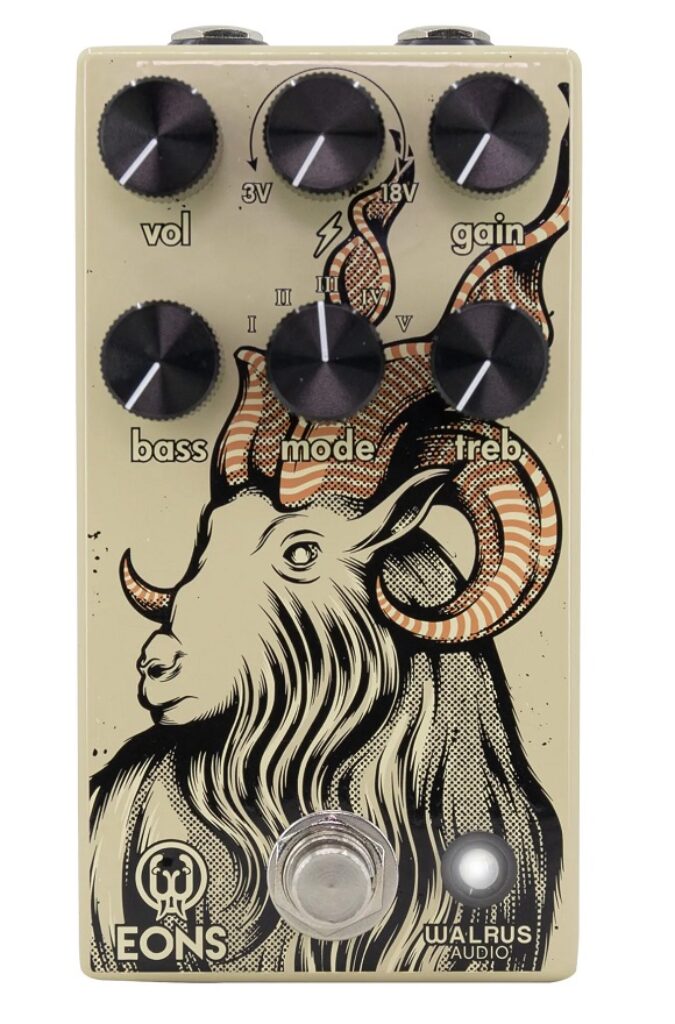 Fuzz Pedal
Power consumption: 100 mA
Dimensions (L x W x H): 12.1 x 6.6 x 3.5 cm
Made in the USA
---
Walrus Audio Eons Fuzz Review
The Walrus Audio Eons fuzz pedal has been released. There are five different clipping arrangements and a voltage adjustment knob on the pedal to enable the pedal to produce a wide range of fuzz sounds. It doesn't matter what you call them: silicon, germanium, LED: the Mode knob will take you through some of history's most iconic fuzzy tones.
Walrus Audio's five-state stompbox takes things to a whole new level with its variable voltage knob. This knob allows you to adjust the voltage of each state from a sputtering squawk to crushing walls of hard-hitting dirt. In the event that you are the type of player who enjoys varying between smooth silicon-style leads and abrasive garage-rock gated fuzz sounds, the Eons simplifies your setup by combining them into a single unit.


You can choose from five different clipping states; a soft and compressed soft clipping, a crunchy silicon clipping, a Germanium soft clipping, a LED clipping, and a hard clipping silicon combined with LED diodes for loud and rowdy sounds. It is well worth checking out Walrus Audio's Eons five-state fizz if you are looking for a versatile way to destroy your signal.
Detailed information regarding the five fuzz mods can be found here:
The sound produced by this position is a soft-clipping silicon-style fuzz, with a smooth response and a rounded-over high end.
As in the first position, the second position is also silicon-style clipping, however, it is pushed harder and has an added bass boost.
This is described as "if a distortion and a fuzz had a kid" by Walrus Audio, and that is about as accurate a description as there is! Technically, it is a germanium soft clipping fuzz with a rough and dynamic character.
Due to LED clipping diodes, this one has a slightly darker tone. It is a great setting for taming louder guitars and amplifiers.
In the fifth set, the Eons is at its wildest: hard-clipping silicon transistors are combined with soft-clipping silicon and LED diodes. This will be your preferred setting if you wish to create a powerful, compressed voice.

Other Knobs and Features
After selecting these basic "flavors," the fuzz sound can be further adjusted using the other five knobs, such as Volume, Gain, Bass, Treble, and – last but not least – Voltage, represented by a lightning bolt. By varying the amount of voltage introduced into the circuit from 3V to 18V, it is possible to produce fuzz tones that range from the massive to the sputtering (gated-style).
At Walrus Audio, artists, musicians, and engineers strive to create sounds that inspire, such as the perfect breakdown of overdrive, the perfect distortion, a self-oscillating delay, and an endlessly sustaining reverb.
To put it simply, these guys enjoy playing with sound. By designing stompboxes, they are able to reproduce the sonic textures they hear in their heads. Walrus Audio's guitar pedals are designed by tone tweakers for tone tweakers, making them both versatile and functional. Featuring eye-catching graphics, Walrus Audio's pedals are ideal for guitarists who are looking to sculpt their own unique sounds.
A Few Words from the Developer:
"With Walrus Eons, you can create massively thick fuzz sounds that are guaranteed to test the limits of any amplifier's grill cloth. You can use the Voltage (lightning bolt) knob to crank up to 18 volts into the pedal's circuit for massive, open fuzz sounds, or you can starve it down to 3 volts for a spippy, gated fuzz tone. It is possible to create a wide variety of fuzz tones by adjusting the Voltage and Mode knobs. From Woodstock-inspired sounds to three-chord punk, you will find vintage-inspired sounds here. It's fight time for Eons."
Eons Brief Features
Fuzz with 5 selectable modes and voltage control
Each mode delivers a unique combination of silicone, germanium and LED clipping
Voltage control from 3 V to 18 V changes the operating point
Bass and treble tone controls for maximum flexibility
Controls: Volume, Voltage, Gain, Bass, Mode and Treble
Footswitch and status LED: effect on/off
Top-mounted connection sockets
Input and output: 6.3 mm jack mono
Power supply via 9 V DC mains adapter (not included)
THD: <0.1% @ 100 dB SPL, 1kHz
Mains adapter connection: Hollow female plug 5.5 x 2.1 mm, negative pole inside
---
Why To Go For the Walrus Audio Eons
If you collected the other pedals from Walrus, this is the one that will finalize that setup and provide you with the ultimate fuzz sound alongside with the combination from the other pedals. Also, the flexibility that provides you and the options that you can go for are truly amazing because you will be able to get several fuzz styles from one box.
And for the price that it comes, this is a real grab for the buck – and in our opinion, a no brainer purchase. Walrus Audio delivered once again with this one for a really affordable price of around $230.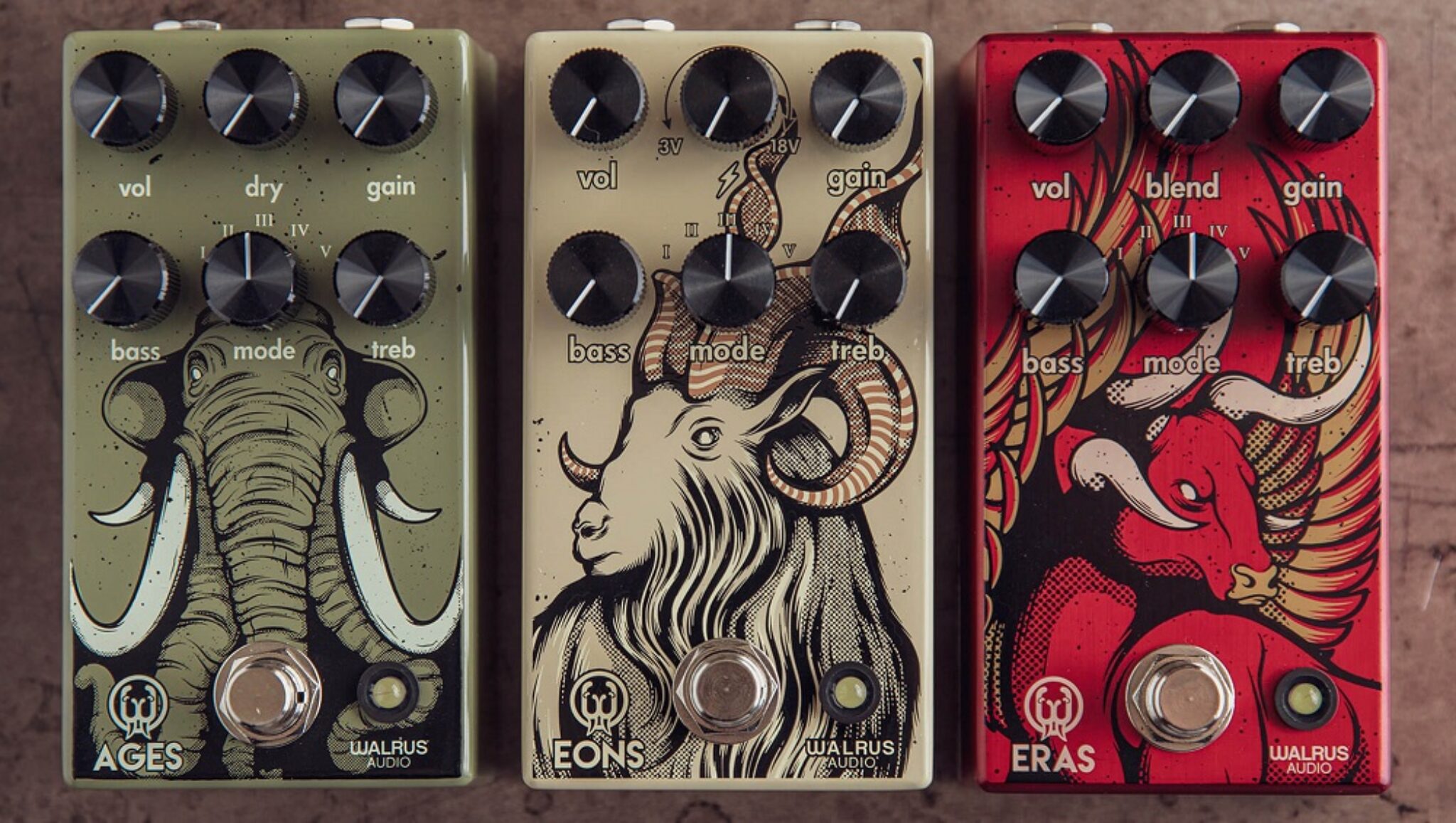 Walrus Audio Eons Fuzz
The Walrus Audio Eons Fuzz pedal is released for all the guitar lovers and fuzz sound admireres.
Pros
5 Fuzz Styles
Great Sound Quality
Amazing Design and Appearance
Cons
Leters are hard to read from the design
Conclusion
Walrus Audio – a brand that requires no additional explanation. They produces some pedals that are amazing and that many users are swearing by them. We also believe that this fuzz pedal will become one of those and that will be a part of big number of pedalboards.
The sound is amazing, design is amazing – besides that, nothing else is important. We believe that this pedal will get many new series produces and that will sell out really quickly, so grab it while you can!
If you are having any questions about it, please let us know in the comment section or reach out to Walrus Audio support page for more detailed answers!
---
Wanna check more articles on guitar pedals? Head over below!