Fishman Loudbox Mini Charge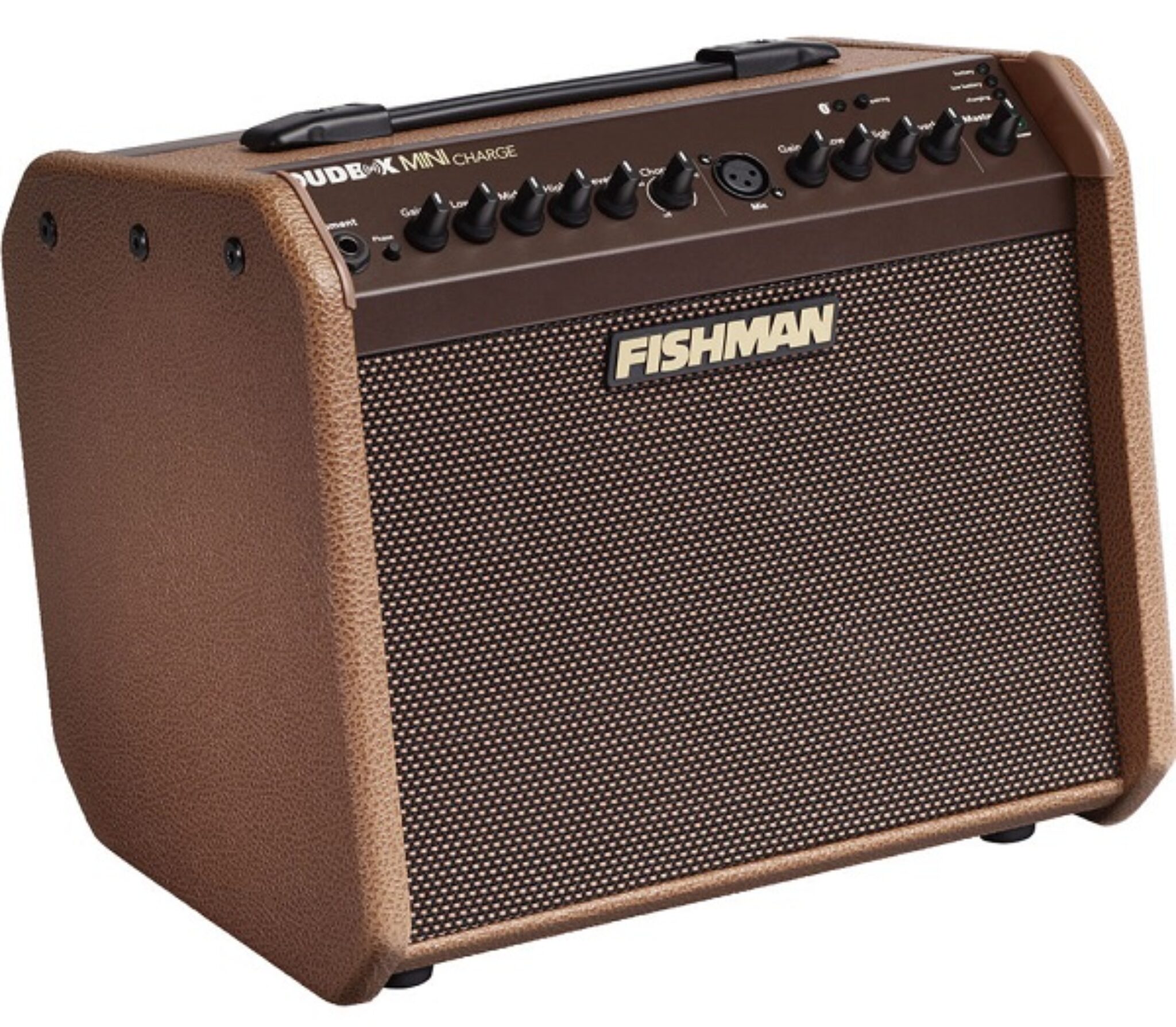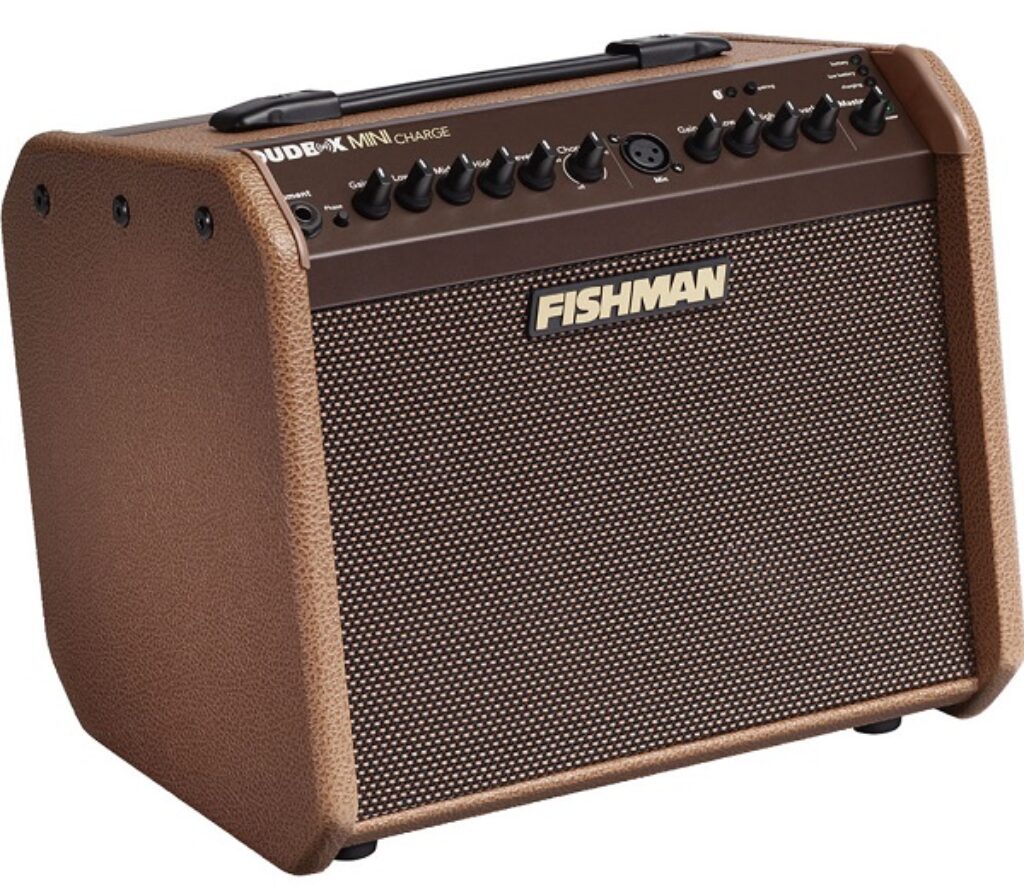 Battery Powered Acoustic Amplifier
Weight: Approx. 10 kg
Dimensions: 305 mm x 349 mm x 247 mm
Includes power supply
---
Fishman Loudbox Mini Charge Review
In the field of amplification devices, Larry Fishman has developed a reputation for designing some of the best products. In addition to their exceptional amplified tone, Fishman amplifiers are widely renowned for their durability and reliability, which have led to them being used by some of the most renowned developers on the planet. The Loudbox Mini Charge is a powerful amplifier that can also easily be transported due to its compact size and portability.
Portable and battery-powered, the Loudbox Mini Charge provides faithful reproduction of the sound of acoustic instruments and a wide variety of vocal or recorded accompaniments. With a powerful, rechargeable battery and innovative power management circuitry, this speaker maximizes playback levels and battery life.
Initially, it appears to be identical to Fishman's existing Loudbox Mini, but with one notable exception. There is an internal battery that powers the Charge. It can therefore be played almost anywhere. Obviously, busking is one obvious application, but there are many other scenarios in which this would be useful. You may want to incorporate this into your "afternoon acoustic set" as part of your wedding band.
Regardless of how poor the in-house rig is, you can take it to open mic nights and it will sound great. Loudbox can also be used while it is charging, and there is even a car charger available, so you can charge it up in the van on the way to the gig, or pull over for a song along the road.


Loudbox Mini Charge Features and Design
A Fishman Loudbox Mini Charge amp produces an impressive 108dB SPL at one meter with a 6.5-inch woofer and 1-inch soft dome tweeter. It weighs slightly more than 21 pounds (10kg) and measures slightly less than one square foot, which is about the same weight as a guitar in a hardshell case.
In addition to the rechargeable battery, which lasts from four to 18 hours (at maximum volume), there is a wall charger included (an optional 12-volt car charger is also available). Using both instrument and microphone channels, users can amplify both acoustic-electric guitars and vocals, and the Loudbox can also amplify backing tracks from phones with Bluetooth 4.0 connectivity.
You can play relaxed and confidently with a simple, no-frills control set. For those times when you need to make adjustments to your tone or style, there are knobs for Gain, Low, Mid, High, Reverb, and Chorus on the far-left Instrument channel.
There are additional knobs on the Mic channel that control Gain, Low, High, and Reverb. As a final step, a Master volume is used to determine the overall volume of the amplifier. Play with a rich, acoustic sound suitable for live performances by plugging in, dialing in, and playing your favorite instrument.
Additionally, the amp has a DC input for use when plugged in or when charging, a 1/8-inch Aux input for line-level stereo audio sources, and a Mix D.I. output for connecting an external mixer or recorder to the output channels of the amp.
With its classic brown-and-tan motif, the Loudbox Mini Charge maintains the elegant, vintage-inspired design that distinguishes Fishman amplifiers.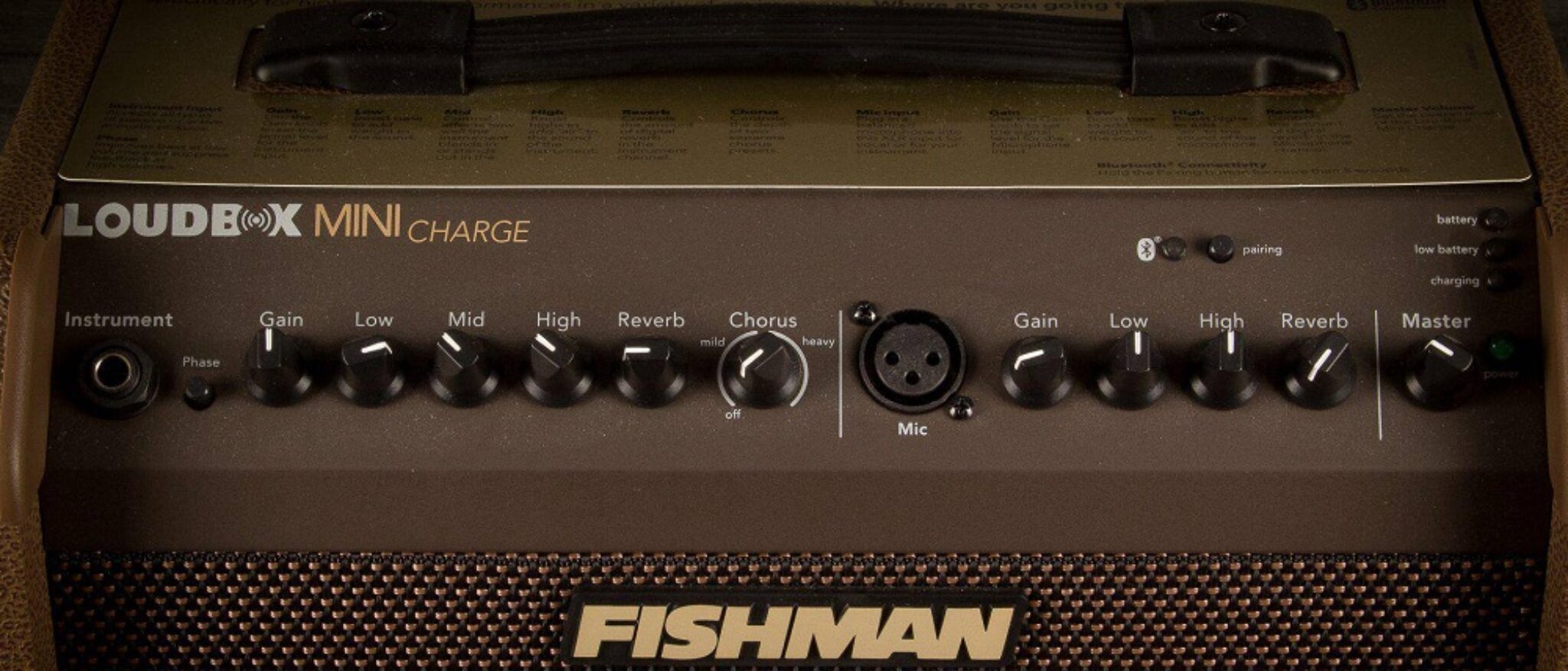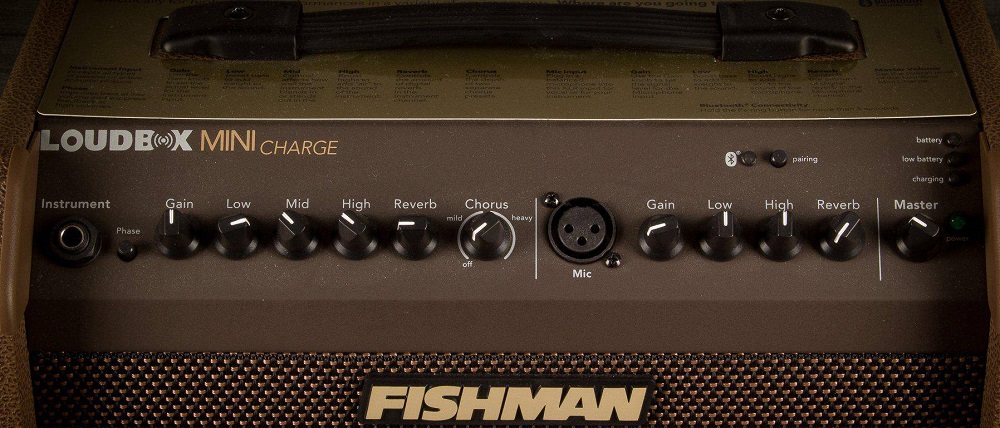 Fishman Mini Charge Sound
In our opinion, the Charge is a little warmer than the Mini, despite having Fishman's characteristic clarity and sparkle. For playing on street corners or in small clubs, the Charge offers ample volume, and if more volume is required, you can always send the DI signal from the amp to a PA system.
With the wall charger, the amp can be charged for up to ten hours if played at full volume for four hours, or for up to twelve hours if played at normal volume. The sound quality did not deteriorate even after playing through the Charge for a couple of hours. Overall, the Charge provides guitarists with a warm, clear sound that is portable and offers volume.
Mini Charge Brief Features
Equipped with: 6.5″+ 1″ tweeter
Power: 60 Watts
2 Channels for instrument and microphone
With Bluetooth function
Built-in reverb and chorus
Aux input, DI output
Battery status indicator
Battery life up to 18 hours (at low volume)
Includes power supply
---
Why To Go For The Fishman Loudbox Mini Charge
If you are a busker, a player that travels a lot, or a one-man army guitarist, this is an amazing choice for you. Even though this device weighs 10 kilos, it is extremely portable, and the warm sound compensates for the heavy weight. On top of that, with two channels with reverbs and delays, you can easily plug your microphone in and set those controls for your solo act.
No need for additional external gear to make it work, the Mini Charge is one amazing unit for the price that comes with it. In terms of the sound that it produces, we were really satisfied with how it sounded on acoustic guitars because it gives some intimacy and warmth to both guitar and vocals.
Fishman Loudbox Mini Charge Review
Portable and battery-powered, the Loudbox Mini Charge provides faithful reproduction of the sound of acoustic instruments and a wide variety of vocal or recorded accompaniments.
Pros
Very Portable and Loud
Great Battery Life
Bluetooth
Affordable
Cons
No footswitch for effects
Some will find it heavy
Conclusion
The most important feature, however, is the excellent sound quality of this amplifier. As a matter of fact, we have always been wary of acoustic amplifiers compared to plugging directly into a D.I. box for live performances. Nevertheless, we are now believers in the Fishman Loudbox Mini Charge. Whether plugged into an instrument or microphone, the sound is crisp, clear, and full, with plenty of room for adjustment.
This is a great gift idea for singers and songwriters who are into acoustic music. This device is ideal for remote songwriting, busking, and house concerts due to its rechargeable battery, Bluetooth compatibility, and convenient size. This amp's volume control and feedback controls make it suitable for use both on stage as a standalone amplifier and as a monitor for larger venues.
If you are having any questions about this little and amazing unit, please let us know in the comment section below or reach out to the developer for more in-depth answers!
Wanna check more related article? See below!