Check Out The Best Acoustic Electric Guitars For Beginners!
There's nothing more satisfactory than sitting down in the evening and learning the right way to play a song or creating one of your own. You'll have moments of great serenity and self-accomplishment that only a few different instruments can provide.
In case you decide you want to make it professional, you must use the very best acoustic electric guitar for beginners that money can buy. Or it doesn't have to be for beginners, we have some reviews for professional acoustic-electric guitars available on the market.
However, looking for an entry-level guitar or the most effective acoustic-electric guitar is usually a bit overwhelming in case you don't know where to begin, but finding a good one will make learning how to play very satisfying. The acoustic-electric guitar provides the best of both worlds, enabling you to record and boost as well as play in a social setting.
The great thing about acoustic-electric guitars is that they are very versatile instruments. They take all the pleasure of normal acoustics (classical guitar) but add the modern edge which can tip them from forgotten items that gather dust in storage to professional instruments that you can operate in live situations and a recording studio. Many individuals own classical guitars, but with an acoustic-electric, you are signaling that you are ready to take your playing to a different level.
We made an article where you will be able to see the best acoustic-electric guitars that are available on the market right now. Enjoy!
---
1. Yamaha SLG200S Silent Guitar
Once you take a look at this sui generis guitar, you might think you need better skills than you have to do its unique look justice. However, other than its funky design, it's certainly outfitted for beginner players because it is also a great beginner guitar.
What's the one thing a newbie needs once they get their brand-new guitar? Training, and lots of it. The bodiless design of the Yamaha Silent Guitar makes this instrument 80% quieter than a standard acoustic.
This means you'll be free to practice frequently and as long as you need. You don't need to be criticized so harshly during your learning curve, and the Silent Guitar lets you achieve all the practice you want!
However, its price tag is one that a beginner player most probably won't pay. However, the investment is worth it because it's a guitar that can stay with you during your whole music career. It's adaptable and slim enough for easy and simple transportation and storage. We can guarantee that you won't be putting this thing away after you find how useful it is!
Features
Steel Strings, Translucent Black Finish.
The SLG is the perfect instrument for practice, travel or stage use – any time an acoustic guitar just won't do.
Near-silent performance makes discrete practice simple.
Yamaha's exclusive SRT-Powered pickup system gives incredibly natural acoustic tone through headphones or line-out.
Studio-quality on-board effects enhance your playing to perfectio and line-in functionality makes jamming easy.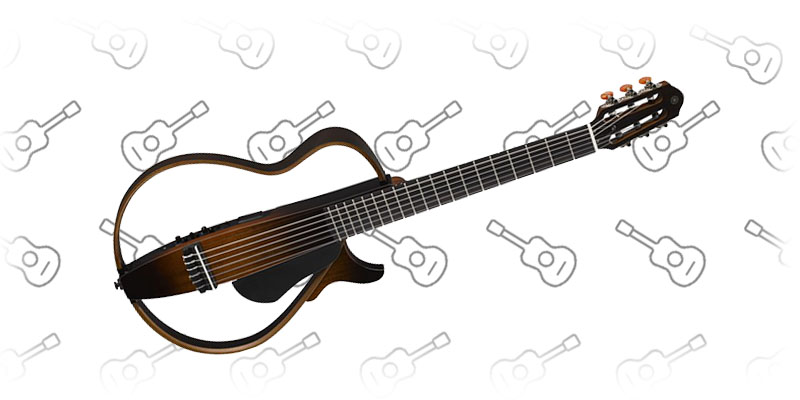 You Can Buy Yamaha SLG200S Silent Guitar at the Links Below!
---
2. Ibanez PF Series PF15ECE
This model is the most inexpensive beginner guitar in our lineup, but every little thing about it is top-notch and it is one of the best acoustic-electric guitars. While laminate has always been the build for an inexpensive guitar, this one truly appears great in both finishes that please your fancy – sure multiple finishes won't cost you a penny more!
As a full-size guitar, you would possibly find it a bit awkward, to begin with, especially in case you're a smaller person or a younger player. However, many buyers say that they won't ever separate from their Ibanez guitar. It's going to last and hold up to unintentional damage because the laminate construction makes it extra durable against environmental and climate effects.
This means you'll be able to take it with you where you want and still love it as you would an expensive guitar to have it last through your learning curves.
The action arrives set at low making it a breeze for newbies to get plenty of practice in. With a guitar that has the right features for the best price, it undoubtedly earned its spot in our lineup.
Features
Mahogany back and sides.
Spruce top.
Fishman Sonicore pickup.
SST preamp.
Onboard tuner.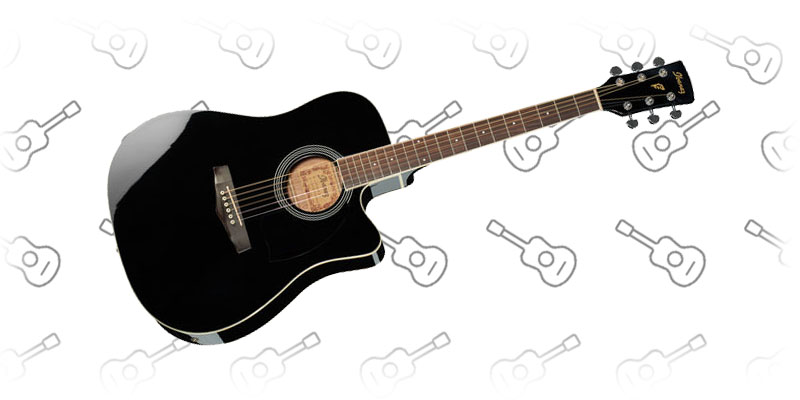 You Can Buy Ibanez PF Series PF15ECE on the Links Below!
---
3. Fender CD-140SCE
For those who want to spend around $300-$400 on an acoustic-electric guitar as your first-time purchase, the Fender CD-140SCE needs to be on the top of your list. This guitar has a strong top that lends to its high quality and fuller, extra-natural tones. It is great entry-level guitar and one of the best beginner acoustic-electric guitars.
The action arrives set at medium-low – excellent for the beginner who needs the flexibility of playing either acoustic or plugged-in at the whims of your mood when you're just beginning to uncover what they are.
The guitar is a Fender in every way with a couple of, nice touches that do justice to the brand. With that mentioned, you realize it's going to be fast learning to master the basic features of the CD-140SCE.
Features
A Venetian-cutaway body for easy upper-fret access.
Solid spruce top with scalloped "X"-bracing.
Mahogany back and sides give is a very classic look.
Easy-to-play neck with rolled fingerboard edges.
Fishman Classic Design pickup/preamp delivers the bright Fender sound.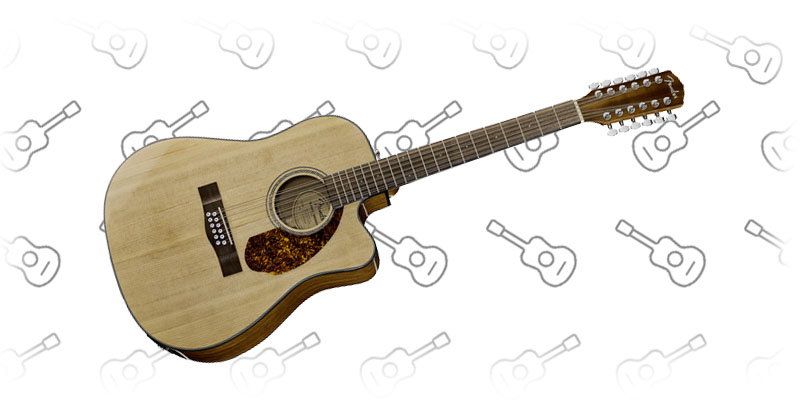 You Can Buy Fender CD-140SCE on the Links Below!
---
4. Taylor GS Mini-e Koa
It is a Taylor, so high quality and brand popularity are going to add some additional cost to this instrument, and it does. However, it's an entry-level guitar for the brand, and it could be the only inexpensive Taylor you would possibly ever invest in.
The GS Mini-e is not small in sound. It's well-endowed with its round keister and scaled-down dreadnought physique. With these two form features and Hawaiian Koa wood, as well, the sound is going to be full and rich. Playability will likely be improved, especially for a newbie, as its smaller dimension caters to learning curves needed for beginner finger-players with comfy travel on the neck.
In case you're a beginner player sporting a Taylor as your first guitar, you'll be the envy of the crowd for blocks – possibly even between cities! It's undoubtedly worth bragging about and sporting around. Fortunately for you, the dimensions make it excellent for toting to every jam session you strum by.
Features
Body shape – Other Cutaway.
Top – Hawaiian koa.
Back and sides – Layered koa Bracing pattern.
Ebony Wood Fingerboard.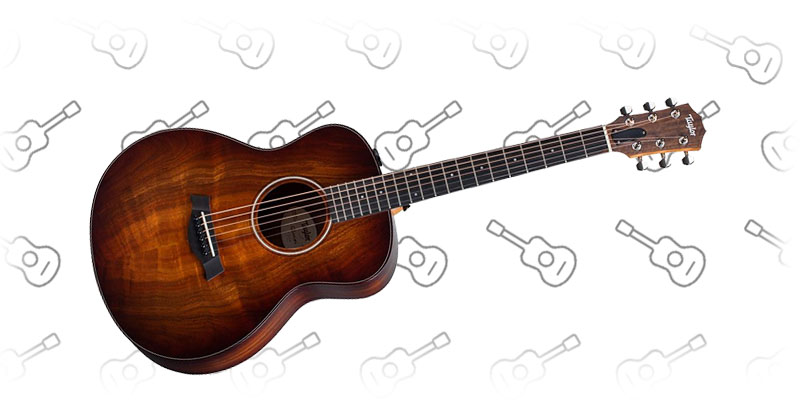 You Can Buy Taylor GS Mini-e Koa on the Links Below!
---
5. PRS SE A60E
With their SE range, PRS has made themselves a well-known name in the electric guitar world, but their acoustics are sometimes ignored. In case you're a type of individual, then sorry – but we think that you are making a huge mistake.
The A60E has a traditional Sitka spruce top – a standard choice for most acoustic-electric guitars that offer a fantastic crisp and clear midrange and high-end, but the Ziricote back and sides are the place this guitar comes into its own.
It's a relative of rosewood, and its density and style are Brazil-inclined. We are not saying that the material is going to make you play amazing just because it is a little like Brazilian rosewood, but the nature of the wood is there – rich, warm, smooth, and most importantly, balanced.
Completed with the iconic bird inlays, Fishman GT1 preamp, pickup, and flamed maple accents, PRS SE A60E is a guitar that sounds as great as it appears, both plugged in and unplugged.
Features
Type: Angelus with cutaway.
Solid Sitka spruce top.
Body: Zircote.
PRS Hybrid X / Classical Bracing.
PRS Bird fretboard inlays.
Neck profile: Wide Fat.
Maple binding.
20 Frets.
Ebenhol bridge.
PRS Designed tuners.
PRS Voiced Fishman Sonitone pickup with volume and tone control in the sound hole.
Colour: Natural.
Includes PRS case.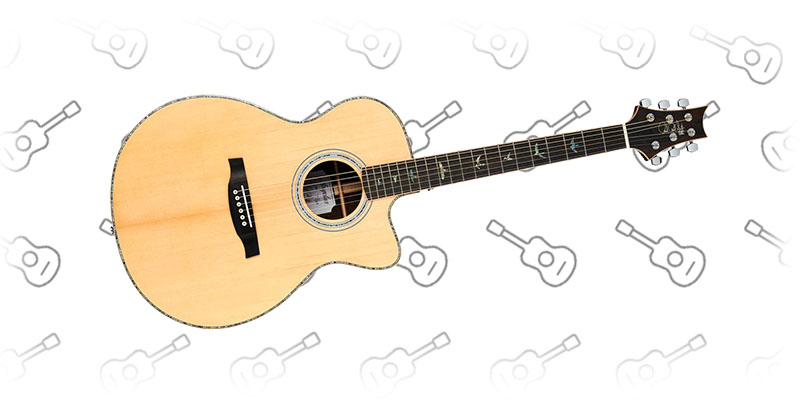 You Can Buy PRS SE A60E on the Links Below!
---
6. Taylor 110e acoustic-electric guitar
If Taylor can produce some of the world's best high-end instruments, then they're sure to know a thing or two about producing top-quality guitars at the lowest possible price too.
This Dreadnought acoustic-electric guitar features a strong spruce top and layered walnut back and sides and comes equipped with Taylor's Expression System 2 onboard pickup and its discrete volume and equalizer controls.
It's very playable, with a slim-profile neck and a slightly narrower 1-11/16-inch nut width for additional comfort. The 110e might not sound or feel as carefully crafted as something from Taylor's 900 or Presentation Series, although you do end up with an instrument that's worth keeping for life.
Features
Body design: Dreadnought.
Solid sitka spruce top.
Forward shifted pattern bracing.
Dot fretboard inlays.
TUSQ bridge.
NuBone nut.
Maple binding.
20 Frets.
Expression 2 pickup system.
Chrome machine heads.
Colour: Natural.
Includes a Taylor gig bag.
Made in Mexico.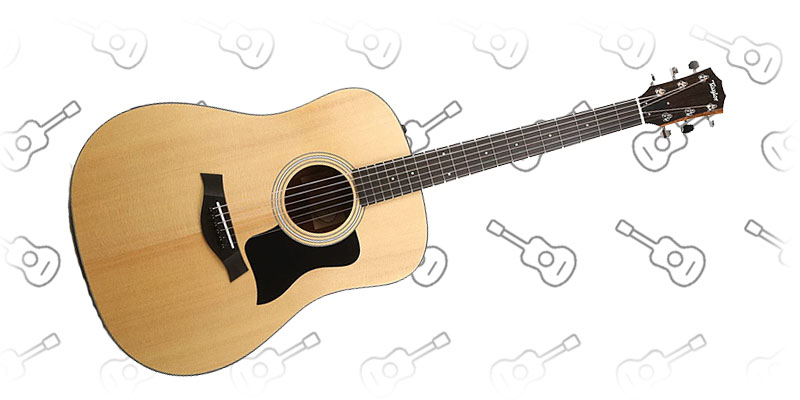 You Can Buy Taylor 110e acoustic-electric guitar on the Links Below!
---
7. Martin LX1E Acoustic-Electric Guitar
Martin is one of the iconic brands when it comes to acoustic and electric acoustic guitars since its founding in 1833. They are credited with many inventions in acoustic guitar manufacturing, including the first dreadnought acoustic guitar in the 1930s, which has since been imitated by other guitar producers.
The Martin LX1E is a smaller, lighter acoustic-electric than the dreadnought guitars and has a simple, traditional design. You might have seen one similar in the hands of players like Ed Sheeran.
The fabric for the body is a high-pressure laminate of endurable mahogany which gives it the bass tones needed to compete with bigger guitars. The top of the guitar is solid spruce which provides the high-end frequency needed to cut through live mixes.
The neck is of multi-piece birch laminate, nicely completed, and finely crafted for additional comfort. The fretboard is an undecorated sustainable Richlite, which is a paper-based material that has the look of ebony.
The electrics of the guitar have a Fishman pickup, a staple of acoustic-electric guitars. A great bonus function is the onboard tuner. The EQ is very simple for using, with only a tone and volume control to control its sound effects, however, with its unique tone you are not going to notice the difference.
Although it might be smaller than many other acoustics, it holds its own sonically, while being lighter and more portable than other guitars.
Features
Sitka spruce top and high-pressure laminate (HPL) construction.
Handmade from the highest-quality wood.
Solid-wood, acoustic-electric guitars deliver classic designs, and professional sounds, and enjoy playing.
Whether you're playing rock, country, folk, bluegrass, or jazz, these guitars deliver a natural playing experience that you will love.
Martin's guitars deliver enhanced playability that makes playing a pleasure, no matter your experience or skill level.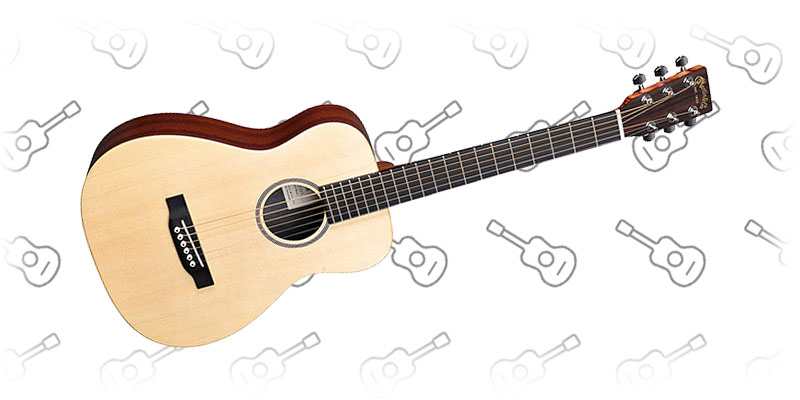 You Can Buy Martin LX1E Guitar at the Links Below!
---
8. Takamine G-Series GD30CE-NAT Acoustic-Electric Guitar
Established in 1962, Japan's Takamine Guitars, (pronounced ta-ka-mee-nay) had been one of the first acoustic guitar producers to feature electrics and the first to design an equalizer element in the preamp, giving better versatility to acoustic electrics. Notable players of Takamines have been Jon Bon Jovi, Bruno Mars, and Bruce Springsteen.
The Takamine G-Series GD30CE is a dreadnought guitar developed to be used on stage. It has a single cutaway which gives you access to the higher frets when you want to play more complex melodies or want to reach the high-pitch harmonics available further up.
It has strong mahogany back and sides which give the guitar a deep resonance, with its solid spruce top offering a bright crisp acoustic quality. Uncommon for an acoustic guitar, it has a pinless bridge, opting rather than a through-bridge string anchoring system, which adds to its general tone and offers much more sustain to each note.
One of the many nice things about Takamine guitars is the electronics. As a pioneer of acoustic electronics, this is not a big surprise. When plugged in, as with all Takamines, you'll discover that the unique pickup and EQ system captures the guitar's tonal qualities very well.
Features
Design: Dreadnought with cutaway.
Top: Solid spruce.
Quartersawn x Bracing.
Fretboard and bridge: Ovangkol.
Matte neck finish.
20 Frets.
Pickup: Takamine TP-4TD preamp with built-in tuner.
Colour: Natural high gloss.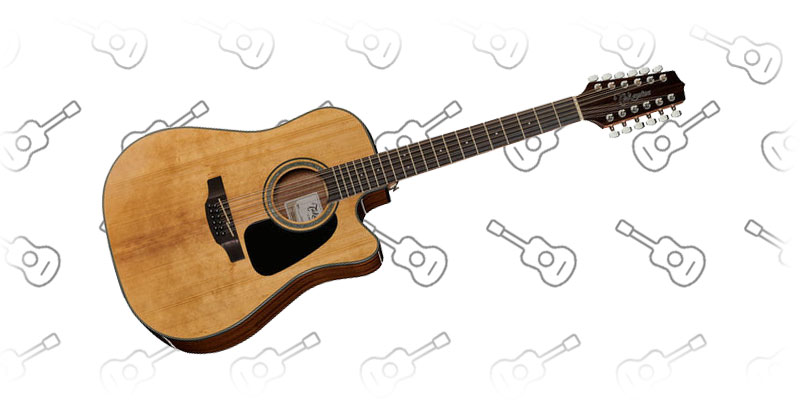 You Can Buy Takamine G-Series GD30CE-NAT on the Links Below!
---
9. Taylor 'Taylor Swift Baby' Signature
Taylor turns out to be one of the main players in acoustic guitars and among the best acoustic-electric guitar makers on the planet. Founded only in 1974 it has boasted some very famous players like Prince, Dave Matthews, Leo Kotke, and of course, Taylor Swift.
Usually, players will turn their noses up at signature models, but it's necessary to keep in mind that artists like Taylor Swift are gigging musicians that want a quality-sounding instrument that will bear up under regular touring.
Collaborating with Swift herself, Taylor has come up with a wonderful instrument primarily based on their compact dreadnought, which means it has the boom and resonance of a dreadnought but at a more manageable size and lightweight frame.
It has a laminate Sapele body and a strong solid spruce top, giving it a bright ringing tone that cuts through the mix when plugged in. The neck, unusually for an acoustic, is a bolt-on neck instead fixed, which while it can provide it a rather rigid feel, means you'll be able to strum away to your heart's content without the strings detuning a lot.
The pickup and preamp are simple constructions, but efficient when used in a live gig. The piezo pick up positioned behind the saddle, which means it picks up all the brightness of the guitar and could be modified with a simple volume and tone control in the preamp, which sits beside a built-in digital chromatic tuner.
Features
Taylor Swift Signature model.
Body design: Small body Dreadnought.
Bottom and sides: Sapele plywood.
Dot fretboard inlays.
19 Frets.
Nut and saddle: Nubone.
Expression System Baby electronics.
Colour: Natural with custom rosette.
Taylor gig bag included.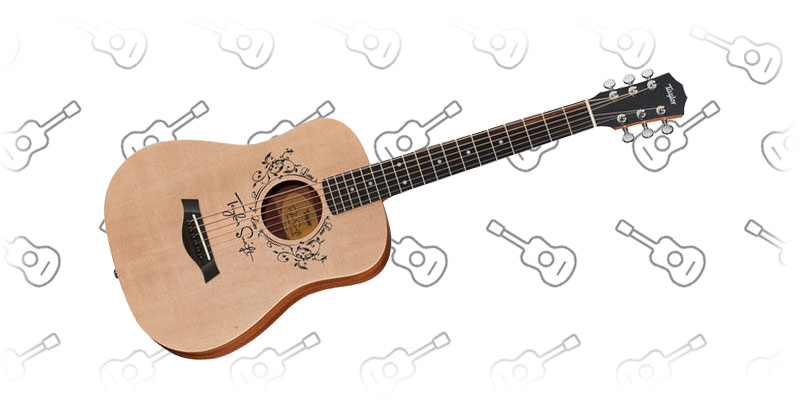 You Can Buy Taylor 'Taylor Swift Baby' Signature on the Links Below!
---
10. Ovation Celebrity CE44P-SM
The Ovation Guitar Company is founded in 1964, well known for producing high-quality, unique acoustic electrics, and their instruments have been used by the best acoustic-electric guitar players around, notably Glen Campbell, Al di Meola, and Jimmy Page.
What makes Ovation guitars special are the unusual fabrics used and their ergonomic design. The Ovation Celebrity is no different in this respect, aside from it being very inexpensive than some of Ovation's higher-end models.
The body form is called Lyrachord, a rounded contoured back which makes it extra comfy to play than a dreadnought, and a flat maple top – though in this series you'll find different sorts of wood such as Tiger-eye and Koa.
The iconic look of Ovation guitars is the sound holes, which feature on both sides of the strings instead of underneath. Although this limits the volume of the guitars, it capitalizes on the tonal quality of the woods used, giving it a good amount of sustain and attack.
The fingerboard uses rosewood, usually found on electric guitars which provides a rich warm sound and a classic feel.
Ovation produces its very own pickups which catch the guitar sound effortlessly and a preamp that has a three-band EQ and a gain control if you wish to overdrive the amplified sound slightly.
Features
Electro-acoustic stage guitar with nylon strings and Mid-Depth-Bowl-Body.
Body: Lyracord with cutaway.
New headstock angle.
Optimised fan bracing.
Multi soundhole.
Rounded C" neck profile.
New neck-head transition.
20 Frets.
Pickup: Ovation Slim with OP4BT preamp and built-in tuner.
Colour: Natural High Gloss.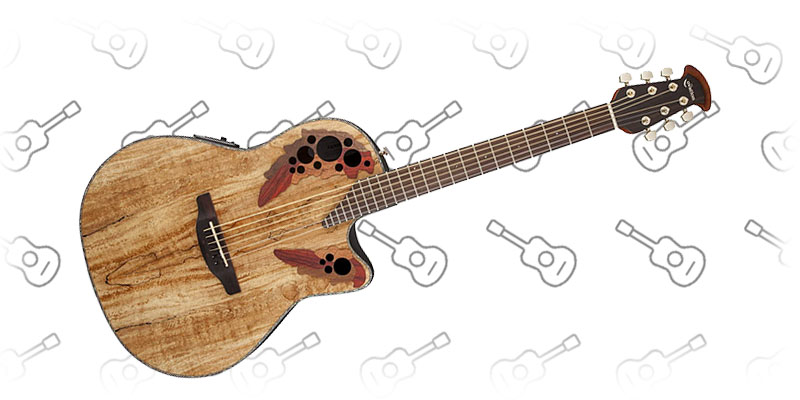 You Can Buy Ovation Celebrity CE44P-SM on the Links Below!
---
Acoustic-Electric Guitar – Buyers Guide!
Any acoustic guitar dialog has to begin with the differences and similarities between acoustic-electric guitars and normal (standard) acoustic guitars.
The primary difference between the two is electrical amplification for louder sound in acoustic-electric types. Everything else is pretty much the same.
Fortunately, these similarities mean that many of the suggestions for selecting the best acoustic guitar apply to acoustic-electric guitar buying too.
Unique ideas for acoustic-electric guitars involve features such as adjustment knobs. However, most ideas are the same for both electrified and non-electrified guitars.
What Is An Acoustic Guitar?
In the beginning, let's get a basic definition of an acoustic guitar. An acoustic guitar is an instrument with a hollow physique and a stringed neck that you play with a pick or with your fingers.
That hollow body can use a wide spectrum of materials, varying from metal to glass, although the most typical, by far, is wood.
The common acoustic guitar has six strings, with the standard tuning (from the low to the high strings) being E, A, D, G, B, and high E.
A lot of acoustic guitars for beginners are getting sold and many of them are bought by new players that are searching for beginner guitars.


What Is An Acoustic-Electric Guitar?
Acoustic-electric guitars are simply acoustic guitars with some electronics to boost the sound. They are identical in look (and nearly everything else) to acoustic guitars, with the main distinction being that acoustic-electric guitars have a pickup constructed into the bridge.
The guitar's controls are at the edge of the body panel or on either side. These controls set the equalization, volume, tone, and tuning of the guitar. You'll be able to play an acoustic-electric guitar like an acoustic one, they usually have all the properties of an acoustic guitar.
In case you want the volume to be strengthened, similar to when you're playing in a concert, you plug in the acoustic-electric guitar.
You shouldn't mistake an acoustic-electric guitar for an electric one since they are not the same. You can only play an electric guitar once you plug it into the amplifier, but you'll be able to play an acoustic-electric instrument when it is both plugged in or unplugged.
Additionally, an electric guitar requires a lot of different settings to be good before it is playable. An acoustic-electric guitar is exactly like an acoustic one, so all you have to do is properly tune it, and you are ready to go.
Acoustic guitar only makes sound from the strings vibrating, and that sound gets boosted in the hollow wooden body. An acoustic-electric guitar could be plugged into an amplifier to boost this sound. It doesn't create electronic sounds; it only strengthens existing sounds.
Different Sizes and Body Styles of Acoustic Guitars
When choosing what acoustic guitar to buy, you need to take into account both the style and size of the physique. These will affect the sound produced by the guitar.
A small-bodied guitar tends to have a balanced sound. A thin body sounds extra intimate and warm, although the projection might be lower. A smaller guitar can also be more comfortable to play for ergonomic reasons.
However, larger-bodied guitars have deep, resonant sounds, and they provide the better projection. They might be uncomfortable to play with for some, because of their bigger size.
It is a good idea to try guitars of as many sizes as you can whenever you're at the guitar shop. Dealing with them will help you understand which is best for you. Remember to think about both the quality of sound and comfort.
There isn't a single guitar dimension that is perfect for everyone, however, there is one for you, and the only way to discover that perfect fit is to try as many of them as you can.
Last Words
We hope that our article will help you choose your new acoustic-electric guitar. As you can see there are plenty of options available on the market and all you need to do is to test which one is good for you and your playing style.
In our review, you were able to see some of the best acoustic-electric guitars for beginners together with some great models for advanced players and professionals.
Happy strumming!