Gretsch G2220 Junior Jet Bass II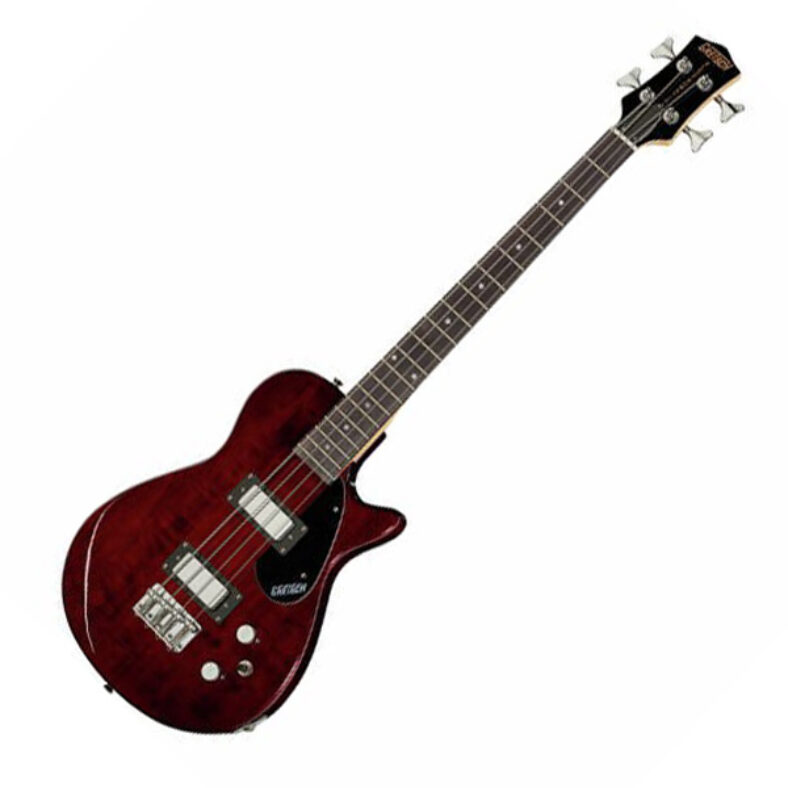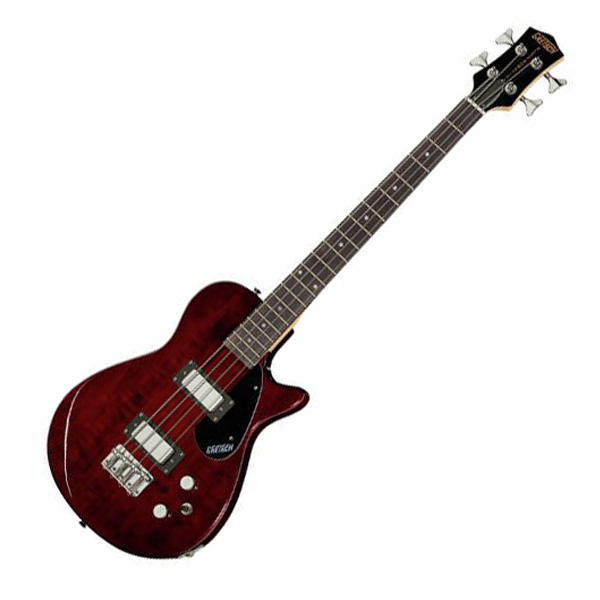 Bass Guitar;
20 Medium frets
Scale: 770 mm (Short scale – 30.3″)
---
Gretsch G2220 Junior Jet Bass II Review
When Friedrich Gretsch started his New York City shop in 1883, he began making banjos, drums, and tambourines.
Following the death of the elder Gretsch, his son Fred Gretsch took over the company, and it was Fred who saw the demand for guitars and, as a result, launched Gretsch into the guitar market with the introduction of acoustic archtops for jazz musicians and flat-tops for country-western musicians. But enough of the history lesson, let's check this amazing short-scale bass.
This Gretsch G2220 bass guitar features Gretsch's classic Jet body shape, which is found on a significant number of Gretsch 6-string guitars. One of the most appealing aspects of this product is its unique shape.
In addition to its dual humbucking pickups, it also features a three-way pickup selector switch, which is uncommon on a bass guitar. A wonderful beefy tone is produced by the humbuckers on this instrument.


If you want to check more short scale basses, you can click on the link here!
G2220 Junior Jet Bass II Design
G2220 is characterized by a Jet body shape. Basswood is the preferred tonewood, although some bassists may object to it. There are several versions of this model available, but the black one is probably the most attractive. Furthermore, it is worth noting the pickguard, which serves primarily as a reminder that it is a Gretsch bass. This instrument features a shorter-scale maple neck with a rosewood fretboard and a headstock in the Jet style.
The Gretsch G2220 is equipped with a familiar vintage bridge as standard. As with many other bridges, this bridge is equipped with four fully adjustable saddles. On the opposite side of the neck, there are four die-cast tuning machines.
There is a chrome finish on all of the hardware, and it works quite well. When the tune is set accurately, the bridge retains relatively good intonation, while the tuners are accurate where they are able to be reliably set. This bass does not have the exotic or flashy hardware of the Gretsch guitars we are accustomed to. Whatever the case may be, it works, and that is all that matters.
As far as pickups are concerned, we are having Gretsch mini-humbuckers at the bridge and neck positions. Chrome covers provide a nice contrast to the overall tone of the bass. There are only a few controls, but they are more than adequate. There are two master knobs to work with: a volume control and a tone control. As far as potentiometers are concerned, they are adequate and feel smooth enough.


Gretsch G2220 Junior Jet Bass II Sound
One of the most prominent features of the Junior Jet Bass II Short-Scale is the length of 30.3″. For this reason alone, the bass is very playable and offers good value for beginners. An electric bass guitar is a large instrument that can be overwhelming to a young student, so a short-scale instrument like the Junior Jet seems perfect for a young adolescent just starting out.
As for the Junior Jet, it is equally impressive on a professional level as well, and the shorter scale had no adverse impact whatsoever on its ability to fill a room with massive subsonic sound.
Even unplugged, the instrument possessed considerable punch and clarity, which is likely due to the combination of the basswood body with the maple neck. Additionally, the tight four-bolt neck pocket allows these hard woods' resonance to really come into its own, and even more so when amplification is employed.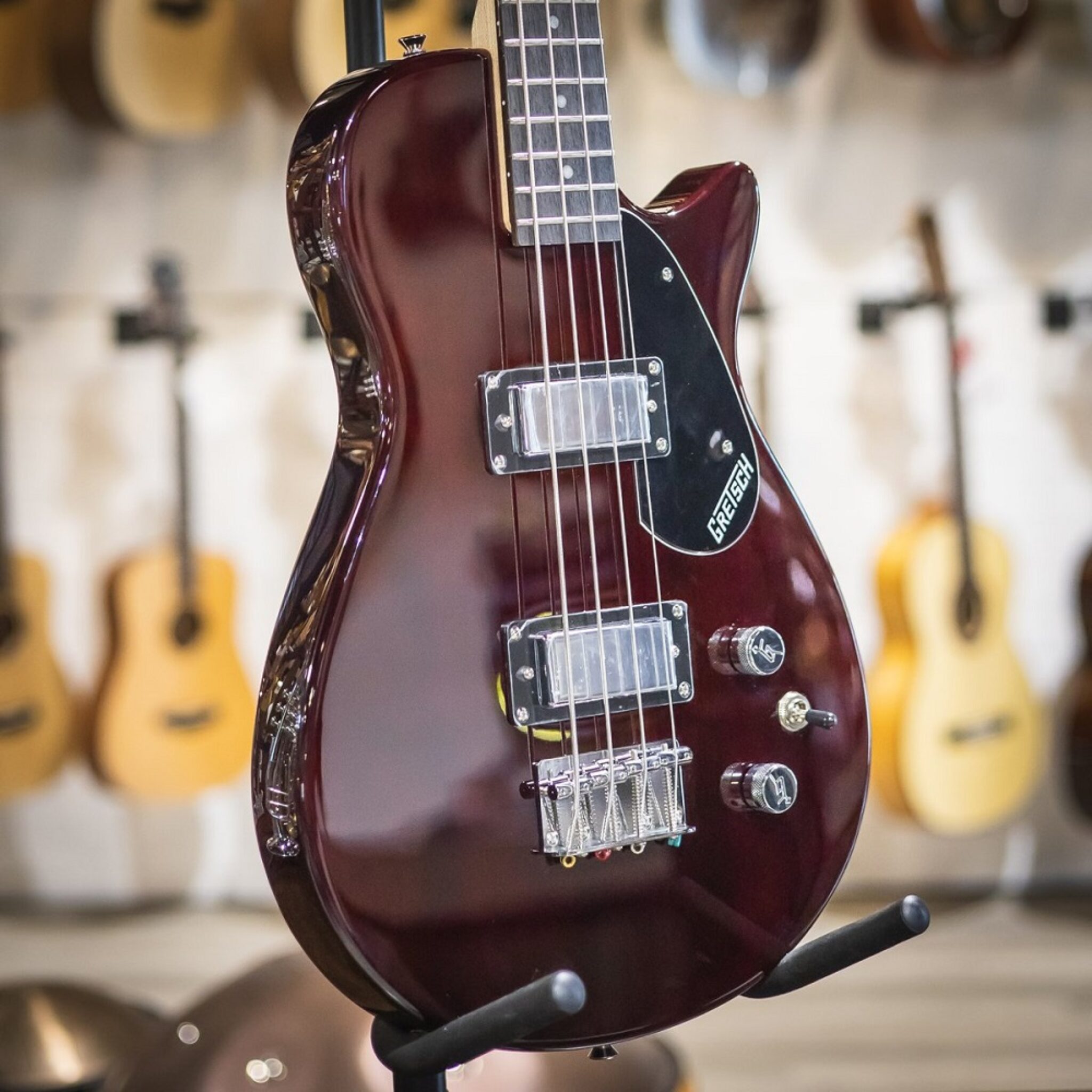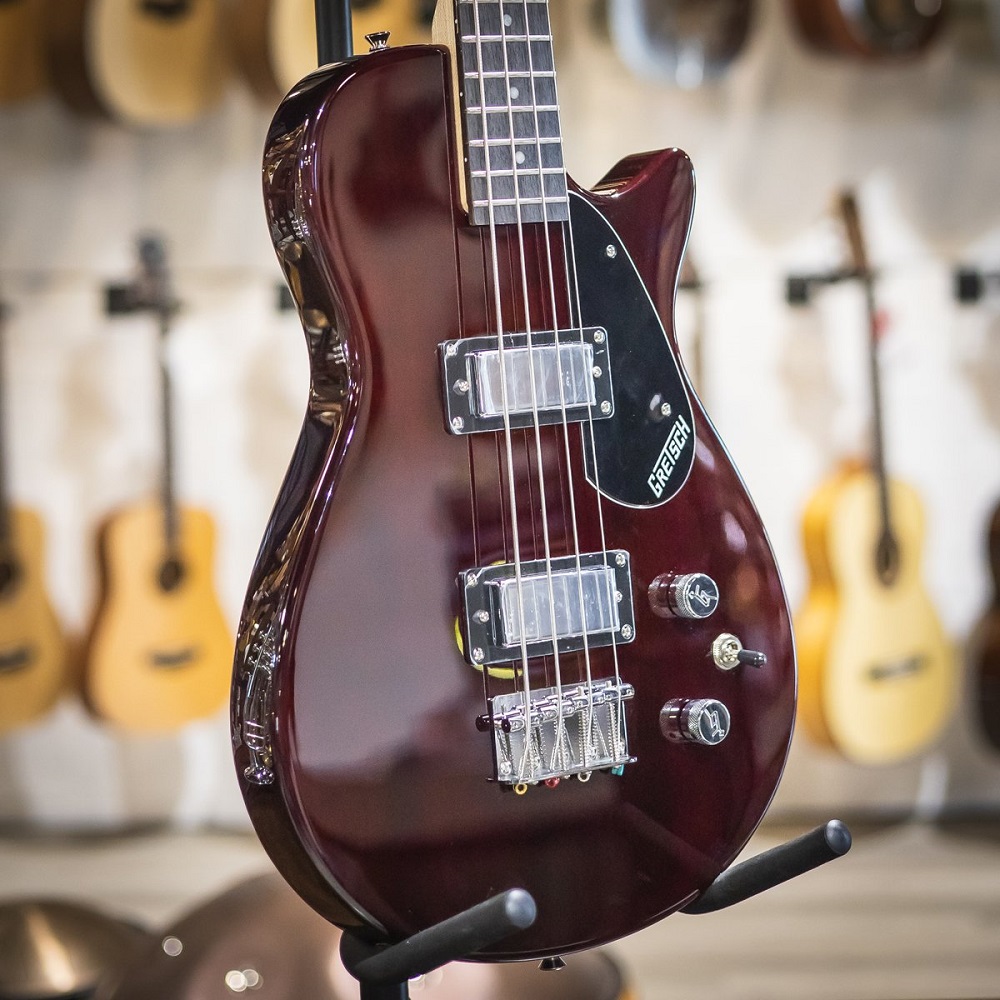 This instrument's 12" radius black walnut fingerboard, with 20 medium jumbo frets and dot inlays, further enhances the instrument's clarity. The passive Gretsch single-coil bass pickups provide the characteristics that have come to be associated with Gretsch's distinctive sound – crisp and articulate without sounding tinny, thick and creamy at the low end without sounding muted.
Featuring a three-position toggle switch, master volume, and master tone controls, the player can choose between the neck, bridge, or both pickups depending on their preference. Besides the four-saddle adjustable bridge and synthesized bone nut, the Junior Jet Bass is also fitted with die-cast tuners and synthetic bone nuts. They were set up with nickel-plated steel D'Addario strings, gauge .045 – .105, which is the gauge that we prefer, and it certainly made them more comfortable.
G2220 Junior Jet Bass II Brief Features
Electromatic series
Body: Basswood
Bolt-on neck: Maple
Fretboard: Walnut
20 Medium frets
Scale: 770 mm (Short scale – 30.3″)
Pickups: 2 Gretsch single coils
1 Volume and tone controls
Standard 4-saddle bridge
G Arrow Knobs
Color: Walnut Stain
---
Why To Go For The G2220 Junior Jet Bass II
We really liked this bass guitar for its scale primarily. And that led us to be confident and say that this is amazing choice when it comes to new bass players. Plus the amazing features that this bass has embedded that we previously talked about are making it a really nice unit not only for new players, but for everybody.
Despite the size, the bass guitar is packed with punch and will be able to provide you with the sound truly same as with a normal size bass guitar. After all, we need to look for the sound and not the size – cause that is what matters at the end.
Gretsch G2220 Junior Jet Bass II Review
This Gretsch G2220 bass guitar features Gretsch's classic Jet body shape, which is found on a significant number of Gretsch 6-string guitars.
Pros
Amazing Price
Short Scale Size
Mini Bass Humbuckers
Great Design
Cons
Difficult accessibility to higher frets
Not a great balance
Conclusion
Obtaining a cheap bass guitar is not difficult, as we have already mentioned. Nowadays, it is not difficult to find a good one as well. A great example of this is the Gretsch G2220 Junior Jet II. This product is particularly useful if you are looking for something simple and reliable for rock and punk music. Considering the body shape and the 3-way pickup switch, it is an unusual bass guitar.
However, that is part of what makes it so appealing. This instrument provides some pretty great tones and you will look cool and unique while holding it. You only have to hold those groovy, powerful, and steady bass lines with such a simple and compact instrument.
If you are having any questions about this unit, please let us know in the comment section below and we will be more than happy to answer you. If you need more details, reach out to Gretsch for a more additional answers.