Best String for Ukulele on Market?
The ukulele is an enjoyable and fairly simple instrument to play. Originating from Hawaii, since it was first made in the nineteenth century, it rapidly turned into way more than a traditional instrument.
These days, many well-known musicians choose to integrate the uke into their songs. This instrument has also turned into a preferred choice for people stepping into music because it's a pretty simple instrument to get a hold of.
As with guitars, you'll need new strings for your uke from time to time. However, discovering the best ukulele strings may be hard, especially with all the different types of strings on the market. What strings are on a ukulele? What are the perfect uke strings?
That's why we've decided to help you with selecting the best ukulele strings. Sit back, and chill out, as we step into the world of the best strings for ukulele you should buy!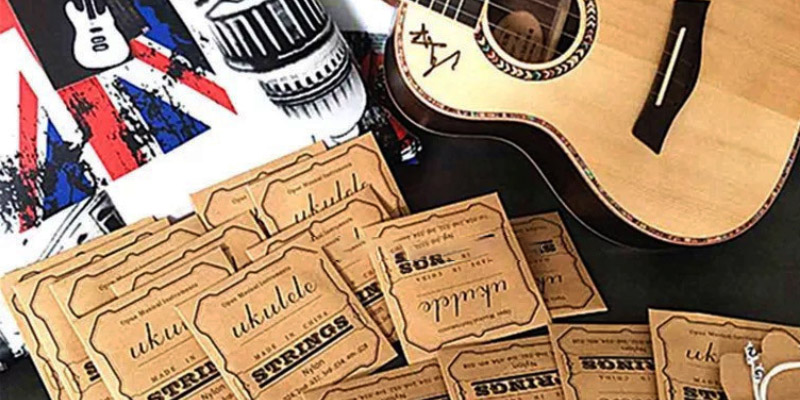 Ukulele Strings Size Matters!
Before we begin speaking about different types of ukulele strings, it's necessary to note that varying ukulele types require totally different strings. As every uke type has a different scale length, the main difference between string types is simply that – the length.
Let's check out the most common ukulele strings sizes:
Soprano ukulele – This is the commonest uke dimension. The body measures 21 inches, and the scale is 13 inches long. Soprano ukes are tuned in GCEA or ADF#B. These provide a bright sound, so coupling them with appropriate ukulele strings definitely has an effect on the sound they provide.
Concert ukulele – A bit larger, 23-inch body and 15-inch long scale, sounds a bit deeper, and might get louder than the soprano ukulele. The sound you get is pretty similar, so the same thing goes for the concert ukulele strings. Tuning – GCEA or ADF#B
Tenor ukulele – Includes a 26-inch body and 17-inch scale makes this uke an excellent choice for anybody with slightly bigger hands. As far as sound goes, the bigger body can resonate extra, thus the sound is noticeably deeper and more resonant. These are mostly tuned in GCEA, ADF#B, or DGBE.
Baritone ukulele – This one is the biggest of the bunch. A 30-inch body and 19-inch scale give the baritone uke the looks and sound of an acoustic guitar. Capable of delivering much more low-end than the tenor, it's an excellent addition to an acoustic band. The commonest tuning of the ukulele strings for baritone ukulele would be DGBE.
It goes without saying that you need to know precisely which of the mentioned uke types you've got, to be able to get the appropriate best ukulele strings.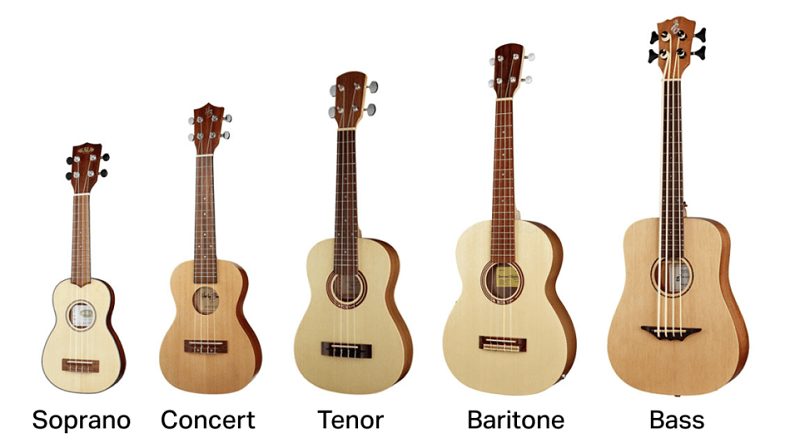 Best Ukulele Strings that You Can Find on Market
Starting from the smallest uke size, let's take a look at the perfect soprano ukulele strings on the market.
1. Aquila New Nylgut AQ-4 Soprano Ukulele Strings
Aquila is a well-known brand known for making very high-quality strings not only for ukes but other instruments as well.
The Aquila New Nylgut AQ-4 Soprano strings provide a more clear sound than common nylon or fluorocarbon strings, as they're made out of Nylgut, a special polymer that imitates the characteristics of old-style gut strings.
As they're very precisely manufactured and gauged, the intonation is perfect and durability is on point.
It is a high G string set, and Aquila offers the AQ-5 as their low G alternative.
In case you're searching for a pair of solid-sounding and durable strings, the Aquila AQ-4 is a good choice to think about.
PROS:
Bright and clear sound
Fast settling
CONS:
Some users didn't like the sound of the C string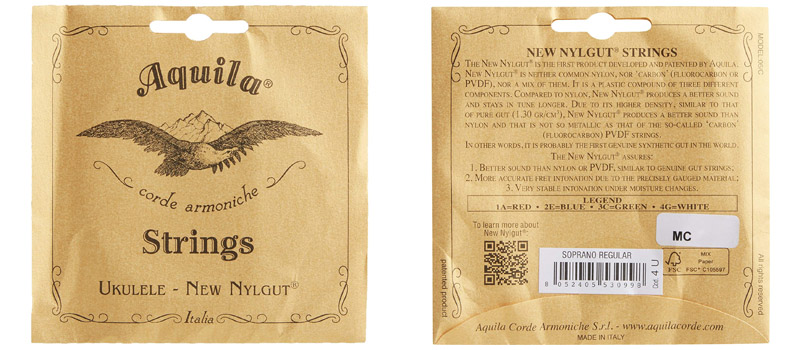 2. D'Addario EJ87S Titanium Ukulele Strings
D'Addario is one more well-known company, and their products are widely used, especially among guitar players.
The EJ87S Titanium uke strings are made in the united states and provide optimal performance and high quality.
D'Addario EJ87S Titanium Ukulele Strings provide a modern, powerful, and projecting tone.
Many customers discovered that these soprano strings made their uke sound significantly better, especially when in comparison with stock strings most ukulele manufacturers include.
For around $5 you'll be getting away more balanced and crisp tone out of your soprano uke.
PROS:
The snappy and bright tone
Very dynamic and rich in volume
CONS:
They can feel a bit sharp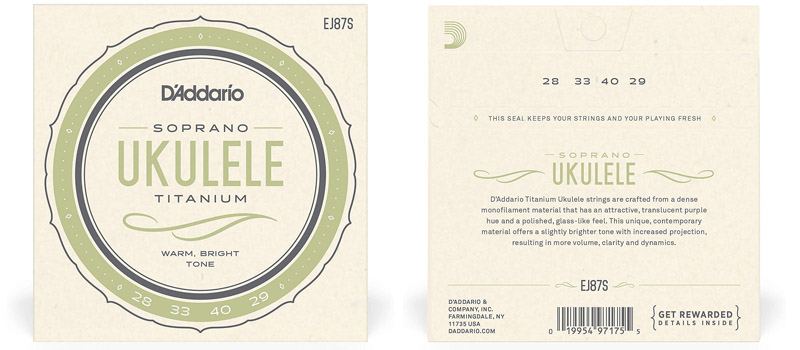 You Can Buy D'Addario EJ87S at the Links Below!
3. Aquila Colored Soprano Ukulele Strings
Who says you can't have stylish but good-sounding ukulele strings?
These multi-colored ukulele strings by Aquila provide not only shiny colors to go alongside your uke but extended durability as well.
Additionally, they tend to stay in tune for much longer than most competitor strings.
These are the perfect soprano ukulele strings if you wish to give your instrument a pleasant personal touch while maintaining solid sound and nice durability.
PROS:
Very smooth and easy to play
Great volume
Add some color to your instrument
CONS:
A bit more expensive than regular strings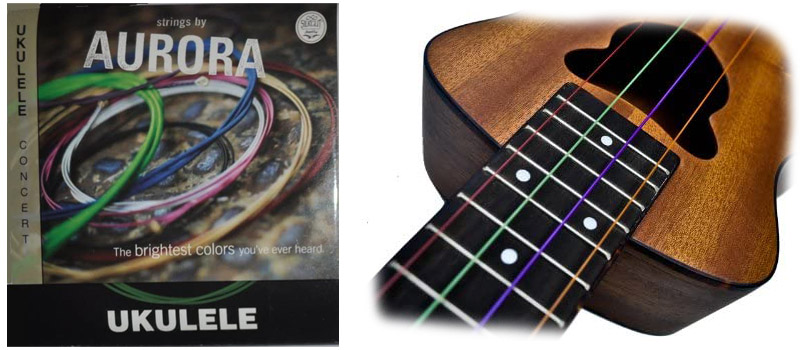 Shifting on to the best concert ukulele strings, let's see what suits your uke the very best.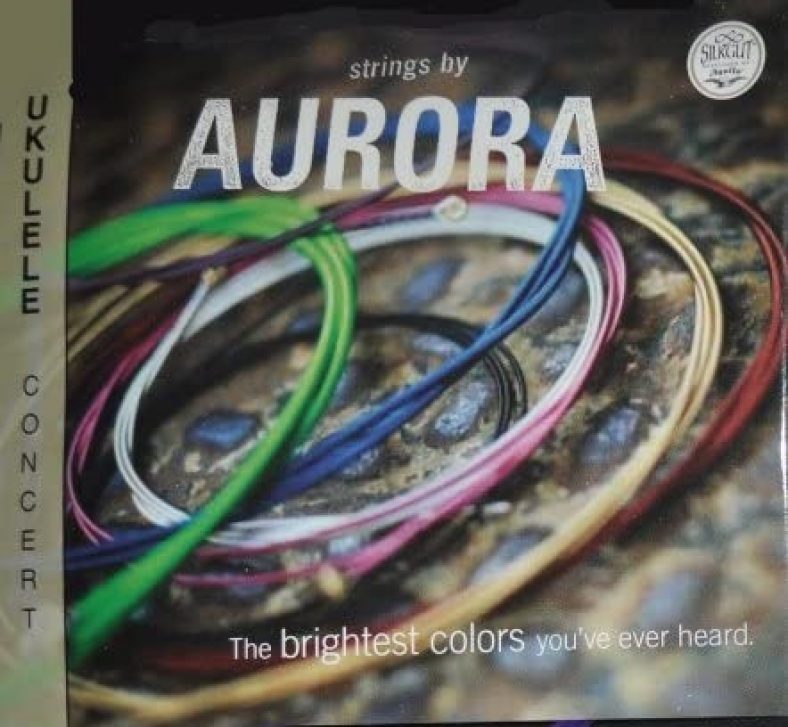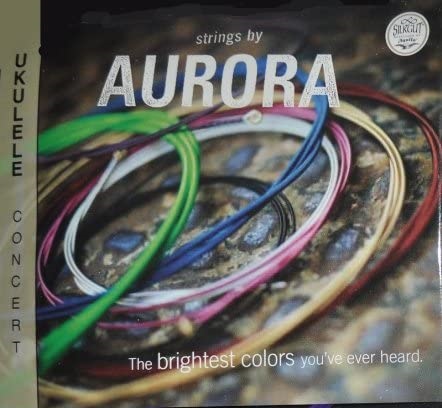 Aquila strings stay in tune longer. Aquila silkgut strings are high quality. Aquila colored strings by Aurora extended durability. Aquila Concert strings are the finest.
4. GHS H-10 Hawaiian Ukulele Black Nylon Strings
The GHS H-10 black nylon strings are a solid choice for any concert ukulele. They deliver a punchy and balanced sound and feel very comfy playing.
As they're black, they'll match properly in case you also have black tuners, or simply like the added contrast on your instrument.
All things said, the GHS H-10 is a solid choice in terms of concert ukulele strings. They're durable, sound pretty good, and are relatively affordable.
PROS:
Durable
Sound clean
Offer more volume
CONS:
Not a dramatic improvement when compared to stock strings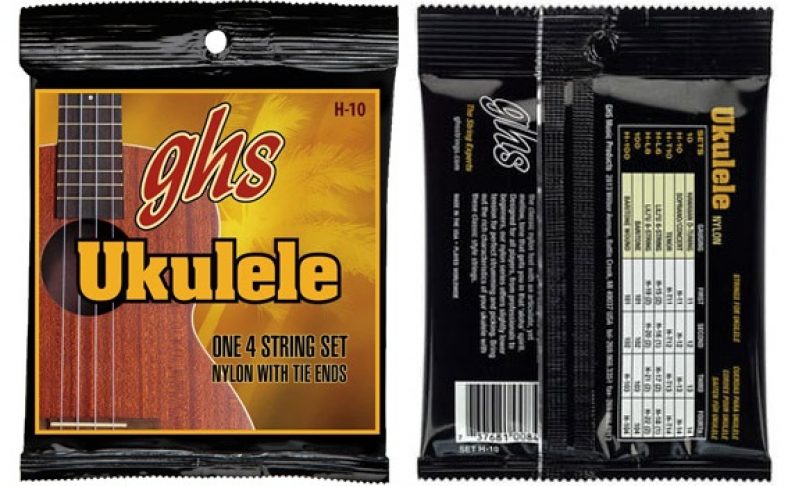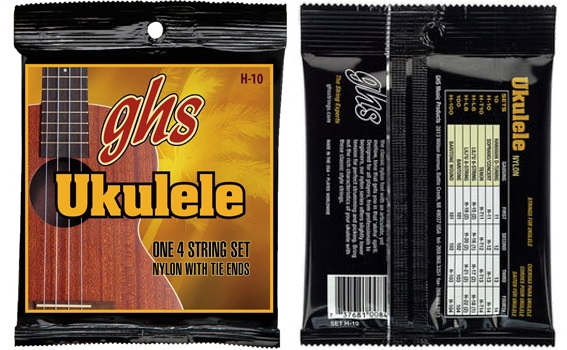 You Can Buy GHS H-10 at the Links Below!
5. Aquila Red Series AQ-86 Concert Ukulele Strings
Aquila brand with their Aquila Red Series strings gives an extra comfy playing experience coupled with a higher volume.
Enhanced intonation is achieved as all the strings are similar in diameter, and differ in materials density.
These strings feel far more responsive across the fretboard and provide a unique environment for your skills to really shine through.
In case you're a more advanced ukulele player, or just need a significant improvement in terms of strings on your concert uke, the Aquila Red Series AQ-86 is the best choice.
PROS:
High-quality materials
Bright and snappy sound
Uniform feel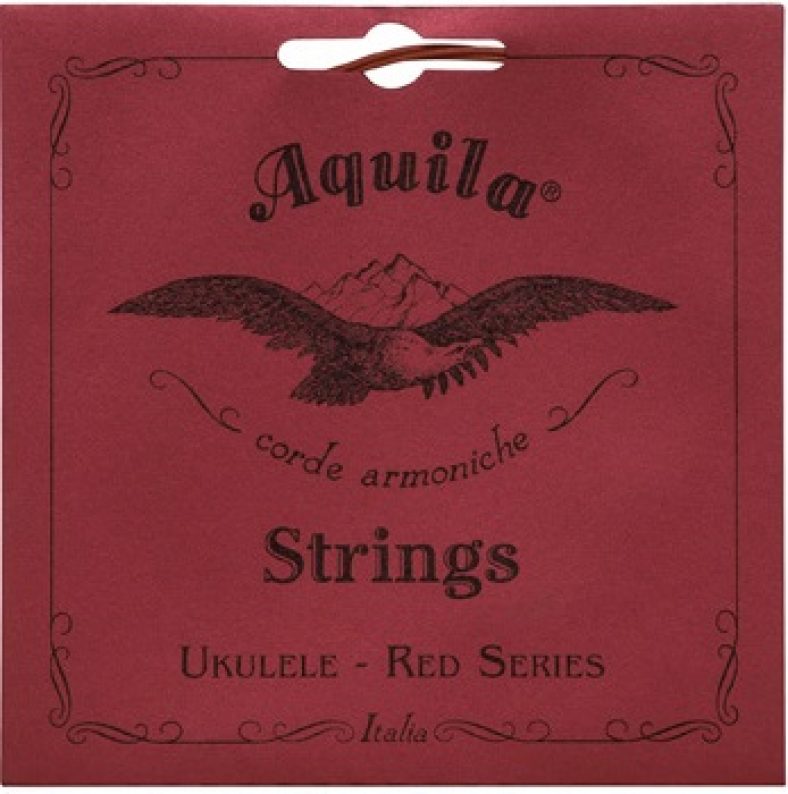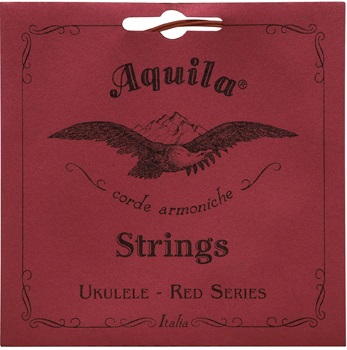 6. Martin M600 Standard Concert Ukulele Strings
The M600 strings by Martin are an excellent solution for your concert uke if fluorocarbon strings are your thing.
The manufacturing process used by Martin makes these strings excellent for precise tuning, as the higher tensile strength offers them the ability to hold tuning for extended periods of time.
Designed to provide you with very clear, mellow, and warm sounds, the M600s will definitely shock you with their performance.
Martin M600 string pack clearly shows the benefits fluorocarbon strings have to offer.
When you're searching for the perfect concert ukulele strings that maintain the tuning amazingly well, go for the M600s.
PROS:
Amazing build quality
Improved harmonic output
Hold the tuning quite nicely
CONS:
These tend to be a bit thinner than other strings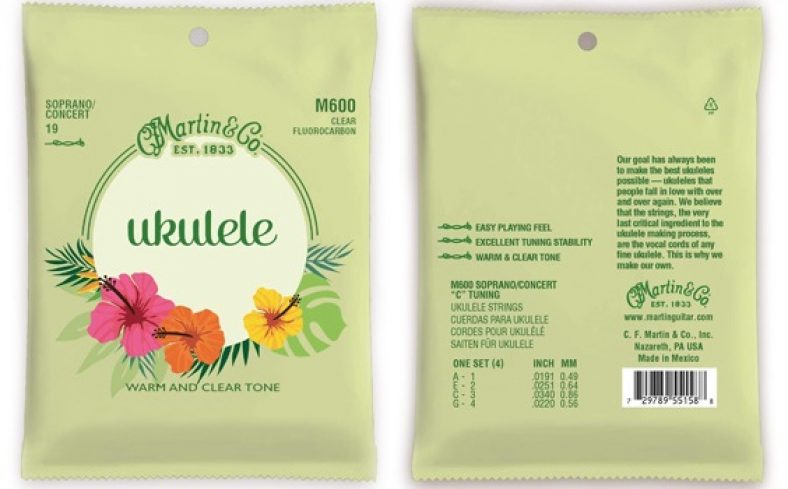 What are the ukulele strings I should get for my tenor ukulele?
7. D'Addario EJ65T Pro-Arté Custom Extruded Nylon Strings
The EJ65T tenor uke strings by D'Addario are carefully and precisely manufactured to be able to give you the perfect playing experience.
The entire process of making these is guided and inspired by D'Addario's professional ukulele player Jake Shimabukuro, so you may definitely expect an improvement in your sound.
As it is a pack of tenor ukulele strings, the low G string is wound, giving it that additional deep tone and sustain.
The D'Addario EJ65T tenor ukulele strings pack gives unsurpassed intonation and a projecting acoustic tone.
For just above $5, you can provide your tenor uke with new strings with a vibrant and refreshed sound.
PROS:
Mellow Tone
Solid sustain
Durable
CONS:
Some may find the G string too loud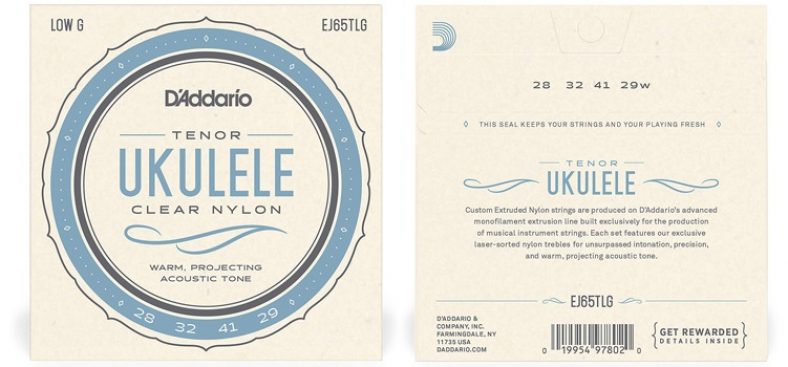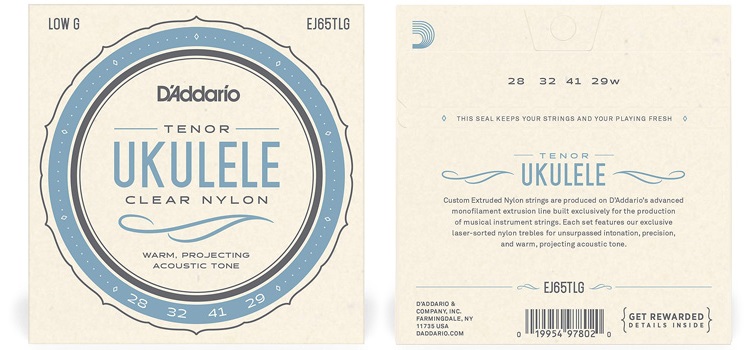 You Can Buy D'Addario EJ65T Pro-Arté at the Links Below!
8. Aquila 115U Lava Series Ukulele Strings
Though these strings come at around double the price of the previous ones, they positively offer a unique playing experience.
The Aquila Lava series features grey-black colored strings that are inspired by the volcanic rocks of Hawaii. Aside from looking rather uncommon, in addition, they provide a really solid and vibrant tone.
The material of choice is Aquila's well-known Supernylgut, which imitates the sound of far more expensive gut strings.
The low G string is wound as well, however in this case in silver-plated copper for added durability as well as sustain.
If the slightly higher price level isn't a problem for you, we would suggest the 115U Lava Series as one of the best ukulele strings for tenor.
PROS:
Premium materials
Cool grey – black design
Very nice sustain and projection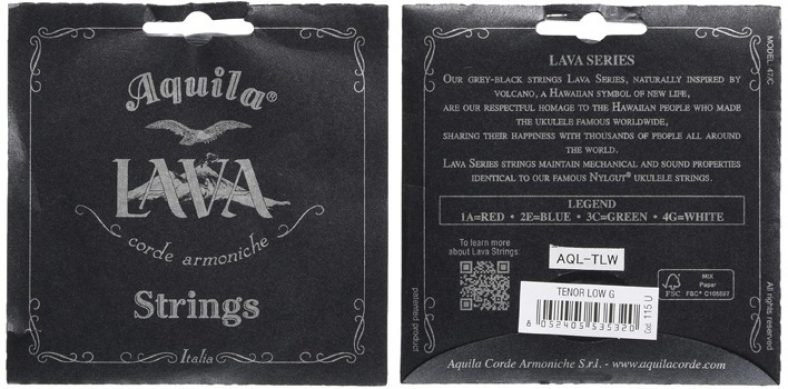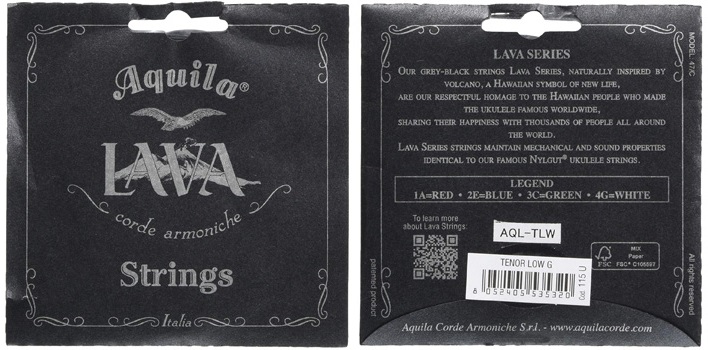 9. GHS Strings H-T10 Tenor Ukulele Strings
These are probably some of the least expensive string packs you're going to find available on the market that is still worth buying.
For a price level just below $3, GHS managed to manufacture very good strings for your tenor uke.
Much like the Lava Series by Aquila, these strings also feature a smooth black design. In this case, the C string is wound, and made from aluminum, and the rest are nylon strings.
The sound these provide will be described as very soft and mellow, but very articulate at the same time.
In case you're searching for a way to always have new and fresh strings on your uke but don't need to bust your budget, go for the H-T10 by GHS.
Sure, they might not be the perfect tenor ukulele strings on the market, but for this low price, they'll do the job just wonderfully.
PROS:
Nice combination of nylon and aluminum
Solid volume
Clear sound
Affordable
CONS:
Not a huge step up from stock strings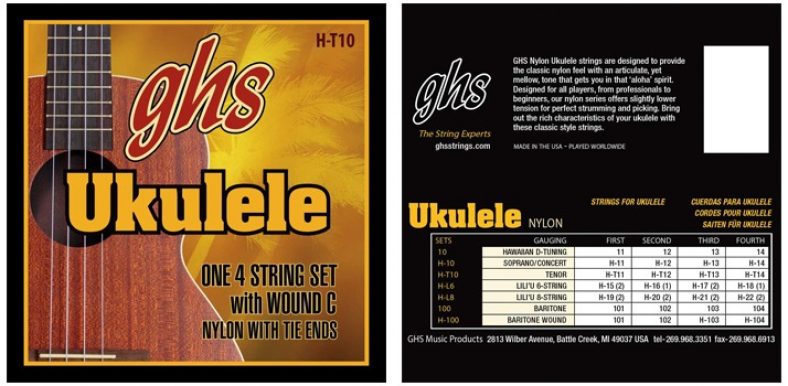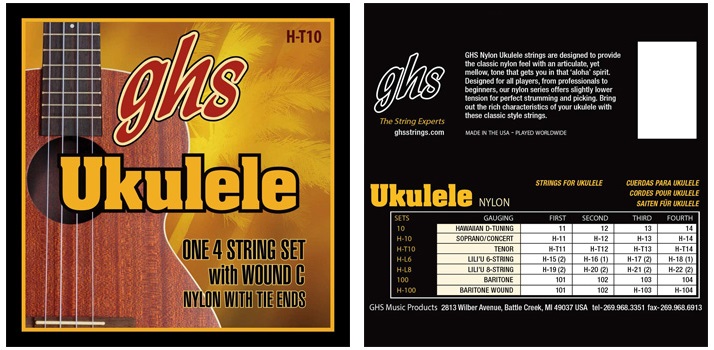 And at last, a ukulele strings comparison for the largest one of the bunch, the great ol' baritone uke.
10. Martin M630 Baritone Ukulele Strings
Produced from clear fluorocarbon, the M630 strings are guaranteed to perform nicely for longer periods of time.
Aluminum wrap wire alongside silver-plated copper is used to offer your uke that needed punch within the low end.
Though these strings are relatively low cost, they don't squeak as a lot as other wound strings tend to.
They could be a bit hard to tune at first, but when you've given them a correct stretch, they hold the tuning amazingly well.
Undoubtedly a budget-friendly yet worthy investment on your baritone uke.
PROS:
Nice feel under the fingers
Easy to play
Vibrant and clear sound
Consistent tuning
CONS:
Some users found the wound string unraveled on the end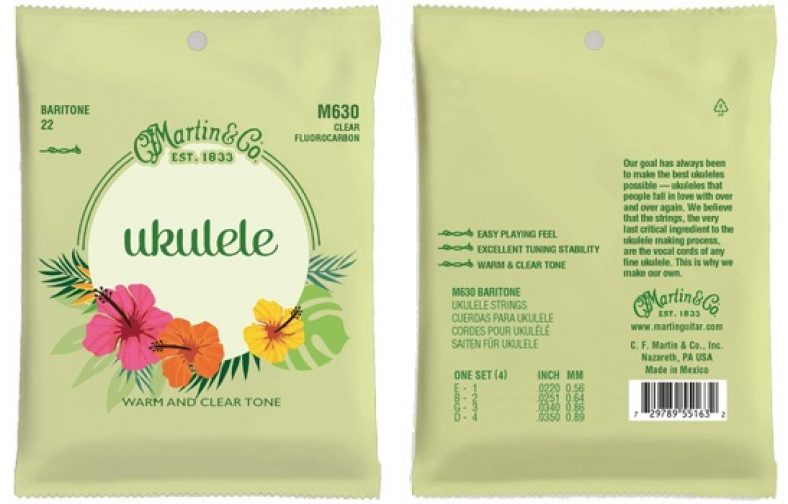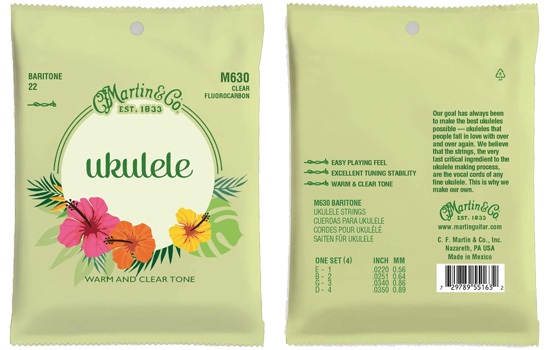 11. D'Addario EJ65B Pro-Arté Custom Extruded Nylon Strings
This is a similar model from D'Addario we talked about when we were speaking about the best strings for tenor ukes.
However, an important difference is that these are optimized for Baritone ukes, especially for the usual DGBE tuning.
The first two strings are D'Addario's Professional-Arte extruded clear nylon strings, which give the uke a very crisp and balanced sound and pleasing highs.
Because the baritone ukulele needs a great boost within the low end, the 3rd and 4th strings feature a nylon core wrapped with a silver-plated copper wound.
In case you're searching for the perfect baritone ukulele strings that are also fairly reasonably priced, definitely check the EJ65B out.
PROS:
Very durable and long-lasting
Clear and balanced sound
Nice contrast between the nylon and wound strings
CONS:
The wound strings can be noticeably louder than the nylon ones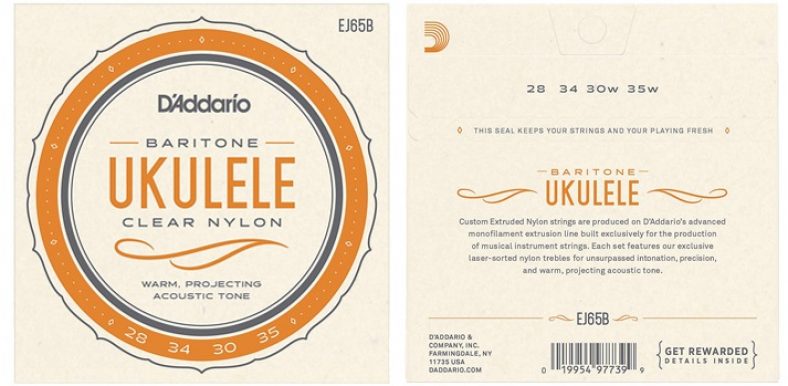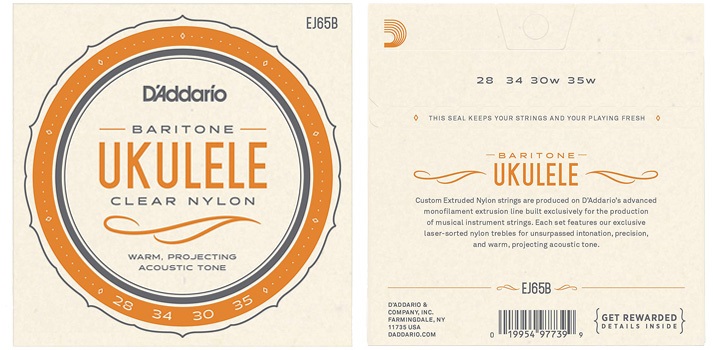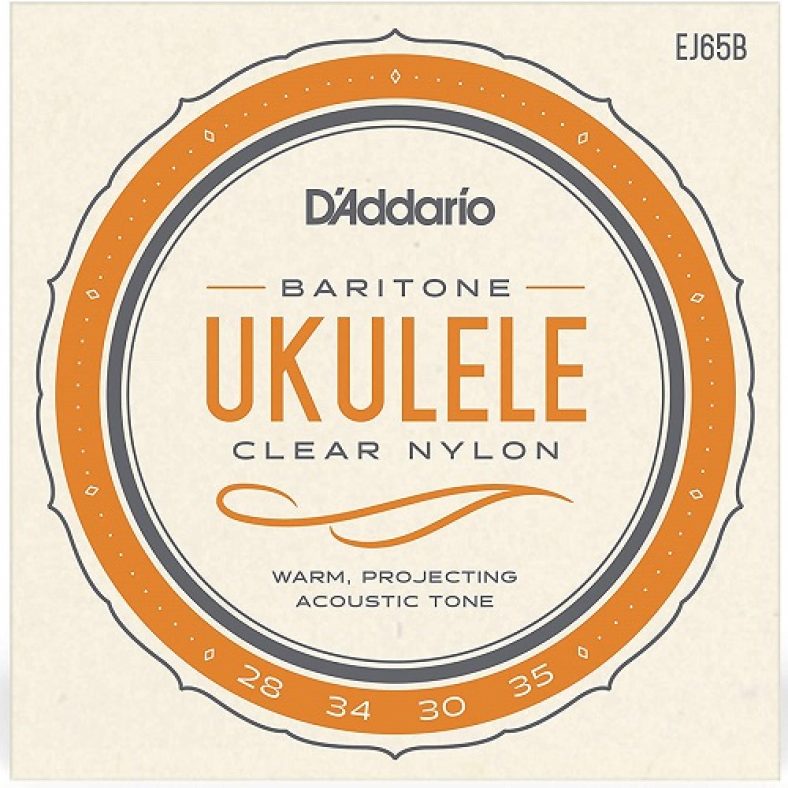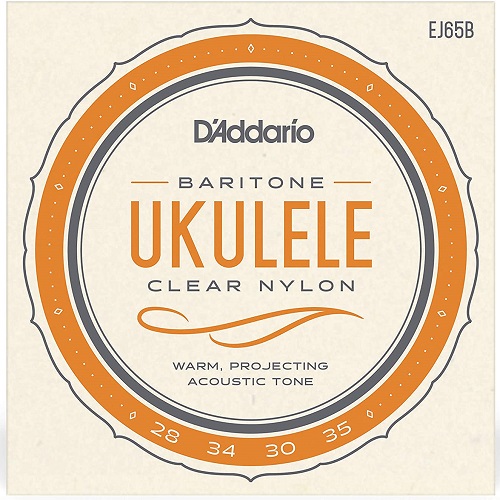 Pro-Arté Custom Extruded Nylon for highly accurate, laser sorted treble strings. Preferred for their warm and long lasting tone
12. Aquila 89U Red Baritone Ukulele Strings
Much like the concert uke strings coming from Aquila's Red series, the 89U is a solid selection for any musician searching for an improvement in the sound of their uke.
Aiming for optimal volume and a comfortable enjoying experience, these strings provide a loud yet balanced and clear tone with amazing durability.
These strings hold the tuning quite nicely, and after you've given them a correct stretch, their performance is more than solid.
As they're meant for low-D tuning, both the D and G strings are wound, making the ukulele sound more present and vibrant.
Definitely check the 89U Baritone Ukulele Strings by Aquila, as they provide great quality for an affordable price.
PROS:
Very good build quality
Long-lasting
Punchy, with a nice sustain
CONS:
The wound strings can be a bit squeaky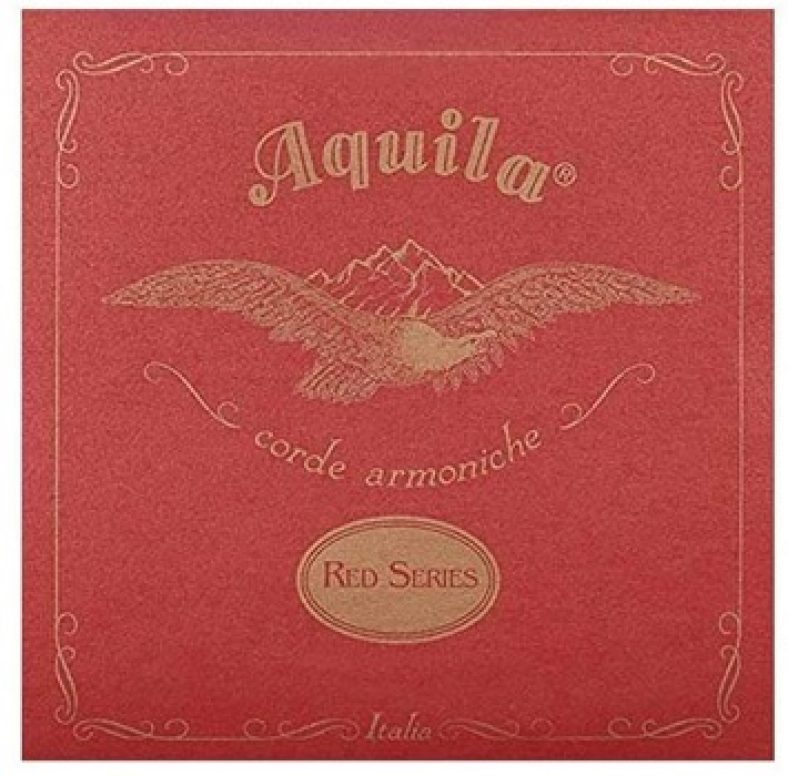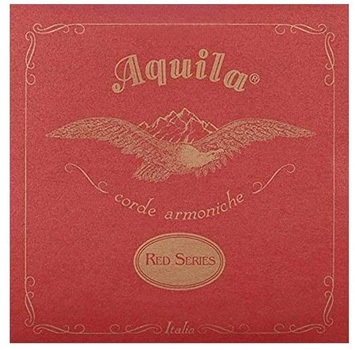 From What Can be Ukulele Strings Made Of?
Chances are high that the strings your uke came with are nylon strings. Are all ukuleles with nylon strings?
While it's the most common ukulele string kind, there are a couple more totally different ones, varying in the materials of choice, to the method chosen for wounding them.
In the case of materials, there are a couple of choices. Let's check out this fast ukulele strings comparison.
Gut Strings
Gut strings have been the first ones to appear alongside acoustic instruments. As the name suggests, they're made from the guts of different animals. As you'll see, companies like Aquila have managed to imitate the sound gut strings provide to a certain extent by treating the plastic in a special manner.
PROS:
Musicians prefer gut strings as it offers a more rich and complex sound than nylon or titanium.
They also feel very different under the fingers and tend to slide better.
CONS:
Gut strings don't last as long as plastic or metal ones
Gut strings tend to be pretty expensive.
Nylon Strings
Nylon ukulele strings could be produced from various kinds of different nylon polymers. This means it's common for nylon strings coming from various companies to sound a bit different.
The most affordable nylon strings are made in a process known as extrusion. A nylon filament is made by pushing molten nylon polymer through holes varying in dimension.
By doing that, you get strings varying in thickness, which ultimately produces totally different tones.
Good nylon ukulele strings, and a bit more expensive ones, are also made by extruding the nylon polymer but are then ground exactly in order to get a precise diameter.
These ukulele strings additionally provide a bit more of a textured feel as well, which some musicians like, while others dislike.
Another vital factor you must be aware of is that new ukulele strings need extra time to settle down.
Changing your strings before a show is a good suggestion as you'll get an extra clear and better-sounding tone.
However, give the strings a while to settle down and fully stretch, as they won't stay in tune for long.
Another simple option to get around this problem is to stretch them a bit more than the tuning you're using.
By doing this, you're minimizing the opportunity of your uke getting out of tune in the middle of your performance.
PROS:
They won't wear your fingers out as much as other types.
The sound you get can be described as warm, while still being pretty clear and snappy.
Made of nylon string isn't affected by humidity, the strings won't degrade as fast as for example, steel ones.
CONS:
Nylon strings are affected by temperature shifts. This means that they will stretch and contract when exposed to warmer/ colder air. Have this in mind as your uke can get out of tune pretty easily if you take it outside, or even inside, like when you open your windows or turn on the AC.
Fluorocarbon Strings
Fluorocarbon or plastic ukulele strings are an alternative choice to nylon ones, which many musicians choose. The sound they produce is similar to nylon ones, they usually don't stress out your fingers too much.
So even when you accidentally purchase longer strings, you'll be able to cut them to dimension with a pair of scissors. Simply pay attention to the tuning they're meant for.
Plastic like uke strings is made with carbon and fluorine. Originally used in the fishing line they're very durable and might stay in tune longer. In some cases, they provide a brighter sound.
PROS:
The main advantage of fluorocarbon strings is that they tend to be less affected by temperature changes than nylon ones.
Another great thing about this type of string is that both they and nylon ones can easily be cut to the desired
CONS:
These are prone to be slightly thinner than other strings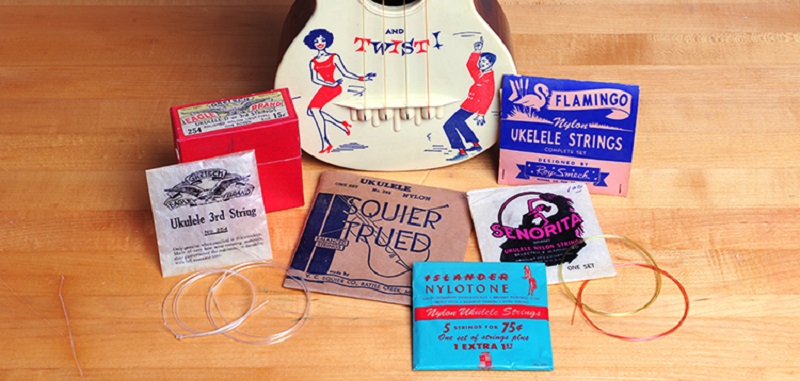 Titanium Strings
Titanium strings are far more durable than nylon or fluorocarbon ones. Now initially the metal titanium might deliver the same concerns to mind as steel however have no worries!
Titanium monofilaments usually are not only safe for the ukulele in some cases they provide a brighter sound with more projection.
PROS:
They are also monofilament strings, but as they are made of metal, they are less likely to snap under pressure.
The sound these strings provide is a bit brighter and louder. If you're looking for a way to get more volume and projection from your uke, these should do the job just fine.
CONS:
They may experience a bit sharp
Steel Strings
These are for the advanced and seasoned users of the instrument as these are designed for guitars. You'll be able to only use these on your instrument if it is constructed for them.
They produce a very different sound in comparison with the standard one which the nylon strings do as steel strings' range tends to be much like that of the acoustic guitars, landing it on the deeper sound side.
However, the strain that these strings may cause to your instrument can end up damaging it because these can induce 5 times more tension to the body of the instrument in comparison with nylon strings.
PROS:
Steel strings are known to produce a loud, sharp, twangy sound.
CONS:
The tension that's applied on both the bridge and the body of the instrument when using this type of string can lead to the uke being damaged.
Wound nylon/metal Strings
You'll find either wound nylon or wound metal strings. In both cases, tougher material (nylon or metal) is wrapped with polymer winding material.
Similar to wound metal strings, these are generally only recommended for baritone ukulele and are way more common with guitars.
In case you've ever heard a squeak come from a guitar or uke as the musician is sliding his fingers on the strings, you're most likely listening to wound ukulele strings!
PROS:
This type of string is usually used for baritone or tenor ukes, as the two lower strings. They provide a somewhat deeper sound, which is a personal preference.
These are primarily intended for larger ukes and when musicians need a boost in the lower end of the frequency range.
CONS:
The only downside of wound nylon strings would be the squeaky sound your fingers make when fretting these strings.
Like wound nylon strings, these can also be a bit squeaky.
Unlike nylon or fluorocarbon strings, cutting wound strings to the desired length can ruin them, as the wrapping material can start to unwrap.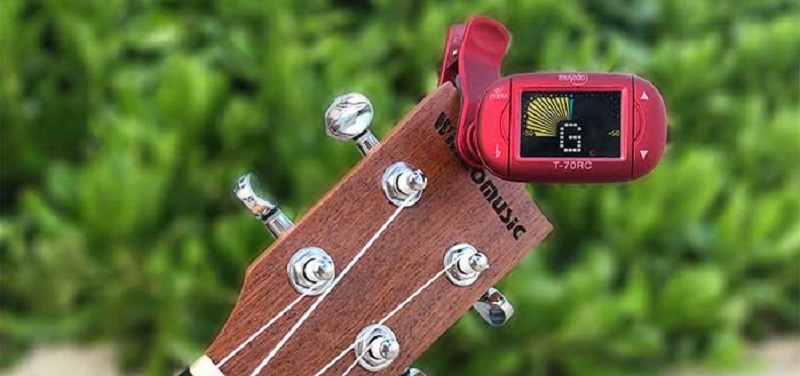 So, What is the Perfect Ukulele Strings for Me? Well, it Depends.
The primary factor must be the sound you want your uke to have. Durability and general performance will be more important than sound if you're on a slightly tighter budget.
As we've just talked about, a baritone or tenor uke can sound a lot better with wound strings, as they provide that wanted bass.
Tuning
The last and crucial factor to keep in mind when shopping for new ukulele strings is the tuning you plan to play in.
We've already talked about the different tuning the soprano, concert, tenor, and baritone ukes use.
The most typical tuning is GCEA. However, an important thing to note is that there are two versions of this tuning.
The primary one is written as GCEA and is exactly that.
The second, however, is GCEA, which means that the G string is tuned 1 octave up.
Double-check with every string pack, as getting the wrong one without noticing can leave you with a damaged string when setting your uke up.
Alternate tuning or high-tension sets have a story of their own and are used on special occasions.
Your best guess would be to skip them for now if you're a newbie and don't have a lot of experience with this instrument.
Now that we've covered the essential things you need to find out about ukulele strings, it's time to go over a few of the best ukulele strings available on the market.
WATCH: Best String for Ukulele on Market? 2021 Choices
Conclusion
As we've covered pretty much all of the necessary factors to consider when shopping for uke strings, what's the conclusion? What ukulele strings should I purchase?
Think about the sound you like, and what's most necessary for you.
Is it sound? Durability? Or perhaps you simply need a pack of strings that feel comfy under your fingers after hours of playing.
Whatever the case may be, going for any of the options we've recommended is definitely going to make a difference when in comparison with the stock strings on your uke that desperately want change.
We hope that you just discovered this article helpful, thanks for reading, and see you next time!