Gewa Novita 3.0 Electric Violin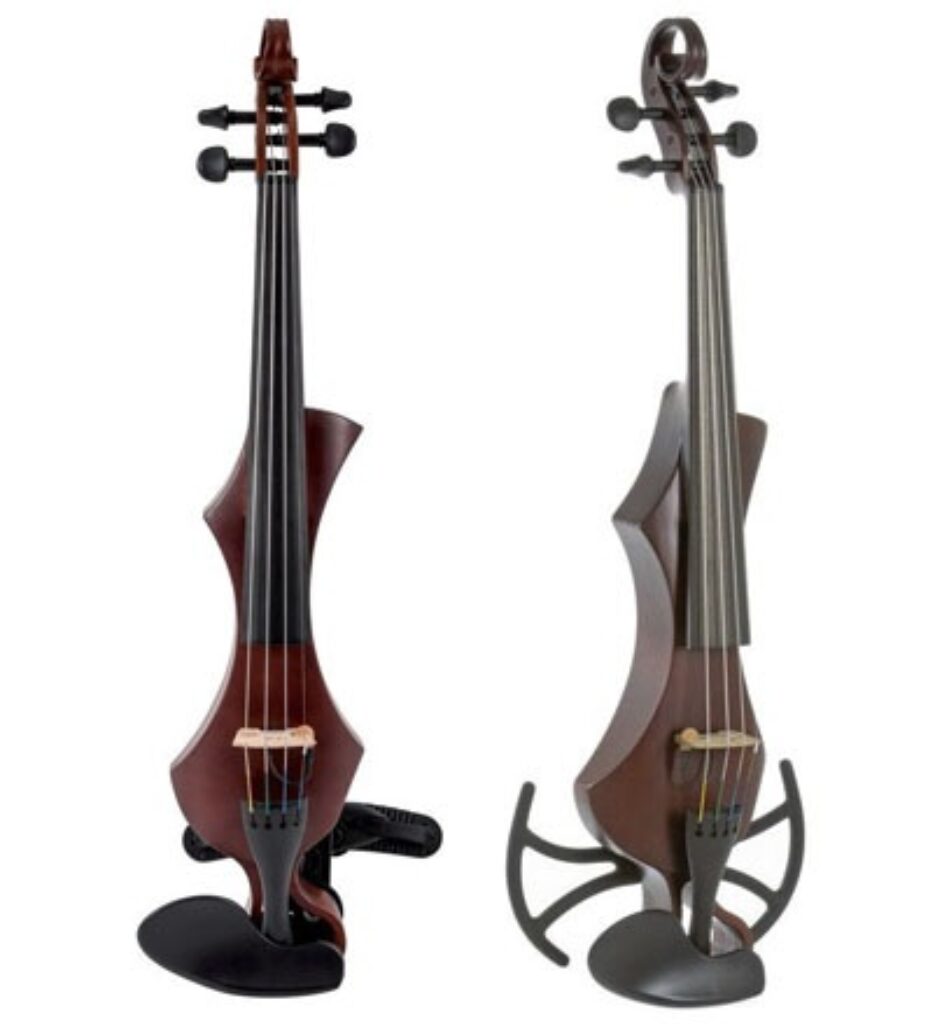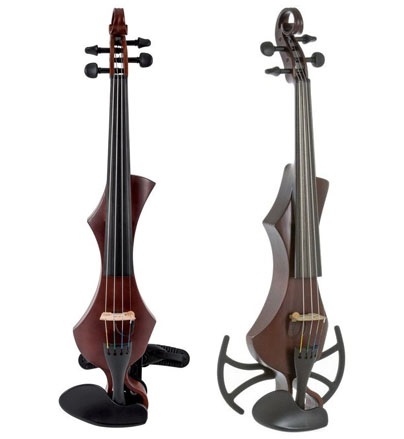 Solid maple neck
Designer scroll
Wittner fine-tuning pegs
Wittner Zurich chinrest
With its attractive design, lightweight, and wonderful sound, the GEWA Novita 3.0 is an excellent value for the money, providing a combination of style and substance at an affordable price. There are treble and bass controls on the headphone output, so you can tailor your tone with the preamp-powered treble and bass controls, and there is an onboard aux input so you can play along to musical tracks.
A wide range of electric violins and violas is available at Gewa, including the Novita Electric Violin RBR. If you're searching for string instruments, or if you're interested in traditional instruments in general, this may be something that you might like.
THESE ARE
The Key Features:
The basic dimensions of the classical violin are the same as a traditional violin
Silk, matte varnish, with the wood grain still visible
Universal adapter for attaching a standard shoulder rest
Piezo system is mounted directly on the bridge
6.3 mm jack output optionally for headphones and amplifier
AUX-IN input for stereo signals from mobile phones, keyboards, MP3, etc.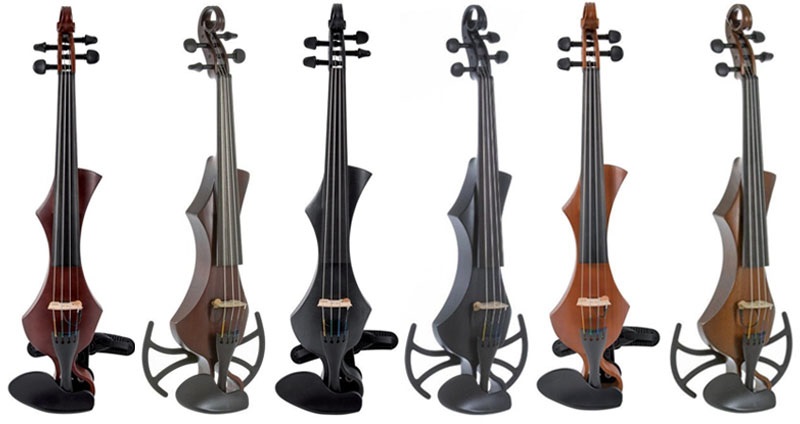 What Makes Gewa Novita Electric Violin so Special?
There's a 4-string and a 5-string version of these electric violins. You can also get them with standard or universal shoulder rests.
When you buy the standard shoulder rest violin model, the instrument comes attached with a shoulder rest. You can use your own shoulder rest with the universal model because you get an adapter attached to the violin, which you can use with your own shoulder rest.
Rich, High-Quality Sound From Novita
There's no doubt these electric violins sound present and full. It's not like cheap electric violins that sound nasal and wispy.
Novita violins are also great for studio recording. This will give you a clean sound to work with in music editing software. This is important if you plan to add effects and filters later.
In addition, the pickup can accurately pick up bowing sounds. This means you can use different bowing techniques on these violins. This isn't possible with every electric violin. If you play some cheaper electric violins, you might be doing forceful spiccatos with your bow, but getting weak sounds.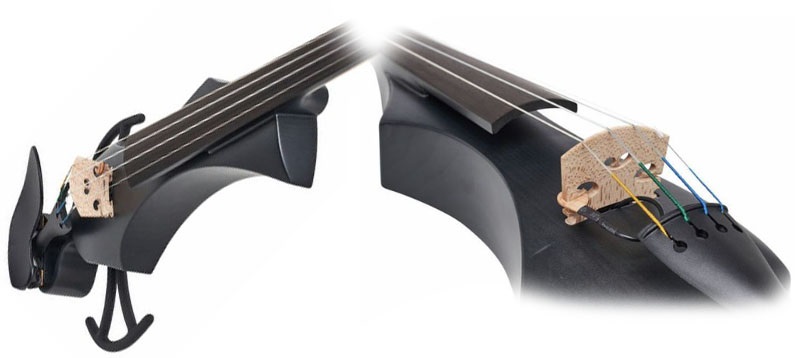 Knobs for Volume, Bass, and Treble
It's also easy to control the violin's volume and tone. Your violin has these little knobs on the back.
You can control the brightness of the instrument with the treble knob. This is especially true on the E-string. You can turn it up for a brighter tone or down for a warmer one.
You can control the lower notes with the bass knob. Especially if you're playing the lower C string on an electric violin.
You'll love the bass sound of the Novita models! When you're performing at a venue with big subwoofers, you can control how much bass comes out.
If you're recording, you can turn up the bass frequency to get those lower tones for a fuller sound.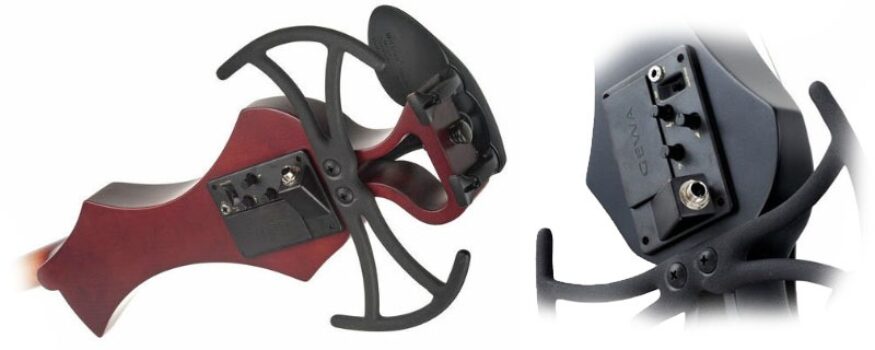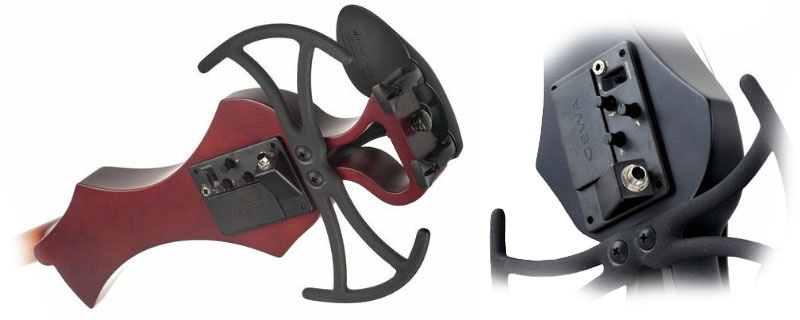 Two Audio Outputs
Two audio outputs are available: a quarter-inch and a mini.
Your violin will be plugged in 99% of the time to the quarter-inch output. If you're using headphones with a mini jack, you'll need a quarter-inch mini adapter. Make sure the toggle switch is on "headphones".
Plugging your violin into speakers or other audio devices will also use the quarter-inch output. But you'll have to turn the toggle switch to "aux".
Powered Performance
There's a 9-volt battery in the Novita violins. This means your sound is consistently powerful, so it's more present and bold.
There are some electric violins that don't need batteries. Therefore, you need to pay attention to the audio devices you're connecting.
Because Novita has onboard power, you don't have to worry about what you're plugging your instrument into.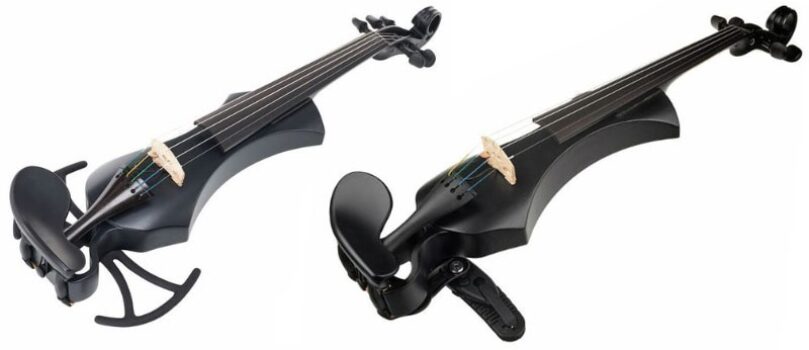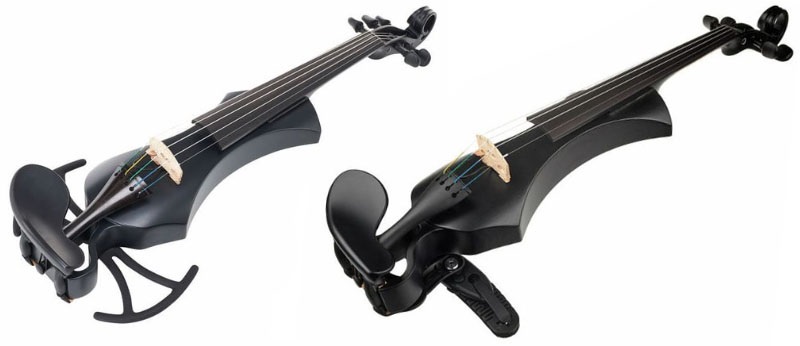 Hollow Scroll
With this feature, you can hold your violin with just one finger! It's perfect for violinists who don't want sweat and oil all over their instruments.
Planetary Pegs
As these pegs are very easy to turn, it makes it very easy to fine-tune your instrument when you need to fine-tune it. There's no need for tuning dials on the tailpiece.
Gewa Novita 3.0 Electric Violin
The GEWA Novita 3.0 is an excellent value for the money, offering both style and substance at an affordable price with its attractive design, lightweight, and wonderful sound.
Final Thoughts
There is no doubt that the Gewa Novita electric violins have a great sound and they come with some really cool features. A great advantage of this instrument is that it's easy to set up and ready to play right away. As a result, you don't need to worry about all the technical aspects of obtaining a good sound.
By combining the tone of these instruments with your favorite pedals, effects, or filters, you will be creating sounds that are truly unique and powerful.
Here is a list of more articles about electric violins that you might be interested in: