Deering Goodtime Blackgrass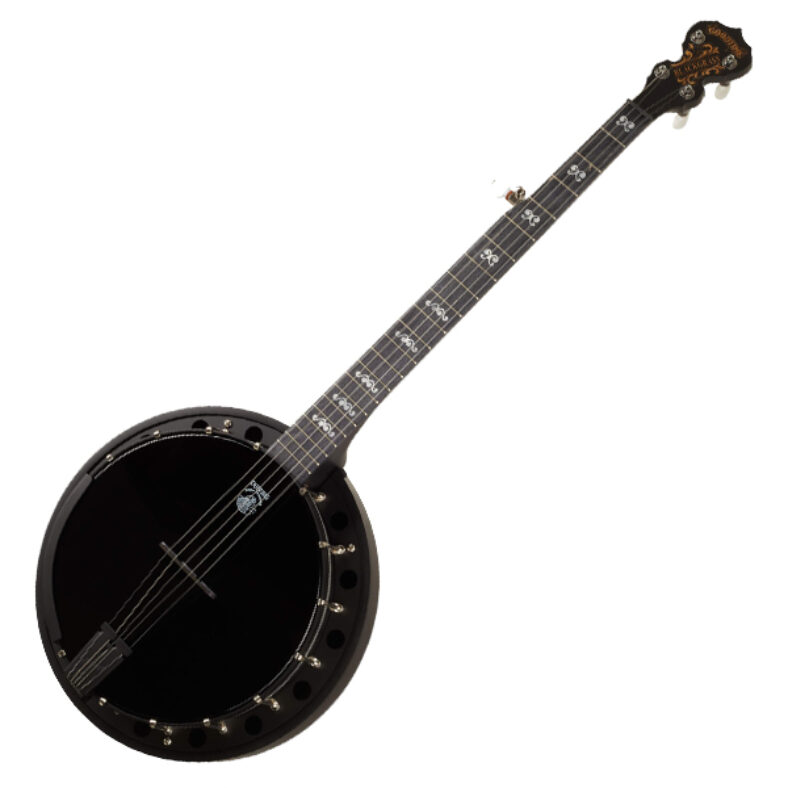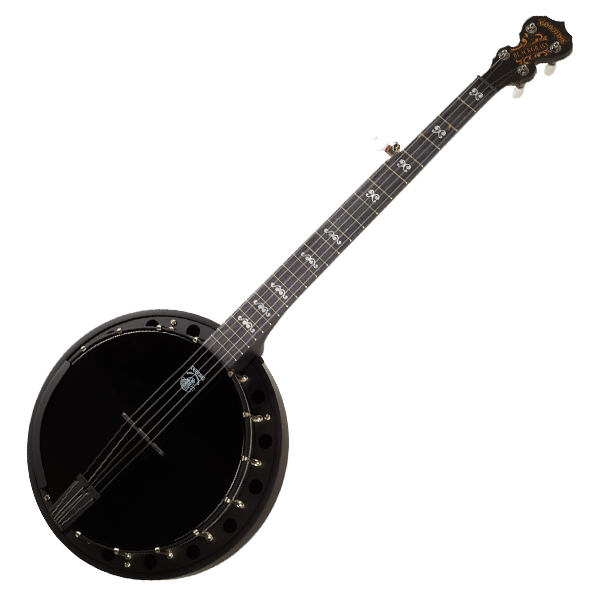 Nut width: 31.8 mm (1.25″)
Scale: 667 mm (26.25″)
Colour: Black, matte
Made in USA
---
Deering Goodtime Blackgrass Review
This Deering Goodtime Blackgrass 5-String banjo, in black with chromed tension hooks, would be a great choice for the Goth bluegrass enthusiast.
If you are looking for a banjo with a darker tone and color the Goodtime Blackgrass is the banjo for you. The black color on the all-maple wood is complimented by matte black hardware and a black head for a dark twist on a traditionally designed instrument.
The Blackgrass was designed exclusively for Deering Banjo Co and is made in the same San Diego factory as all other Deering models, echoing some of the aesthetics of the new Goodtime Artisan models. This banjo still comes with the ever-present 3-ply violin-grade maple for optimum tone and resonance and the Artisan style Pearloid inlays on the Midnight Maple fingerboard.
In addition to offering the same level of performance as other top-rated Goodtime models, the Blackgrass is also designed to cater to non-traditional players. This is certainly worth an honorable mention from the brand since there are models from Deering Goodtime that are even more eye-catching than this one.
Blackgrass is an excellent choice for anyone looking for a banjo with an edge in the looks amazing, regardless of whether you're a true picker, a punk rocker, or a punk picker.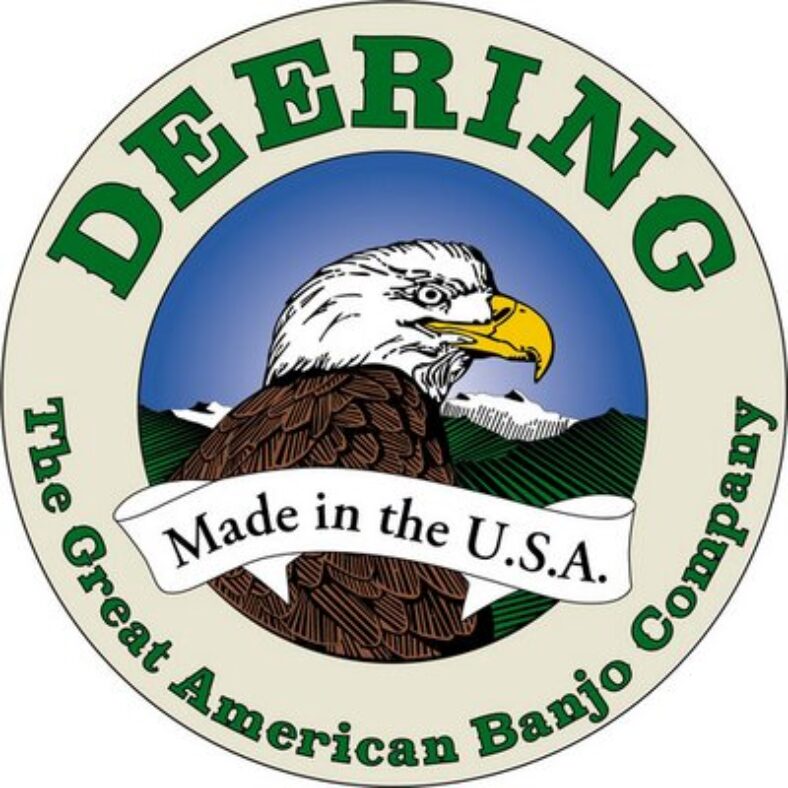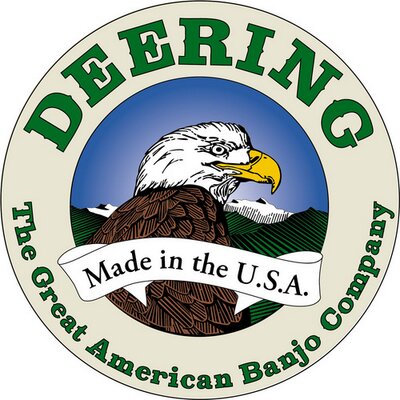 Blackgrass Design
Deering Banjos has developed Midnight Maple in response to widespread reports that exotic woods are being overharvested. Over four years of research and development (as well as patience) have gone into producing an ethically sustainable, readily available, and in-house-manufactured fingerboard.
With Deering's technology, the tight grain of rock maple can be penetrated all the way through the wood, unlike stained maple boards commonly found on instruments of the past. On the fingerboard, no raw wood can be seen due to string wear, and the stain does not come off on the hands of the player.
Not only is this banjo stunning in appearance, but it also has a lot to offer. As you would expect from Deering, it has the classic playability you are used to. There are three layers of violin-grade maple in the pot with a steel tension hoop and an 11″ high crown head. In addition, there is a slender rock maple neck with a geared fifth string on the Goodtime Blackgrass.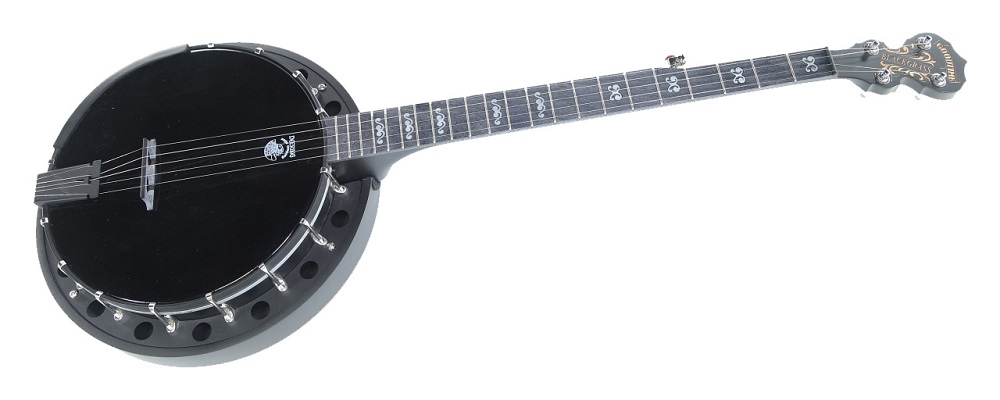 Featuring fine banjo appointments, the Goodtime Blackgrass boasts exceptional sound, excellent playability, and striking aesthetics. This banjo features a Midnight Maple fingerboard with 22 nickel silver frets and artisan-style inlays in the style of the 1950s.
Located on the Deering fiddle-shaped peghead, the Blackgrass logo is engraved with planetary tuners surrounding it. The Blackgrass also comes with a steel coordinator rod and Deering's patented Goodtime tailpiece.
Specifications:
Neck:
Satin Black Slender Rock Maple Neck
Vintage Artisan Style Inlays
22 Pressed In Nickel Silver Frets
Goodtime "Blackgrass" Logo Engraved On Peghead
Planetary Tuners
Geared 5th String Tuner
Spikes installed at 7th, 9th, and 10th frets
Deering Fiddle Shaped Peghead
Pot:
Satin Black 3-ply Violin Grade Maple Rim
Durable Matte Black Powder Finish
Steel Tension Hoop
11″ Black High Crown Head
5/8″ Maple/Ebony Goodtime Smile Bridge
16 Flat Hooks with 9/32″ Nuts
16 Bracket Shoes with Screw Attachments
Deering Patented Goodtime Tailpiece
Steel Coordinator Rod for Adjustments
Dimensions:
Neck Width at the Nut 1 1/4″
Scale Length Nut to Bridge 26 1/4″
Rim Diameter 11″
Resonator Diameter 13 7/8″
Overall Instrument Length 38″
Weight Approx. 6 lbs
Resonator:
Satin Black Stained Maple Resonator
Black Binding
Durable Satin Finish
---
Why To Go For the Deering Goodtime Blackgrass
The Blackgrass banjo is a choice that can suit many banjo players and with that being said – the banjo will produce the recognizable Deering tone with a touch of darkness to it. Do not fret about it, if your music or genre requires such tone, you are going to be very pleased with it.
The standard of the banjo is also up to the brands other models, both in terms of sound quality and build quality as well. We highly suggest you to try out this banjo and if you need something more unique in both appearance and sound to go for it.
Deering Goodtime Blackgrass Review
This Deering Goodtime Blackgrass 5-String banjo, in black with chromed tension hooks, would be a great choice for the Goth bluegrass enthusiast.
Pros
Great Sound
Amazing Black Color
Resonator
Cons
Not a budget unit
Might sound a bit too dark for standard banjo sound
Conclusion
What we really liked about this banjo is that is not a usual one in terms of looks. Every dark genre banjo players will favorite this one, for multiple reasons and not only for the color. We believe that if you were thinking of getting this one, this review will help you go a step further and purchase this gem from Deering Goodtime.
If you are having any questions or doubts about this banjo, please head over to the comment section below and share your opinion with us – or reach to Goodtime website and ask for more details about it.
If you wish to check more articles from us on Banjo, check them below: