Yamaha YEV 105 Review – Perfect Electric Violin for You!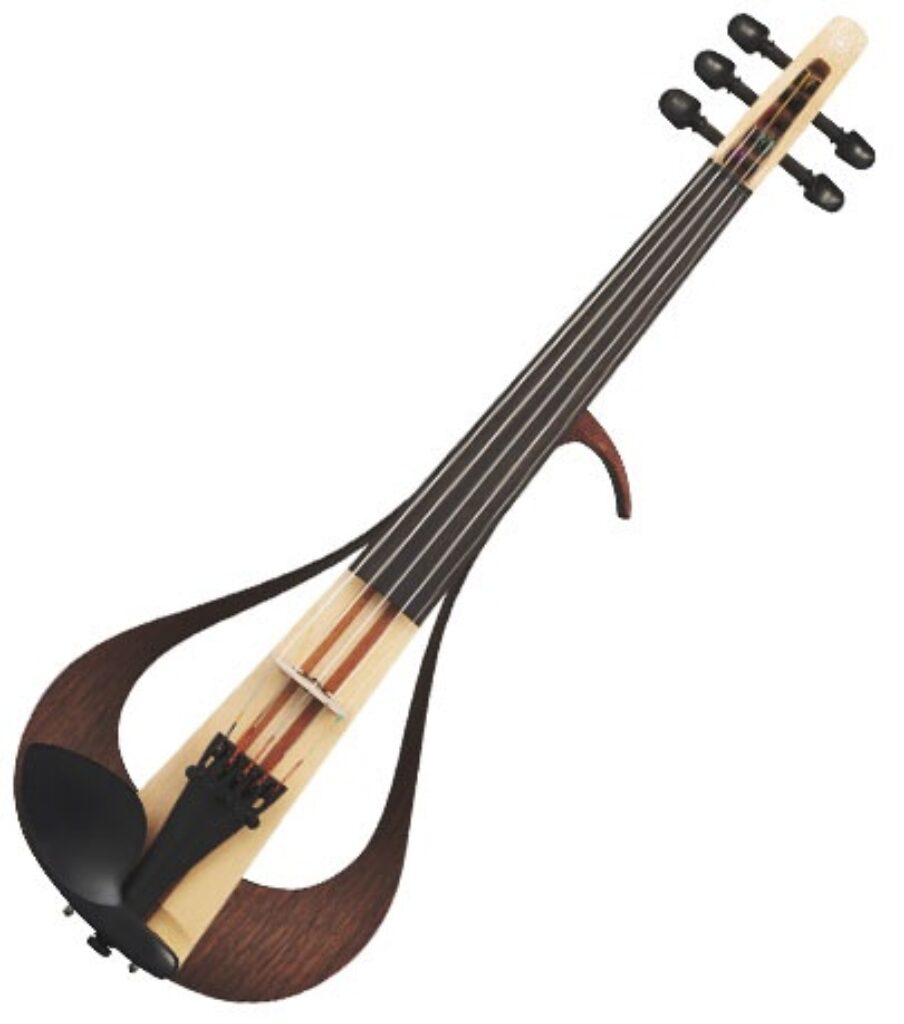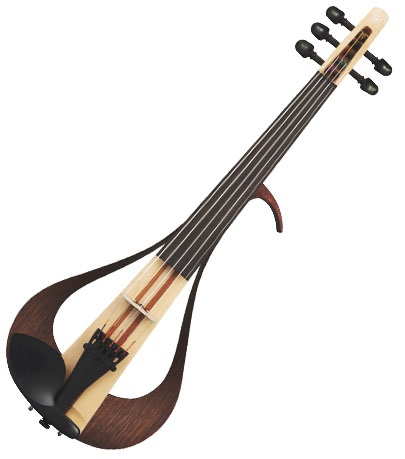 Great tone, passive piezo pickup
Amazing build quality
Composite fingerboard
Yamaha always stands out as one of the best and most reliable brands on the market, regardless of the instrument (or any other gear). It's no different with their electric violins, we will see this as an example in this Yamaha YEV 105 review.
As a matter of fact, the company has revolutionized this "unconventional" instrument.
There's no better example than Yamaha YEV 105 electric violin. Some traditional concepts are paired with innovative designs and features. It's also a 5-string violin, so it's not everyone's cup of tea.
You can read the full Yamaha YEV 105 review below to find out if this is the perfect electric violin for you.
These are
The Key Features:
5-string configuration.
A combination of tonewoods for the body and frame.
The Yamaha SCV250 passive piezo pickup is included.
Volume control.
Selector switch for direct output.


What Makes Yamaha YEV 105 Electric Violin so Special?
Yamaha's efforts to develop a new generation of electric violins that are constructed primarily from wooden materials were inspired by their acoustic guitar designs. With six different kinds of wood, in this Yamaha YEV 105 review, we will see that this instrument draws inspiration from violin and acoustic guitar shapes.
These wood materials are carefully crafted with an infinity-loop-like design, representing the dimensions of acoustic space, and are as stunning as they are fun to play with. An organic, warm tone is delivered by a Yamaha bridge pickup that's carried over from professional Yamaha Silent Violins.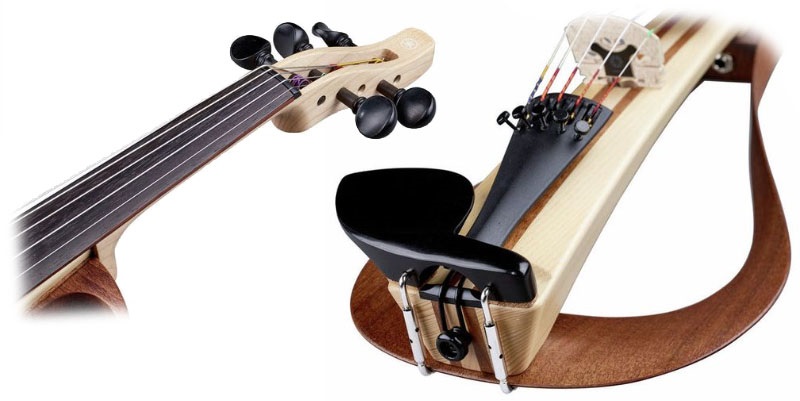 Here's What You Get With Yamaha YEV 105
A fifth string is the first thing that stands out. We enter the viola's range by adding the fifth interval below the G string (which is the C string). Despite that, the tone still feels like an electric violin.
It's a great instrument, plain and simple. It's not a professional one, but it's still pretty awesome, offering great tone, reliability, and performance.
Even semi-pros and professionals play this instrument, which is surprising for the price.
All this is rounded out with a very ergonomic and innovative design that was actually inspired by Yamaha's guitars. Those used to traditional violins might find it weird at first.

Construction
While this instrument has an innovative design, the basic construction is typical of electric violins at this price point. In this case, we have the main body with a frame.
The violin is made from 6 types of tonewoods, a clever combo of high-quality materials. Five layers of maple, mahogany, and spruce make up the body. In addition, the walnut frame has a 5-layer construction.
In spite of the fact that this is an electric violin, the combination does have an impact on the tone, giving it pronounced attack and sustain.


Playing and Controlling
On the tone front, it's got Yamaha's SCV250 passive piezo pickup. The passive pickup manages to capture even the minor dynamic nuances of different bowing techniques, while we can argue endlessly about active or passive pickups. A pickup like this shows that the instrument was designed for more technically skilled players.
There are two simple controls on the pickup. The first switch lets you choose a direct output or a signal path through the instrument's volume control. Secondly, there's the volume control.
There's a tone difference between these settings, and the direct output mode sounds richer in some settings, with a strong bottom end, but controlled treble, and strong mids.
You'll hear the Yamaha YEV-105's most important sonic qualities with this setting. Overall, it's pretty bright, even in the extended lower register on the 5th string. As a result, it is an excellent choice for a lead instrument.


Yamaha YEV 105, 5-String Electric Violin
The violin is made from 6 types of tonewoods, a clever combo of high-quality materials. Five layers of maple, mahogany, and spruce make up the body.
Pros
Great tone
Passive piezo pickup
Amazing build quality
Cons
5-string violins may not appeal to everyone.
Final Thoughts
The Yamaha YEV 105 electric violin is an excellent choice if you are an experienced violinist interested in exploring electric violins.
This is especially true if you wish to add a fifth string to your instrument in order to expand your range and flexibility.
Yamaha YEV 105 price is great and also is a great lead instrument due to its brightness and ability to pronounce the mid-section of the audible spectrum. In case you are looking for an electric violin that is compatible with effects units and amplifiers, this one is an excellent choice.
Overall, this Yamaha YEV 105 is an excellent electric violin. There is no doubt that it is the best option if you desire five strings. It is not advisable to ignore one of the other top electric violins available in the market.
Here is a list of more articles about violins that you might be interested in: