Yamaha SLG200S Silent Guitar!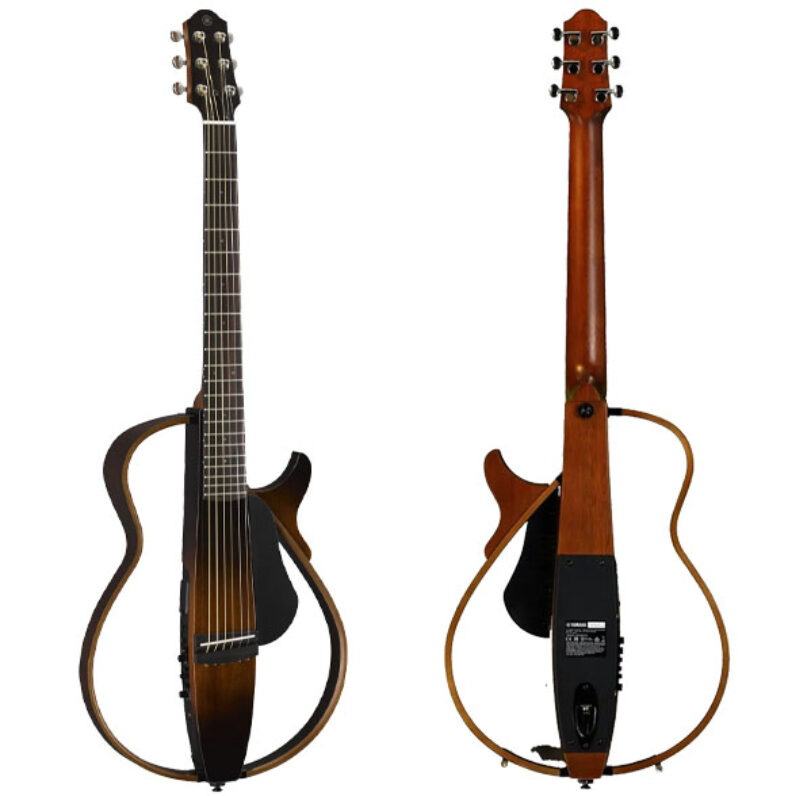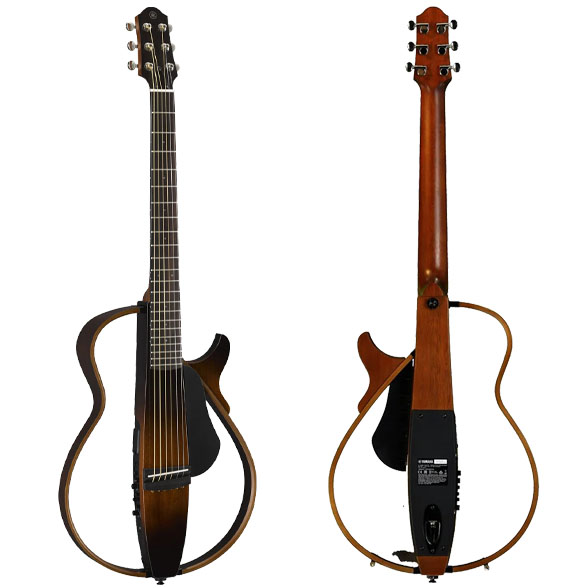 Great Quality Instrument.
Reasonable price level.
Gig bag included.
---
Yamaha SLG200S Silent Guitar Review – Awesome Instrument!
When it comes to guitars, Yamaha Silent guitars are unique, and you might mistakenly believe that they are nothing more than gimmicks if you've never tried one.


I have shown them to guitar players who are often astonished by their excellent performance and sound, and quickly change their previous opinion of them as toys.
Yamaha
SLG200S Silent Guitar
Right-Handed.
Number of Strings – 6.
Body Type – Silent.
Single – Cutaway.
Body Wood – Mahogany.
Neck Wood – Mahogany.
Fingerboard – Rosewood.
Number of Frets: 22.
Tech Specs
Scale Length – 24.96″ / 634 mm.
Radius: 15.8″.
Nut Width: 43 mm.
Bridge Type: Rosewood.
Pickguard – Yes.
Bridge: Piezo.
Weight: 4.63 lb / 2.1 kg.
What Is the Quality of Yamaha Silent Guitars?
Yamaha is known for the quality of its instruments, and its silent guitar range is no different.
With quality woods and mostly high-quality hardware, the Yamaha SLG200S Silent Guitar is an excellent value for its price. I have played it many times as well as traveled with it. It has been very durable.
In the beginning, I bought this steel-string silent guitar with the idea that it would make a great travel guitar that could be played in hotel rooms quietly.
In my opinion, the guitar is made from high-quality materials and has a gorgeous design that makes it visually appealing.
Build and Design of Yamaha SLG200S Silent Guitar
When I first picked up the SLG200S I wasn't sure what I was getting into, but I quickly fell in love with that guitar! Compared to previous models, this model is of very high quality, and you can really tell and feel how Yamaha has improved it.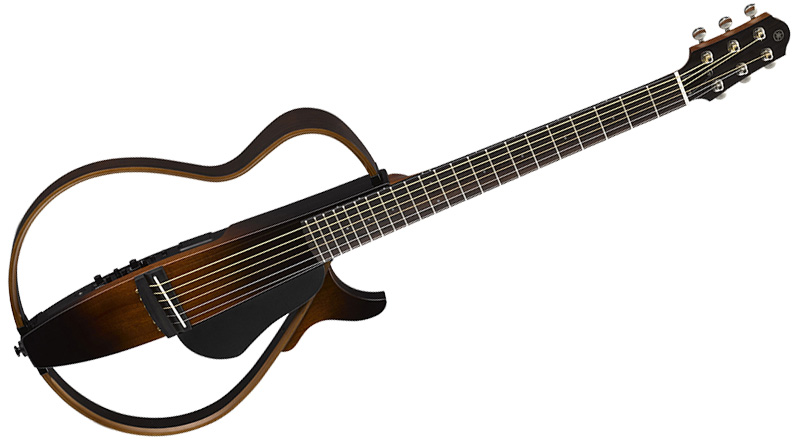 Based on my experience with either plant, I would have to say that the quality remains the same. The first series of silent guitars were made in Indonesia, and the new series is now made in China.
Paint and Finish quality of Yamaha SLG200S
With a black finish body, dark stained natural maple frame, and gloss rosewood horn, the SLG200S is a handsome instrument.
The neck and frame have a nice thin satin finish instead of the thick lacquer finish of the earlier SLG110S, while the main body has a thick protective lacquer.
This guitar's neck has a satin open-pore finish from heel to the headstock, with a smooth dark stained front that gives it a pleasant earthy feel.
The neck of the SLG200S
It has accurate fretwork without sharp ends, and its open pores make playing faster and smoother than the gloss lacquer of the previous model.
The SLG200S has a different neck joint design, with a more traditional-looking acoustic guitar heel connecting the neck to the body. In my case, the joint has not cracked even after several years.
About 3/32″ (3mm) of space is left between the fretboard and the body where the fretboard rides over the body. The neck joint is an interesting design, and I think it's well integrated into the body for a strong connection.
Frame and Body of SLG200S Silent Guitar
You can see that Yamaha has chosen a slightly more natural look with this new design, and it looks fantastic! With its redesigned lower frame and horn shape, it has a more classic appearance.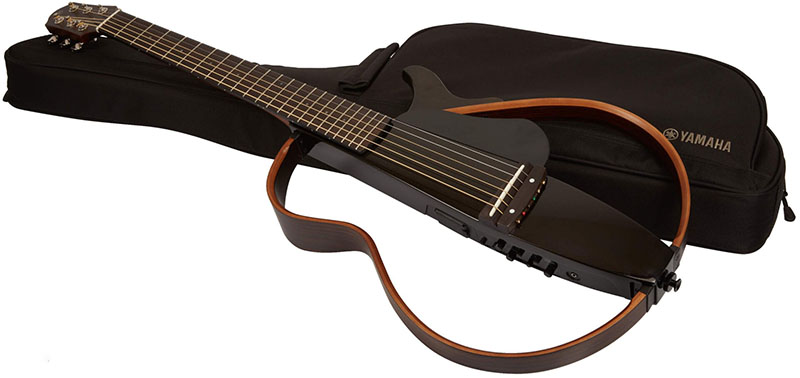 Frame sockets have been beefed up, resulting in a more positive and solid connection between the frame and the body.
I used to hear crackling noises from the frame on some of the previous models, especially the SLG110S. With the SLG200S, this doesn't happen. Because the larger connector is less wobbly, I also find that the thumb screws stay tight.
Compared with the SLG110S, the SLG200S has a beefier central body section, which makes a huge difference in resonance.
Other Parts of SLG200S Silent Guitar
A thin piece of plastic makes up the pickguard and finger rest. While it does the job fine, I think it looks cheap on such a high-quality guitar.
Like the SLG110S, the nut and saddle are made of hard plastic, with the compensated saddle being the only difference. In this area, I believe higher quality components could improve the guitar.
It is an aesthetically pleasing guitar, and its construction matches its looks with a high level of quality.
Playing Factors
I've already mentioned that Yamaha Silent guitars offer a truly unique playing experience, combining the feel of acoustic and electric guitars.
In my experience, they are ideally suited for general strumming, fingerpicking, and flat-picking, and anyone who loves the feel of heavier acoustic strings on a slim-body guitar would enjoy them.
I have found that the neck dive of these guitars can be a problem when standing, but not so much while sitting.
When you have a nylon strap that slips easily on your shoulder, you need to hold the neck up with your fretting hand. With these guitars, I recommend using a leather strap, as it adds extra grip over your shoulder.
Is the Yamaha Silent Guitar an acoustic or electric instrument?
It's your choice! Plugging it into an amp produces an authentic acoustic sound, but you can also use the onboard sounds.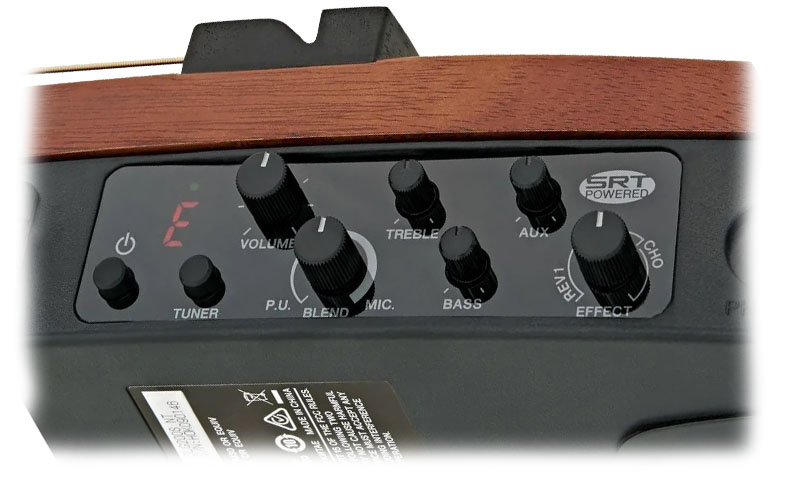 Based on how they sound and how they feel to play, I tend to think of both Yamaha Silent guitars as more acoustic than electric. It has an acoustic steel string set and a thicker neck in comparison to many electric guitars, giving it a solid acoustic guitar feel.
Yamaha Silent Guitars: How Well Do They Age?
Since I bought my Yamaha Silent guitar, I've traveled everywhere with it, and it has held up remarkably well. The connections are quite sturdy, even after removing and refitting the upper frame hundreds of times.

Neither of my guitars has developed any cracks, and neither rattles nor buzzes.
The electronics have been completely reliable; however, you should not leave old batteries in them or you may develop a leak that damages the contacts.
The tuners are still as reliable as they were when I bought this guitar.
---
Yamaha SLG200S Silent Guitar
One of the most traditional Pre-war Banjos!
Pros
80% quieter than acoustic
Detachable frame
Slim and portable
Extra accessories included
---
Here is a nice video review about Yamaha SLG200S Silent Guitar!
---
Last Words
I highly recommend it because it offers more than just quiet practice.
For example, imagine you want a guitar that is extraordinarily unique, either for practice or for pretty much any other reason. The Yamaha SLG200S Silent Guitar would be a great choice in that case.