Introduction – Ohana ukulele review
Since 2006, engineer and Ohana founder Louis Woo have introduced some amazing ukuleles to players around the world. Ohana's ukuleles are usually crafted of beautiful tonewoods, with great features and gorgeous finishes.
He started, working from his garage after which he expanded to storage space, Louis and his crew targeted delivering a mix of great sound and overall high quality to the company's clients. Right now, Ohana has expanded to a 6,000-square-foot warehouse in Long Beach, California.
Each of their instruments is inspected and set up before delivery – even ukuleles under $100 are dealt with care, so each buyer receives the very best playing experience.
With so many ukes to select from it was hard to choose the favorite, but in our Ohana review, we took some of the best ukes with great performance and price range.
They produce such a wide selection of ukes, and every model has something nice to offer.
Ohana Ukuleles are like nothing else. Sweet, and pure sound is the company's hallmark, and because of their unique features, these instruments have beautiful look and a really good feel in your hand.
---
1. Ohana SK-10S Soprano Ukulele
The Music SK-10 soprano uke is mostly made for people that are learning but also for every other player out there.
The SK-10 is the least costly ukulele you are going to find (that is not a toy) and is the most affordable of what Ohana has to offer.
It is made mostly out of laminated mahogany, however, the fingerboard is made out of rosewood. It cannot be plugged in as it's strictly an acoustic instrument. The Music SK-10 has a fairly good performance and appearance for the price.
This instrument is not as easy to play as more professional ukuleles, however, for those who are simply looking to learn, it's very playable and simple enough to get the basics on. It is not the sturdiest one, but as long as you deal with it with care it will last for a long time.
The sound of SK-10 is not something too special but sounds good enough. You cannot expect that much if you're buying the cheapest that they've to offer, however, it is still a pretty good-sounding option.
It lacks the pristine sound you will get with higher-class ukuleles, but again it is a really good ukulele for beginners. The Ohana Music SK-10 is a really good deal for the price and a good way for many who wish to get into the uke world.
You can get an instrument that is playable and good to learn without having to spend a lot of money.
In case you're at all serious about playing the ukulele, we are springing for something a bit more long-term oriented, however for those of us who simply want the sound on hand and to mess with it every once in a while, the SK-10 is ideal.

PROS:
Very good and sturdy construction.
Great price, cheapest that Ohana has to offer.
Slotted bridge.
Key Features:
Mahogany Laminate Top, Back & Sides.
Rosewood Fingerboard & Bridge.
Geared Tuners.
GHS Strings.
Natural satin finish.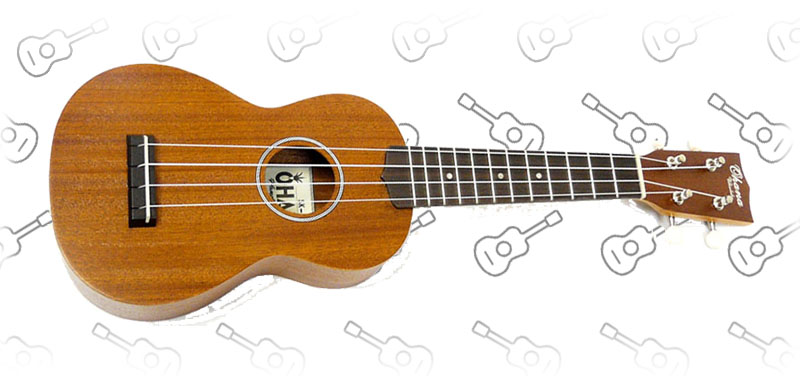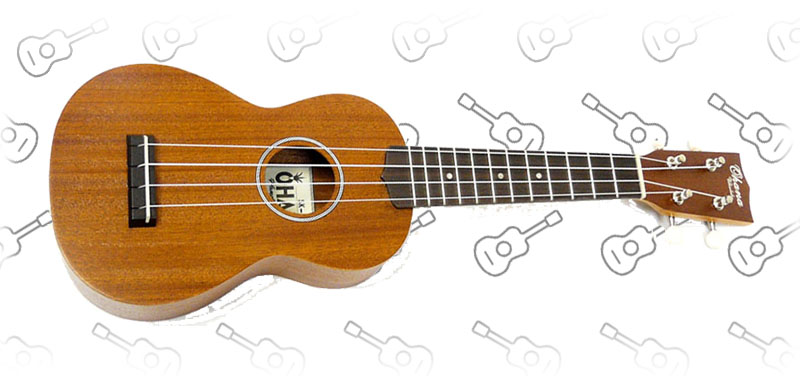 Mahogany Laminate Top, Back & Sides, Rosewood Fingerboard & Bridge, Geared Tuners, GHS Strings.
---
2. Ohana SK-16B Soprano Ukulele
The SK-16B spruce construction of this uke provides a unique sound that is bright, cheerful, and of good quality.
The lighter wood additionally adds an annual aesthetic to the instrument, helping it to stand out from the competition because of its bright, fun look and top-quality sound.
This model gives a special twist on the standard uke, with a bright spruce look which helps to set it apart from its competitors.
The selection in wood additionally signifies that the sound is bright and chirpy, and this uke can also be a great alternative for players of all levels— from learners making their first purchase to skilled players searching for something different.
This option does tend to feel kinda cheap and flimsy, especially if we compare it to other models that are in the same price bracket. This uke is not a usual selection, however, it seems definitely worth the risk.
It offers something different and combines this uniqueness with an excellent sound that is appropriate for a wide range of players of all experience levels and playing styles.
A good thing is that even experienced players will discover something different in this Ohana model!

PROS:
Unusual and very attractive design.
Aquilla Strings.
Great for players of all levels.
Spruce offers a bright, unique sound.
CONS:
May feel a little cheap compared to more premium models but is still outstanding value considering the low price.
Key Features:
Spruce top.
Spalted birch back and sides.
19-fret.
Aquila strings.
Body binding.
Geared tuners.
Rosette and purfling.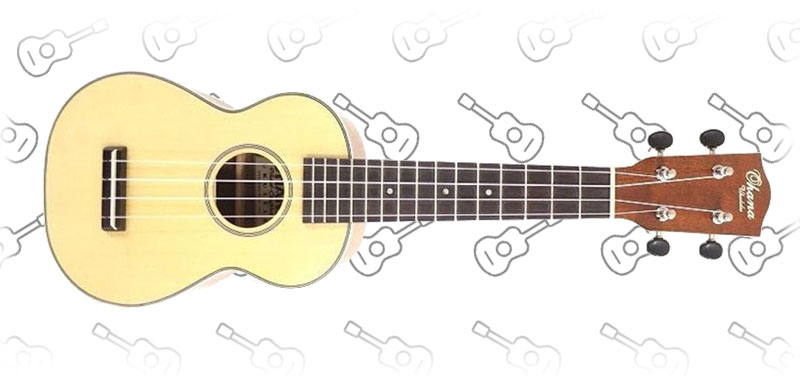 ---
3. Ohana SK-21 Sopranino Ukulele
This SK-21 model is a lovely instrument that has more than earned its place in our Ohana ukulele review.
The strong mahogany creates an attractive finish, in addition to a stunning rich sound that seems way more premium than the modest price tag indicates. This SK-21 model is beautiful and feels costlier than the price range would hint at.
The strong mahogany makes a real difference when it comes to both appearances and in producing a warm and rich sound, on a par with costlier models. Their attention to detail is consistent, and there's a feeling of love and care in the finish of this model. It's also super portable perfect addition for musicians on the go.
It is a soprano however comes up slightly smaller than most traditional sopranos. Although this does not influence the quality of the sound, it might be somehow uncomfortable for players who are used to bigger soprano ukuleles.
Even though it is smaller than some sopranos, this is, without doubt, a selection that offers a lively, bright sound, and has the bonus of being easy to transport.

PROS:
Solid finish for a great sound.
Feels more expensive than the prices may suggest.
Aquila strings ensure a high-quality sound.
Stunning finish and design.
Very portable.
CONS:
Slightly smaller than a typical soprano – some players may find this tricky to adapt to.
Key Features:
Sopranino size.
Ovangkol fingerboard and bridge.
Top back body binding.
Solid mahogany top, back, and sides.
Precision friction tuners.
Bone nut and saddle.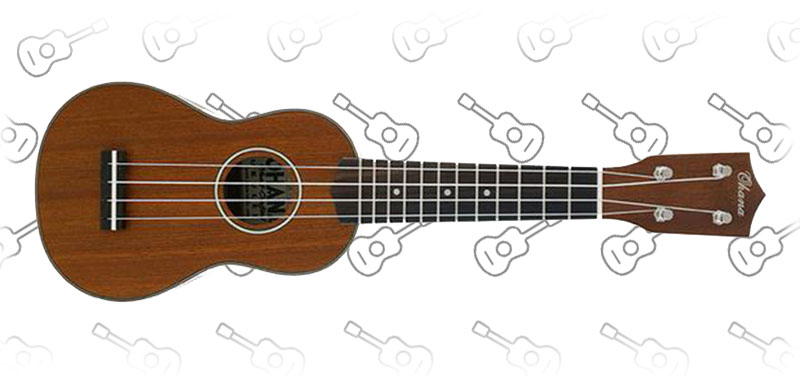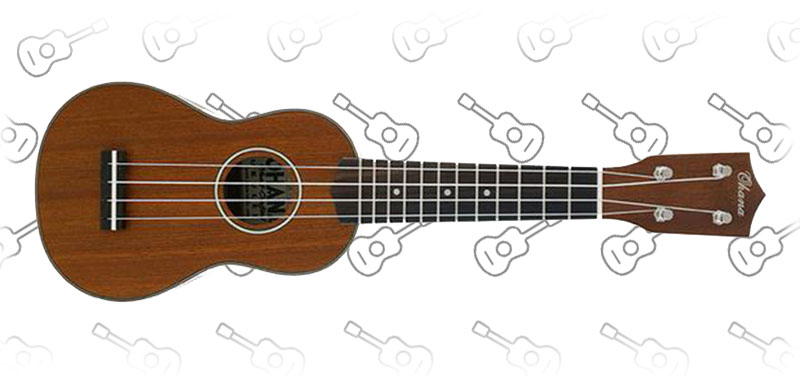 Top and Back are made of Mahogany, Sopranino Model, and Nylon Strings.
---
4. Ohana SK-15BWE Soprano Ukulele
This SK-15BWE soprano limited uke is constructed from beautiful black and white ebony, which is an exceptional instrument and a real privilege and pleasure to play.
The fairly low price in comparison with other models is a surprise when you consider the appearance and great sound offered by the uke and makes it a viable selection for learners.
This model is deceptive the feel, sound, and high quality are something you'd expect from a much more costly instrument, and this allows those who are learning to get their hands on an awesome uke for a fraction of the price.
Solid wood has a great influence on the sound, and the whole effect is incredible. This uke may appear quite costly when compared to other models in the budget range, however, it's well worth the money.
This model is a great choice that offers learners on a budget the possibility to buy a high-quality uke, which appears just as good as it sounds.

PROS:
Solid wood for exceptional sound quality.
Stunning and unique design and aesthetic.
Very premium feel considering the price.
CONS:
It may seem a bit expensive compared to other budget models, but great value for money!
Key Features:
Laminate ebony wood top, back, and sides.
Rosewood bridge and fretboard.
Grover geared tuners.
Includes Aquila strings.
Pearloid dot inlay markers on frets 5, 7, and 10.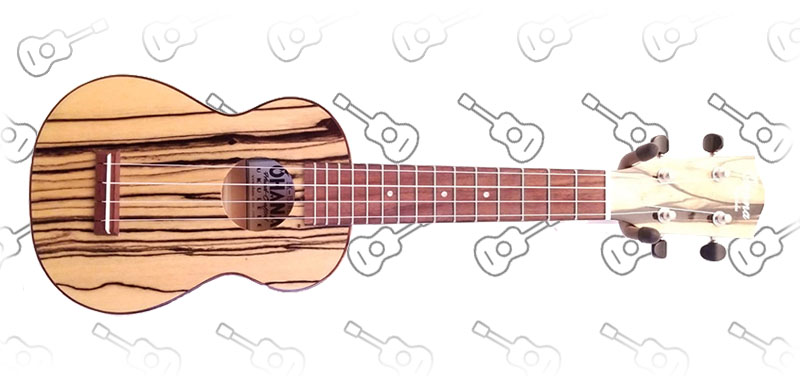 ---
5. Ohana CK-14 Concert Ukulele
The CK-14 concert uke is a very popular elevated model. It is used in schools and communities worldwide for its high quality, sound, and sturdiness, this uke sounds great and is easy to play.
The CK-14 model is made from mahogany and built by Ohana with the same construction as their other high-end models.
The carrying uke bag features strong stitching and high-quality hardware, together with a backpack-style strap to carry on your back or shoulder.
Water-resistant and sturdy, this uke carrying bag gives great protection from pressure and water. You will be able to take your ukulele wherever you go safely!
The clip-on tuner has a high-sensitivity vibration sensor and two tuning modes for ukulele and chromatic.
The display rotates 360 degrees and could be adjusted to any angle for simple viewing and visibility during the daytime or at night. The display turns green when in tune so that you always have the right pitch.

PROS:
Good quality instrument.
Aquila Strings.
Mahogany body.
Like other Ohana's frets are really smooth.
Key Features:
Mahogany neck, top, back, and sides.
Rosewood bridge and fingerboard.
Black binding.
Chrome geared tuners.
Aquila strings.
ABS nut and saddle.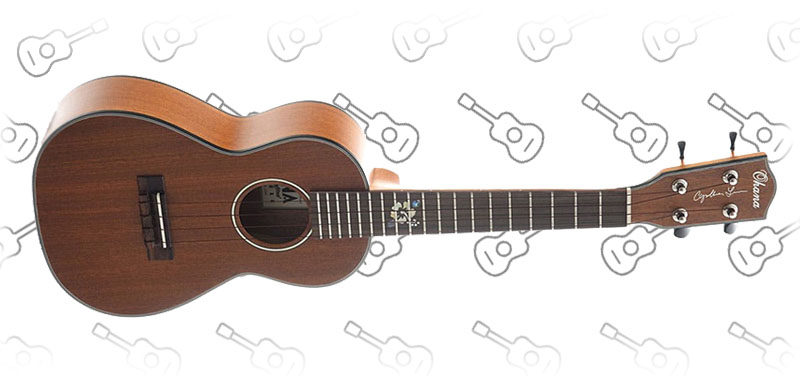 ---
6. Ohana SK-14 Soprano Ukulele
This SK-14 model it's an all-laminate soprano scale uke in a standard form and size. So we have a laminate mahogany body, however, this time its edge is bound with black-white purfling on the top edge, and black edging on the back of the model.
A similar black and white are detailed around the soundhole and in both cases, this binding edging is inlaid, so not a transfer. We think it provides the whole instrument a elevate it was missing and delivers an extremely classy-looking model.
The SK-14 has a typical Martin-style slotted bridge mounting for easy string changes and that's fitted with a synthetic cream-colored and uncompensated saddle.
When you look inside it reveals a tidy build and that the laminate woods are not too thick. Topping the neck is a rosewood fingerboard that is in good condition and color.
Frets are made from nickel silver and it has 12 to the body but 15 in total. This is nice to see as a lot of players can be put off by most entry-level sopranos having only 12 frets in total. Additional frets are always to be welcomed. The deal is completed by Aquila strings, what else.
The SK-14 is a really cheap uke. As such, we think this makes a fantastic beginners' first choice ukulele and hope more players look at this sort of price for a reliable starter.

PROS:
Great build quality and finish.
Punchy sound with surprising sustain and warmth.
Classy looks.
15 frets!
CONS:
No side fret markers.
No friction pegs.
Key Features:
Elevated laminate mahogany.
Tuner.
Strap.
Backpack-style gig bag.
Music Chart Pamphlet.
One Sticker (colors may vary).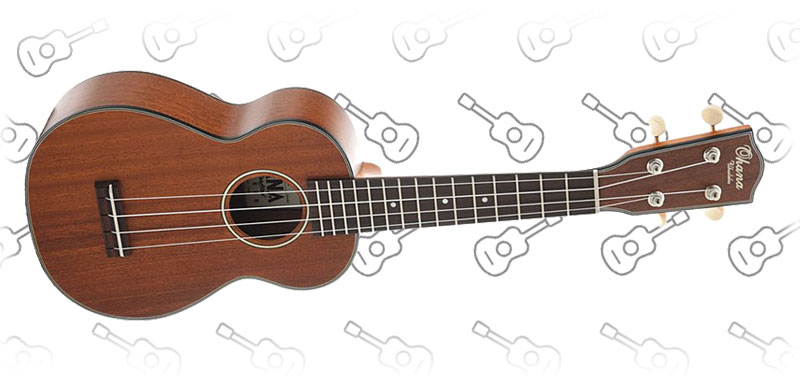 ---
7. Ohana Tk-10 Tenor Ukulele
If you're searching for a fantastic budget tenor ukulele option, this model is a great choice. It combines affordability with real high quality, and the result's a vibrant and natural sound, which is ideal for players who're just starting and learning to find their feet.
This uke is really great and reliable option for players of all levels and is particularly accessible to learners. The design is straightforward, and the tone is clear and strong which is ideal for learning and getting to know the notes and sounds.
The Tk-10 offers you everything you would expect from an instrument of this price range, and there are not any hidden surprises.
The frets on this model have a habit of coming loose and rattling, which could be irritating if you have to send them off for repairs. Additionally, it is quite plain and bare in comparison with other models in the same price range.
Perfect for beginners, it is a safe and reliable budget option that will enable you to progress and practice your skills with confidence, without investing a high amount of money while still in the early levels of getting to know the instrument.

PROS:
Good clear sound.
Aquila strings.
Great, high-quality budget option.
Easily accessible for beginners.
CONS:
Frets can come loose after a short period.
Quite plain and no-frills compared to other models in the price range.
Key Features:
Mahogany top, back, and sides.
Rich satin finish.
Hardwood fretboard.
Aquila strings.
---
Ohana brand
As we previously mentioned this brand calls Long Beach, CA, their home, and aims to deliver the free spirit of the region into every instrument they promote and sell.
They concentrate on rich-toned woods and constructions, to make the best sound for every player who crosses their path.
The great thing about the brand is its meticulous attention to detail. Every product is individually inspected and completely set up before delivery and this is only for fully approved and authorized sellers.
Regardless of your skill level or experience, this company believes that every player is entitled to a high-quality instrument that is functional and playable right from the beginning.
The employees at the Ohana warehouses are trained to deliver only top-quality products and make it their mission to carefully and completely inspect every product before it's let loose on the world.
This dedication means that you can hit the ground running and never spend time having to set up or check your ukulele.
Instead, you'll be able to concentrate on creativity and enjoying the art of learning to play, building, and honing your skills and abilities, and rising your confidence as a player.
You'll often see the ghosts of designs and styles long gone reflected in their latest creations, as they respectfully draw inspiration from the past to create something superb for the future.
Community is a giant part of Ohana, and they usually give attention to serving and offering their communities on a local and international scale the instruments to create and enjoy music.
Wherever creativity flows, there's a sense that Ohana desires to be a part of it and is actively encouraging the process with its instruments.
Happy Strumming!