Marshall Origin 50H Head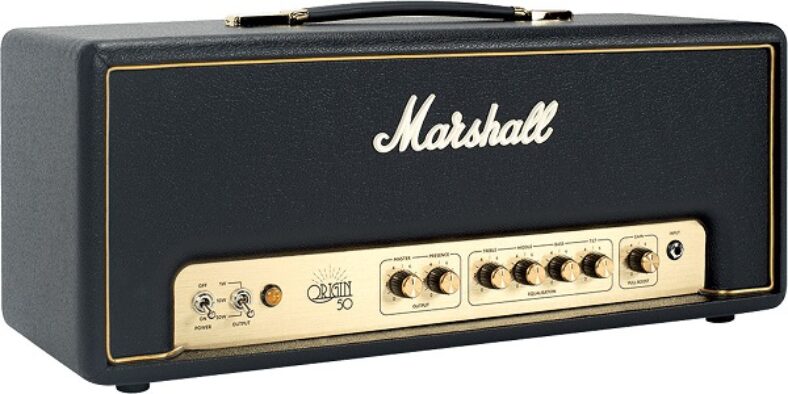 All Tube Amp
Dimensions (W x D x H): 577 x 225 x 228 mm
Weight: 11.8 kg
---
Marshall Origin 50H Head Review
The Marshall Amplification Company is one of the most successful, storied, and popular brands in the world. The company's products are used by a wide range of musicians, ranging from the most famous guitarists in history to weekend warriors and budding bedroom players.
Traditionally, Marshall's amps utilized valve technology, but the company now offers a wide variety of modern options as well, including solid-state, hybrid, and even modeling amps. The roots of Marshall are as rich as their tones, and they beg to be explored.


Origin 50H Head Features
In the Marshall Origin range, you will find a single-channel amp that captures all of the vintage ambiance and sound of Marshall amps from the 50s and 60s, yet has modern features and organic clean and crunch sounds.
By switching between wattages, you are able to increase or decrease the amount of headroom you have. In essence, this refers to how loud you must turn it up in order to get the stunning British overdrive tone. When the wattage is low, there is a lesser need for volume in order to achieve crunch. However, when performing at larger venues, you will need more headroom to ensure that your tone sounds more 'open' and less compressed.
A lower wattage is suitable for home use and studio recording, while a higher wattage provides an excellent pedal response. Through this, they are able to create a sonic platform for the pedal to work its magic on (especially overdrive and fuzz pedals).
There is one channel, all tubes, and 50 watts available in this amplifier. As with the amps, the effects loop and preamp utilize two EL34 tubes and three ECC83 tubes. Among the three settings offered by this head are a low output (1 watts), a mid output (10 watts), and a high output (50 watts).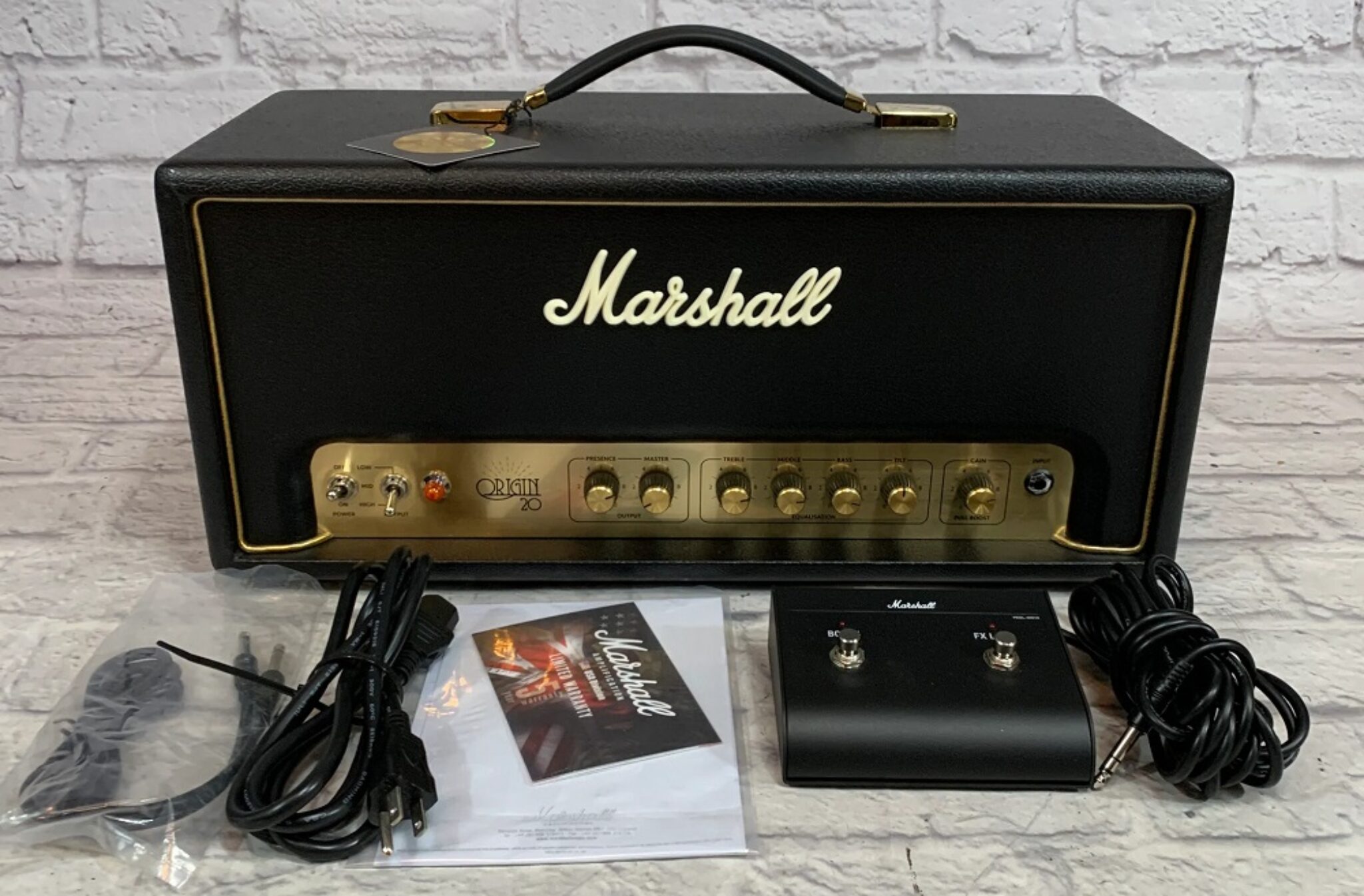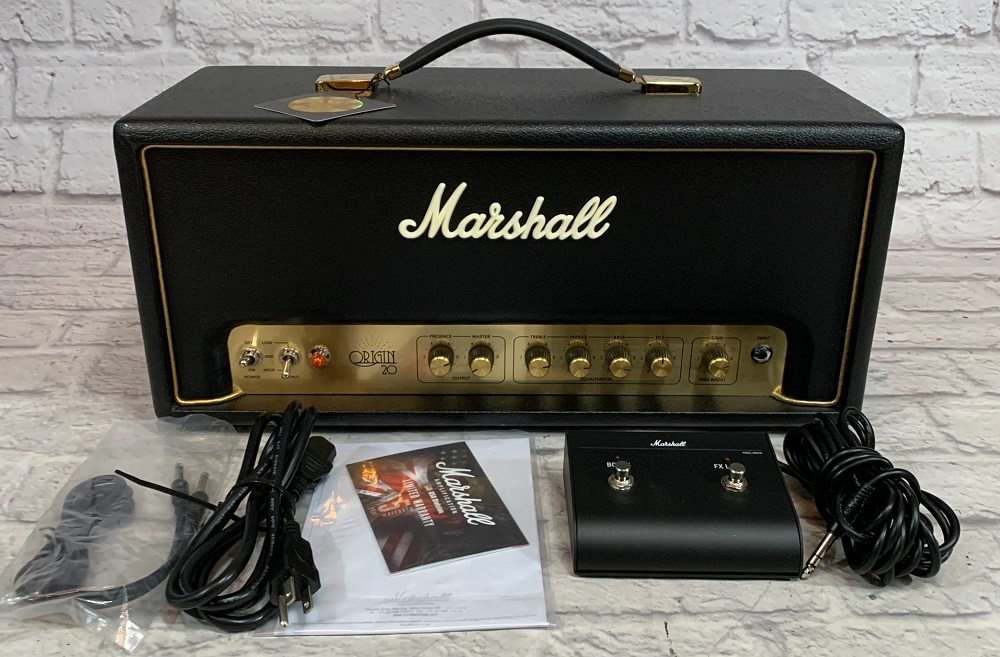 There are three sections on the front panel for adjusting the output, EQ, and gain. You will find the presence and master in the output section and the treble, middle, bass, and tilt in the EQ section.
It is common knowledge that Marshall's classic 1959 and 1987 heads have two input pairs – one for the traditional "warm" channel and one for the crisp, clear "high-treble" channel. It was necessary for players to connect a patch cord between the two input sections in order to use both channels simultaneously. By simply turning the knob on the Origin Series' Tilt control, you can adjust the balance between both channels, eliminating the need for this "bridging."
The rear panel features an effects loop that includes a 1/4 inch send and return jack, a footswitch that activates the boost function and effects loop, a 1/4 inch DI output, and three speaker output jacks that can be used with 8- or 16-ohm speaker cabinets or two 16-ohm cabinets.
This head's shell has slightly shorter dimensions than the classic Marshall "small box" head, and it weighs about 26 pounds, which is very welcome news for players tired of lugging heavy, bulky amps.


Marshall Origin 50H Head Usability
Compared to the classic Marshall JMP amps of the Seventies, the Origin50H produces overdriven tones that are raw, organic, and vibrant with a midrange character that is uniquely Marshallian. If you are interested in the sounds of Jimi, Jimmy, Billy, Eddie, or Angus, the Origin50H can come close.
Although the boost function is not a high-gain amplifier by any means, it can be utilized to provide suitable compression and saturation for smooth, sustaining solos. It is good news for players who enjoy Marshall's signature clean tones as well as players seeking a pedal-centric rig that has considerable clean headroom.
The Origin 50H head is designed for guitarists who appreciate British Rock sounds and the purity of a single-channel design. Due to its powerful EL34 power stage, the amp head is ideal for rehearsal rooms and stages, but can also be used in the living room by reducing the output power to five watts.
Origin 50H Head Brief Features
Gain boost function
Two voicings (Normal, High Treble)
Switchable power reduction for full sound in any environment
1 channel
Power: 50 watts
Preamp tubes: 3 x ECC83
Power tubes: 2 x EL34
Controls: Gain, Tilt, Bass, Middle, Treble, Master, Presence
Switches: Power On / Off – Output Low / Mid / High – Gain Boost
Series effects loop
Connections: Input (6.3 mm jack), DI Out (6.3 mm jack), FX Send & Return (2x 6.3 mm jack), Footswitch (6.3 mm jack)
Speaker outputs: 3 x 6.3 mm jack (16 ohms / 8 ohms)
---
Why To Go For The Origin 50H Head by Marshall
It is ideal for recording and performing! There is a wide range of shaping capabilities available with each knob. It is possible to switch between clean and mean voicings on the Marshall Origin, as well as everything in between. When you need more gain, use a dirt pedal in front – it enjoys all types of boost, overdrive, distortion, and fuzz!
The setup we personally prefer is just beyond breakup, with a certain amount of hairiness, and we use several dirt pedals to produce any flavor of cascading gain stages, as well as pushed cleans, which can be achieved by simply rolling back the guitar's volume pot.
Despite its budget-conscious price point, the Origin 50 offers incredible versatility despite its single-channel master volume amplifier design. The praises we have for this product are endless.
Marshall Origin 50H Head Review
It is ideal for recording and performing! There is a wide range of shaping capabilities available with each knob.
Pros
Great Versatility
Amazing Sound Performances
Great Price
Conclusion
One other amp we presented that we are really satisfied from. This head from Marshall is what will separate you from the other guitarists, no matter if you are performing on stage or you are in the studio recording. Overall, great quality and sound that can be expected from such manufacturing giant.
If you are having any questions or concerns about this product, please let us know in the comment section below or reach out to Marshall for more in-depth answers.