Check Out The 6 Best Strings For Banjo + Great Buyers' Guide
When the time comes for your Banjo to have new strings, you should always pay special attention because the strings have a larger influence than any other part of the instrument.
Choosing the proper strings for your Banjo is not an easy job and there are a few factors that need to be considered before you decide which strings are best for you and your instrument.
You should know there is a big number of Banjo strings available on the market. In case you decide to get one of the best, they will surely produce a beautiful sound that will amaze you.
Buying banjo strings depends on your playing style. In order to help you decide which strings are best for you and your playing style, we made a list of the best 6 banjo strings that you can buy in 2023!
---
1. D'Addario EJ55
D'Addario is probably the most preferred banjo strings manufacturer. Their D'Addario EJ 55 is a phosphor bronze 5-string banjo string. The phosphors bronze is able to add warmth, and stability to your tone.
Ralph Stanely was one of the most popular banjo players that preferred to play with this EJ 55 strings from D'Addario. Bluegrass legend Rob McCoury was using them too.
The strings have a medium gauge that makes them fit for beginners, but for professional players also. Some of the players might find medium strings hard to press in comparison with the light ones, however, you will have no problem learning them. These banjo strings are very good for the finger-picking playing style.
Features
Phosphor Bronze wound 4th string for added warmth.
Loop end construction for universal fit.
Preferred for its warm, bright, and well balanced tone.
Made in the U.S.A. for the highest quality and performance.
String Gauges: Plain Steel .010, .013, .016, Phosphor Bronze Wound .023, Plain Steel .010.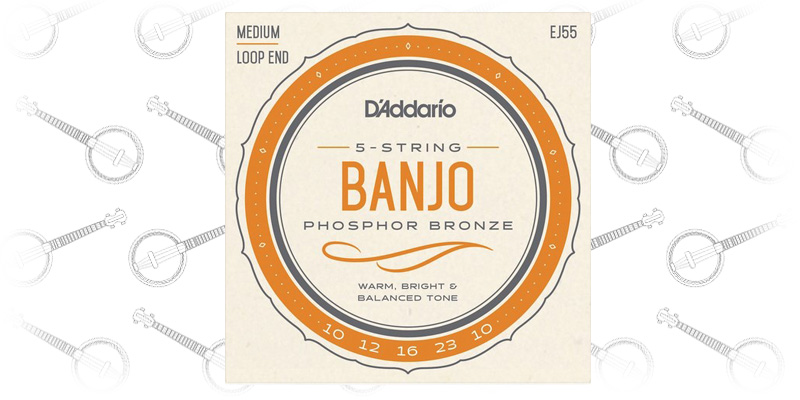 You Can Buy D'Addario EJ55 on the Links Below!
---
2. Elixir Banjo Strings w Polyweb Coating
The art of creating strings has remained pretty much identical for many years. You take a piece of steel, stretch it out, and either add winding on top of it or you do not.
Some manufacturers decided that an additional step was needed, which resulted in the polymer covering of strings. This enhances the sturdiness of the strings, allowing them to sound great as on the first day for many years to come.
One set of strings that is part of this innovative process is Elixir Banjo Strings with POLYWEB Coating, medium gauge. Created with long-term great sound in mind, the string has a fantastic tonal range and a mesmerizing sound.
It is important to not get afraid of the cool modern technologies that these strings have been made by and to walk away from them. These strings sound good and sometimes even better than their traditional counterparts, which makes this set a great value for what they provide.
Features
Banjo strings constructed with nickel-plated steel wrap wire.
Played for their rich, golden tone.
Original POLYWEB Coating provides a slick, fast feel that keeps the strings from getting in the way of playing.
Our patented coating technology protects against common corrosion, extending tone life longer than any other brand's coated or uncoated strings.
Medium gauge: .010 .012 .016 .023 .010.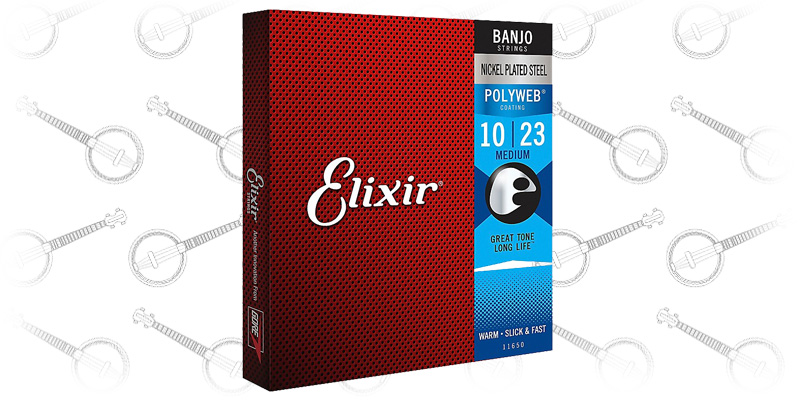 You Can Buy Elixir Banjo Strings on the Links Below!
---
3. D'Addario Phosphor EJ69
There is a reason that some products are more popular than others, and it's because they are well made.
Why would anyone purchase the same item again and again if the item is of bad quality? The free market means that only the very best things grow to be popular. In the case of D'Addario EJ69 Phosphor Bronze 5-string light banjo strings, this turns into something more obvious than you would have anticipated.
This set is among the most popular selections for 5-string banjos because of their warm, full tone despite the fact that they are light gauge. A mixture of stainless steel and phosphor bronze strings, these strings have one of the best sets of tonal ranges and ease of playing that anyone could ask for.
The only thing is that while these strings are very sturdy and durable for being light, you will still have to think of being cautious to not break them with over bending, or other banjo techniques your hands are itchy to try on this set of strings. Otherwise, this is a really good choice for updating the sound on your banjo.
Features
One of D'Addario's most popular 5-string banjo gauges, ideal balance of tone and projection.
Loop end construction for universal fit.
Preferred for its warm, bright, and well balanced acoustic tone.
Made in the U.S.A. for the highest quality and performance.
String Gauges: Plain Steel .009, .010, .013, Phosphor Bronze .020, Plain Steel .009.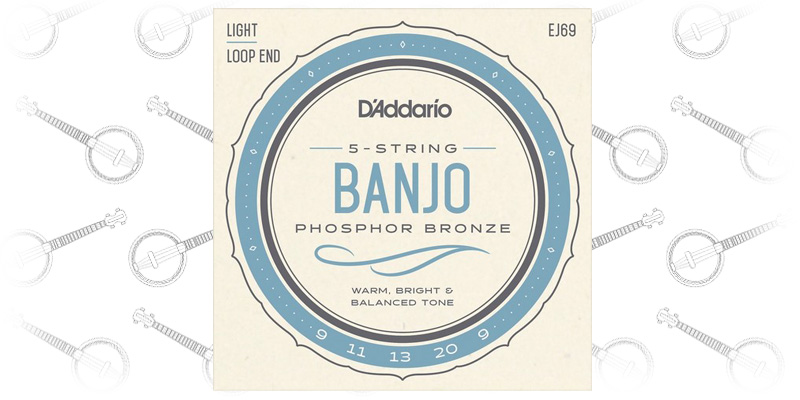 You Can Buy D'Addario Phosphor EJ69 on the Links Below!
---
4. Ernie Ball Earthwood 5-String
Earnie Ball strings are top-quality banjo strings that are reasonably priced. That is awesome because I suppose everyone's wallet loves things that are both good and inexpensive. In the case of these strings, Ernie Ball turned into the savior we all need, but one that we never deserved.
The Ernie Ball Earthwood 5 String Banjo 80/20 Bronze Loop End Frailing Set is among the best string sets you can get for the price it is offered in.
With a great 80/20 bronze alloy that allows great sound and flexibility, these strings will guarantee you an extended lifetime of playing and a fantastic tonal range and sound. These strings have numerous great qualities that will make you happy for a very long time.
Features
All strings are Loop End.
Made from the same 80/20 alloy as our most popular acoustic strings.
Crisp ringing sound with pleasing overtones.
Element Shield Packaging prolongs string life and keeps strings as fresh as the day they were made.
Made in California, USA with the finest and freshest materials.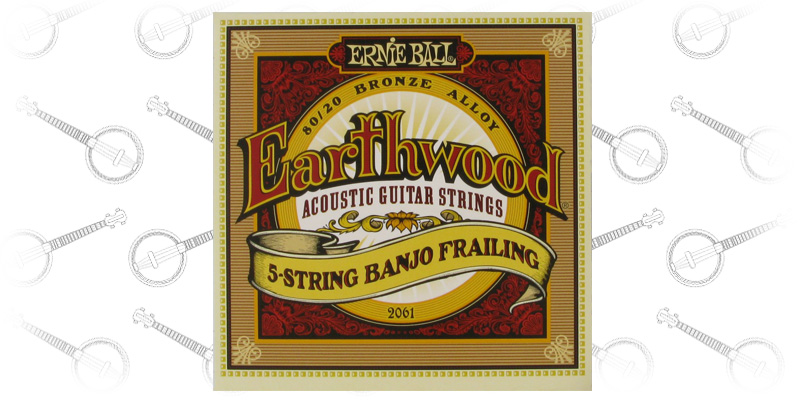 You Can Buy Ernie Ball Earthwood 5-String on the Links Below!
---
5. GHS Strings PF140 J.D. Crowe Signature Series
These 5-string strings are the popular gauges of American banjo player J. D. Crowe. They are made from stainless steel that resists erosion. They have a light gauge that offers a fresh bluegrass tone.
The stainless steel gives the strings a good cutting tone. However, after some period of time, it may become bad for your fret, so you need to be cautious while using them so as not to do harm to your instrument.
Some players, mostly beginners, find stainless steel fragile, and that can make it hard to control your tone.
Features
Model: PF140.
J.D. Crowe's Preferred Gauges For The Studio.
Stainless Steel with extra large loop ends, 42″ winding.
Signature Gauges: 009 1/2-011-012-020w-009 1/2.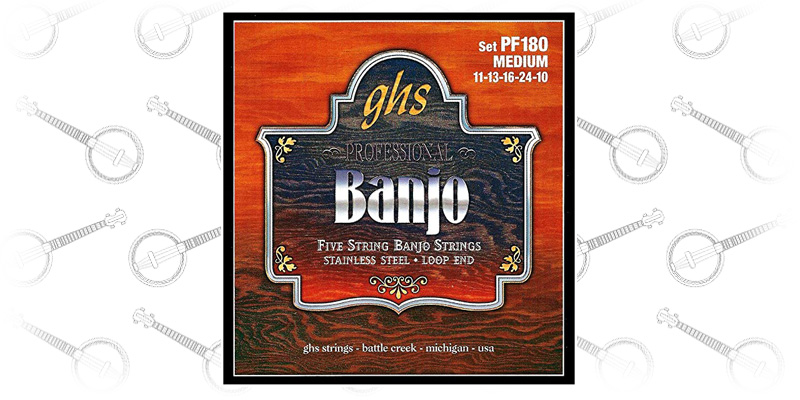 You Can Buy GHS Strings J.D. Crowe Signature Series on the Links Below!
---
6. D'Addario EJ60 Nickel 5-String Banjo Strings
D'Addario returns with one of its most well-known 5-string banjo strings gauges, boasting wonderful tone and superb stability, along with excellent projection.
Like its sister model, the J61, this version also features strong and reliable loop-end construction that can fit nicely with any banjo-styled project. The strings are coated in nickel plate design, rendering a smooth feel, bright tone, and a greater lifespan.
The J60 provides the flexibility to play light tension while enjoying a pleasant feel. There is a reason why D'Addario is the world's largest producer of string instruments.
Features
One of D'Addario's most popular 5-string banjo gauges, ideal balance of tone and projection.
Loop end construction for universal fit.
Nickel-plated steel for bright tone, smooth feel and long life.
Made in the U.S.A. for the highest quality and performance.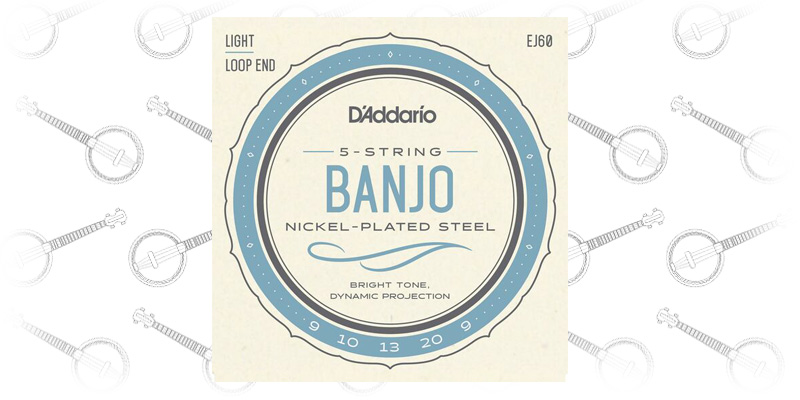 You Can Buy D'Addario EJ60 Nickel 5-String Banjo Strings on the Links Below!
---
Best Strings For Banjo – Buyers Guide
How many strings you will need?
The number of strings that you can wound onto your banjo will determine several things for your string purchase decision.
First of all, they limit the string sets you can purchase – the more strings you can wind on a banjo, the thicker and low register strings you'll have. These strings are usually thicker and typically end up being wound strings. Because of this, you'll have to think about the type of material wounding you prefer your strings to have.
Four-string banjos do not normally have wound strings. All 4 strings are plain and sound very bright and light to the ear.
Five-string banjos normally have a wound B String, also called the fourth string. This will change depending on whether or not the banjo has a long neck, including another woven string as the 3rd string on the banjo.
Six-string banjos also have wound strings, however, can also be highly customized to have different numbers of them.
Fortunately, if you don't want to go through the headache and customization of deciding whether or not you want wound strings, banjo string sets often provide a baseline string set that will fit your banjo.
The Best Gauges For You?
Deciding the gauge of the strings for your banjo is, without a doubt, one of the most important choices you'll be making in relation to your instrument.
The effect on sound and playability is drastically changed by your choice, leading to some techniques becoming extra useful than others, while some sounds turn out to be much less available than others. Here, for you we have a quick rundown:
The thinnest gauge is .0095-.010-.013-.020-.0095, also called the light gauge. These strings are easily bendable and vulnerable to techniques and are sensitive to overtones that might not be easily accessible on heavier gauges. Still, some techniques put lots of pressure on these strings, and being as thin as they are, leads to the breaking of these strings easily.
The Medium Light gauge range is .010-.011-.012-.020-.010. In this range the strings come into their own, permitting a nice balance between flexibility and overtone sensitivity, in addition to the fullness of tone and sturdiness that the lightest gauge lacks.
The Medium is in the range of .010-.012-.016-.023-.010. Right here is where the fullest tones of the banjo pour through the strings. These are more durable and harder to bend and manipulate though so some techniques are required. However, the durability and the fullness of sound you will be getting out of these sets are definitely worth a try.
Banjo Strings Materials
There are a few different types of materials by that strings are manufactured. All of these impact the sound of the strings that you would probably want to consider before buying. You should keep in mind – not all materials are well-fitted for all playing.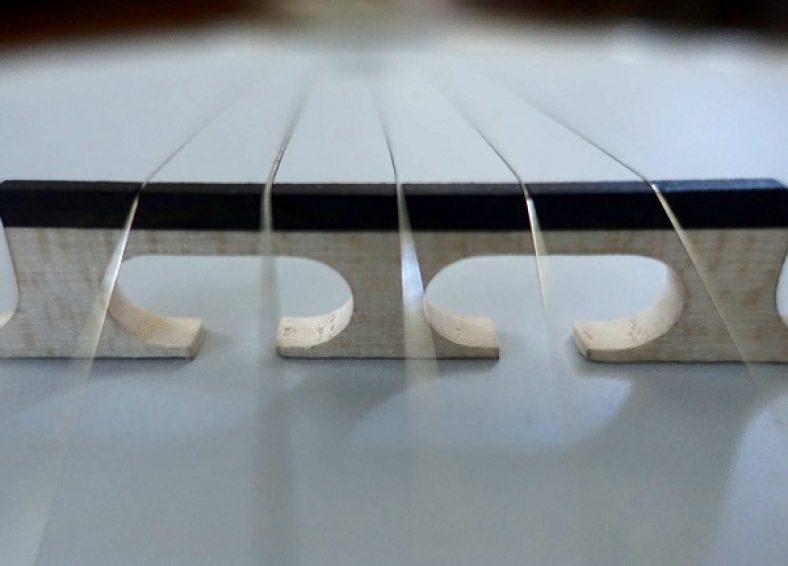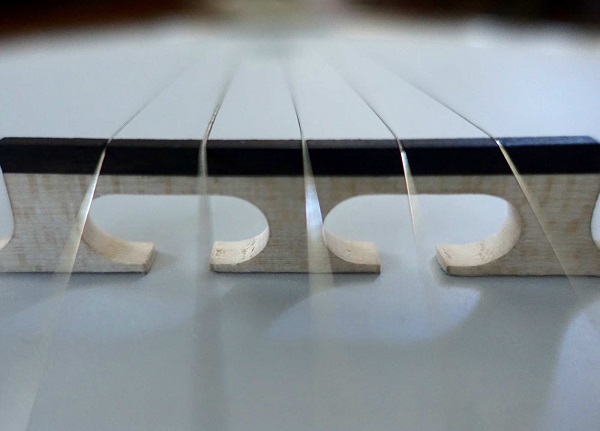 Nickel-Coated Steel is the most common material used to make banjo strings. These have a bright tone and powerful projection, making them a very popular selection for the basic string set and among many musicians.
Phosphor Bronze produces a deep, warm tone that enhances the lower register sound superbly. This is why it is mostly used on the 4th wound string of the 5-string banjo.
Stainless Steel isn't the preferred option, however, you will encounter it sometimes. Quite sturdy and rust-resistant, these strings have a balanced tone and are smooth on contact. Nothing to write home about but definitely a strong choice.
Coated strings are unusual – they use any number of metal materials as a base, usually steel, but are often coated with a polymer to boost the durability and corrosion resistance of the strings. The strangest thing is that you cannot hope to have the identical effect from all coated strings, as all producers have their very own tonal characteristics for their coated strings.
Conclusion
The banjo isn't a mysterious instrument. It is an instrument of a very long, complicated past with a simple design and very unique, lovely sound. You may wonder why should you take so much care when buying accessories (Banjo pegs, Banjo straps, Banjo cases, etc.) for it if the instrument is so simple.
Even if the instrument is simple and has a great sound, you still need to take good care of it. Only with the best quality materials, you will be in a position to produce the proper sound, and the type of sound you feel will be best for you.
Experimenting with strings, choosing the right ones, and playing with them to the specification of your thought is one of many ways to really make the instrument part of you.
Because of this reason, you should pick the best equipment like strings, capos, and any other accessories that can improve your banjo. We hope that our article will help you decide about the best strings for Banjo.