ESP LTD EC-1000 Baritone Electric Guitar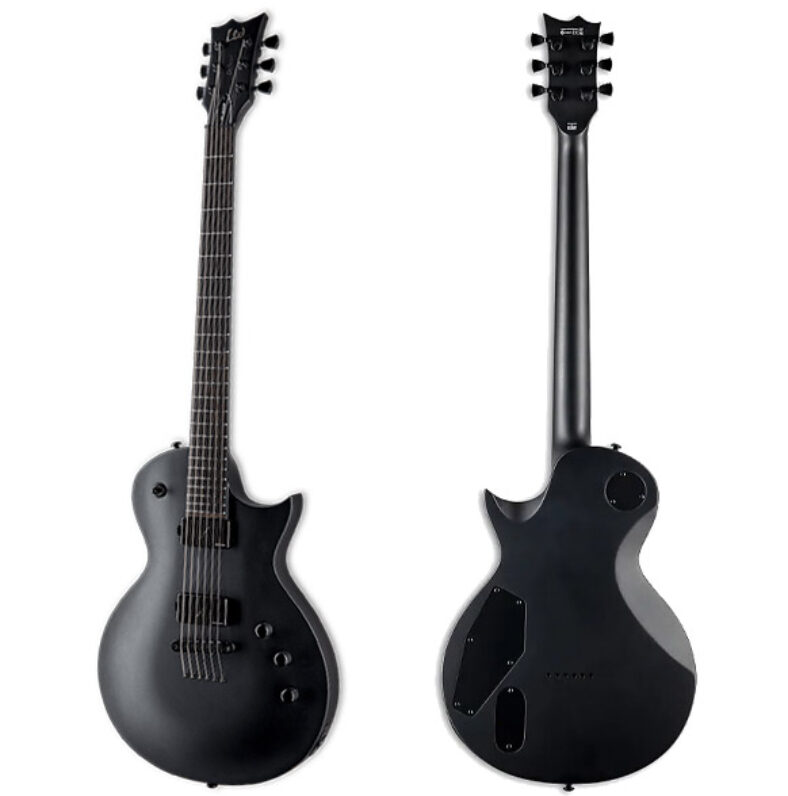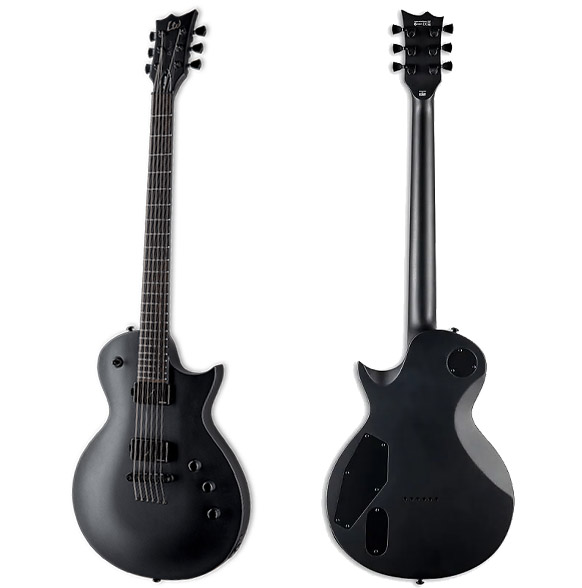 Great Playability.
Expensive Wood.
Great value for the price.
---
ESP Guitar Company – More Info
Today we put our spotlights on ESP LTD EC-1000 Baritone Electric Guitar and we have a beautiful and detailed review of this guitar. But first, let's check about the ESP guitar company.
One of the world's leading guitar companies is ESP (Electric Sound Products). The company was founded in 1956 in Japan and is currently based in Tokyo and Los Angeles. It has a stellar reputation among metal guitarists.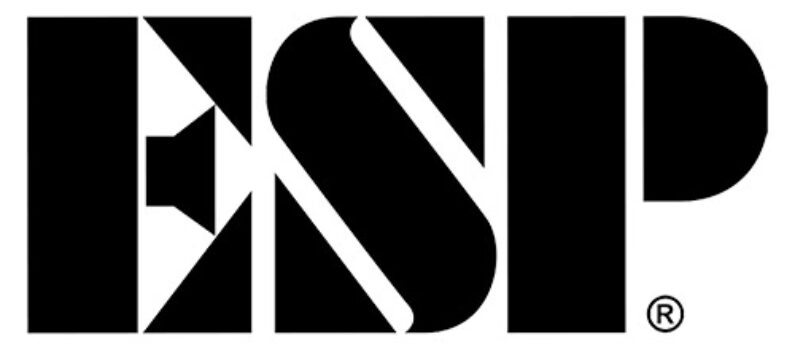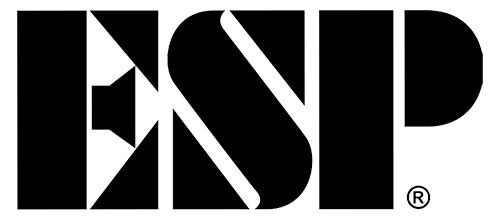 Due to their innovative designs, premium materials, and exceptional tone, ESP guitars are popular among heavy metal and hard rock guitarists.
They offer solid body, semi-hollow body, acoustic-electric, and bass guitars. They are well known for their custom shop and signature guitars, often created in collaboration with famous guitarists.
A wide range of professional guitarists trusts ESP guitars because they are reliable and durable. In order to provide its customers with the most advanced instruments possible, the company continuously explores various new materials, construction techniques, and electronics.
Internationally, ESP is recognized as one of the most prestigious brands in the high-end electric guitar market.
Which players mostly enjoy ESP LTC EC-1000 Guitar?
Hard rock or metal guitarists who want a fantastic instrument at an intermediate price should check out the ESP LTD EC-1000. In case you're a gigging musician in need of a guitar that can perform well when highly distorted, but also give you nice clean sounds, consider the EC-1000.
Also, as a starting guitarist, you will find this guitar to be great if you're looking for a superb sound and playability right out of the box.
ESP LTD EC-1000 Baritone
Guitar Features:
Body: Mahogany.
Set-in neck: Mahogany.
Fretboard: Macassar Ebony.
Neck profile: Thin U.
Scale length: 686 mm (27″).
Fretboard radius: 350 mm (13.78″).
Nut width: 42 mm (1.65″).
24 Stainless steel extra jumbo frets.
2 x Volume controls.
2 Pickups.
1 x Tone control with push-pull function.
3-Way toggle switch.
Tonepros Locking TOM Bridge with String Thru.
LTD locking machine heads.
Black hardware.
LTD EC-1000 – Appearance
I wouldn't hesitate to call the ESP LTD EC-1000 a beautiful guitar. In this review, we are reviewing one of the models in Vintage Black, which has a stylish darkness that is immediately eye-catching.
A variety of other colors and finishes are available, including See-thru Purple, See-thru Black Cherry, Violet Andromeda, Blue Natural Fade, and more. This means that the ESP LTD EC-1000 will likely meet the tastes and preferences of most people.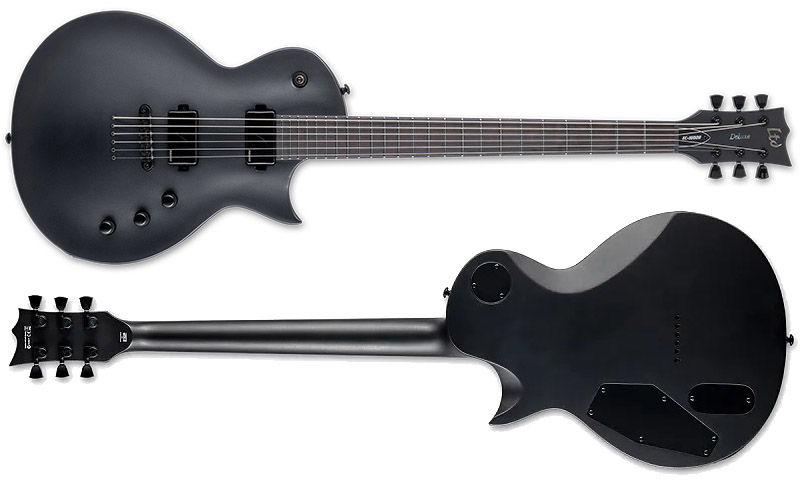 Mahogany is the preferred material for the body shape of this guitar, referred to as the "Eclipse" by ESP. Because of the wider cutaway, we found it to be more comfortable than a Les Paul-type body.
It also has a 24.75″ scale length, like most Les Paul-style guitars. Compared to other guitars (like Stratocaster-type instruments), this guitar has a shorter scale length, making it easier to play.
Additionally, this guitar has an extra-jumbo fretboard and a nut width of 1.650″. You'll love this guitar's Macassar Ebony fingerboard. It feels and plays great. It's almost effortless to play power chords and fast arpeggios on this neck. And then there are the beautiful Pearloid Flags inlays, which kept us playing for a long time.
You'll want to know that the Black Cherry, Violet Andromeda, and Blue Natural Fade models have mahogany fingerboards.
As opposed to bolt-on necks, the EC-1000 features a set neck for better sustain and articulation. In order to make this guitar even more playable, it has a thin U-neck profile and a 13.7″ radius. As a result, you'll be able to move around the neck with ease.
ESP LTD 1000 – Tuners and Tuning
There's a TonePros Locking Tune-O-Matic bridge with a stop bar tailpiece on this guitar to keep it in tune. Keeping in tune is made easier with this feature, which many guitarists love.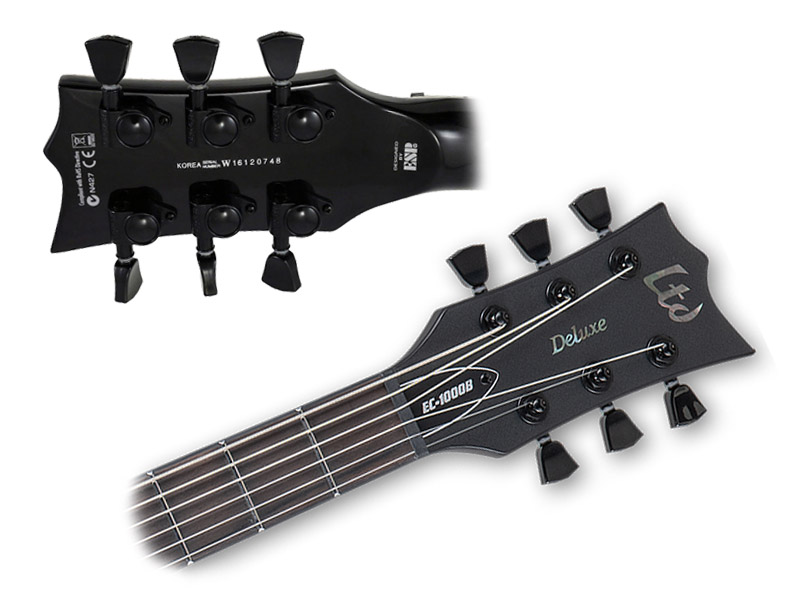 I'm also impressed with the electronics on this guitar. In the bridge position, the EC-1000 comes with a legendary EMG 81 humbucker and an EMG 60 on the neck. James Hetfield has used this exact setup for years and it's the basis for his signature pickups.
EC 1000 – Guitar Controls
There are two volume controls (one for each pickup) on this guitar. The EC-1000 features a 3-way toggle pickup switch on its upper part, just like Les Paul.
You need to keep in mind that the EC-1000 is a fixed bridge. It doesn't have a whammy or tremolo bar.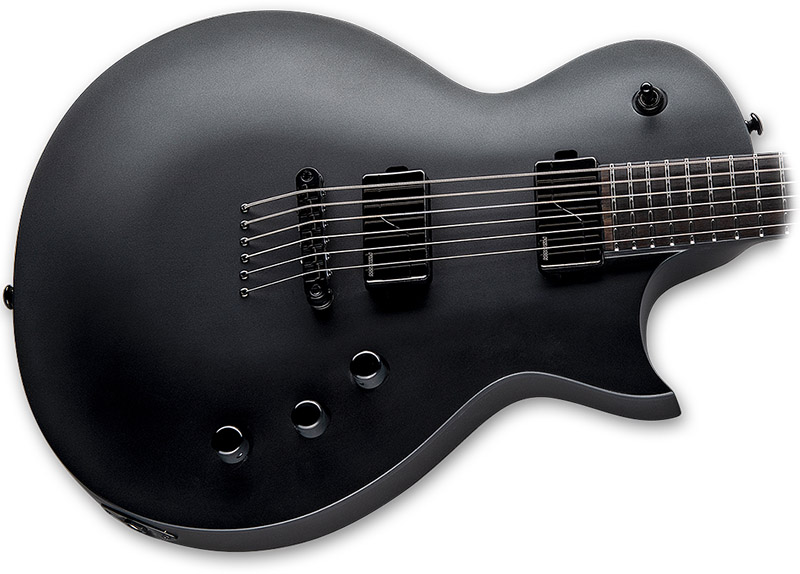 The Sound of ESP LTC EC-1000
ESP LTD EC-1000 is beautiful, but sound and playability are its most impressive features. Pickups are where it all starts.
EMG 81 and EMG 60 on the bridge cover a lot of ground and are especially appealing to heavy music fans. We liked how balanced and clean the LTD-1000 sounded in our tests.
I think this guitar shines most when plugged into a tube amp. With the EMG 81, we got high output and killer distorted tones that are a hallmark of this humbucker. Throughout the riffs, the sound remained powerful and focused. It was really nice to hear how responsive the LTD-1000 was and how much sustain it had.
Simply put, this guitar makes the unapologetic distorted tones that are commonly associated with metal. The LTD-1000 also works well with softer distortions, like the EMG 60, when paired with some overdrive pedals.
A bit darker and not as piercing, the EMG 60 pickup also delivers a great distorted tone when dialed in for more aggressive distortion. This combination of EMG pickups covers all the bases.
Playability was good because of the low action of the EC-1000, and we played comfortably up and down the neck because of the thin U-neck profile. The action can be adjusted to your liking, but this guitar was made with lower action to improve playability and comfort.
---
In this video, you can hear the great sound of the ESP LTD EC-1000 Baritone Electric Guitar!
---
ESP LTD EC-1000 Baritone Electric Guitar
It's a beautiful signature guitar that is made to last!
Pros
Great Playability.
Expensive Wood.
Great value for the price.
Locking Tuners.
---
Last Words
In conclusion, the ESP LTD EC-1000 Baritone Electric Guitar is a top-of-the-line instrument that offers a blend of classic styling, modern playability, and versatility.
With its construction quality, hardware, and electronics, this guitar is a solid choice for guitarists of all levels. Whether you're a heavy metal shredder or an alternative rocker, the EC-1000 is a versatile guitar that can handle anything you throw at it.
So if you're looking for a baritone guitar that's packed with tone and style, the ESP LTD EC-1000 is definitely worth checking out.