Fender Rumble 800 2×10″ 800-watt Bass Combo Amp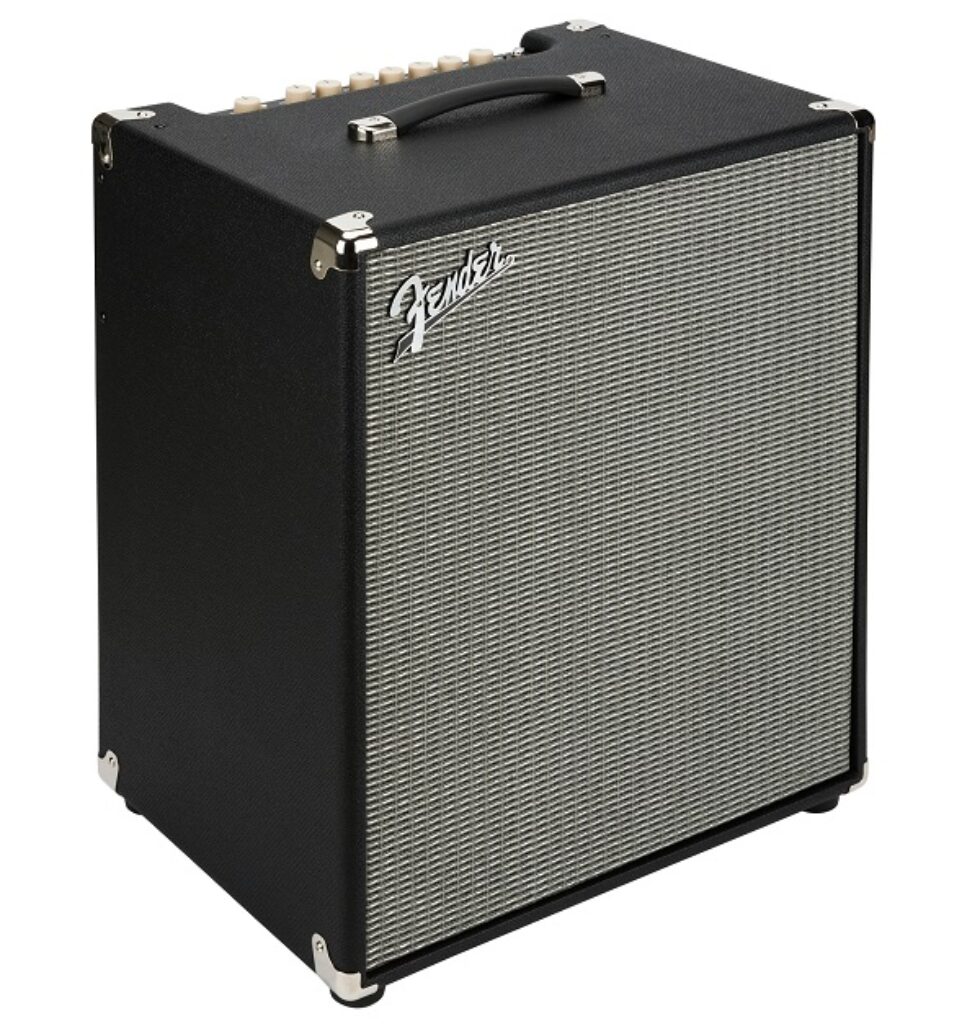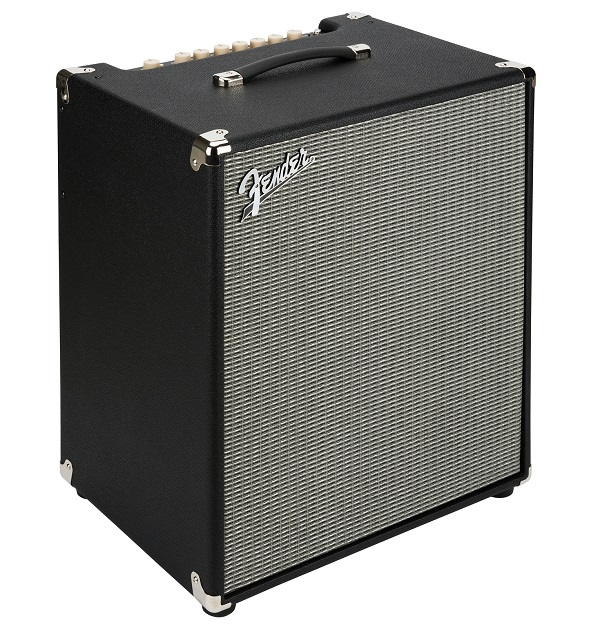 Bass Combo Amp
Dimensions (H x W x D): 60.2 x 48.3 x 35.56 cm
Weight: 14.5 kg
---
Fender Rumble 800 Combo Review
Featuring a powerful tone and classic style, the Rumble 800 bass amp is everything you expect from a Fender amp. This lightweight bass combo offers new pro features and 800 watts of powerful power, making it ideal for stage and studio performances.
The Rumble 800 combo is the latest addition to the world's most popular line of bass amplifiers, featuring dual 10″ Eminence neodymium speakers and a compression horn that provides impressive headroom and punch. Rumble 800 delivers impressive power and sonic versatility for any style of music with its versatile 3-button voicing, dynamic overdrive circuit, and output power attenuation.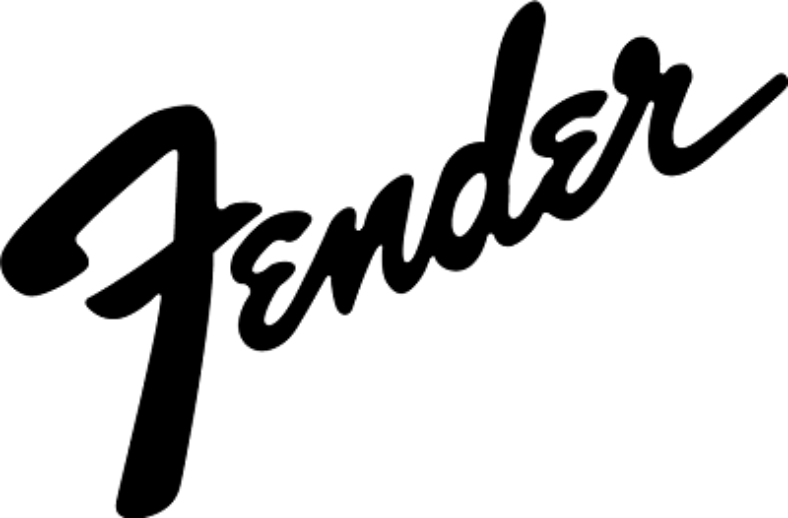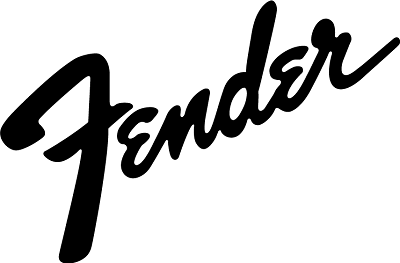 Rumble 800 Features
The Rumble 800 is the largest offering in Fender's Rumble Series of bass combo amps. It features two Eminence neodymium speakers rated at 10 inches each and a compression horn, which enables it to deliver 800 watts of power while weighing 29 pounds.
Three voicing options are available on the Rumble 800 (Bright, Contour, Vintage), allowing you to quickly tailor the sound to your preferences. In addition, a four-band EQ and overdrive circuit give you the ability to sculpt your tone and add some gritty grit.
There is a separate input gain control for the preamp, which is controlled by the drive and level controls of the selectable overdrive circuit. In essence, it is a transparent overdrive pedal integrated into the amplifier.
There is a four-band EQ that includes controls for bass, treble, low-mid, and high-mid frequencies. In addition to the master volume control, there is a full/low output switch which allows you to control the overall volume for more intimate gigs or crank it up to full awesome power for larger venues.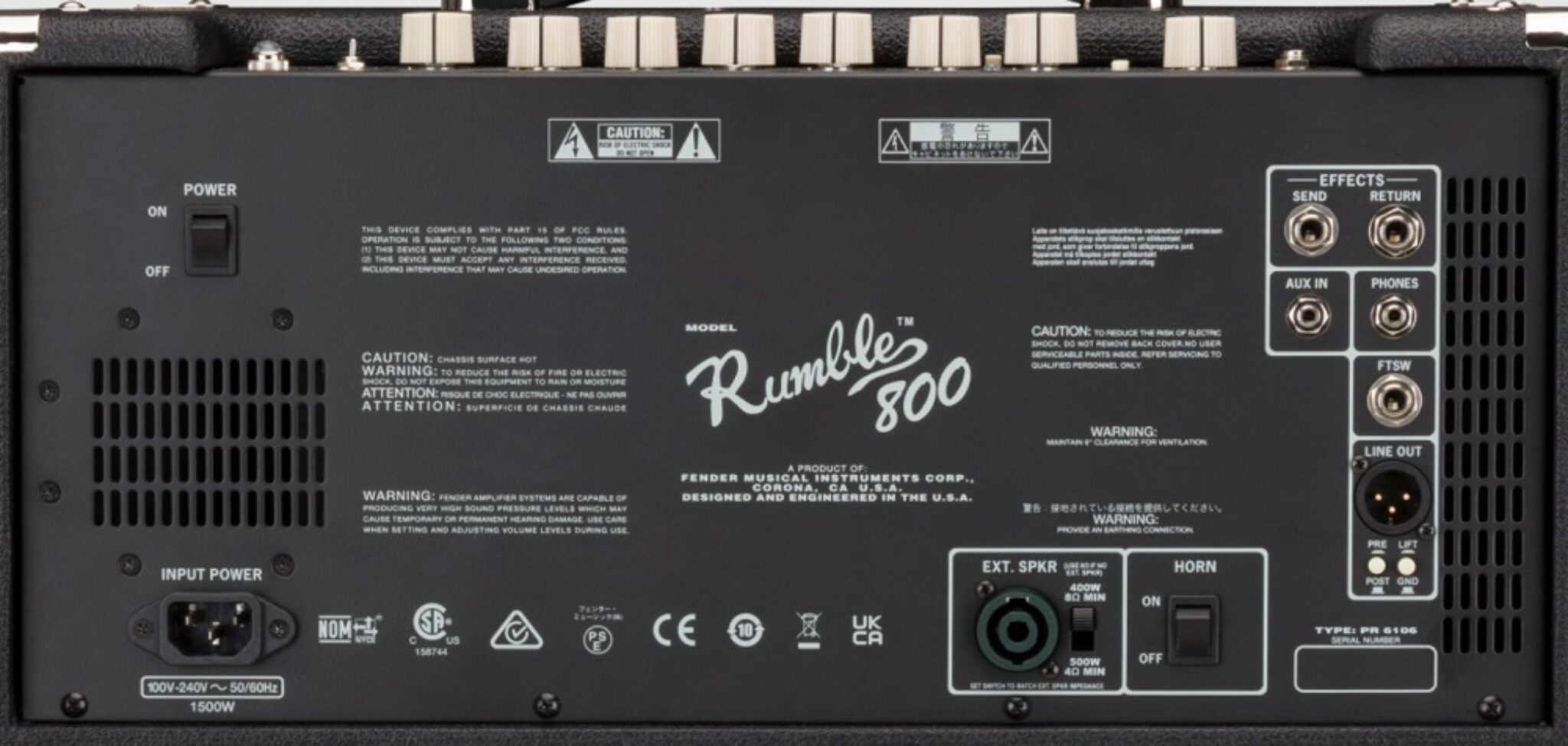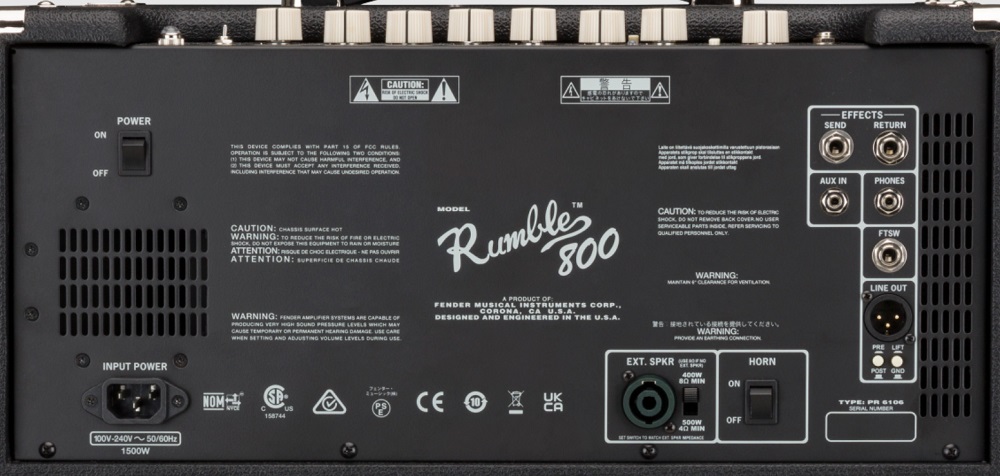 On the back of the amp are 1/4′′ send and return jacks for the effects loop, 1/8′′ aux in and telephone jacks, a footswitch jack (and the footswitch is included, which is greatly appreciated since many amp companies require you to purchase the switch separately), and an XLR line out with a ground-lift button and pre/post buttons for DI.
In addition to the on/off switch for the high frequency horn, which can be used as a high frequency tone switch in its own right, there is also a switch for switching between a 400W eight-ohm minimum and a 500W four-ohm minimum external speaker jack, so the 800 watts are unleashed in full force. The Rumble extension cabinet offers speaker configurations of 2×10″, 4×10″, and 1×15″.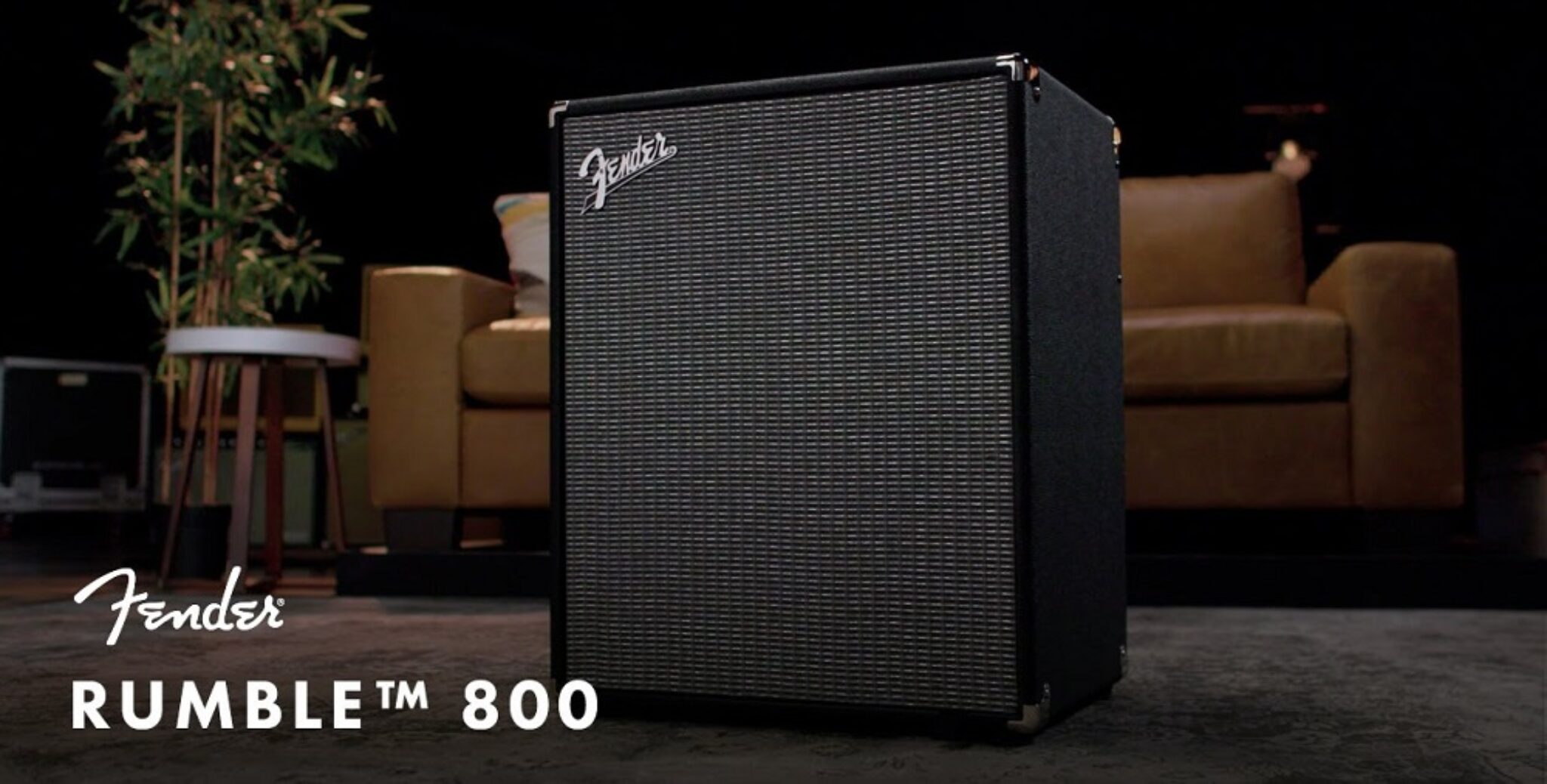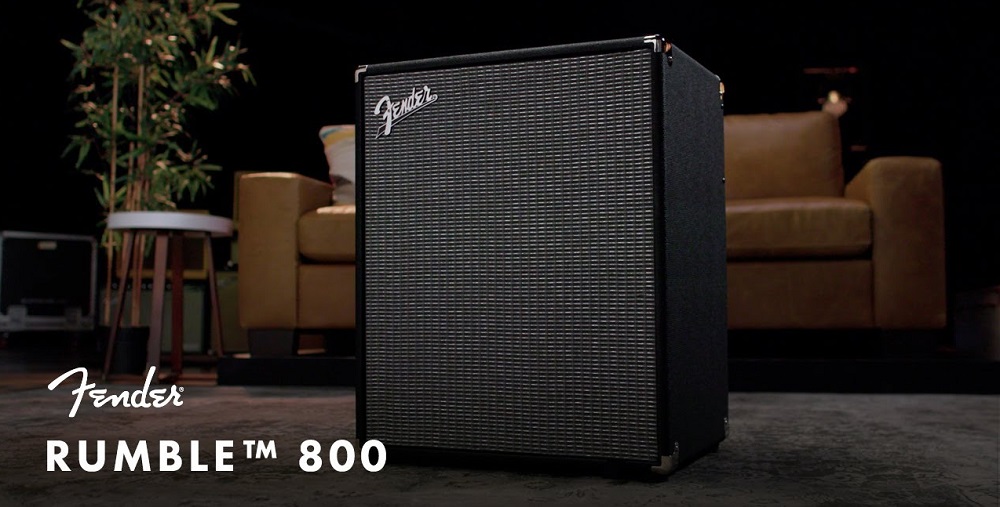 Design
This bass combo from Fender comes in the usual looks as you might expect from a giant developer like this. It's recognizable appearance should not strike you and leave you surprised. As per usual, the amp is covered in a black textured vinyl that gives its smooth touch to the amp itself, but also serves another acoustic purpose.
In front of the amp, you can obviously notice the silver metalic grill like on many other amps. It appears to be sturdy and it gives a touch of a metalic feeling to the amp. The amp also features ivory soft touch knobs and it has a really nice and hard handle on top of it.
In terms of connectivity, you will be able to find all the potentiometers on top of the amp and all the inputs, outputs and power buttons on the back of the amp. Pretty regular and normal for such a beast!
Rumble 800 Combo Brief Features
Manufacturer: Fender
Series: Rumble Series
Power Output (Watt): 800
Circuit: Solid State
Number of Speakers: 2
Speaker Manufacturer: Eminence
Speakers: 10″ Neodym
Bass Reflex System: No
Tweeter: Yes
Number of Channels: 1
Sound Control: 4-Band EQ
Internal Effects: Overdrive
FX-Loop: Yes
---
Why To Go For the Rumble 800 Combo by Fender
This amp packs power, and probably that is what many gig artists are after when they are thinking about powering up their bass guitar. The additional features and versatility only make this amp to be more appealing to the players and be the extra incentive to make the purchase.
In our humble opinion, it comes at a fair price for around $800 and for a unit like this one, we believe that the price is completely acceptable. Maybe this price it is a touch steep for new commers, but the experienced players will know that it is a fair deal.
We highly suggest this amp and we also suggest to try it out if you have the opportunity, because it is a magnificent bass combo amp from a trusted developer.
Fender Rumble 800 Combo Review: Amazing Bass Combo Amp!
Featuring a powerful tone and classic style, the Rumble 800 bass amp is everything you expect from a Fender amp.
Pros
Really Versatile
Truly Powerful Amp
Produces Amazing Bass Sound!
Cons
Simple looks
Might be pricey for beginners
Conclusion
Well, we know that there is not much to say about all the Fender units, but we had to share our opinion about this one. Really amazing unit and we really heard it in action since one of our close friends own it and we had the opportunity to try it out and get the real feel of it. Believe us, a beast!
If you are having any questions about this combo amp from Fender, please let us know in the comment section below or reach out to the developer customer care for some additional in-depth answers if you need any!