Orange Crush 20 RT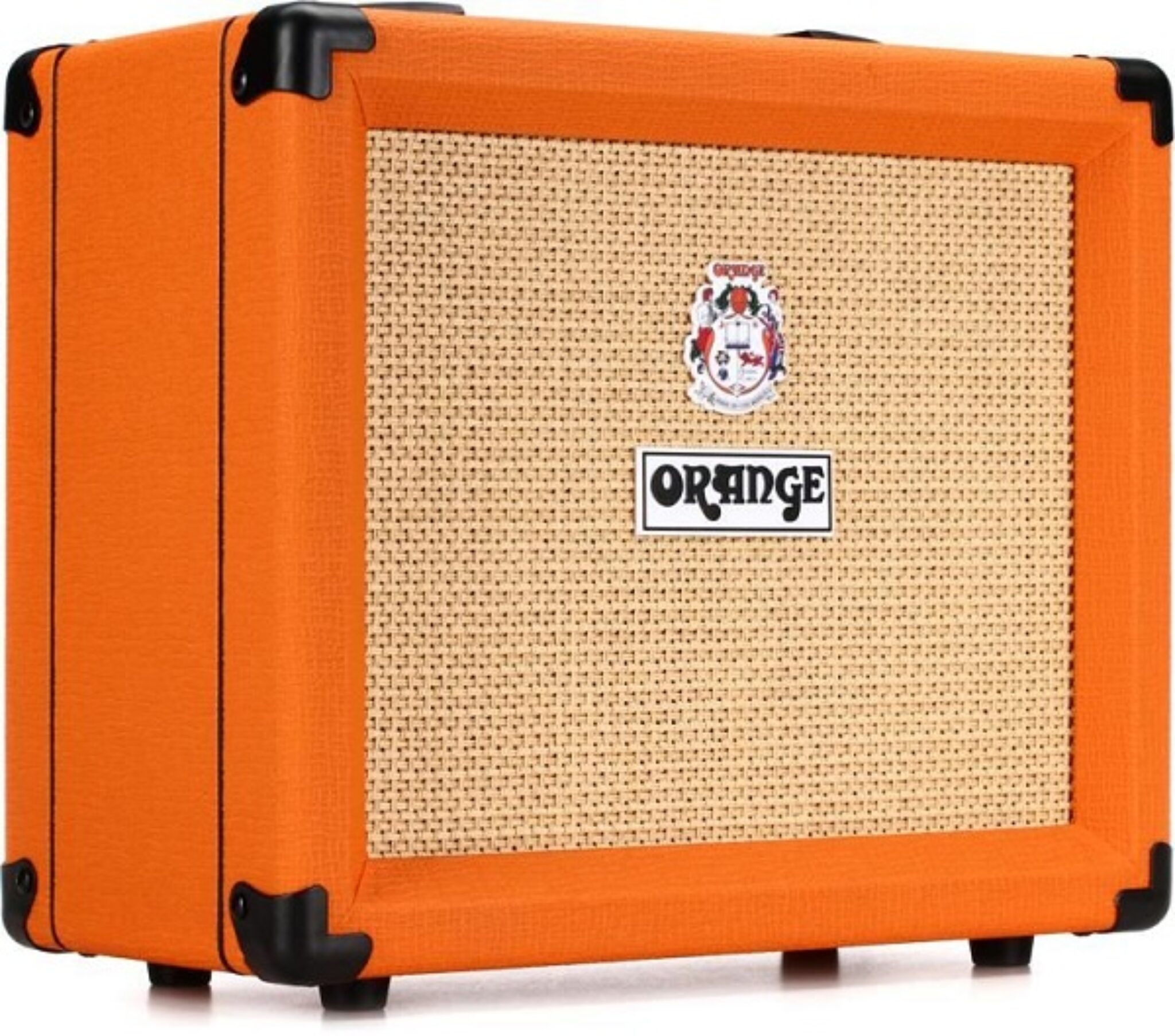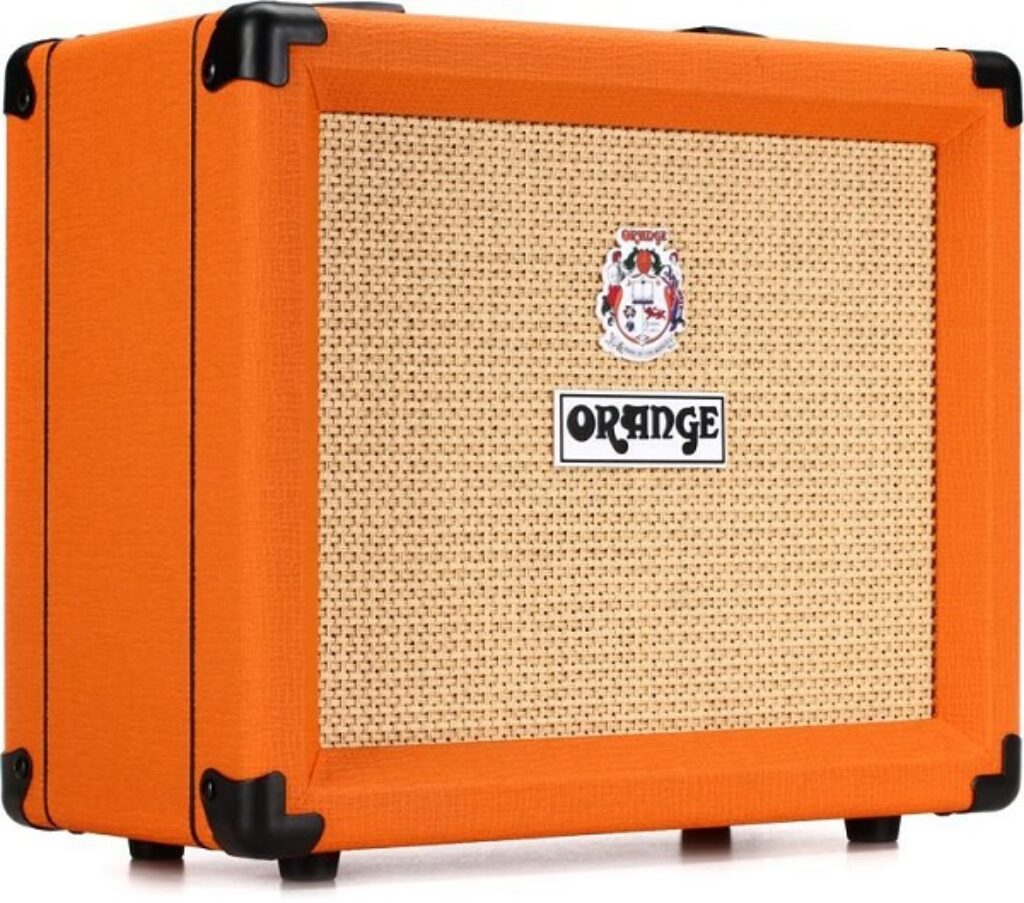 Guitar Amplifier
Clean/ Dirty switch
Controls for Gain, Clean and Dirty
---
Orange Crush 20 RT Review
Despite its simplicity, the Orange Crush 20RT is a solid-state combo amplifier that is packed with power. Although solid-state amplifiers are often demonized, gear snobs will find the dirty channel's bruising crunch really capturing the Orange sound.
Featuring a highly responsive combination amplifier with a preamp design, the Orange Crush 20RT delivers a live sound with high-quality overdrive and detailed saturation which are the signature features of Orange guitar amplifiers.
There is no doubt that Orange Crush guitar amplifiers are renowned for their wide range of tones that can be compared to the sounds of vintage guitar amplifiers. The Orange Crush 20RT uses Orange's CabSim circuit in order to emulate the strength of their larger guitar amplifiers, and also includes reverb and tuner, which makes the Orange Crush 20RT an excellent value when compared to other guitar combo amplifiers in the same price range.

Crush 20RT Features
We must mention Orange's bold orange casing before anything else, as it is one of the most identifiable amps in the world. Since the 1960s, this iconic look has graced the biggest stages around the world. There is no doubt that it is loud and prominent, but it has become a symbol of quality more than just a bright case.
With a power output of 20 watts and a weight of under 16 pounds, the 20RT is a lightweight amp that is easy to transport. There is also an Orange Voice of the World 8″ speaker fitted, which delivers a lot of punch and the wonderful vintage highs that Orange is known for. The amplifier is a solid-state device designed to mimic the characteristics of a tube amplifier. Tubes refer to vacuum tubes, which are considered old-fashioned.
The amp is designed for the future while keeping a strong connection to the past. Creating dirty, scuzzy, bluesy metal shreds on the fly as you ricochet from meaning to madness in your musical endeavors is the future reaching back into the past.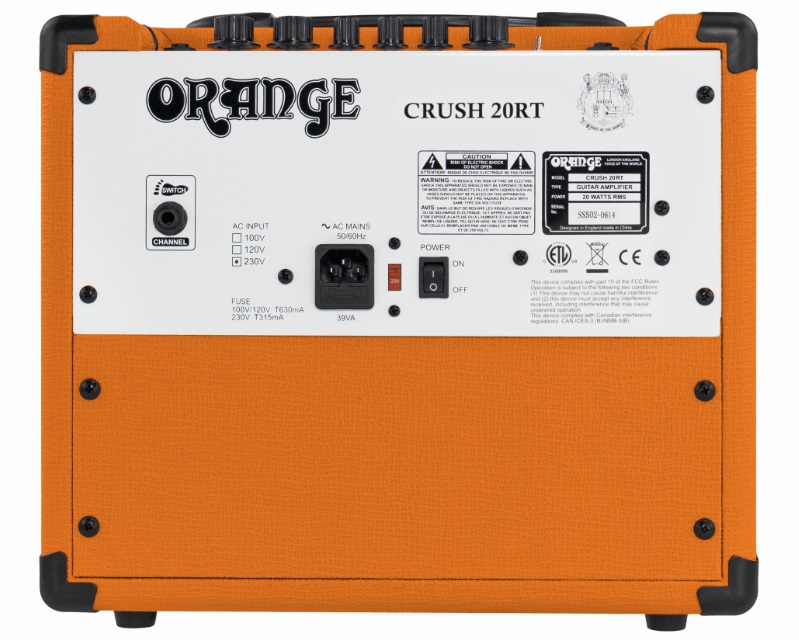 The unit has two channels – clean and dirty – and is complemented by a very nice high-gain preamp with four stages of gain, which ensures that you get incredible detail in all tones, no matter how clean or dirty they are.
Furthermore, it has a very accurate chromatic tuner, a three-band EQ with outstanding detail, a reverb with various reverb types, and the CabSim feature, which emulates the sound of the classic Orange 4 x 12-inch cabinet by using the headphone/line-out jack.
On the top panel of the 20RT, there are slightly more controls than you would normally find on an amp in this price range. To set the foundation of your tone, you should control the volume on each channel and the gain on the dirty channel.
Besides the bass, middle, and treble knobs, you will also find a channel switch, an aux input, and a headphone jack. In addition to the main controls, there is a chromatic tuner and built-in reverb dial. Featuring an all-new digital module with great tone, the Crush RT reverb is based on a classic spring type.
The circuit features either a subtle shimmer or a long ethereal trail, ensuring the tone of your guitar remains intact as the reverb is blended in. There is an integrated chromatic tuner that is accurate and fast-tracking for quick tuning between jam sessions, without having to dig out your tuner pedal.

Crush 20RT Sound
This 20 Watt amp, which features a 1×8 Orange Voice of the World speaker, provides fantastic sound quality despite its modest price. The adjustable gain control allows you to achieve those pristine cleans often associated with solid state amplifiers, but can also be used to simulate the sounds of a slightly overdriven tube amplifier.
A goal of this amp was to replicate that classic Orange sound in a smaller, more affordable package, and it achieves that goal admirably. Among the features of the dirty channel is touch sensitivity, which is often found only in power tubes that are manually cranked. This is not a cranked Orange TH30H stack, but for the price, it is a great amp to have in your room to get overdriven tones at low volumes.
The only real limitation of this amp is that without a full pedalboard, it cannot be used for much more than these fantastic dirty and overdriven tones. The fact is that if you are going to spend hundreds or thousands of dollars on a pedalboard, you can probably afford even the most basic tube amplifier.

Crush RT20 Brief Features
Power: 20 Watts
Amplifier-type: Solid State
Speaker: 8″ Voice Of The World
Channels: 2
Effects: Reverb
Inputs: 1/4 Instrument Cable, 1/4 Footswitch Jack, 1/8 AUX-Cable (aux in)
Outputs: 1/4 Headphone-output
Weight: 15lbs (6.8kg)
---
Why To Go For The Crush RT20 by Orange
If you are looking for an amplifier that will make a great practice amp for your guitar band or even something unique to try and record with in your studio session, then the Crush RT20 is the amp for you.
With the price range that it comes with (around $230), you will be getting a small beast that waits for you to unleash it. On top of everything, you will have some effects embedded in it that you can use freely and additionally shape your sound.
Orange Crush 20 RT Review
Despite its simplicity, the Orange Crush 20RT is a solid-state combo amplifier that is packed with power.
Pros
Amazing Sound Quality
Bunch of Controls
Loud For The Size
Cons
Not that versatile
Many other amp choices in this range
Conclusion
Among the best applications of the Orange Crush 20 are British invasion, garage rock, punk rock, and blues. Despite the dependable cleans and clear notes, we don't think the solid state resume is sufficient to make it a reliable jazz amplifier.
Moreover, the dirty channel of this product is particularly strong, as it captures the late 1960s or early 1970s British tone. This amp was designed with a four-stage preamp that was intended to produce rich, overdriven sounds, making it an excellent backup amp for players who use external pedal boards for most or all of their distortion.
If you are having any questions about this product we shared here in this article, please let us know in the comment section below and we will be more than happy to answer!