Fender Acoustasonic Player Jazzmaster Acoustic Electric Guitar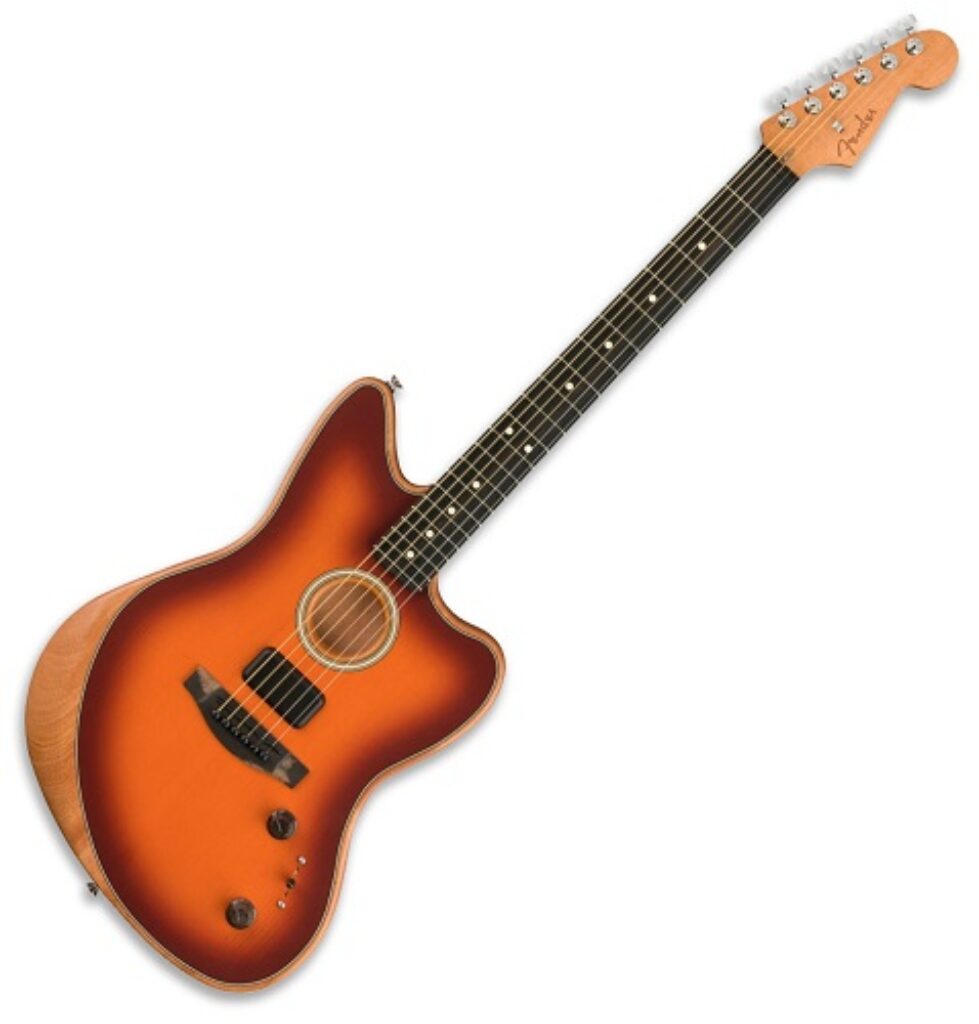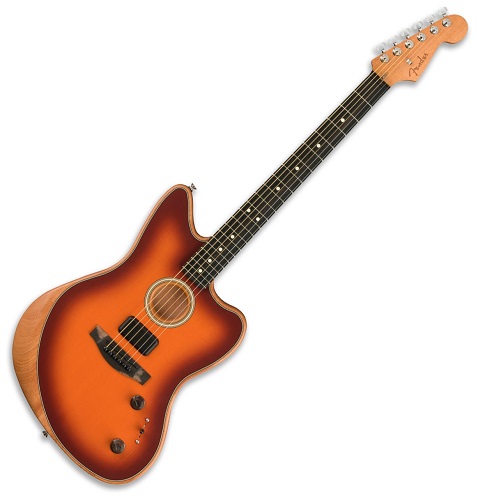 A big body means it has a rich acoustic tone
Realistic electric and acoustic guitar tones
Fender's Acoustasonic Player Jazzmaster is a reasonably priced way to break into the hybrid world of the Acoustasonic series! In spite of its surf and shoegaze looks, the Acoustasonic Player Jazzmaster's solid spruce top and mahogany back/sides produce an impressive tone that can also be translated beautifully through an amplifier or PA with its under-saddle piezo pickup.
Are you looking for something a little more aggressive? Switch to the Acoustasonic Shawbucker pickup for high-gain riffage and soulful strumming. Additionally, the blend knob lets you mix acoustic and electric sounds to get the best of both worlds! The modern "C"-profile neck and the comfortable contoured slim offset body combine to provide effortless playability.
Fender Acoustasonic Player Jazzmaster
Acoustic-Electric Guitar Features:
A hybrid acoustic-electric Jazzmaster body style provides incredibly comfortable playability sitting or standing.
The solid Sitka spruce top provides an accurate acoustic response and resonance.
A warm tone is created by the mahogany's back and sides.
A modern deep "C"-profile mahogany neck is chunky but still playable like an electric guitar.
Rosewood fingerboard with a 12-inch radius is perfect for plectrum-equipped leads or melodic fingerpicking.
With Fender Acoustasonic Shawbucker Magnetic pickups, you can get everything from searing leads to clean rhythms.
For a more organic sound, the under-saddle piezo pickup captures the guitar's rich acoustic tone.
The 3-way blade switch offers 6 different tonal voices. (3 piezo, 3 Shawbucker)
Use the Blend knob to mix magnetic pickups and under-saddle piezo.


What Makes Fender Acoustasonic Player Jazzmaster Acoustic-Electric Guitar so Special?
As the third model in the American Acoustasonic range, the Jazzmaster is styled after the iconic Jazzmaster design. Acoustasonic Jazzmaster has a humbucker – great for electric-driven tones. In addition to emulating some iconic acoustic sounds, it also offers a huge variety of sounds.
This sleek, iconic instrument combines innovative design, versatile functionality, and comfort. There's a specially tuned sound port, a low-profile hollow mahogany body, and an open-pore satin finish on the top. This guitar has endless possibilities.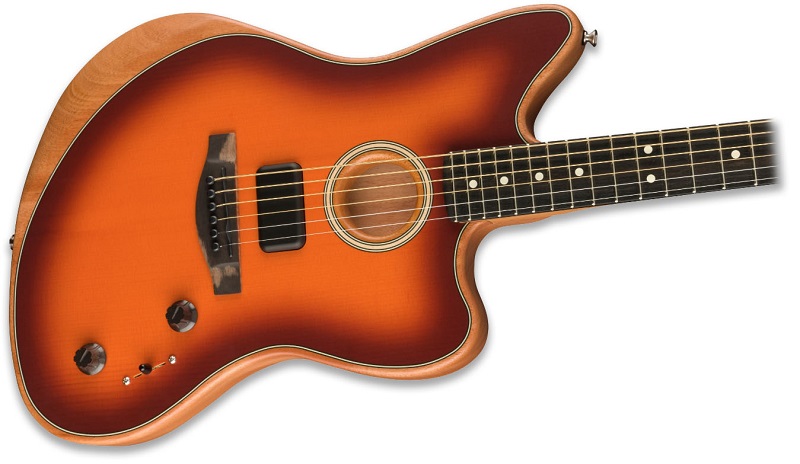 Acoustasonic Shawbucker Bridge Pickup
One of Fender's Chief Engineers, Tim Shaw, re-created some of the most revered vintage pickups today. Among his most recognizable Fender designs is the "Shawbucker" humbucking pickup: a tribute to Tim's more than 35 years of service in the guitar industry. Acoustasonic Player Jazzmaster's specially calibrated Acoustasonic Shawbucker pickup took Tim and Fender some time to come up with.
"We realized we needed a higher-output pickup than normal because of the unique Acoustasonic body construction," says Tim. This Acoustasonic Shawbucker has pole pieces that are factory preset from the back and compensated for bronze strings." This calibration lets you get pure electric tones that you'd never believe can come from an "acoustic instrument."
Tim says, "When you plug in and experiment with the Blend control, you'll hear electric sounds that sound like a 4 x 12 cabinet 'right at home.'" And like all Acoustasonic guitars, the Jazzmaster's electric tones sound great running into a traditional cabinet or direct into a full-range PA.

Offset Style That's Iconic
Acoustasonic Player Jazzmaster keeps the style and playability of Fender's acclaimed Jazzmaster design. You'll feel right at home onstage or in the studio with this guitar's offset-waist body and rosewood-capped Modern Deep "C"-profile neck. The action of the guitar is a nice compromise between styles: it does not fret out when playing strums and it does not bottom out when playing leads.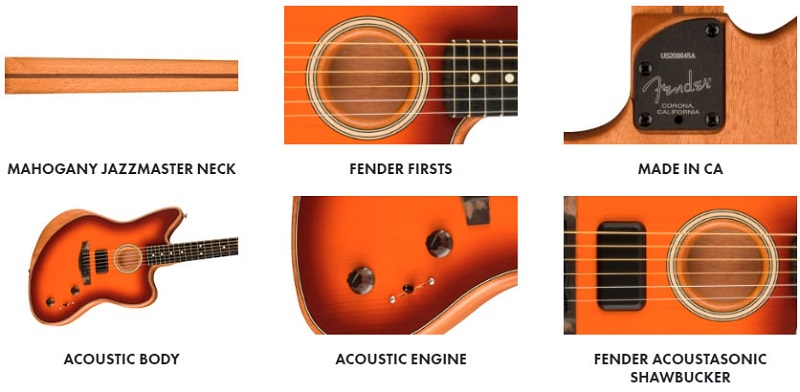 Your Tone Should be Blended
The Fender Acoustasonic Player Jazzmaster's under-saddle pickup captures every nuance of the guitar's beautiful solid spruce top and resonant mahogany back and sides. An ideal accompaniment to the more traditional electric guitar tones of the Acoustasonic Shawbucker, it delivers a lush, organic tone that is ideal for strumming out cowboy chords and creating your latest fingerstyle masterpiece.
In addition, if you are feeling experimental, an acoustic-electric blend knob can be accessed via the 3-way blade switch and gives you access to the guitar's six finely tuned acoustic and electric voices.
Fender Acoustasonic Player Jazzmaster Acoustic Electric Guitar
This Fender Acoustasonic Player Jazzmaster Acoustic Electric Guitar opens a new door to discovering endless sonic possibilities.
Final Thoughts
Fender American Acoustic Jazzmaster was a blast to play. This is great for practicing on the couch as well as for the stage or studio. With great versatility, great build quality, comfortable playability, and superior sonics, this guitar would be a great addition to anyone's guitar collection.
Here is a list of more articles about guitars you might be interested in: