Samuel Eastman VL100 Violin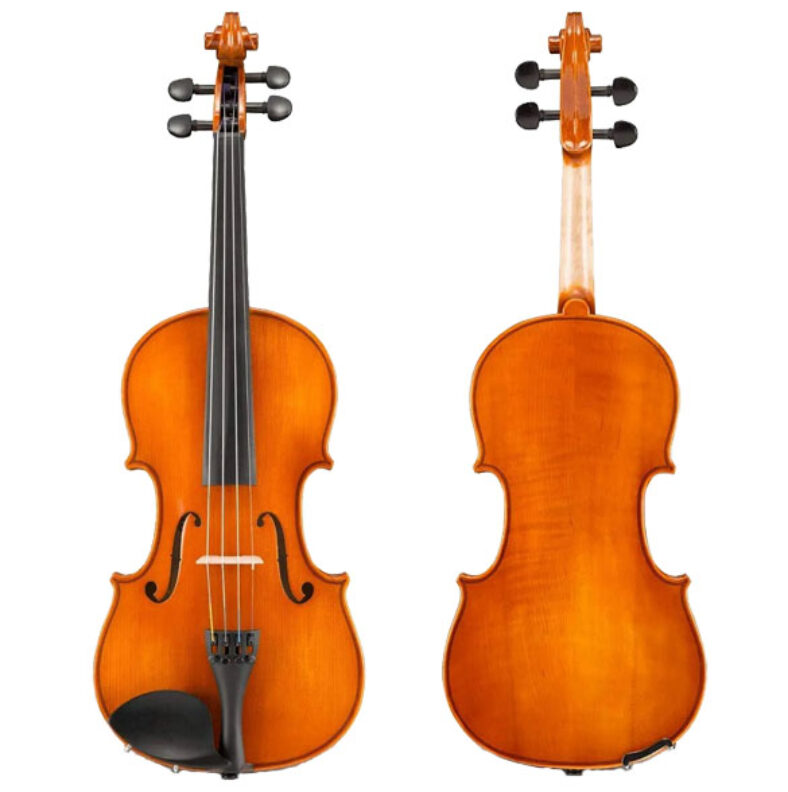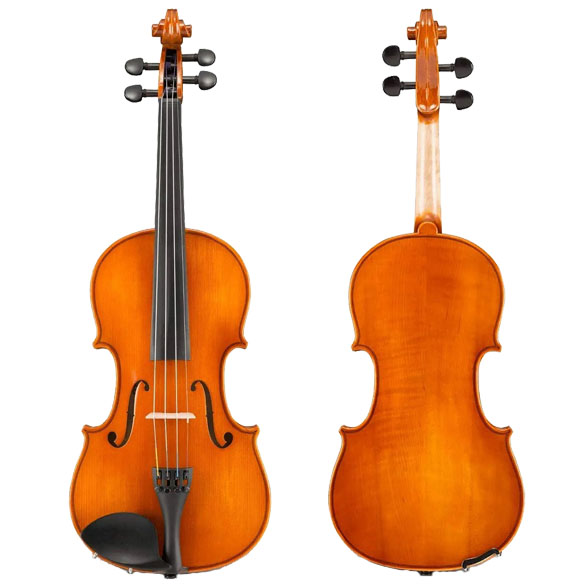 Super affordable.
Great Quality Build
Very well-balanced.
For Beginners and Intermediate players!
---
Samuel Eastman VL100 Violin Review – An Excellent Beginner Instrument
Ensure your child's musical journey is as enjoyable as possible by providing them with the best sound and craftsmanship!
Samuel Eastman's VL100 student violin has received high praise for its outstanding tone and sound quality. Eastman student violins have consistently been praised by music teachers, who are often considered the most prominent critics.


You will probably get your Samuel Eastman VL100 freshly varnished once you order it. Different vendors are using different strings when it comes to Samuel Eastman VL100. However, the strings that come with this violin are of excellent quality.
This instrument is made from hand-carved tonewood. Due to its sturdy construction, this violin is very durable and will last for years to come.
Samuel Eastman VL100 Violin
Features
Finish: High-Gloss Varnish.
Fingerboard: Ebony.
Top: Chinese Spruce.
Back/Ribs: Chinese Maple.
Features
Purfling: Genuine Hand-inlaid.
Bridge: Despiau.
Fittings: Ebony.
Available Patterns: Stradivari.
Eastman VL100 – Construction and Parts
Fingerboard
There is no problem with the fingerboard or strings on this instrument. When you buy an affordable instrument, it is wise to pay attention to details because there might be some problems. Although this is not the case with this beautiful instrument, it is still important to do a thorough examination before buying.
I like the dark color of the fingerboard as well as the fact that it is smooth and easy to play on. You can play comfortably because the strings are positioned low on the fingerboard. Besides being easy to play, they won't make your playing time difficult or damage your fingers. It's really great for people who want to play in the 3rd, 4th, and 5th positions since you don't have to force down the strings.
Tuners and Tuning
The tuners on this instrument are great and you will have an easy time tuning your violin. It was reported on some instruments that pegs can be hard to turn however, from our experience 99% of the instruments that are coming do not have this problem.
Once you decide to change your strings (after some time, depending on how much you play) you will have no problem with pegs to bring your new strings to pitch. You should know that your instrument will stay in tune no matter the weather conditions since it was tested on dry days during the summer and humid conditions during the winter.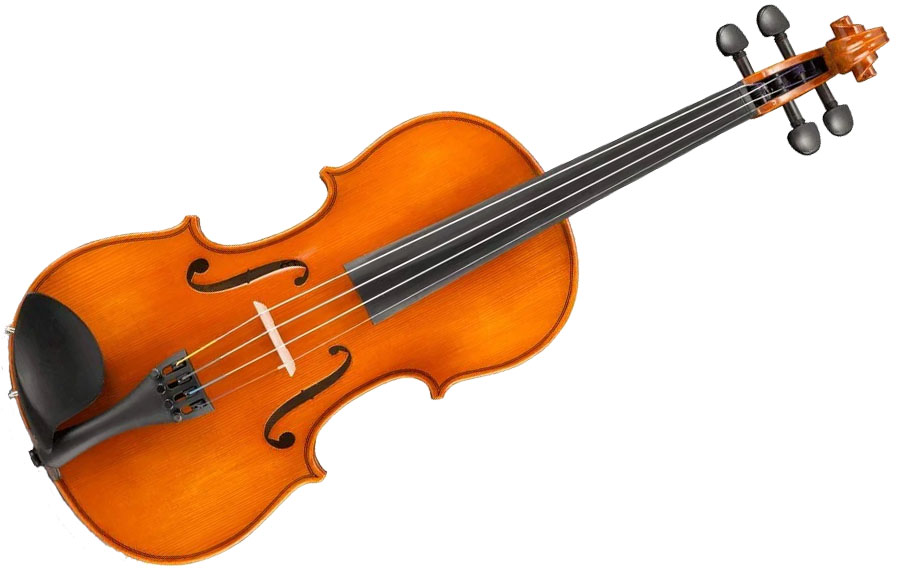 Eastman VL100 Violin – The Sound
For anyone who has used cheaper violins before, this great violin will be a serious upgrade.
There is a very good balance between dark and bright sounds on the Eastman VL100. Having a volume that isn't too sharp means you can experiment with dynamics freely.
It does happen on occasion that we can play a passage in tune and with musicality. This violin knows how to sing when that happens. The song is beautiful. Getting it right makes it sound best.
You can hear the great sound of the Eastman VL100 Violin in this video!
---
VL100 Violin Outfit
The Bow
The K. Holtz fiberglass bow is included in this great bundle. The bow seems to be heavier than usual, but it is quite nice. It is important to know that these bows aren't that expensive, and you can change them whenever you want. This K. Holtz bow is good though and the sound will be great.


A new bow at a good price is a good option if you prefer your bow to be more flexible and light. It is a matter of personal preference.
The Hard Case
A hard case is also included in the Eastman VL100 bundle. The case is so well-balanced that it stays upright even when empty (without instruments). This is a nice quality hard case with a velvety silk cover that'll protect your instruments. It also has lock/key features, which is helpful if you travel a lot.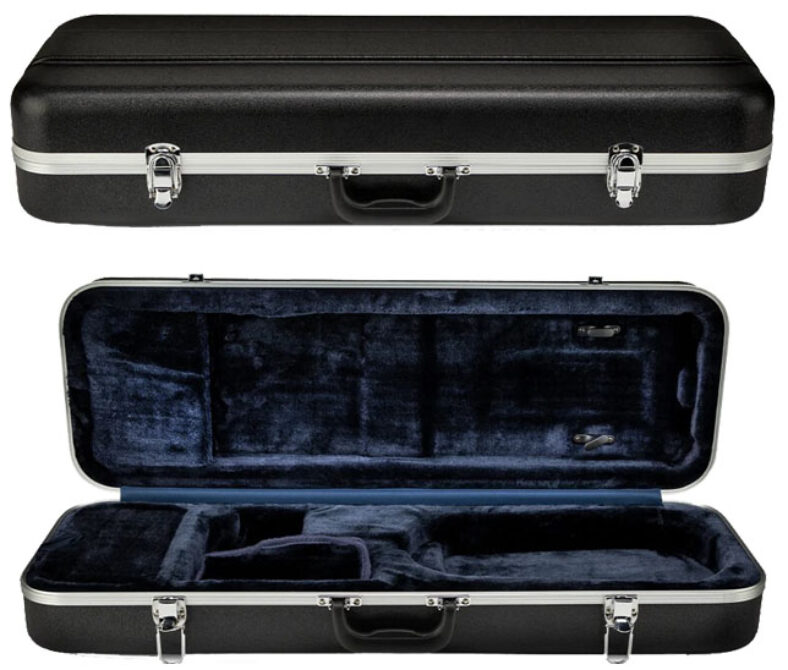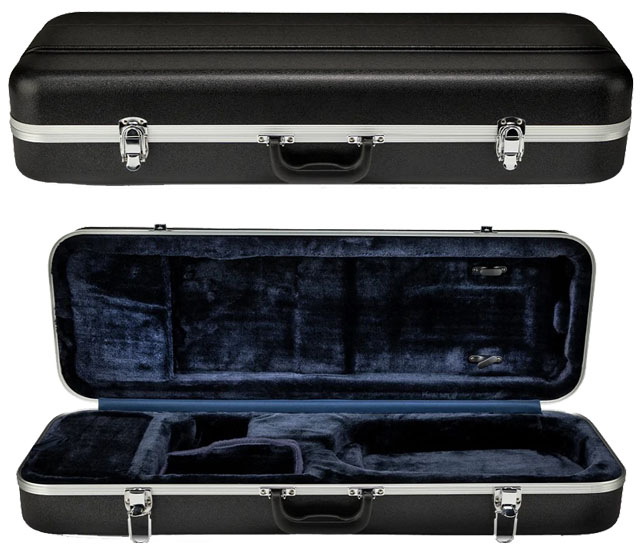 This hard case has straps that make it easy to carry as a backpack. Last but not least, this hard case features an inside compartment as well as an outside zipper pocket. Inside the case, there's enough room for a mini metronome, nail clipper, rosin, and a few cleaning cloths.
Eastman VL100 – Violin Bundle
With all the accessories that come with it, this violin model looks and sounds fantastic. You will be able to tell if everything is working as it should after you receive the instrument and test it.
Some of our violin players had to replace the chin rest with their own, which they had already tested. It's a personal preference, and the side-mounted wooden rest that originally came with the instrument is good enough for me.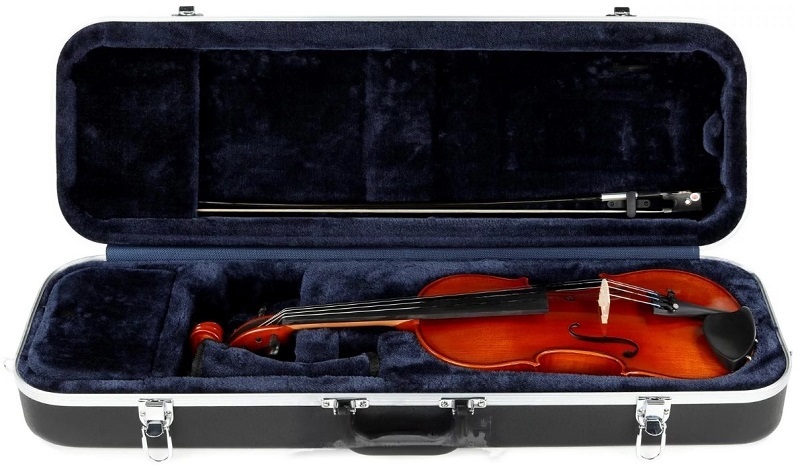 The bow is another great addition to this bundle. The set includes a fiberglass bow with Mongolian horsehair, Eastman Perlon strings, rosin, and a lifetime warranty on Eastman strings. As we mentioned before it's easy to store all of these extras in the thermoplastic hard shell case that comes with the bundle. This case has space for two bows, a shoulder rest, and more.
Is the Eastman VL100 Bundle worth your money?
We haven't encountered any problems with this violin since we got it. That is how it should be right? Musicians are always responsible for maximizing the potential of their instruments.
The instrument will serve you for many years to come if you take care of it properly. It will be able to accompany you during your beginner or intermediate period before you decide to get a really professional and expensive instrument.
Overall, we think the price for the entire outfit is quite reasonable, worth the money, and is very good value for money. It is a great violin that is made mostly for beginners and some intermediate players. We give it a high rating because it is a great violin that will last for a long time.
---
Samuel Eastman VL100 Violin!
Extraordinary Violin outfit made for beginners and intermediate players.
Pros
Super affordable.
Great lasting build.
Great for beginners and intermediate players.
---
Last Words
We appreciate you taking the time to read our review of the Eastman VL100 violin. The objective of this review is to provide you with all the information you need to make an informed decision about the VL100.
You're sure to be impressed by the VL100, regardless of whether you're a beginner or a seasoned pro. You should try out the VL100 yourself and see what it can do for your playing.