Stentor SR1102 Cello Student I 4/4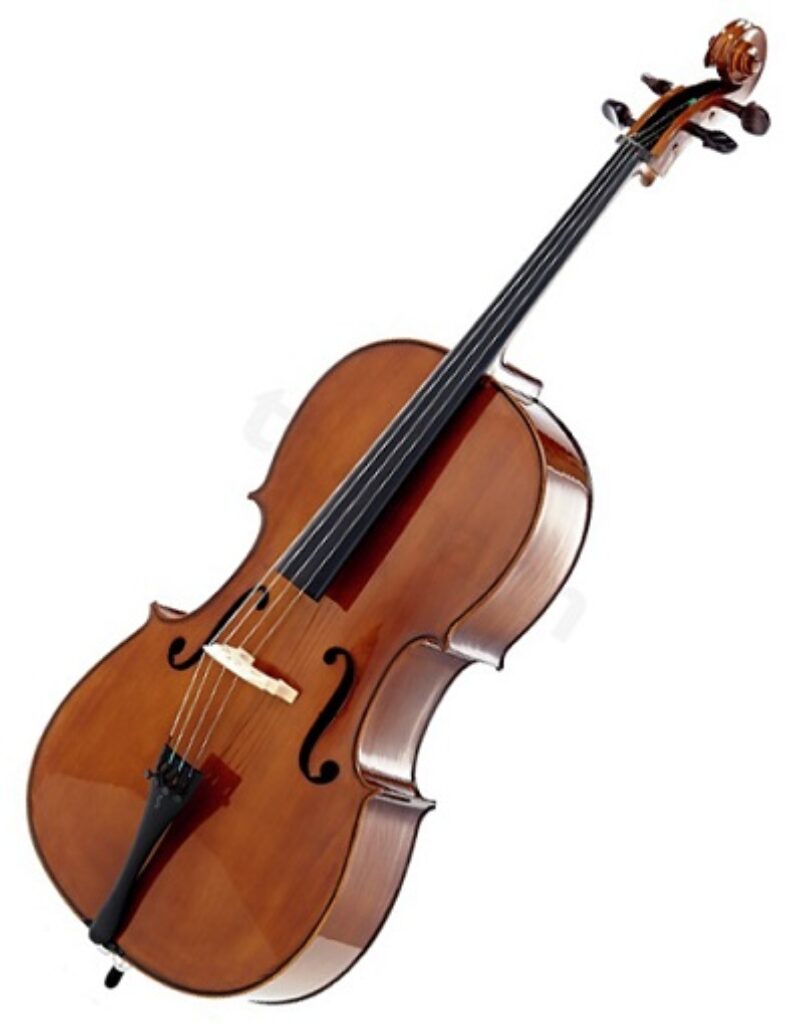 Student Cello
Item Dimensions LxWxH: 31 x 10 x 6.5 inches
Includes bag and bow
---
Stentor SR1102 Cello Student I 4/4 Review
Many teachers, schools, and education authorities continue to select the Stentor Student I Cello outfit, model 1102, as their instrument of choice. This instrument is one of the best-selling models due to its combination of quality, consistency, and value.
Stentor instruments have been developed over 100 years and are renowned for their quality, consistency, and good sound, which is why educators throughout the world have trusted the Stentor Student I cello. In addition to offering reliable, consistent performance, this instrument has a pleasing tone, which enhances the learning process for the student.
Stentor SR1102 Features and Sound
To begin with, and as the name states, this is a student model, meaning that is perfectly suited for learning. Another thing that this signifies is that you will can expect quality from this instrument, but might not be the best one you can get – since it is a starting instrument that will get your youngling into playing the cello.
The one we are presenting in this article here is a 4/4 model, meaning that is an adult size instrument, but also you will be able to find smaller size, depending on the student in question.
In terms of build and as we mentioned above, this instrument is hand-crafted and made from solid woods, and that is one characteristic that many professionals are after, because it is making the instrument extra sturdy and will produce better tones.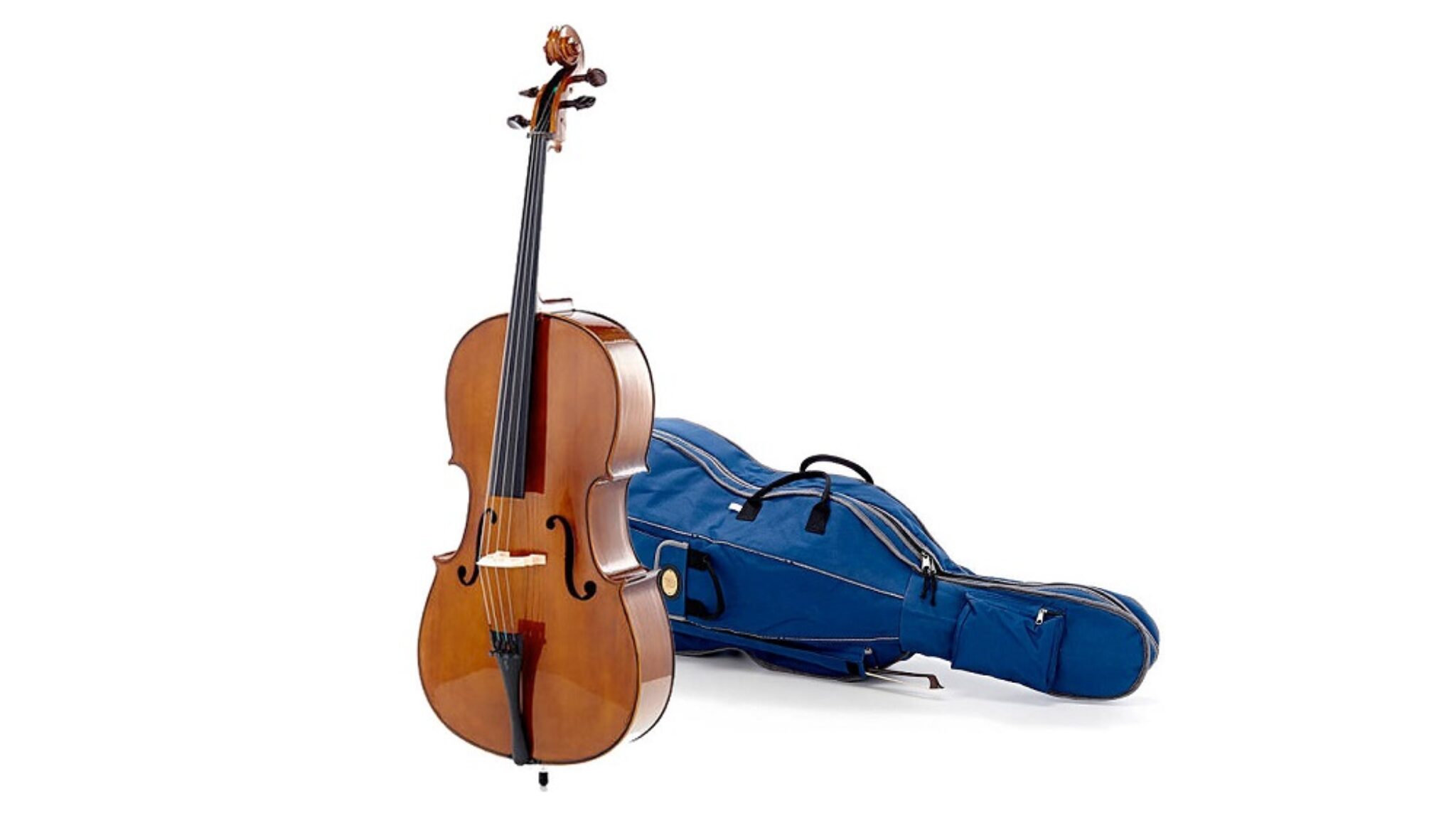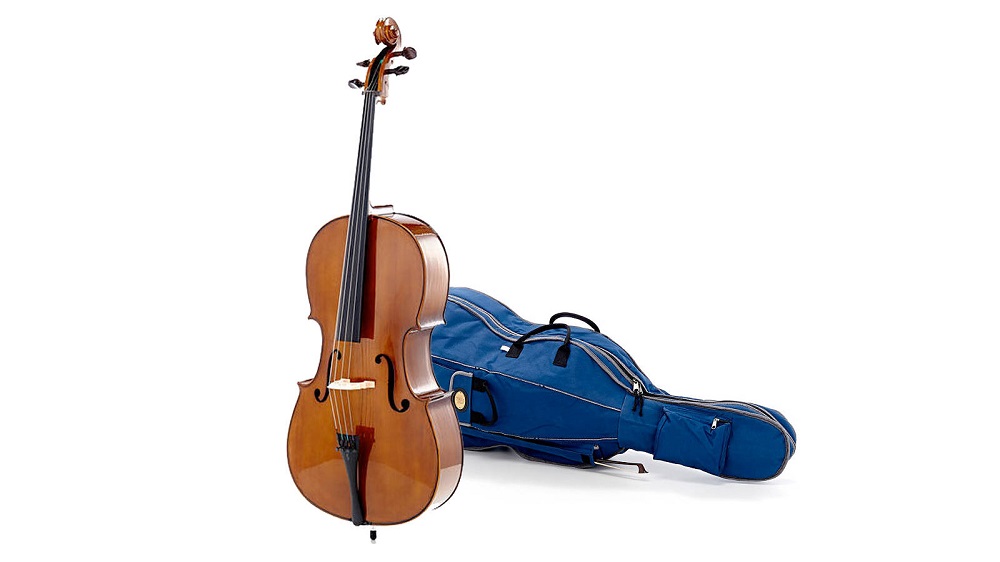 The top of the instrument is created from a solid spruce tonewood and it has a solid maple body, which is also significant for such instruments. We are putting this tonewoods in the middle class of woods for creating classical instruments. The tuning pegs are made from dark hardwood; another good choice of woods and the tailpiece is composite with adjusters for easy tuning.
This instrument also comes with a bag and a bow; the bow is made with natural horsehair and the blue and grey padded bag will provide you consolation for the instrument + it has pockets for the bow, additional accessories and it has some high quality back straps.
In terms of sound, the maximum from the instrument is drawn out. It produces an authentic cello sound, but sometimes loses its power when you go up the neck – but in our opinion it is not an enormous problem.
Stentor SR1102 Brief Features
Student model
Size: 4/4″
Solid spruce top
Solid maple body
Tuning pegs: Dark hardwood
Fingerboard of Malas (Homalium foetidium)
Includes bag and bow
---
Why To Go For the Stentor SR1102 Student Cello
If you are student and you are beginning your journey with a brand new instrument and you are after something that will give you a nice headstart, this Stentor cello is amazing tool to begin with.
With a nice price for such instrument (around $650), you will be getting an amazing start in your learning. We suggest to listen few samples how it sound and if you are satisfied with the outcome, above we provide several options to purchase the cello online without any hassle.
Stentor SR1102 Cello Student I 4/4 Review
This instrument is one of the best-selling models due to its combination of quality, consistency, and value.
Pros
Amazing Build
Authentic Sound
Additional Accessories
Cons
Beginner instrument
Needs additional work to be good
Conclusion
To summarize: this instrument is great for starting the path for a new and enthusiastic players. You are getting the best possible starting tool and you should treat it like that. If you plan to improve overtime, you should get a more professional cello after that – but for starters, this cello will give you a jump start and you should have no worries about that.
In case you are having any question about this cello, please let us know in the comment section below and we will be more than happy to answer all your questions!