Check Out The Best Cello Cases Available On The Market!
Knowing there are hundreds of choices available on the market, it surely is a little bit of a puzzle to decide on one of many cello hard cases for your instrument.
When the instrument is as delicate and costly as a cello, you're certainly in for a shopping grind. While a soft case can protect your cello from dents and scratches, your heavy and complex instrument will still be vulnerable to breakage and damage from sudden unintentional impacts until you get a hard case for your instrument and use it properly.
We've put together this guide that will help you select your new cello case. We tried to make detailed reviews about these cases with all the extra information that you need to know before you decide to purchase your new Cello case.
---
1. Bam France 1001S
The Bam France 1001S cello hard case is one of those favorite cases available on the market for Cello instruments. It is durable and lightweight which makes it nice for carrying your cello back and forth from school.
The case has shoulder straps for you to be able to carry the cello easily on your back and additional storage pockets so you can take some of your key accessories safely in your case.
If you are looking for a downside that would probably be the case price. At about $700, this cello case runs a bit costlier than most different hard cases for cellos, however, the high-quality manufacturing is worth it. You don't want to find yourself with a busted cello because you dropped it too hard.
For flights, it's also possible to buy Bam France Flight Cover which provides your cello extra protection. The France 1001S case matches snuggly into the flight cover so that your cello has maximum protection.
Features
Material: ABS.
Splashproof.
8 Soft-touch locks.
Rubber caster wheels.
Inner pocket for sheet music.
Colour: Black.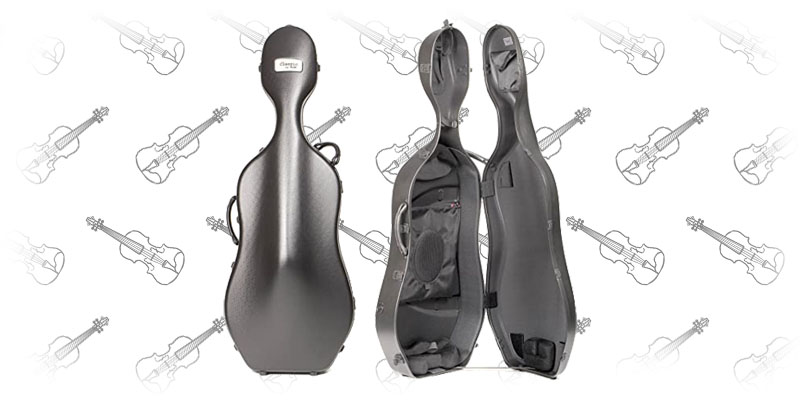 You Can Buy Bam France 1001S on the Links Below!
---
2. Bobelock 2000W Cello Case
This fiberglass hard case model is one of the lightest cello cases that we have on our list, coming at only 3 pounds, the Featherweight is definitely deserving of its name and should be taken into account.
Regardless of being incredibly light, this cello case is able to offer a lot of protection to your instrument. The exterior walls are covered by sturdy foam with wooden framing reinforcements for additional support.
The heavy-duty ballistic nylon exterior cover provides an extra level of protection and creates a water-resistant layer which in most cases can be crucial protection.
Features
Black exterior with wine velour interior with suspension.
Fiberglass construction with WHEELS and convenient handle in the rear portion of the head.
Shoulder strap and two bow holders.
Interior dimensions: upper bout 13 3/4″, lower bout up to 17″.
4/4 Cello size.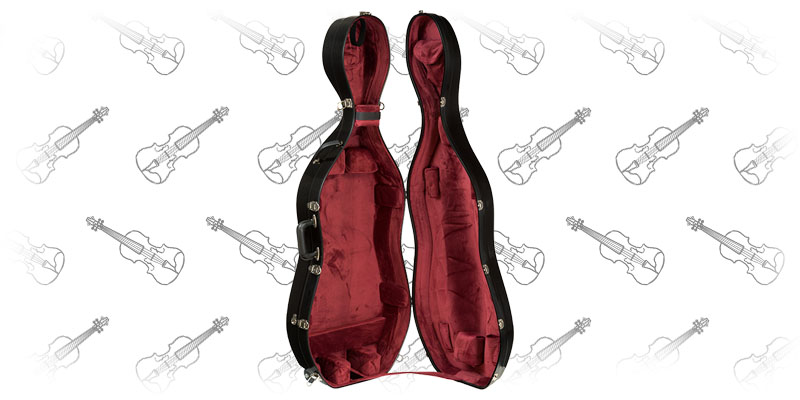 You Can Buy Bobelock 2000W Cello Case on the Links Below!
---
3. Accord Large Standard Cello Case – White
The Accord Cello Case is present on the market for a long time, however, there was a problem getting them in the US in enough numbers that will satisfy the market. Actually, for the previous 6 or 7 years, there was only a trickle of them coming in so there weren't enough individuals or enough hype going around to point out how great these cases actually are.
Now with new distribution, it is a lot easier to acquire and offer these excellent cello cases. Accord was actually the first to lift up the old, heavy fiberglass cello cases and make them sleep and a lot lighter. The newer technology of creating carbon fiber cello cases is simply amazing.
You should know these are not those very cheaply priced cello cases for beginners from the previous years, but after you place your cello in it and then carry it to your bike, car, bus, or train, you will never return to your old case.
Making use of materials like carbon fiber in order to produce cello cases is nothing new and it was there for some time now, but the new technology of heat thermal (autoclave) pre-pregged aerospace, has made them stronger than ever and super ridiculous low in weight. The Ultralight weighs only around 4.9 lbs which are definitely lighter than a cello cover.
Features
The most balanced weight/strength ratio.
Strong case with an estimated strength of 40-kilo crush resistance.
High-glossy finish, Two back straps, Foam interior with spare sets cushions.
Detachable pocket, Weighs just 5.8 lbs. (2.8 kg).
Comes in four different models that match the size and shape of any instrument.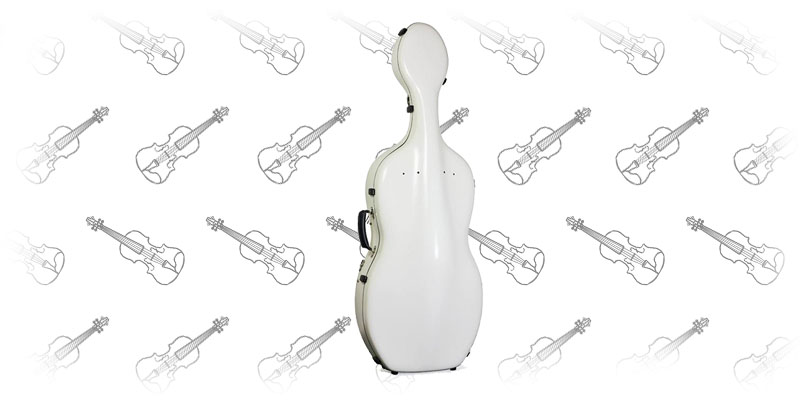 You Can Buy Accord Large Standard Cello Case on the Link Below!
---
4. Bam France Flight Cover
The BAM Flight Cover provides safety during flights for all BAM Cello Cases. The heavy-duty built-in wheels and pulling handles are working great for simple transportation.
In order for your instrument to be better protected against shocks, there is an extra thick layer of high-density polyurethane foam which is injected around a mold taking on the shape of the cello case.
The outside shell is made of shock-absorbing and really strong elastomer ABS and then assembled with a strong nylon fabric strip. It additionally has heavy-duty wheels for easy movement and 3 removable handles around the neck.
All BAM cases are 100% genuine and are shipped securely for safe arrival to you. Fit the cello case, head first in the Flight Cover, zip the case around the head, modify the bottom of the case inside the Flight Cover, and zip around the bottom half, the zipper pulls meet in the middle.
Features
The shell is made of strong Polypropylene.
It has large strips of water-resistant nylon fabric.
The flight cover is closed with a strong zipper.
One comfortable side handle which can be fixed to either side of the case.
Two comfortable backpack straps with security hooks.
Attached back handle to easily guide wheels.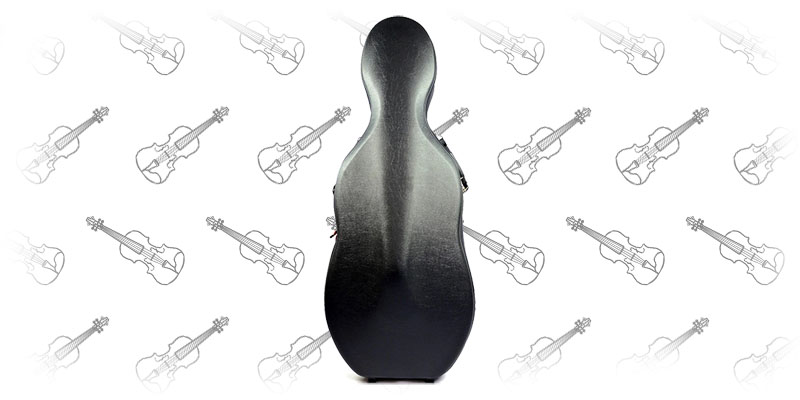 You Can Buy Bam France Flight Cover on the Link Below!
---
5. Bam France New Tech 1002NW Blue/Black 4/4 Cello Case
Another hard case by Bam, the Bam France Newtech 1002NW hard case for cello is certainly one of the most well-liked cello cases. This case is very durable, comfortably fits a full-size cello, and includes a lot of space for storing.
The entire case only weighs 12.5 lbs making it incredibly portable. In case you're searching for a cello case that is extra durable, we highly suggest trying out the Bam New Tech case.
Features
Blue Exterior – Black Plush Interior – Suspension.
Ultra Resistant ABS Triple-ply Composite Shell.
Molded Interior Fittings – Elastic Band to Fix Endpin for Travel – 2 Bow Holders.
14 1/8″ Upper Bout – 17 7/8″ Lower Bout.
4/4 Cello size.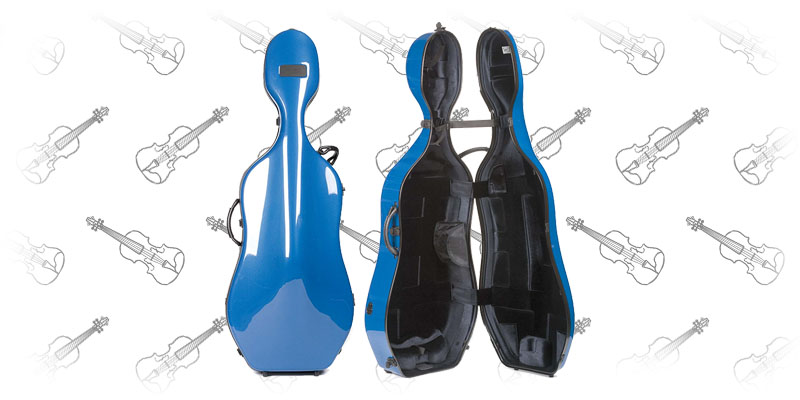 You Can Buy Bam France's New Tech 1002NW on the Link Below!
---
6. Crossrock CRF1000CEFN Cello Case
The Crossrock case comes with all the things the cases above have with the addition of a handle on top that makes wheeling the cello around lots easier.
This case has additionally been pressure tested up to 300lbs so you can be sure that your cello will be nicely protected. Moreover, this case is waterproof so you'll be able to feel safe that in case you get stuck in a torrential downpour, your cello is going to be perfectly fine.
We can say that this model is a favorite among cello players, this cello case definitely features so much for its price. The exterior of the case is created from fiberglass which is unusual for a cello case priced so low.
Features
100% purity fiberglass exterior with soft padding and velvet lining.
Adjustable neck strap and head strap.
Crossrock Leather comfortable handle.
2 bow holders.
Large accessory pocket for strings and removable padding.
Detachable padded backpack straps.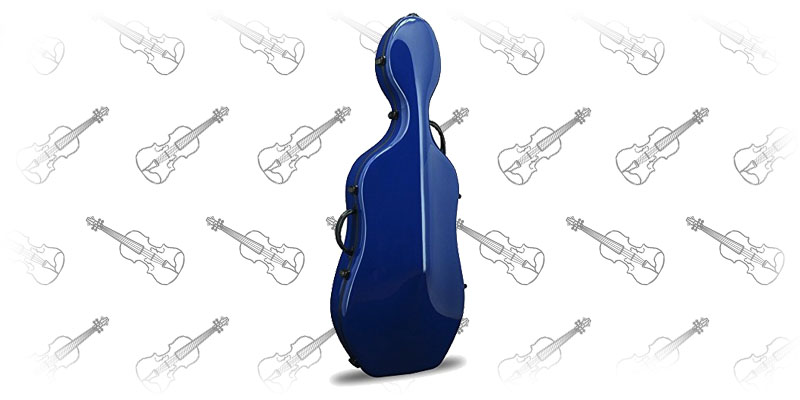 You Can Buy Crossrock Cello Case on the Link Below!
---
7. Gewa Air 3.9 Cello Cases
After we first saw the brand new Gewa Air 3.9 cello case, it was love at first sight! You would not assume anyone might get this excited and enamored with just a cello case, however, you should know this isn't just a standard case!
These cases, all made in Germany, are made with the latest innovative technology. Up until the Gewa Air 3.9, cases have been made with composite materials (like fiberglass, carbon fiber, or the like). Then and mostly now, cases are made by laying the material in a mold, infusing some resin after which the next day the case physique part is pulled from the mold. These cases though use a number of molds. This new technology is known as "Thermoplast".
The case is aptly known as "Air 3.9", and it is just like that, It is 3.9 kilograms which in pounds translates to 8.58 lbs.
New Gewa cases are highly recommended by many professional musicians and there are a lot of satisfied customers as we were able to see from a number of reviews.
Features
Specially developed thermoplastic shell.
Extremely high break resistance.
Padded and custom-fit suspension.
Hand-made genuine leather handles.
Accessory bag.
Made in Germany.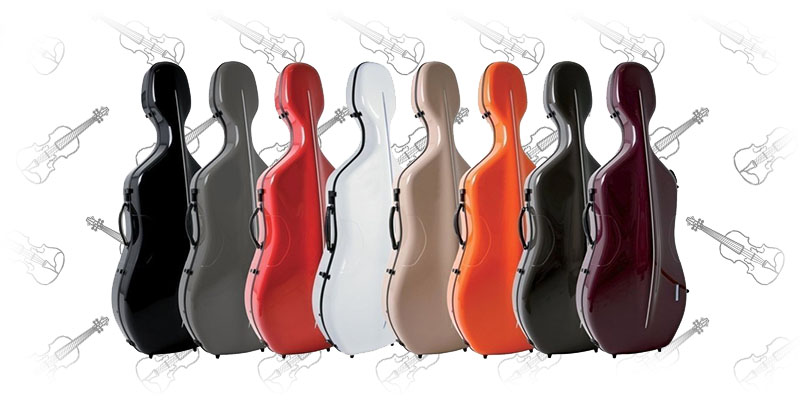 You Can Buy Gewa Air 3.9 Cello Cases on the Links Below!
---
In this video, you can find additional information about Gewa cello cases!
Last Words
No matter which hard cello case you find yourself choosing, be sure to test it before you trust it with your priceless instrument. Don't simply trust the case for flights before you have totally tested the cello at home.
Most cello cases in comparison with gig bags are very similar with the main differences being in weight and pressure ranking. Each of those traits, in the end, affects the worth of the cello case which is why cases with better pressure scores and less weight are usually costlier.
The way you transport your cello most frequently will affect which case you purchase. If you need a case that can resist flights, get the BAM Flight Cover above.
In case you're searching for a case that's extremely lightweight, the Accord case is your best bet. Do not forget to put GEWA cases in your calculations because they are one of the best cello cases that you can find available on the market. Figure out what your main priority in a case is before you buy one.