Learn How to Play Happy Birthday on Ukulele!
Introduction
There is no birthday party without this song. This one simply lifts the spirit and signifies the arrival of the birthday cake. No matter if you are a kid or a grown-up when this song comes on, you will definitively crack a smile.
For the party to be even sweeter and more cheerful, if the song is accompanied by an instrument – well then it is a real party. Especially if that instrument is a ukulele, then you can bring to this birthday dear surprise!
In our case, we will try to explain how you can play the Happy Birthday tune on your ukulele and make everybody stand up and clap to its melody! Such songs have a tendency to bring up the whole company and everybody to sing along.
Unfortunately, we do not have the first-ever person who sang this song, but we know that it is created by two American sisters, Patty and Mildred J. Hill back in 1893. There were huge disputes happening in regards to this song, but after long years of battling in court, finally, this tune is recognized as a song that is in the public domain in both the United States and the European Union.
Still, the ownership of this song is unclear and public TV and radio houses are doubtful to perform this tune and they stay away from it from public performances and remakes.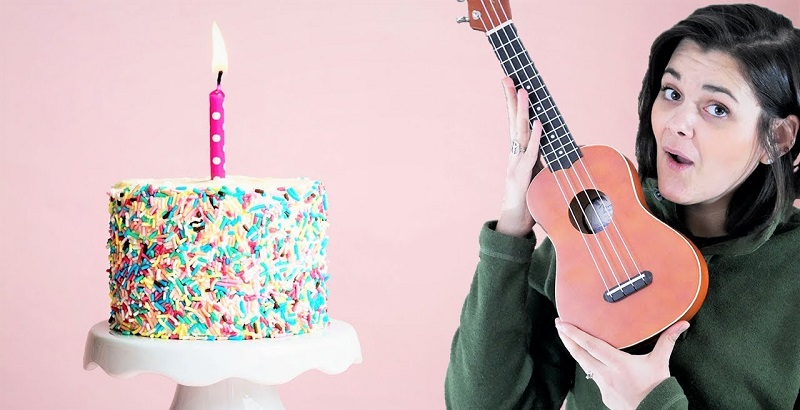 Rhythm and Strum for Happy Birthday
Rhythm
The rhythm of this tune is pretty simple because we already listened to this tune a bunch of times. Although it sounds pretty simple, actually the time signature of this song is 3/4.
What does this mean?
This means that instead of counting up to four for a regular 4/4 note time signature, you will need to count one beat shorter and go for 1,2,3 – 1,2,3 – and so on.
Once you got your ukulele in your hands and start learning this song, you will find it very simple to do it, because it will naturally drive you to do it that way. We believe that you will be able to master this song in one sitting and be ready for your next birthday.
Strum
In regards to playing with strums in this song, the easiest way to do it is to strum down all the chords of it. With the chord tabs that we have below, you will be able to easily follow and learn this four-line song.
Over some time of playing this way, you will notice that you are able to add variations in the strumming and actually insert some playfulness to it if you do the strumming this way:
Down – Up – Up
Down – Up – Up
This is what we actually meant by the 3/4 rhythm and with this pattern, you will be able to master this time signature and actually play this tune the right way. You will notice that this way of performing gives a feeling like you are playing a waltz. Imagine that in your head and you will see what we mean.

Chord Variation
For the variation we are going to present to you in this article, we decided to go with the easiest combination of chords that you can play to create this song.
The chord selection that the Happy Birthday to You has are:
A, D, and G chord.
All three chords we have listed here are really simple to play and if you decide to go with their first root position, you will stay at the same spot on the fretboard, you just need to press different notes.
Here you can check how to play these ukulele chords:
We already created full guides on how to play these chords and several other variations to them. Check these out and maybe you will find easier versions of these ukulele chords to play and perform the Happy Birthday tune.


Below we will show you the tablature and a version with chords that you can go over and learn how to play Happy Birthday on the ukulele:
Tablature:
xA|--------------------------------------------------|
xE|----------------1--0--------------------3--1------|
xC|--0--0----2--0-----------0--0----2--0-------------|
xG|--------------------------------------------------|

xA|--------3--0-------------1--1--0------------------|
xE|--------------1--0----------------1--3--1---------|
xC|--0--0--------------2-----------------------------|
xG|--------------------------------------------------|

Version with chords:
      D           A
Happy Birthday to You
      A           D
Happy Birthday to You
      D             G
Happy Birthday dear *NAME*
      D        A--D--
Happy Birthday to You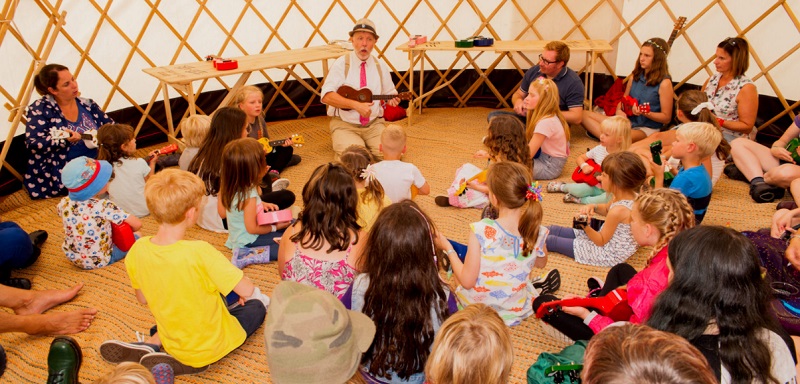 Conclusion
So that would basically be it. This song is a really simple one and you will have no issues mastering it in no time. The important thing is the will to learn and you will have this banging on the next birthday without any hesitations.
If you are uncertain of some stuff, you can always check other variations of chords online or watch some videos for an easier explanation, but we believe that we delivered a short and clear explanation and enough data to improve yourself in how to nail this easy tune on your ukulele. Also, if you are looking for a guide on buying your first or next ukulele, here is our suggestion for every buyer.
Happy Birthday is one of these songs that you will master fast and this can be the door-opener to many other songs and music to play on the ukulele. The melody is happy and the world is a better place thanks to such songs.
In the video below, you will be able to find another variation of this tune. Again, this version requires you to play three chords and in this case, you will need to press F and C7 and also you need to use Bb or B Flat. You can play the video and try to score this easy song along with the teacher. This is a quality one!