Unleash Your Groove With Fender Gold Foil Jazz Bass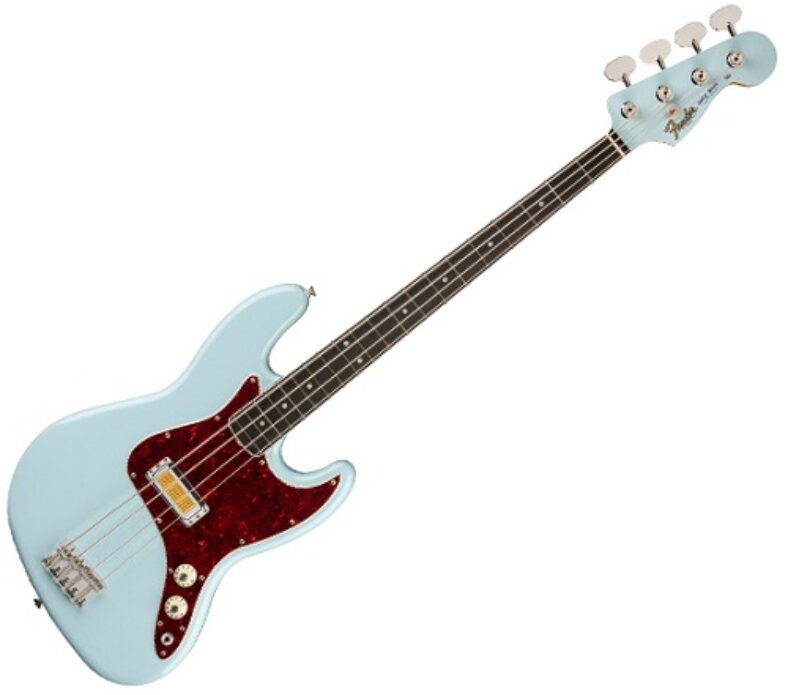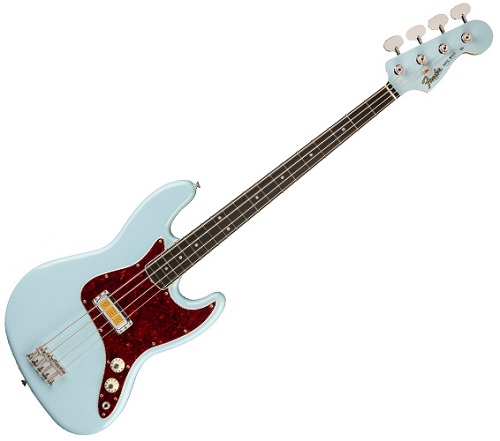 Vintage-Style Hardware
The '60s "C" Maple Neck With a 9.5" Radius Fingerboard
Ebony Fingerboard with White Pearloid Dots And Neck Binding
The gold foil pickup is often associated with catalog guitars from the '50s and '60s, but many basses also had them. Whether it was the Japanese-made Teisco EB-100 or the Harmony H22, gold-foil-equipped basses lent themselves well to the raw, energetic garage rock of the 1960s. Fender fans who want an incredible vintage-inspired bass should get the Gold Foil Jazz Bass.
Featuring an alder body, the Gold Foil Jazz Bass has a punchy sound. With its comfortable '60s "C" shaped maple neck and smooth ebony fingerboard, this guitar plays like a dream. In addition to its retro aesthetic, it has Lollipop tuners and a 1-piece pickguard.
This bass is powered by a gold foil single-coil pickup that delivers a driving, aggressive tone great for rock, blues, and everything in between. Play it lighter, and this pickup will round out nicely, delivering a sweet, full tone. Gold foil pickups have a remarkable sonic character that changes according to how they are played.
The Fender Gold Foil Jazz Bass features white Pearloid dot inlays and aged white "witch hat" control knobs that give it a unique, vintage appeal.
THESE ARE
The Key Features:
Based on the vintage mail-order guitars and basses of the garage rock era.
Featuring a single ferrite bar magnet Gold Foil mini single-coil pickup for a full, driving tone.
With a classic alder body, this guitar has a balanced tone and pronounced midrange.
A robust "C"-profile maple neck carved in the style of the 1960s.
A beautiful contrast is provided by the ebony fingerboard and white binding.
Featuring 20 medium-jumbo frets of a 9.5-inch radius, this guitar has a decidedly modern feel.
This guitar features a four-saddle vintage-style bridge with threaded steel saddles that unlocks old-school thump and J-bass growl.
For a retro look, vintage-style tuners and a matching headstock are used.

What Makes Fender Gold Foil Jazz Bass so Special?
As with all Classic Vibe models, each one is based on historical examples of classic Fender guitars. They are equipped with pickups designed by Fender, period-correct colors, and headstock markings, as well as a vintage-tinted gloss neck finish and nickel-plated hardware. As a combination of stunning looks and the sound quality of an authentic Fender, the Fender Gold Foil Collection combines the enduring charm of midcentury mail-order guitars with the style and playability of a modern Fender.
It's a Jazz Bass with a Golden Twist
A tribute to vintage catalog store instruments, Fender's Gold Foil series seamlessly blends garage rock swagger with storied Fender style. There is no doubt that this Gold Foil Jazz Bass is proof positive. This Jazz Bass features an alder body loaded with a Gold Foil mini single-coil pickup that is not so standard.
This is a bold decision by Fender that pays off handsomely, resulting in a driving, full four-string tone that is easily converted into an enunciated J Bass tone. With a 9.5-inch radius ebony fingerboard on top of a sturdy '60s "C"-shaped maple neck, the Gold Foil Jazz Bass enhances the elegance. Lastly, the Gold Foil Jazz Bass has a retro-inspired four-saddle bridge and vintage-style tuners for a classic vibe.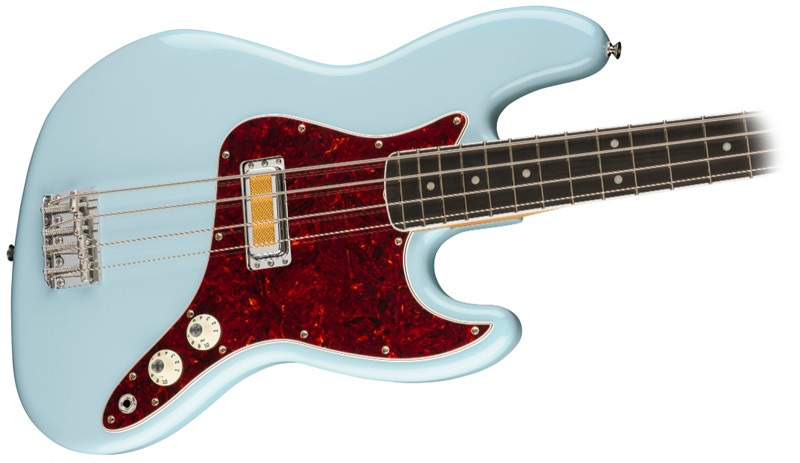 From a Vintage Catalog, Gold Foil Pickups
In the history of electric guitars and basses, Gold Foil pickups are the underdogs. In the 1950s and 1960s, these pickups were originally found on import and department store instruments, and many high-level players scorned them for their tone. When garage rock took off in the '60s, young players started buying Gold Foil-equipped instruments for sheer necessity.
A Gold Foil pickup was the perfect foundation for the loud, energetic, and unrefined rock music of the era, later inspiring Ry Cooder to hot rod his Fenders. After more than half a century, Gold Foil pickups have earned their place among the pantheon of timeless pickup designs.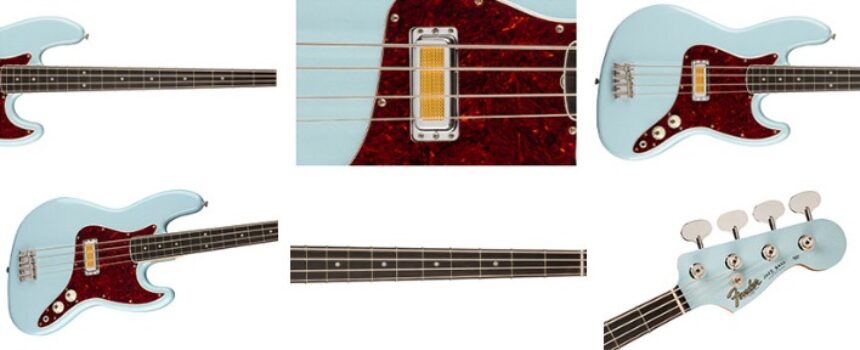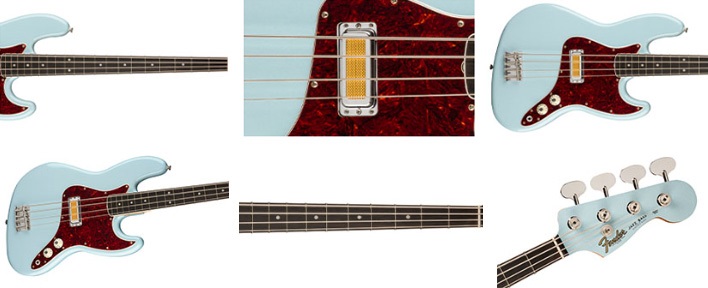 The Single-Pickup Swagger
Is it really necessary to have two pickups? With only a single mini-single-coil pickup smack in the center of the body, Fender's Gold Foil Jazz Bass lives up to its garage-rock forebears. By rolling down the tone or pickup up closer to the neck, bassists are able to achieve wonderfully articulate, rounded over-bass tones that go well beyond the raw confines of the garage.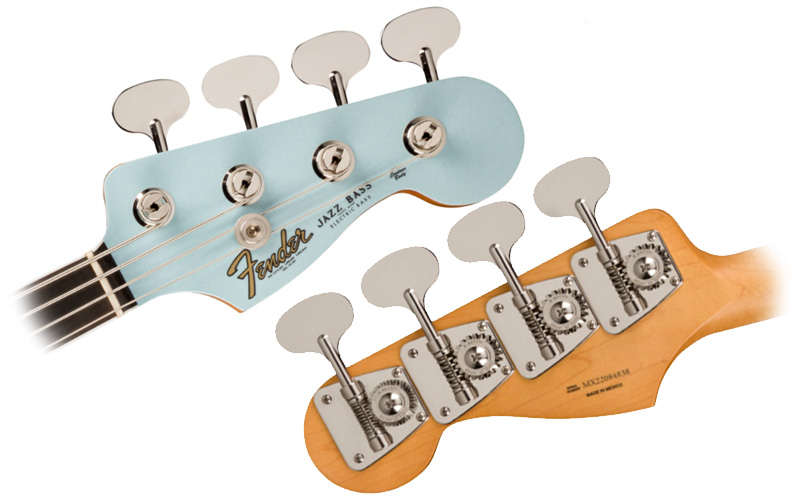 It is a Powerhouse of Playability
Although the rest of the bass exhibits a vintage vibe, the neck of the Gold Foil Jazz Bass deviates from the playbook of budget instruments with an ultra-high-performance design. The Gold Foil Jazz Bass is built from rock-solid maple carved into a chunky '60s "C" profile, while its bound ebony fingerboard is smooth and silky to the touch. In addition, the guitar features 20 medium-jumbo frets with a 9.5-inch radius for easy playability all across the fingerboard.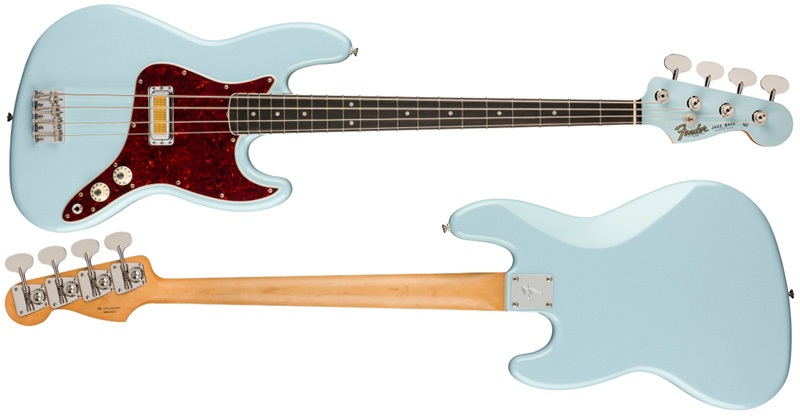 Jazz Bass Sensation: Fender Gold Foil Review
Try out the Fender Gold Foil Jazz Bass if you're looking for a versatile, stylish and high-quality bass guitar.
Final Thoughts
Overall, the Fender Gold Foil Jazz Bass is an instrument of exceptional quality that combines vintage appeal with modern functionality. With its classic design and upgraded electronics, it is a great choice for players seeking an old-school vibe without sacrificing tone or playability. Anyone looking for a versatile, stylish, and high-quality bass guitar should try the Fender Gold Foil Jazz Bass, regardless of whether they are seasoned pros or just starting out.
Here is a list of more articles about bass guitars that you might be interested in: