Introduction
Kmise is a Chinese ukulele company that deals with a dizzying array of musical instruments (not just uke), parts for instruments, and a number of different things not connected with music.
So at first look, they seem like a brand that sells anything that they assume is in style. In our Kmise ukulele review, we will present to you the top 5 ukes that are well worth the money and you should definitely consider them, especially if you are a beginner.
---
1. Kmise UK21S Soprano Ukulele
Kmise UK21S is an entry-level soprano ukulele that you can get for a great price. It's not a high-end ukulele, however, it performs nicely and sounds good. For the price, we would definitely recommend it, especially for beginners.
The Kmise UK21S looks more or less like a traditional soprano ukulele. Kmise has gone the most traditional route, pairing a nice light brown wood grain with the standard figure-eight physique. There's a little bit of a braided pattern around the soundhole.
Talking of that wood grain, while it appears nice, this isn't made from solid wood. Instead, like most ukuleles in its price range, it's made of laminate. Kmise does a fairly good job with this and is not as thick (and sound-deadening) as other cheaper ukuleles.
Mahogany does make for a somewhat hardier instrument, so this might be a great travel or knock-around ukulele. It appears sturdy enough to deal with some knocks and bumps.
For its price range, the Kmise soprano ukulele has excellent playability. Actually, it has wonderful playability. Many less-expensive ukuleles usually fall down when it comes to intonation. Fortunately, this isn't the case for the Kmise soprano ukulele.
At the twelfth fret, the octave is about 10 cents flat. Slightly off, sure, but not really noticeable. Lower down, intonation is excellent. Most people only use the first 5-7 frets frequently, especially rookies, and this ukulele delivers nicely in that range.
We would usually throw some Martin, Aquila, or Worth strings on one of our ukuleles after purchasing it. Often, the strings that uke packages include are not that good.
The good news about this model the strings sound pretty good! Kmise says they are D'Addarios rather than the generic strings typically used in ukes of this price range, so that may be why the sound is good.
Kmise packages this ukulele with the standard strap, gig bag, tuner, and strings. The tuner works well and is easy to use.
The gig bag suits the ukulele well and has an understated Kmise logo on the front. There's a little pocket for holding some accessories, and both a handle on the side and a set of backpack straps. The case will do its job, however, it feels a bit cheap.
Then again, a better ukulele case will most likely cost you more than the instrument! We would definitely recommend this ukulele for beginners. It has a traditional look, a nice feel, and a great sound.
The included accessories provide you with everything it's essential to get started. While it's not a high-end ukulele, Kmise has made a ukulele that performs and sounds a lot better than its price point.
PROS:
Great Price
D'Addario's Strings
Great Sound
Gigbag, tuner, strings included!
Strong laminate body.
Great for beginners.
CONS:
The gig bag may look cheap.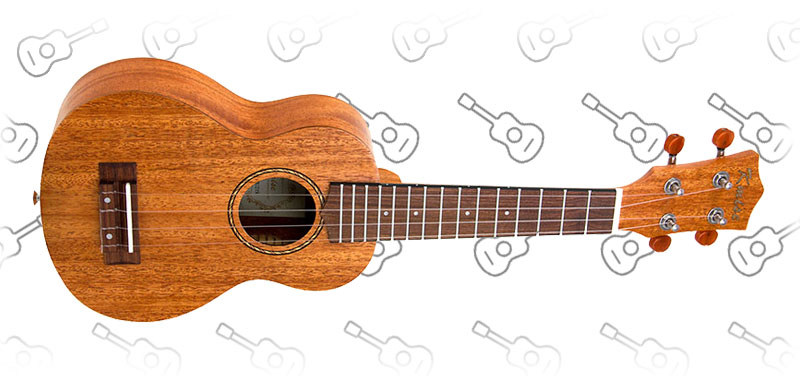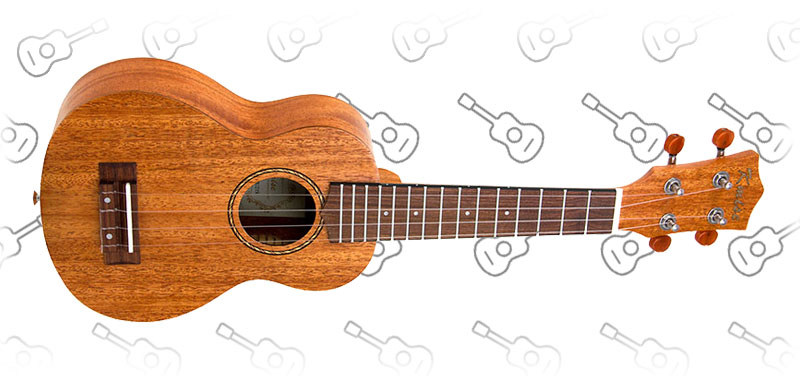 Sealed 18:1 Gear Tuning Machine, Carbon Nylon Strings, Free Ukulele Online Lessons!
---
2. Kmise Carved Cat Concert Ukulele
This Kmise model is a regular concert-shaped and scaled ukulele created from laminate mahogany. The product descriptions don't say it is laminate, however, these models can be found for £39 or $55 you need to KNOW it is a laminate.
The edges are unbound, however, it's generally nicely put together on the core construction we guess. The entire thing is finished in a satin coat which could have been applied slightly better in some places.
The sides are made from a couple of pieces and the joint on the butt is roughly finished. The back is slightly arched and made out of a few pieces of laminate.
This part intrigued us, as regardless of being made out of laminate the back is actually quite pretty. It is nicely book-matched, and the mahogany has a stripe to it that shimmers in several lights.
The wood is very plain and the joint is visible in some lights on account of a line of filler between the woods on the lower bout.
The bridge is standard, screwed-in-place rosewood tie bar style, holding an uncompensated bone saddle. As I say, very standard, however not a lot to complain about either.
There's a rosewood fingerboard which is actually in pretty good shape and even in color. The fret edges aren't bound which means you see the ends, but it seems to have been stained to hide them.
To hold, the ukulele is actually quite pleasing. The weight is good and light and it feels properly balanced in the arms at the midpoint.
These are ticks in the right boxes for us, and it is good to see that despite being a budget instrument they did not throw it along with completely terrible wood and braces making it feel like a log.
This Kmise model is worth the price and we would recommend it as a great budget solution!
PROS:
Light and balanced.
Generally good core construction.
Side dots!
Chiming tone.
Good price.
Laminate mahogany
CONS:
Quality control issues on finish throughout.
Sharp fret edges.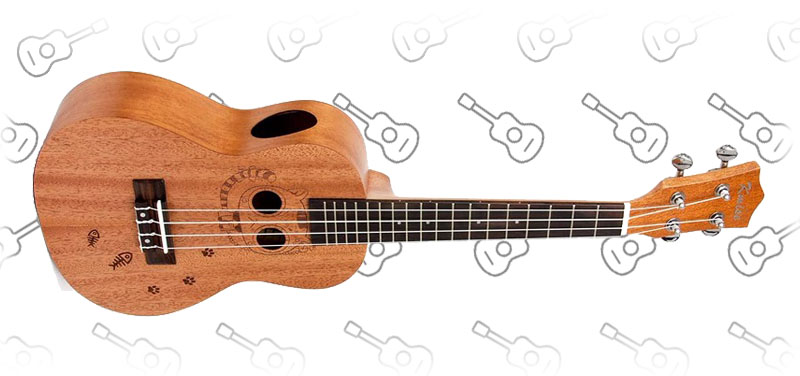 ---
3. Kmise Solid Spruce Hawaii Concert Ukulele
The Kmise Hawaii provides you quite the bang for your money, with a concert-size body that has a strong spruce top, something that you do not often find in the sub $100 stringed instruments.
Additionally, it comes with built-in active electronics, for plugging into an amplifier or PA system, making this reasonably priced ukulele a stage-ready instrument.
If that is not sufficient, the built-in preamp comes with 3-band EQ and a tuner, which are important for helping you sound good, be it while practicing or during the performance.
Another cool function of this ukulele is the usage of bone instead of plastic for the nut and saddle.
While it's primarily marketed for its impressive feature set, most owners are faster to commend its aesthetic appeal. Still, there are lots of people who are impressed with its overall high quality and value for money.
There are a few complaints about tuning and intonation, however, even those who put lower scores have mostly good things to say in regard to the Kmise Hawaii.
The Kmise Solid Spruce Hawaii is a good bang-per-buck ukulele that will appeal to the budget-conscious.
PROS:
Solid Spruce.
Bright and crisp tone.
No Hand Scratching, comfortable for playing.
Aquila strings.
CONS:
Some players may complain about intonation.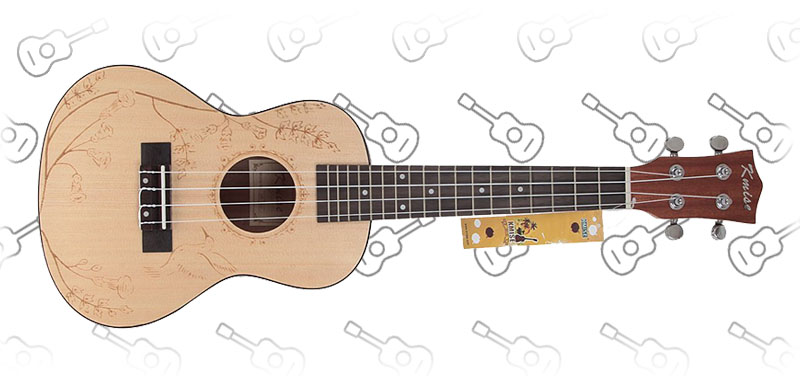 ---
Bonus: Kmise 4 Strings Banjolele Review!
In case you have the craving to play something new and different, the Kmise Banjo Ukelele is definitely an excellent instrument for anyone starting to play Banjolele that plans to play one for a while.
These Banjo-ukes are sturdy and sound absolutely incredible. The very first thing you'll notice about this banjolele is that not only does it look good, but the construct quality is superb for the price.
There's a definite "wow" factor once you check the instrument out for the first time. This banjolele has Sapele wood for the back and sides and a rosewood fingerboard which appears great and provides some additional warmth to the tone. This Banjolele has no plastic parts apart from the nut and bridge.
This was huge for us after noticing that there were different Banjoleles on the market with lots of plastic parts that were anywhere from twice as much to three times as much to buy. Plastic components normally don't last very long or work nicely, and usually have to be replaced as well.
The Banjolele has a wider neck than most, which makes it easier to play on especially for beginners, and comes pre-strung with Aquila string.
Clean, warm, and with a bit of a twang to it, this is an absolutely beautiful-sounding banjolele. This specific banjolele is a bargain, however, here is where it really counts.
This banjolele sounds great finger-picked or strumming full chords (It's a common problem for banjoleles to sound a bit funky when strumming through chords).
As an added bonus, this model can be modded to sound even louder by unscrewing the screws in the back a bit providing a small gap, and making a make-shift resonator.
We have found this to be completely unnecessary though because this specific model is surprisingly loud just the way it comes.
This Banjolele is ideal for someone who's beginning out with the instrument, at an extremely low price and made well KMISE did something really good with this instrument.
The piece sounds absolutely incredible and has the right combination of twang and warmth you expect from a banjo-ukulele mixture.
It's absolutely a blast to play, and having a slightly larger fretboard simply makes it easier to play because you don't need to scrunch your fingers together so much.
In comparison with all other models on the market, this one really stands out as a solid, quality instrument. If there was anything we could change about it, we would give it a little more flair.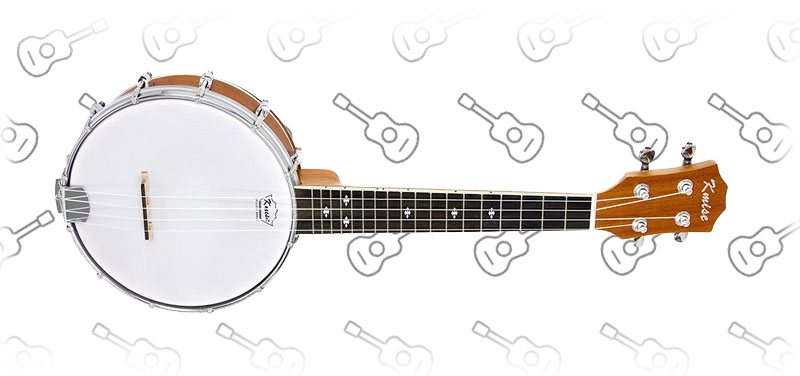 PROS:
Inexpensive, compared to other options.
Built to last.
Made of good materials.
Sounds Incredible.
Has a Quality, professional look.
Has a wider neck making it easier for beginners to play chords.
CONS:
Clip-on Tuners don't work well with this model.
Strings that come with the Banjolele will need to be replaced quickly because they snap easily.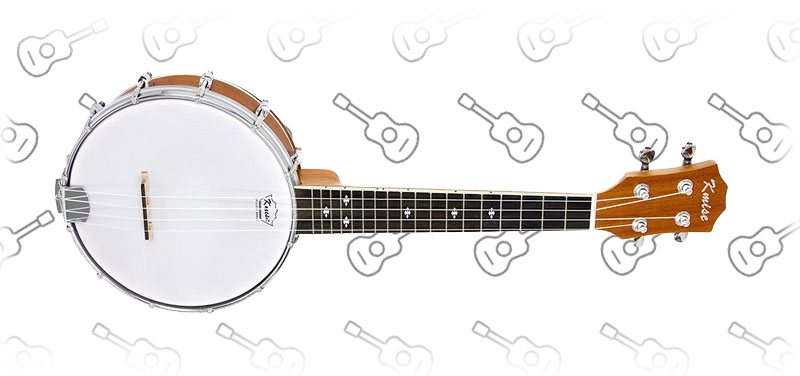 Rosewood fingerboard-hard material, Corrosion Free, Pre-strung with Premium Aquila String Made In Italy, Special Design Dots-Unique Snowflake.
Additional Banjolele Suggestions: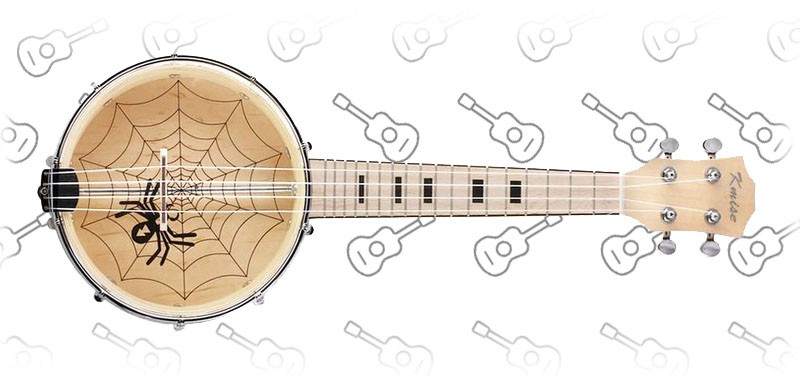 Head made of polyester with great elasticity and quick response, Superior Aquila String from Italy, and high-quality closed-geared tuners!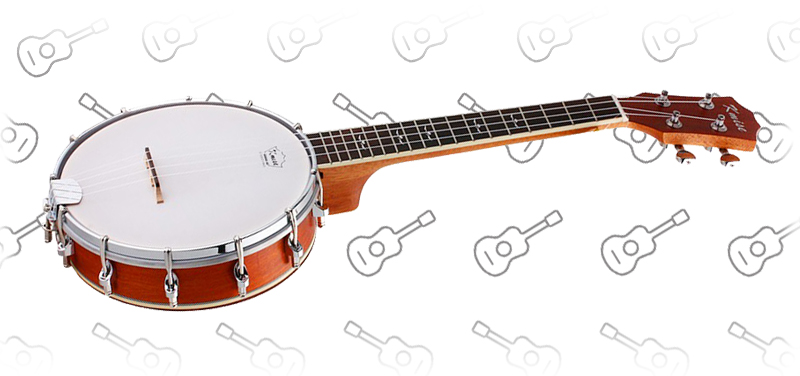 The backboard of this banjolele is detachable, Comes with a carrying bag, a Banjo neck strap, a Digital clip-on tuner, a Pick up, an Allen wrench to adjust the truss rod, and 3 picks.
Conclusion
Accessories and Extras
The Kmise ukulele pack features a strap, a clip-on tuner, and an additional set of D'Addario strings. The tuner works nicely enough. It's superb for getting started, however sooner or later, you may want to think about getting a better clip-on tuner that's faster and extra accurate.
One nice surprise was the superb "getting started" booklet and chord chart. The quick start guide is a high-quality, 24-page booklet that covers nearly everything beginners must know to get started.
It covers ukulele sizes, tips on how to hold your uke, strumming, fingerpicking, and more. It's actually quite impressive.
The chord chart is also the best we have ever seen with a budget uke. It's clear, easy to read, and has a wide selection of basic chords every uke player should learn.
Kmise has a wide range of ukuleles for every taste and budget. They have a lot of budget ukuleles that fit perfectly for beginners but also some great models for already experienced players.
Hopefully, in our next Kmise review, we are going to put some of the high-end Kmise models.
Happy Strumming!